White bean hummus is sort of the sister of hummus! Maybe you're wondering now if I've already got sunstroke? No, it's not like that. It is simply a fine, savory cream made from white beans, very similar to the classic hummus. We are currently taking a little break from summer and instead of extended breaks at the lake, I am busy in the kitchen for many hours. My dad brought over some freshly picked apricots yesterday and I'm still puzzling over what to do with them. Jam I will definitely try, but what else? Do you have any great ideas to do with apricots? Then feel free to comment at the bottom of the page. I am glad!
White beans hummus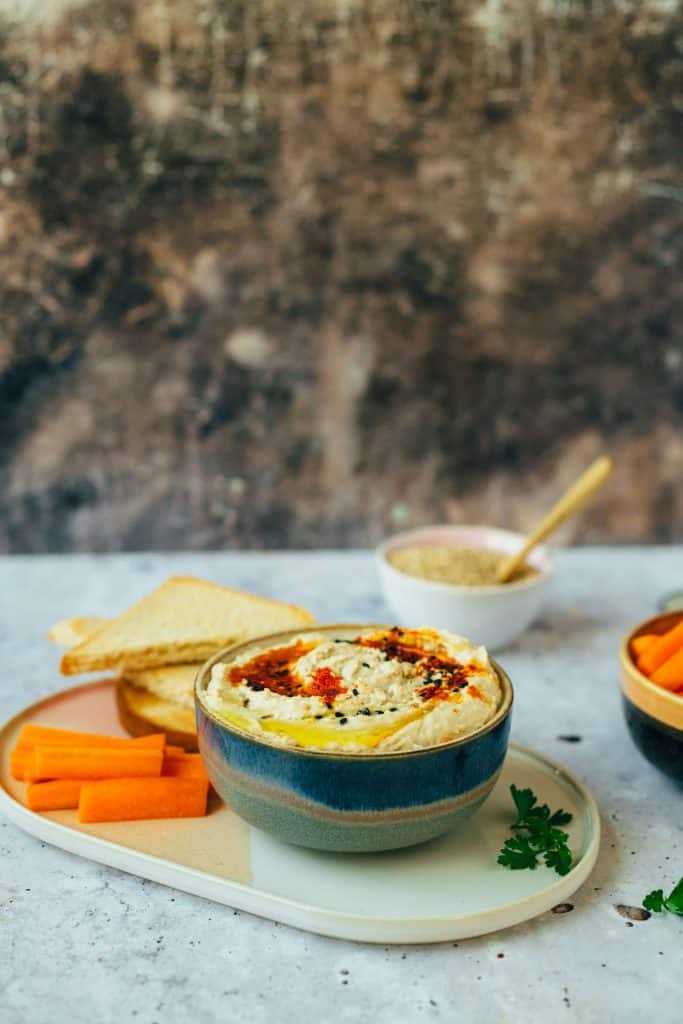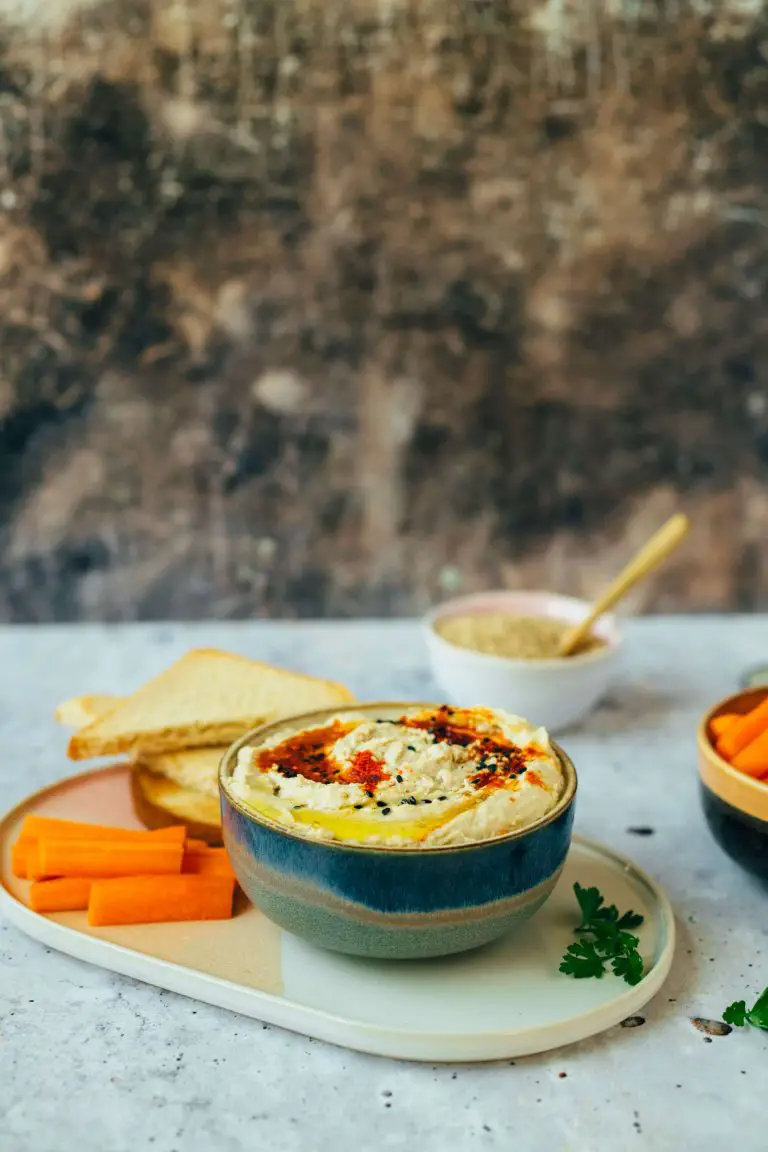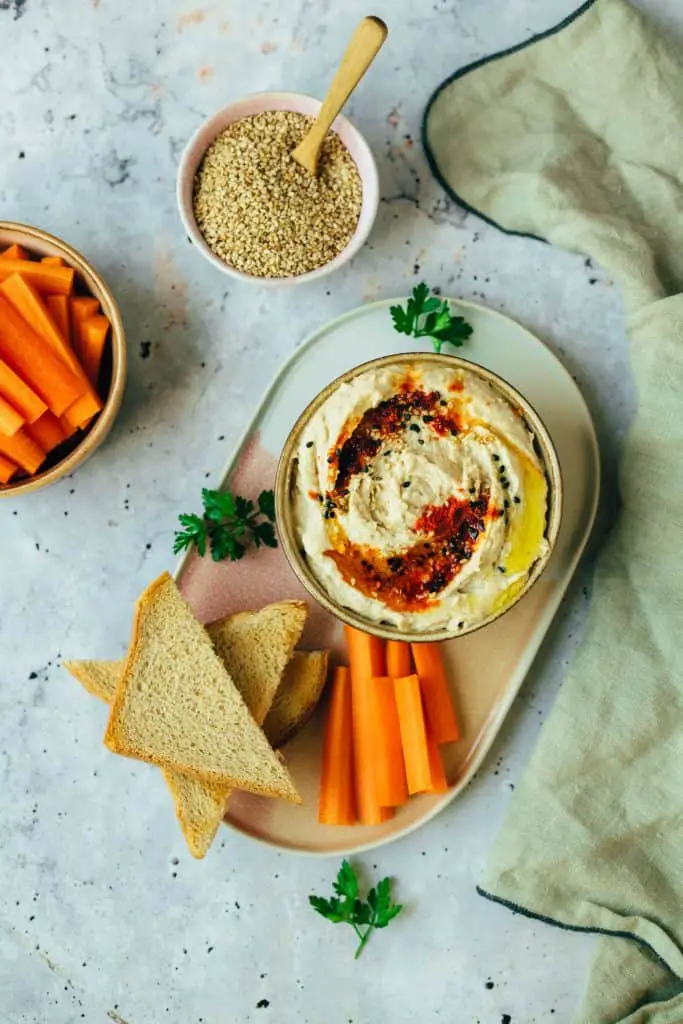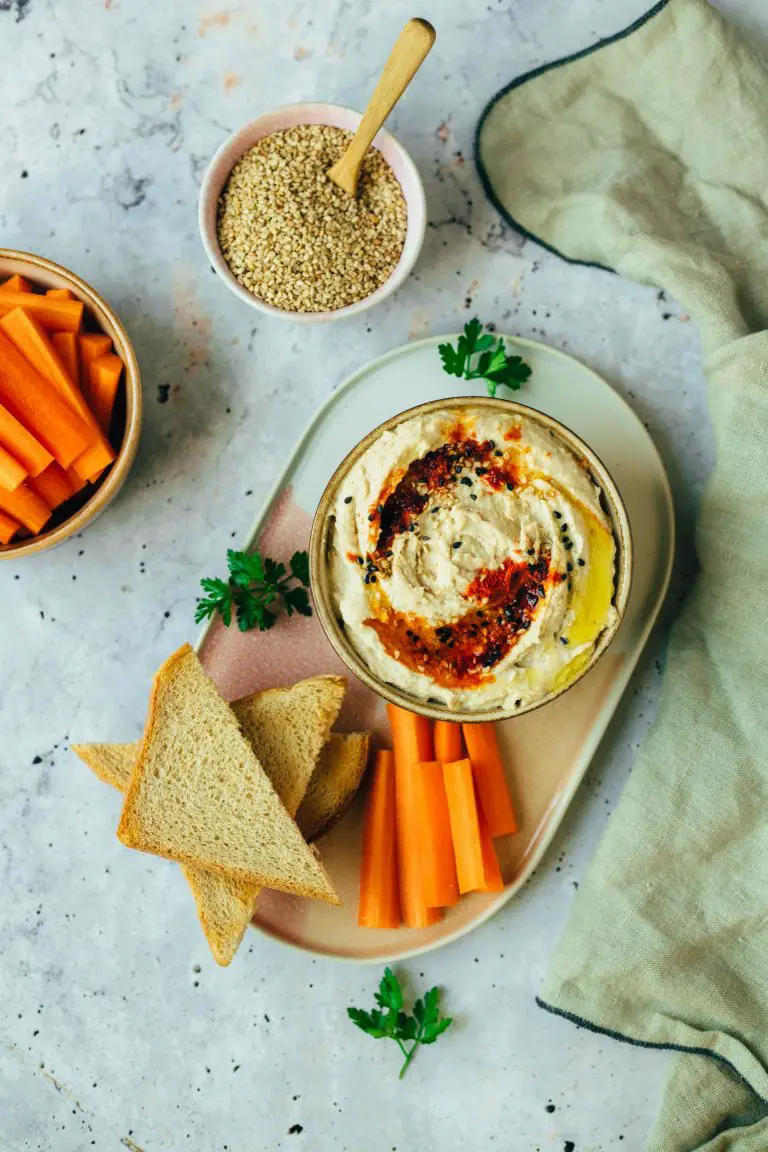 Every little bean gives a little sound? Not always, because I've found that eating beans just takes some getting used to. I can still remember very clearly the conversion to vegan a few years ago. That was a bit of a challenge, but after three weeks everything was easy. Many people have an aversion to beans for whatever reason. I find them incredibly exciting and versatile, not to mention health benefits. This is exactly why I try to incorporate beans into my diet every day.
Variety is a critical factor in a healthy diet. That is exactly why today we have white beans instead of chickpeas . Currently I am still using canned beans, but will be getting a pressure cooker in the near future. So I can beans finish cooking in 20 minutes and save some waste. At least one can a day, which adds up to quite a bit.
Are you ready for a really delicious vegan spread?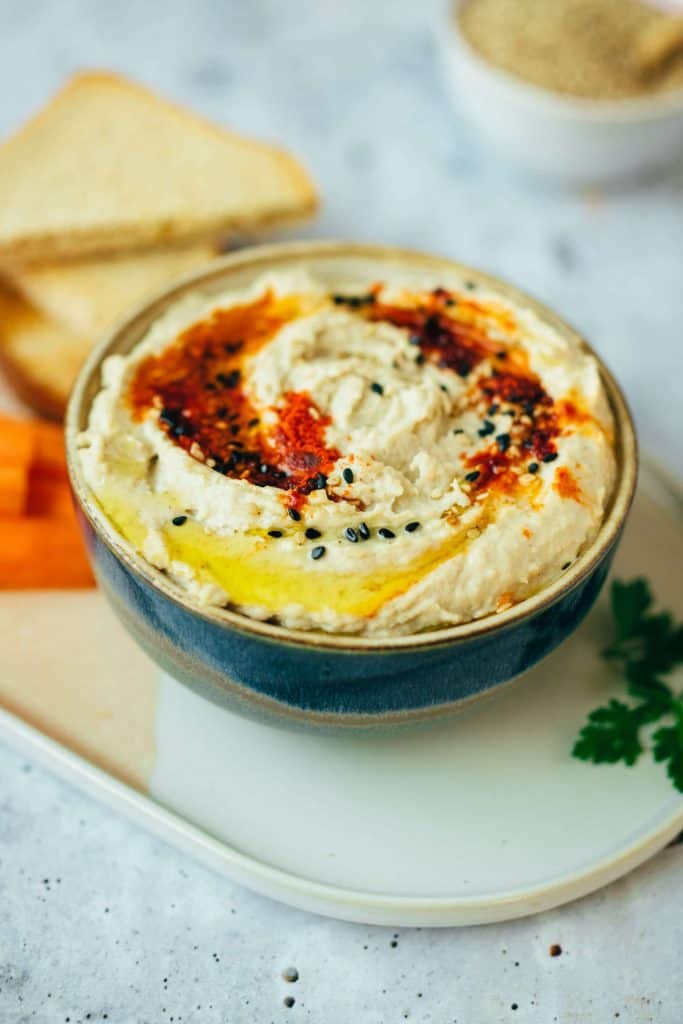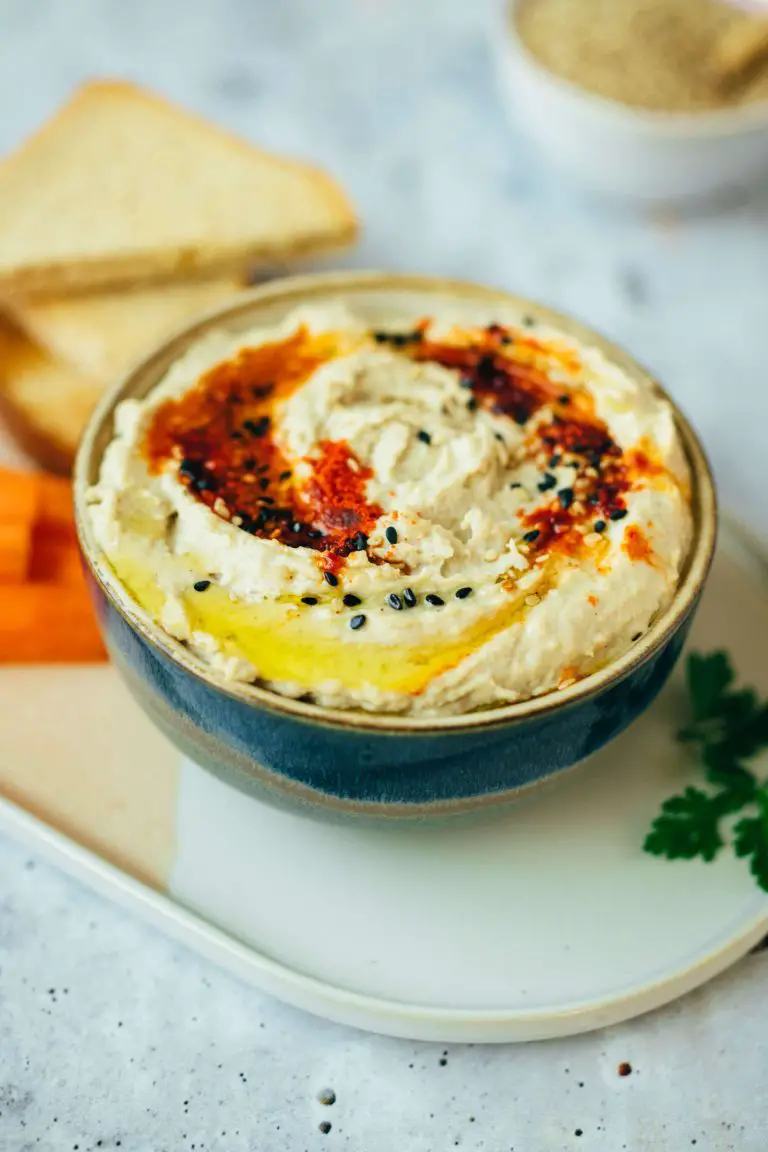 White beans (cannellini beans), tahini, olive oil, lemon juice, garlic granules or fresh garlic, cumin, salt, coriander and miso (optional). Just put everything together in the blender and blend to a fine, creamy spread.
TIP: Always rinse canned beans sufficiently with plenty of cold water and ideally soak for an additional 30 minutes . From my experience, they are easier to digest if the soaking water has been thoroughly rinsed off.
The most important thing in hummus , from my point of view, is tahini, a fine paste made from sesame seeds, which has its origins in African, Asian and Oriental cuisine. You may have noticed that tahini is available for purchase in white and brown colors. Depending on whether the shell was used in the grinding or not, is crucial for the coloring.
White tahini or tahini = the husk was removed and only part of the sesame was ground. Mild in taste.
Brown tahini = the peel was ground with and it is still a full product. Roastier in aroma.
What actually is tahini or tahini?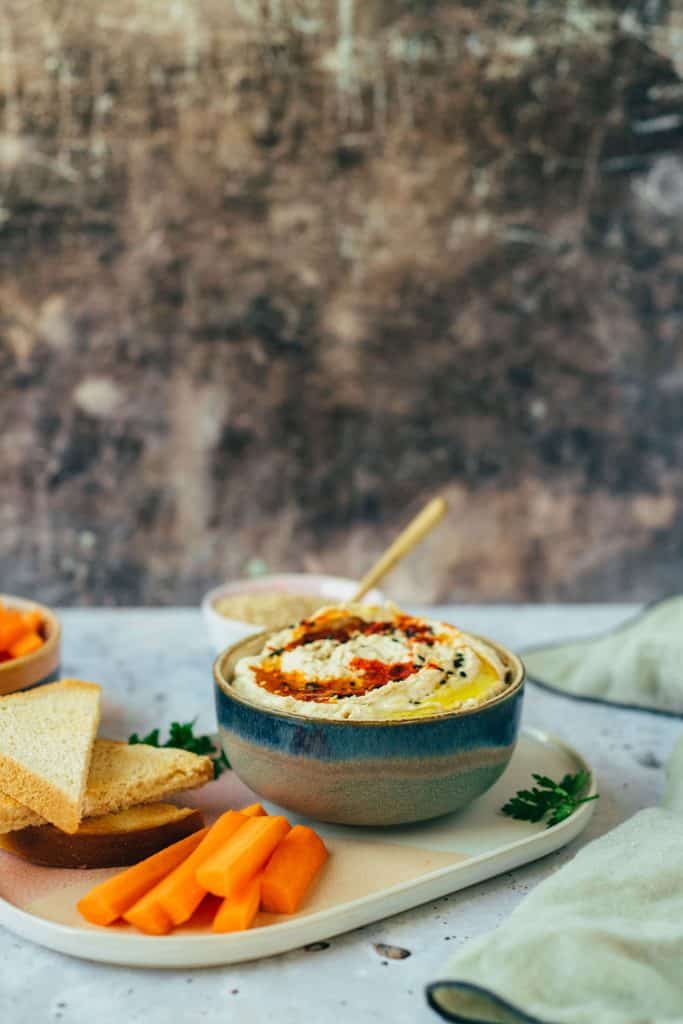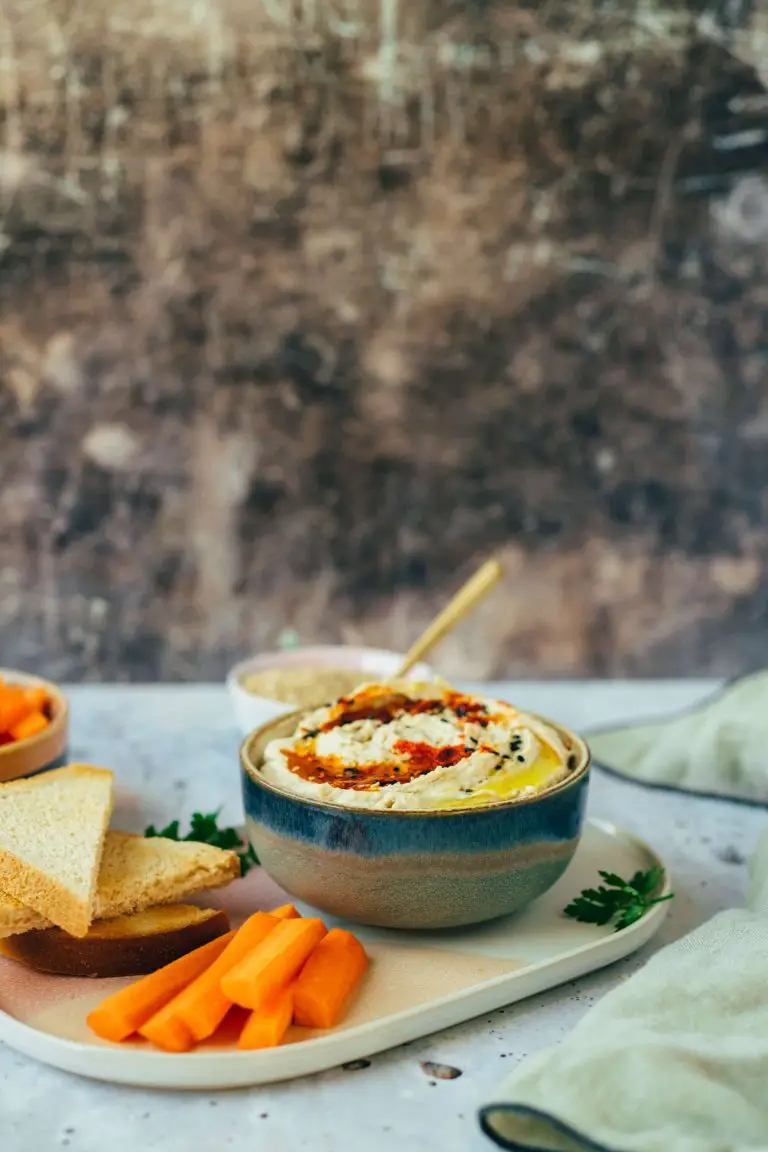 Tahini or tahini consists of 100% sesame seeds, which are processed into a mush. Some variants already contain salt, but there are also numerous salt-free products on the market.
Sesame is rich in iron, magnesium, calcium and vitamin B6 .
Vitamin B6 controls cell division and is involved in the formation of red blood cells. It also strengthens the general defenses.
Magnesium is known the mineral for healthy bones and teeth. 99% of the magnesium contained in the body is even bound in our bones and teeth. It activates more than 300 enzymes and ensures a healthy acid-base balance in the body. Especially very active people should pay attention to a sufficient supply of magnesium.
Iron is also involved in numerous metabolic processes in the body and is responsible for the transport of oxygen in the blood. Chronic fatigue and exhaustion can be a sign of iron deficiency. Especially women in the "menstruating" age, should pay attention to a sufficient supply of iron. (Tahini contains about 8.2 mg of iron per 100g).
Calcium supports muscle activity and is responsible for the strength and hardness of bones.
The fats it contains consist mainly of monounsaturated and polyunsaturated fatty acids, in roughly equal parts linoleic acid and oleic acid. These two acids support healthy cholesterol levels and keep blood lipids within a normal range. Reason enough to incorporate tahini into your diet much more often, what do you think?
What goes well with our white bean hummus? Maybe a great plate of beet hummus and classic hummus. Toast, naan bread and super lots of fresh vegetables is definitely a must.
The White Bean Hummus (10 minutes) is:
Super fast made
creamy
Rich in valuable minerals
Few ingredients
Mild and spicy at the same time
Do you love vegan spreads as much as I do? Then I look forward to a review at the bottom of this page. If you post a picture, feel free to use the hashtag #veganevibes.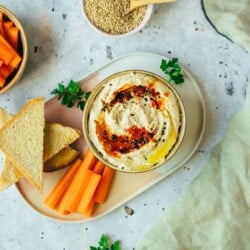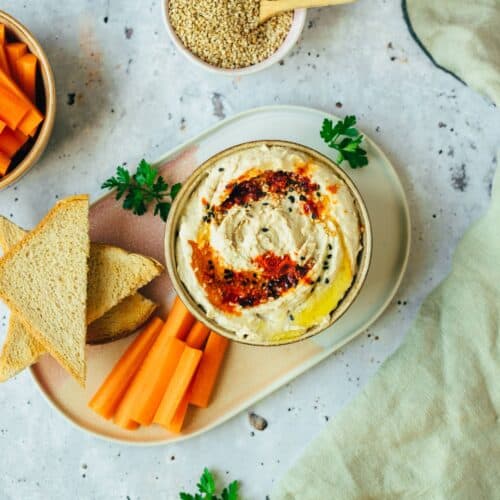 White beans hummus (10 minutes)
Quick vegan hummus spread with white beans. Refined with tahini, fine olive oil, coriander and cumin.
AUTOR: VEGANEVIBES
OTHER:
Wholemeal bread

Toast or fresh naan

Fresh parsley

Sesame seeds black and white

Various vegetables

cut suitable for snacks
Anleitung 
Place cannellini beans, tahini, olive oil, lemon juice, garlic granules, cumin, coriander and salt in a blender. I use my MagiMix with an S-shaped knife for this.

265 g Cannellini beans – Save chickpea water for other recipes.,

30 g Tahini,

30 ml Olive oil,

30 ml Lemon juice,

½ tbspn Garlic granules,

½ tbspn Cumin,

¼ tbspn Coriander,

½ tbspn Salt

Optionally add white miso.

Blend until the desired consistency is reached. Taste and season if necessary.

Pour into a bowl, decorate as desired and enjoy!

Store remaining cream in an airtight container in the refrigerator for up to 3 days.
Nährwertangaben
Serving:
1
Portion
Calories:
81
kcal
Carbohydrates:
6
g
Protein:
3
g
Fat:
6
g
Saturated Fat:
1
g
Sodium:
97
mg
Potassium:
25
mg
Fiber:
2
g
Sugar:
1
g
Vitamin C:
3
mg
Calcium:
25
mg
Iron:
1
mg