Porridge! Either you love him or you hate him? Or can you discover your love for Oatmeal perhaps also first discover? When I made this Recipe made and put a sample on my brother's desk, he was rather subdued. A little later he said that it's really tasty, but he just doesn't like any Porridge . Well, I don't want to force anyone to do it. However, I do believe that we are far too often tempted by unhealthy sweet bites that send blood sugar soaring and don't actually fill you up. However, oats have many health-promoting properties that can also make your life more beautiful. More info on this can be found further down in the text.
Which one of you is a chai lover?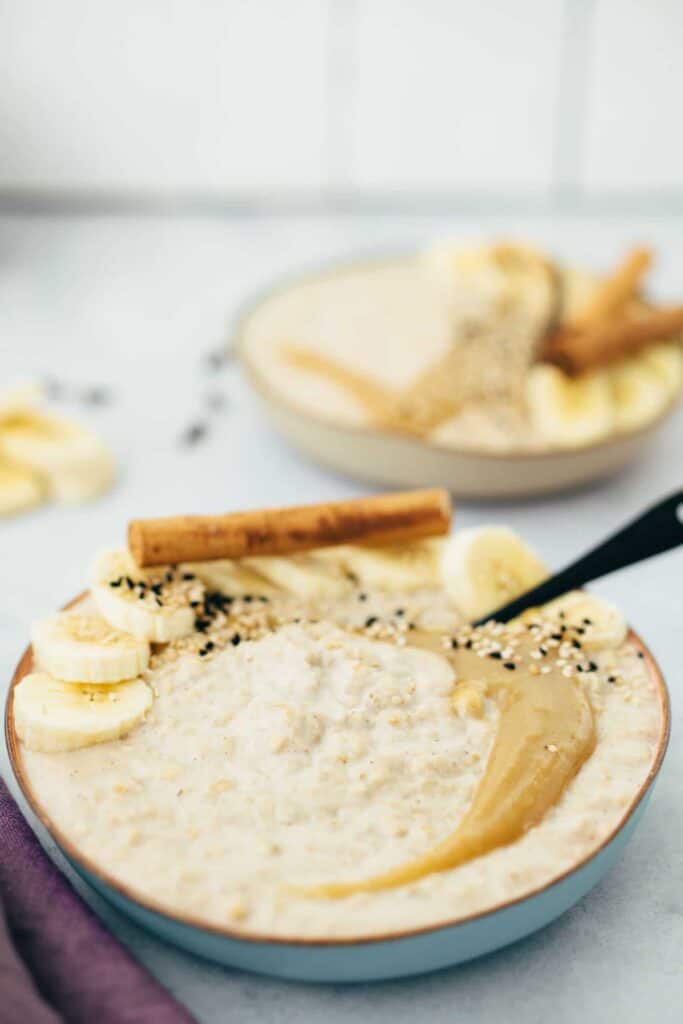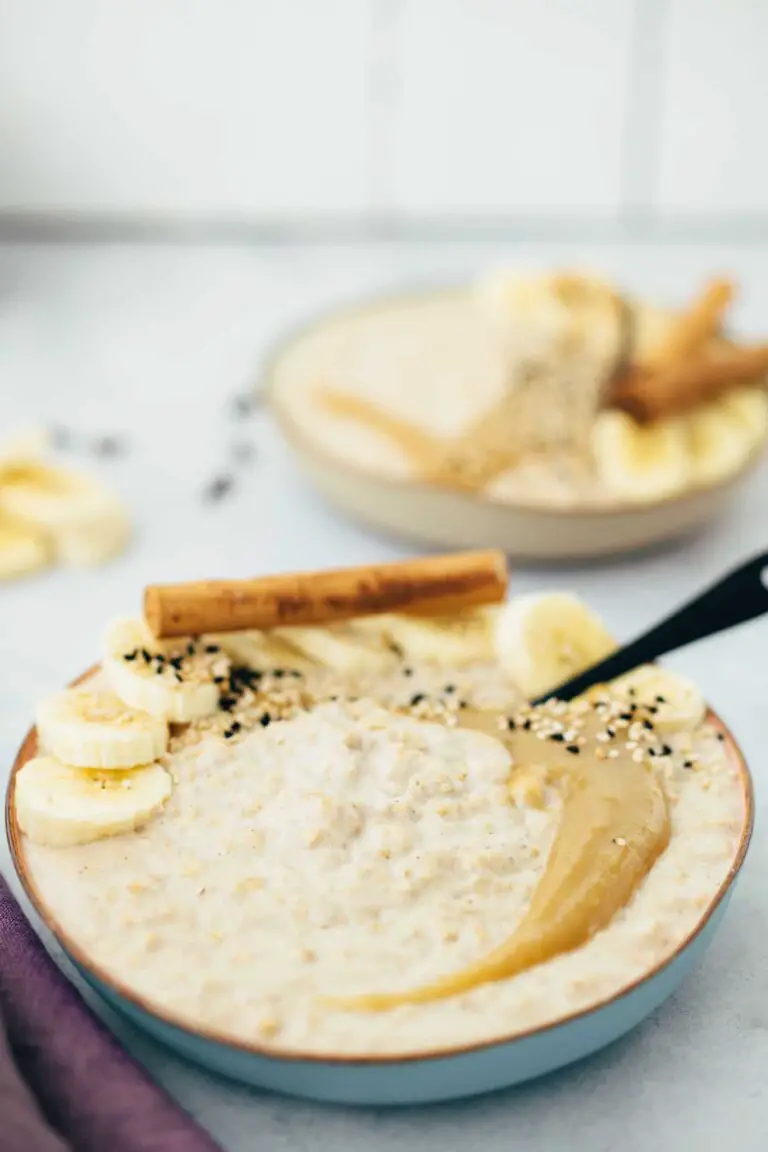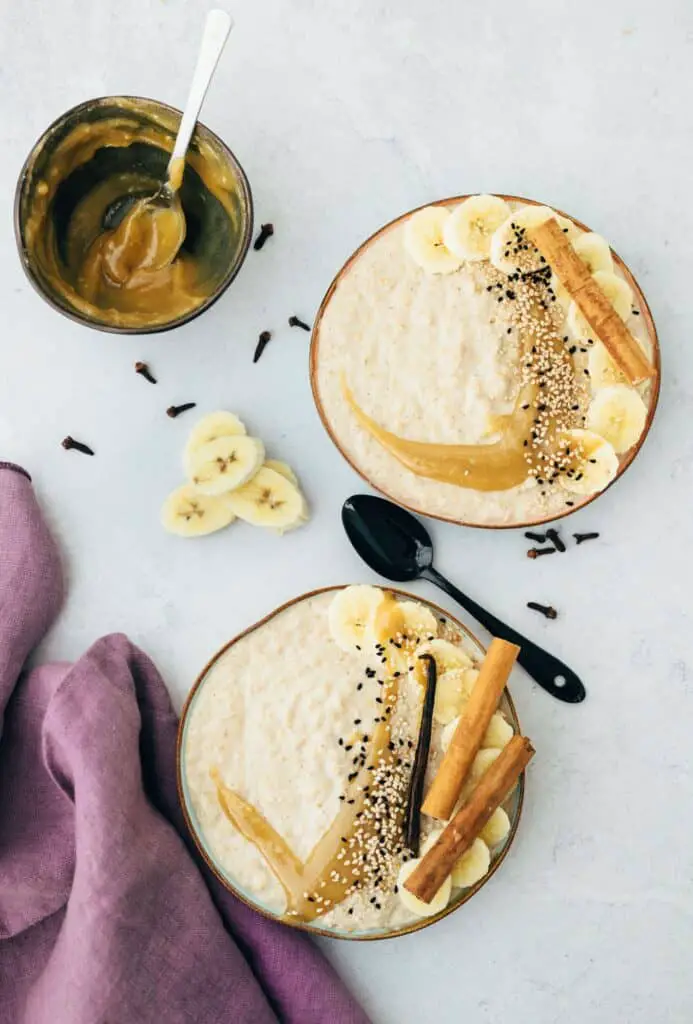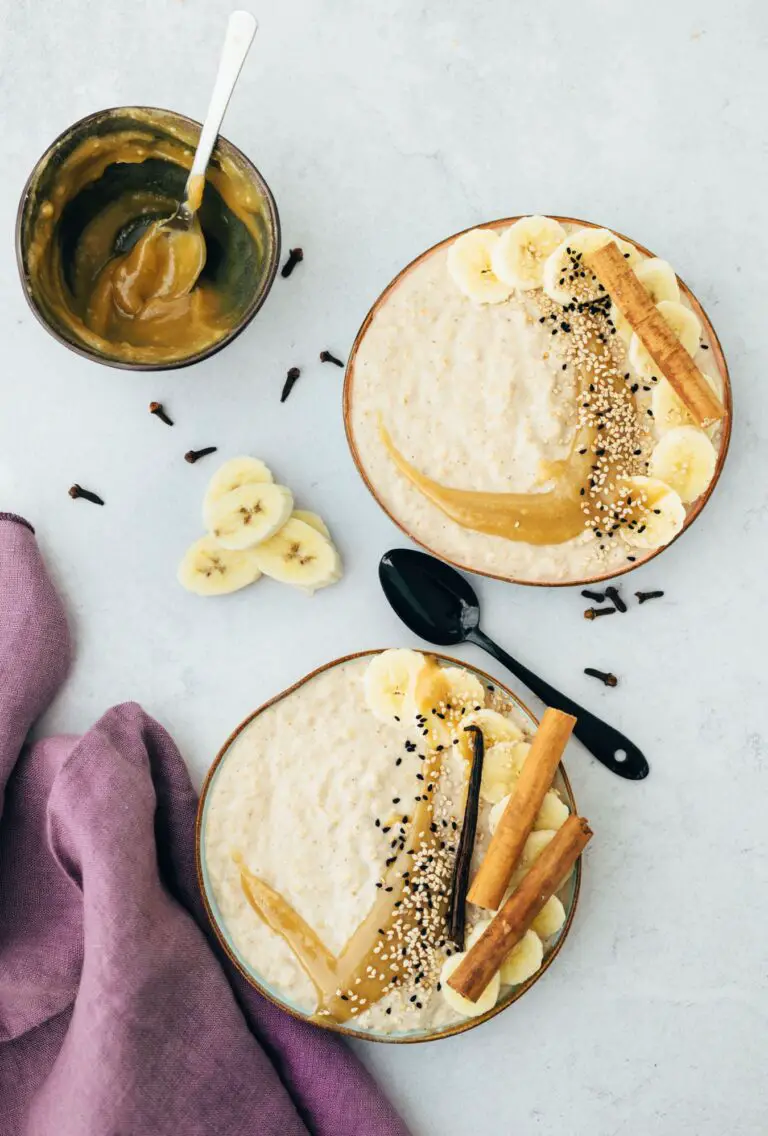 A good Breakfast should be filling, preferably warm (at least according to Ayurvedic health teachings) and provide you with important nutrients. These criteria are met with this delicious Porridge fulfilled in any case. The special flavor it gets from different spices, such as cloves, cinnamon, Cardamom and vanilla. As a sweetener I use coconut blossom sugar, our oatmeal still gives a great caramel note. To this is added vegetable milk and soaked Cashews which provide a great creaminess. All these ingredients are mixed in a high-powered blender and boiled together with the oatmeal.
The certain extra is the Tahini -caramel, which is really easy to make. Mix tahini together with maple syrup and a pinch of salt to a creamy caramel and Voliá!
How healthy are oatmeal actually?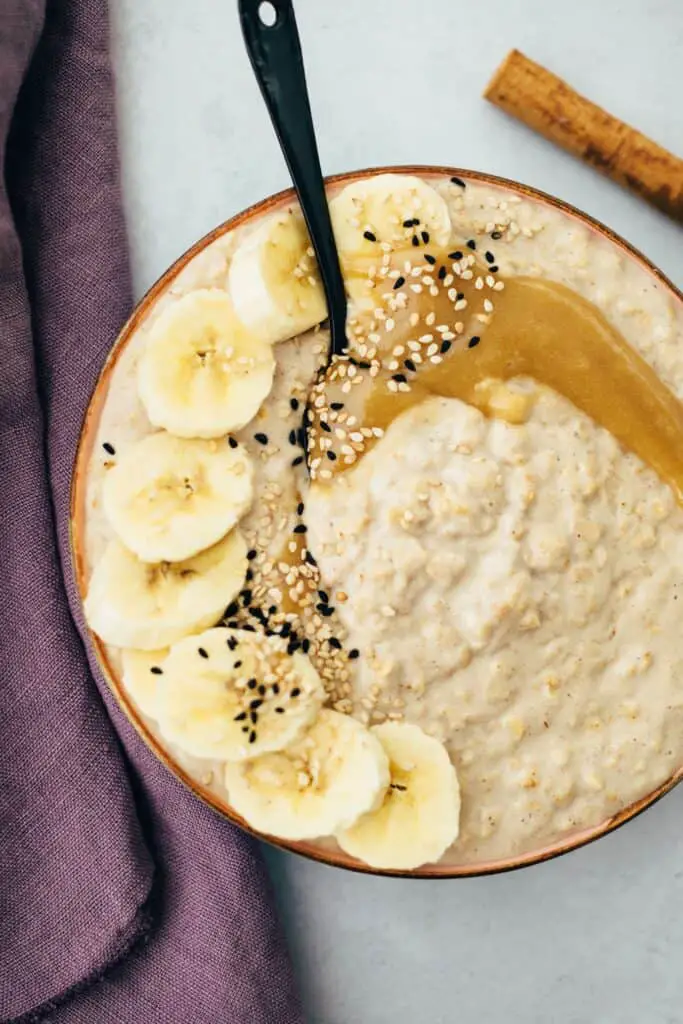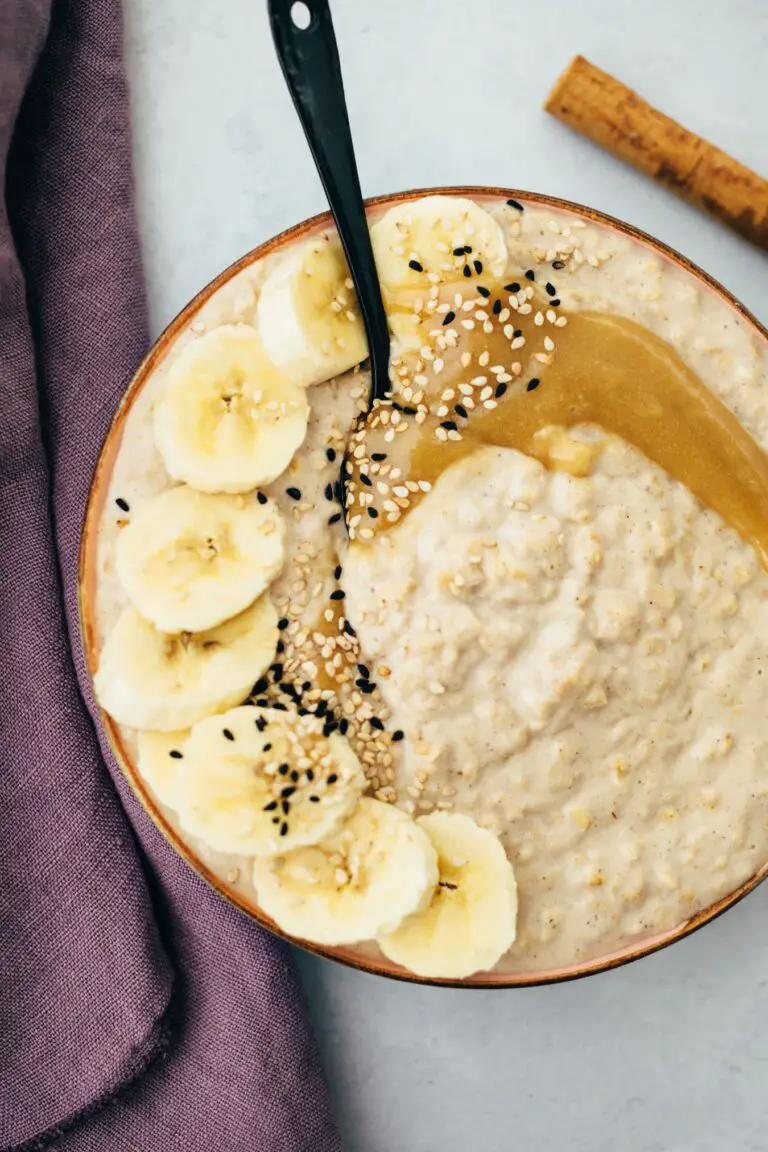 The answer is: very healthy! Oatmeal become are always obtained from the whole grain and thus contain all of the Treasures that can do your body good:
Extra fiber (longer Sense of satiety)
Beta-glucan can reduce cholesterol and LDL levels lower
Minerals such as magnesium, phosphorus, zinc and Iron
Vitamin B1 and B6
High percentage of valuable, vegetable protein
Honestly, in my research I have found only positive arguments about the health benefits of oatmeal. What to do if you Oatmeal do not like? Then just try experimenting with different flavors and toppings. The more beautiful and creative you make your porridge, the more you will want to eat it afterwards. After all, the eye eats with you.
Oatmeal, porridge, oats – you choose!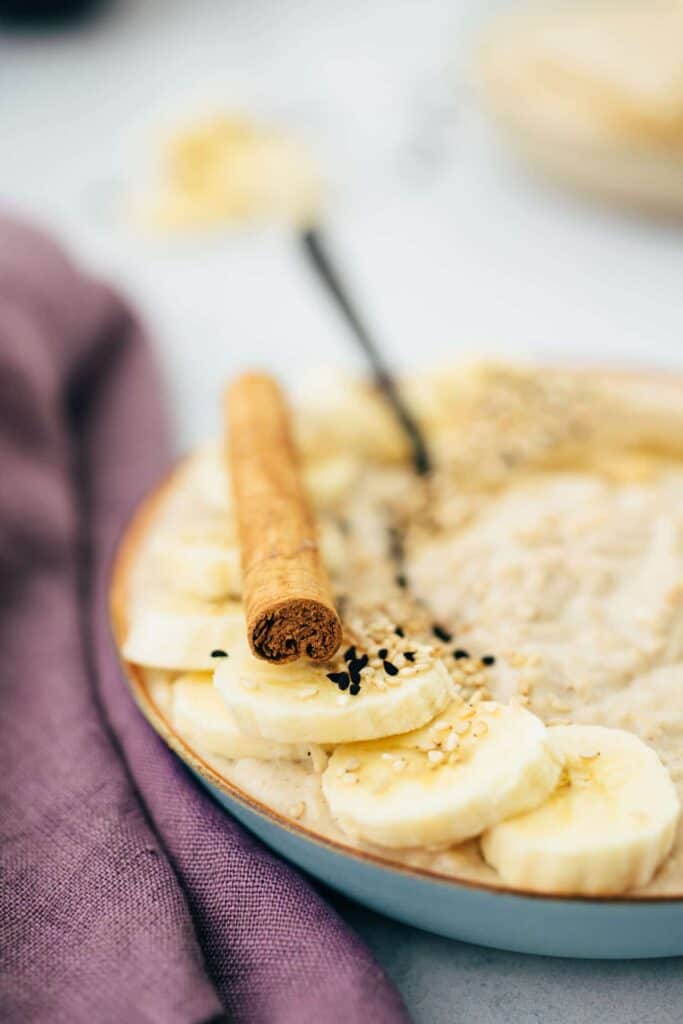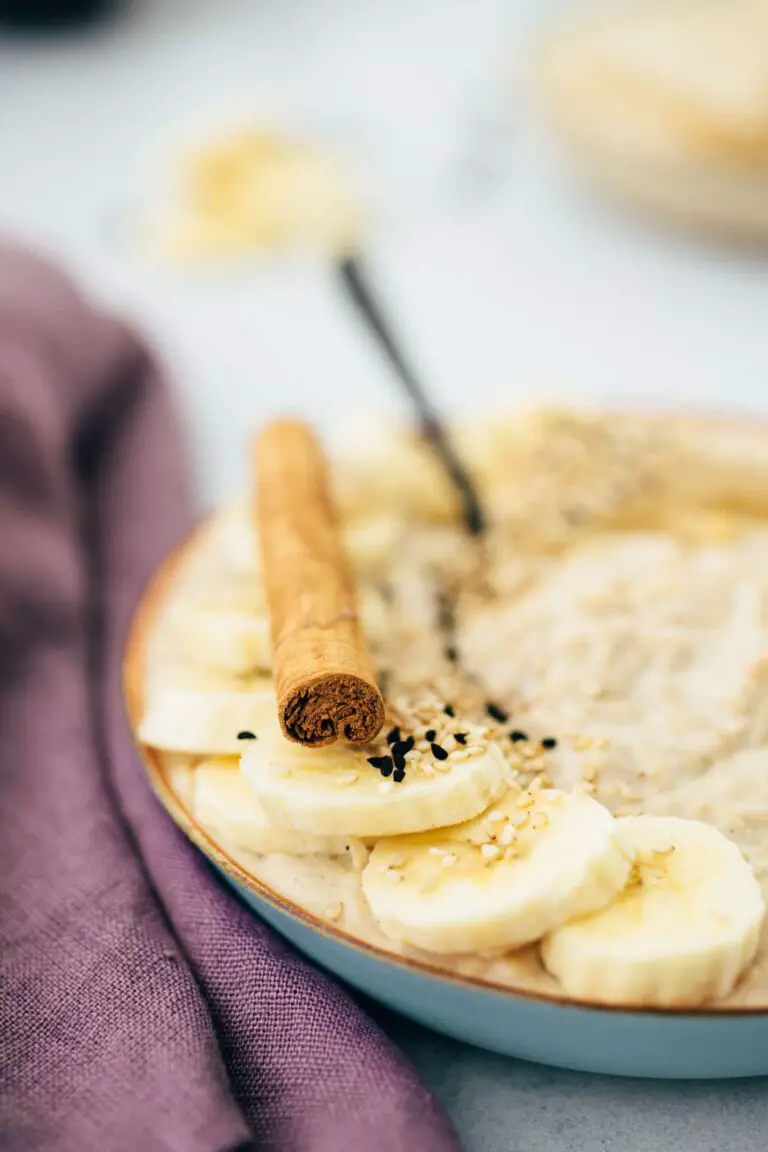 Enough writing, I would say we just start together now. I love this porridge variation especially because of the spices. That's why I always mix myself a small jar of ready-made Chai Spices and have them so always handy.
Chai porridge with tahini caramel:
Pleasantly sweet
Saturating
Full with healthy fiber
Spicy
simple to be produced
Let's start with this healthy porridge, which will start your day perfectly. morning your day off to a perfect start. I wish you a lot of fun in recooking and of course a review at the bottom of this page. If you post a picture, use the hashtag #veganevibes.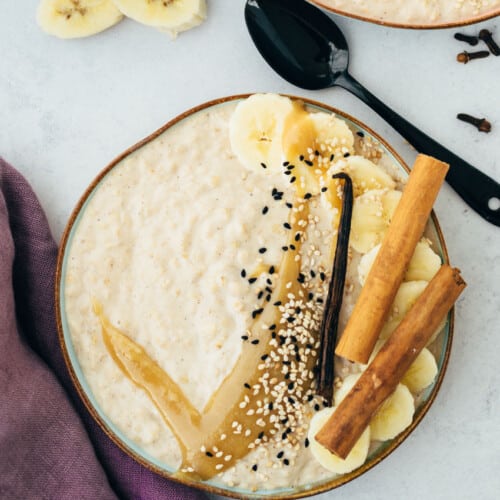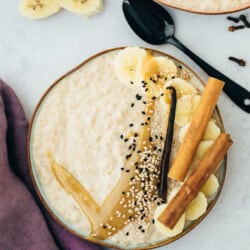 Chai porridge with tahini caramel
Filling, delicious and warming porridge with almond milk, oatmeal and lots of healthy spices, such as cloves, cinnamon and cardamom. Perfect for a healthy breakfast that keeps you full for a long time and ensures healthy blood sugar levels.
AUTOR: VEGANEVIBES
TOPPING (optional):
One banana cut into pieces

Black and white sesame seeds

Cinnamon sticks

For decoration
Anleitung 
Place cashews, almond milk, coconut blossom sugar, cinnamon, cardamom, cloves, bourbon vanilla, and salt in a high-powered blender and blend to a fine liquid.

35 g Cashews,

375 ml Almond milk or another vegetable milk,

12,5 g Coconut blossom sugar,

1 tbspn Cinnamon,

1 tbspn Cardamom,

½ tbspn Cloves,

½ tbspn Bourbon vanilla

Place in a small saucepan, add oatmeal and bring to a boil over medium heat, stirring constantly. Simmer for 2-3 minutes, remove heat and let sit for a few minutes.

In the meantime, combine all the ingredients for the Tahini caramel in a small bowl and stir until an even paste is formed.

45 ml maple syrup,

A pinch of salt,

30 g white tahini

Divide porridge into two bowls, garnish with tahini caramel and other toppings of your choice and enjoy!

One banana cut into pieces,

Black and white sesame seeds,

Cinnamon sticks

Keeps 2-3 days in an airtight container in the refrigerator, best fresh. From the refrigerator is best to stir in a little warm vegetable milk and then enjoy!
Notizen
*or one hour in boiling hot water, rinse well and use. If it has to go really fast and you have a really good blender, then you can also use the cashews without soaking.
Nährwertangaben
Serving:
1
Portion
Calories:
328
kcal
Carbohydrates:
36
g
Protein:
7
g
Fat:
18
g
Saturated Fat:
2
g
Sodium:
267
mg
Potassium:
266
mg
Fiber:
3
g
Sugar:
18
g
Vitamin C:
0.7
mg
Calcium:
277
mg
Iron:
2.2
mg