Now they are back, these gray days and the endless fog (at least that's how it is with us) and I'm really glad that we have our huskies. They are my motivation to really go out every day, no matter how bad the weather is. This morning was another gray, foggy day with hardly any visibility and cold, wet weather. Get dressed, get out and watch the little ones run (ok, we have to run too). After that, there is always the question of the right Breakfast for the season and what better than a delicious, warm porridge. Preferably one that also looks and tastes like a good mood. Exactly this Recipe I have prepared for you today. A healthy porridge that glows yellow, thanks to an extra helping of turmeric. What can the spice actually do? This and much more you will learn in this article. Stay healthy!
Vegan porridge on the go!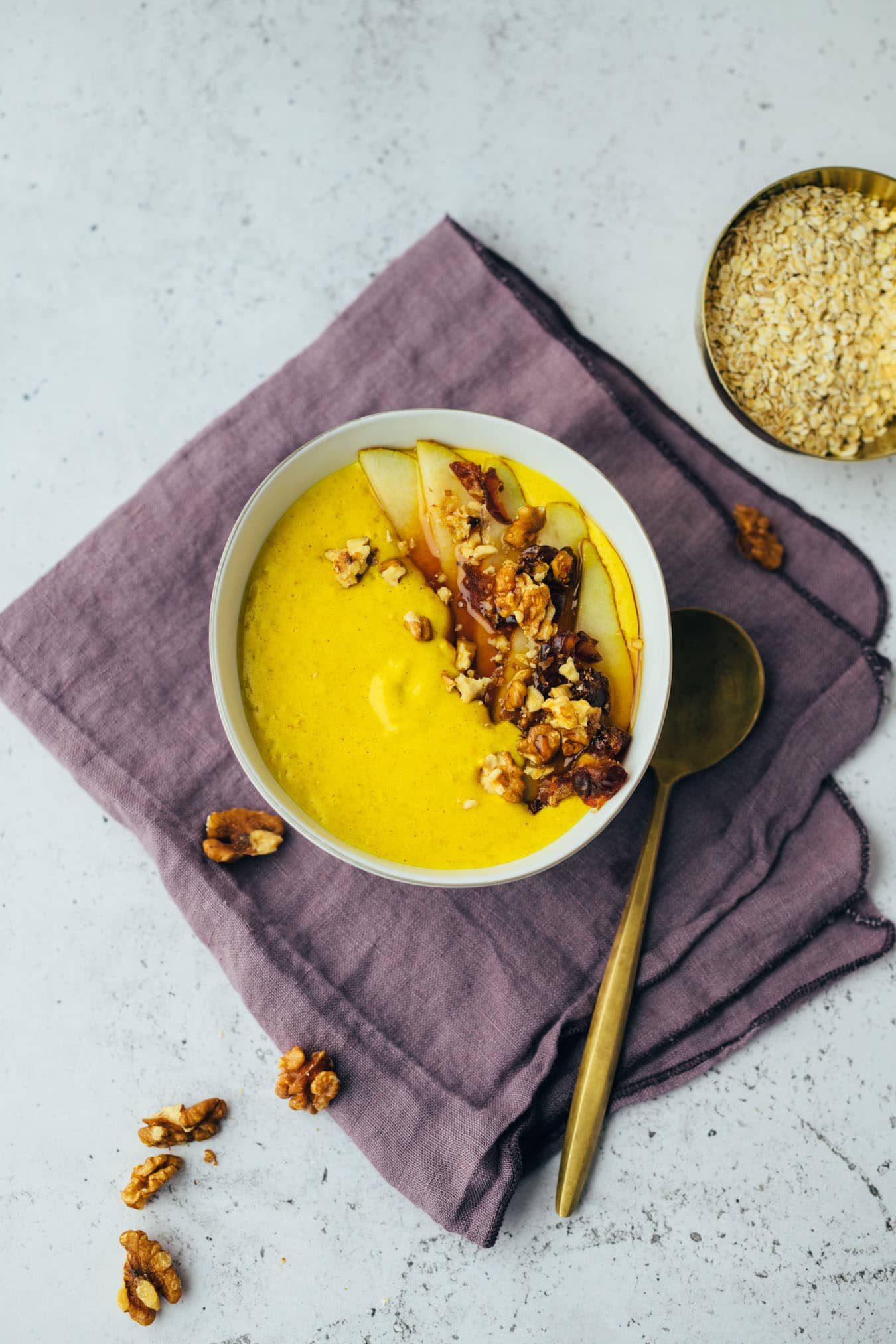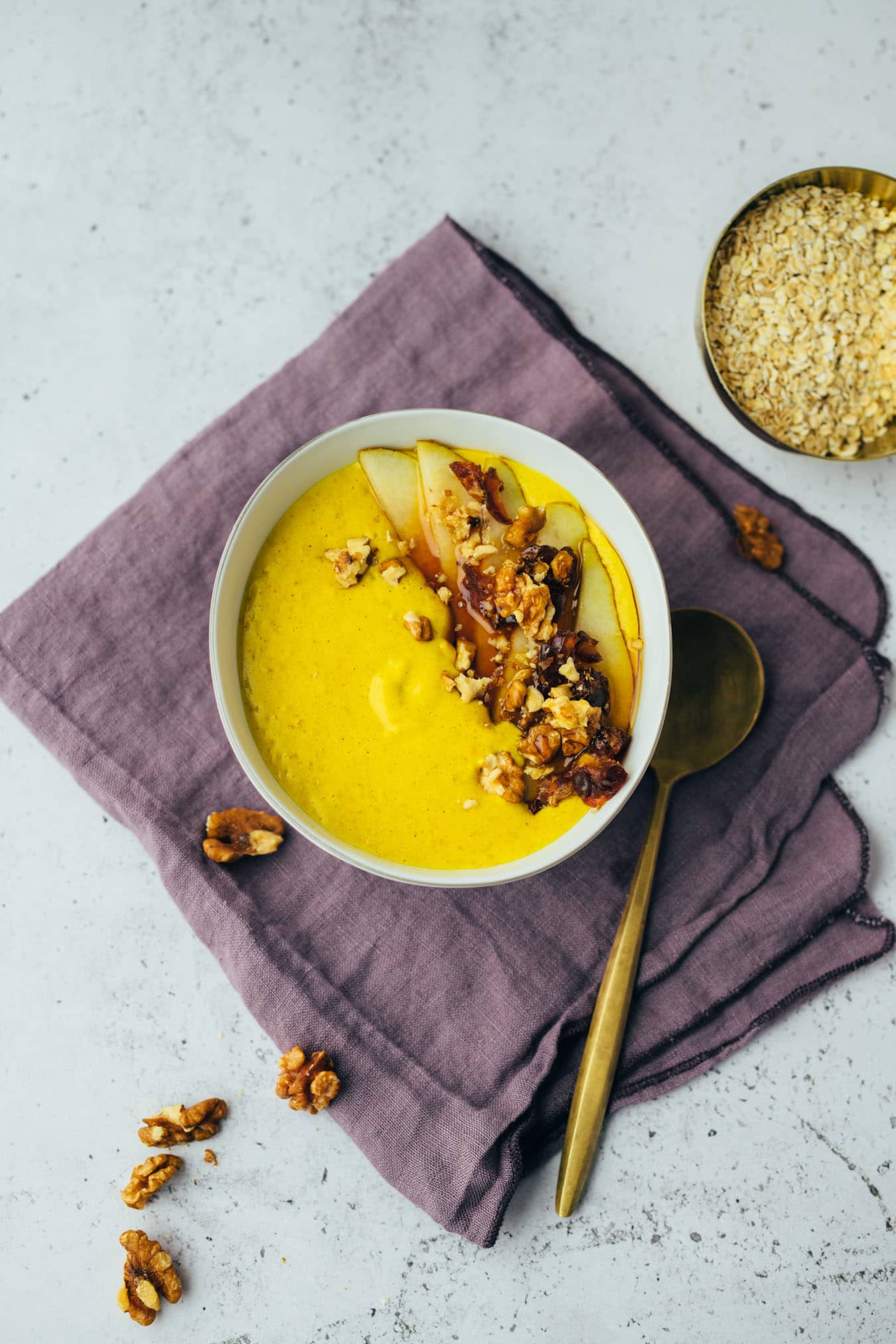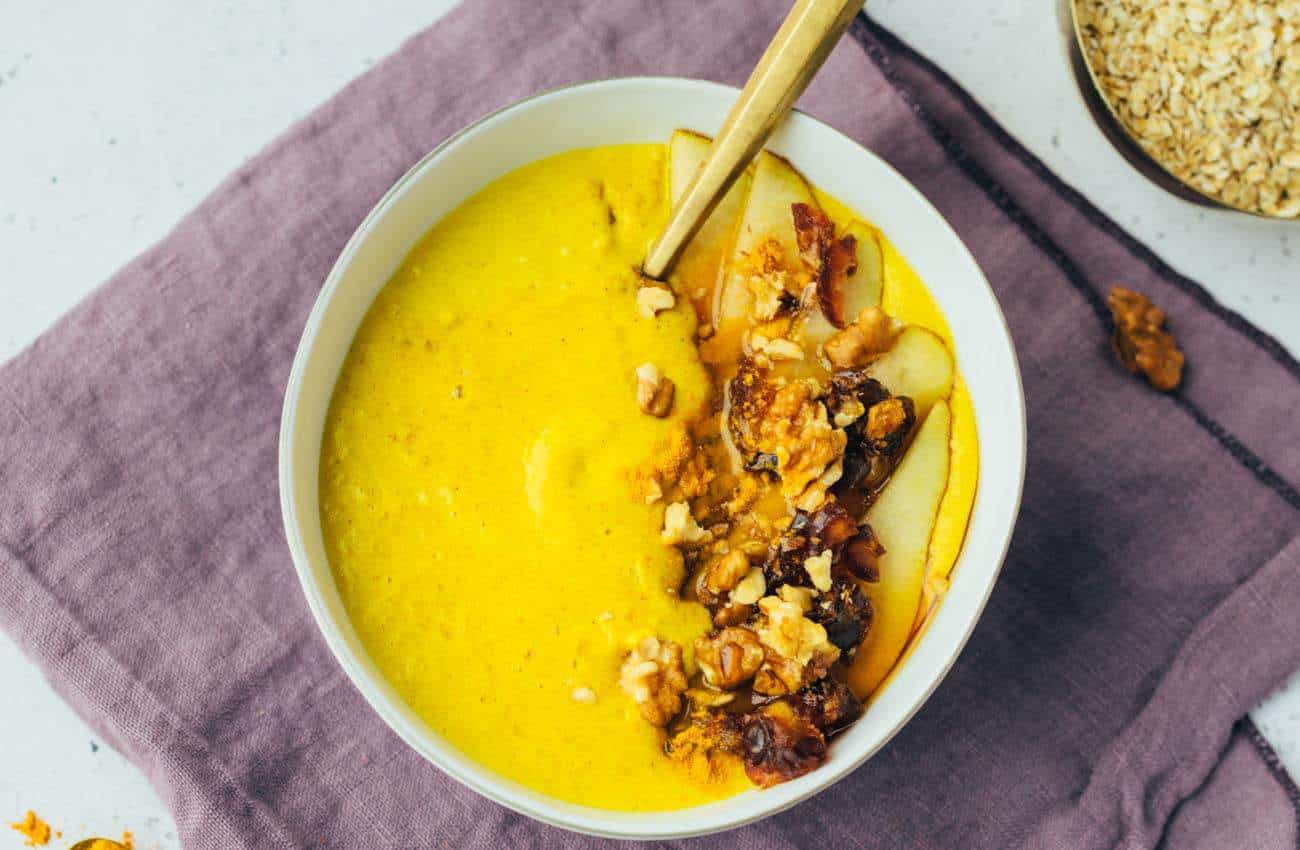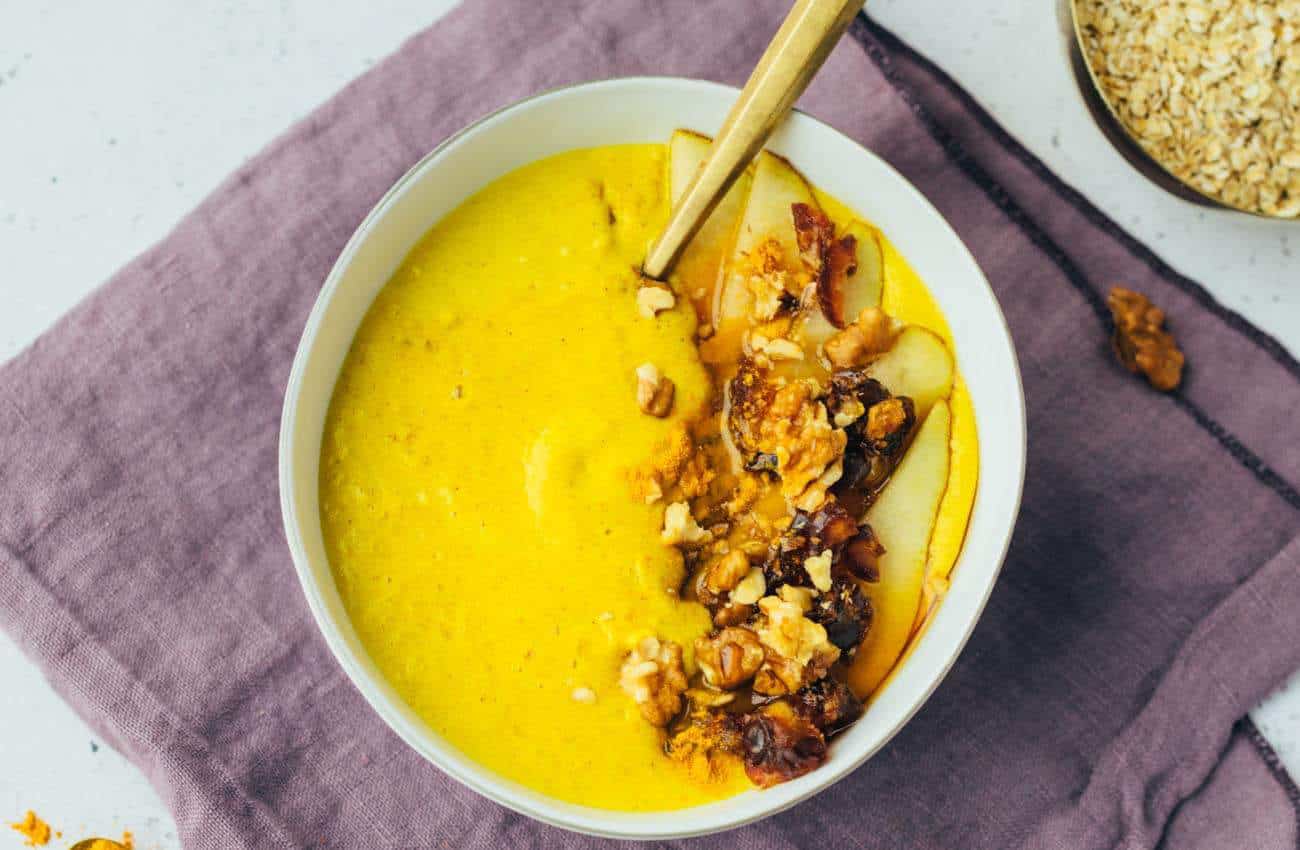 I often hear from friends and acquaintances that healthy eating takes far too long. That may well be true, but good planning always helps here. The Porridge is ready in half the time if you mix the ingredients the night before. Trust me, your health and well-being will thank you when you trade in the cornflakes for a warm, satisfying porridge.
Turmeric, miracle cure or just a spice?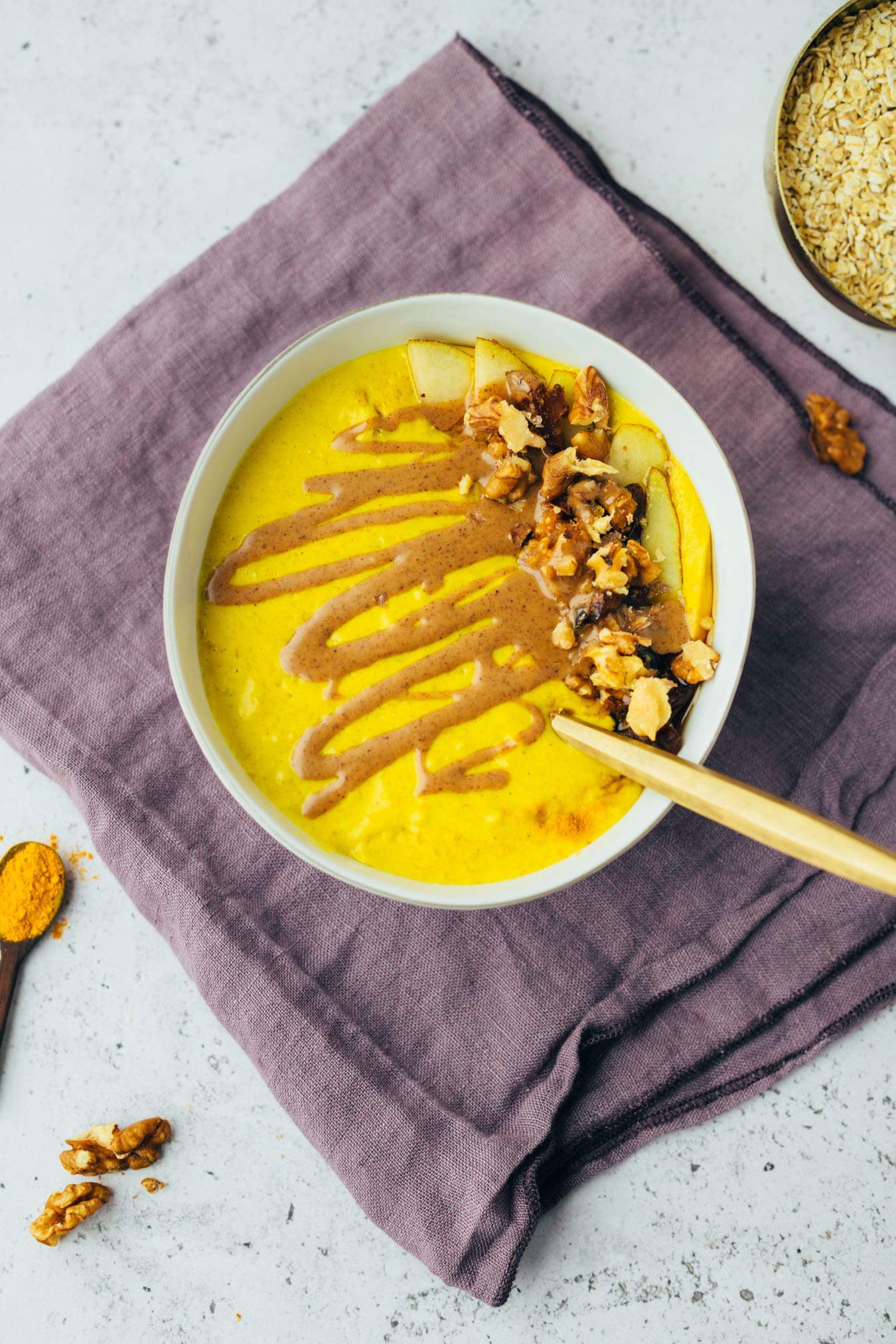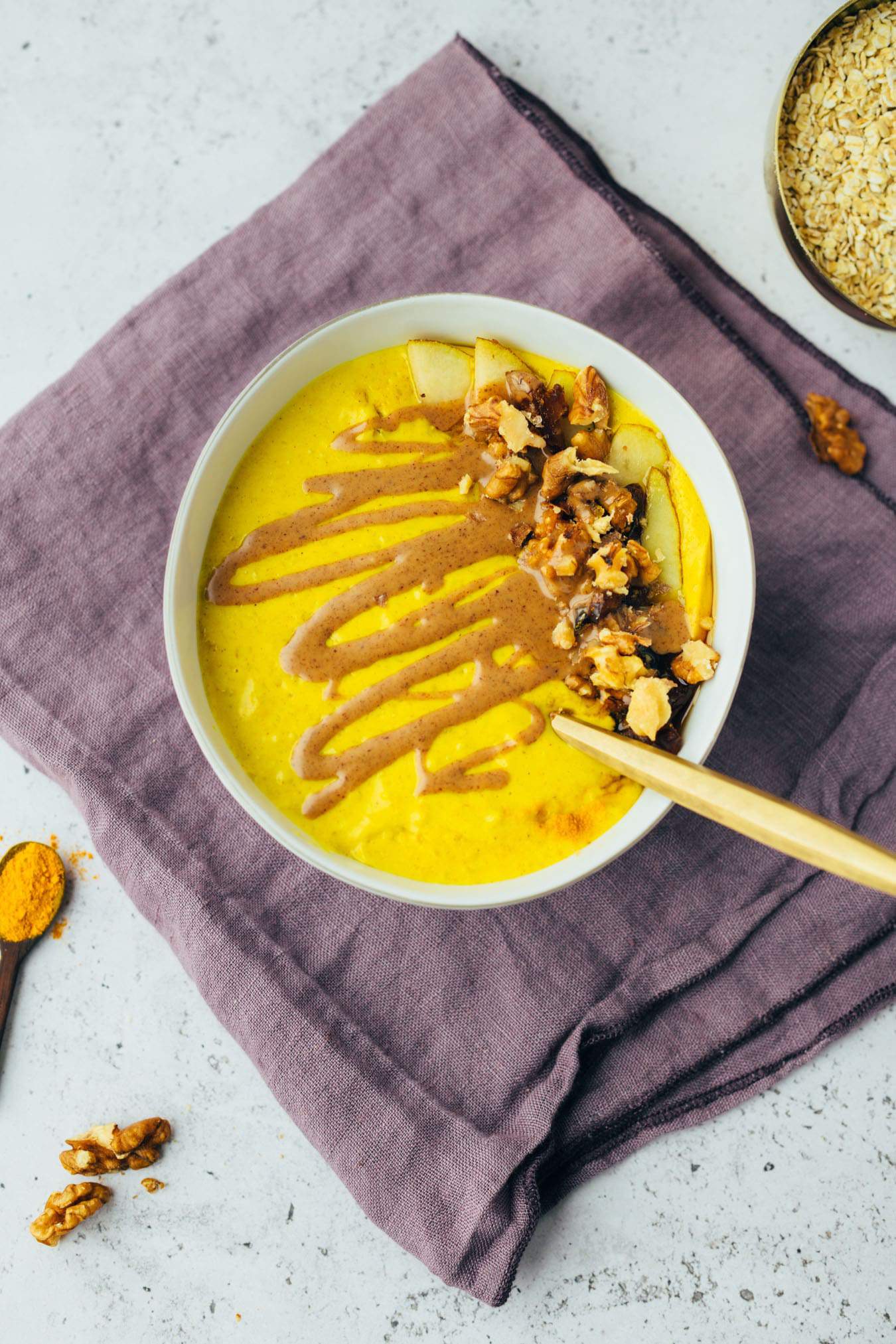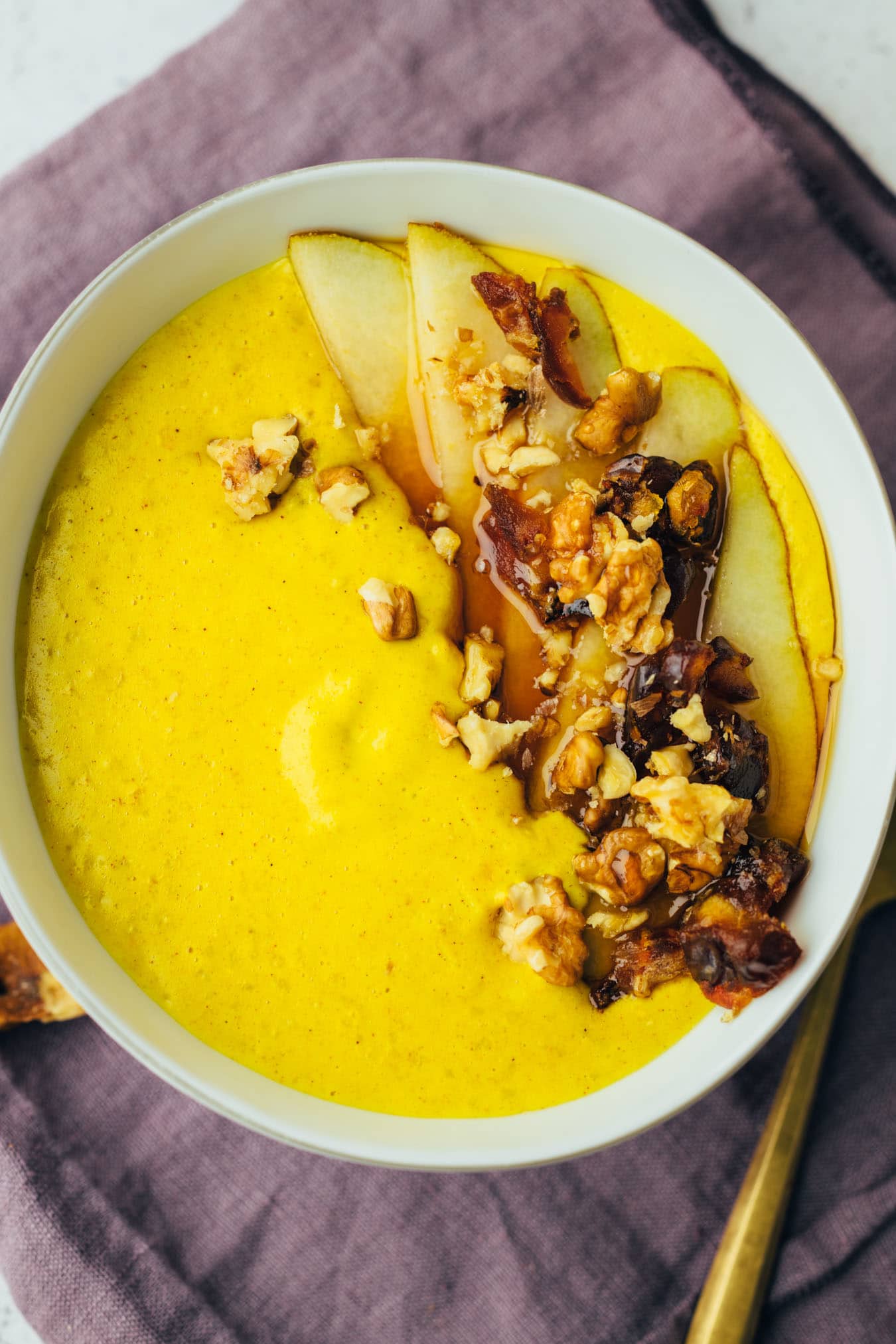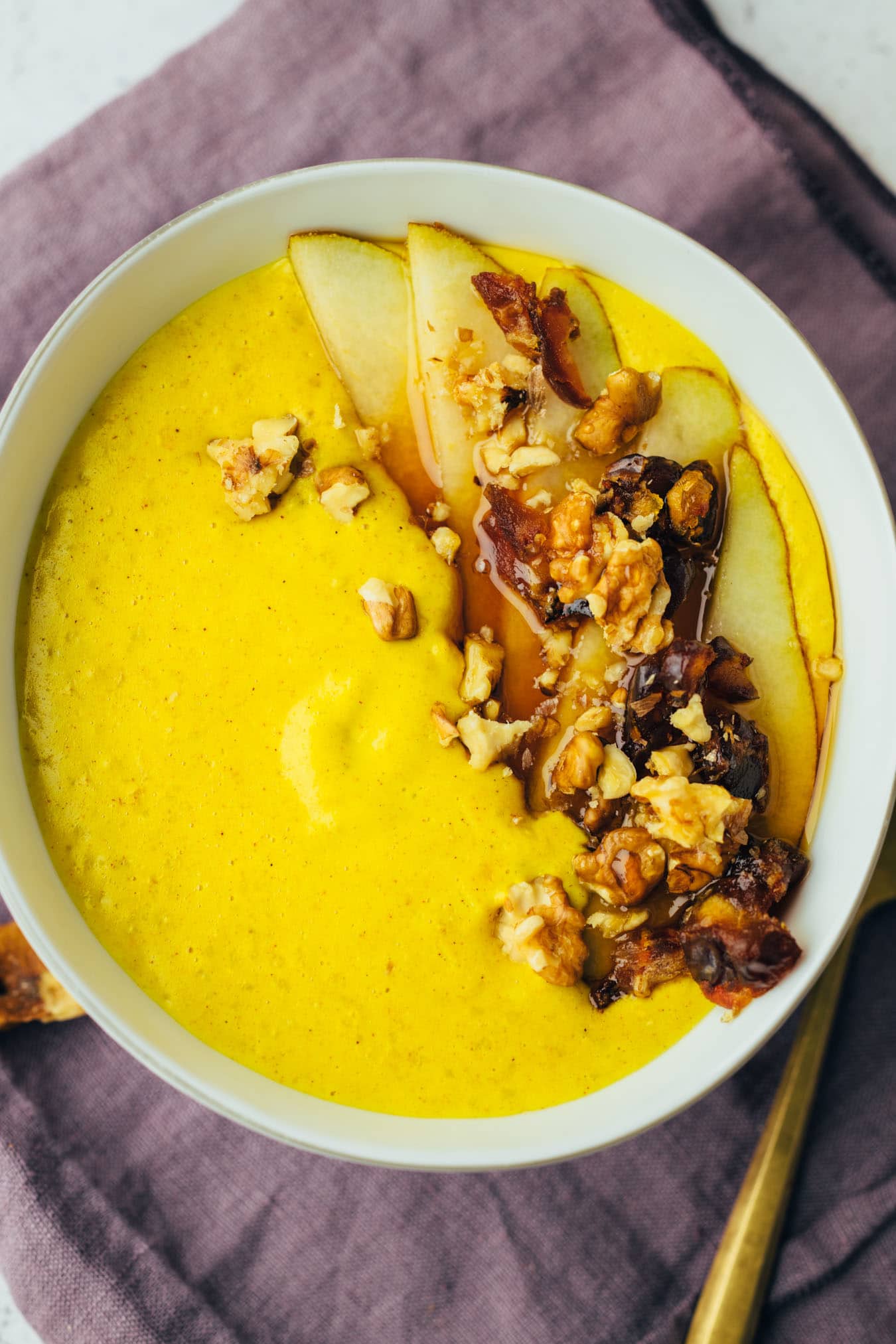 Oatmeal, Almond milk , turmeric, cinnamon, ginger, cardamom, a pinch of pepper, maple syrup, (optional) dates, walnuts and pears. So much for our list of ingredients today. The only question is what turmeric can really do? Is it simply a spice, or does it actually have the health-promoting properties that are repeatedly touted in the media? I have done some research for you. Turmeric is called the spice, the contained dye curcumin. This should according to the latest scientific findings:
Possess anticancer properties
Anti-inflammatory effect
prevent Alzheimer's disease (the plant substance prevents deposits of certain proteins in the brain)
In Ayurvedic medicine, turmeric (or also called turmeric) has been used for more than 5,000 years to treat certain ailments. Sounds perfect or? We not only get a bright yellow color in our porridge, but also do something for our health. Small TIP: Turmeric always take together with some pepper. why? The piperine contained in pepper, increases the absorption capacity of curcumin in the body.
But enough facts now, let's get started together! I love porridge so much that I make it almost every day at the moment. As a topping is particularly suitable domestic fruit, such as pears or apples, nut muse and a handful of walnuts. If you like it even sweeter, mix in 1-2 dates. Voilà!
The warming porridge with turmeric is:
Pleasantly sweet
filling
Full of healthy fiber
Warming
Easy to manufacture
Let's start with this healthy Porridge that will get your day off to a perfect start in the morning. I wish you a lot of fun with the Nachbacken and of course about a rating at the bottom of this page. If you post a picture, use the hashtag #veganevibes.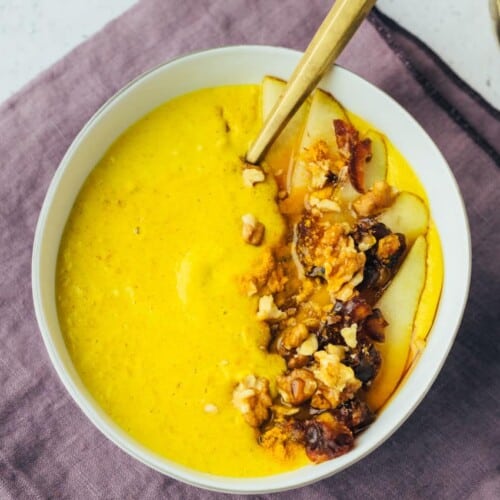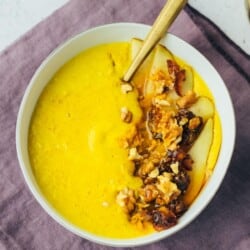 Warming porridge with turmeric
Filling, delicious and warming porridge with almond milk, oatmeal and lots of healthy spices, such as turmeric, cinnamon and cardamom. Perfect for a healthy breakfast that keeps you full for a long time and ensures healthy blood sugar levels.
AUTOR: VEGANEVIBES
Anleitung 
Place oatmeal,

almond milk

, maple syrup, turmeric, ginger, cardamom, pepper and salt in a small saucepan and bring to a boil while stirring.

67 g Oatmeal,

500 ml Almond milk or another vegetable milk,

15 ml Maple syrup,

1 tbspn Turmeric,

½ tbspn Ginger,

¼ tbspn Cardamom,

A pinch of pepper,

A pinch of salt

Simmer over medium heat for

10 minutes

until the oatmeal has softened and a creamy porridge has formed.

Garnish with desired toppings and enjoy!

2 Piece Medijool dates,

One pear sliced,

Walnuts at will

Keeps 2-3 days in an airtight container in the refrigerator, best fresh.
Nährwertangaben
Serving:
1
Portion
Calories:
84
kcal
Carbohydrates:
11
g
Protein:
2
g
Fat:
3
g
Sodium:
327
mg
Potassium:
23
mg
Fiber:
1
g
Sugar:
5
g
Calcium:
308
mg
Iron:
0.5
mg