Vegan French toast is a delicious and versatile option for a vegan breakfast or brunch. Instead of egg and milk, vegetable milk such as almond milk or oat milk is used to dip the bread or toast and fry until golden brown. Vegan French toast still offers the perfect combination of crunchiness and fluffiness and can be enhanced with syrup, fresh fruit or powdered sugar.
Vegan French toast lets go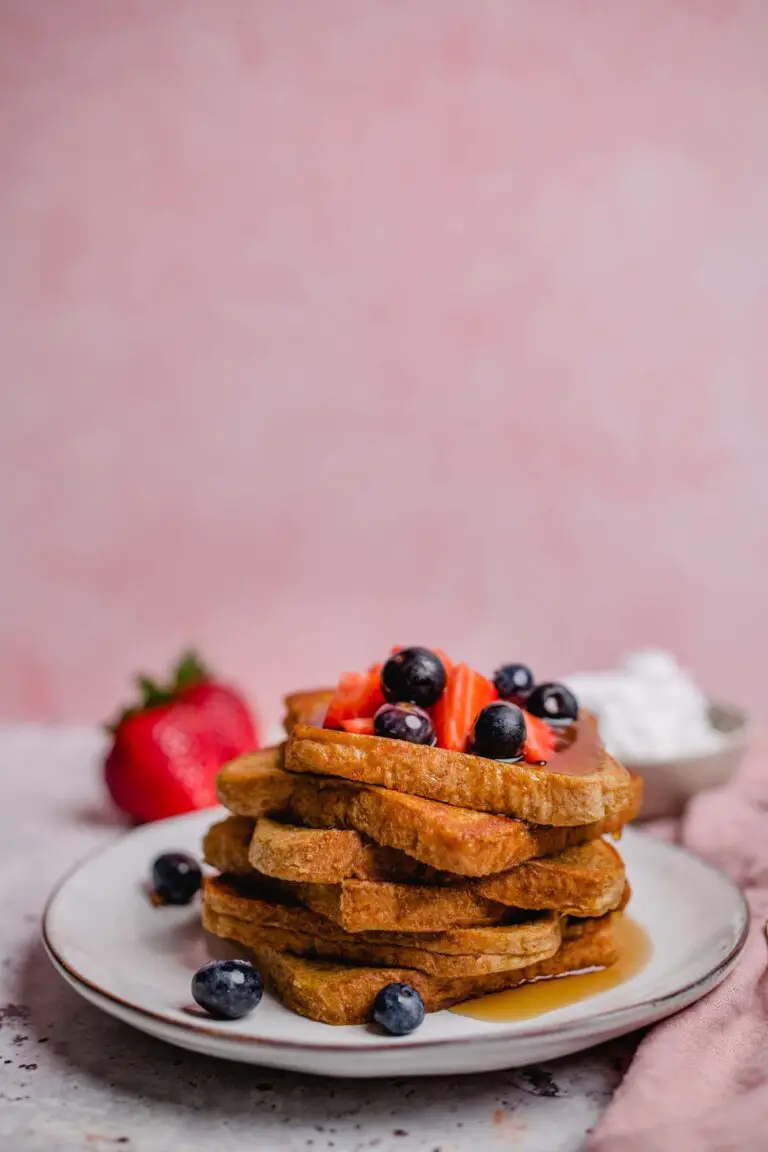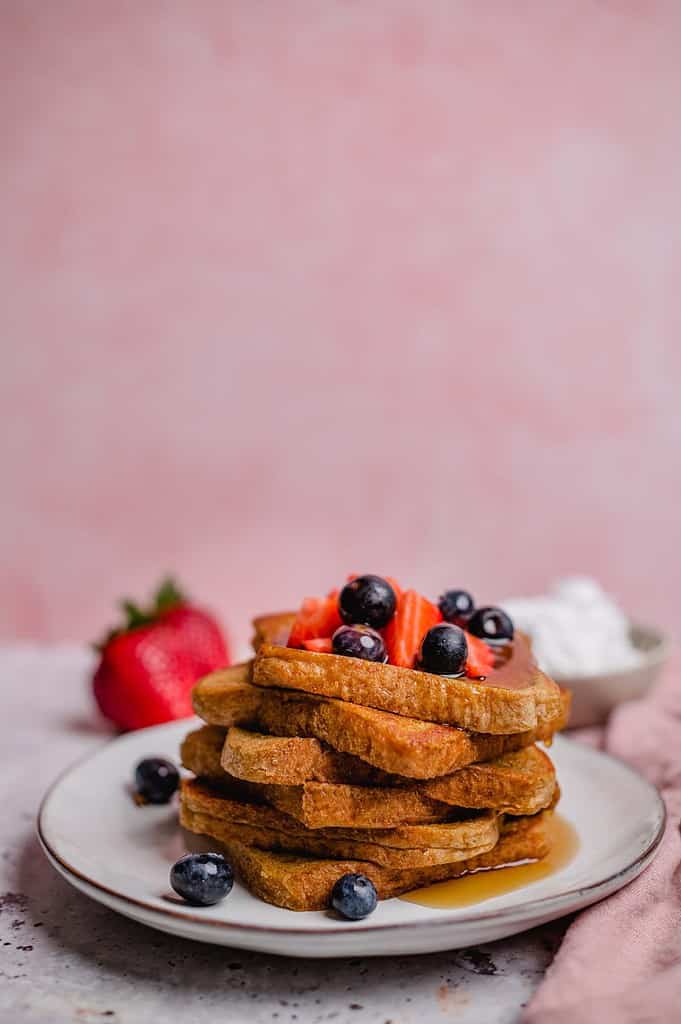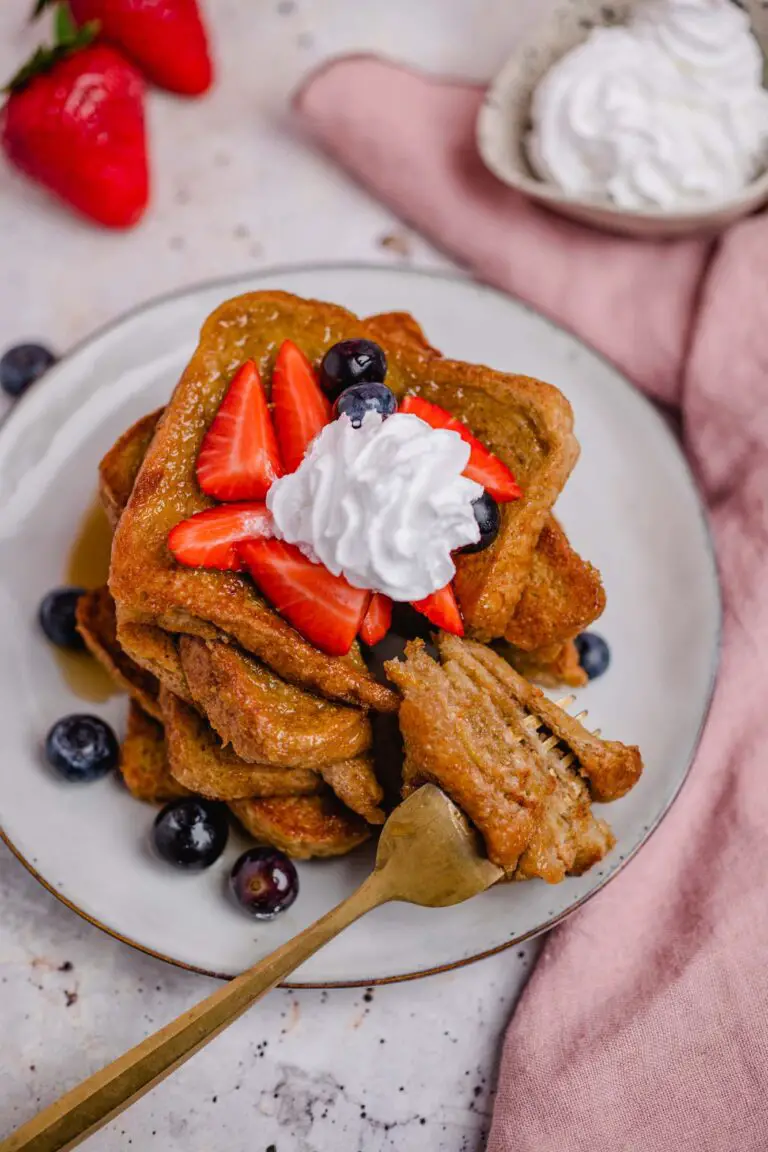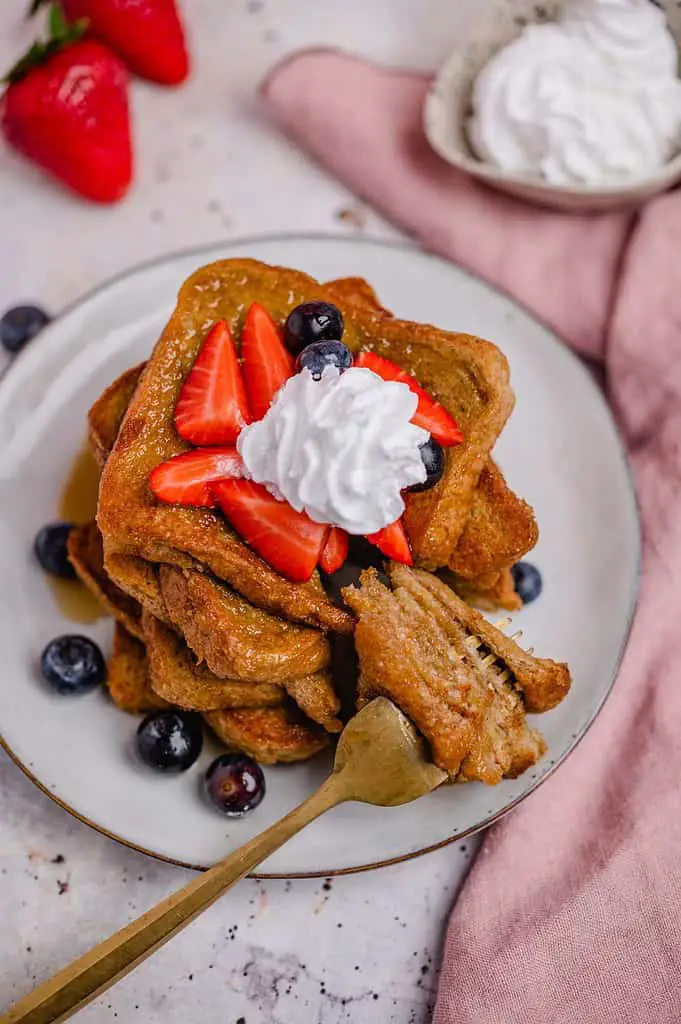 What makes vegan French toast so great is that it's accessible to everyone, regardless of their dietary preferences or allergies. It's free of animal products, yet offers a delicious and satisfying treat.
As with the classic version of French toast, you can customize vegan French toast to your liking and experiment with different flavors. Cinnamon, vanilla extract or a pinch of nutmeg add additional flavor and a wonderful touch to the toast.
Vegan French toast is not only delicious, but also a great way to use up leftover bread and give it new life. You can use stale or dry bread or toast and dip it in the delicious mixture of vegetable milk and spices.
Toast for breakfast or brunch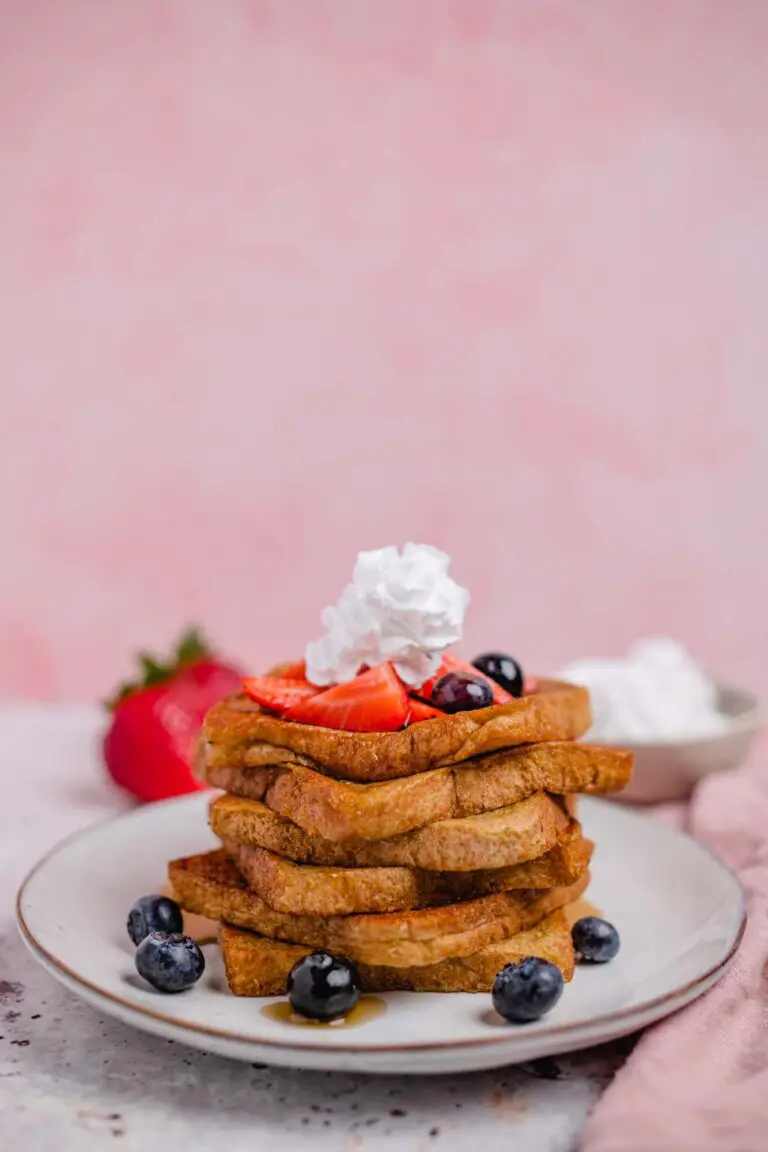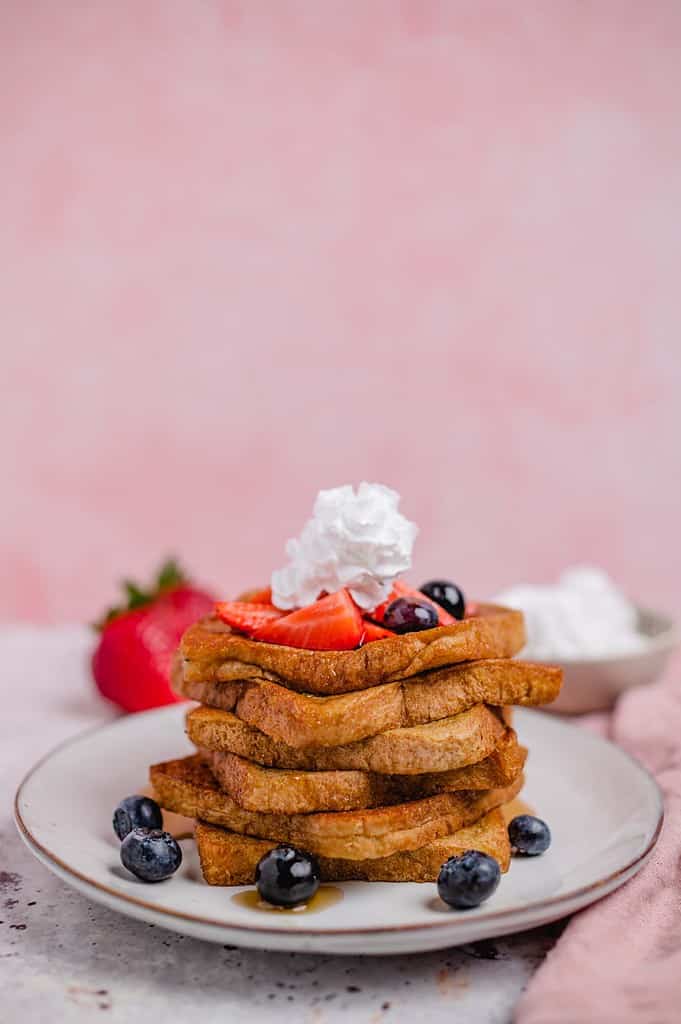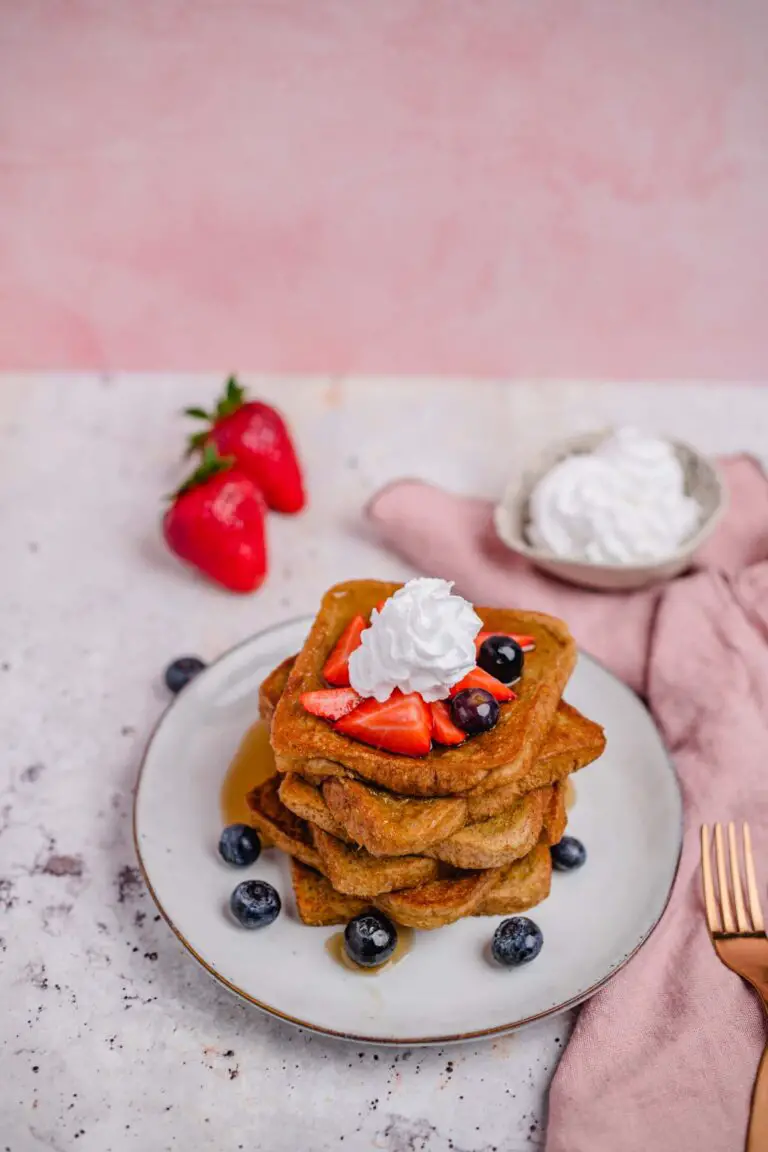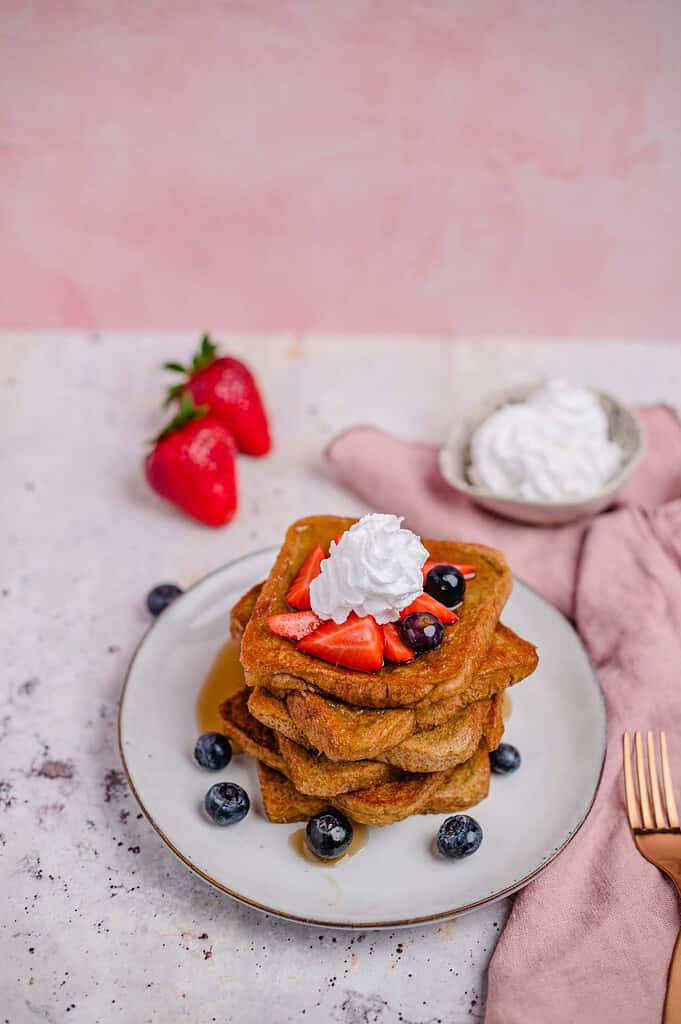 Enjoy vegan French toast as a hearty and filling breakfast that will provide you with energy for the day. The addition of fresh fruit or berries also gives it a serving of healthy nutrients and vitamins.
Whether you've decided to follow an all-vegan diet or just love trying new vegan dishes, vegan French toast is an ideal option to treat yourself and your loved ones. It is easy to prepare and offers a delicious alternative to traditional French toast.
So, why not add some variety to your vegan breakfast or brunch routine and make some delicious vegan French toast? It is a dish that will delight both vegans and non-vegans alike and invites you to enjoy.
Here are four reasons why you should definitely try this vegan French toast:
Taste explosion: This vegan French toast is simply delicious! The bread is soaked in a delicious mixture of vegetable milk, spices and flavors that give it a rich and irresistible taste. Every bite is a true taste explosion.
Animal Friendly: Vegan French Toast is a wonderful way to enjoy a delicious breakfast or brunch without using animal products. It is an ethical choice that helps reduce animal suffering and protect our planet.
Healthy treat: This vegan French toast can also be healthy, depending on what ingredients you use. You can choose healthy, whole-food breads, plant-based milks with high nutritional value, and healthy toppings like fresh fruit. It's a delicious way to boost your breakfast with essential nutrients.
Versatility: Vegan French toast is extremely versatile. You can use a variety of breads, from whole wheat to cinnamon raisin to gluten-free. You can also experiment with different spices like cinnamon, vanilla, or cardamom to give your French toast a unique twist. The possibilities are endless!
Are you ready for this vegan French toast? I wish you a lot of fun with the imitation and of course about a rating at the bottom of this page. If you post a picture, use the hashtag #veganevibes.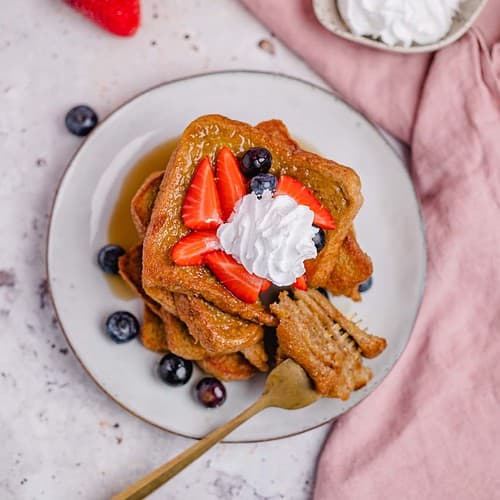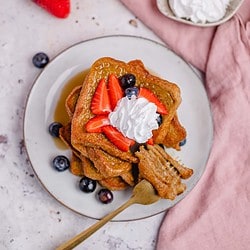 Vegan French toast
Vegan French toast is a delicious alternative to traditional French toast and can easily be customized to your liking. Try different toppings and spices to create your own unique flavor. Bon appétit!
AUTOR: VEGANEVIBES
4

Slices

Bread / Toast

preferably some older, slightly dry bread, I use toast bread

1

Cup

Vegetable milk

I use oat milk alternatively soy milk or almond milk

2

tbspn

Chickpea flour

(alternatively you can use flaxseed meal or cornstarch)

¼

tbspn

Bourbon vanilla

ground or 1 tsp vanilla extract

1

tbspn

Cinnamon

optional

Vegetable oil for frying
TOPPING
maple syrup

fresh fruit or other toppings such as vegetable cream as desired
Anleitung 
In a shallow bowl or dish, mix together the vegetable milk, chickpea flour, bourbon vanilla, cinnamon (if desired), and a pinch of salt. Stir the mixture well until all ingredients are well combined.

1 Cup Vegetable milk,

2 tbspn Chickpea flour,

¼ tbspn Bourbon vanilla,

1 tbspn Cinnamon,

A pinch of salt

Heat a frying pan over medium heat and add some vegetable oil to grease the pan.

Dip a slice of bread into the mixture, making sure both sides are well wetted. Let the bread sit in the mixture for a few seconds to soak up the liquid.

Place the dipped bread in the pan and fry until golden brown on both sides. Repeat this step with the remaining slices of bread.

When all the slices are golden brown and crispy, take them out of the pan and serve immediately. You can garnish them with maple syrup, fresh fruit or other toppings to taste.
Notizen
*Gluten-free provided gluten-free ingredients are used, such as gluten-free bread, oat milk and flour.

Nährwertangaben
Serving:
1
Portion
Calories:
265
kcal
Carbohydrates:
41
g
Protein:
12
g
Fat:
6
g
Saturated Fat:
1
g
Polyunsaturated Fat:
3
g
Monounsaturated Fat:
1
g
Trans Fat:
0.02
g
Sodium:
417
mg
Potassium:
287
mg
Fiber:
4
g
Sugar:
8
g
Vitamin A:
493
IU
Vitamin C:
9
mg
Calcium:
274
mg
Iron:
3
mg