Anyone who is not a fan of pumpkin bread may stop reading now and even unfollow me. No, I wouldn't go that far, but readers who don't like pumpkin have a really hard time with me right now. I currently always have fresh pumpkin puree in the fridge and wherever I can get my hands on one of these yellow-orange super vegetables, I grab it. It's just so much fun to cook and bake everything imaginable with pumpkin. As they say with adolescent youth, just close your eyes and get through it or wait until it's over. I'm currently waiting until my pumpkin addiction is over too. Until then, however, PPP = Perfect Pumpkin Puree.
Vegan pumpkin bread – fluffy, delicious, addictive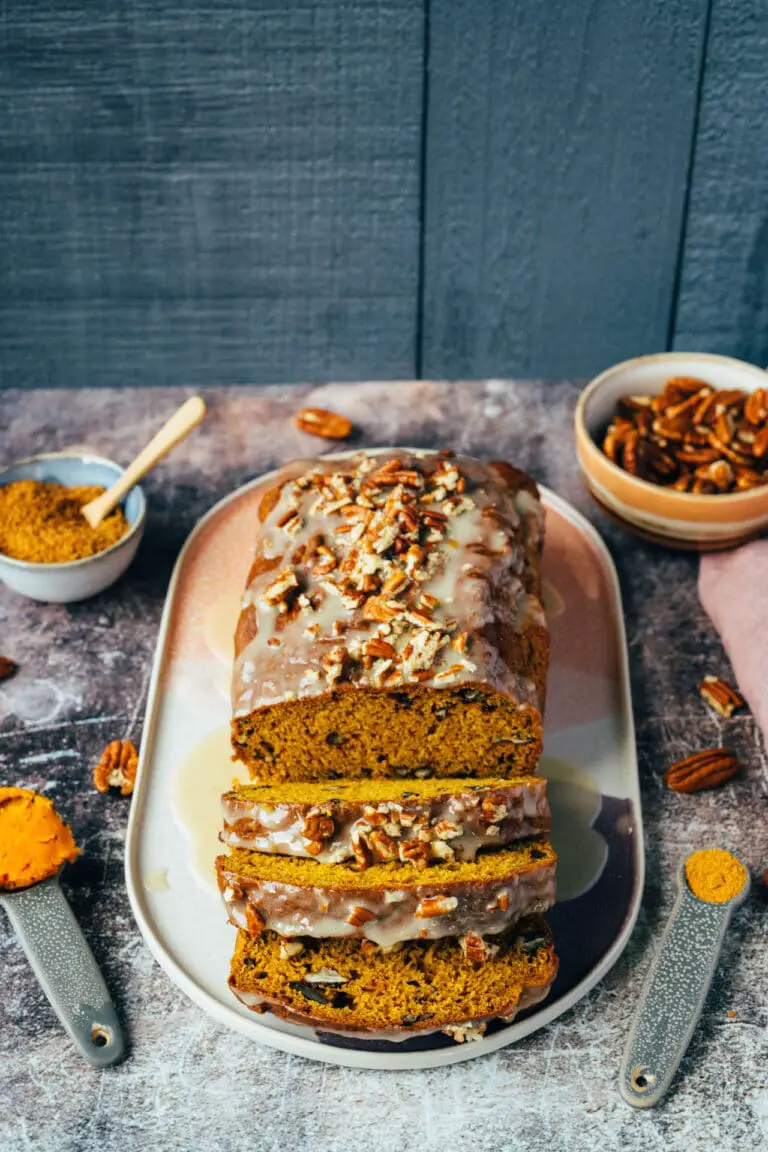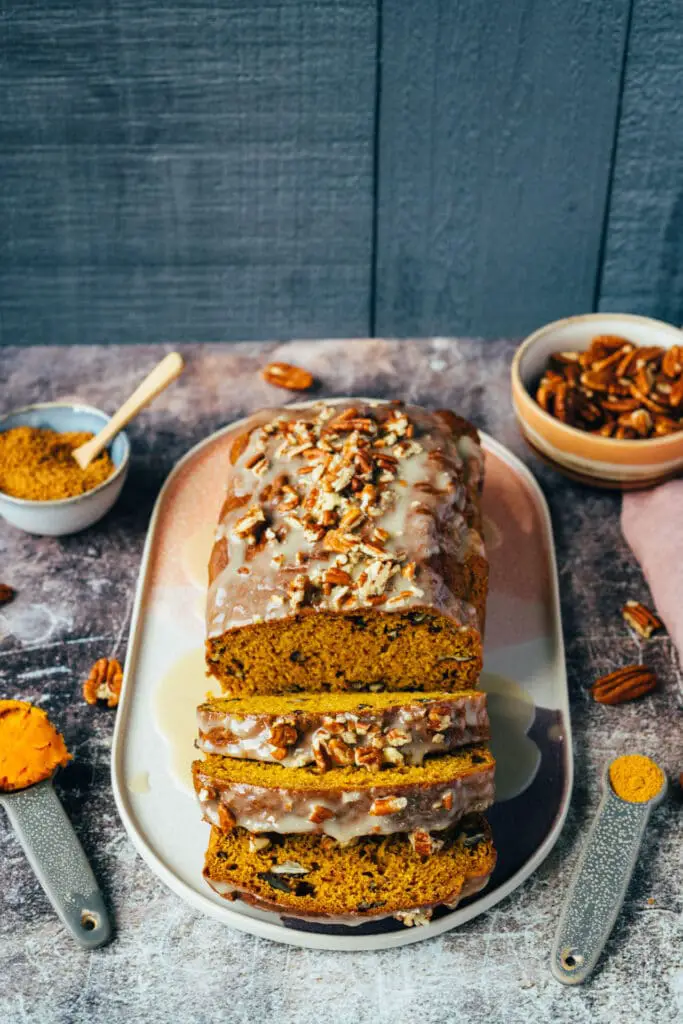 My husband and I keep resolving to lose weight. Neither of us is fat, but there is the odd bit of flab. Periodically, we come to a point where we make plans on how to successfully get rid of a few kilos. But we don't include one crucial point and that's the numerous treats I prepare in my kitchen. Just imagine, you just had the motivation to finally start interval fasting and then there is such a wonderfully fresh and fragrant pumpkin bread in front of you. The will must be very strong to say no here. I then say yes every now and then and have decided to accept my rolls for the time being.
Vegan pumpkin pie or bread?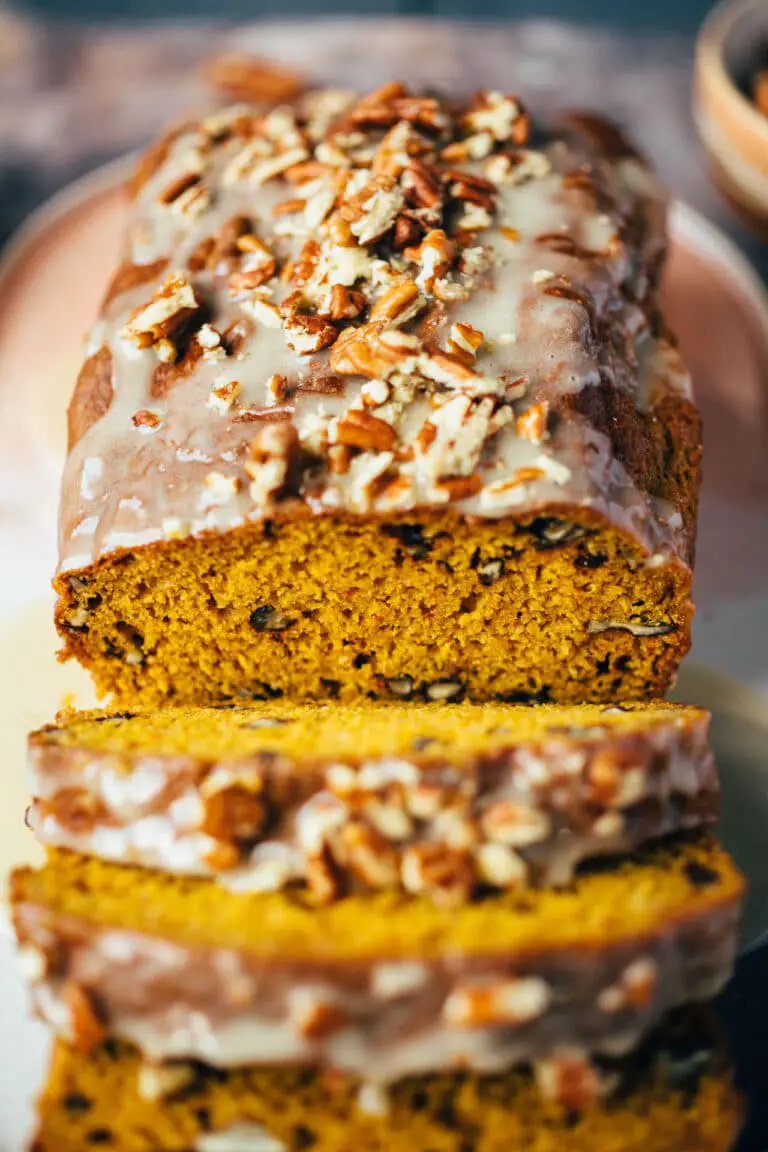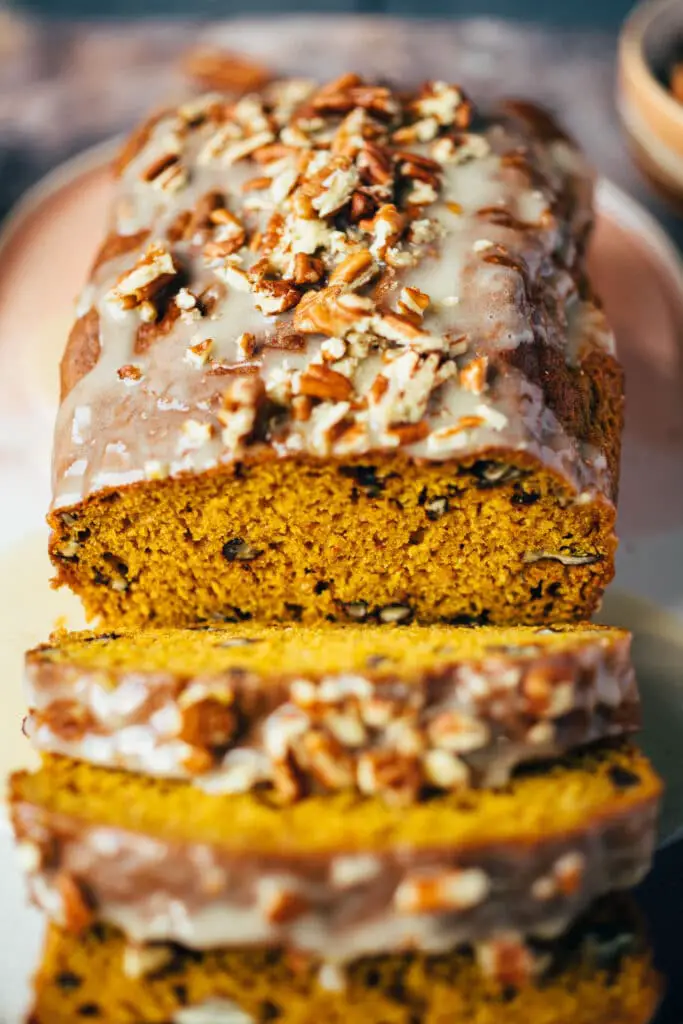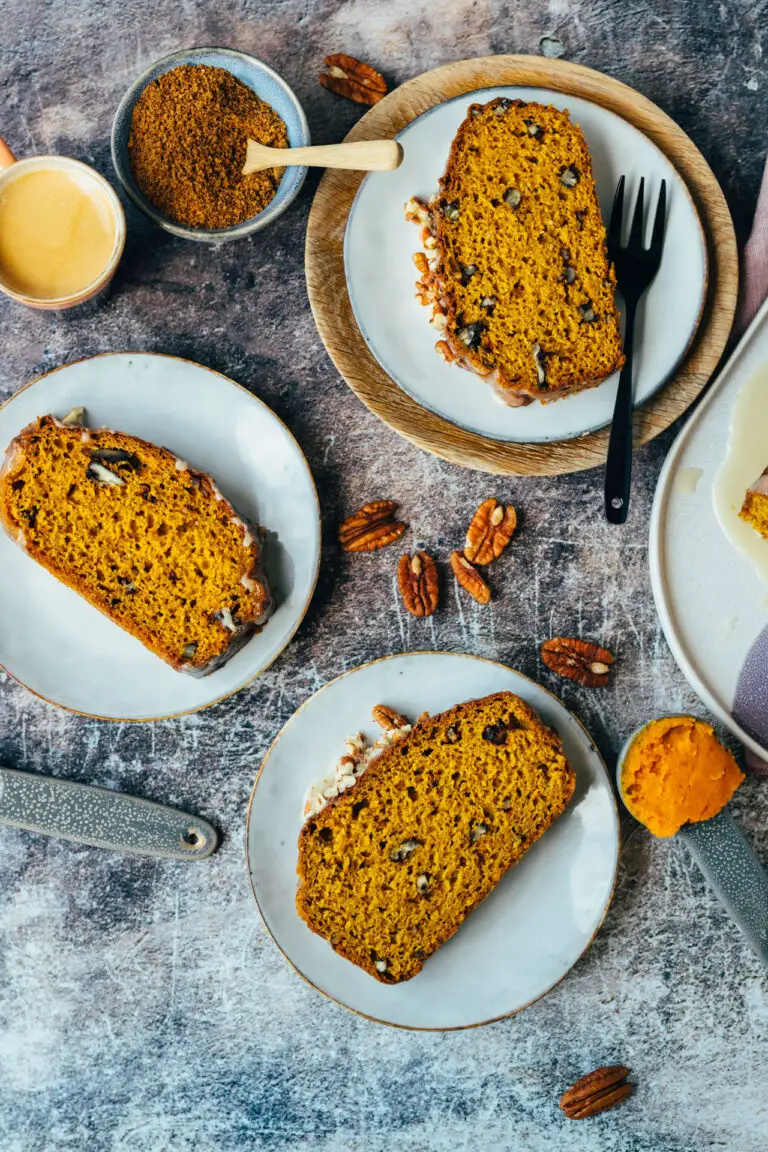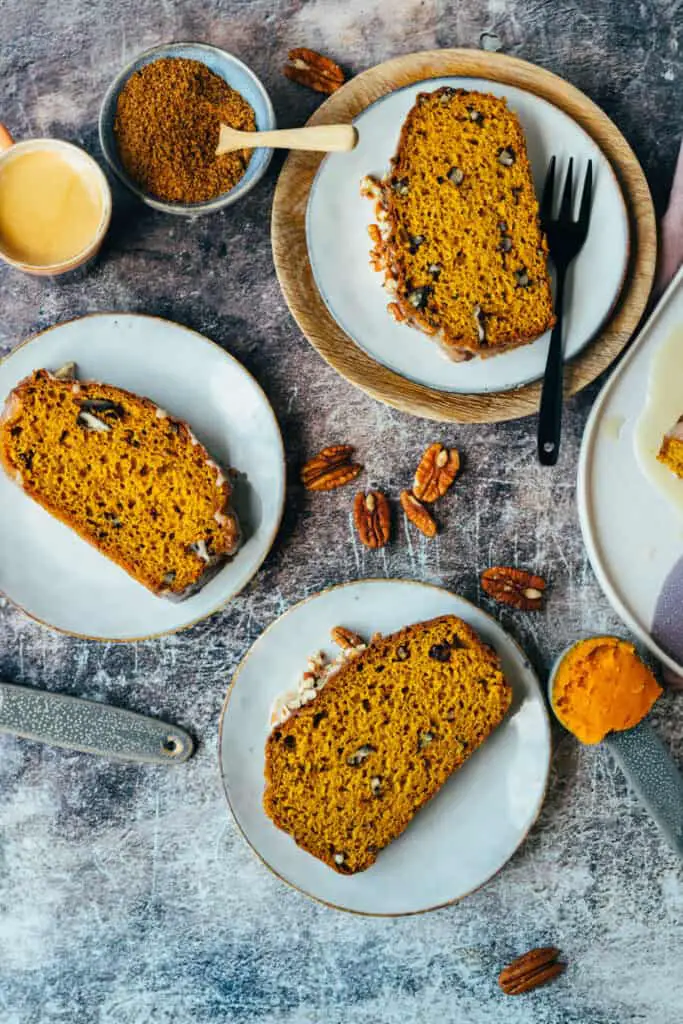 Spelt flour, starch, raw cane sugar, baking powder, pumpkin spice, bourbon vanilla, a pinch of salt, pumpkin puree, vegetable milk and apple cider vinegar. That would be all. If you feel like it, add a handful of pecans or walnuts and the dough is ready. Off to the oven and bake. Now you seduction already starts, because the fragrance is literally already irresistible.
Fancy some more recipes with pumpkin? Here's my selection of sweet and savory dishes that will just make you happy.
Cake + Cookies:
Hearty:
Dessert:
Breakfast:
TIP: I always have homemade pumpkin puree in the fridge in the fall. With it I can quickly and easily conjure up numerous pumpkin recipes without much effort.
Starbucks Pumpkin Bread Recipe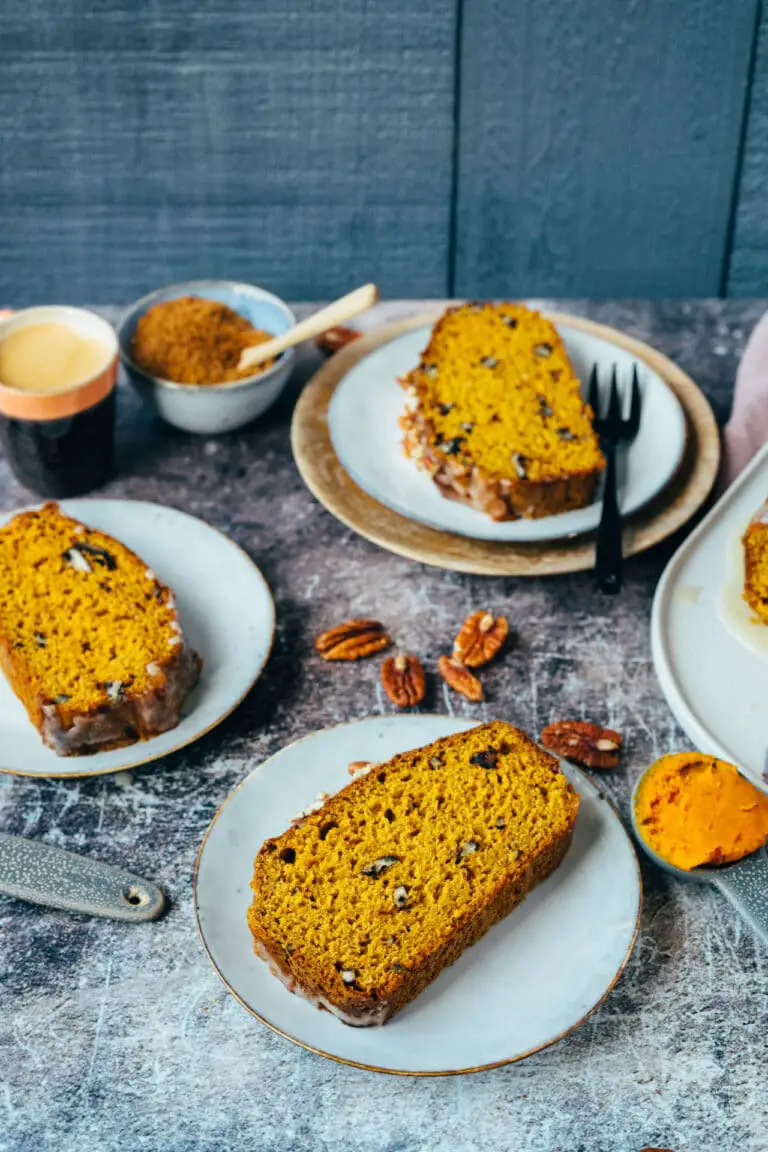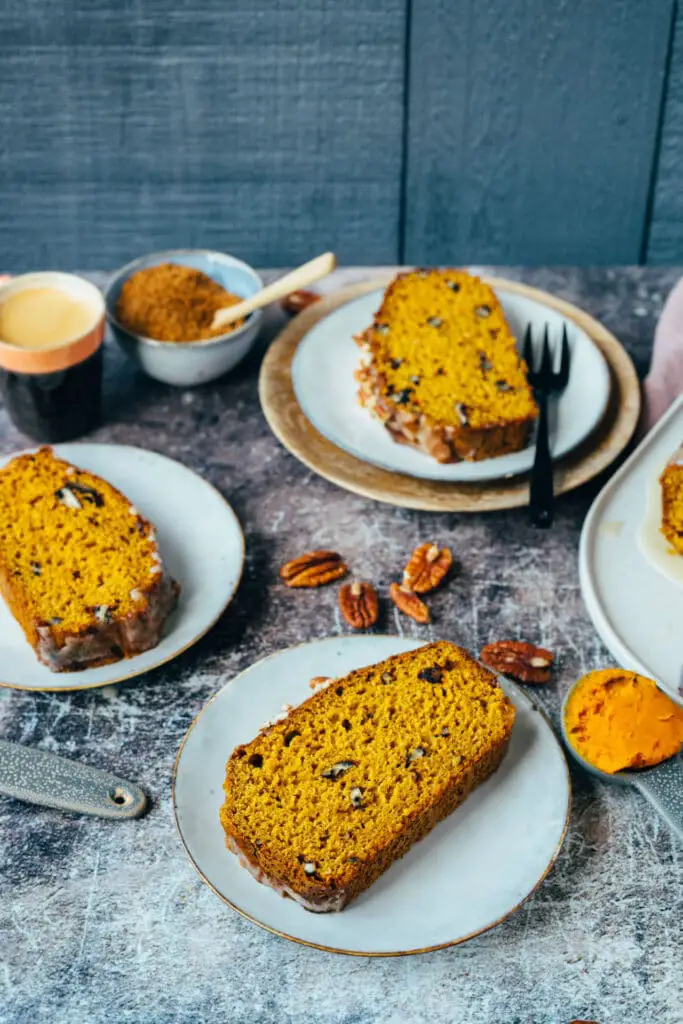 Unfortunately, I don't know the original Starbucks recipe, but I would imagine this variation comes pretty close. The advantage with the homemade version is that you determine what's in it. Additives or hidden sugars do not even enter the baking bowl.
What goes with the delicious pumpkin bread? A creamy chocolate chia smoothie, a glass of vegan almond milk or a pumpkin spice latte?
The vegan pumpkin bread is:
Pleasantly sweet
pumpkin-ig
soft but compact
High fiber
I hope you enjoy baking and of course about a review at the bottom of this page. If you post a picture, use the hashtag #veganevibes.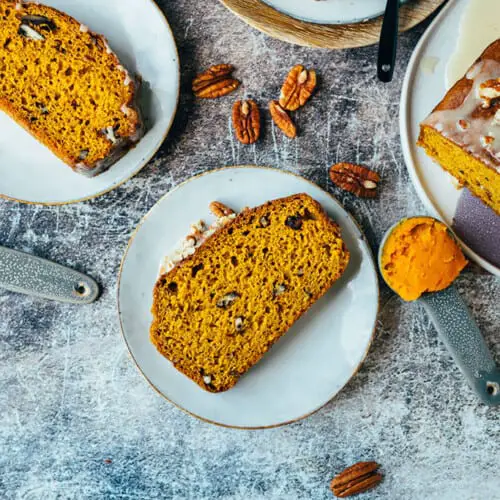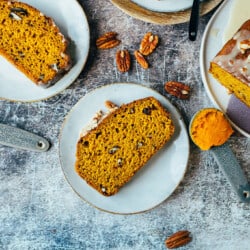 Vegan pumpkin bread
Easy, geling safe vegan pumpkin bread that is a bit reminiscent of Starbucks' famous Pumpkin Bread. Quick to make, reduced oil, fluffy soft and incredibly delicious. Gluten-free option.
AUTOR: VEGANEVIBES
Anleitung 
Preheat the oven to 180 degrees Celsius (or 160 degrees Celsius top/bottom heat) and grease a king cake pan and optionally dust it with a little flour.

TO MAKE THE Dough, first add the dry ingredients spelt flour, starch, raw cane sugar, baking powder, pumpkin spice, bourbon vanilla and the salt to a bowl and mix until everything is evenly combined.

225 g fine spelt flour,

16 g Strength,

100 g Raw cane sugar,

2 tbspn Baking powder,

2 tbspn Pumpkin spice,

¼ tbspn Bourbon vanilla,

1 Pinch of salt

In another bowl, mix pumpkin puree, vegetable milk and apple cider vinegar and add to dry ingredients. Stir until a smooth, compact dough is formed. Fold in optional pecans.

250 g Pumpkin puree,

90 ml Almond milk,

15 ml Apple cider vinegar,

Optional: 1 handful of coarsely chopped pecans

TIP: Check consistency, if too firm add more vegetable milk, if too runny add more flour. See video for proper consistency. Please make absolutely sure that the dough does not become too liquid, otherwise it cannot rise and becomes rubbery. Rather a little more compact than too soft/liquid.

Pour the dough into the king cake pan or loaf pan (mine measures 23.5×13.5cm), smooth it out and put it in the oven. Bake for

40 minutes

and test with a wooden stick if the pumpkin bread is ready. If the wooden stick comes out clean, then it's done. Turn off oven, remove from oven and let cool completely.

Optionally, mix frosting and decorate pumpkin bread with it.

OPTIONAL: chopped pecans to taste

Cut into pieces and enjoy. Keeps 3-4 days covered in the refrigerator, best fresh.
Nährwertangaben
Serving:
1
Portion
Calories:
150
kcal
Carbohydrates:
31
g
Protein:
3
g
Fat:
1
g
Saturated Fat:
1
g
Sodium:
37
mg
Potassium:
56
mg
Fiber:
4
g
Sugar:
11
g
Vitamin A:
3903
IU
Vitamin C:
1
mg
Calcium:
36
mg
Iron:
2
mg