Pizza "Yoga" with hummus, what? How can you call a Pizza call a pizza "yoga"? That's what I thought when I discovered a ready-to-eat pizza from Fellowfood while shopping the other day. The variant was with Pumpkin beetroot, fresh Spinach and ayurvedic spices. To be honest, I was extremely skeptical and did not buy them at first. A few days later my BFF was visiting and guess what, he had the yoga Pizza with him. Once tasted, I was completely hooked on the idea of making a hummus pizza. Contrary to my skepticism was also the finished Pizza extremely tasty and it was done around me. I modified my version once and opted for a slightly different topping. Well, are you ready for yoga, so I mean yoga pizza? Then I would say, let's go!
Pizza yoga with hummus, pumpkin and spinach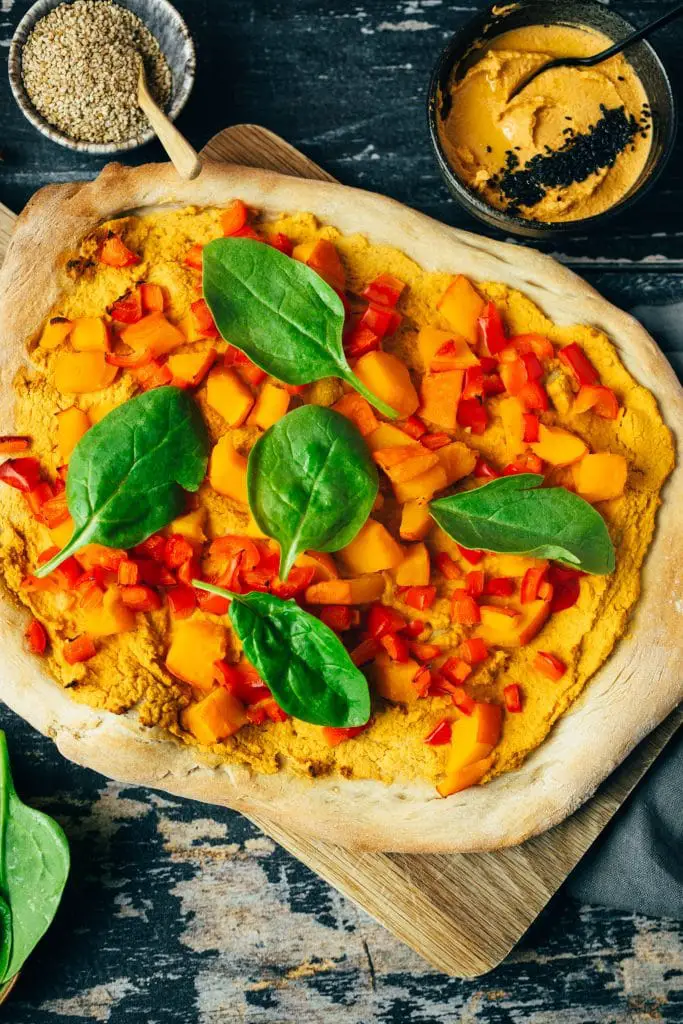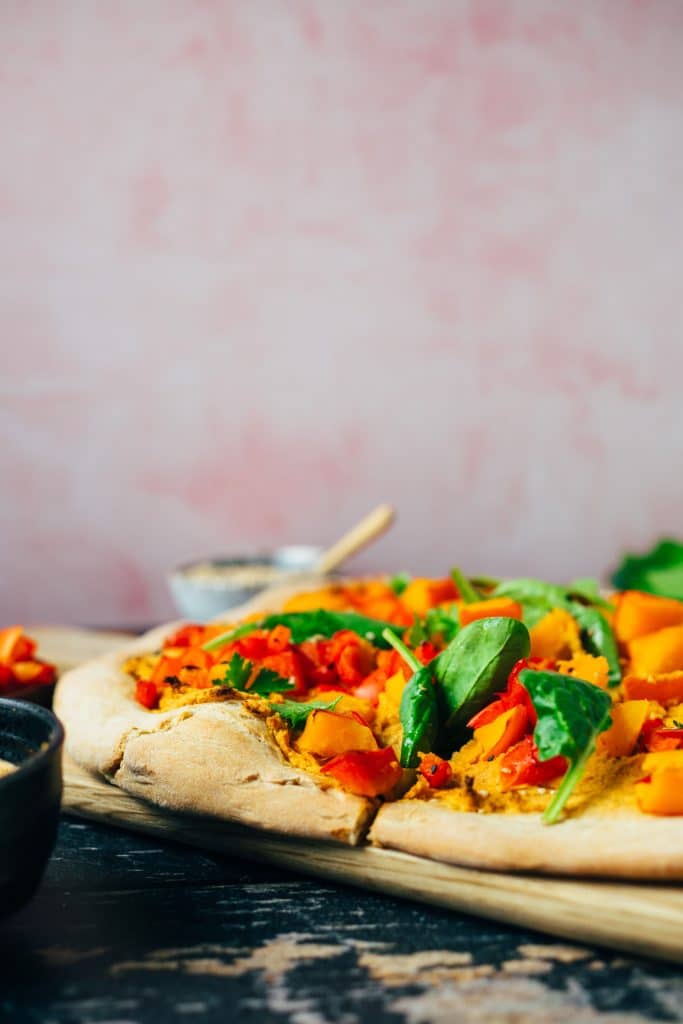 The basis for our today's Pizza is a fine dough. This is simply made with wheat or spelt flour, water, yeast and salt. I used fresh yeast this time, but it works just as well with dry yeast. Leave to rise for an hour and in the meantime prepare the hummus. Is it actually the Hummus or the Hummus? German language, difficult language. I just looked it up in the dictionary and you can actually use the or the Hummus say. But now you are perfectly prepared for the recipe and there is no excuse.
TIP: Prepare the hummus and pizza dough a day in advance and store both ingredients in the refrigerator. This way, on the day of preparation, it's really quick and you save yourself a lot of stress.
What else do we need for our delicious Pizza ? Vegetables of course and this time I chose pumpkin, peppers and spinach. I cut the pumpkin into cubes and blanch it in boiling salted water for 4-6 minutes . This way it is nicely "cooked" and stays nice and juicy while baking.
Make hummus for pizza yourself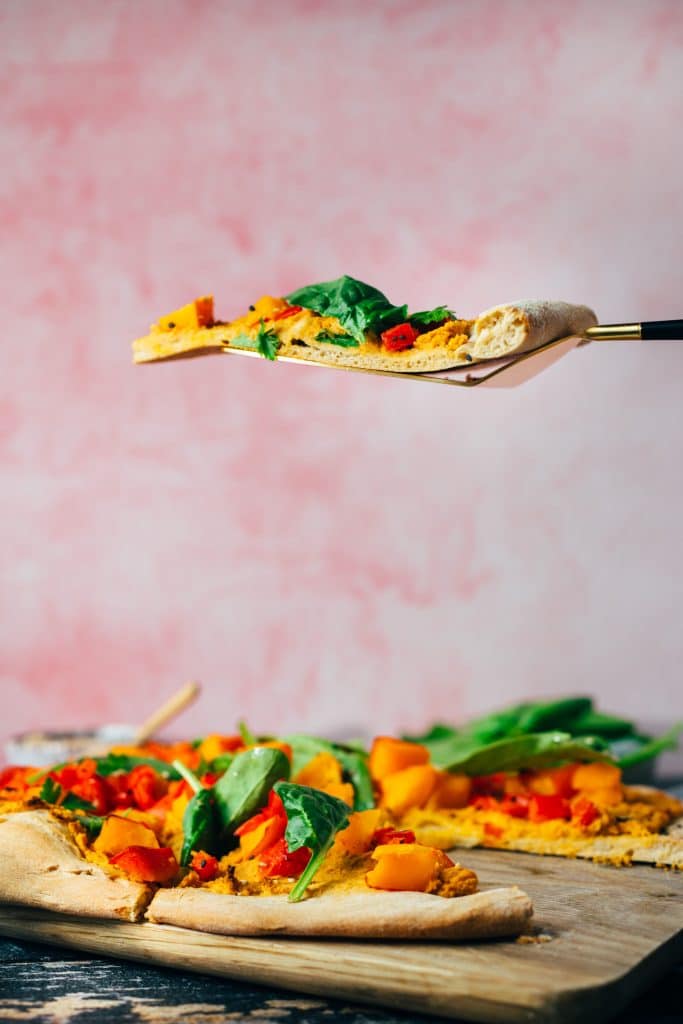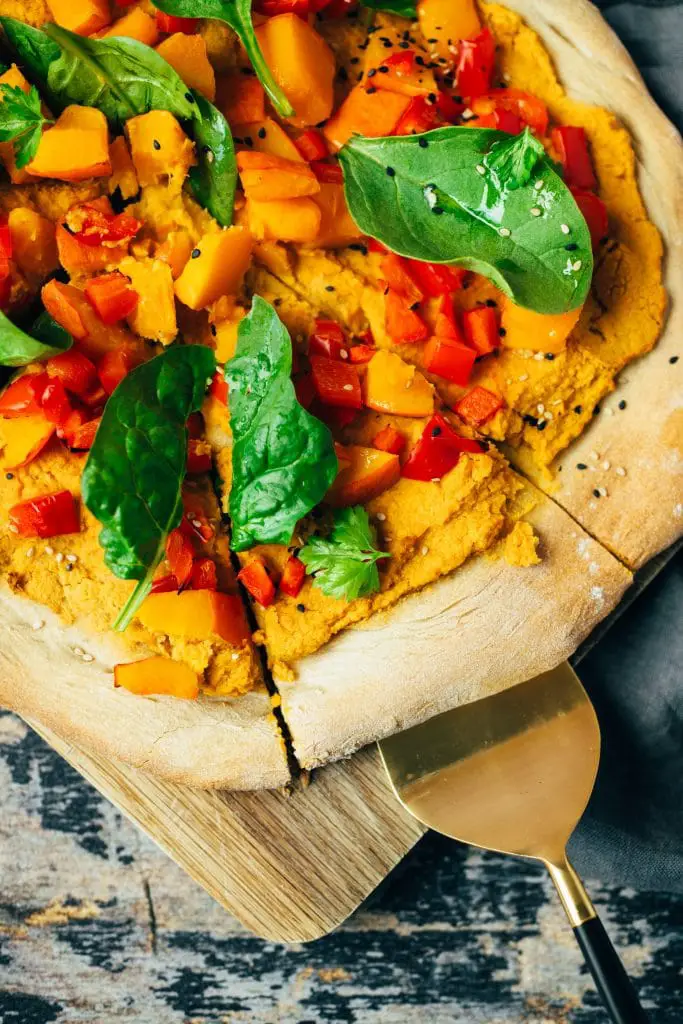 You can make the hummus (some also say chickpea cream) yourself without any problems. I like to use ready Chickpeas from the jar and wash them well first. Then I put them in cold water again for 30 minutes, strain them and only then use them. why? Washing and pickling make the legumes more digestible and provide less gas (I'm sure you get what I mean). In addition, the inherent flavor of the Aquafaba somewhat reduced and I personally find that the hummus tastes better.
Otherwise, you can also make the chickpeas "from the scratch", that is, from dried beans.
Place chickpeas (1 cup) in a large bowl and add cold water until legumes are generously covered. Cover and let stand overnight. If it needs to go faster, boil once with plenty of water, remove heat and let stand for an hour. Then process further.
The next day, strain and place in a large saucepan or pressure cooker . Fill with water until the chickpeas are well covered with it.
Bring to a boil and cook uncovered for 45 minutes to 1 hour, until cooked but not mushy-soft. If using a pressure cooker, cook according to manufacturer's instructions. The cooking time here is reduced to about 20 minutes.
Drain, set aside and allow to cool.
Continue to use for the hummus.
TIP: If you often prepare dried legumes, then I recommend a pressure cooker. This can reduce the total cooking time by up to 70 percent and also significantly reduce energy consumption.
If today you don't feel like eating Pizza Hummus, then I recommend you my e simple vegan pizza , Green Forest Pizza or Pizza Mozzarella.
The pizza "Yoga" with hummus and pumpkin is:
Oriental
High fiber
crispy bottom
filling
Easy to manufacture
Let's go with this delicious Pizza . I wish you a lot of fun in the recooking and look forward to a review at the bottom of this page. If you post a picture, use the hashtag #veganevibes.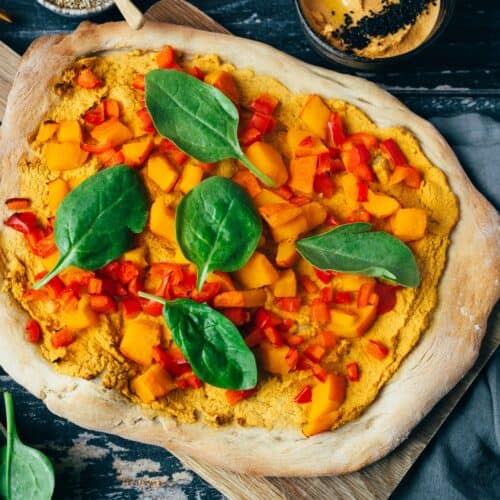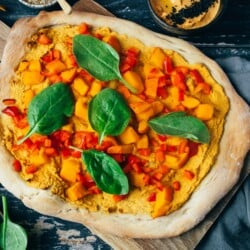 Pizza yoga with hummus and pumpkin
Crispy pizza with fine hummus, topped with pieces of pumpkin, peppers and fresh spinach. Perfect as a vegan lunch or dinner along with a crunchy side salad.
AUTOR: VEGANEVIBES
FOR THE PIZZA BASE:
250

g

Wheat flour type 1050

or any other flour of your choice

1

tbspn

Salt

1

tbspn

Raw cane sugar

175

ml

lukewarm water

please make sure that the water is not too hot, the yeast does not like that

½

Packet dry yeast

or ½ cube fresh yeast
FOR THE HUMMUS:
265

g

Chickpeas

equivalent to a can or jar of 400g strained, save chickpea water for other recipes.

45

g

Tahini

30

ml

Lemon juice

if freshly squeezed, also zest some of the peel, please pay attention to organic quality

2

tbspn

Garlic granules

or 2-3 fresh garlic cloves peeled

1

tbspn

Paprika powder sweet

½

tbspn

Cumin

2

tbspn

Olive oil

if oil-free please omit

½ – 1

tbspn

Salt

1

TL

Maple syrup

(optional)
FOR THE COVER:
200

g

Hokkaido pumpkin

diced

1

Paprika

Core removed and cut into cubes

1

Handful of fresh baby spinach
TO SERVE:
Olive oil to taste

Parsley to taste
Anleitung 
FOR THE DYE, put lukewarm water, yeast, sugar, salt in a bowl and stir with a whisk or with your hands until the yeast has dissolved. Add 4 tablespoons of flour and mix with your hands until a loose dough forms. Add remaining flour and continue to stir and knead until a smooth dough is formed. Cover and let rise a warm (not hot!) Place without drafts for an hour.

250 g Wheat flour type 1050,

1 tbspn Salt,

175 ml lukewarm water,

½ Packet dry yeast,

1 tbspn Raw cane sugar

NOTE: Yeast bacteria do not like it too hot or too cold. Always choose a medium, warm temperature

Cover and refrigerate, happily overnight or process directly.

FOR THE P UMP, bring enough water to a boil, add in the pumpkin cubes along with a pinch of salt. Cook pumpkin for 4-6 minutes until half cooked. Drain and set aside.

FOR THE HUMMUS: Drain the chickpeas and rinse with cold water. Ideally, soak in cold water for 30 minutes and only then use. This makes them easier to digest. However, this step is optional.

Place chickpeas in a food processor (I use my MagiMix), add tahini, lemon juice, garlic granules (or fresh garlic), paprika, olive oil and salt and blend until smooth and creamy. Optionally add a 1 tsp of maple syrup to round it out. Season to taste and set aside.

45 g Tahini,

30 ml Lemon juice,

2 tbspn Garlic granules,

1 tbspn Paprika powder sweet,

½ tbspn Cumin,

2 tbspn Olive oil,

½ – 1 tbspn Salt,

Pepper to taste,

1 TL Maple syrup,

1 Paprika

Preheat oven to 200 degrees convection (or pizza level). Line baking sheet with a permanent baking mat or baking paper.

Roll out pizza dough on a floured surface. After letting rise, do not knead extra in the kitchen machine, but process directly. Roll out into a round pizza crust. Spread about half of the hummus on top. Serve remaining hummus as a side dish for dipping vegetables or store in an airtight container in the refrigerator.

Spread diced squash and peppers on pizza crust.

Place pizza in oven and bake for 17 minutes, until dough is crisp and lightly browned.

Spread a handful of fresh baby spinach on top, cut into pieces and serve.

1 Handful of fresh baby spinach,

Olive oil to taste,

Parsley to taste

Best fresh, keeps up to 2 days covered in the refrigerator, frozen up to 4 weeks.
Nährwertangaben
Serving:
1
Portion
Calories:
617
kcal
Carbohydrates:
123
g
Protein:
20
g
Fat:
5
g
Saturated Fat:
1
g
Sodium:
844
mg
Potassium:
664
mg
Fiber:
11
g
Sugar:
3
g
Vitamin A:
1690
IU
Vitamin C:
15
mg
Calcium:
91
mg
Iron:
8
mg