Do you love Pizza as much as I do? Then you should pay close attention now, because this TEX MEX pizza is once quite different. If you're a fan of Mexican food, you just won the lottery, because this recipe combines Italian pizza (was it really the Italians who invented pizza?) with Mexican fire. Of course, you decide how spicy it ends up and the cashew mayo catches a little heat. There are days when a few too many chili peppers slip into the food. Get ready for a great, vegan pizza highlight! I would say we start together? Come on!
Your vegan fiesta can come with this delicious Mexican pizza.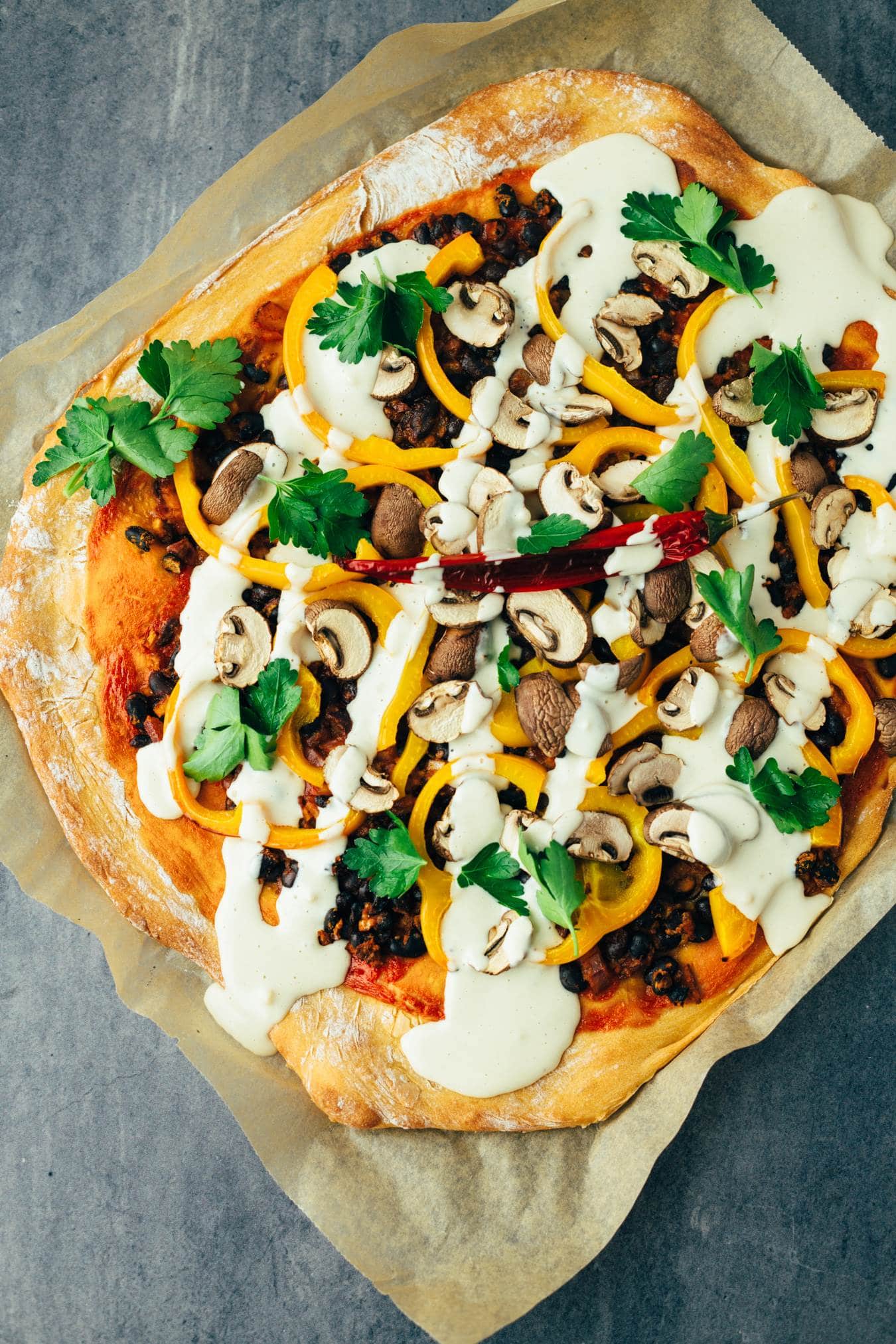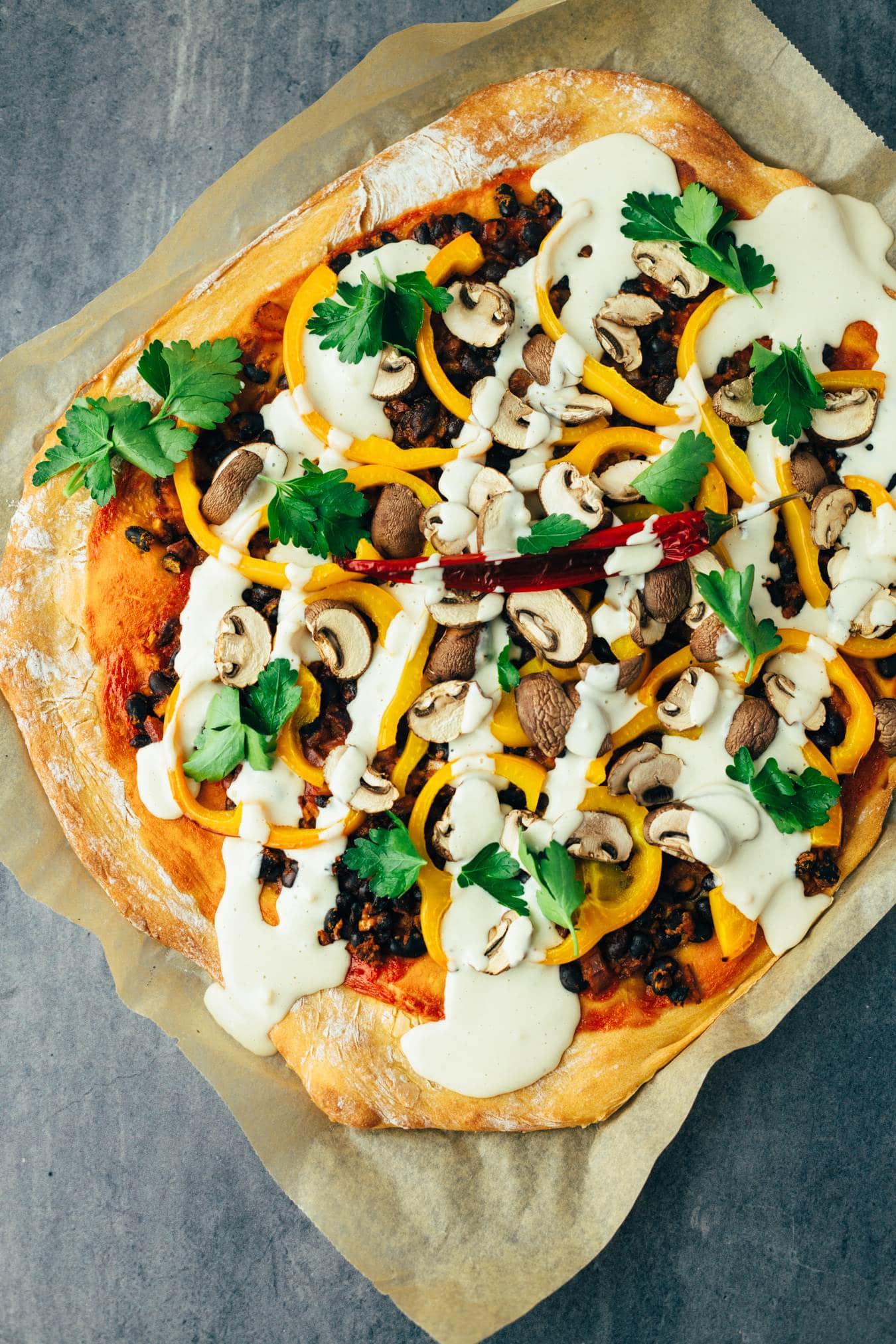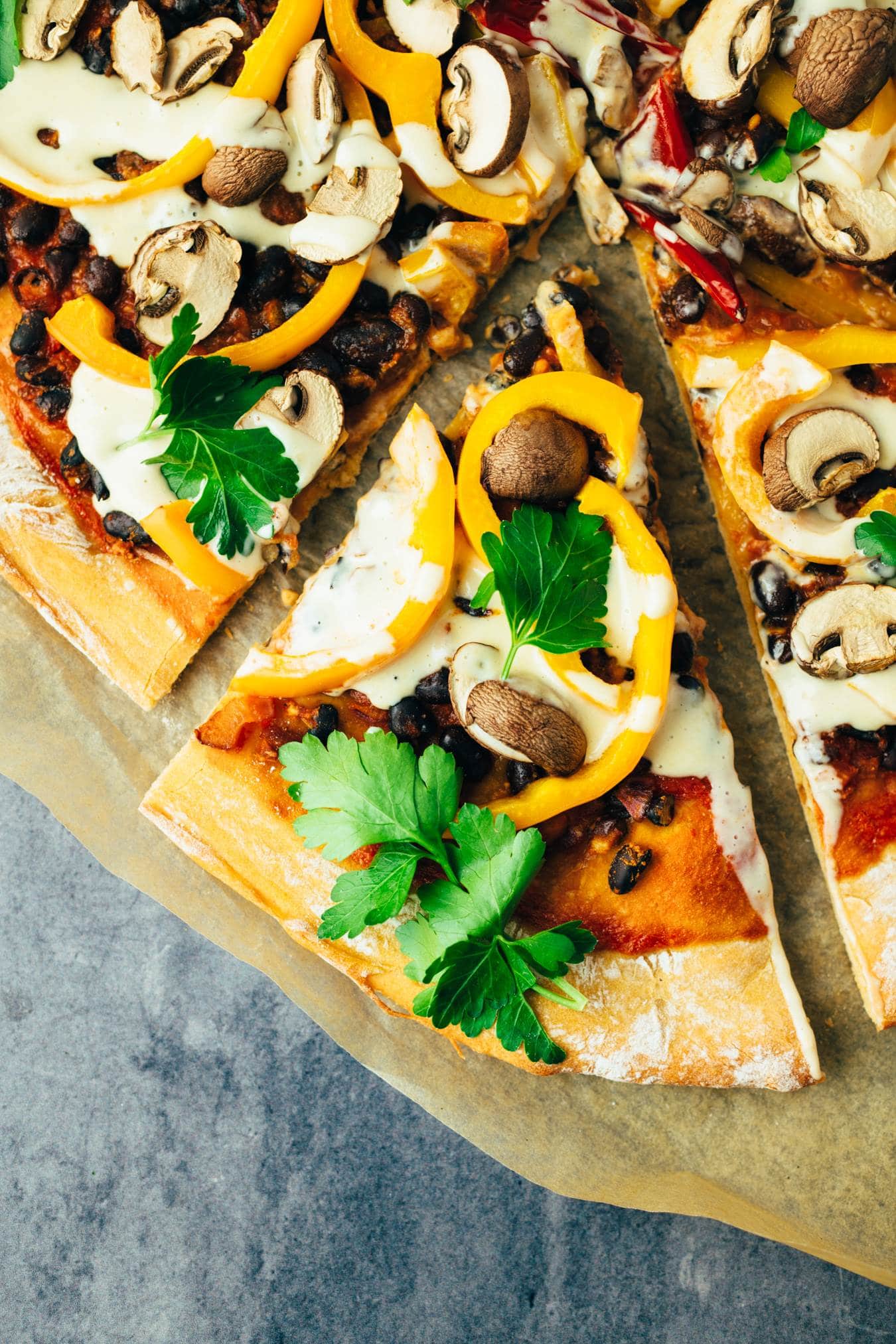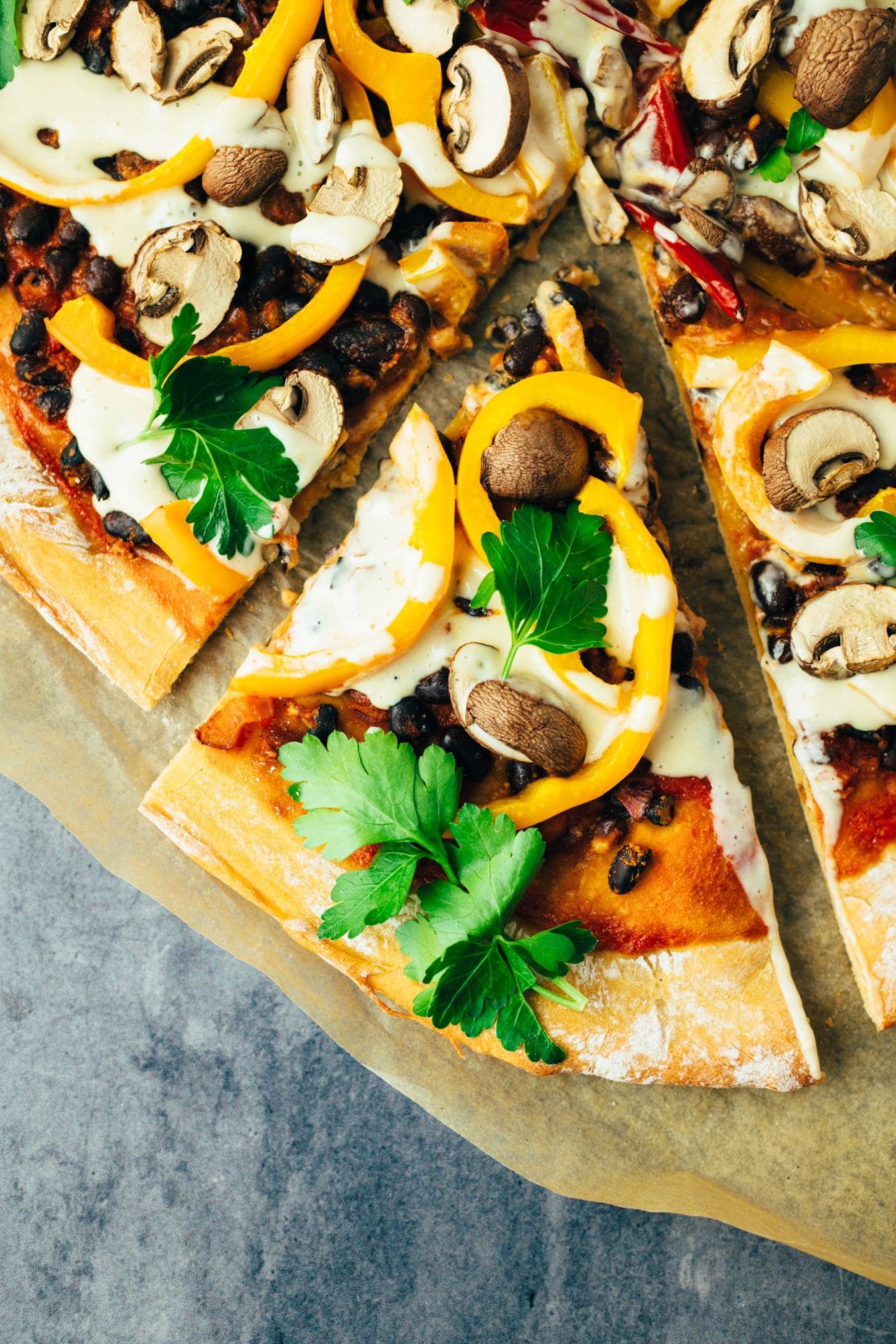 The Pizza is a little more extensive to make, like my simple vegan pizza, and essentially consists of four steps. First, prepare the pizza dough, then the chili sauce, which is the substitute for the tomato sauce. The coating? Consists of delicious Tex-Mex beans (you decide the spiciness!) and vegetables. Finally, here's my personal highlight: the vegan mayo based on cashews. Need I say more? I think not, because I'm starting to get hungry.
Mexican vegan on a pizza? Surprising and extremely tasty at the same time.
I have often asked myself what actually makes a perfect pizza. It must be crispy and well topped with lots of vegetables. The topping used to be a lot of cheese, but since I've gone vegan, I'm happy to forgo it. Yet a few years ago I could hardly imagine a life without cheese, if at all, and now it is so normal. I'm not really into the cheese substitutes from the supermarket, but prefer to do my own thing. My favorite nut plays the leading role:
The cashew nut. This forms the basis for so many highlights in vegan cuisine:
I promise you that this is just the beginning, as I look forward to many more great recipes with cashews.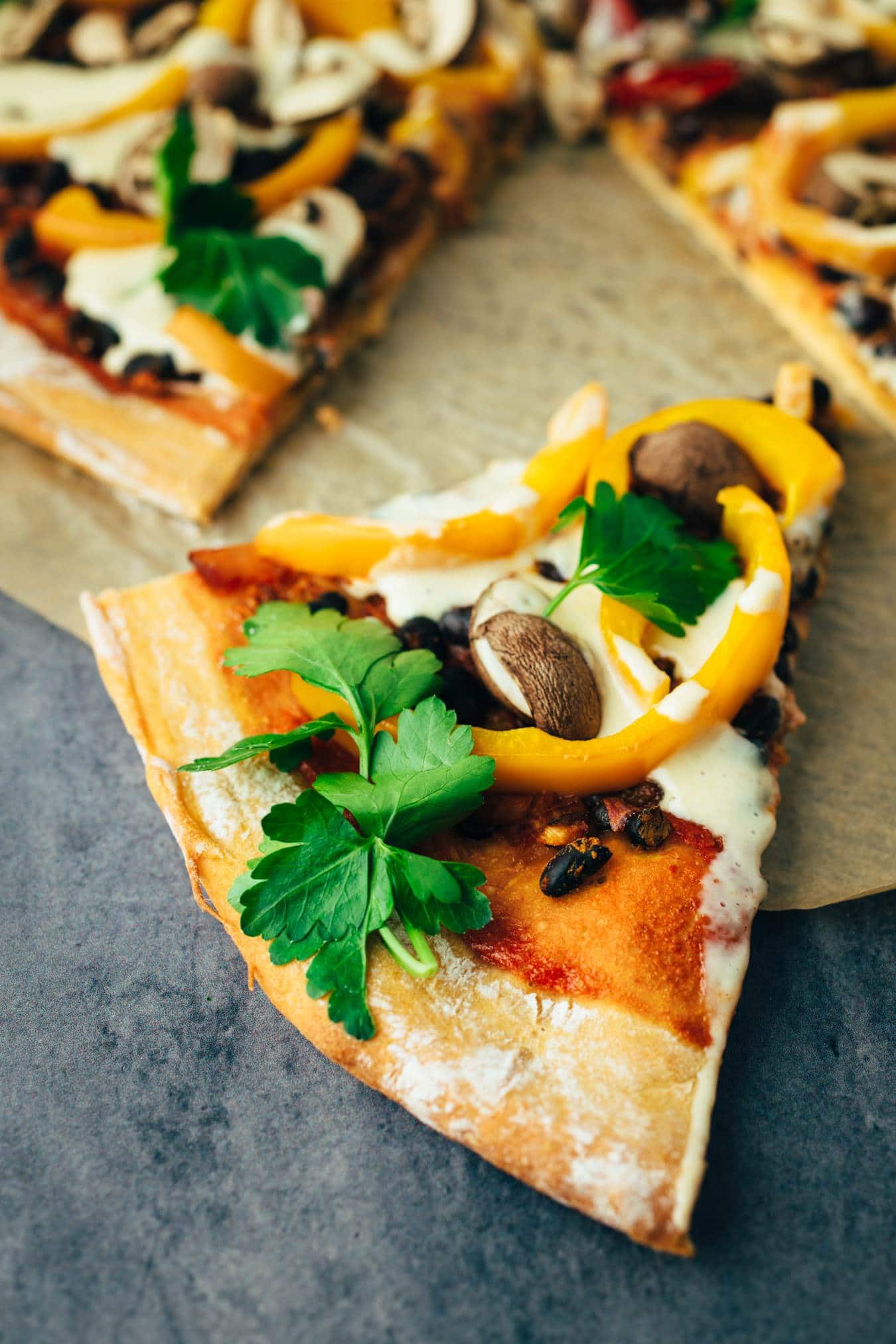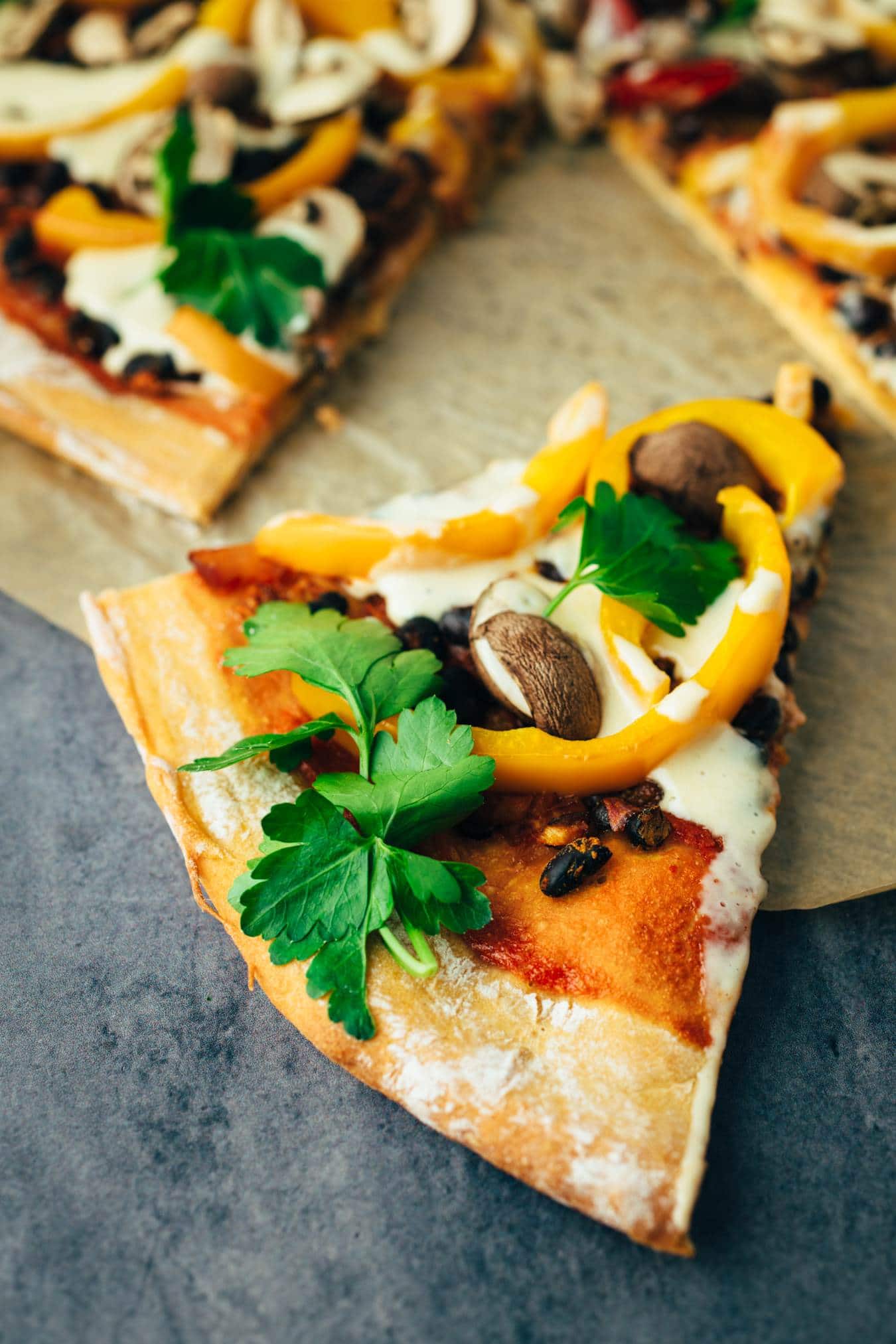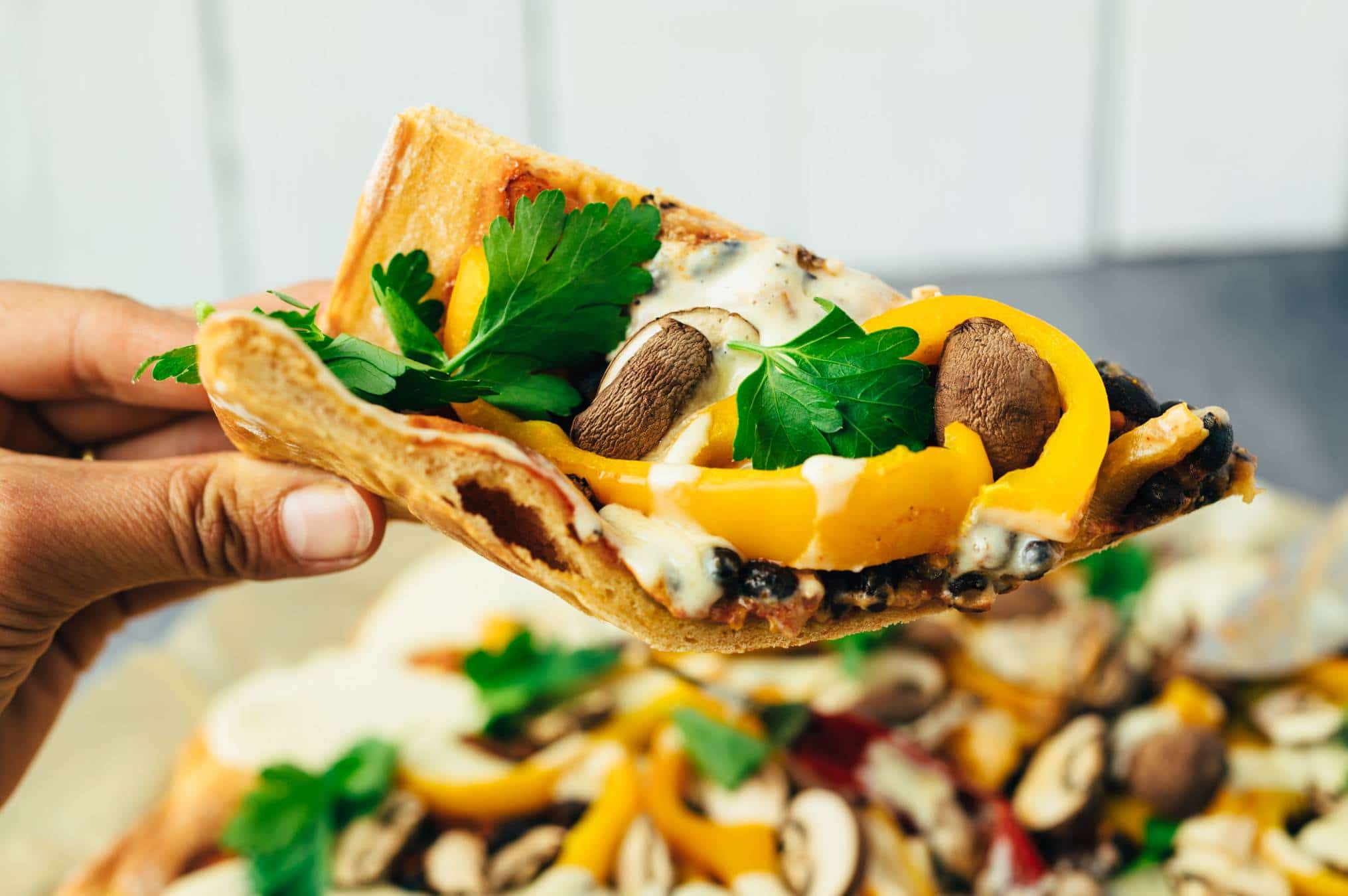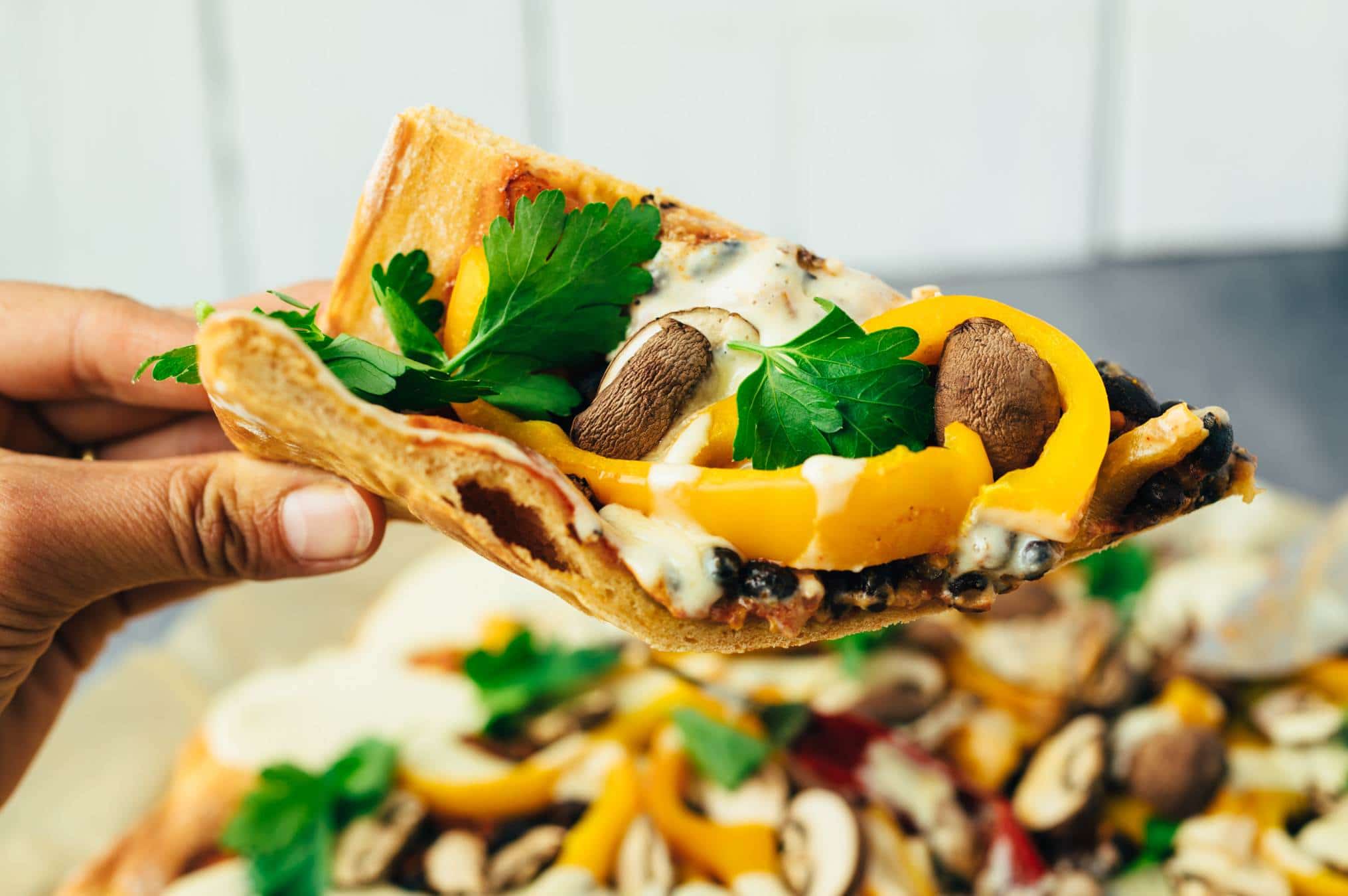 Mexican Food Baby! I would say we have all the basics for the pizza together. A good oven still plays an essential role: I have a special pizza program, however, any other oven with bottom heat will work as well (this is how the base gets the crispiest). The second thing is once again a good blender. Honestly almost the most important component in making so many things in vegan cooking. I make the dough and cashew mayo with my Blendtec (#noadvertisement), so it's worth investing in a good blender once.
The Tex Mex pizza with vegan mayo is:
Crispy
aromatic
Mexican
filling
Quickly made
sharp
Perfect for a vegan lunch or dinner , which makes a really good mood and is full of delicious flavors. I wish you a lot of fun with the Nachbacken and of course about a rating at the bottom of this page. If you post a picture, use the hashtag #veganevibes.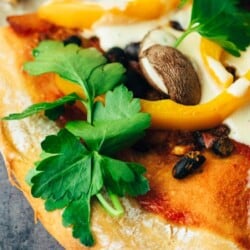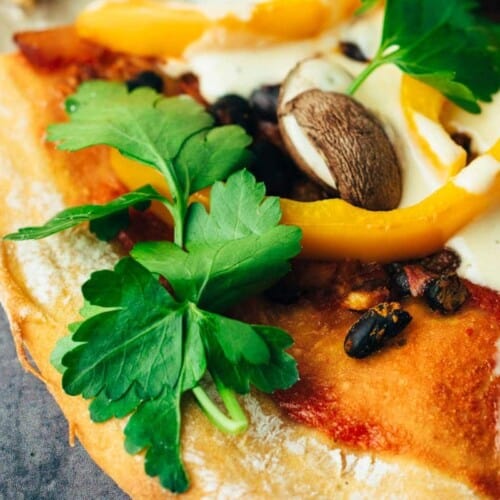 Tex Mex pizza with vegan mayo
Deliciously crispy Mexican vegan pizza with sweet and spicy chili sauce and delicious toppings. Refined with creamy vegan mayo and fresh herbs. Makes a perfect healthy vegan lunch or dinner. Perfect for your vegan fiesta!
AUTOR: VEGANEVIBES
FOR THE SWEET CHILI SAUCE:
3

tbspn

Tomato paste

1

tbspn

maple syrup

1

tbspn

Garlic powder or a fresh clove of garlic pressed

1-3

Bird Eye Chili depending on the desired degree of spiciness

½

tbspn

Salt

A little warm water to dilute

Optional: 1-2 tablespoons ready-made chili sauce
FOR THE TEX MEX BEAN MIX:
TOPPING:
1

Cup

Mushrooms

cleaned and sliced

1

yellow bell pepper

cut into strips

8

Cherry tomatoes

washed and halved
Anleitung 
For the CASHEW MAJO place all ingredients in a high-powered blender and blend until a uniform cream is formed. It is better to mix too long than too short. IF you don't have a high-powered blender, ALWAYS soak cashews first: 6 hours in cold water (covered) or 1 hour in boiling hot water (uncovered). Ready mayo season and put in the refrigerator.

120 g Cashews,

60 ml extra virgin olive oil,

125 ml Almond milk or another vegetable milk,

15 ml Apple cider vinegar,

7,5 ml maple syrup,

Salt to taste

FOR THE PIZZA DOUGH put all the ingredients in order in a high-powered blender and process with the dough program until smooth. Alternatively, put everything in a bowl and mix by hand or food processor (with dough hook) until smooth. The dough should be neither too runny nor too dry and should come away from the edge of the bowl. Cover and let rise at room temperature for 30 minutes (minimum) to an hour. NOTE: The dough does not like cold air, drafts or direct sunlight.

½ packet or 1 tsp dry yeast,

1 tbspn Raw cane sugar,

1 tbspn Cumin,

½ tbspn Paprika powder,

½ tbspn Salt,

250 g fine spelt flour,

170 ml lukewarm water

In the meantime, prepare the SWEET CHILI SAUCE prepare. To do this, place everything in a blender and blend to a smooth sauce. Be careful with the water for thinning, the sauce should not be too liquid and should spread well on the pizza base. Set aside.

1 tbspn maple syrup,

1 tbspn Garlic powder or a fresh clove of garlic pressed,

1-3 Bird Eye Chili depending on the desired degree of spiciness,

½ tbspn Salt,

A little warm water to dilute,

Optional: 1-2 tablespoons ready-made chili sauce,

3 tbspn Tomato paste

For the TEX MEX BEAN MIX place everything in a bowl and mix loosely with your hands or a spoon. Season and set aside.

2 Garlic cloves,

1 tbspn Coconut oil or other high heat oil,

400 g black beans,

1 tbspn Vegetable broth,

1 tbspn Coconut sugar,

1 tbspn Cumin,

½ tbspn Coriander,

½ tbspn Paprika powder,

Salt and pepper to taste,

½ red onion

Preheat the oven to 190 degrees (pizza level or intensive heat) and line a baking tray with baking paper.


Remove pizza dough from bowl after rising time and knead on a floured work surface for 1-2 minutes. Roll out with a pastry roller to a round dough and spread on the baking paper. The dough should approximately fill the baking tray.


SWEET CHILI SAUCE evenly with a spoon and spread TEX MEX BOHNENMIX AND TOPPINGS spread over the sauce.

1 Cup Mushrooms,

1 yellow bell pepper,

8 Cherry tomatoes

Place in oven and bake for about 20-25 minutes, until edges are golden brown. Remove from oven, let cool briefly, garnish with cashew mayo and fresh cilantro.


Keeps up to 2 days covered in the refrigerator (without mayo and cilantro), but best fresh!

Notizen
NOTES /HELPFUL ACCESSORIES:
Nährwertangaben
Serving:
1
Pizza
Calories:
1419
kcal
Carbohydrates:
168
g
Protein:
47
g
Fat:
62
g
Saturated Fat:
9
g
Sodium:
321
mg
Potassium:
1294
mg
Fiber:
37
g
Sugar:
10
g
Vitamin A:
580
IU
Vitamin C:
19
mg
Calcium:
165
mg
Iron:
15.6
mg