Is there ever a carbonara sauce? Asked me recently my brother, because the Italian classic is his absolute favorite dish. I actually had to think fast, because the classic recipe is made with egg, lots of Parmesan cheese and Bacon made. After googling a bit and in parallel firing up my gray brain cells, I came up with the idea for this recipe. Of course, I have not reinvented the vegan carbonara, but it is quite to my taste. My brother confirmed it, Mamma Mia!
Spaghetti Carbonara recipe – super simple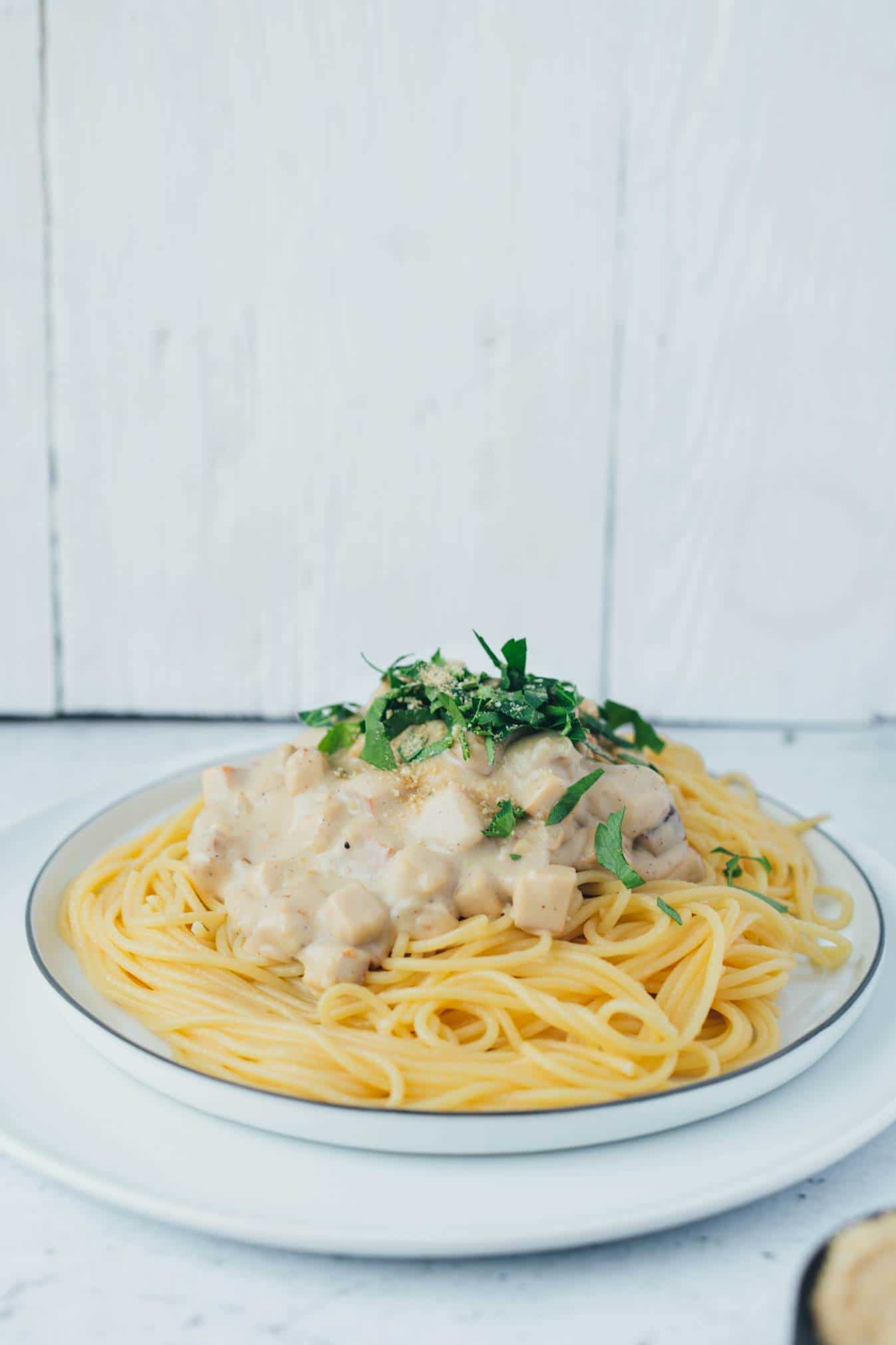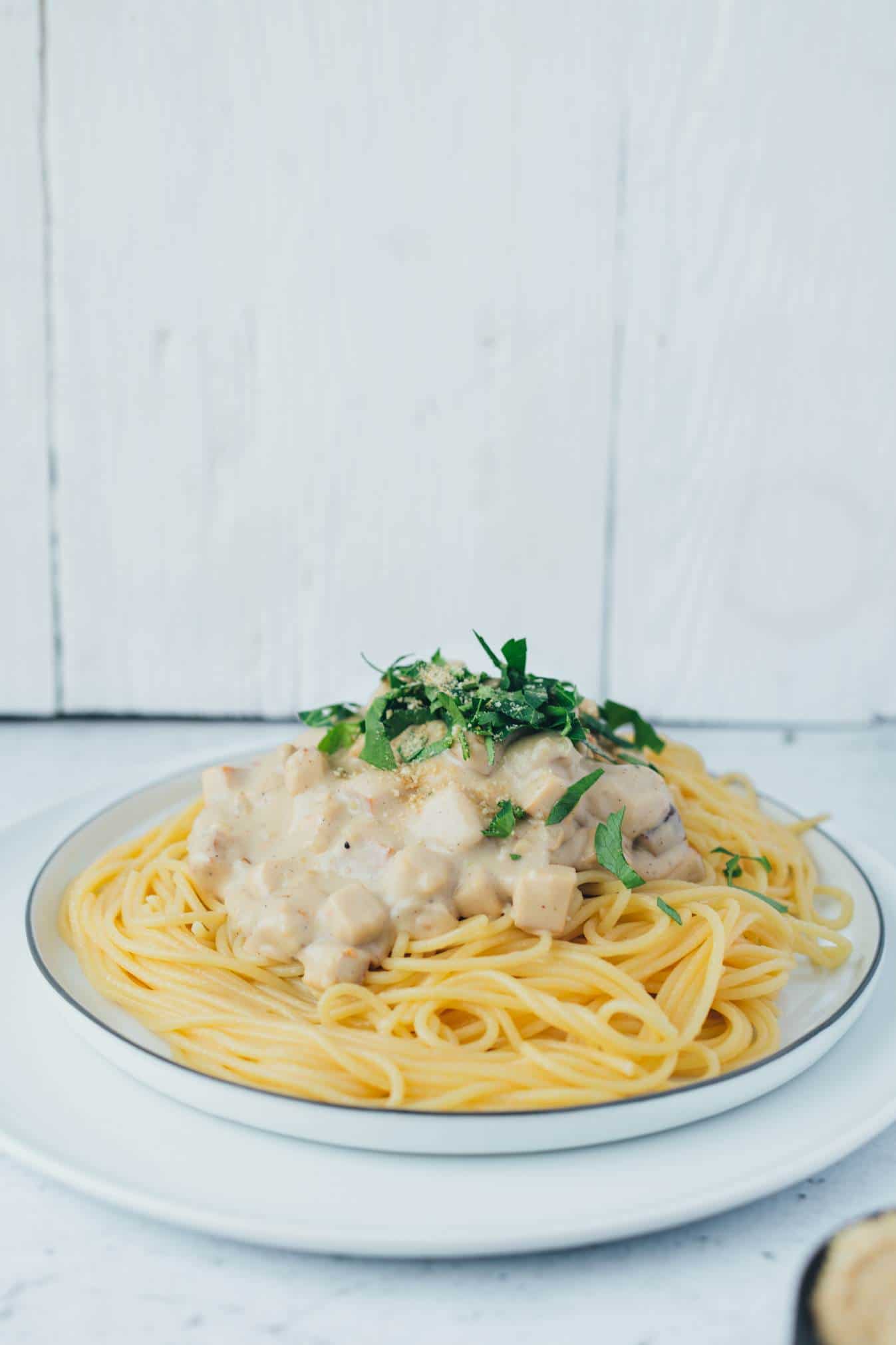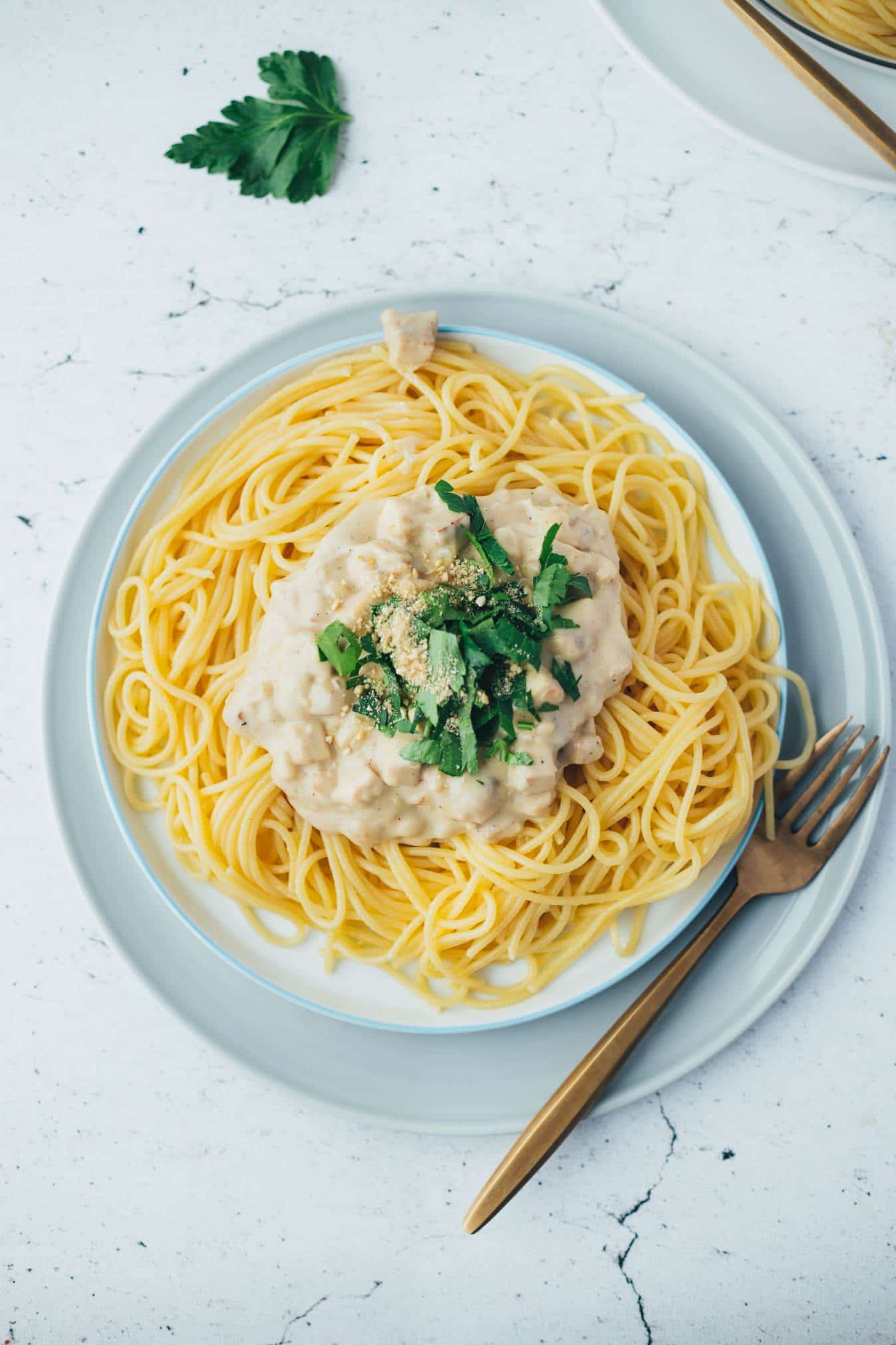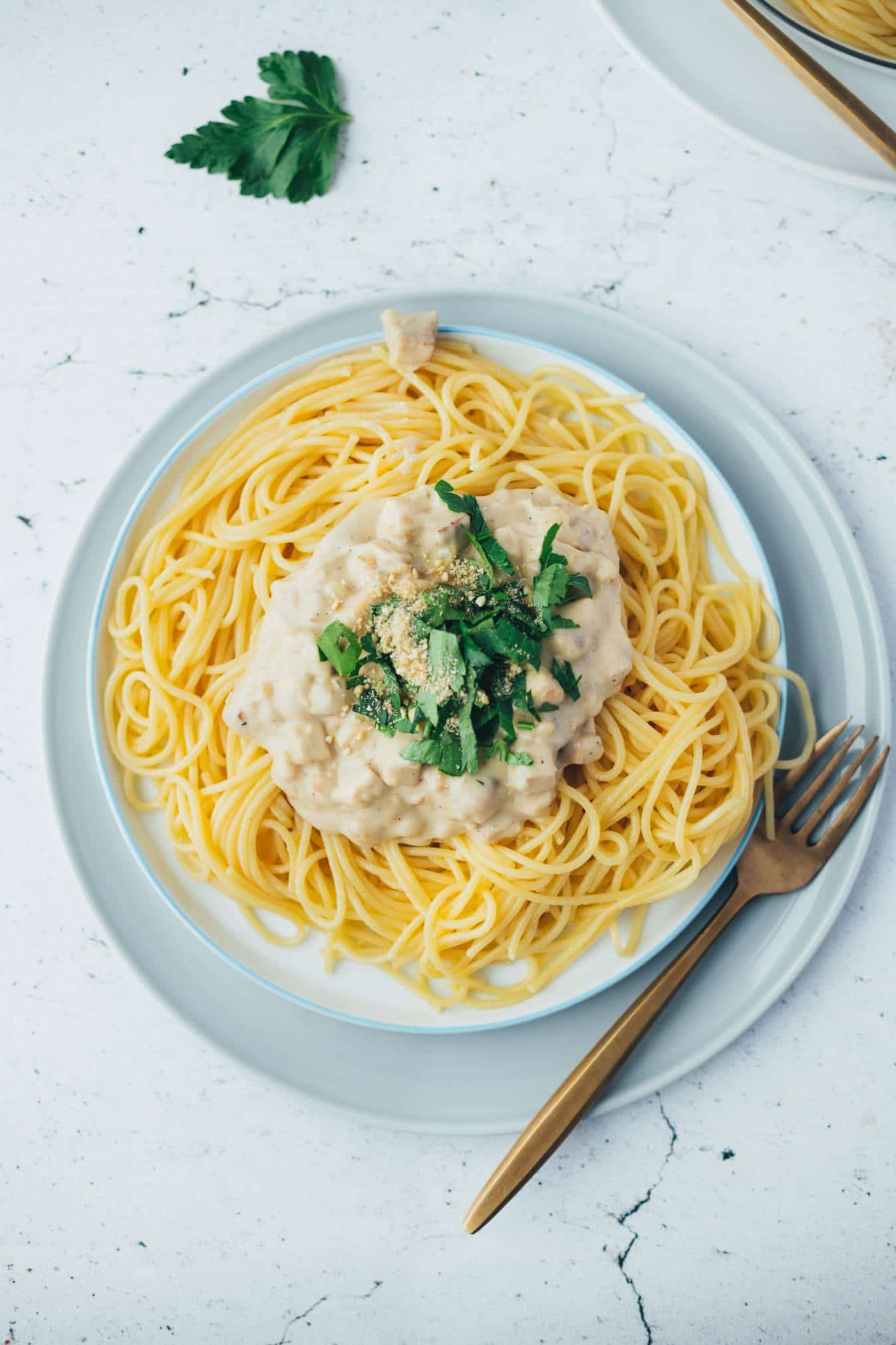 Would you like Mama Caro's Carbonara?
The biggest challenge with this dish is substituting eggs without sacrificing flavor. I therefore opted for a creamy cashew sauce, seasoned with a little salt, pepper and nutmeg. The bacon? Here I use smoked tofu, which already brings a very great aromatic note. And the Parmesan ? No problem, it's vegan.
I admit that the recipe is a little different from the original Italian version, but I have an excuse: there is already an approved German version and it comes to the table with lots of cream and a pinch of nutmeg. It's really cheeky of the Germans to copy this Italian pasta recipe just like that, isn't it? And then also just dump in cream?!? The Italian mama would throw her hands up in horror.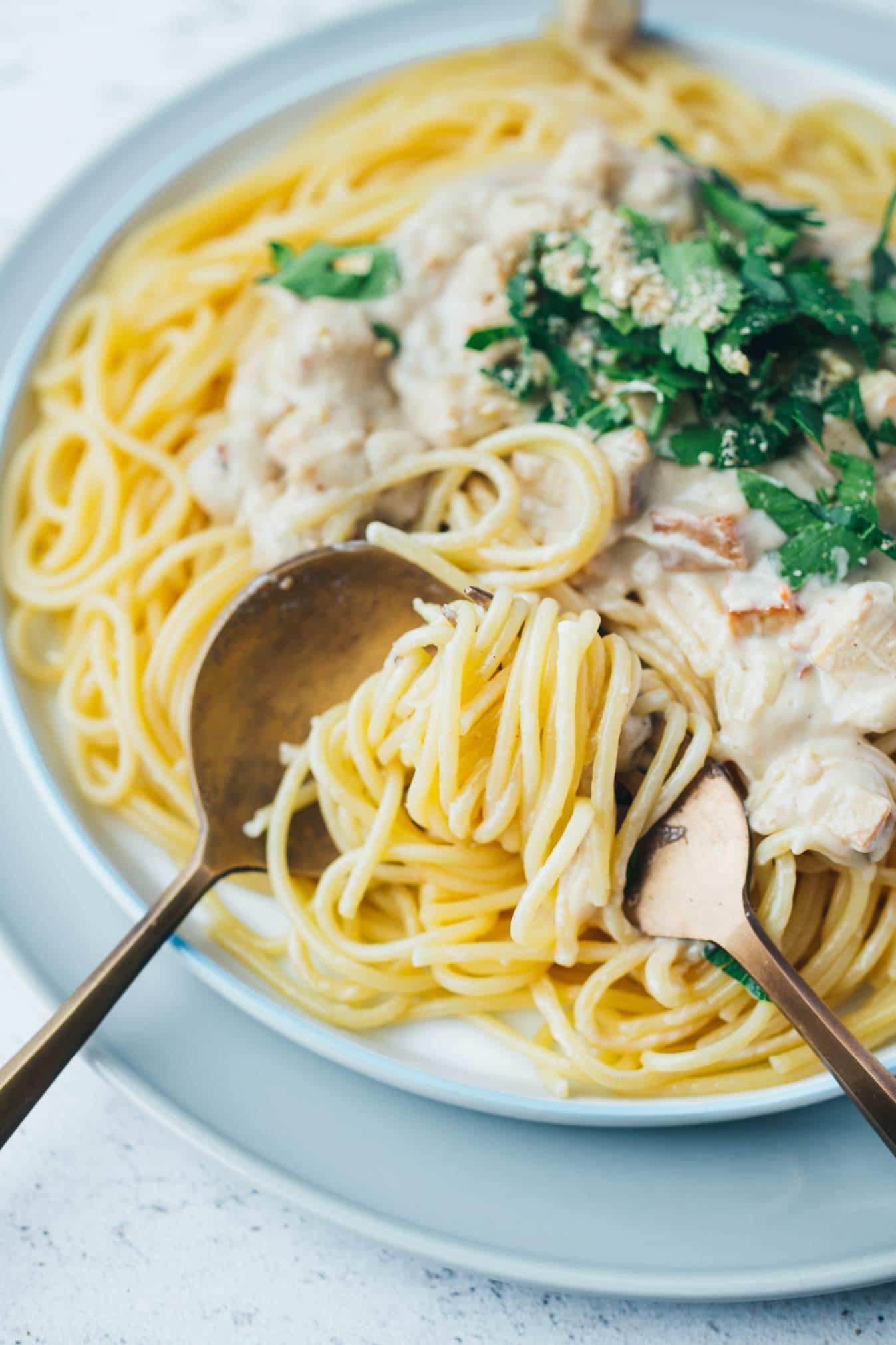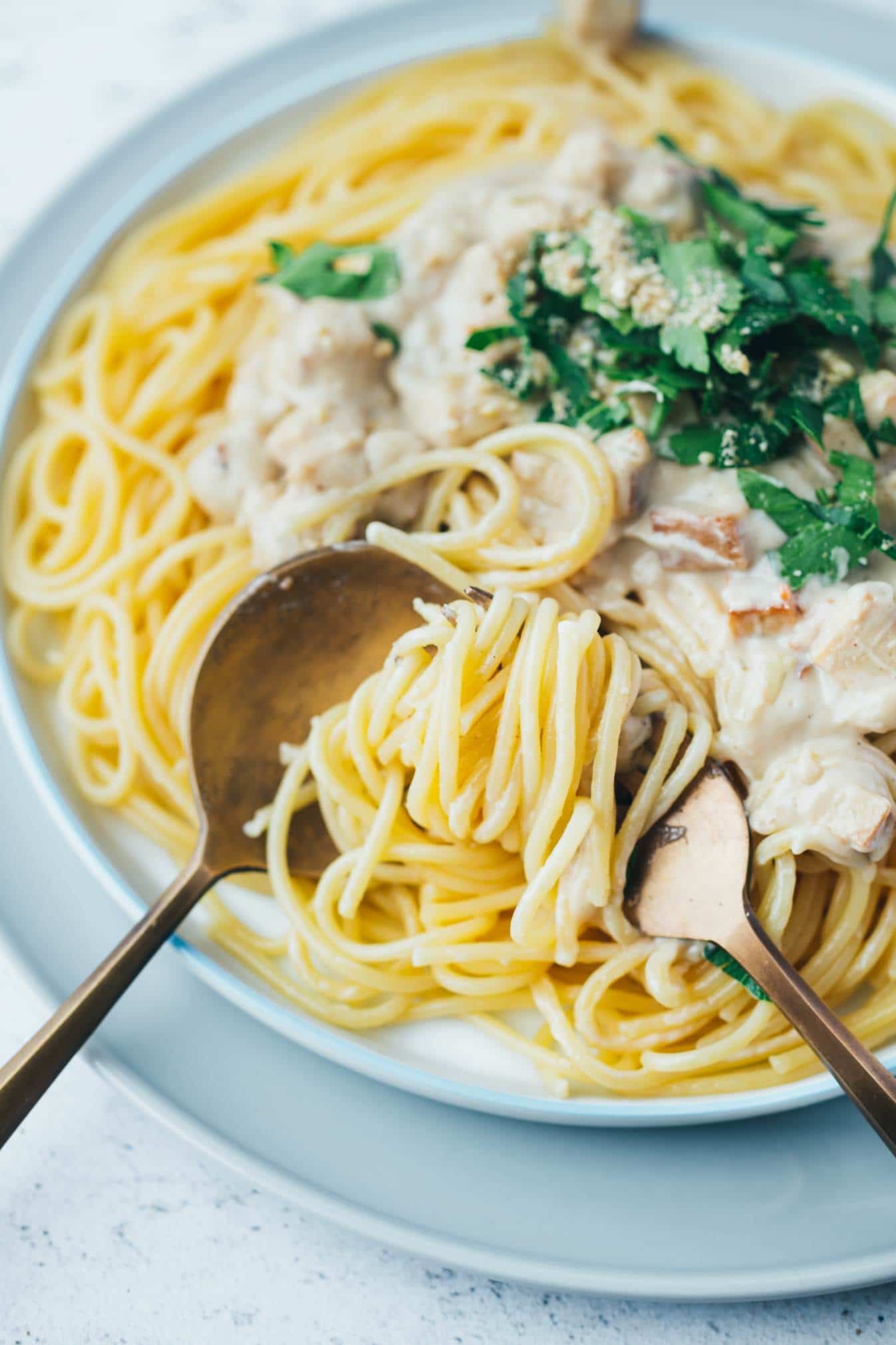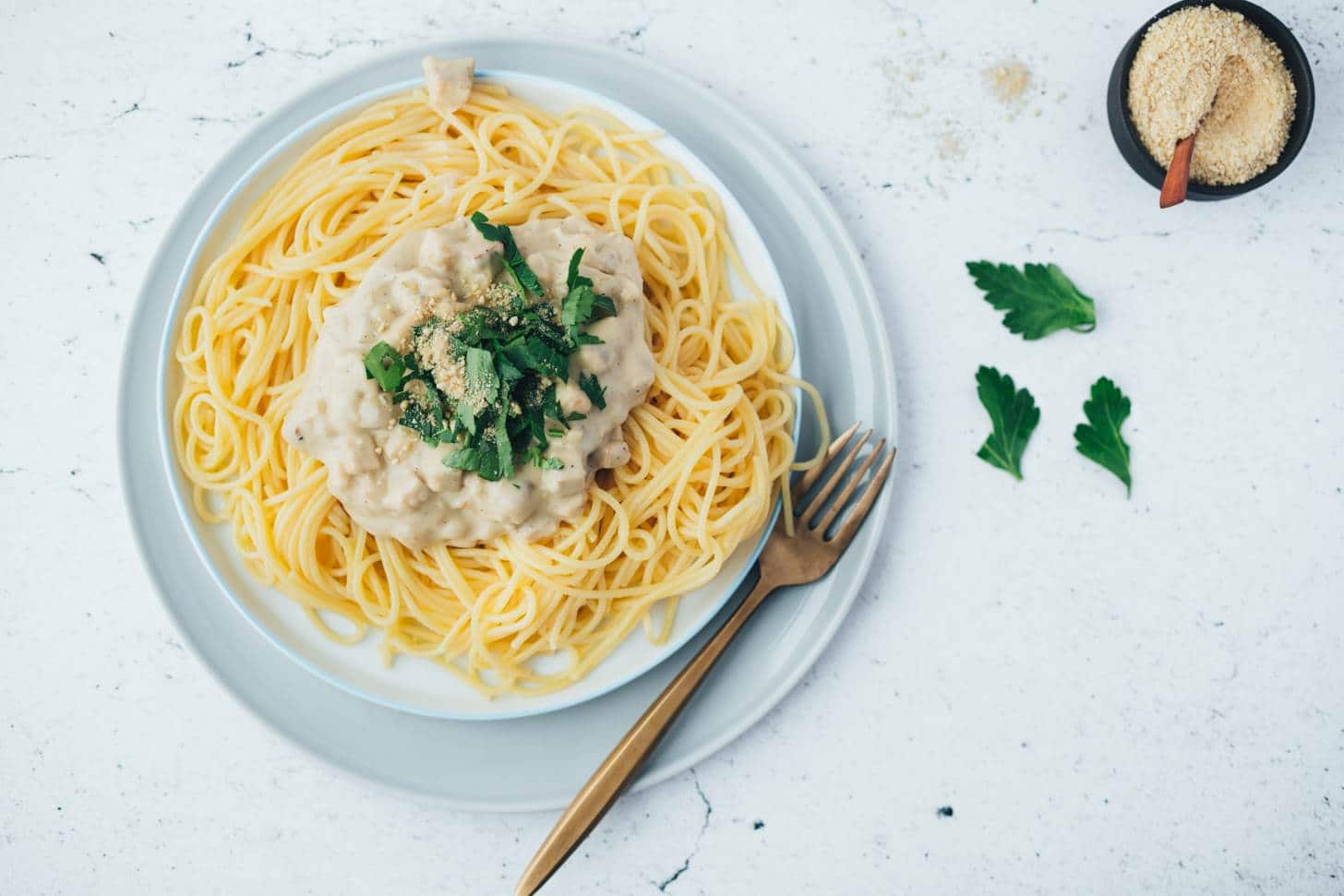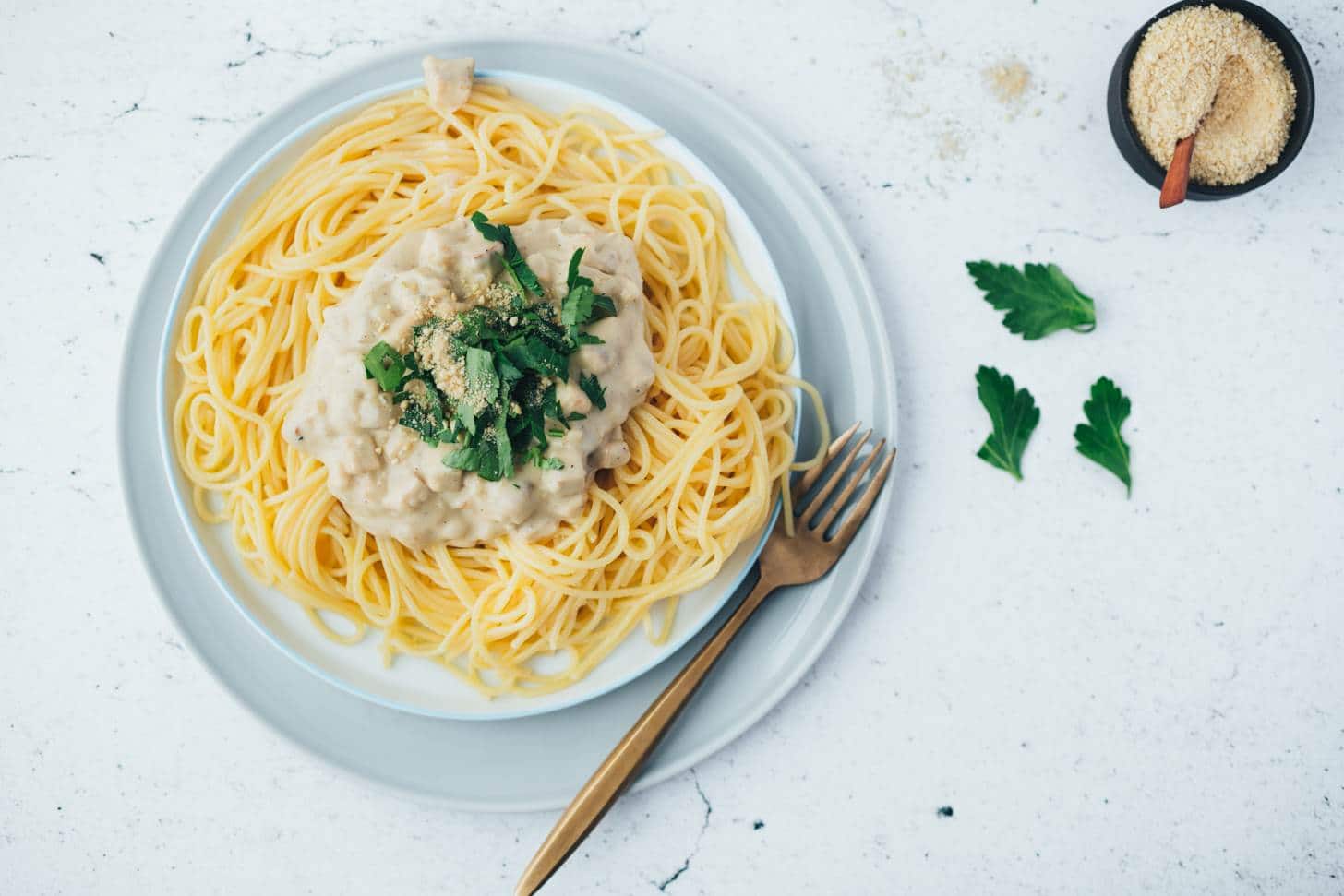 Cashews instead of cream – the perfect alternative
The only question left is what makes cashews so healthy? They contain:
High content of polyunsaturated fatty acids
Vitamins A, B, D and E
Proteins
Amino acid tryptophan (precursor of serotonin)
Magnesium, iron, zinc, potassium and phosphorus
Suitable for this dish is the vegan parmesan and of course vegan coconut bacon . Maybe one more Chocolate orange raw truffle for dessert? Simply heavenly.
30 minutes, under 10 ingredients, that's all you need for this dish. I promise you that all friends of Italian pasta will love you for it. As a final touch, add freshly ground vegan Parmesan and let's get this pasta party started!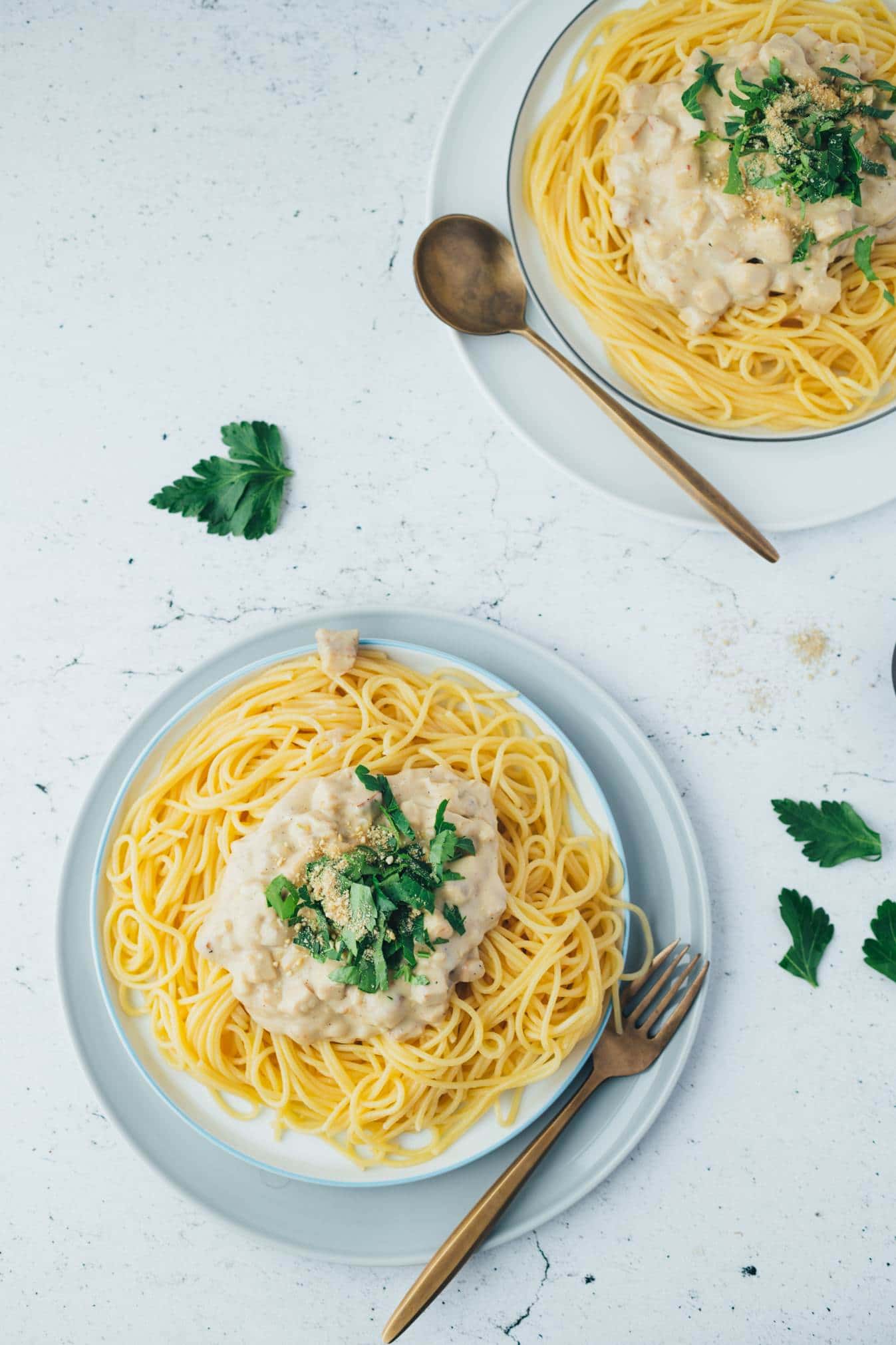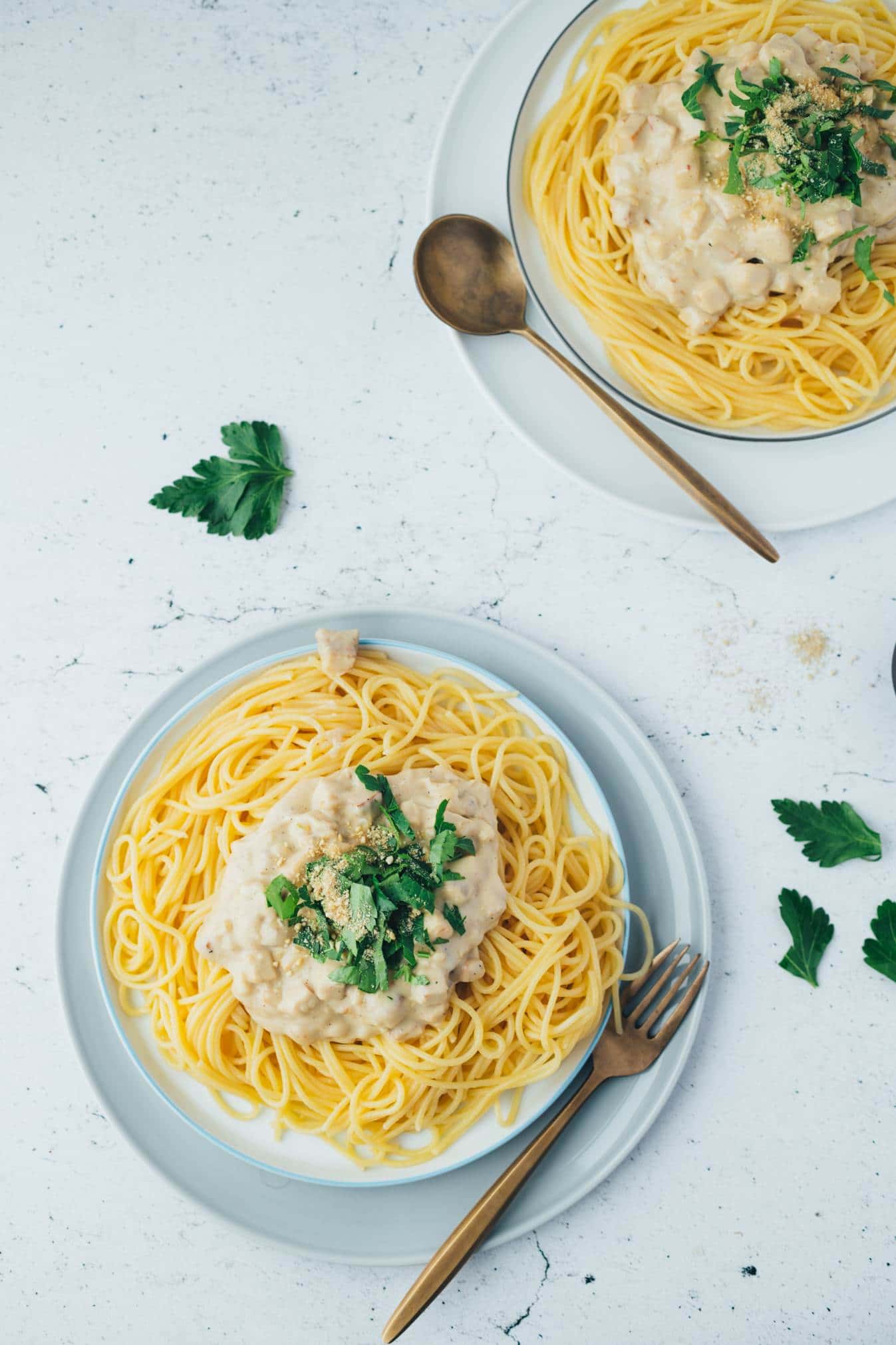 The Everyday Spaghetti Carbonara (30 minutes) are:
smoky
hearty
Full of healthy protein
filling
Easy to make
Are you ready for a carbonara party? I wish you a lot of fun in recooking and of course a review at the bottom of this page. If you post a picture, use the hashtag #veganevibes.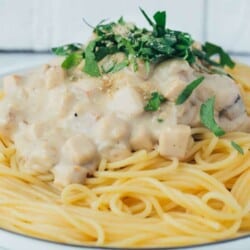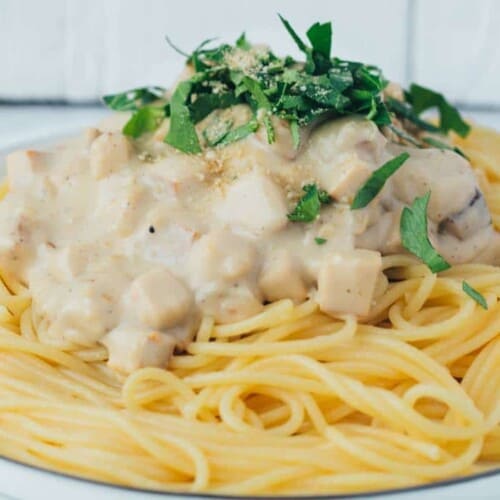 Everyday Spaghetti Carbonara (30 minutes)
Hearty, creamy, vegan cashew-based carbonara sauce with aromatic smoked tofu. A 30-minute meal that's healthy and filling.
AUTOR: VEGANEVIBES
Anleitung 
FOR THE PASTA bring a large pot of salted water to a boil and cook pasta according to package directions until al dente. Season with a pinch of salt and optional olive oil.

300 g gluten free spaghetti,

Sea salt to taste,

Optional: 1-2 tablespoons olive oil

FOR THE CARBONARA heat a medium frying pan, pour in the oil, sauté the onion and garlic for 2-3 minutes until translucent.

30 ml Frying oil or other heat resistant oil,

1 white onion,

2 Garlic cloves

Add smoked tofu and fry for 3-5 minutes, but be careful not to burn. Remove from heat and keep warm over low heat.

For the CASHEWSAHNE place all ingredients in a high-powered blender and process to a uniform liquid. Season to taste and add to the cooked pasta. If the sauce thickens too much (it varies depending on the type of pasta, add another sip of vegetable milk). Heat again slightly so that the dish is nice and hot when served.ALTERNATIVE: Mix smoked tofu and cashew cream together before serving, but the smoked tofu will lose crunch. Both varieties are very good in taste.

300 ml Almond milk or another vegetable milk,

2 tbspn Nutritional yeast,

1 Pinch of nutmeg,

Salt and pepper to taste,

100 g Cashews

Arrange the pasta on 2 plates and garnish with the carbonara sauce,

Parmesan cheese

garnish with parsley and enjoy!

A small bunch of flat leaf parsley,

Vegan parmesan,

A small bunch of flat leaf parsley

Store carbonara in an airtight container in the refrigerator for up to 2 days or in the freezer for 1 month, and preferably heat in steamer.

Notizen
*Save this step if you have a high line mixer. Otherwise, soak cashews in boiling hot water an hour beforehand. DO NOT cover, strain and use.
NOTES /HELPFUL ACCESSORIES:
Nährwertangaben
Serving:
1
Portion
Calories:
515
kcal
Carbohydrates:
81
g
Protein:
17
g
Fat:
13
g
Saturated Fat:
1
g
Sodium:
160
mg
Potassium:
377
mg
Fiber:
6
g
Sugar:
5
g
Vitamin C:
3
mg
Calcium:
149
mg
Iron:
2
mg