It was this dinky little organic store in Bali where I had bought a premium dark chocolate. With natural orange flavor, so delicious! The Schoki was of course quickly gone, but the combination of chocolate and orange was no longer out of my head. The light fruity acidity combined with the full-bodied, slightly bitter dark chocolate. Simply yummy. That's why I came up with a recipe that combines these two flavors into my favorite sins: raw truffles!
Chocolate orange truffle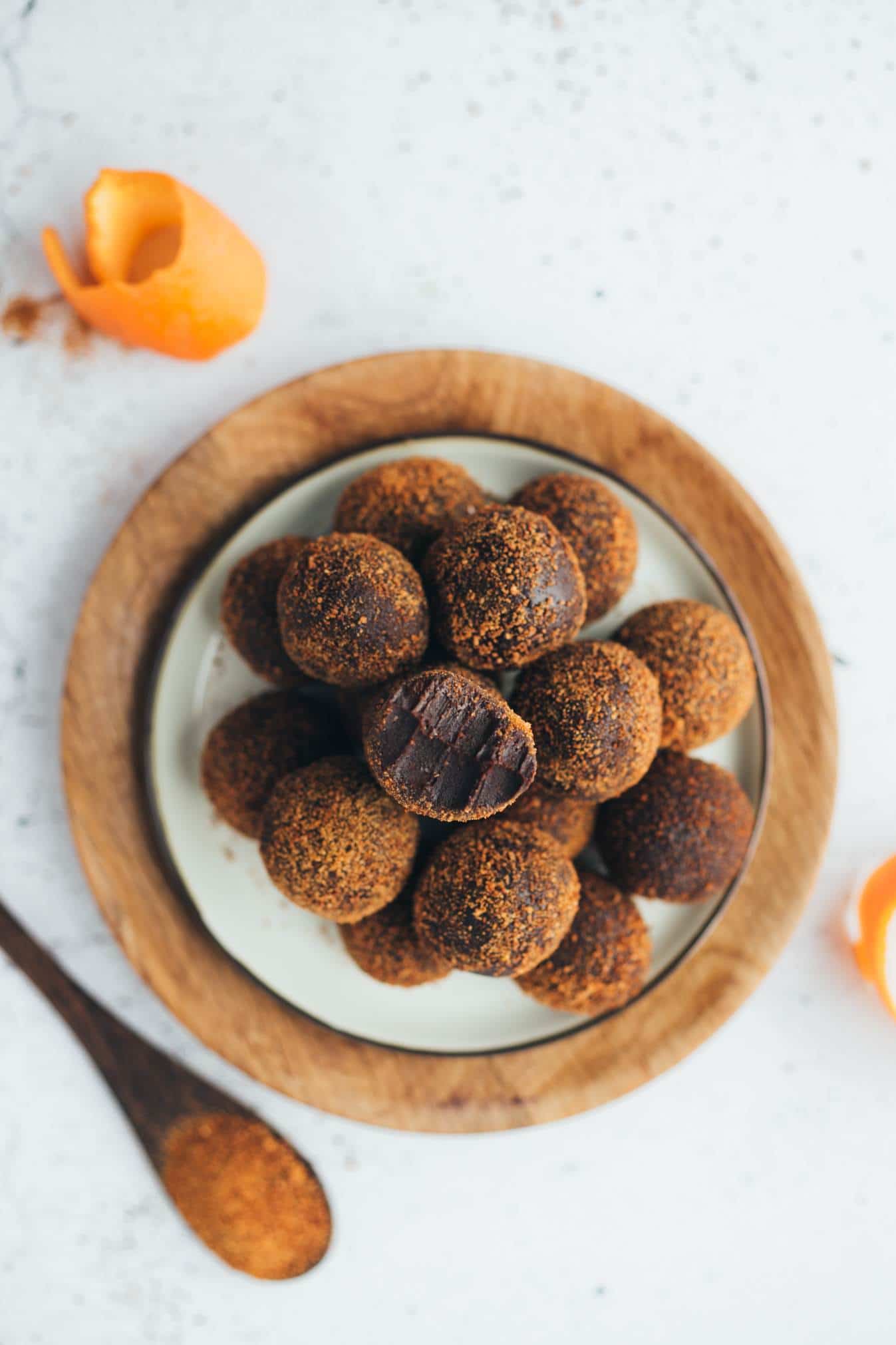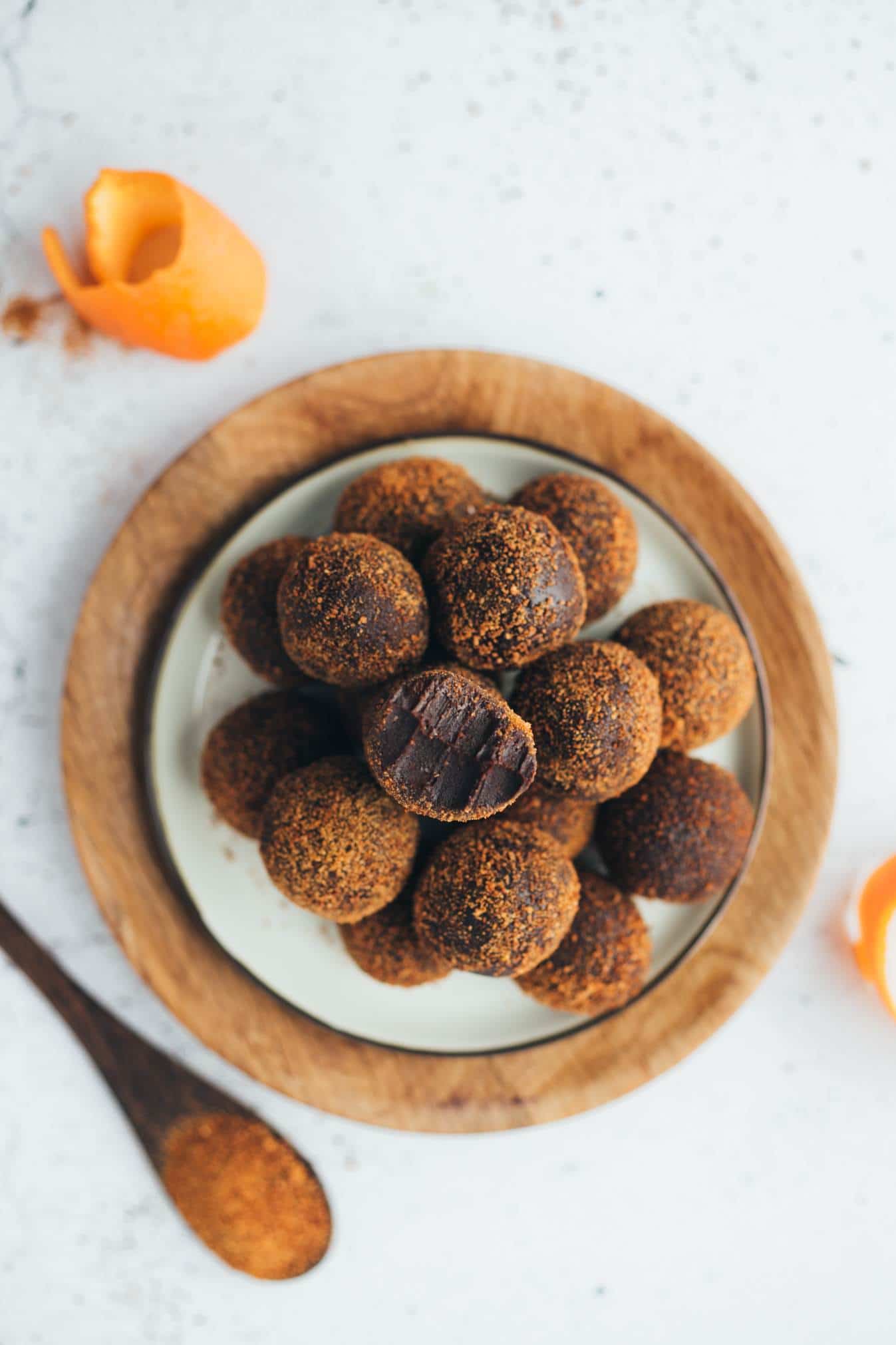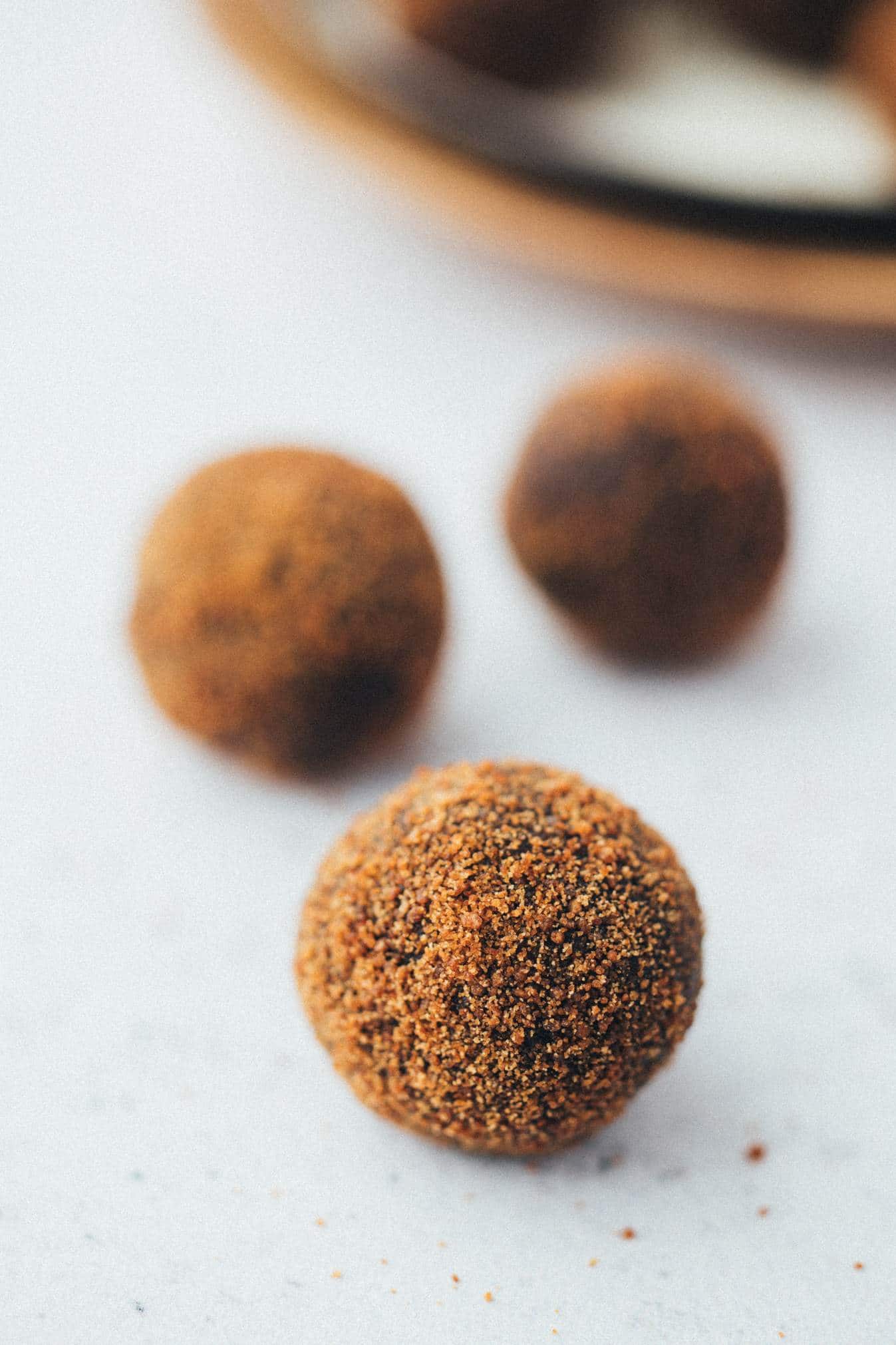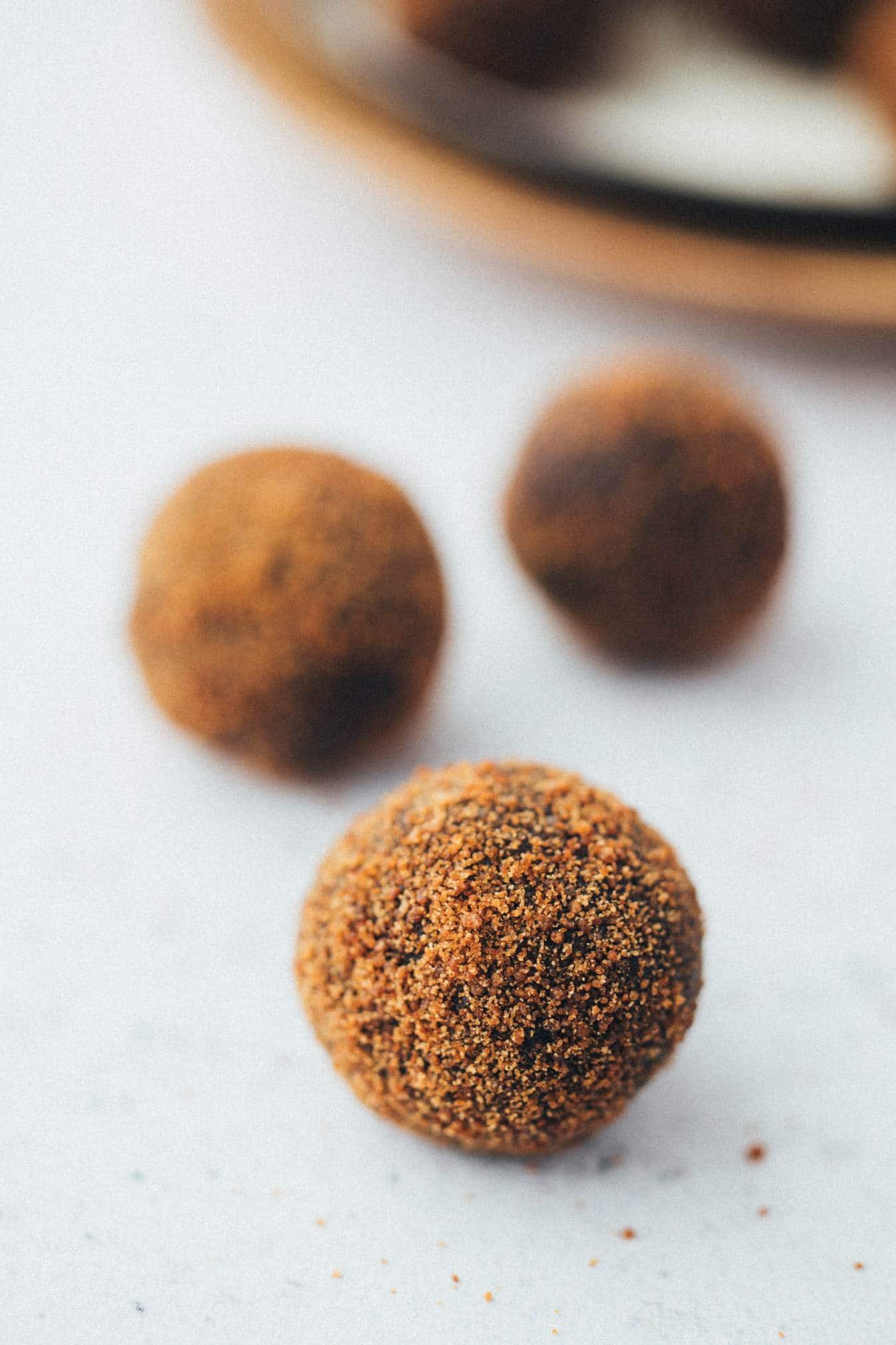 Oranges are a little highlight in themselves, but I bought a whole tree this season. It's in southern Spain on a CrowFarming farm and I can harvest from now on, yuhuuu! My parents discovered the farm on their last camping vacation and were quite excited. The young founders have taken over their parents' farm, manage it sustainably and, in addition to oranges, also have artichokes, clementines, wine and many other delicacies on offer. You even have the opportunity to become the godfather of your own beehive. You can find more info here. https://www.naranjasdelcarmen.com/de
Do you love the combination of chocolate and orange?
The basis for the raw truffles are once again wonderfully delicious dates. In the meantime, I have started to buy a whole 5 kilo box of Medijool and store it in the refrigerator. After all, they are so versatile and can be used perfectly as a healthy alternative to sugar.
Besides dates are also damn healthy and especially rich in:
Healthy dietary fiber
Potassium, calcium and magnesium
B vitamins
Tryptophan (precursor of serotonin and melatonin)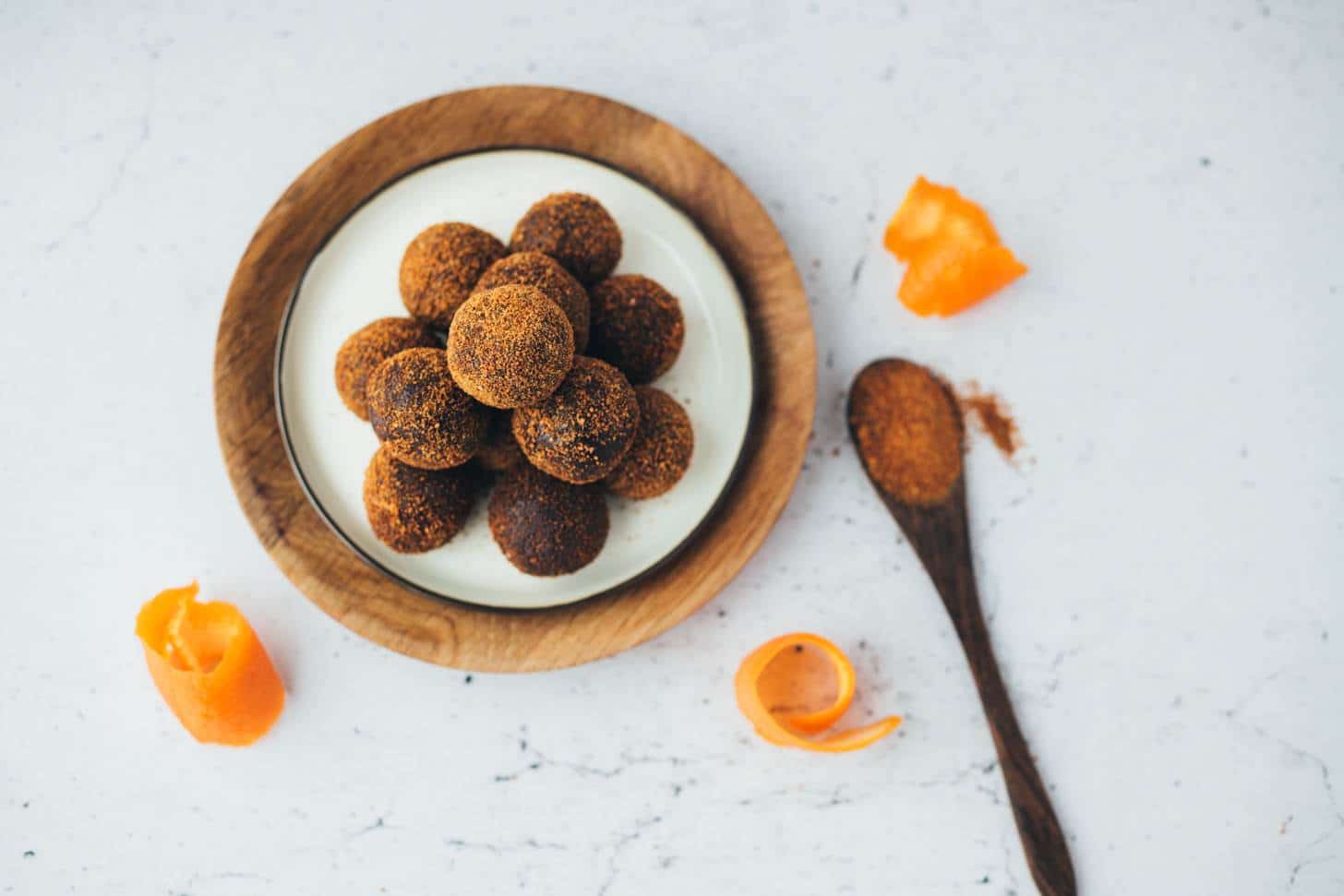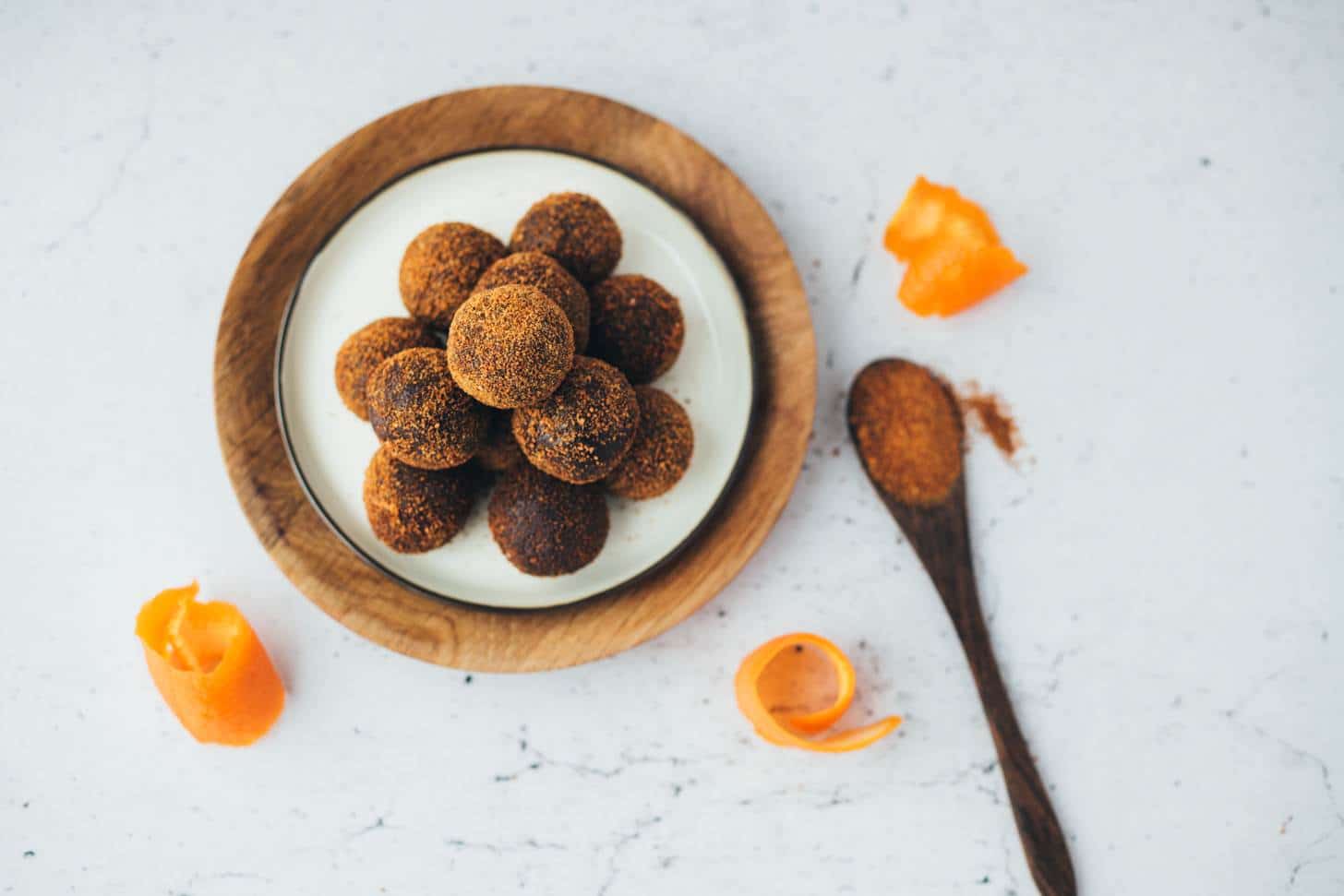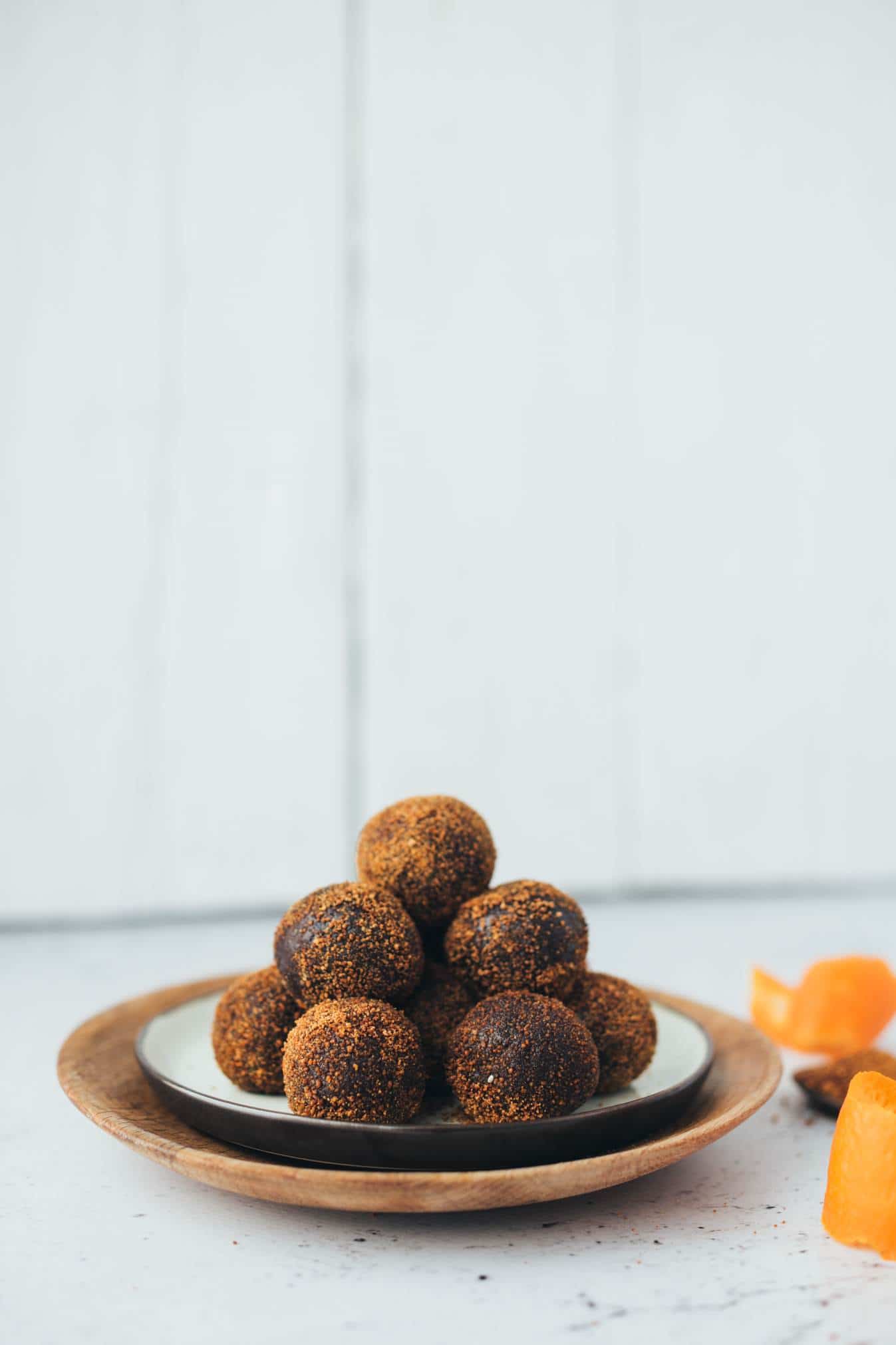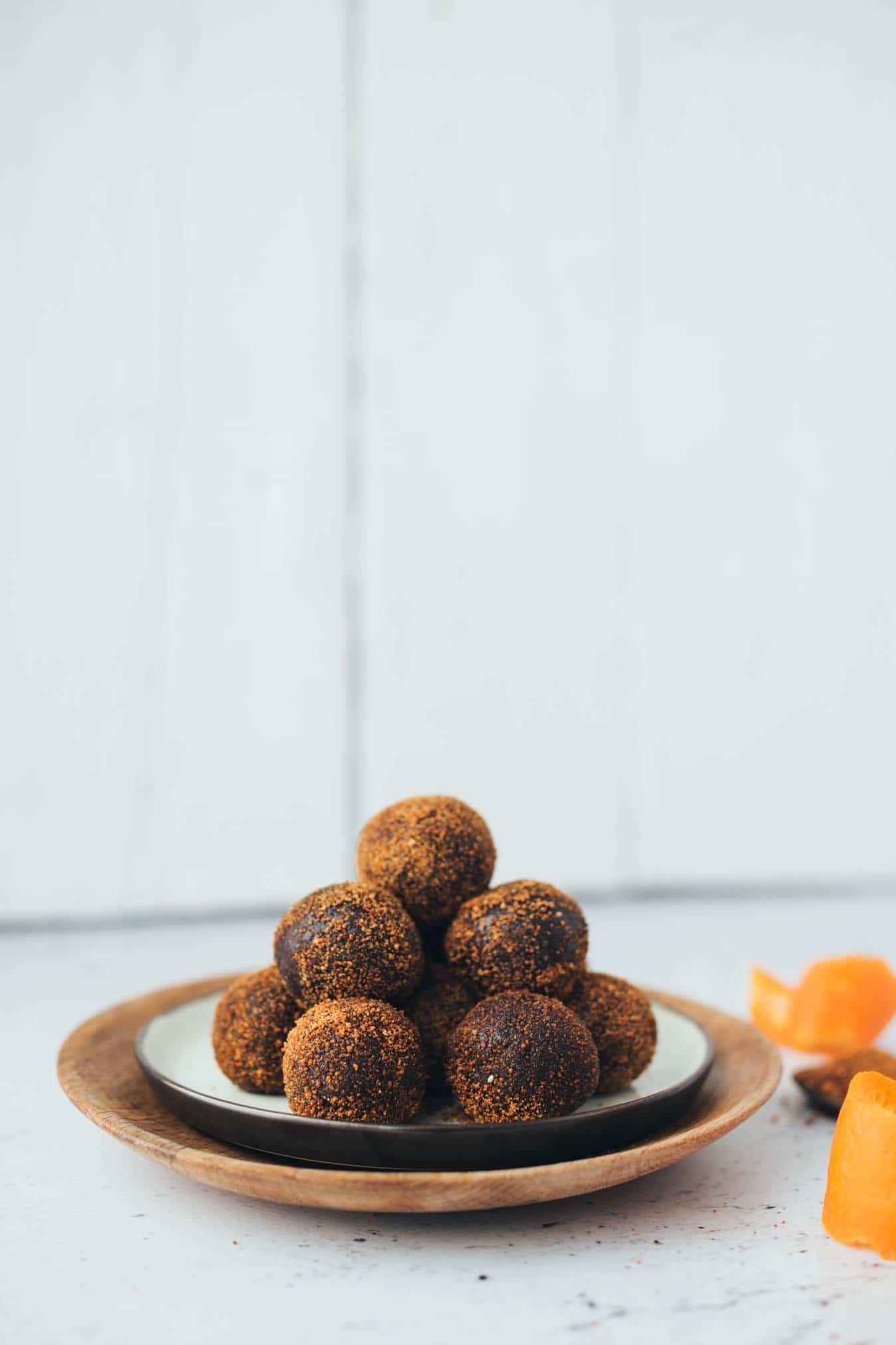 Add one part raw cacao powder, orange juice and zest, and a small pinch of sea salt and coconut blossom sugar. This has a low glycemic index and does not cause blood sugar levels to rise as quickly as many other types of sugar. If you're one on a DETOX or Clean Eating trip, you can always omit the coconut blossom sugar.
Raw truffles are full of healthy micronutrients
Here is a note on the processing of dates: If you have a very powerful blender, you can usually use dates unsoaked. Personally, I work with a MagiMix when making raw truffles. If your blender has a few horsepower less, soak the dates in boiling hot water for about 30 minutes before using them. Drain soaking water, put all ingredients in blender and go.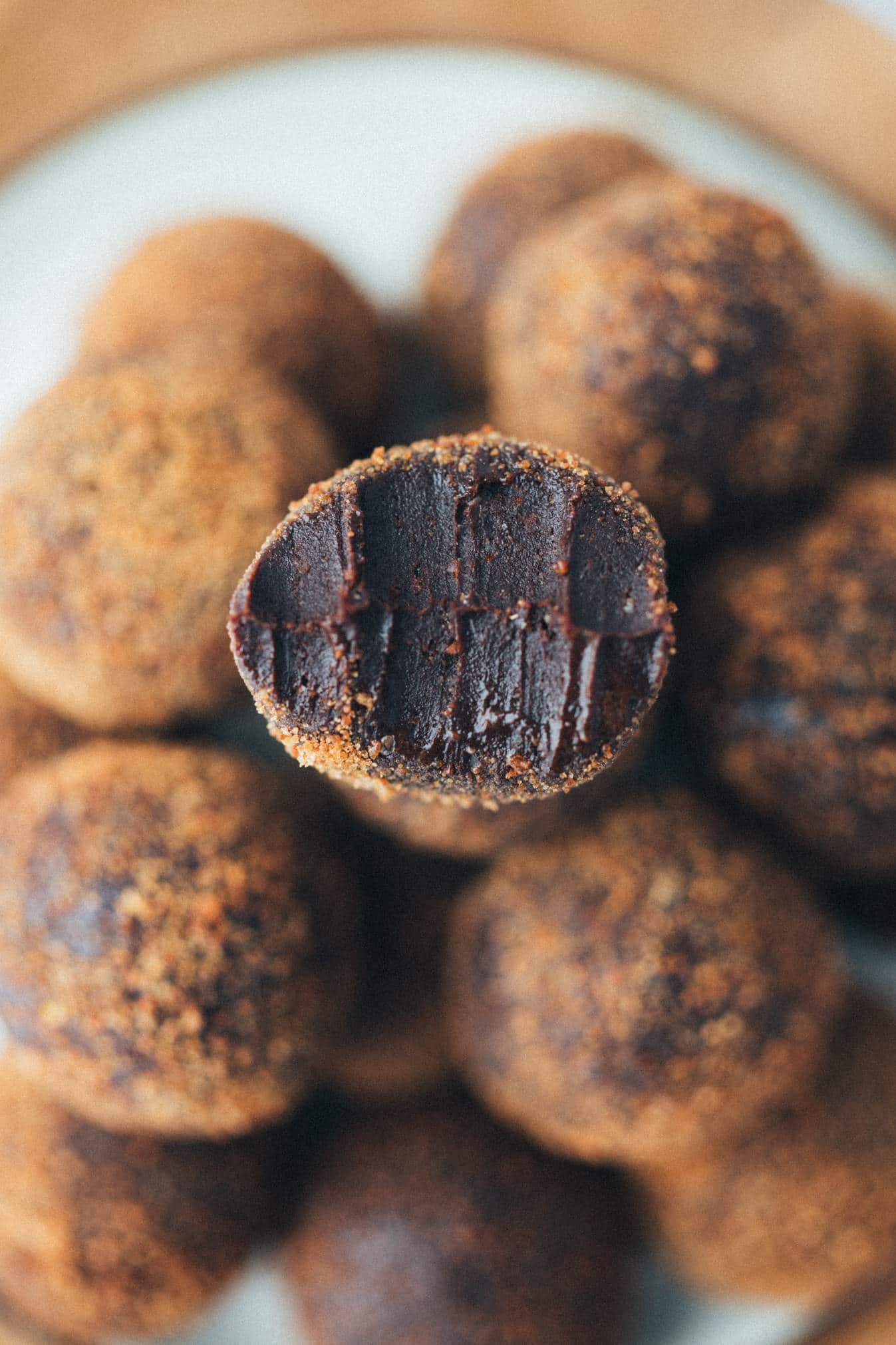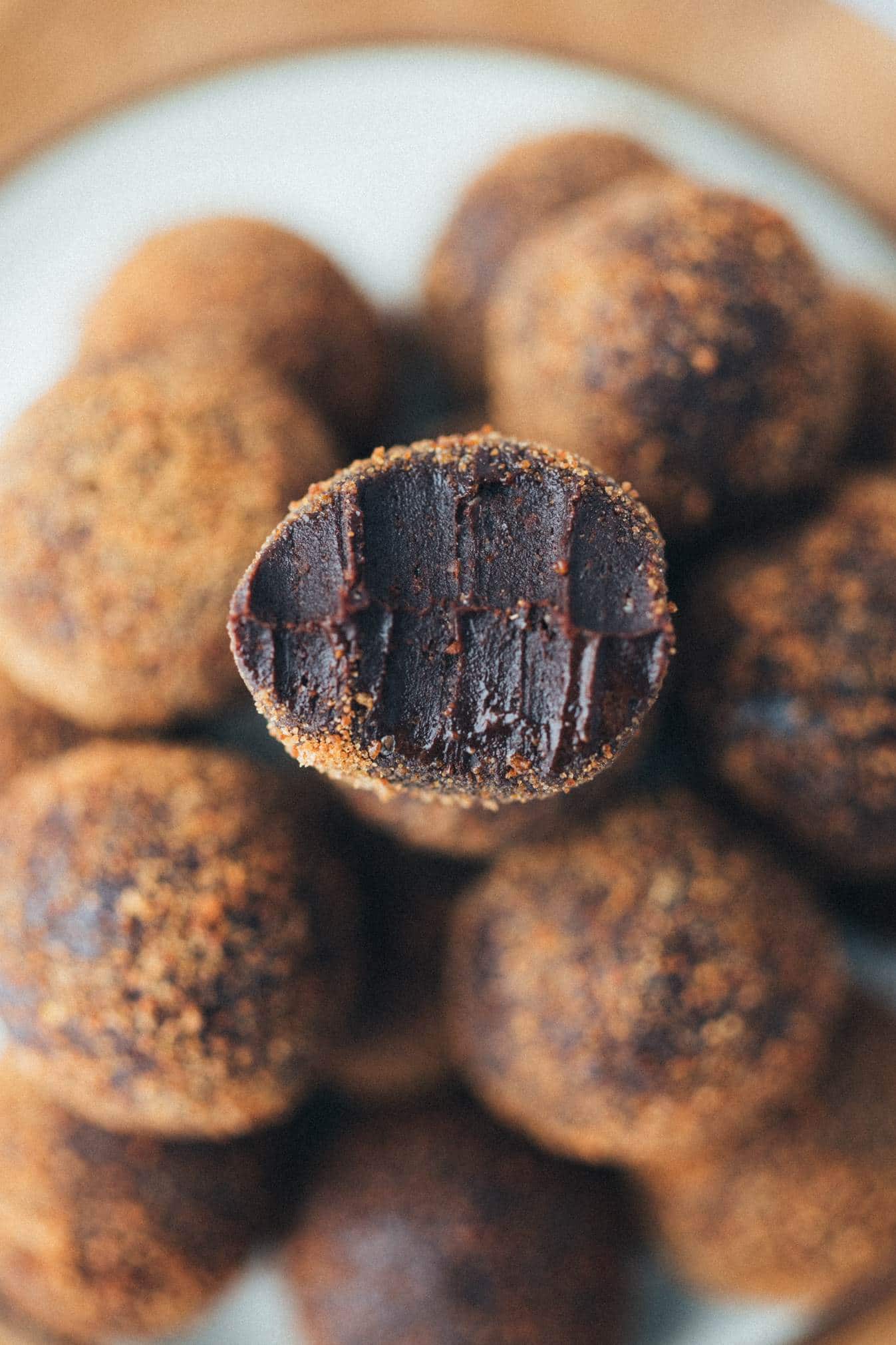 Chocolatey and fruity, these raw truffles are perfect as a dessert after a great dinner, or in between hot drinks like the Immune Booster Latte , Chocolate Chia Smoothie , hot chocolate or golden milk .
The chocolate orange raw truffles (15 minutes) are:
chocolatey
fruity
Delicately melting
Naturally sweetened
Quickly made
Let's start with this dream of orange and chocolate. I hope you enjoy the reel and of course about a review at the bottom of this page. If you post a picture, use the hashtag #veganevibes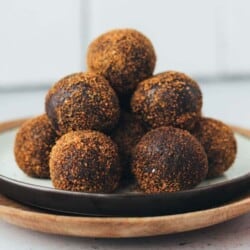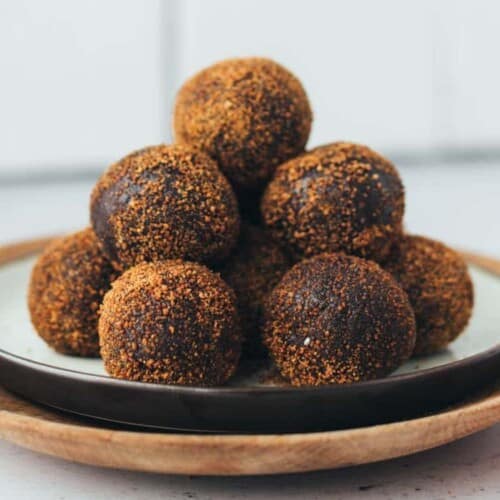 Chocolate orange raw truffle (15 minutes)
Extremely delicious, fruity-chocolate raw truffles as a small but fine dessert or for in between, vegan and gluten-free. Fruity, chocolatey, rolled in caramelized coconut blossom sugar.
AUTOR: VEGANEVIBES
Anleitung 
If dates are very hard, soak in hot water for 30 minutes and strain before processing. For high quality Medijool dates, this step can be ignored as the dates are usually soft enough.


For the dough add all ingredients in a food processor (I use here my MagiMix) or high-powered blender and mix until a fine truffle mass is created. This should be nice and sticky, but not too dry. Otherwise, add a splash of orange juice.

216 g Medijool dates,

80 g raw cacao powder,

1 tbspn grated peel of one organic orange,

30 ml Orange juice,

52 g Coconut oil,

1 Pinch sea salt,

3-5 tbspn Coconut blossom sugar,

1 tbspn grated peel of one organic orange

With wet hands, form 12 balls weighing about 25g (an ice cream scoop is also recommended here) and roll in the orange sugar. enjoy!


Place remaining truffles in a resealable box and store in refrigerator or freezer. In the refrigerator they last about 1 week, in the freezer up to 4 weeks.

Notizen
NOTES /HELPFUL ACCESSORIES:
Nährwertangaben
Serving:
2
Piece
Calories:
104
kcal
Carbohydrates:
17
g
Protein:
1
g
Fat:
5
g
Saturated Fat:
4
g
Sodium:
2
mg
Potassium:
231
mg
Fiber:
3
g
Sugar:
12
g
Vitamin A:
30
IU
Vitamin C:
1.4
mg
Calcium:
20
mg
Iron:
1.1
mg