It'sSeptember and I'm no longer really in the mood to grill outside. Maybe there is still the one nice perfect autumn day,with T-shirt weather. However, today is such a really classic 12 degree "I don't want to go outside" evening. So I'm thinking about how to prepare the golden-yellow corn cobs inside.
Vegan corn cobs have never tasted so good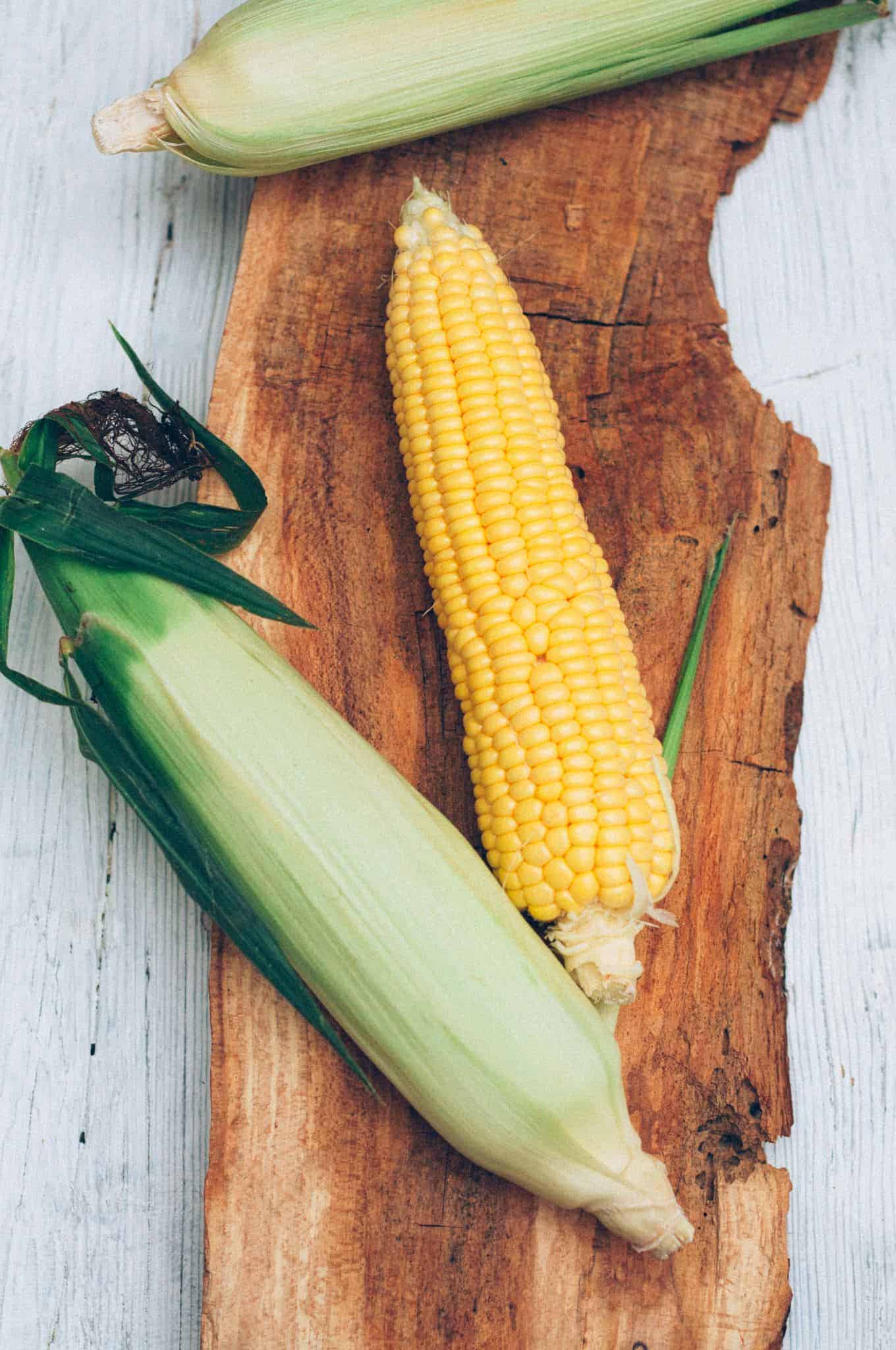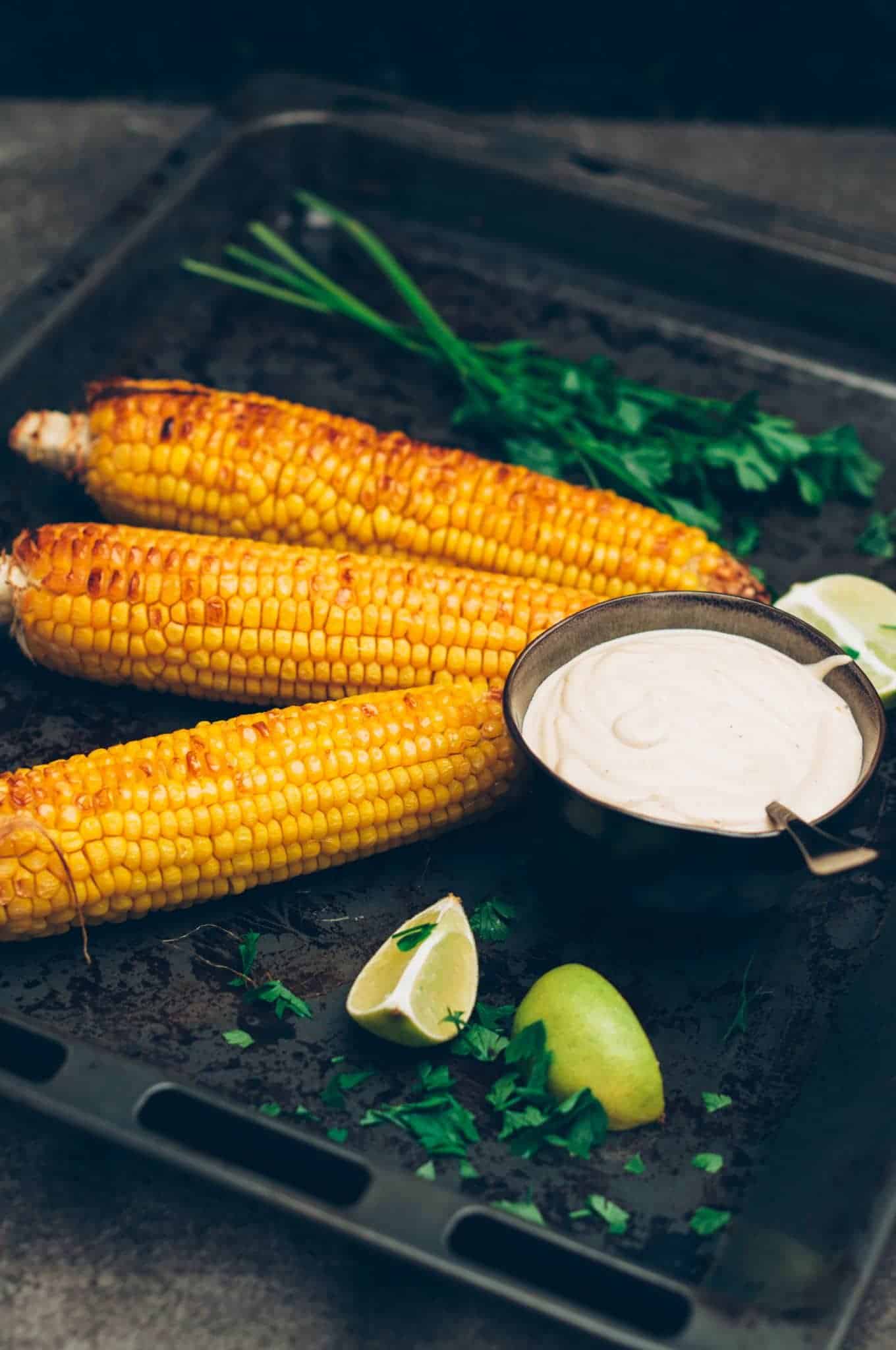 Indoor grilling is my new hobby
This recipe includes Chili Majo with 10 ingredients. In addition to adding 1-2 tbsp of protein powder to the majo for a boost of high-quality vegetable protein. That would be number 11.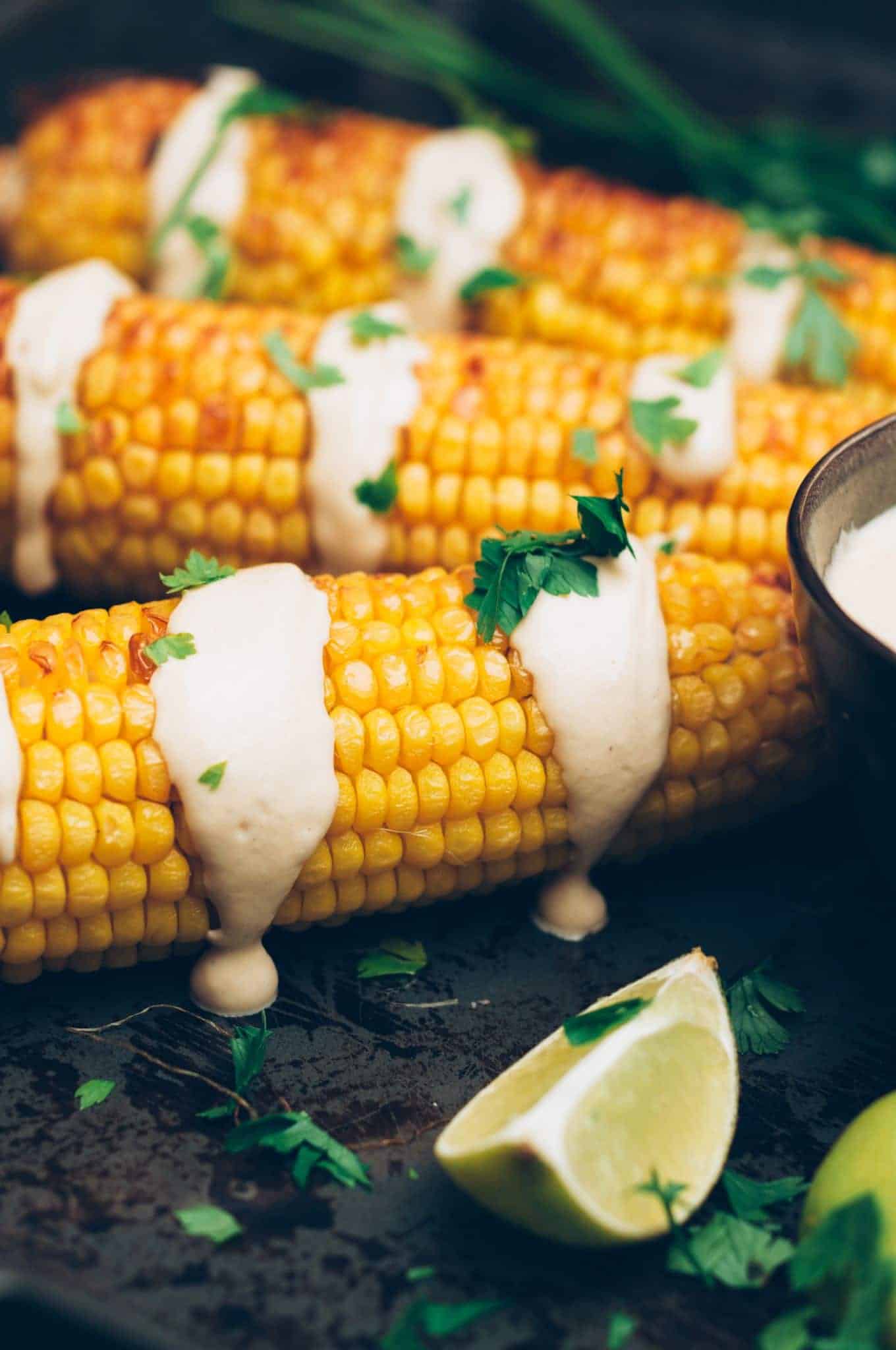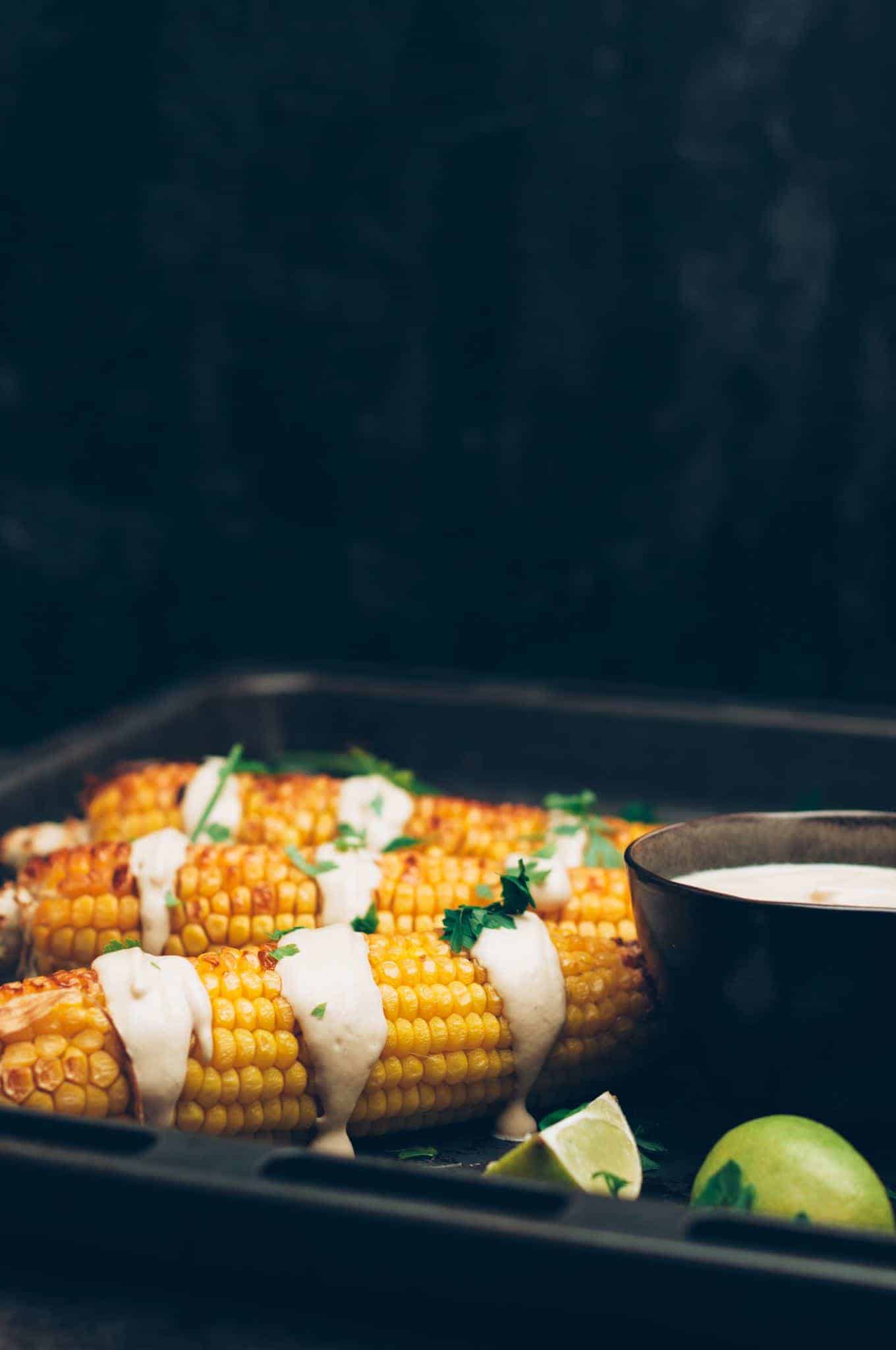 I promise you, the combination of the mild, slightly sweet corn cobs combined with the creamy chilli majo with a touch of lime is simply incredible. We have literally rushed to it. My husband had half the majo in his beard and we laughed a lot. So if you're cooking a person with a beard, prepare for a fun evening.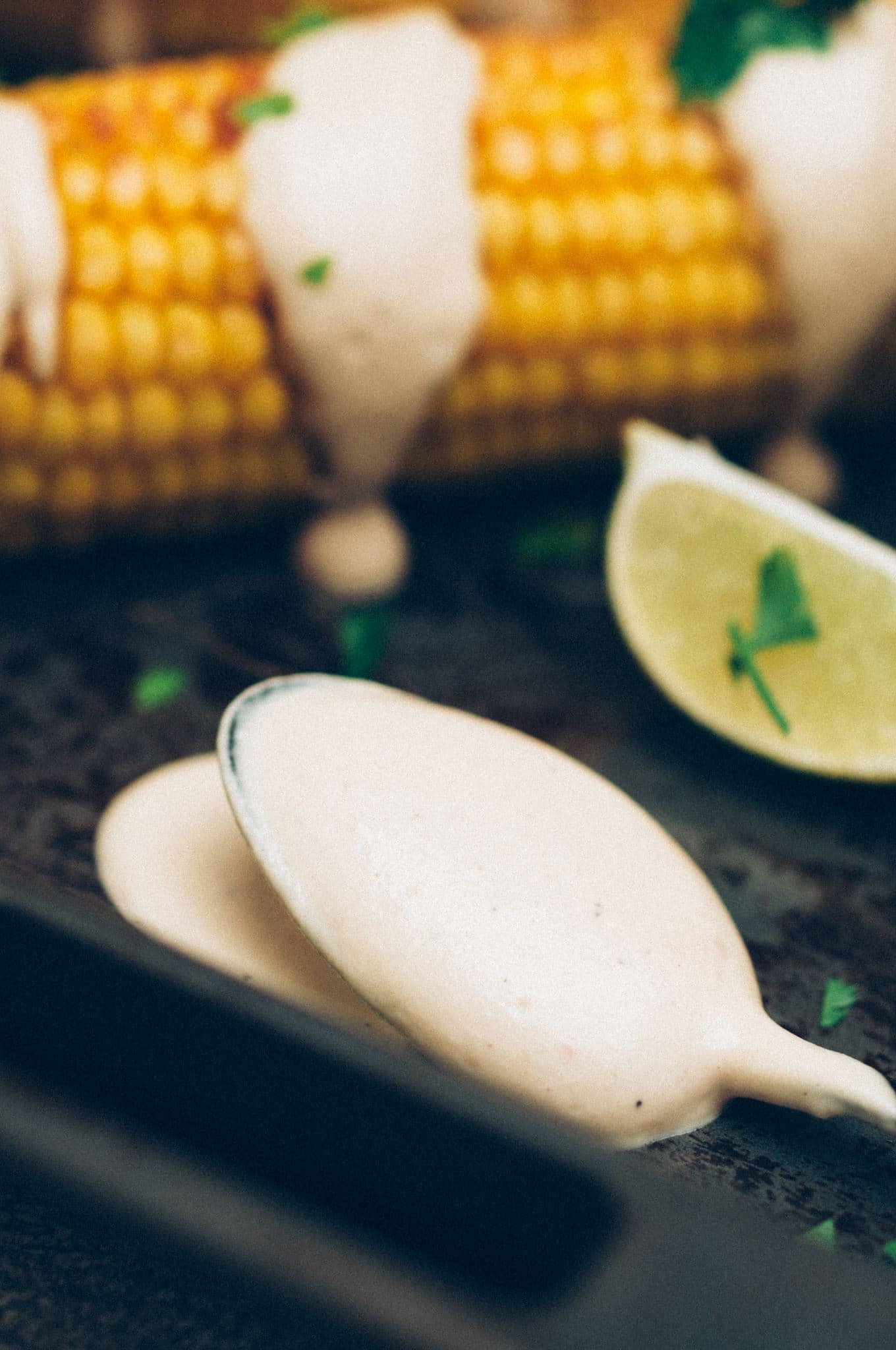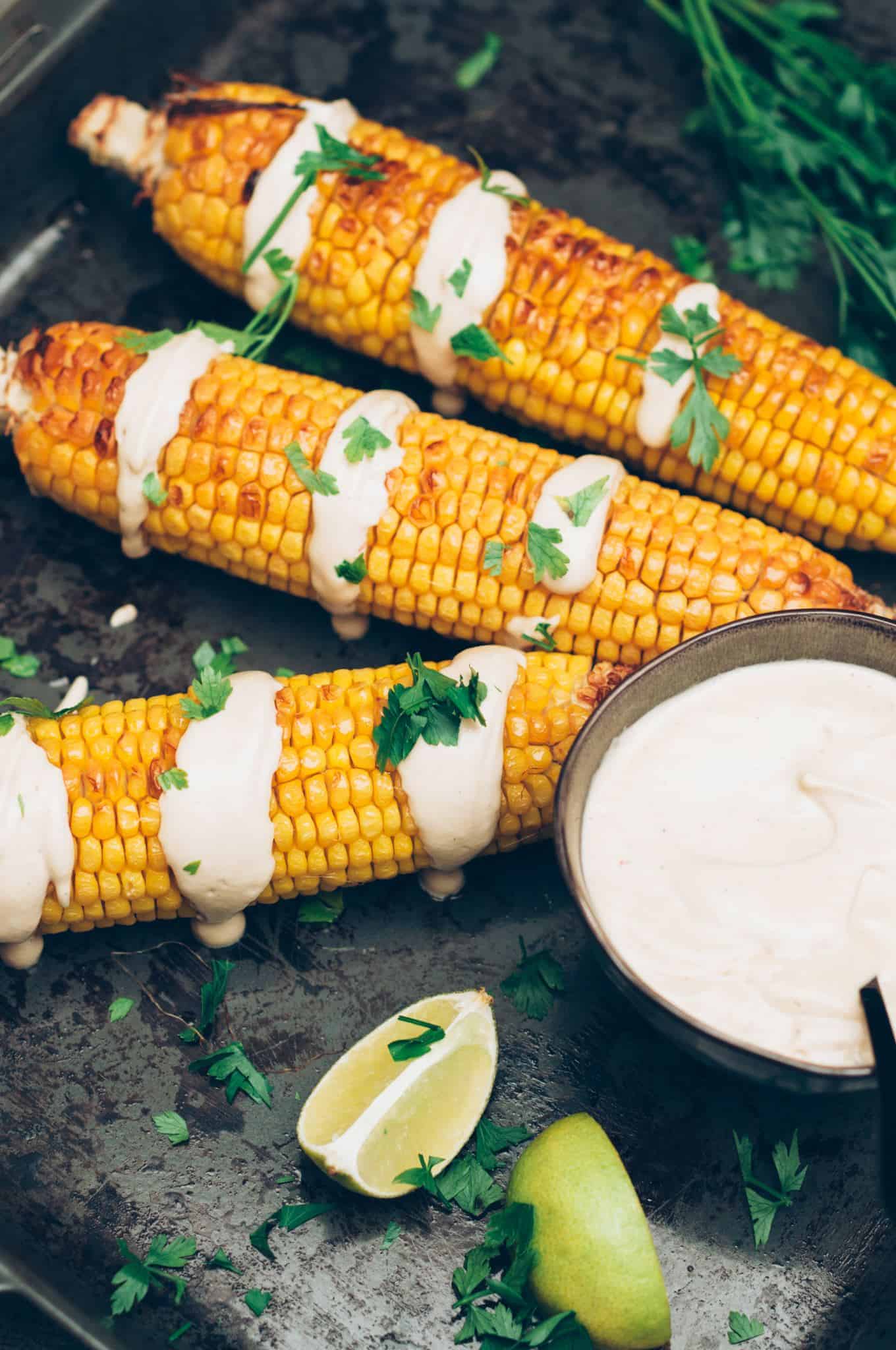 Let's go, let's throw the grill. Have you also fallen in love with the delicious corn cobs? Then I'm looking forward to a review at the bottom of this seit. If you post a picture, use the hashtag #veganevibes.
The grilled corn cobs with chilli majo are:
smoky
sweet
Hearty-sharp
fresh
juicy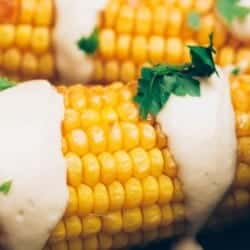 Grilled corn cobs with chilli majo
I love grilled corn cobs and not just on the outdoor grill. Grilled corn cobs with chilli majo, perfect for any barbecue party, as an appetizer or for the main course, decide for yourself.

AUTOR: VEGANEVIBES
For the Chili Majo:
3/4

Cup

Cashews

2

Piece

Garlic cloves

peeled and coarsely chopped

60

ml

Water

30

ml

Olive oil

1

TL

maple syrup

15

ml

Lime juice

Sea salt to taste

Pepper to taste

Optional: 1 pinch each of chili powder

Paprika powder and coriander, ground

Optional: 1 tsp nutritional yeast

for an extra cheesy taste
corncob
6

Piece

large corn cobs

peeled
TO SERVE
Limes

quartered

Chili Sauce

fresh coriander

coarsely chopped
Anleitung 
For the cashews, bring a litre of water to the boil. Put cashews in a bowl, pour over the hot water and leave to pull for 50 minutes, do not cover. More information about soaking cashews can be found here.

For the corn cobs, bring a large saucepan with at least 5 litres of filling volume with 2 litres of water and a pinch of sugar to the boil. Place the corn cobs in and steam for

20 minutes

with the lid closed. Alternatively, place in the steam cooker and cook at 100 degrees for 30 minutes. After cooking, drain water and set aside.

Once the cashews are ready, shave, wash briefly with cold clear water and put in a blender. Add the remaining ingredients for the chilli majo and process to a creamy majo at the highest level. Set aside or place in a small bowl.


3/4 Cup Cashews,

2 Piece Garlic cloves,

60 ml Water,

30 ml Olive oil,

1 TL maple syrup,

15 ml Lime juice,

Sea salt to taste,

Pepper to taste,

2-3 Piece Birdeye chilies or 1 tablespoon hot chili sauce,

Optional: 1 pinch each of chili powder,

Optional: 1 tsp nutritional yeast

For the corn cobs, preheat a grill pan, grill or oven to 190 degree grill level. Roast for

about 10 minutes

in the grill pan or on the grill. Grill in the oven for 20 minutes.

Limes,

Chili Sauce,

fresh coriander

Sprinkle with chilli majo and fresh lime juice and enjoy fresh!
Notizen
"Put your marines aside and enjoy this incredible dish."
Nährwertangaben
Serving:
1
Piece
Calories:
107
kcal
Carbohydrates:
12
g
Protein:
1
g
Fat:
5
g
Sodium:
1
mg
Vitamin A:
10
IU
Vitamin C:
0.7
mg