Pizza would be something again! That's true, but it's Sunday and we live in the village. That means there is exactly one pizza serviceand, of course, not a single vegan option on the menu. Sure it would be possible to omit the cheese, but would it still taste good? A homemade alternative is needed, and one that's quick. Now this doesn't mean that the food is on the table in 30 minutes on the table, but for a pizza the production is definitely fast, if not almost "rapid".
A vegan pizza that goes fast and tastes great!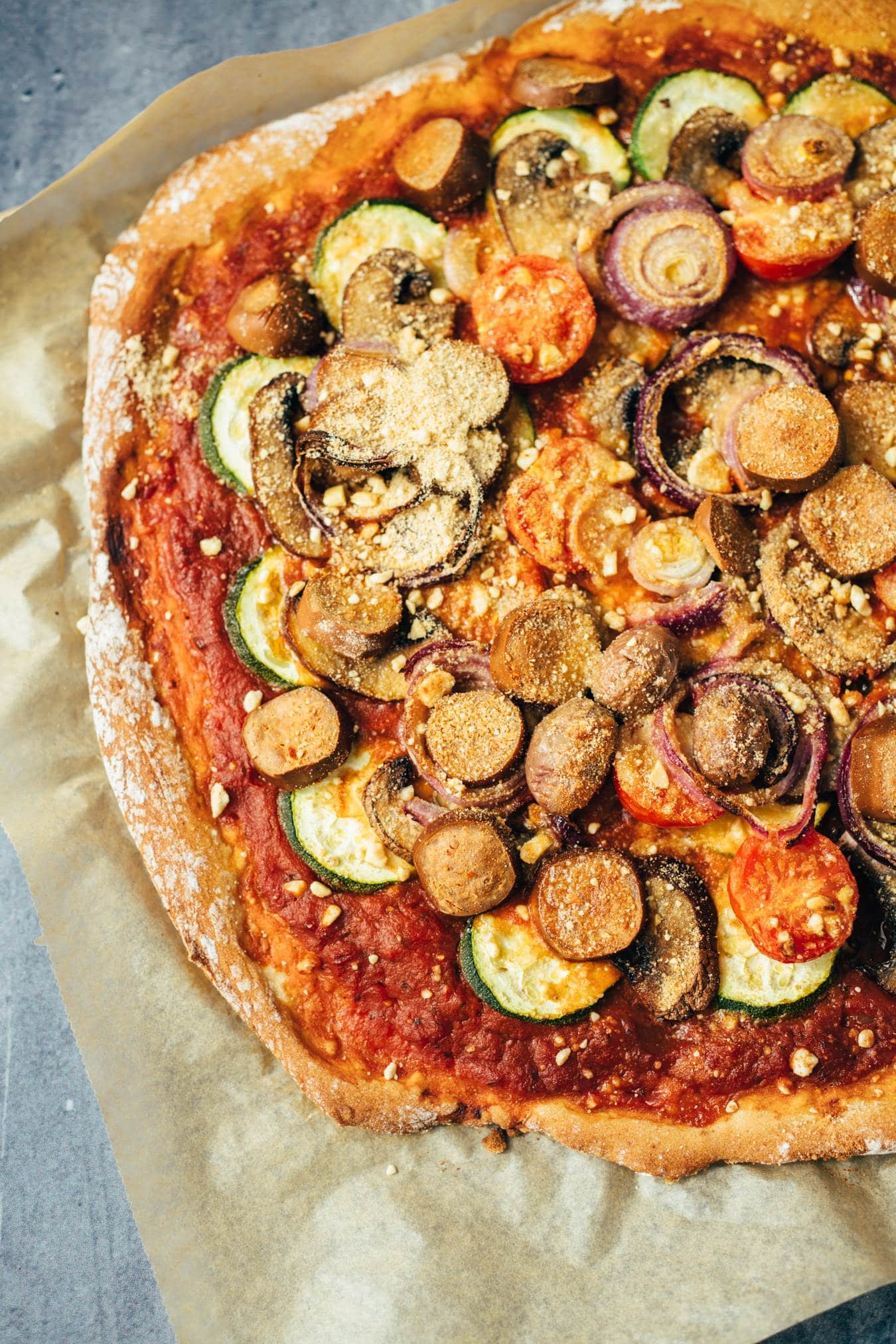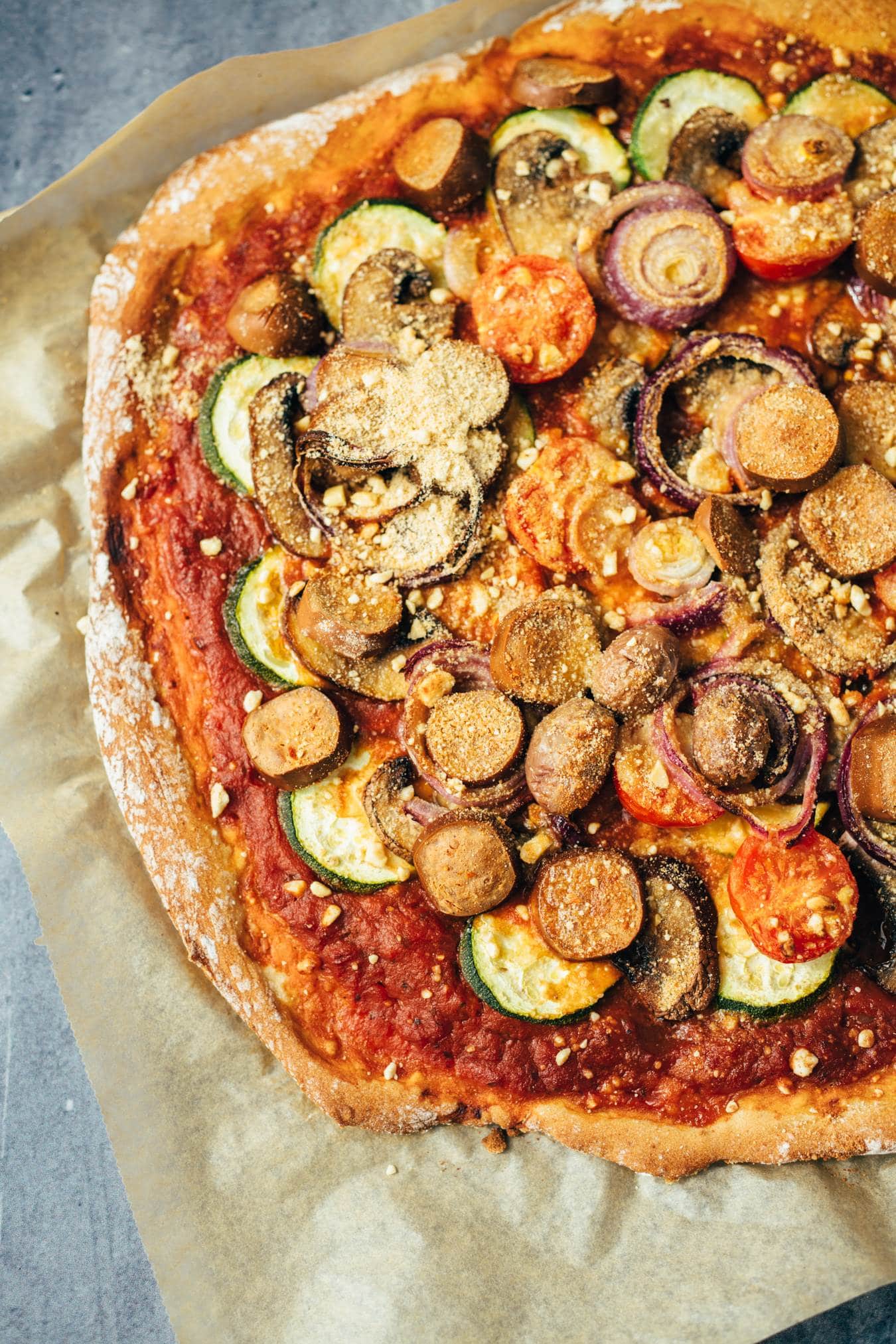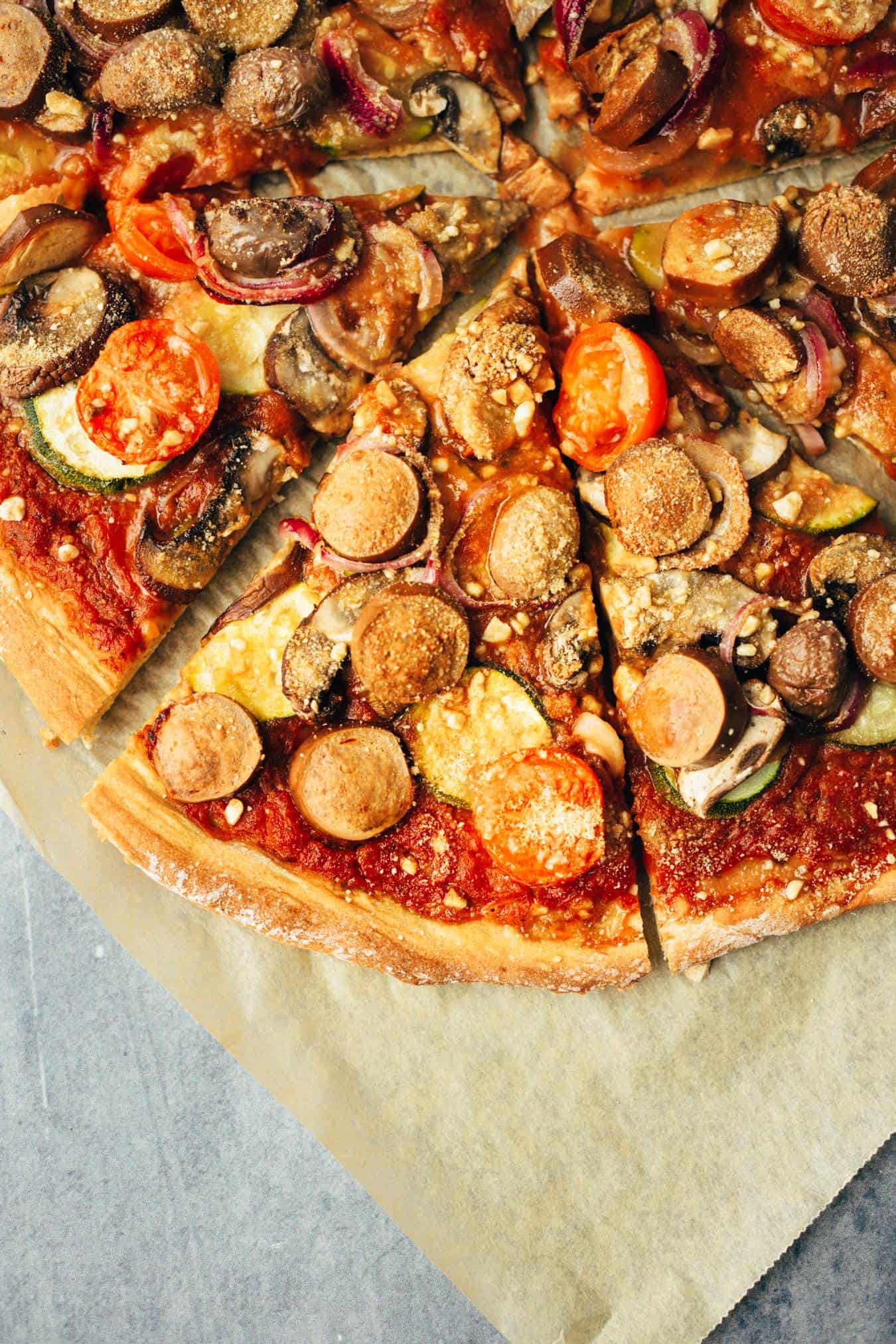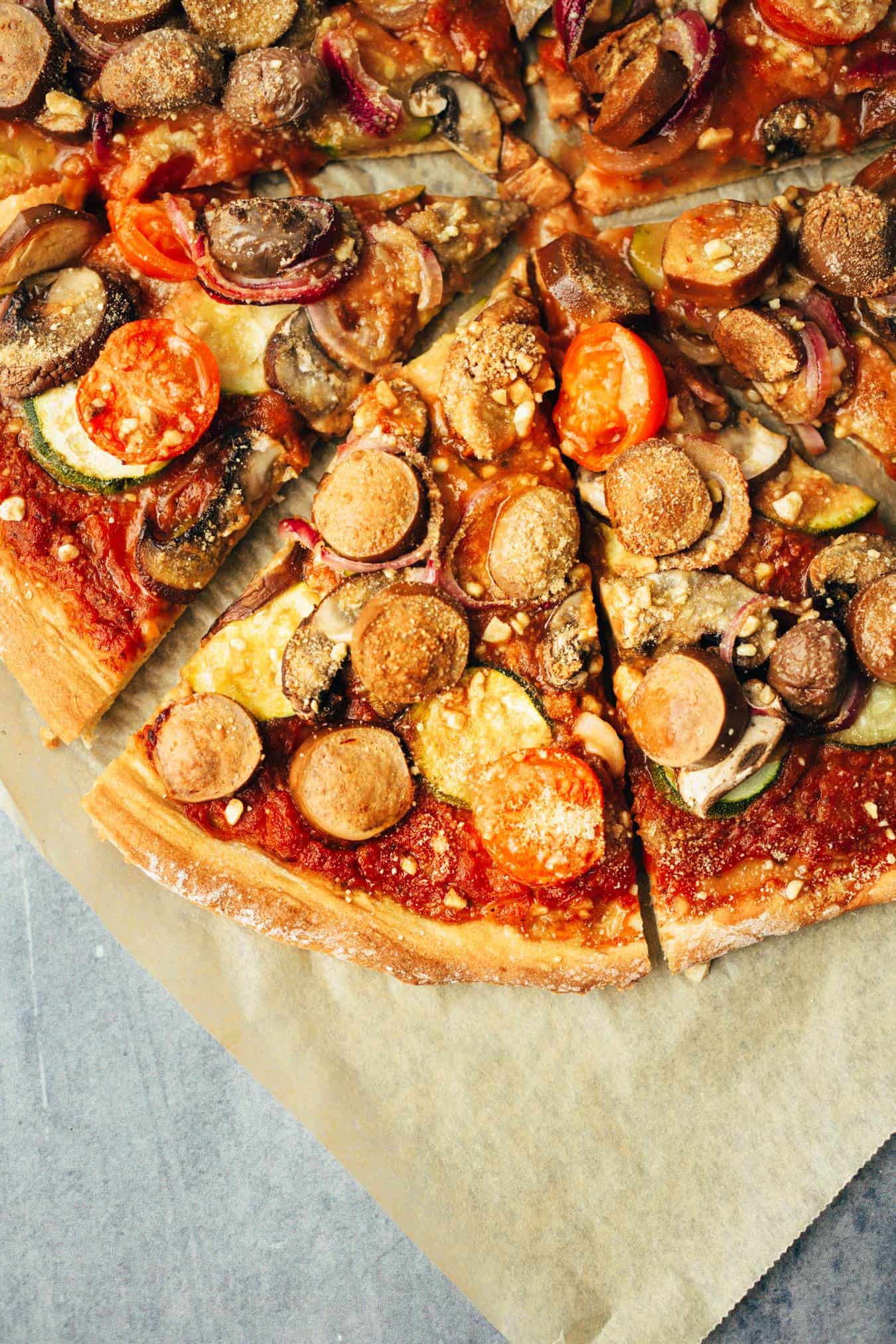 One thing you should definitely have in the house and that is dry yeast. I always have a few packs in the drawer, because you never know exactly what great ideas you spontaneously come up with. Spelt flour, water, salt, raw cane sugar and cumin for a particularly delicate touch. Super! Then the dough just needs to rise for half an hour (or ideally an hour) and off you go with the topping. Yummy!
Vegan Italian? This is so delicious …
First of all, the pizza is topped with a great tomato sauce, which I make quickly and easily from a portion of canned tomatoes, salt, tomato paste and some dried basil. Mixed once and ready! The rest of the topping is exciting, because here you can let your imagination run wild just like in the pizzeria.
Here are a few inspirations for the perfect vegan pizza:
Vegetables: zucchini, cherry tomatoes, bell bell pepper, eggplant, onion, mushrooms
Vegan sausages (I love the ones from Taifun)
Olives, capers and hot peppers
black beans or lentils
vegan parmesan or another vegan cheese substitute
everything else you love on a vegan pizza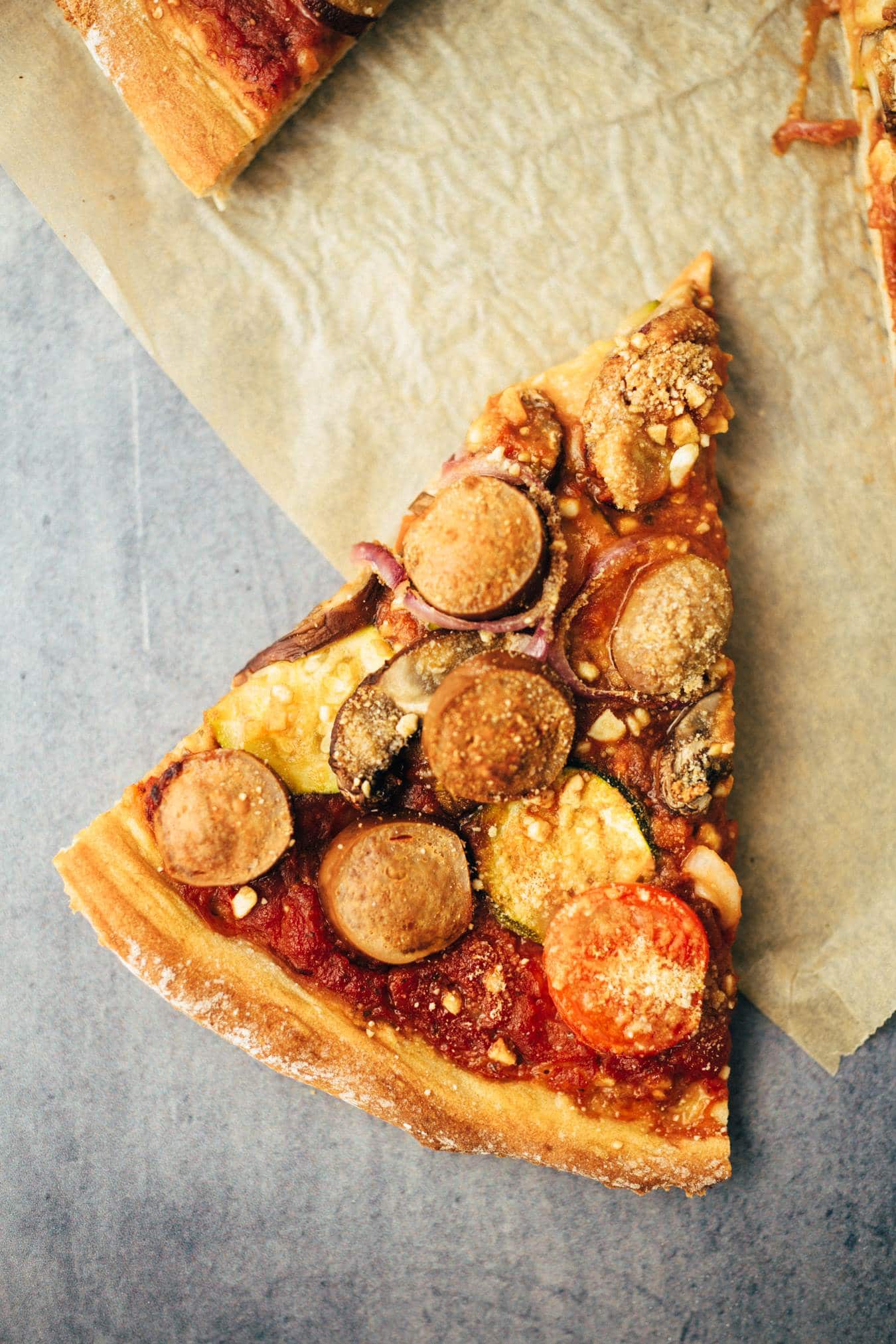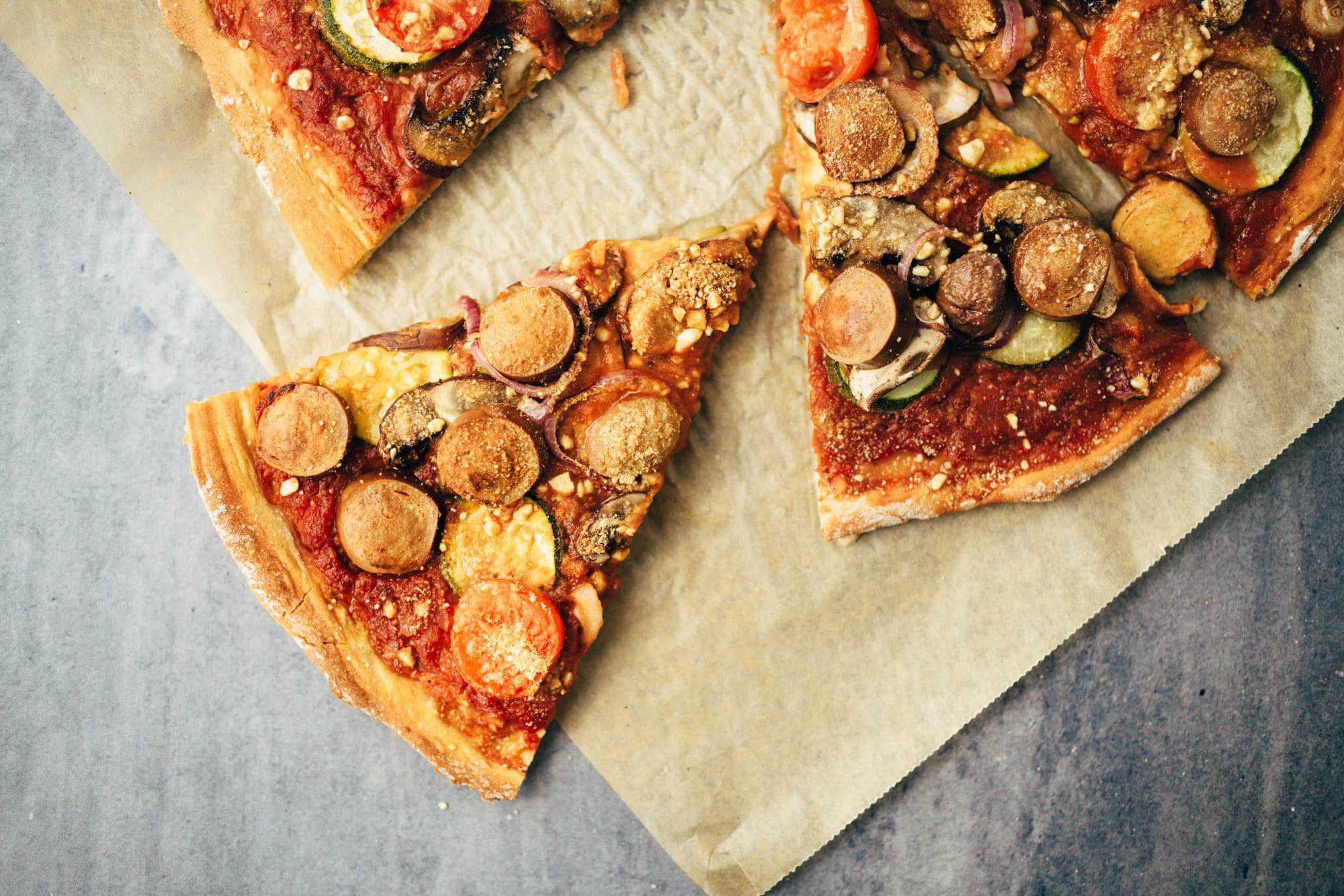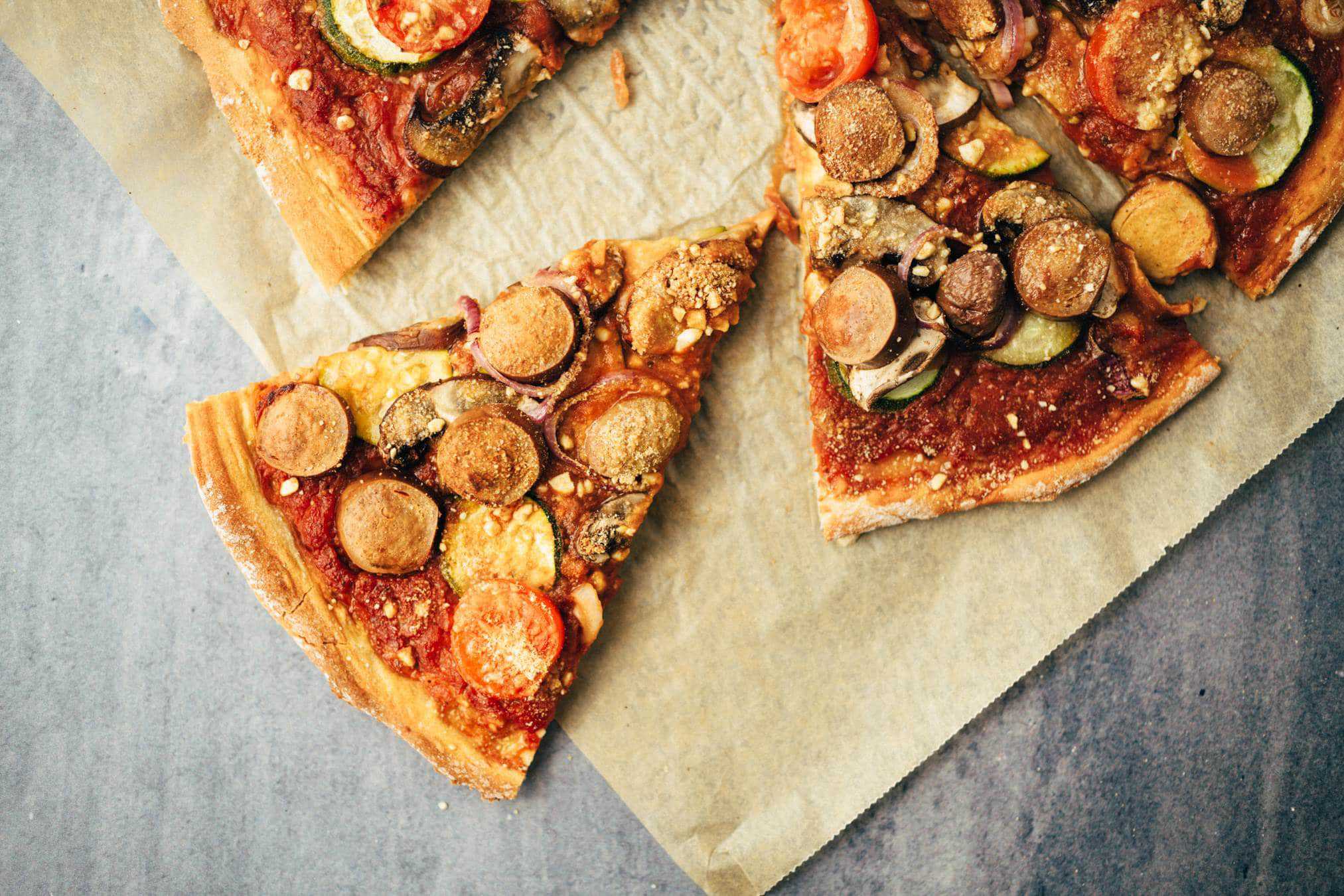 From my point of view, three things must not be missing on the pizza, the. vegan parmesan , pizza seasoning and extra virgin olive oil. As a side dish I recommend a fresh side salad with a delicious balsamic dressing. Dessert? Since we're on the subject of an Italian classic, I'm thinking of my simple vegan tiramisu cake .
Oh yes, for those of you who can't tolerate gluten, I'm working on a gluten-free pizza dough right now.
The simple vegan pizza is:
Crispy
aromatic
Italian
filling
Quickly made
simple
Perfect for a vegan lunch or dinner that really puts you in a good mood and tastes damn good. I wish you a lot of fun with the Nachbacken and of course about a rating at the bottom of this page. If you post a picture, use the hashtag #veganevibes.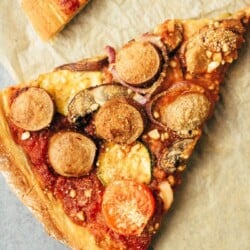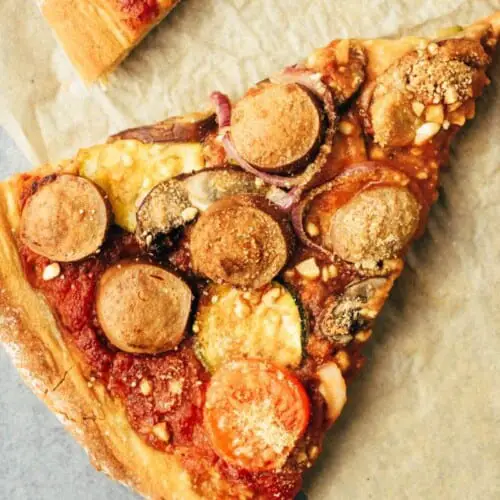 Simple vegan pizza
Deliciously crispy Italian vegan pizza with lovely tomato sauce and delicious toppings. Refined with delicious vegan parmesan and cold pressed oIive oil. Makes a perfect healthy vegan lunch or dinner. Bella Italia!
AUTOR: VEGANEVIBES
TO MOVE:
A handful of cherry tomatoes

halved

One zucchini

sliced

One onion

coarsely sliced

A handful of mushrooms

cleaned and sliced

Vegan sausages

sliced (I use the brand Taifun #nosponsoring).
TOPPING:
Fresh basil

Pizza seasoning
Anleitung 
FOR THE PIZZA DOUGH put all the ingredients in order in a high-powered blender and process with the dough program until smooth. Alternatively, put everything in a bowl and mix by hand or food processor (with dough hook) until smooth. The dough should be neither too runny nor too dry and should come away from the edge of the bowl. Cover and let rise at room temperature for 30 minutes (minimum) to an hour.

NOTE: The dough does not like cold air, drafts or direct sunlight.

170 ml lukewarm water,

½ packet or 1 tsp dry yeast,

1 tbspn Raw cane sugar,

1 tbspn Cumin,

½ tbspn Salt,

250 g fine spelt flour

In the intermediate the TOMATE SAUCE prepare To do this, place everything in a blender and blend to a smooth sauce. Set aside.

1 tbspn Tomato paste,

½ tbspn Salt,

1 tbspn Basil,

Optional: 1-2 dried tomatoes preserved in oil,

240 g peeled and diced tomatoes

Preheat the oven to 190 degrees (pizza level or intensive heat) and line a baking tray with baking paper.


Remove pizza dough from bowl after rising time and knead on a floured work surface for 1-2 minutes. Roll out with a pastry roller to a round dough and spread on the baking paper. The dough should approximately fill the baking tray.


Spread tomato sauce evenly with a spoon and top with desired garnishes. Sprinkle with parmesan and place in oven.

A handful of cherry tomatoes,

One zucchini,

One onion

Bake for about

20-25 minutes

, until the edges are golden brown. Remove from oven, let cool briefly, sprinkle with pizza seasoning and Parmesan and portion.

A handful of mushrooms,

Vegan sausages,

Vegan parmesan,

Fresh basil,

Extra virgin olive oil,

Pizza seasoning

Keeps up to 2 days covered in the refrigerator, but best fresh!

Notizen
NOTES /HELPFUL ACCESSORIES:
Nährwertangaben
Serving:
1
Portion
Calories:
603
kcal
Carbohydrates:
115
g
Protein:
22
g
Fat:
4
g
Sodium:
1155
mg
Potassium:
1216
mg
Fiber:
21
g
Sugar:
15
g
Vitamin A:
1855
IU
Vitamin C:
26.3
mg
Calcium:
43
mg
Iron:
9.9
mg