Do you love Indian food? Then this recipe is just right for you. But not only then, but also when you've walked past SEITAN in the organic market a hundred times and didn't know what to do with it. I don't make seitan every day, but every now and then I find it very tasty.
Are you a seitan lover? Butter Chicken is waiting for you
Until now, I have only bought SEITAN ready-made and have never made it myself. Well, one thing at a time. We do not want to dwell too long on the meat substitute from wheat protein, because this post is about a heavenly delicious, Indian dish , with which you will melt away.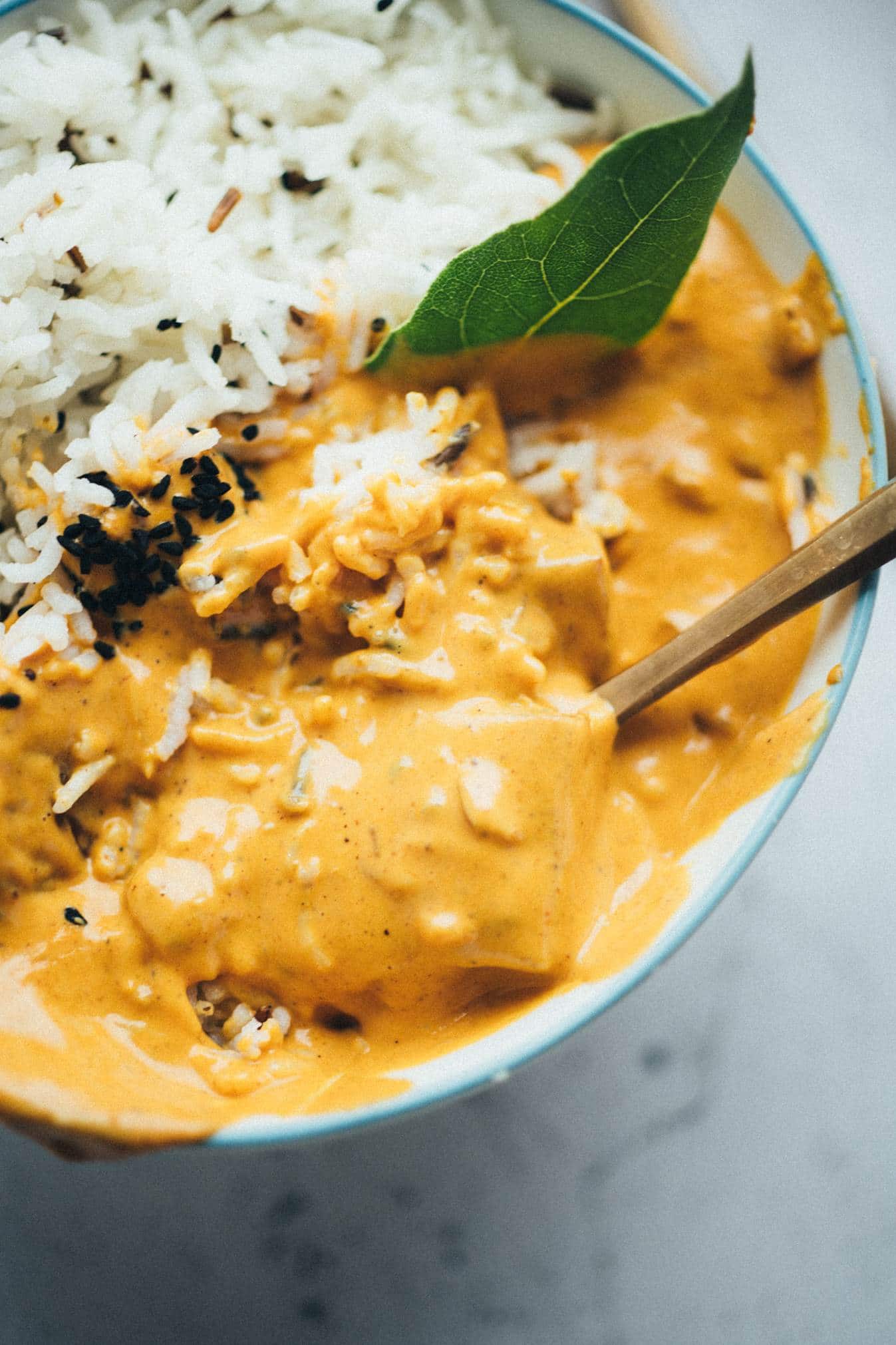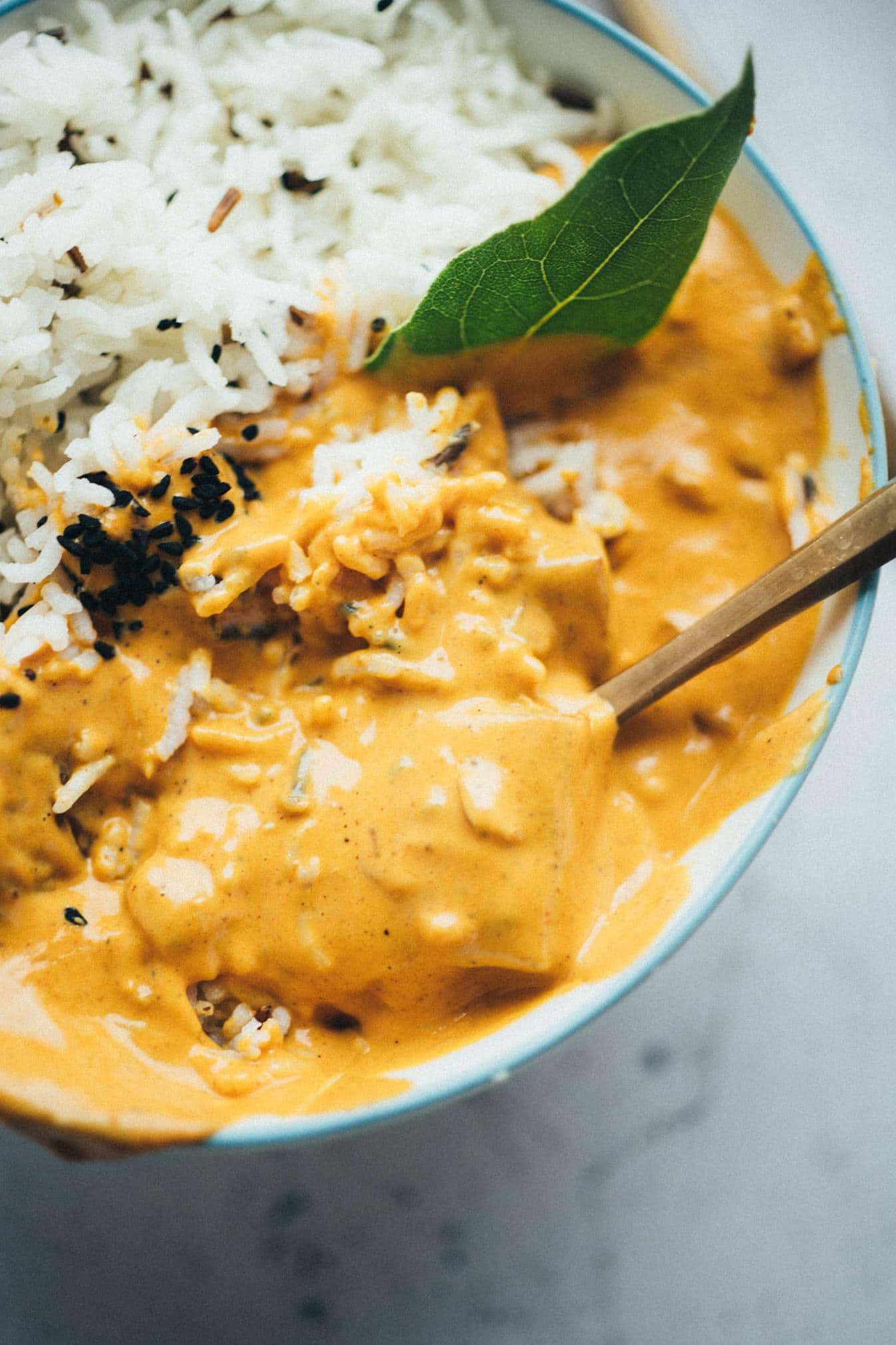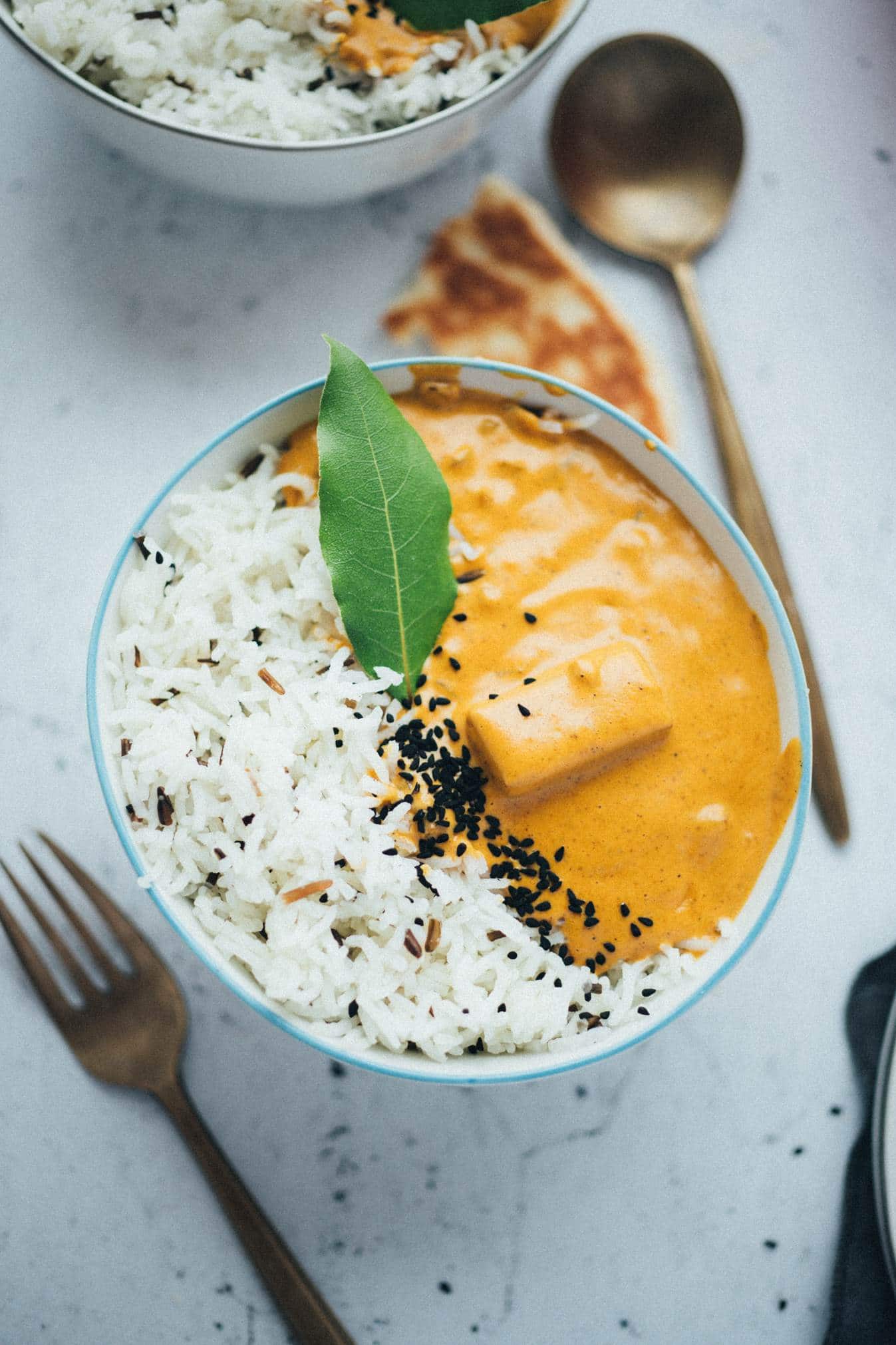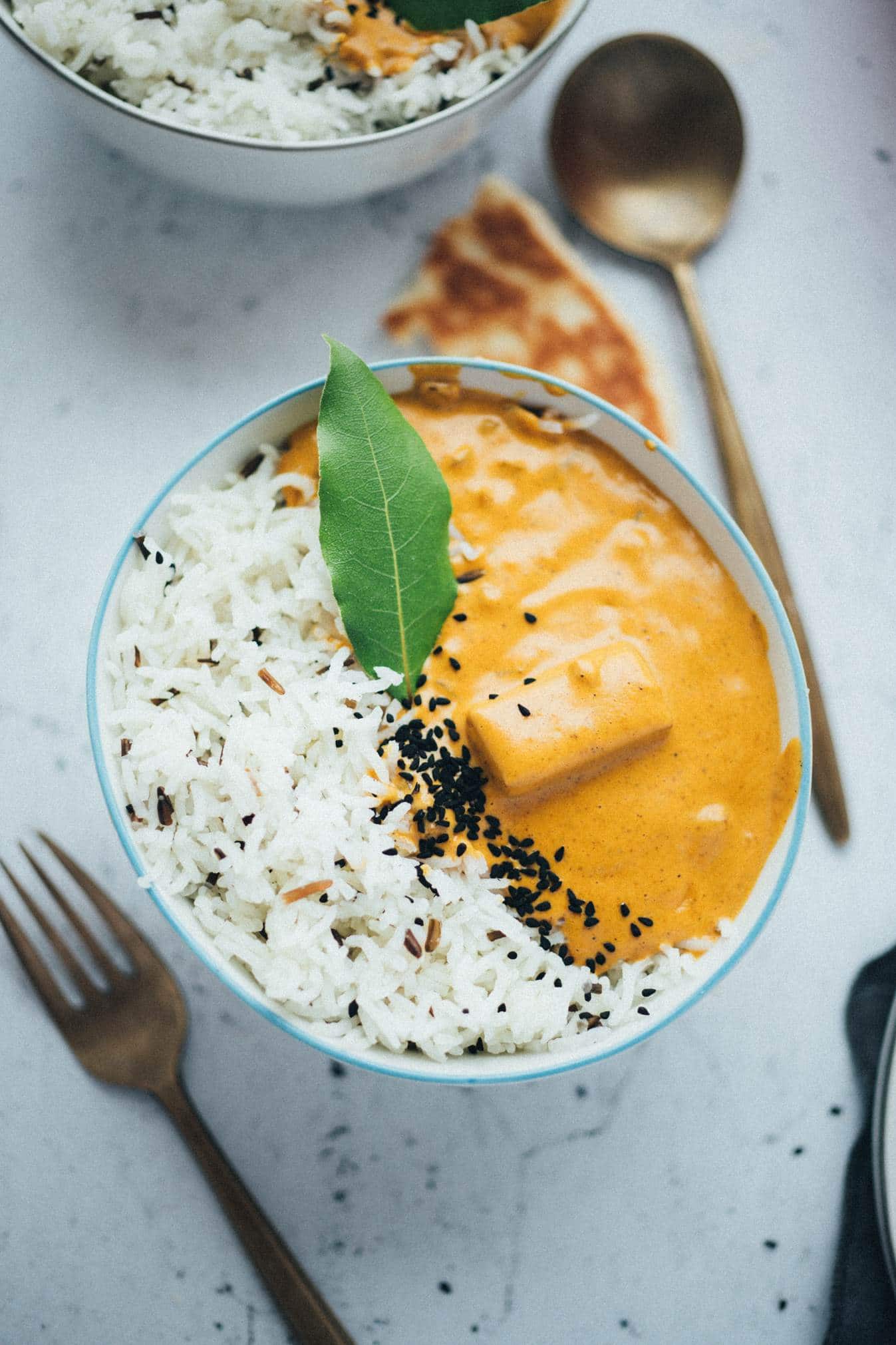 Fancy a bit of Bollywood feeling?
Just a few weeks ago we ordered Indian with friends. As a vegan not one really much choice and there was once again the simple variant of a lentil dal. Sure, that's super tasty too, but if I had a choice, I'd rather have ordered the "Butter Chicken". This was exactly the reason why I started looking for a delicious vegan substitute. Sought, found and damn tasty!
What makes this dish so delicious? The spices! Bay leaves, garam masala, cumin, chili and garlic. In the second step, however, it is the sauce that is ultimately "for the taking" in the truest sense of the word:
Cashews as a base
Plant milk
Coconut cream (the solid part in the coconut milk)
Tomatoes Passata
Coconut sugar
Corn starch (for binding)
and a dash of lemon juice
Ok, not to forget a really good blender, then the sauce will be extra creamy! There are dishes where reason stops and you just can't stop eating. Yes, this is one of those. So if you're currently on a detox trip or want to lose a few pounds, definitely steer clear.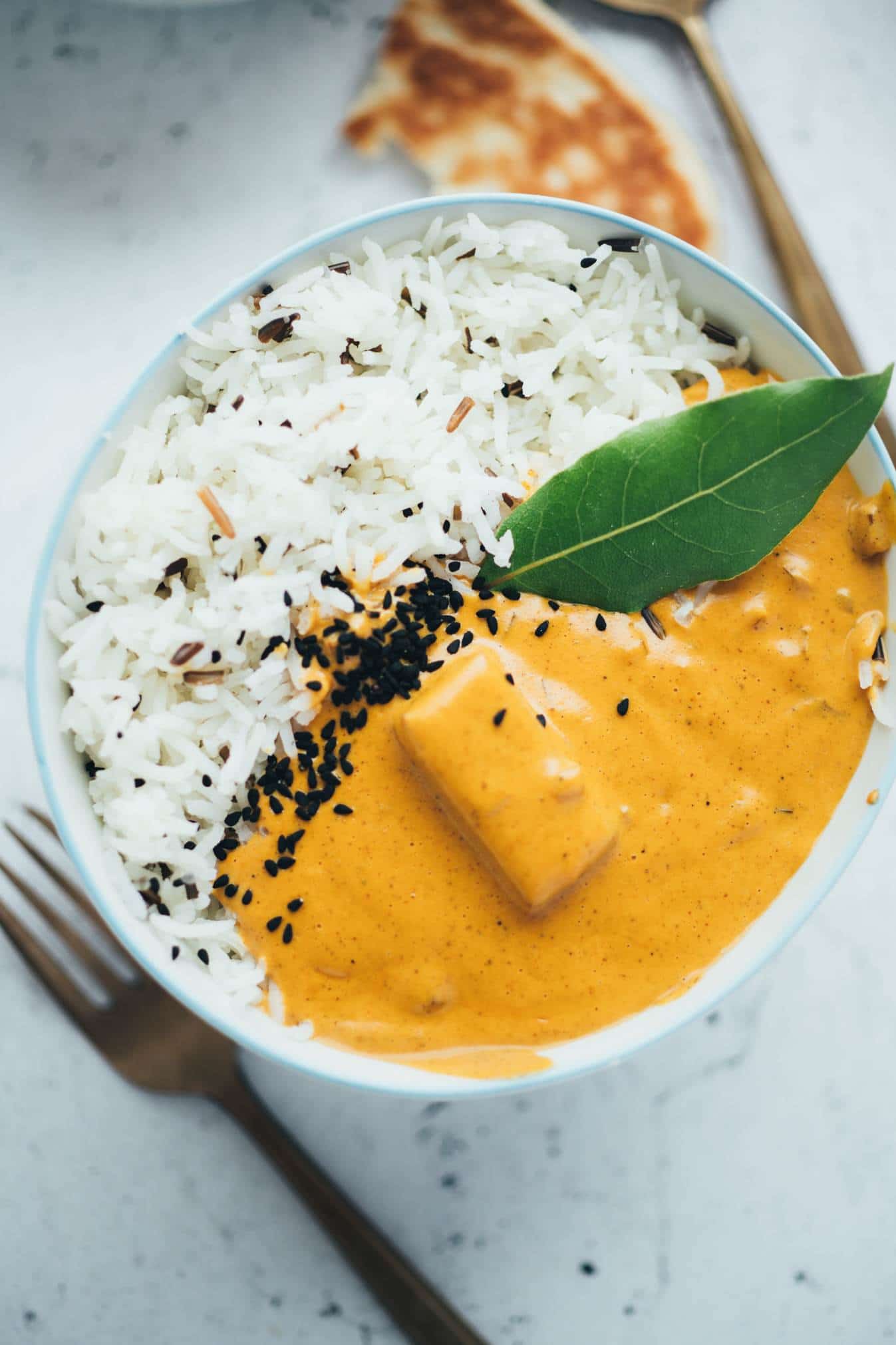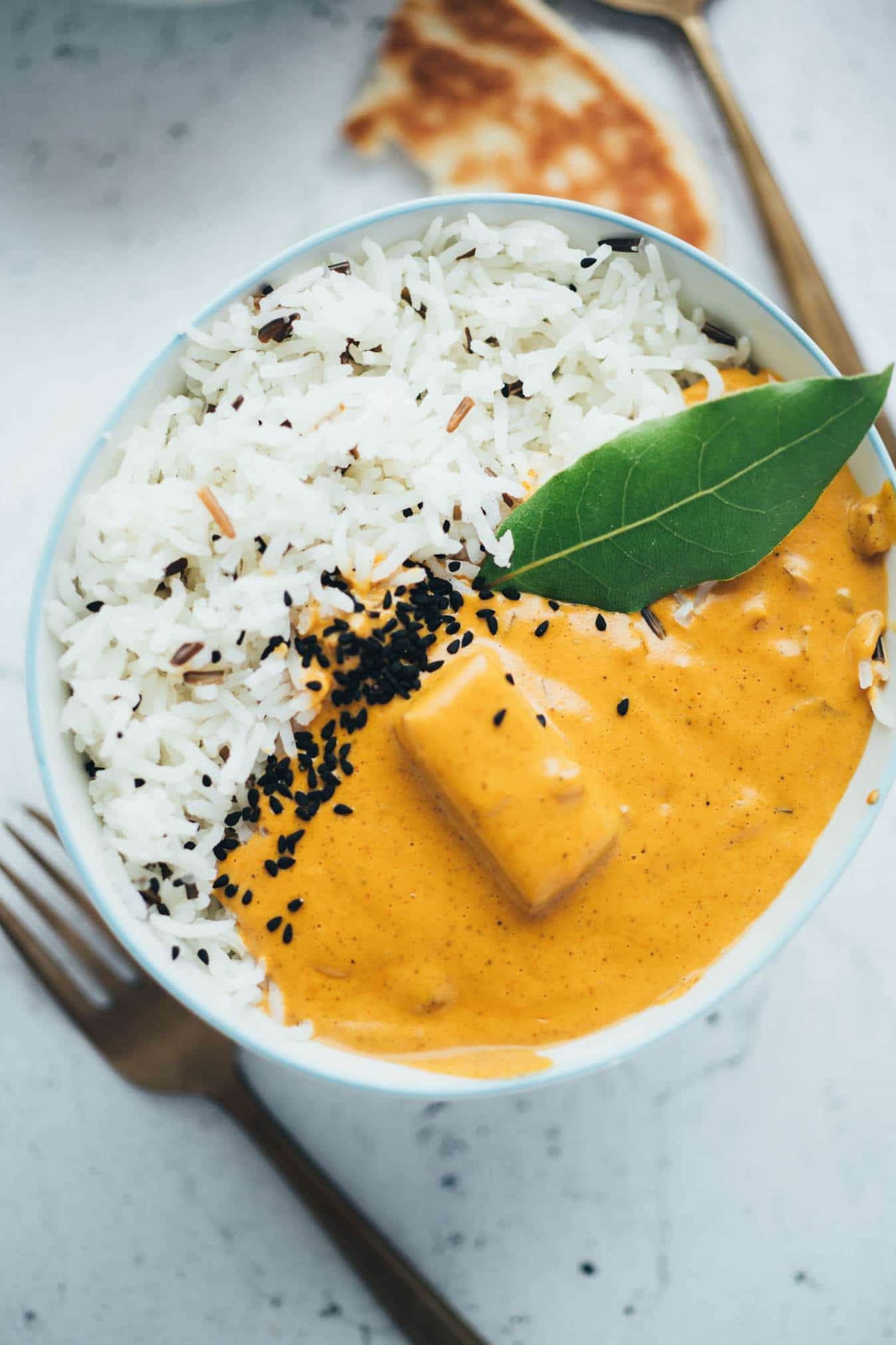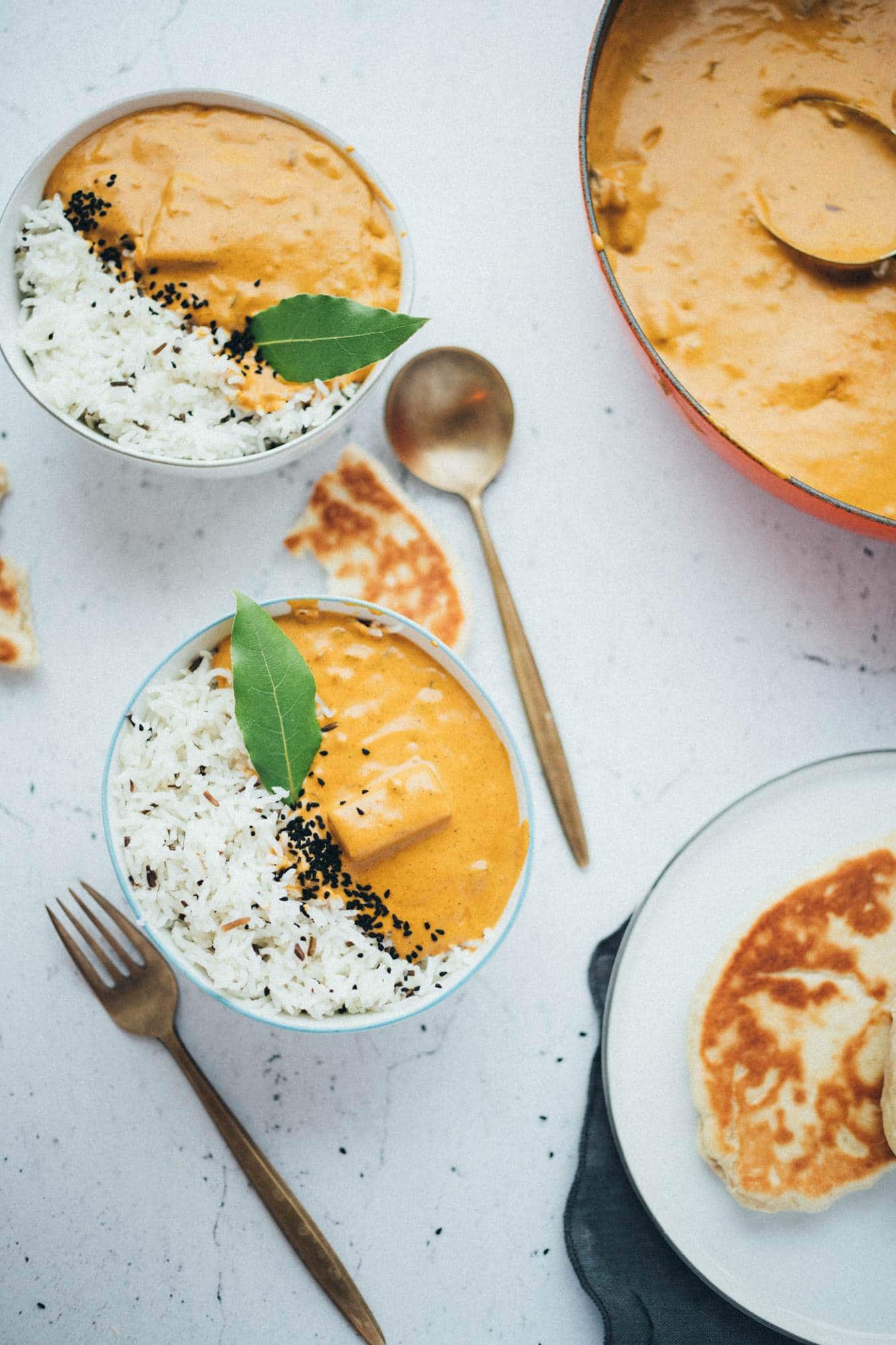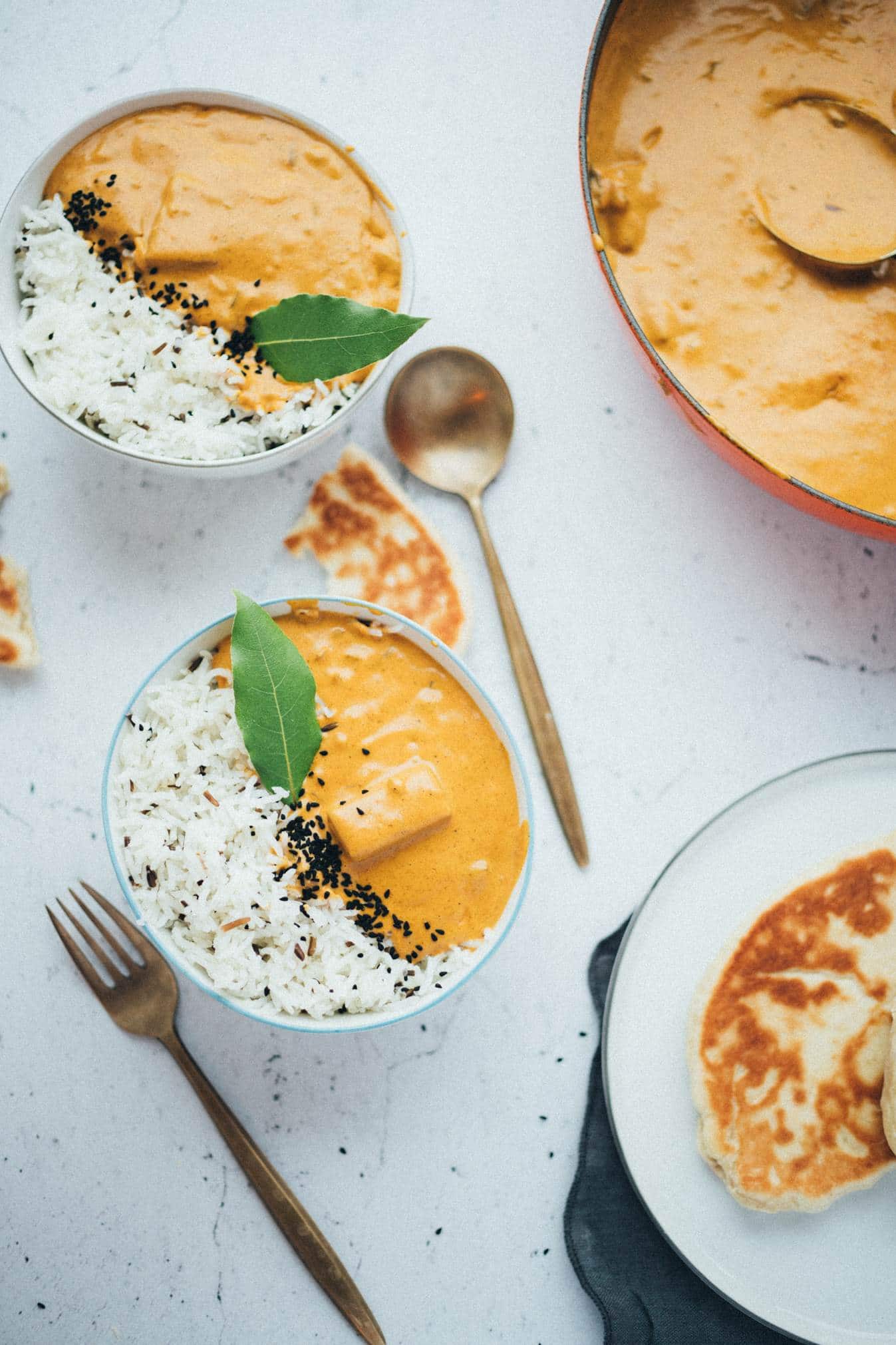 30 minutes, a little multitasking, a handful of spices and your 'Butter Chicken' is purely plant-based and sooooo delicious. Now all you have to do is invite your sweetheart and put on a turban (ok, that's only if it's carnival or for my Cologne friends). Topping is fresh coriander, served with basmati rice and delicious yummy Naan bread or Naan (gluten free). Get a pleasure?
The simplest 'butter chicken' with naan is:
Incredibly aromatic
simple
Full of healthy protein
filling
Easy to make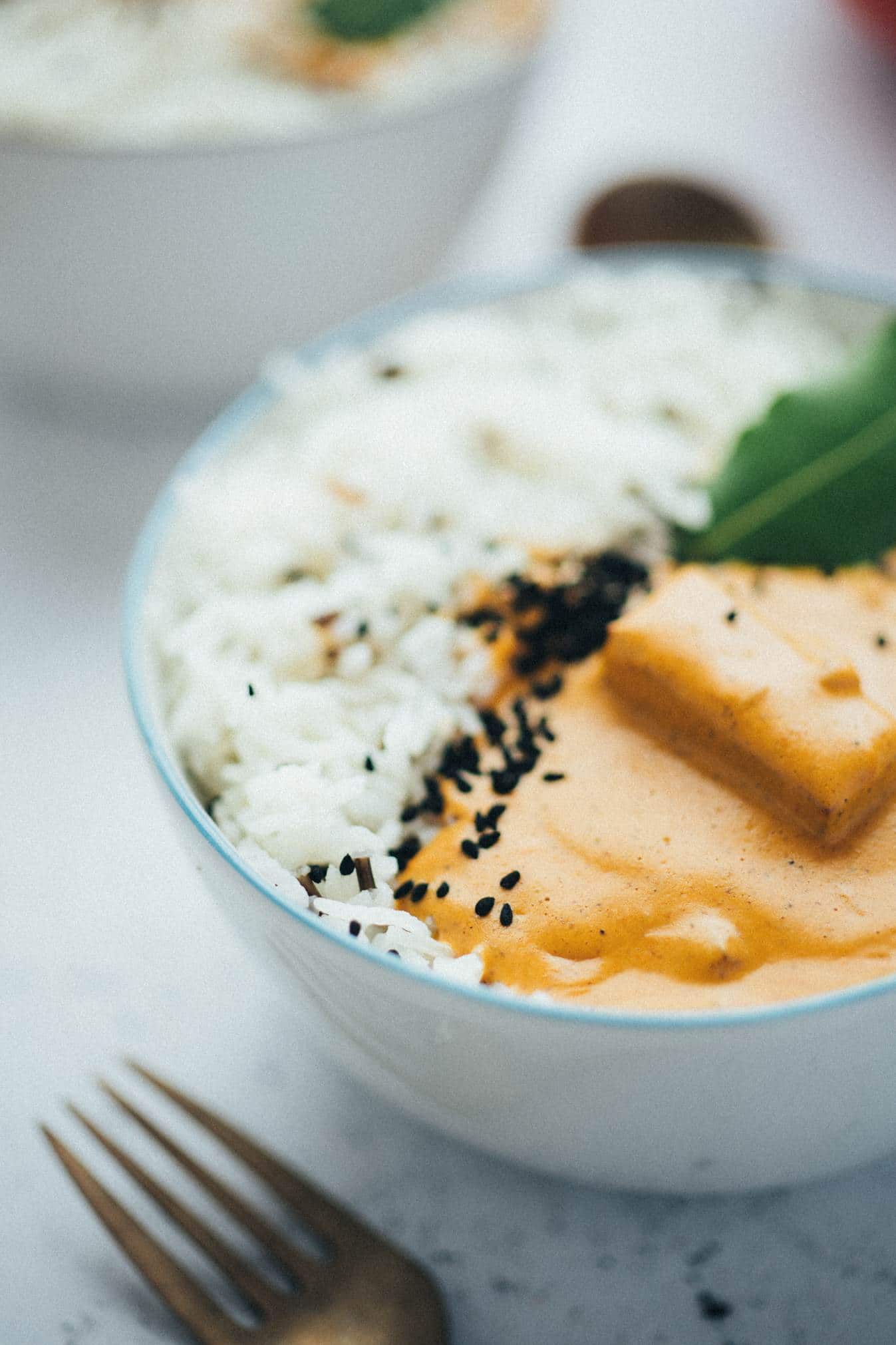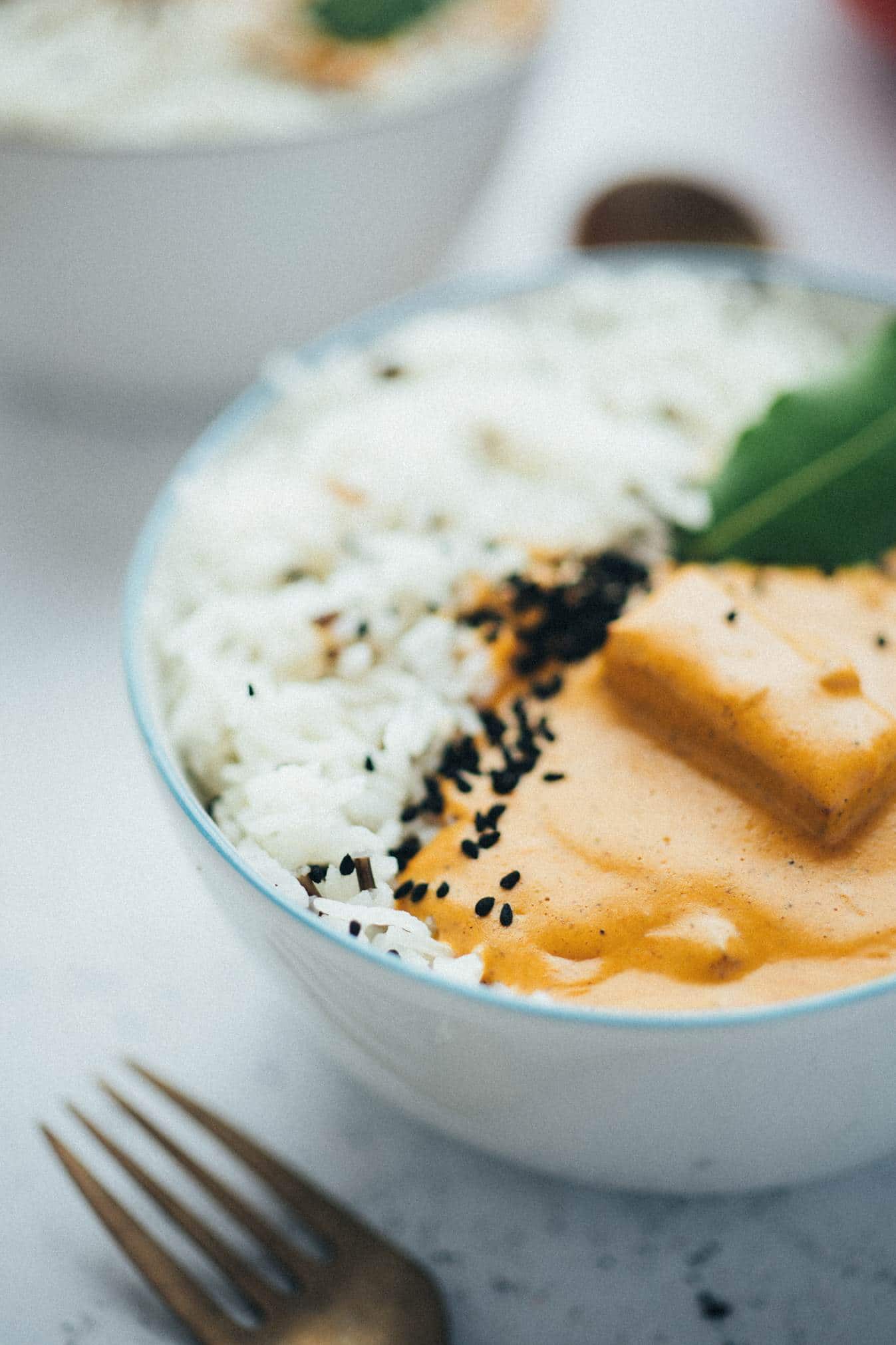 Are you ready for some Bollywood? I wish you a lot of fun in recooking and of course a review at the bottom of this page. If you post a picture, use the hashtag #veganevibes.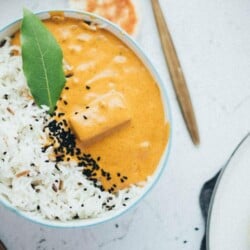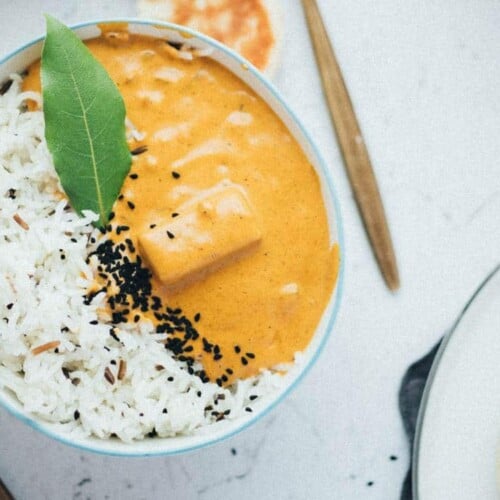 Vegan 'Butter Chicken' with Naan (30 minutes!)
Flavorful Indian vegan 'Butter Chicken' with seitan based on a creamy cashew sauce. Served with delicious smelling basmati rice and addictive naan bread.
AUTOR: VEGANEVIBES
FOR THE BUTTER CHICKEN:
200

g

Seitan

I use alberts Seitan NATUR Alternatively use a can of chickpeas

1

Piece

Shallot

finely diced

2

Piece

Garlic cloves

finely diced or pressed

28

g

vegan margarine

2

Piece

Bay leaves

3

tbspn

Garam Masala

1

tbspn

Cumin

½

tbspn

Cinnamon

½

tbspn

Turmeric

¼

tbspn

Chili powder or 1 Birds Eye Chili

2

tbspn

freshly grated ginger

300

ml

Vegetable broth
TO SERVE:
Basmati rice

Fresh coriander
Anleitung 
Prepare Basamti rice according to package instructions.


Cut seitan into bite-sized pieces and set aside. Prepare a shallow bowl or plate lined with paper towels.


Heat medium pan with frying oil and fry or "deep fry" seitan on both sides until golden brown. Remove from pan and place in bowl with paper towels to remove excess fat. Set aside.

15 ml Frying oil or coconut oil,

200 g Seitan

In the same pan for the BUTTER CHICKEN vegan heat margarine, sauté onion (shallot) and garlic in it for about 2-3 minutes until translucent. Add all the spices and the freshly grated ginger. Stir briefly and deglaze with the vegetable broth.

1 Piece Shallot,

2 Piece Garlic cloves,

28 g vegan margarine,

2 Piece Bay leaves,

3 tbspn Garam Masala,

1 tbspn Cumin,

½ tbspn Cinnamon,

½ tbspn Turmeric,

¼ tbspn Chili powder or 1 Birds Eye Chili,

2 tbspn freshly grated ginger,

300 ml Vegetable broth

Season with salt and simmer over medium heat.

Meanwhile, place all ingredients for the CASHEW SAUCE in a high-powered blender and blend on the strongest setting for 60 seconds to make a creamy sauce.

250 ml Almond milk or another vegetable milk,

125 ml Coconut cream,

250 ml Tomatoes Passata,

1 tbspn Coconut blossom sugar,

1-2 tbspn Cornstarch,

15 ml Lemon juice,

120 g Cashews

CASHEW SAUCE to the simmering vegetable broth with the spices and add the fried seitan. Stir, let it get really hot again and serve immediately.

Serve with basmati rice, fresh

Naan

and coriander.

Basmati rice,

Naan bread,

Fresh coriander

Lasts up to 3 days in the refrigerator or 1 month in the freezer. It is best to heat in steamer.

Notizen
* If you have a high-powered blender like I do, you don't have to soak the cashews. Otherwise, choose one of the two methods: 1) Pour boiling hot water over the cashews and let them steep without a lid for one hour. Strain and use 2) Soak cashews in cold water WITH lid for 6 hours, strain and use.
**Coconut milk ideally put in the refrigerator one night before, then the solid part settles and is easier to separate from the liquid part. Use liquid part for other purposes, for example smoothies
NOTES /HELPFUL ACCESSORIES:
Nährwertangaben
Serving:
1
Portion
Calories:
593
kcal
Carbohydrates:
26
g
Protein:
24
g
Fat:
46
g
Saturated Fat:
21
g
Sodium:
1314
mg
Potassium:
703
mg
Fiber:
5
g
Sugar:
7
g
Vitamin A:
600
IU
Vitamin C:
9.6
mg
Calcium:
130
mg
Iron:
5.7
mg