Green Forest Pizza calms me in these stormy times. why? Because forest bathing is known to be very good for health and the psyche. Then why not just put the forest on the Pizza pack? I know, Zucchini do not grow in the forest, pesto and asparagus probably not. The name is probably also more related to the lush green on the Pizza and not necessarily to the ingredients. At Pesto but you could actually resort to herbs and especially wild herbs. Unfortunately, I know too little about it, so I prefer to stick to the ingredients I know. Who knows, maybe soon it will be possible to meet people again. Then I could also make a wild herbs course, a long-cherished dream of mine. Before the time comes, I stick to the old familiar friends like basil and co.
Green Forest Pizza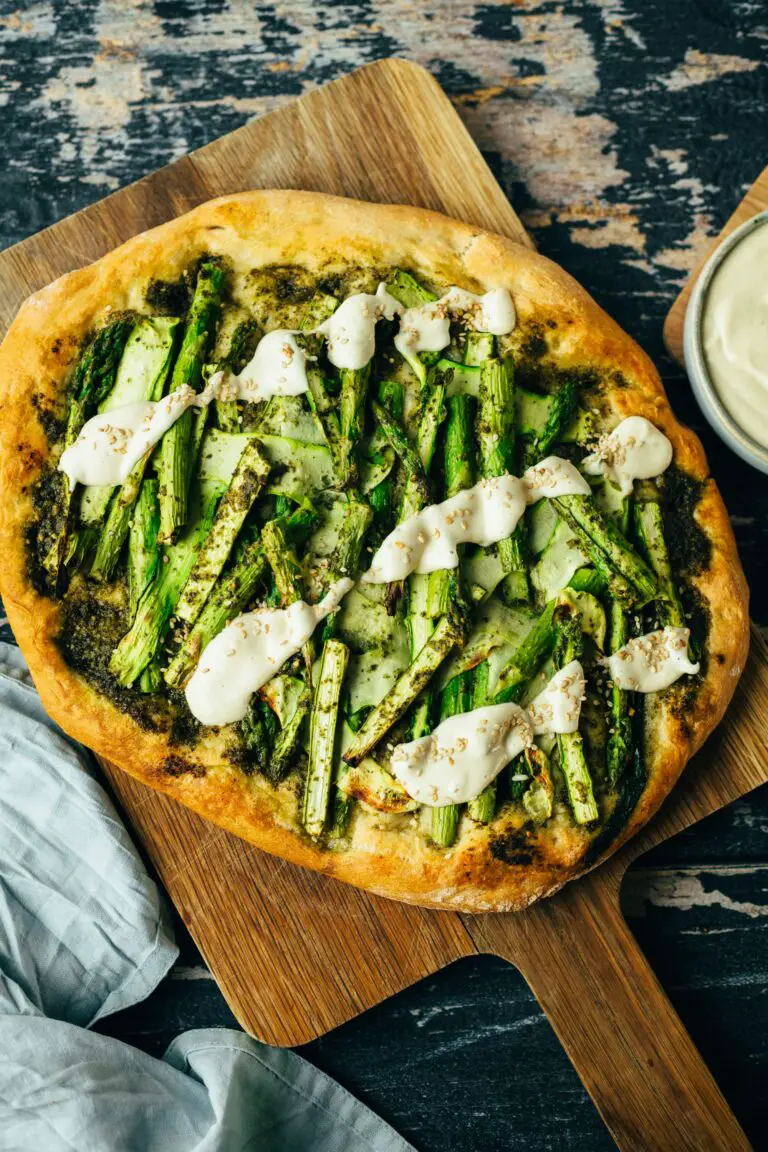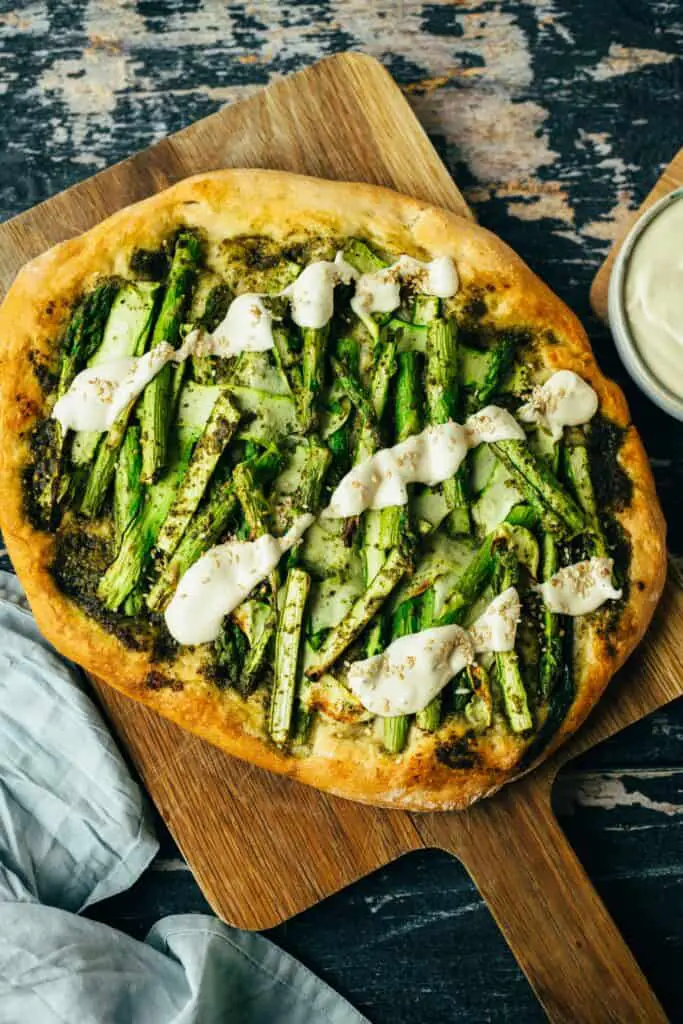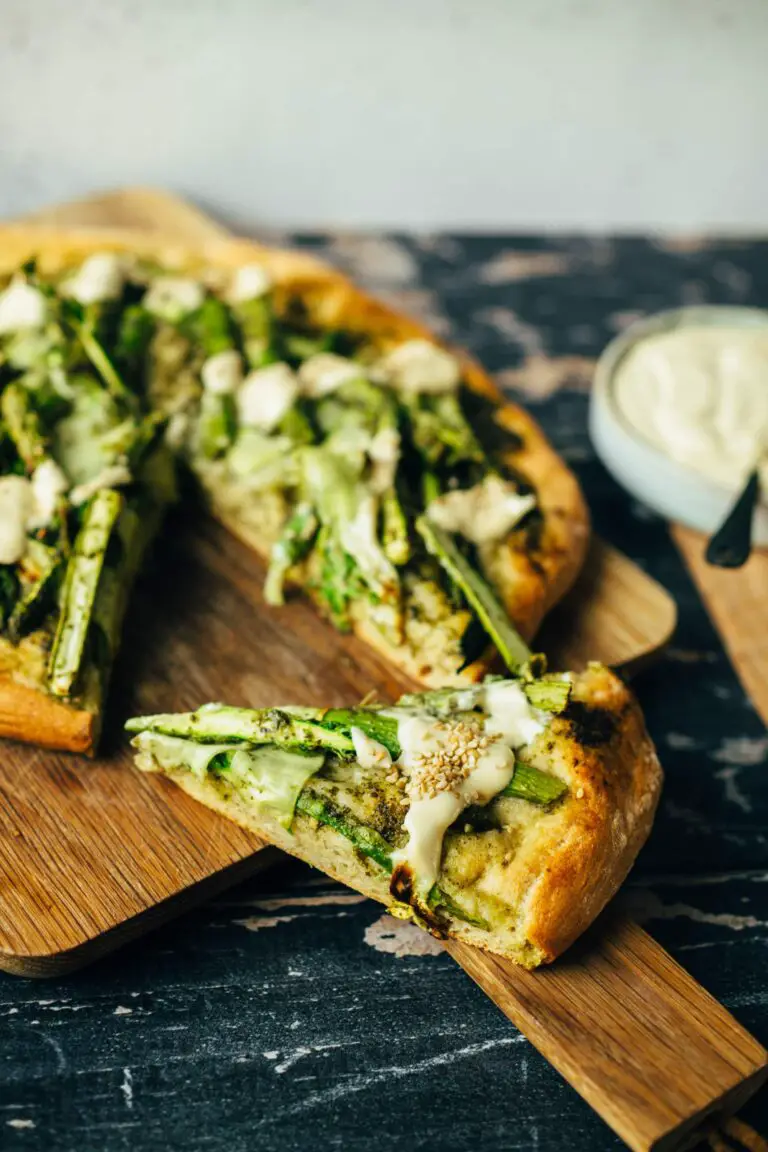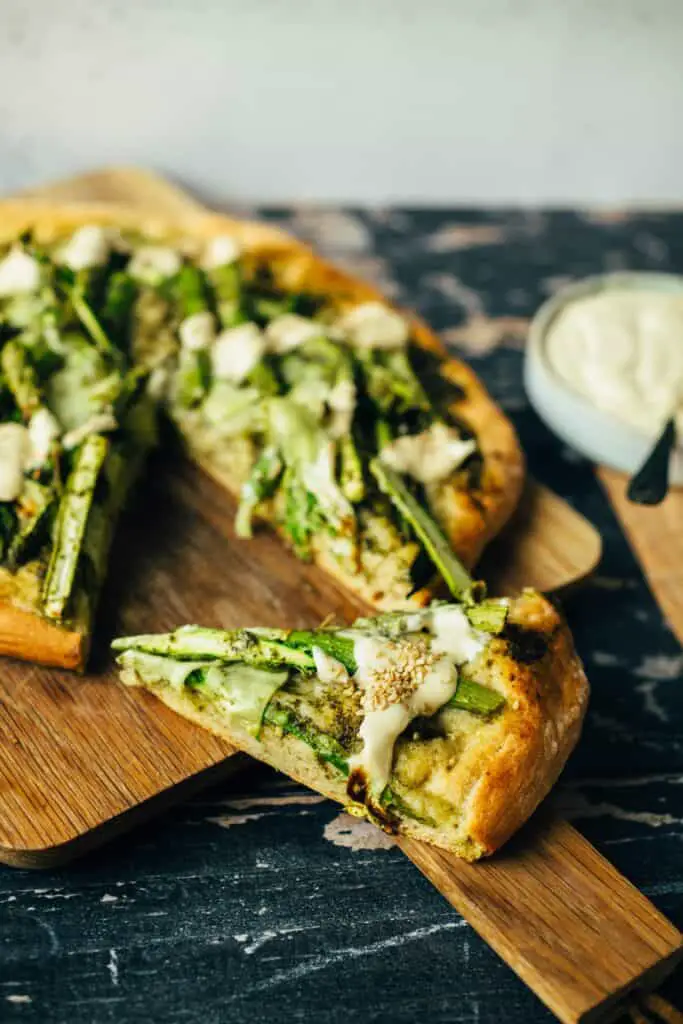 Perhaps now one or the other thinks to himself that there is yes only recently Pizza rolls with pesto gave. Absolutely right, but I promise you that this variant is quite different after all. I rarely praise myself either, but the Pizza was so incredibly delicious and the crust with the olive oil. I could melt away. Actually, I am of the opinion that you should save on oil, but in this pizza it gives the crust the final touch. Crisp and crunchy, as it is written in the textbook for Pizza maker stands. Is there even a textbook for pizza makers?
The pizza dough is super easy to make, as always. This time I even take once again wheat flour type 1050, because I did not get anything else. The result is really very good. With regard to the yeast, after a long time I once again used a fresh yeast and I must honestly say that the leavening power is much stronger. Dry yeast is certainly also a great alternative, but in the future I will again more often choose the fresh option.
TIP: Do not knead pizza dough after the dough has risen, but roll it out immediately. This makes it particularly fluffy.
Let's move on to the pesto. I took the liberty of buying a ready-made pesto from the organic supermarket. More specifically, a basil olive oil pesto. However, you are always welcome to make the pesto yourself. You'll find instructions at the very bottom of the recipe.
A vegan pizza always goes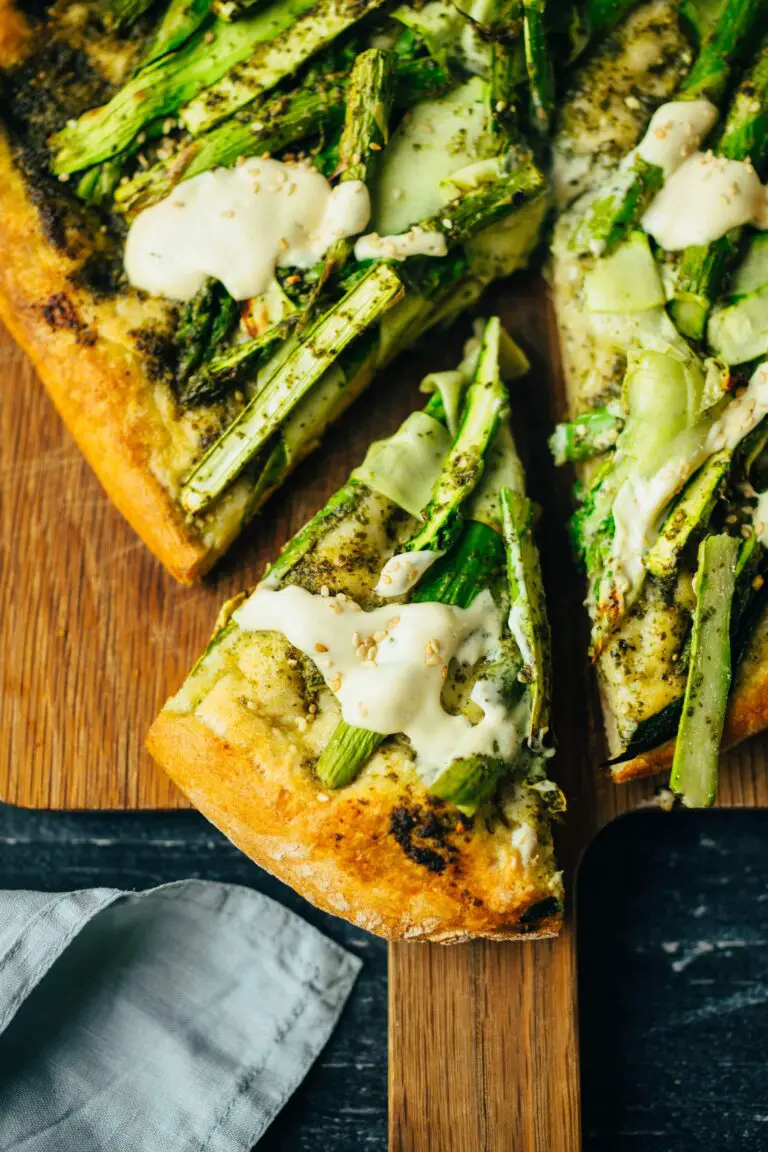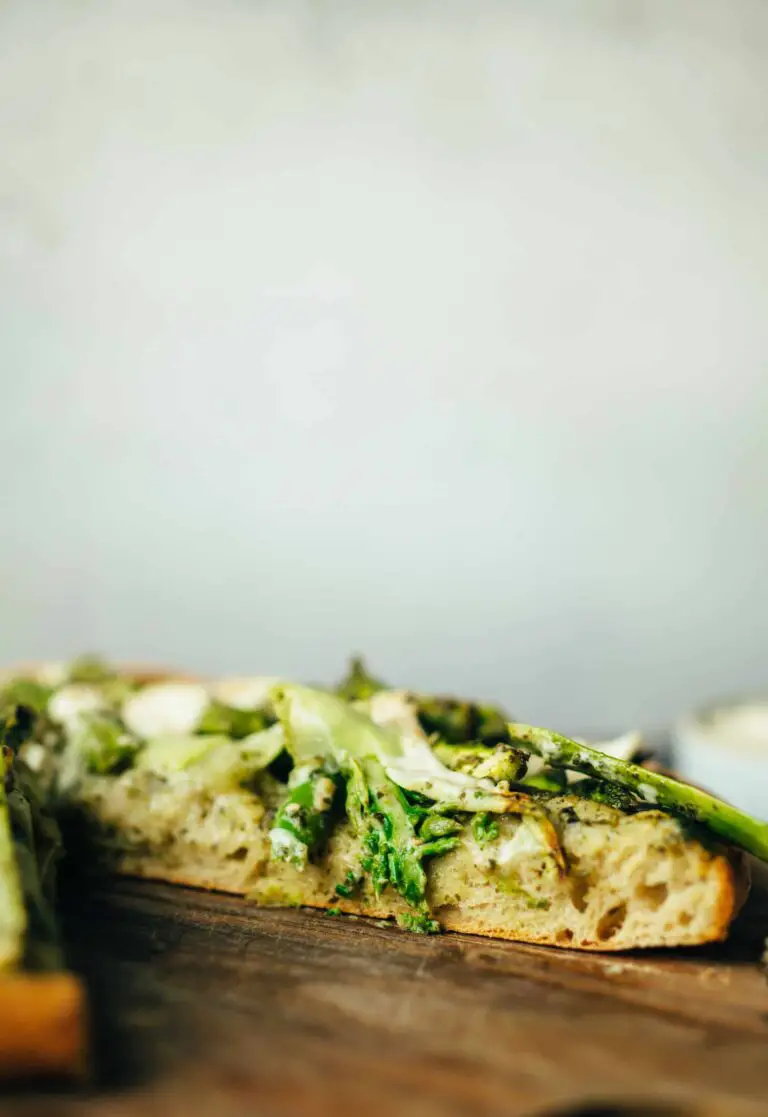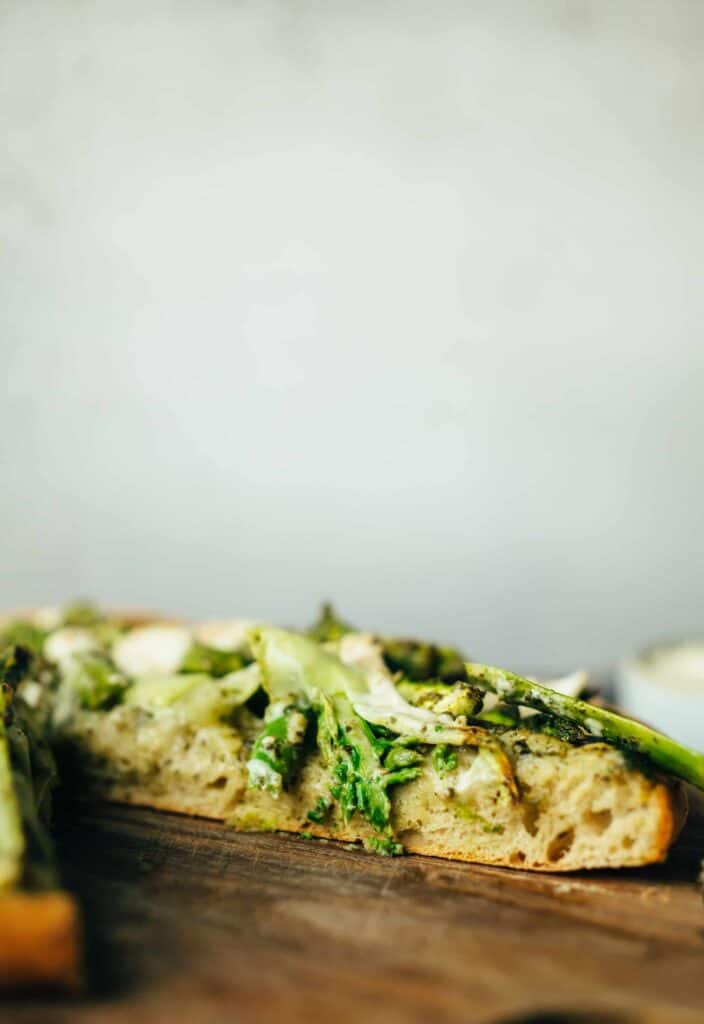 The recipe for this Pizza is really simple and you can hardly go wrong. The pizza base is usually very easy to work with, provided you always flour your hands nicely. Here are a few more tips and tricks to make sure your pizza succeeds:
The woody ones Asparagus ends always break off, or do you fancy non-chewy ends on the Pizza ? I always save the "unusable" end, freeze them, and cook them into noodle soups for flavor. So nothing is lost and asparagus, after all, is not exactly cheap.
Asparagus brush with some of the pesto, or massage directly with your hands. This prevents the asparagus from drying out too much in the oven, but still keeps it crisp.
I recommend the Cashew Mayo really highly for refinement. It makes for a super great flavorful contrast.
TIP: Make two pizzas at the same time ; )
If the Green Forst Pizza is not the right option for you today, then I recommend the Pizza with ricotta and green asparagus , simple vegan pizza or the Tex Mex Pizza with mayo.
The Green Forest Pizza is:
aromatic
Light
Crispy
filling
Easy to make
Are you ready for this green Pizza ? I wish you a lot of fun in recooking and of course a review at the bottom of this page. If you post a picture, use the hashtag #veganevibes.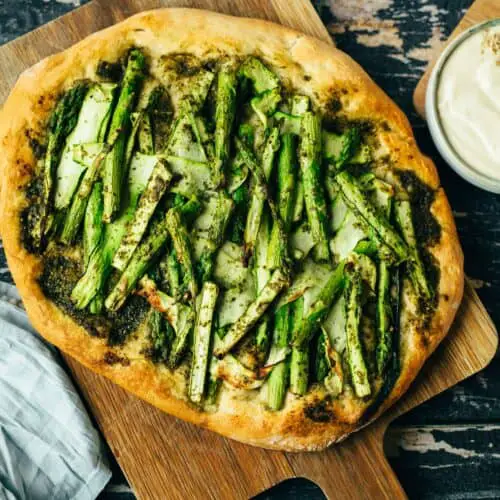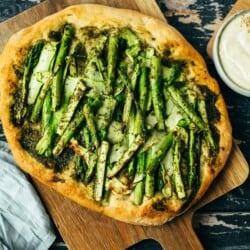 Green Forest Pizza
Delicious, fluffy pizza with green asparagus, pesto and zucchini. Finished with basil pesto and a creamy cashew mayo.
AUTOR: VEGANEVIBES
FOR THE DOUGH:
170

ml

lukewarm water

½

Packet of dry yeast or ¼ packet of fresh yeast

½

tbspn

Raw cane sugar

1

tbspn

Salt

250

g

Flour

I use wheat flour 1050, alternatively any other flour (for gluten-free add ½ tsp locust bean gum).
FOR THE COVER:
250

g

green asparagus

Equivalent to about 10 bars

125

g

Basil pesto

homemade or purchased

1

Piece

small zucchini

peeled into fine strips

optional 100g mushrooms to taste
TOPPING:
½

Portion

Cashew mayo

(optional) refined with 1 tablespoon shiro miso

Sesame seeds to taste
Anleitung 
FOR THE DYE, put lukewarm water, yeast, sugar, salt in a bowl and stir with a whisk or with your hands until the yeast has dissolved. Add 4 tablespoons of flour and mix with your hands until a loose dough forms. Add remaining flour and continue to stir and knead until a smooth dough is formed. Cover and let rise a warm (not hot!) Place without drafts for an hour.

170 ml lukewarm water,

½ Packet of dry yeast or ¼ packet of fresh yeast,

½ tbspn Raw cane sugar,

1 tbspn Salt,

250 g Flour

NOTE: Yeast bacteria do not like it too hot or too cold. Always choose a medium, warm temperature.

While the yeast dough is rising, process asparagus. To do this, take an asparagus spear in your hand and hold it at the end. With the other hand, bend until the asparagus breaks. Cut asparagus spears in half once and then quarter them again.

TIP: Freeze asparagus ends and cook them in a vegetable soup, for example. This way, nothing is wasted.

After the rising time, transfer the dough to a floured work surface and knead well again with your hands. The dough should have a smooth, firm consistency. Transfer to a surface and roll out with your hands or a dough roller to form a pizza crust.

Now preheat oven to 200 degrees convection or pizza level.

Place asparagus in a dish and mix in 1/3 of the pesto until asparagus is evenly coated.

Spread the remaining 2/3 of the pesto on the pizza base. Spread asparagus and zucchini strips evenly on top.

1 Piece small zucchini,

optional 100g mushrooms to taste

Place in the oven and bake for 20 minutes, until the rolls are really nice and crispy browned on the surface.

Remove from oven, let cool briefly, portion and finish with cashew mayo.

Best fresh.
Nährwertangaben
Serving:
1
Portion
Calories:
724
kcal
Carbohydrates:
106
g
Protein:
19
g
Fat:
25
g
Saturated Fat:
4
g
Cholesterol:
5
mg
Sodium:
789
mg
Potassium:
386
mg
Fiber:
7
g
Sugar:
5
g
Vitamin A:
2205
IU
Vitamin C:
7
mg
Calcium:
149
mg
Iron:
9
mg