Yes, it is still Asparagus season , although this is already slowly coming to an end. June 24 is the traditional "Asparagus New Year's Eve" and no, there will be no Asparagus spears shot into the air. This day marks the end of the asparagus season and I there are still a few days to go. This is exactly why I decided to post this lovely recipe online just in time. If you can't make it this year, no problem – there will be again in 2019 Asparagus . Yuhuu!
Vegan Bechamel Sauce – Vegan Asparagus easy!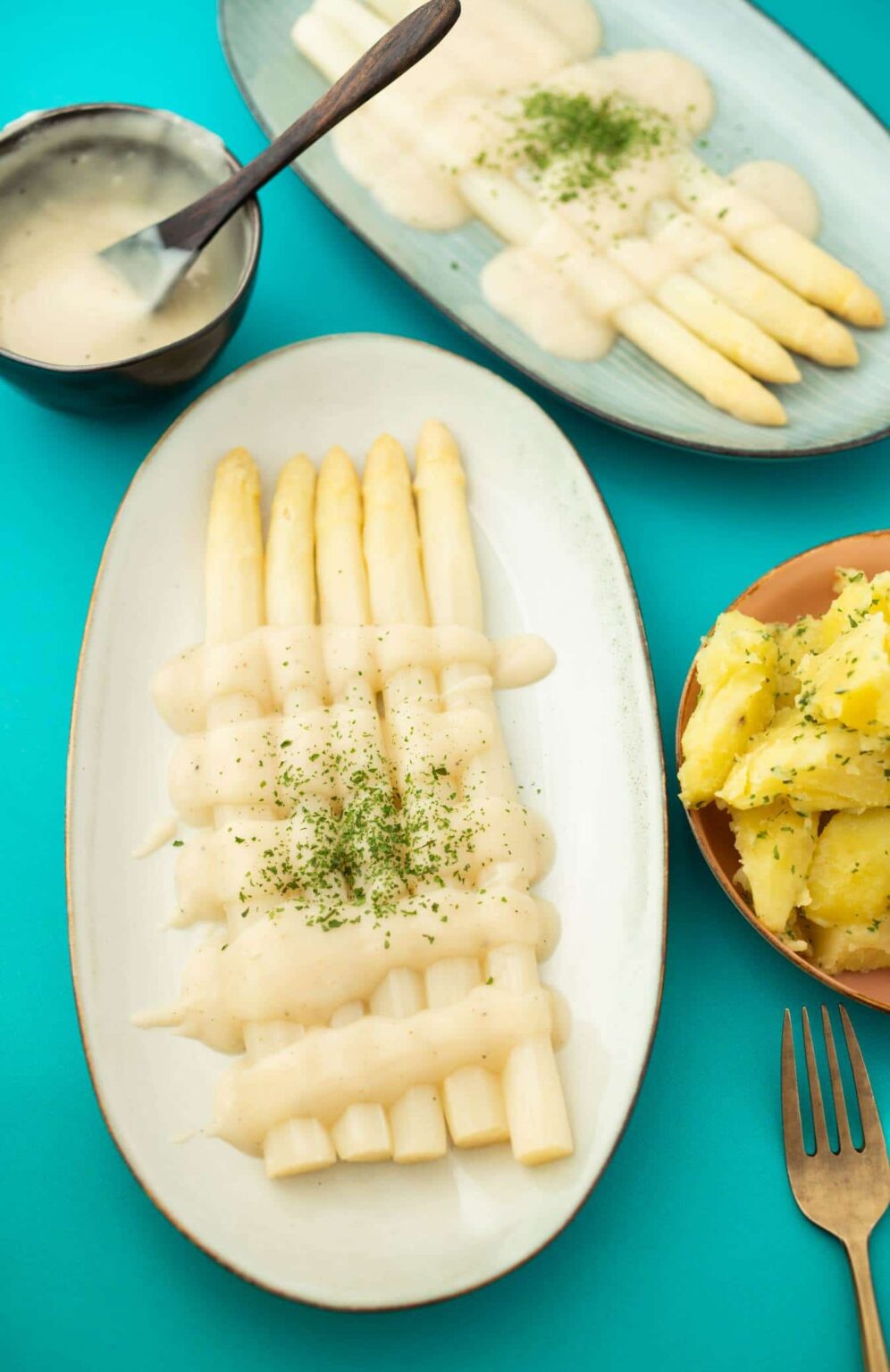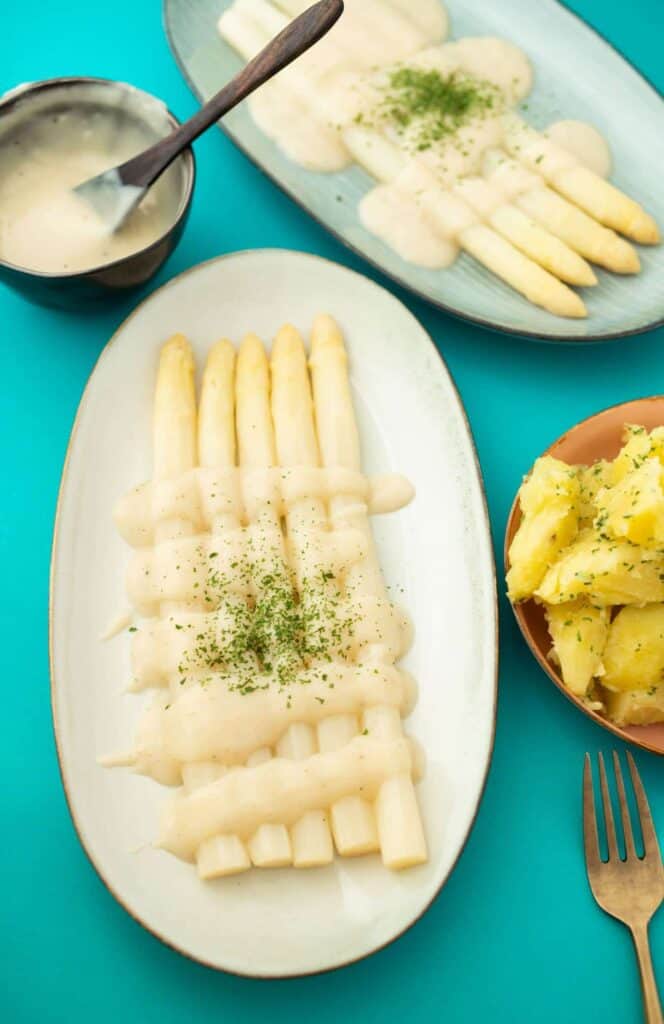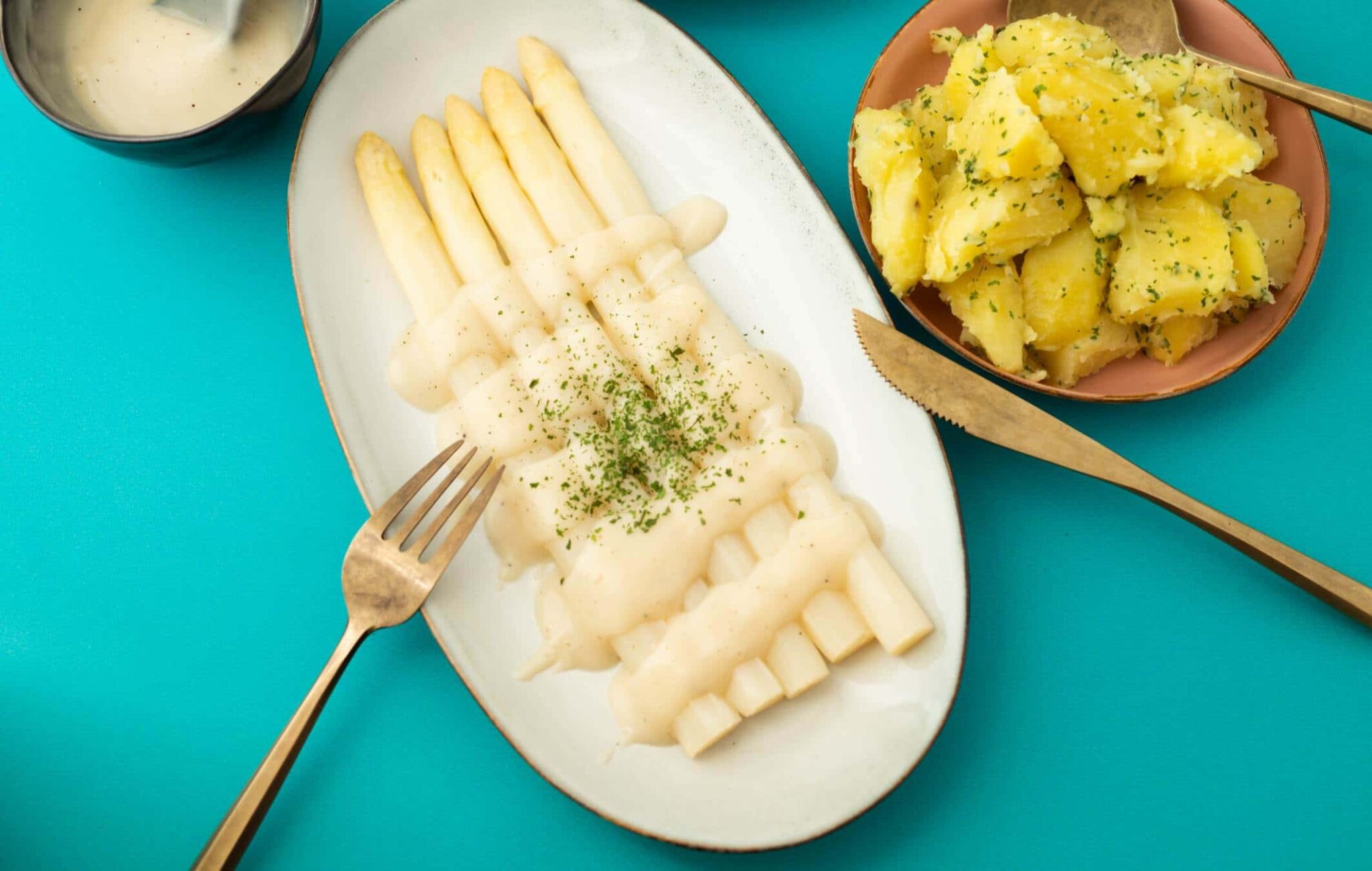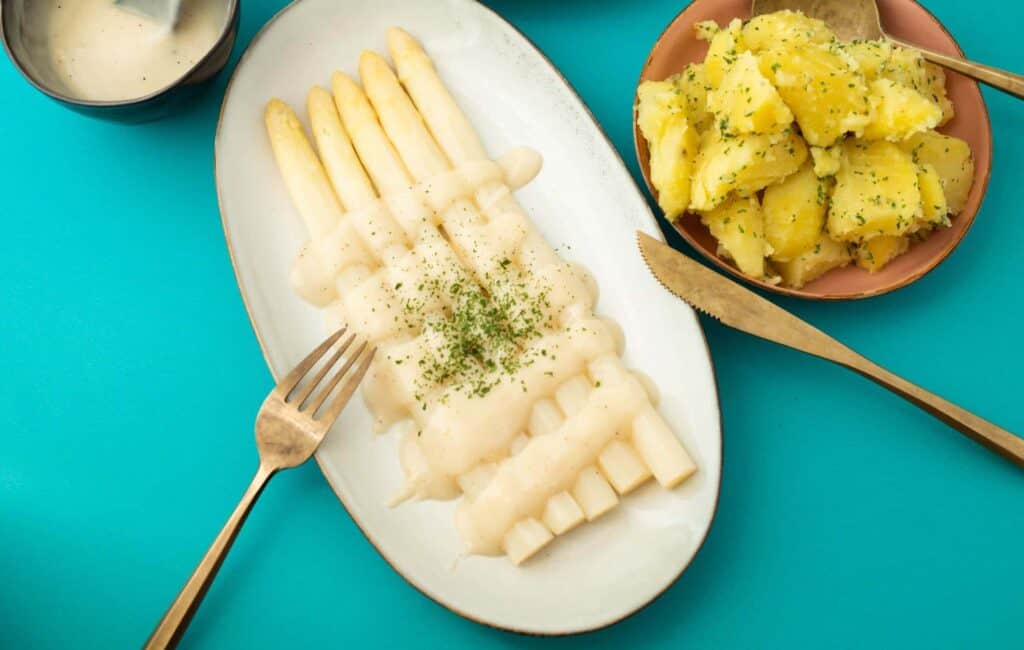 Asparagus with delicious béchamel, a dream I tell you. The asparagus spears are simply wonderful, crisp cooked, neither woody nor bitter. Does the quality of the asparagus play a role here? Yes definitely. I generally always buy organic asparagus, regional and fresh from the eco box. I find that with organic quality the taste is a tad better and also the consistency. The trick is to peel the asparagus well and yes, the peeler does it. A bad asparagus peeler can make your life hell. Then become from 30 minutes also quickly once 3 hours *laugh. Now you just need to remove the woody ends and you're ready to go.
Regional, seasonal, organic asparagus – any questions?
The béchamel sauce is a poem in creamy white and actually not that difficult to make. The trick is vegan margarine and flour (gladly also gluten-free) to a "Einbrenne" to mix (I still know this from my grandma) and then pour with vegetable milk. The whole thing then thickens nicely and becomes an enjoyable sauce, purely vegetable of course.
The dish then needs a side dish and what could be nicer than delicious boiled potatoes. Lightly seasoned with sea salt and parsley (and a dab of margarine). So as far as I'm concerned, we're good to go. Are you with us?
How healthy is white asparagus actually?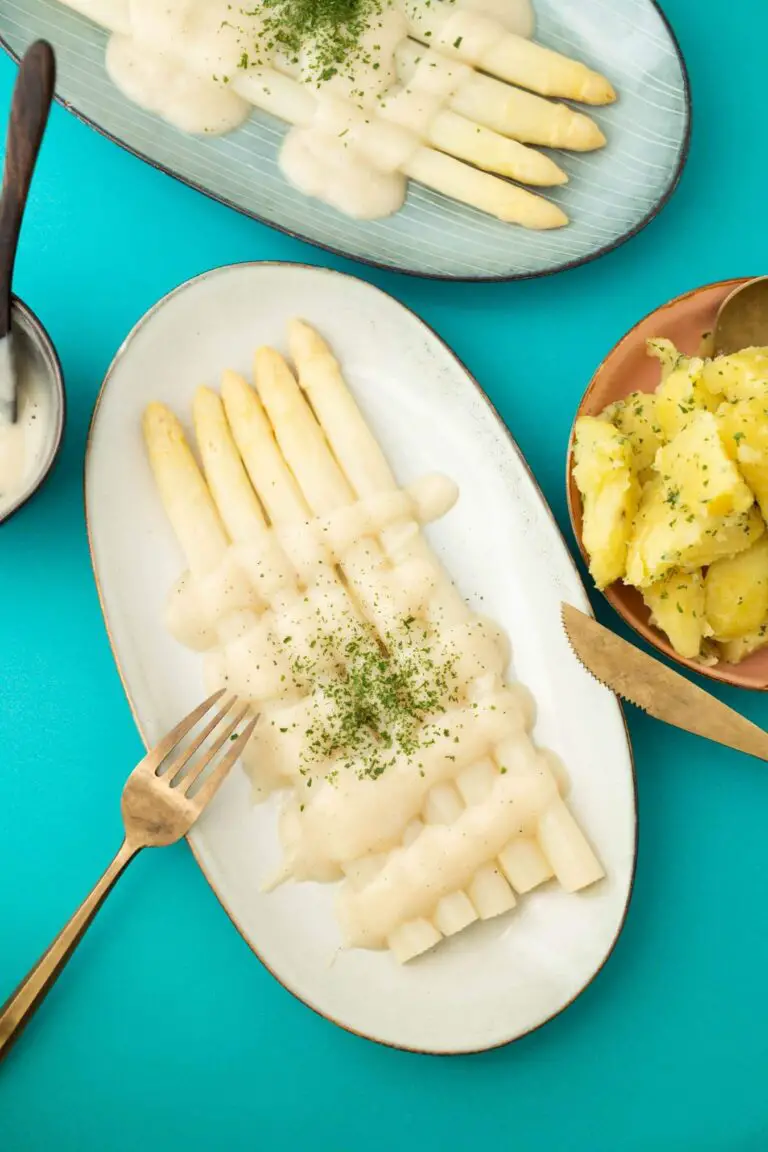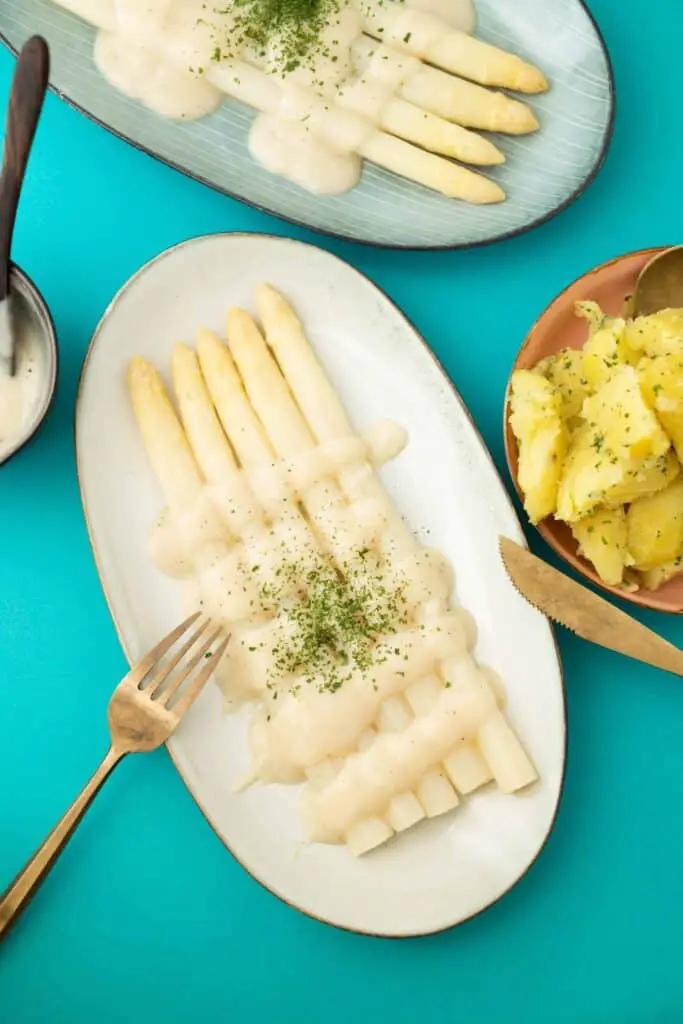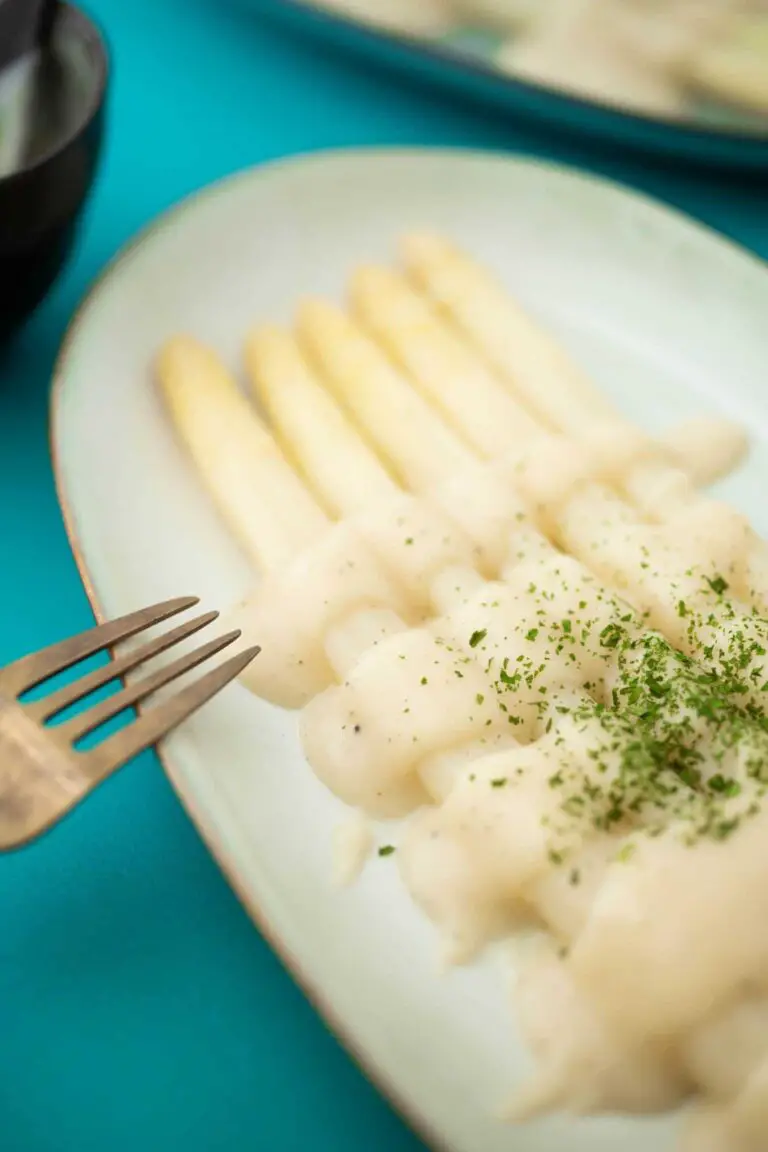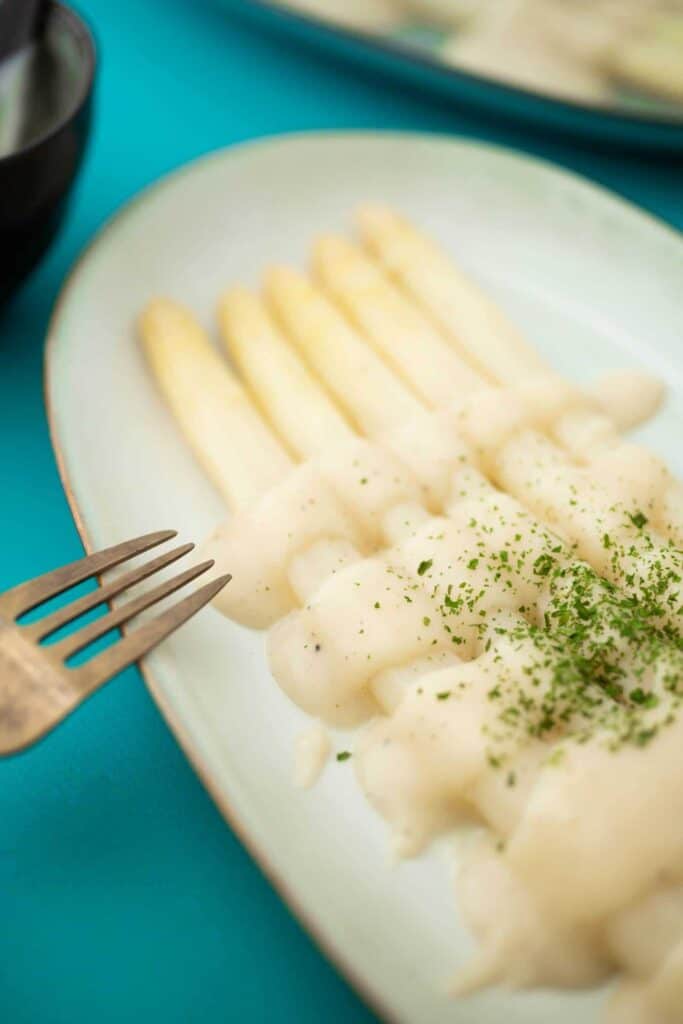 First of all, asparagus consists of 90% water and is very low in calories. 100g of asparagus have just 20 calories, so it goes particularly well with rich sauces, such as béchamel sauce in our case. The vegetable is also rich in vitamins A and C, B vitamins, potassium, sodium and phosphorus. In addition, quercetin and lutein, which is responsible for the protection of blood vessels and the preservation of vision.
But now enough theory I would say and back to our delicious recipe.
What goes well with this summer dish? On hot days I recommend my Watermelon Mocktail and for dessert the Cookie Dough ice cream . Well, is your mouth watering already?
Asparagus with vegan béchamel sauce (30 minutes):
hearty
Summery
filling
creamy
Quickly made
Well, Have you got a desire to this delicious Asparagus dish ? I wish you a lot of fun in recooking and of course a review at the bottom of this page. If you post a picture, use the hashtag #veganevibes.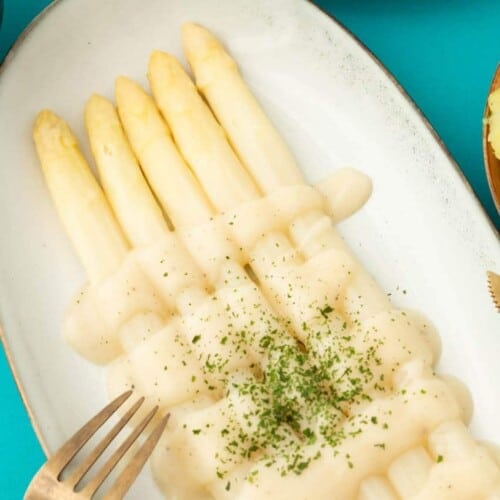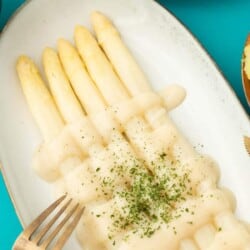 Asparagus with vegan béchamel sauce (30 minutes)
Hearty, summery dish with white asparagus and creamy vegan béchamel sauce. Topped off with delicious hot boiled potatoes with vegan butter, parsley and salt. Perfect for beautiful, balmy spring and summer nights.
AUTOR: VEGANEVIBES
FOR THE BECHAMEL:
50

g

vegan butter or margarine

I take Alsan

30

g

Flour

I use fine spelt flour, but gluten-free flour will also work

1

pinch or pinch of nutmeg
FOR THE SALT POTATOES (optional):
500

g

Potatoes

medium, firm cooking

1

Liter

Water

Parsley to taste
Anleitung 
If SALT POTATOES are to be served, bring water to a boil and add a good pinch of salt. Peel potatoes, cut into quarters and boil in boiling water for 15-20 minutes until tender. Strain, garnish with margarine, salt and parsley and season. Mix well and set aside (keep warm).

500 g Potatoes,

1 Liter Water,

Sea salt

Place

SPARGEL

in a large pan and cover bottom with water. Add olive oil, lemon juice, sugar and sea salt. Mix briefly so that everything is evenly distributed. Cover and simmer gently over medium heat for

15-20 minutes

(do not boil vigorously). Alternatively, prepare in a steamer.

500 g Asparagus,

1 tbspn Olive oil,

15 ml Lemon juice,

1 tbspn Raw cane sugar,

A good pinch of sea salt

In the meantime, prepare a small saucepan for the BECHAMEL SAUCE, melt margarine in it (medium temperature, do not let it get too hot), stir in flour and stir with a whisk until a so-called "Einbrenne" is formed. Pour in vegetable milk and allow to thicken, stirring constantly. To do this, the sauce must boil again. Add nutmeg, sea salt and pepper, season to taste and set aside.

50 g vegan butter or margarine,

30 g Flour,

500 ml Almond milk or another vegetable milk,

1 pinch or pinch of nutmeg,

Sea salt and pepper to taste

Divide asparagus spears between two plates, spread béchamel sauce over as desired and garnish with fresh or dried parsley. Serve with boiled potatoes and enjoy!

Asparagus is best enjoyed fresh!
Notizen
NOTES /HELPFUL ACCESSORIES:
Nährwertangaben
Serving:
1
large portion
Calories:
471
kcal
Carbohydrates:
54
g
Protein:
14
g
Fat:
24
g
Saturated Fat:
13
g
Cholesterol:
53
mg
Sodium:
558
mg
Potassium:
1537
mg
Fiber:
12
g
Sugar:
5
g
Vitamin A:
2515
IU
Vitamin C:
45.4
mg
Calcium:
456
mg
Iron:
14.1
mg