Finally the Spring here! Like what? When I look out the window, I feel more like it's April, or maybe October? At least I don't get spring fever in this weather. Rainy, windy, just ew! My parents were in Italy last week and I immediately took this as an opportunity to reminisce. Summery warm evenings in Italy with fine food and Ricotta stuffed… Stop! Let's start from the beginning and tell the story of a delicious, simple and above all vegan ricotta .
Ricotta yes, but please without "moohh"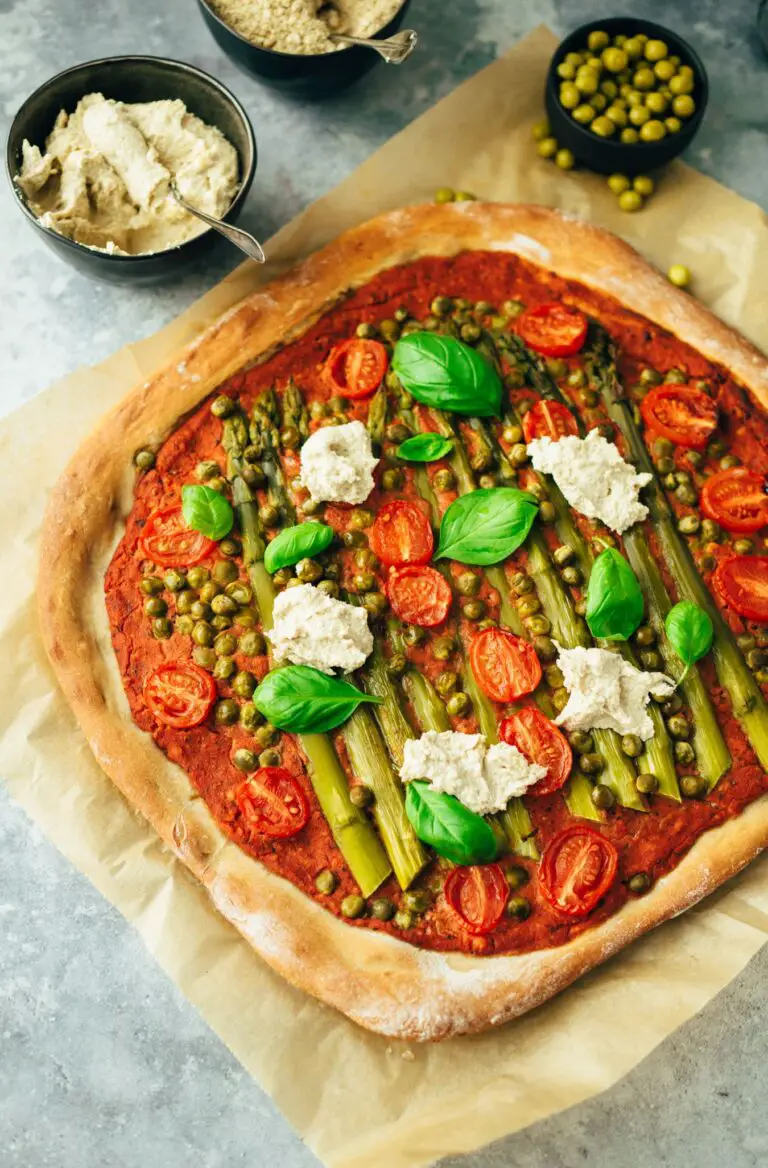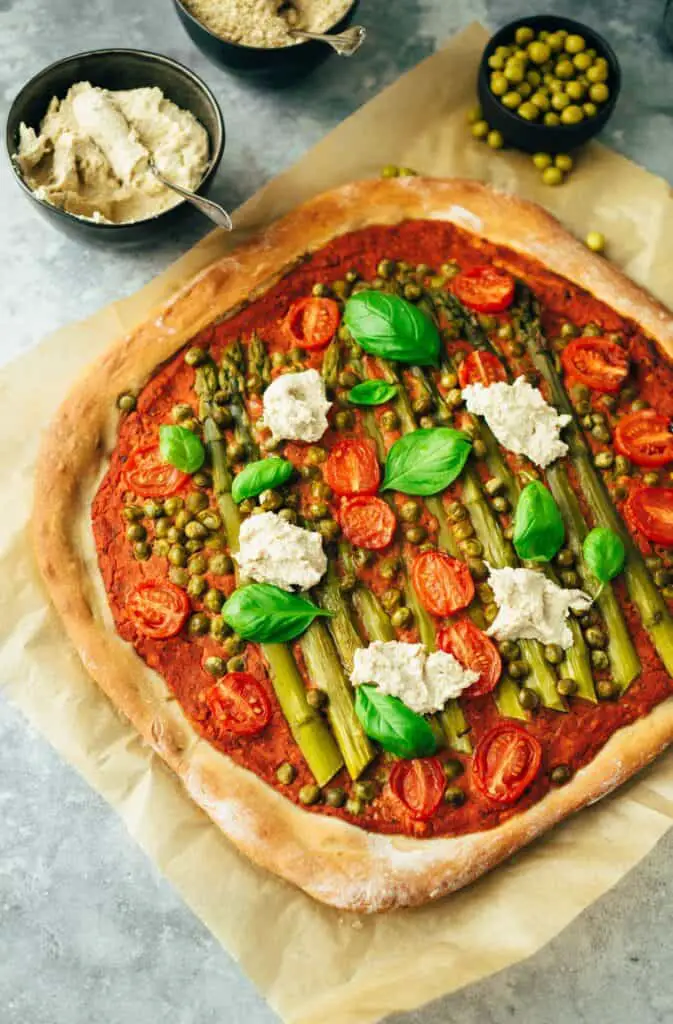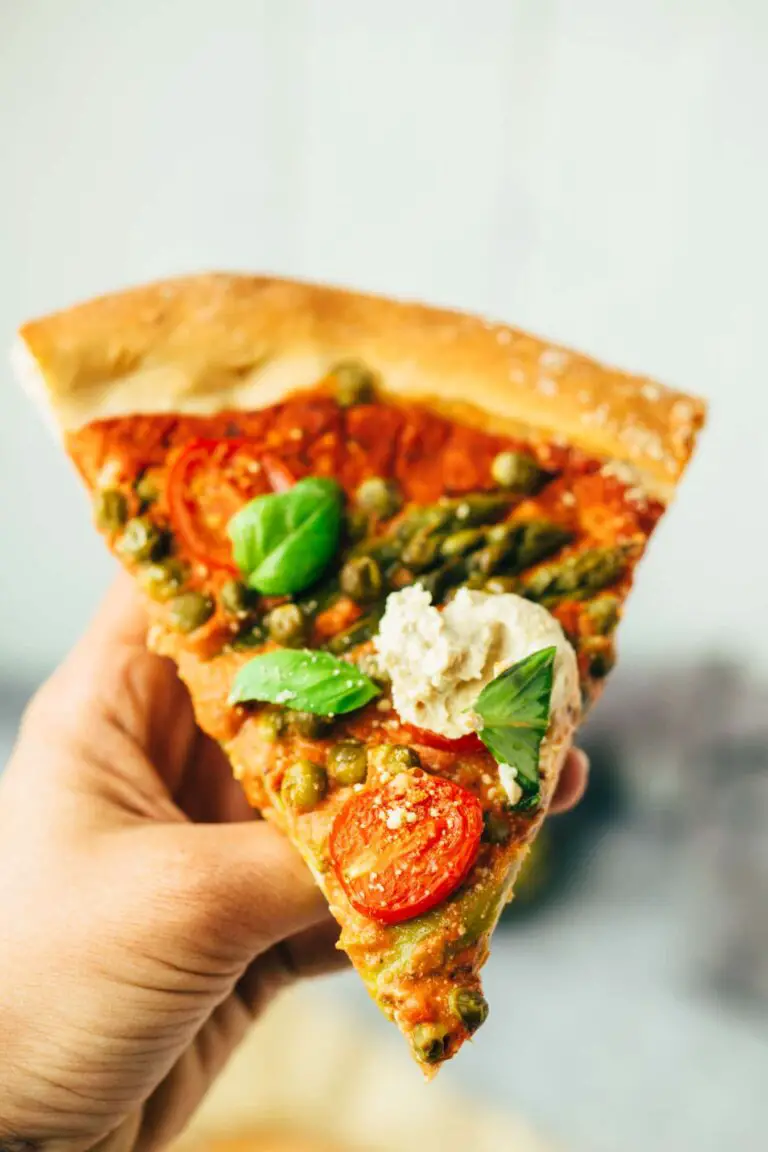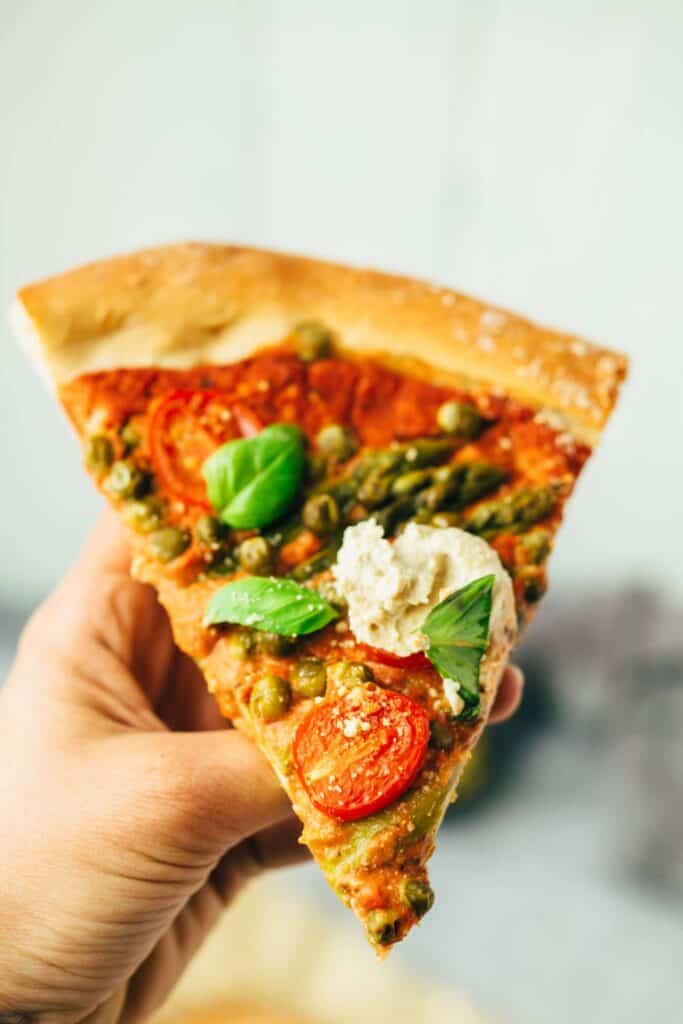 How good that there are already a few Pizza recipes on my site, because so you can easily see the recipe for the base. The tomato sauce also remains "almost" the same, except for the addition of two tablespoons vegan ricottas . This makes the base even a good bit creamier and thus irresistible. The topping couldn't be more spring-like, green asparagus, peas and fresh cherry tomatoes. I would say a dream? At the very end I add a few blobs of vegan ricotta on top and perfect is our Italian delicacy. Mamma Mia!
When preparing the green Asparagus you basically have two options. PREPARATION: Wash the asparagus, pat dry a little, cut off the ends of the asparagus by about a centimeter.
GRILL: Brush asparagus with a little olive oil and place on hot grill (or grill pan). Grill for 2-3 minutes on each side.
BLANCH: Blanch in a steamer or asparagus pot for 10 minutes with steam, then place on pizza.
How healthy is green asparagus actually?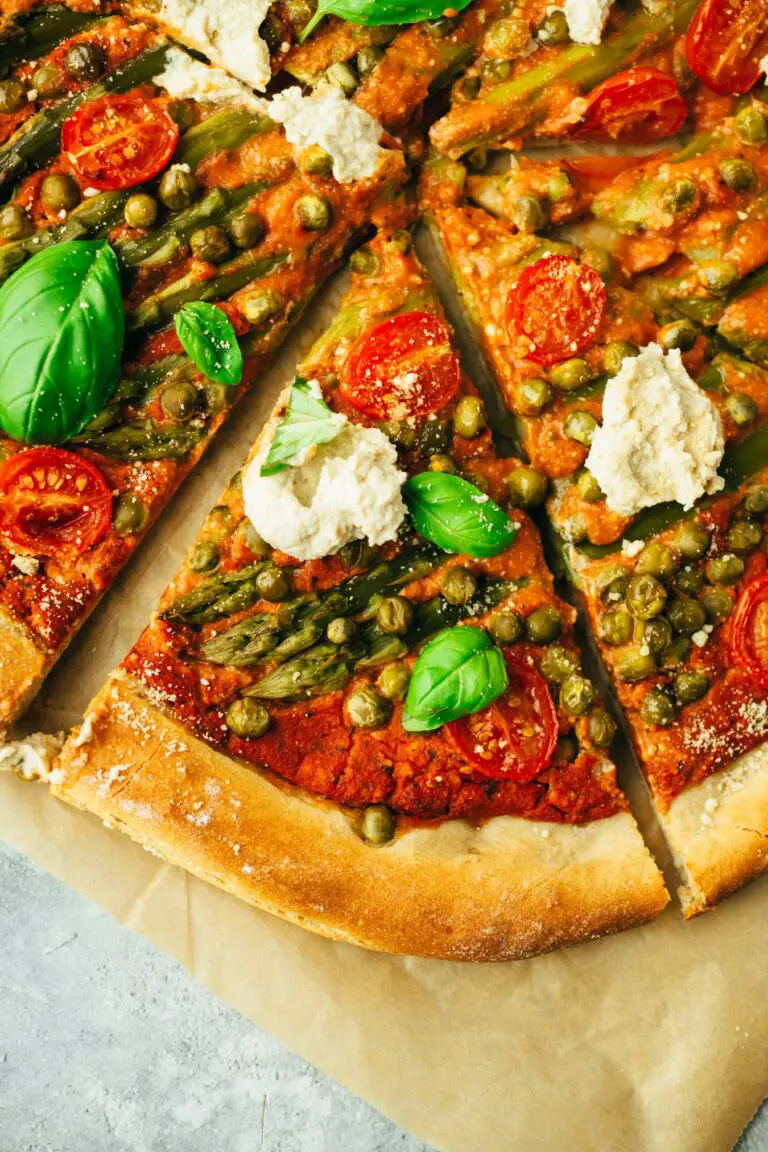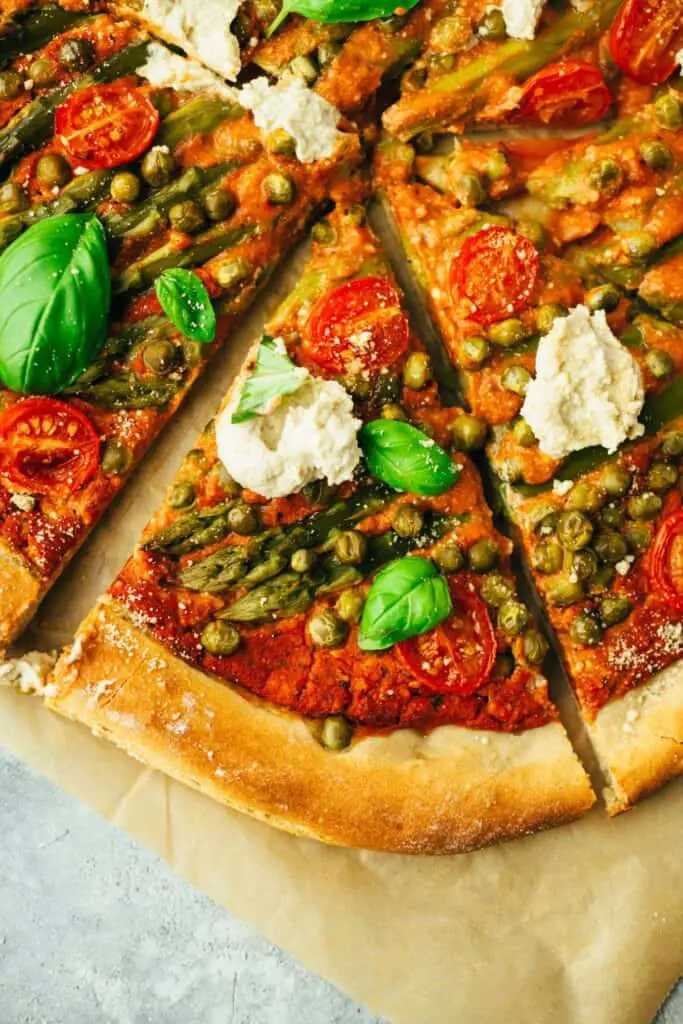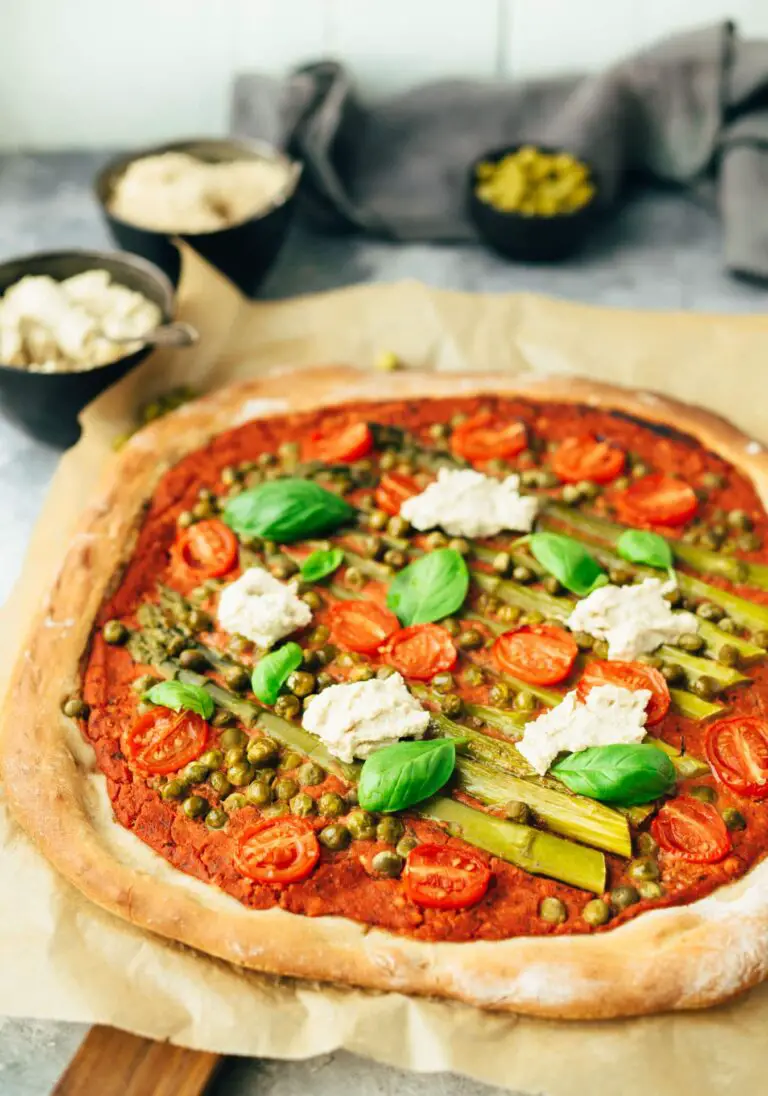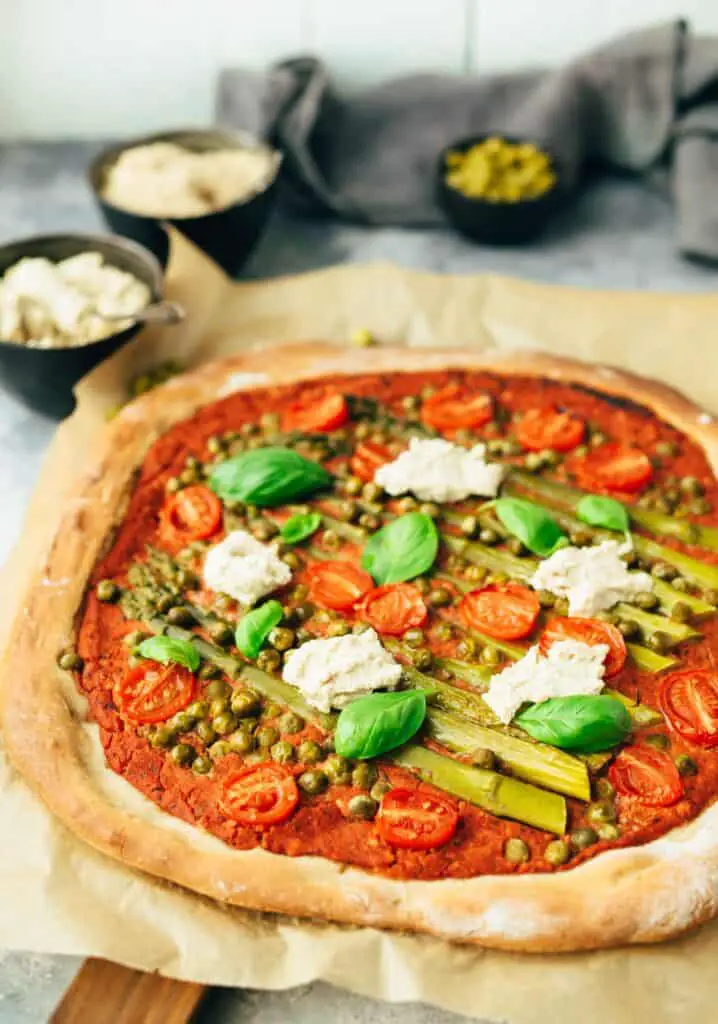 Asparagus season is in March, April, May and June and only in these months you can be sure to get perfect fresh and regional asparagus. Asparagus and regional.
Green asparagus is really fun and incredibly healthy:
Only 18 kcal per 100g
Contains a lot of folic acid
Has a gentle draining effect
Rich in vitamin A
With our Pizza is served with a delicious salad and for dessert I like to treat myself to an espresso and a piece of Tiramisu Cake .
The pizza with ricotta and green asparagus is:
Crispy
aromatic
Italian
filling
Quickly made
simple
Perfect for a vegan lunch or dinner , almost like a short trip to Italy. I wish you a lot of fun with the Nachbacken and of course about a rating at the bottom of this page. If you post a picture, use the hashtag #veganevibes.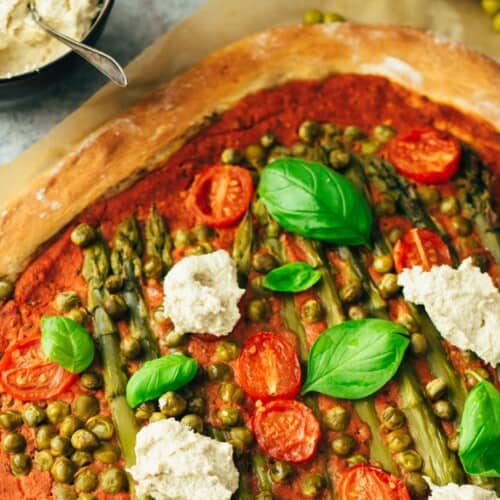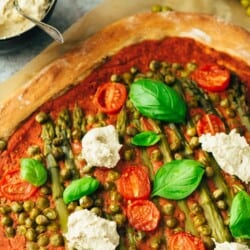 Pizza with ricotta and green asparagus (vegan)
Deliciously crispy Italian vegan pizza with lovely tomato sauce and delicious homemade ricotta. Refined with green asparagus, peas and fruity cherry tomatoes. Makes a perfect healthy vegan lunch or dinner. Bella vegana Italia!
AUTOR: VEGANEVIBES
TO MOVE:
250

g

green asparagus

pre-grilled or blanched, see above in the text

150

g

Peas

I take pre-cooked peas on the jar, blanch fresh peas beforehand for 10 minutes

75

g

Cherry tomatoes

halved
TOPPING:
Fresh basil

Vegan ricotta to taste

Pizza seasoning
Anleitung 
FOR THE PIZZA DOUGH put all the ingredients in order in a high-powered blender and process with the dough program until smooth. Alternatively, put everything in a bowl and process by hand or food processor (with kneading shake to a smooth dough. The dough should be neither too runny nor too dry and should come away from the edge of the bowl. Cover and let rise at room temperature for

30 minutes

(minimally up to an hour.) NOTE: The dough does not like cold air, drafts or direct sunlight.

170 ml lukewarm water,

½ Packet dry yeast,

7,5 g Raw cane sugar,

½ tbspn Salt,

250 g fine spelt flour

Blanch or pre-grill asparagus and (optional peas) …see above in text!

In the meantime TOMATE SAUCE prepare. To do this, place everything in a blender and blend to a smooth sauce. Set aside.

15 g Tomato paste,

½ tbspn Salt,

1 tbspn Basil,

240 g peeled and diced tomatoes

Preheat the oven to 190 degrees (pizza level or intensive heat) and line a baking tray with baking paper.

Remove pizza dough from bowl after rising time and knead on a floured work surface for 1-2 minutes. Roll out with a pastry roller to a round dough and spread on the baking paper. The dough should approximately fill the baking tray.

Spread tomato sauce evenly with a spoon. Decorate with asparagus, peas and cherry tomatoes as desired. Place in oven and bake for about

20-25 minutes

, until edges are golden brown. Remove from oven, finish with ricotta, parmesan and basil, portion and enjoy!

30 g vegan ricotta,

250 g green asparagus,

150 g Peas,

75 g Cherry tomatoes,

Fresh basil,

Vegan ricotta to taste,

Vegan Parmesan cheese to taste,

Pizza seasoning

Keeps up to 2 days covered in the refrigerator, but best fresh!
Nährwertangaben
Calories:
880
kcal
Carbohydrates:
171
g
Protein:
31
g
Fat:
7
g
Saturated Fat:
2
g
Cholesterol:
8
mg
Sodium:
317
mg
Potassium:
1065
mg
Fiber:
34
g
Sugar:
13
g
Vitamin A:
1765
IU
Vitamin C:
21.4
mg
Calcium:
104
mg
Iron:
12.9
mg