In creating this Recipe I asked myself what connection I actually have with ricotta? Sure, that was back in Italy with my parents when we ate at the typical restaurants. Gnocchi, cannelloni, or a simple tomato sauce enhanced with ricotta. Reason enough to imitate this Italian classic vegan. You do not need for the preparation 10 minutes if the nuts have been soaked beforehand.
What is actually the typical taste of ricotta?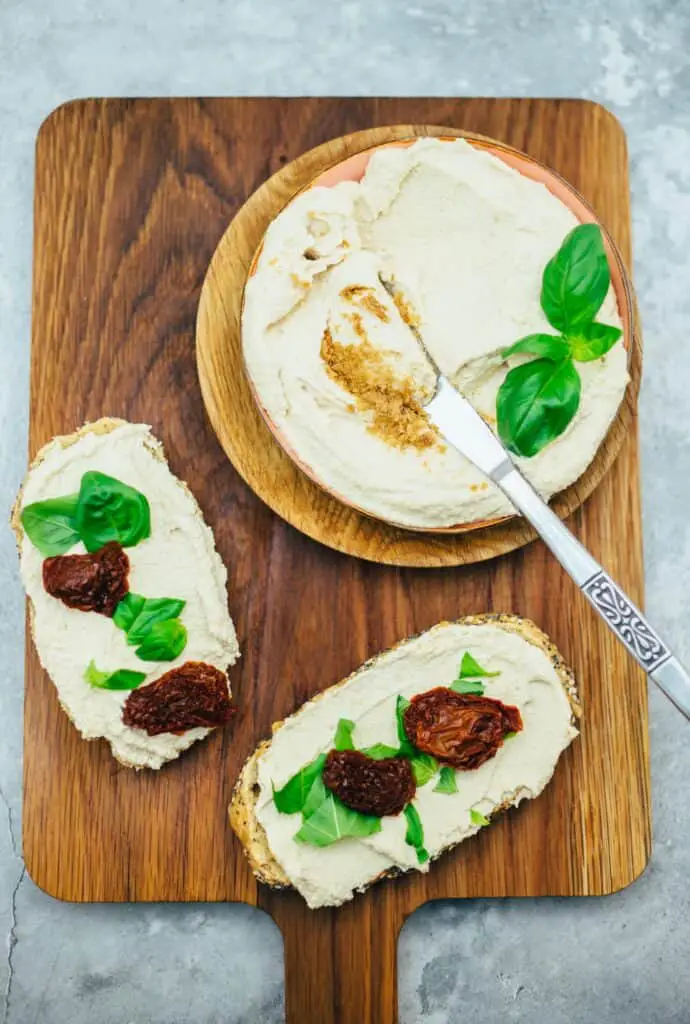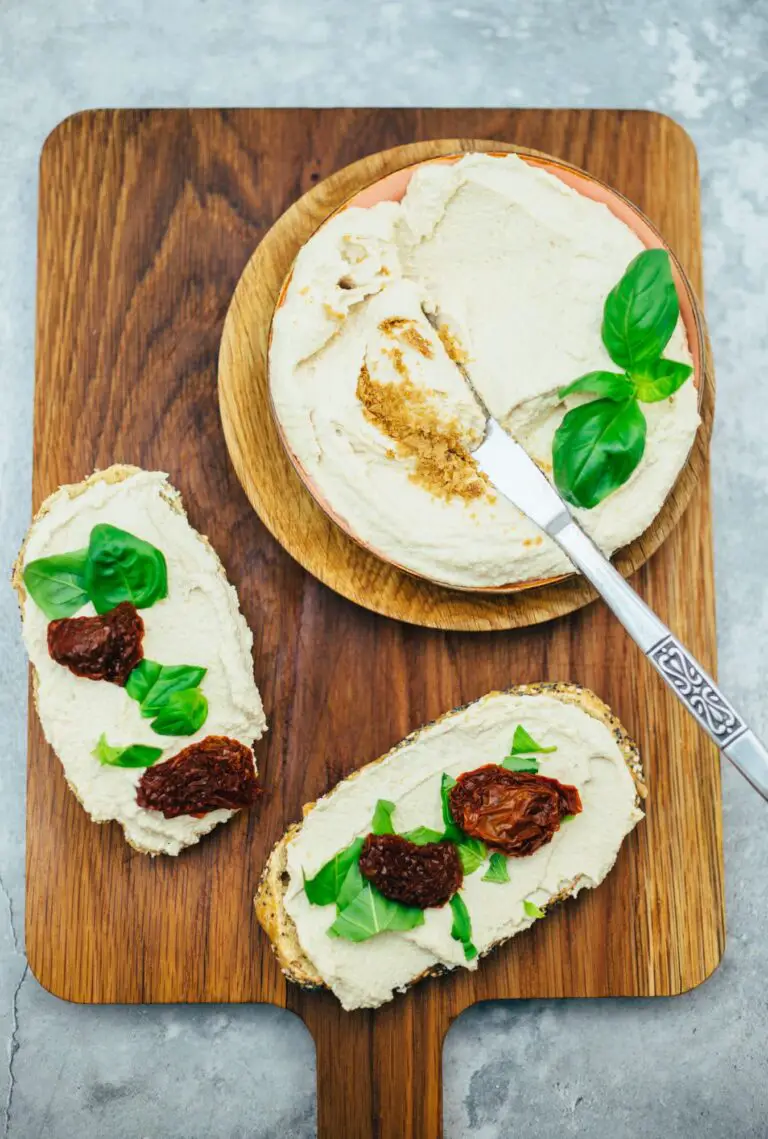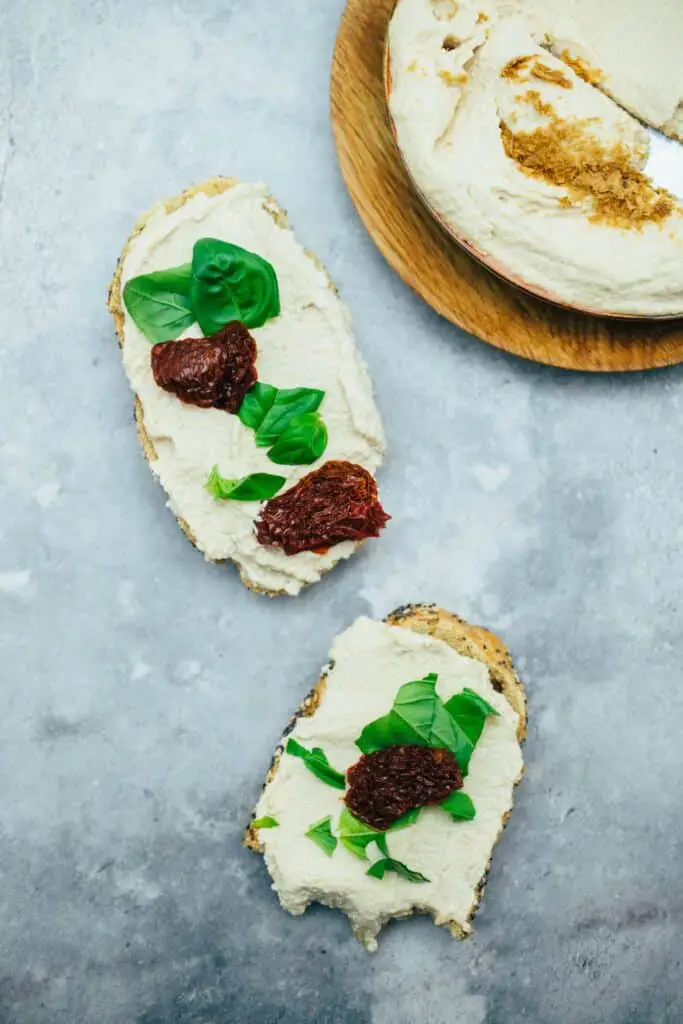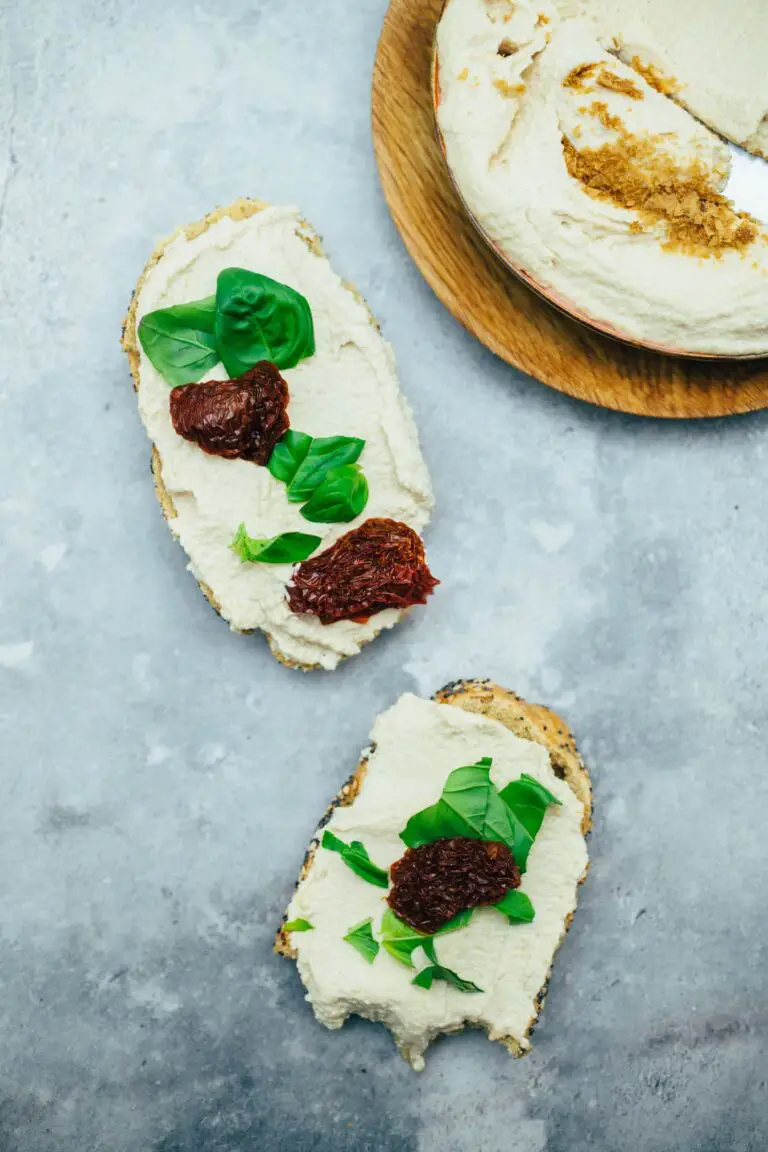 In Italy, des Ricottas have different levels of ripeness, from the mild creamy variety, to the smoked firm cheese. In today's recipe, we'll make a typical, mild and cream cheese-like version. This is excellent on a piece of fresh Bread or to refine various tomato sauces. Maybe you also feel like a spring-like, vegan pizza to conjure with it?
Vegan ricotta recipes? Give it to me!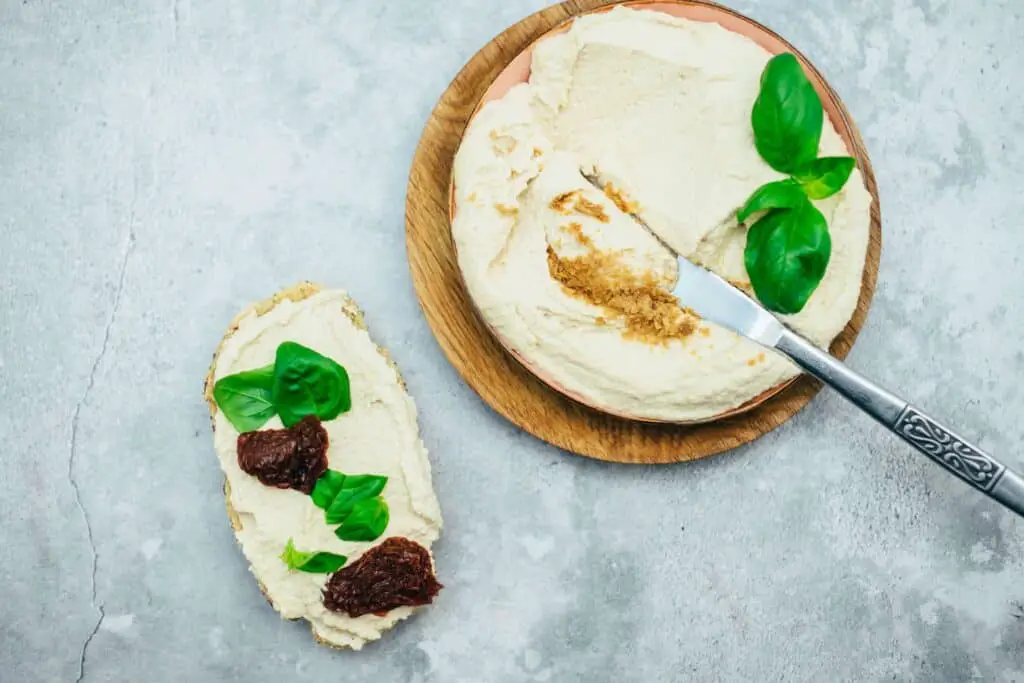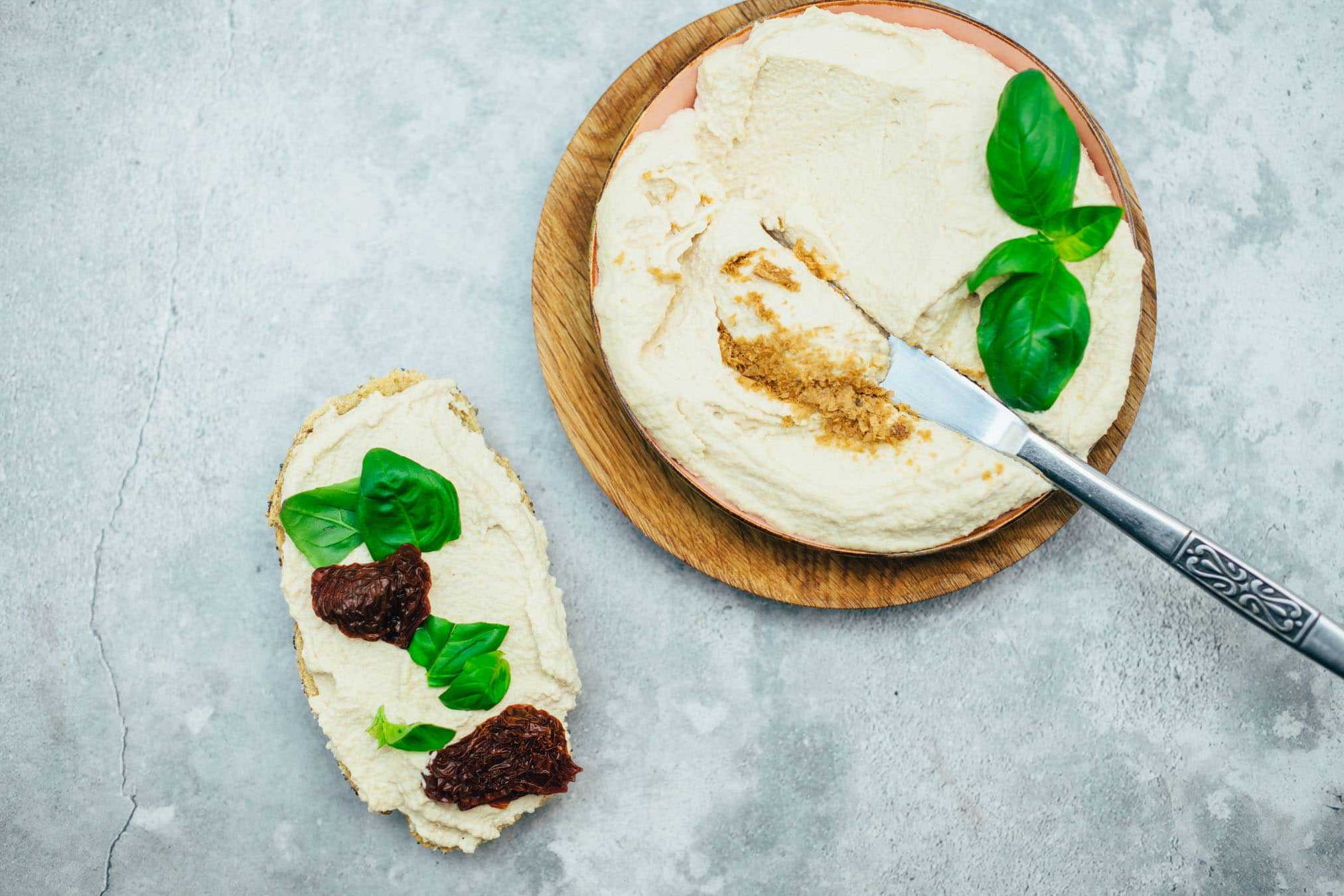 For the vegetable ricotta variant you need once again a powerful blender, as so often in the vegan kitchen. I've linked you below to the blender I work with. Especially when processing nuts, it is indispensable to acquire good tools. It just makes it faster and the result is super creamy!
Let's get to the ingredients: Cashews, almonds, tofu, coconut yogurt, lemon juice, nutritional yeast, garlic granules, lemon zest, salt, pepper and optional white miso. Especially the almonds I find quite important, because they bring such a nutty marzipan flavor. The whole thing goes into the blender and after a few minutes the Italian classic is also ready.
Plant-based ricotta is quite sexy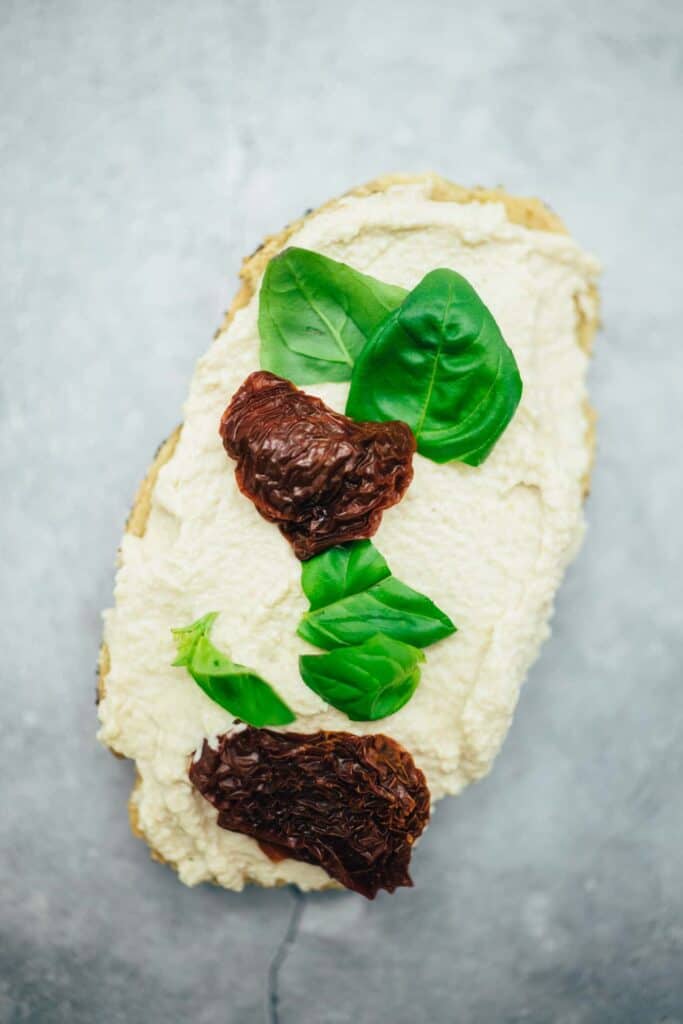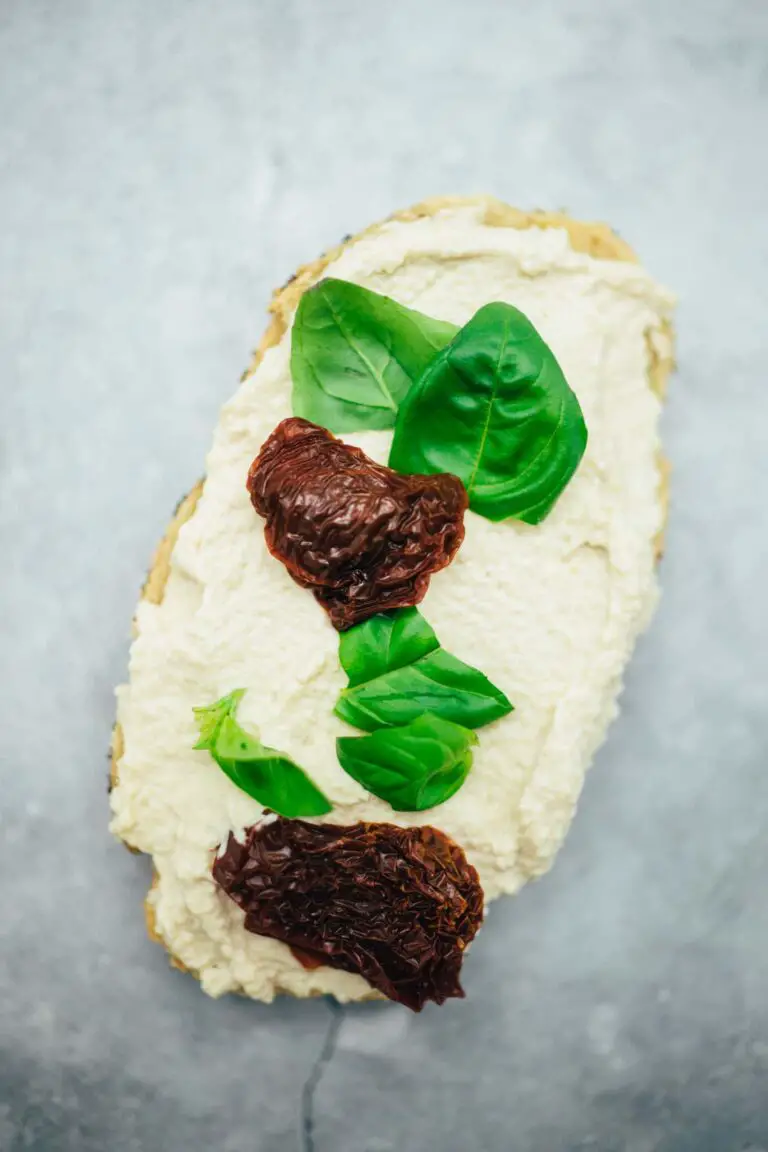 What else should you pay attention to during production? Here are my top tips and tricks:
Cashews and almonds definitely need to be soaked, especially if you don't have a high-powered blender in the house. There are two very good methods for soaking, which you will find at the very bottom of the preparation steps.
While mixing, always make sure to push the mixture down the sides with a scraper . In this way, you ensure an even result.
Always place the finished ricotta (if not using right away) in an airtight container right away. The "cream cheese" will otherwise oxidize and may form unsightly edges.
This ricotta is wonderfully versatile and is especially good on a piece of Spelt bread or Roll , vegan ricotta pizza, as a topping on a delicious Salad , Pasta , or just for snacking.
The vegan ricotta is:
Cream cheese-like
mild
Slightly salty
Easy to manufacture
versatile
If you're as big a ricotta fan as I am, I'd love a review at the very bottom of this page. If you post a picture, use the hashtag #veganevibes.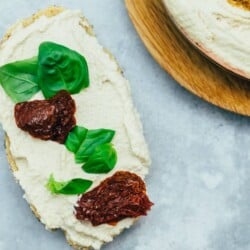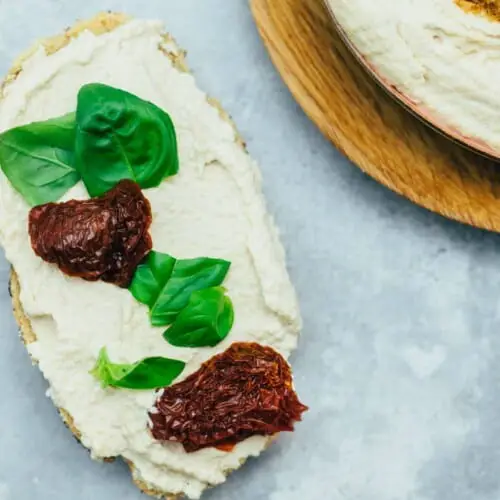 Make vegan ricotta yourself
Simple vegan ricotta "cheese" that is uncomplicated to make in. Versatile for many Italian classics, with a neutral, mild note. Perfect pure on a slice of bread or to enhance many Mediterranean dishes.
AUTOR: VEGANEVIBES
120

g

Cashews

depending on the line strength of the mixer *soaked

100

g

Almonds

peeled, alternatively almond slivers or flakes, soaked*.

120

ml

Almond milk

cup, or any other vegetable milk

200

g

Natural Tofu

corresponds to one package

60

g

Coconut yogurt

or any other vegetable yogurt

60

ml

Lemon juice

or juice of one lemon

½

tbspn

Garlic granules or a freshly squeezed clove of garlic

1

tbspn

freshly zested lemon peel

½

tbspn

Sea salt
Anleitung 
Soak cashews and almonds according to a SOAK METHOD mentioned at the very bottom.

After the soaking time strain and put in the blender

Add the remaining ingredients to the blender and blend until smooth and creamy. While doing so, work at low speed and keep pressing down the sides with a scraper.

120 g Cashews,

100 g Almonds,

120 ml Almond milk,

200 g Natural Tofu,

60 g Coconut yogurt,

60 ml Lemon juice,

22 g Nutritional yeast flakes,

½ tbspn Garlic granules or a freshly squeezed clove of garlic,

1 tbspn freshly zested lemon peel,

½ tbspn Sea salt,

Pepper to taste

The ricotta should not be super fine, but creamy and slightly crumbly.

Process immediately or fill into airtight jars and store in the refrigerator

Keeps up to 5 days airtight in the refrigerator.

If your blender is not that powerful, no problem. Click here for the cashew soaking guide

QUICK SOAK METHOD(Duration 60 minutes): Put nuts in a heatproof bowl and pour scalding hot water over them. DO NOT COVER and leave to infuse for one hour. Drain and process.

LONG-SOAK METHOD(Duration 6 hours): Soak nuts in cold water and cover. Drain and process after 6 hours or overnight.
Nährwertangaben
Calories:
574
kcal
Carbohydrates:
28
g
Protein:
24
g
Fat:
45
g
Saturated Fat:
11
g
Sodium:
68
mg
Potassium:
661
mg
Fiber:
10
g
Sugar:
6
g
Vitamin C:
8.4
mg
Calcium:
234
mg
Iron:
5.4
mg