Always the same Dressing for the salad? No thanks! It's time for a bit of variety. Of course I still love my Balsamic dressing but every now and then I long for creamy Salad sauces. No sooner said than done, I experimented a bit and voilá, a really tasty dressing came out. The whole thing is also oil-free and thus also a "Schmackerl" for all who want to save on the liquid gold. What? Who wants to save oil and how healthy are these hemp seeds now? I will answer all these questions below in the text!
GOOD SALAD VIBES ONLY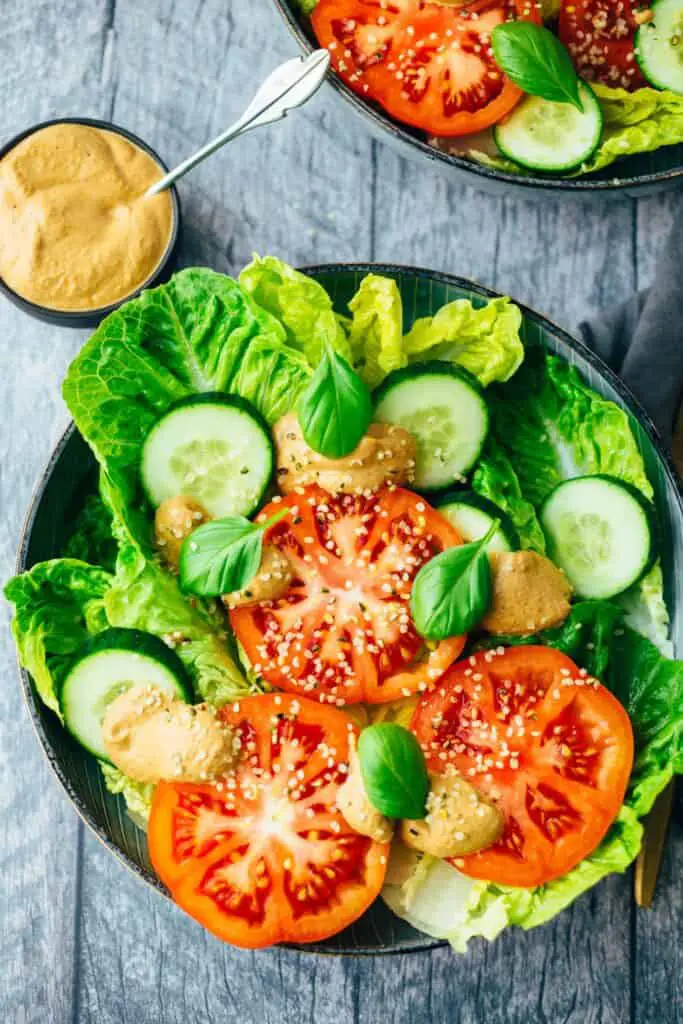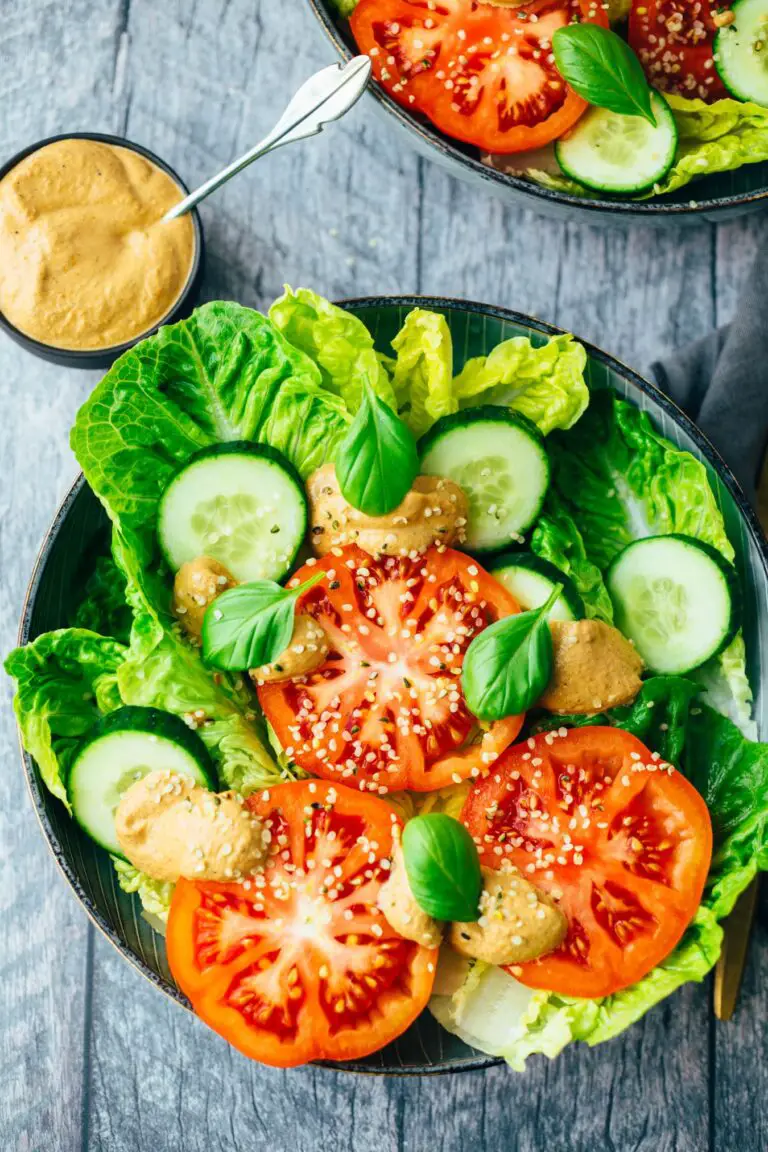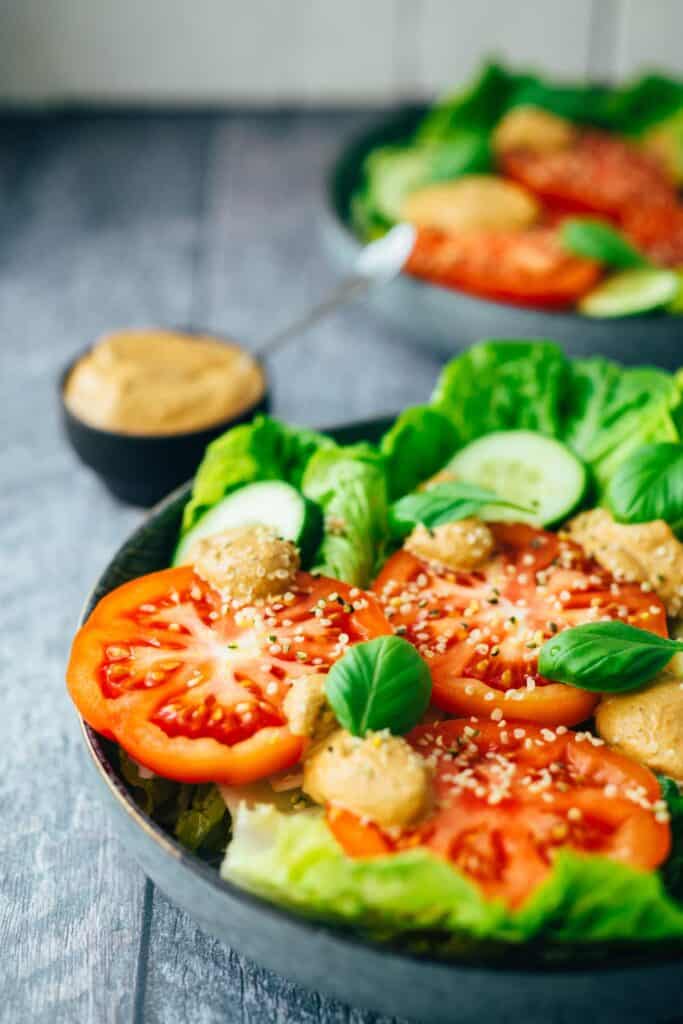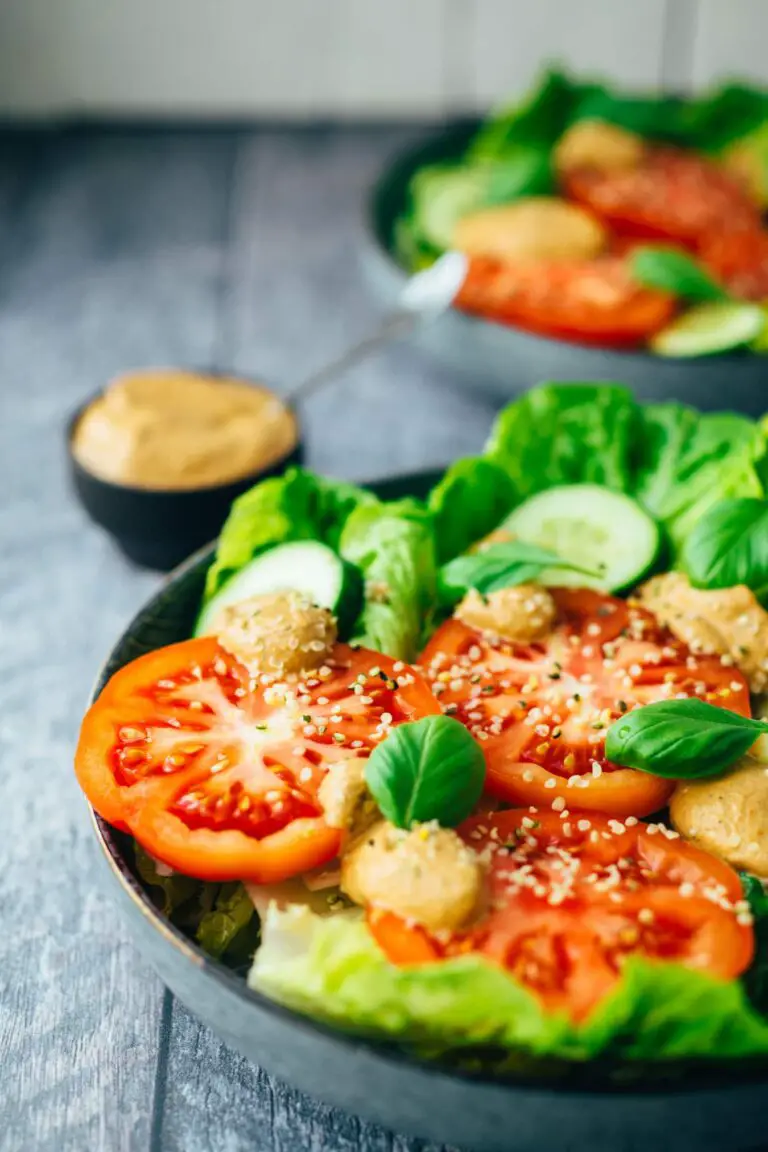 On my vegan journey I have learned to love one thing and that is salad in all its variations. It's just amazing how good an organic salad can taste. Unfortunately, I don't have my own garden yet, but I order from the regional Öko-Kiste and look forward to crisp, fresh salads in environmentally friendly reusable boxes every Friday. Why don't you see if there isa regional organic box near you? I am not sponsored by anyone here, but I think that we have enough pesticides and plastic in the world. This makes it all the more worthwhile to support regional organic farmers.
HOW HEALTHY ARE HEMP SEEDS?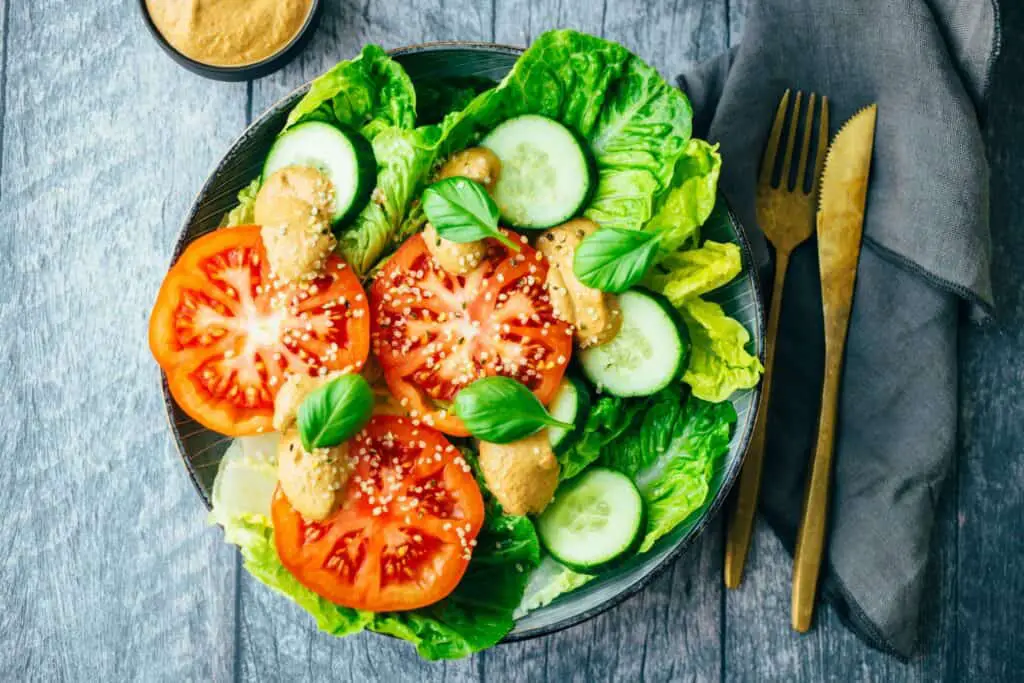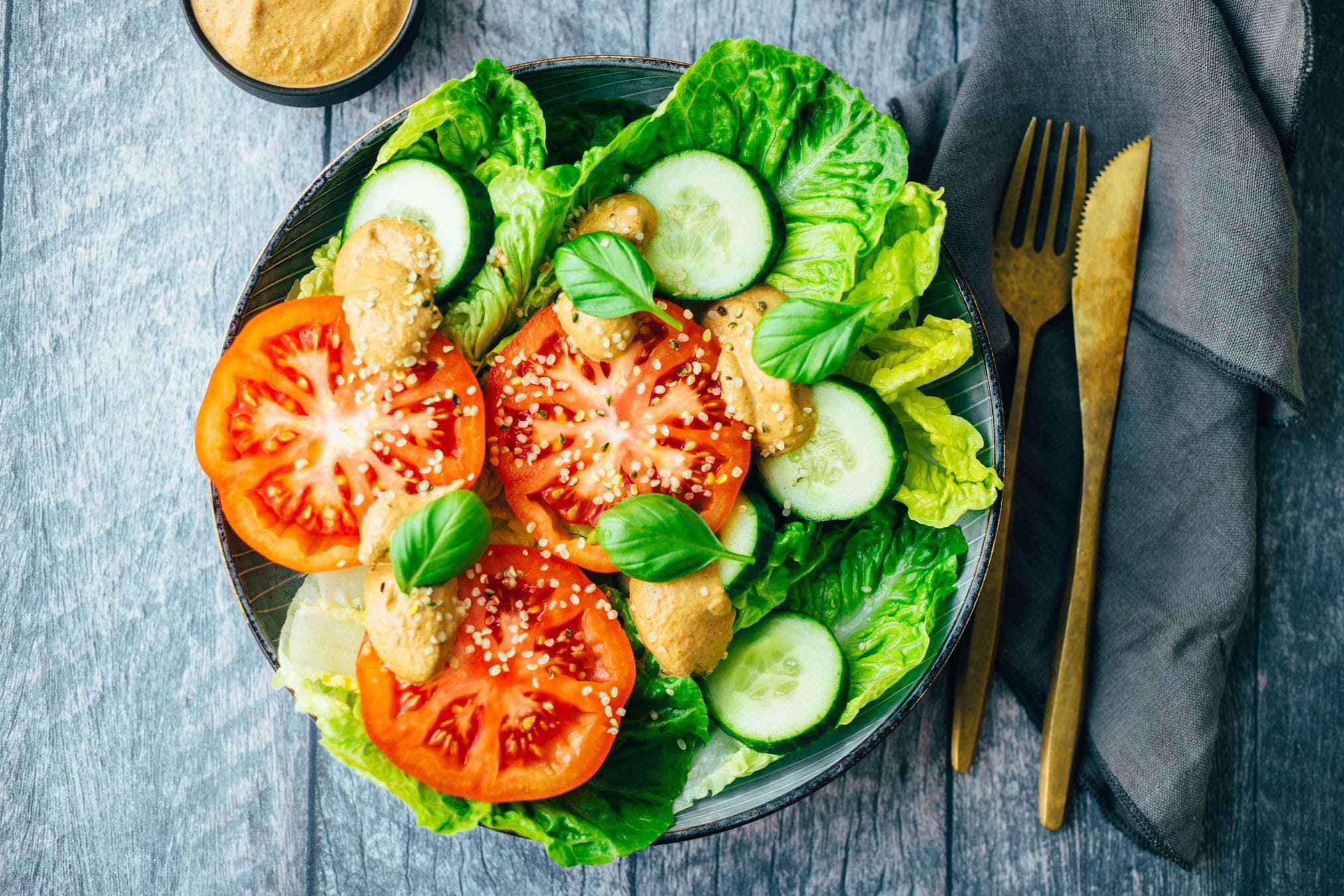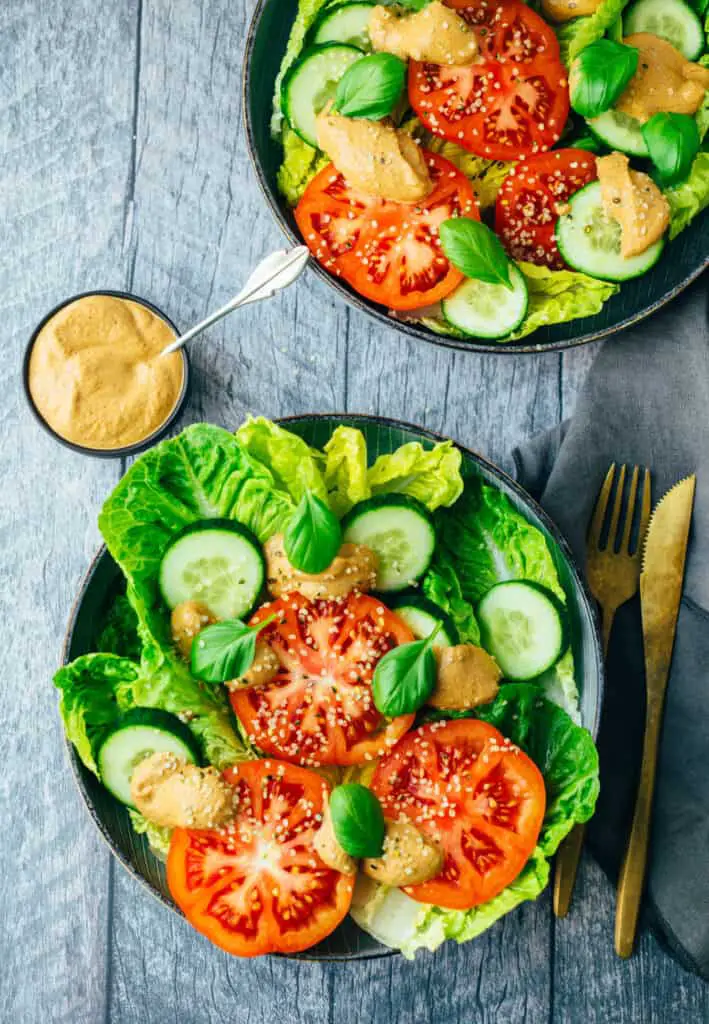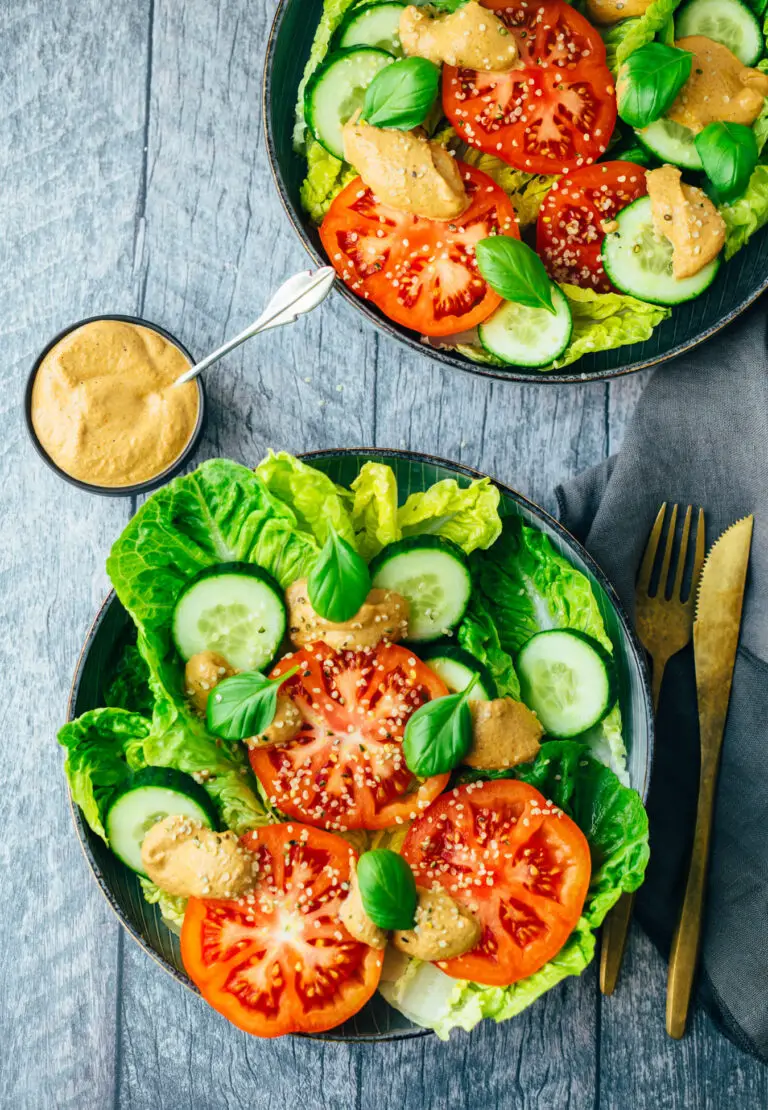 The seeds of the hemp plant can be bought either peeled or unpeeled. I prefer them peeled because it makes them softer and easier to work with. In addition, they taste somewhat more bitter unpeeled. But even more important is the question of how healthy the seeds. In any case, I no longer want to do without them, because hemp seeds contain :
Polyunsaturated fatty acids (can have a positive effect on cholesterol levels)
Magnesium, iron, potassium and calcium
An ideal ratio of omega-3 and omega-6 fatty acids (essential fatty acids that cannot be produced by the body and must be supplied from the outside).
Healthy dietary fiber
Vitamin B1, B2 (stress reduction)
Vitamin E (muscle regeneration)
I could go on writing for hours now, but I think the advantages of Hemp Seeds are obvious. You can incorporate them into your diet really easily, for example with among other things, our dressing today.
Small TIP for all ladies: According to studies, the micronutrients in hemp seeds can alleviate the symptoms of premenstrual syndrome (PMS).
HOW MUCH OIL IS ACTUALLY HEALTHY?
Hundreds of books and podcasts, it took me a while to understand that oil is actually a is not so healthy. In principle, it's like apple juice. An apple in its natural form, after all, contains not only the juice, but valuable Dietary fiber and phytochemicals. The juice is only the liquid Concentrate and a glass of apple juice contains with pleasure once the fruit sugar of 6-7 Apples. Exactly the same applies to vegetable oils, which are simply used in concentrated form contain what is already contained in the plant anyway. Therefore, use them sparingly and even omit them from time to time.
Our today's Recipe comes completely without oil, but still tastes great. Hemp seeds, dried tomatoes(not preserved in oil), balsamic vinegar, Italian herbs, maple syrup and a good pinch of salt. Here we go!
Ideal for this I recommend homemade spelt bread , Naan or Spelt roll .
Salad with creamy hemp tomato dressing (oil-free) is:
hearty
creamy
aromatic
Crisp
Full of healthy micronutrients
Well, did you get a craving for this delicious, vegan salad ? I wish you a lot of fun in recooking and of course a review at the bottom of this page. If you post a picture, use the hashtag #veganevibes.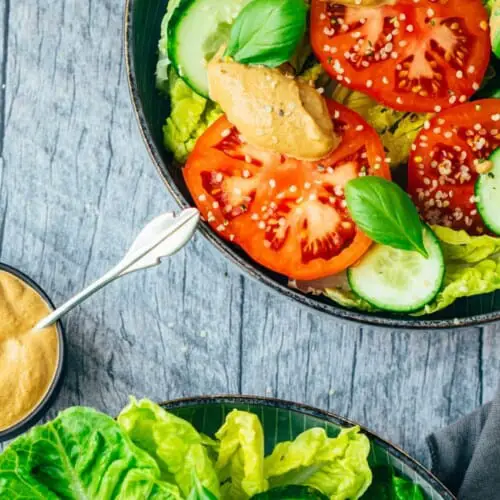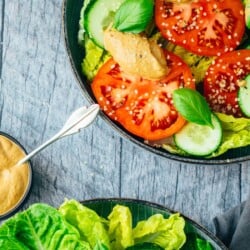 Salad with creamy hemp tomato dressing (oil-free)
Crisp salad with delicious creamy dressing made from sun-dried tomatoes and hemp seeds. Perfectly combined with fresh salad leaves, cucumbers, tomatoes and whatever else the regional vegetable selection has to offer.
AUTOR: VEGANEVIBES
FOR THE SALAD:
225

g

mixed green salad

Arugula, or other lettuce to taste, 3 cups

150

g

Tomatoes

sliced, 1 cup

120

g

Cucumber

sliced, 1 cup

optional further salad or vegetables as desired
SUPPLIES:
Anleitung 
FOR THE DRESSING For the dressing, weigh out the dried tomatoes.

Pour into a glass or bowl and pour hot water over it. Leave to infuse for 5-10 minutes. Then strain and place in a blender.

240 ml warm water for dilution

Add all other ingredients to the blender.


15 ml maple syrup,

15 ml Balsamic vinegar,

1 tbspn Basil,

1 tbspn Oregano,

½ tbspn Thyme,

½ tbspn Rosemary,

½ tbspn Garlic powder or a fresh clove of garlic,

Sea salt to taste,

optional black pepper to taste,

30 g Hemp seed,

*Alternatively use a ready-made Italian spice blend.

Blend on high speed until a creamy sauce is formed.

Place in a bowl and dress salad.


To serve, divide leaf lettuce, tomatoes, cucumbers and (optional) beans between 2 large or 4 small plates, pour dressing over, garnish with hemp seeds and serve with fresh spelt bread (optional). Enjoy!


225 g mixed green salad,

150 g Tomatoes,

120 g Cucumber,

optional 240g white beans – drained and washed – equivalent to a can or jar of 400g before draining,

optional further salad or vegetables as desired

Best fresh! Store dressing in an airtight container in the refrigerator for up to 2 days.

Nährwertangaben
Serving:
1
Portion
Calories:
93
kcal
Carbohydrates:
11
g
Protein:
4
g
Fat:
3
g
Sodium:
33
mg
Potassium:
440
mg
Fiber:
1
g
Sugar:
6
g
Vitamin A:
1080
IU
Vitamin C:
21.6
mg
Calcium:
41
mg
Iron:
2.2
mg