Creamy salad with red cabbage and lentils is an absolute highlight. I am currently looking for easy and delicious dishes that are healthy. This sounds banal and maybe you think to yourself that this has always been the motto here. The difference is that right now I'm trying to incorporate different elements into each dish to make it as full-flavored as possible. Of course, it also has to taste good, that goes without saying. This fine salad my husband and I ate for two days. Once pure and then mixed with buckwheat noodles. Very fine, I can only say, let's get started together.
Creamy salad with red cabbage and lentils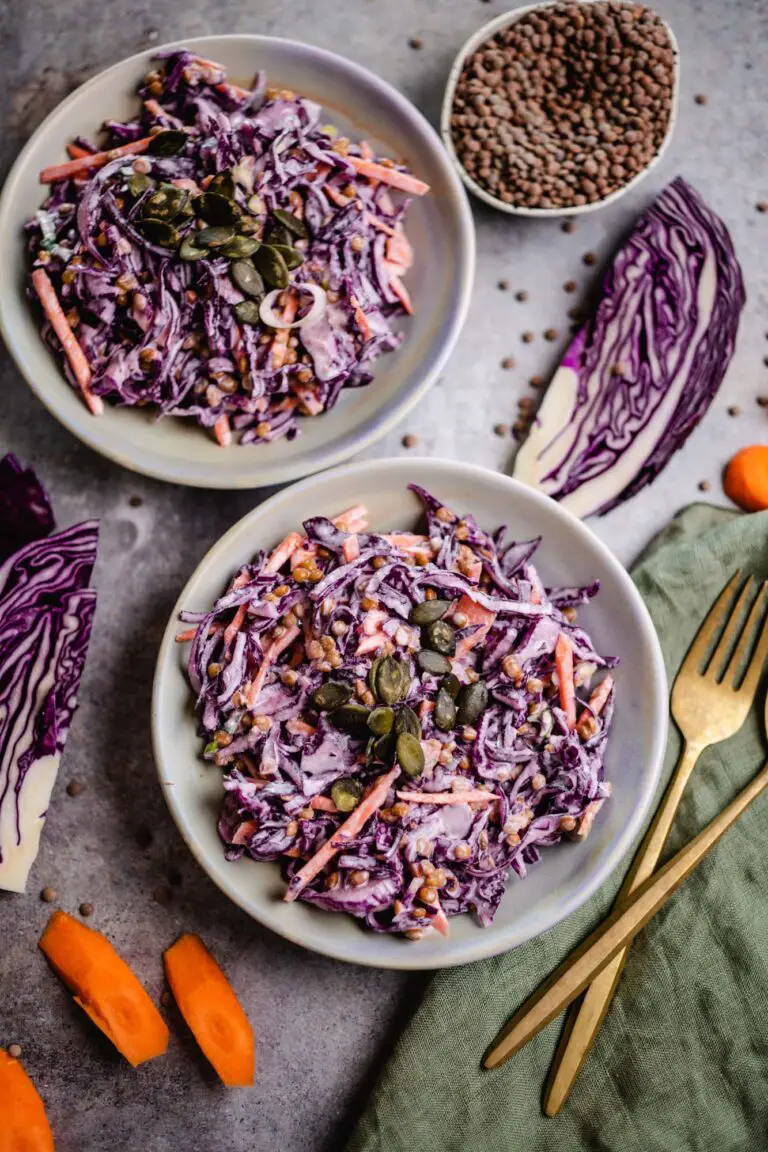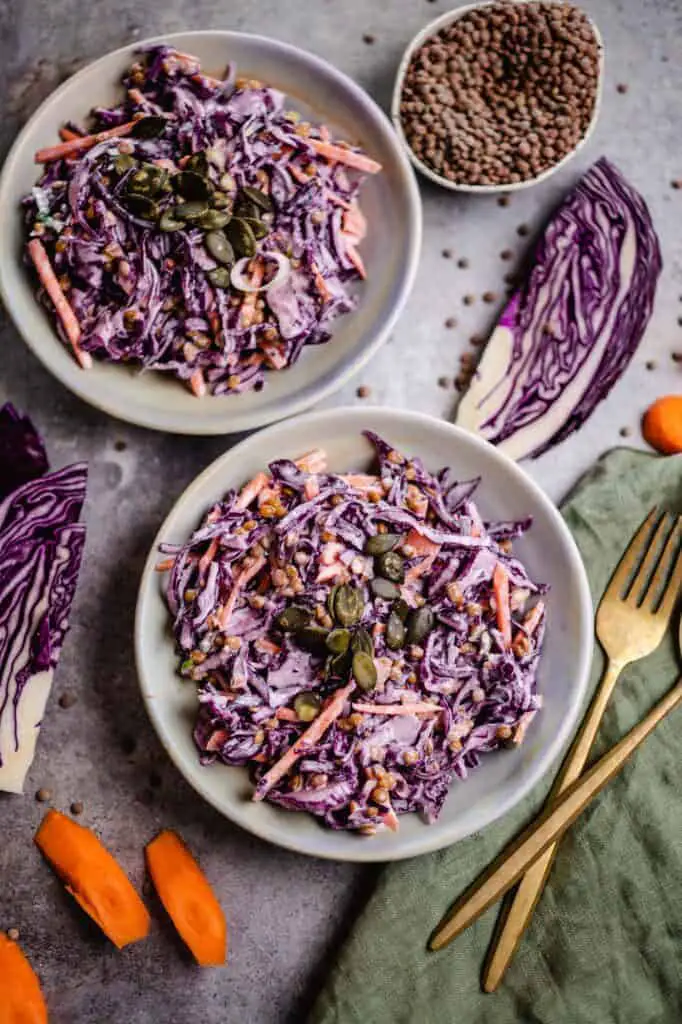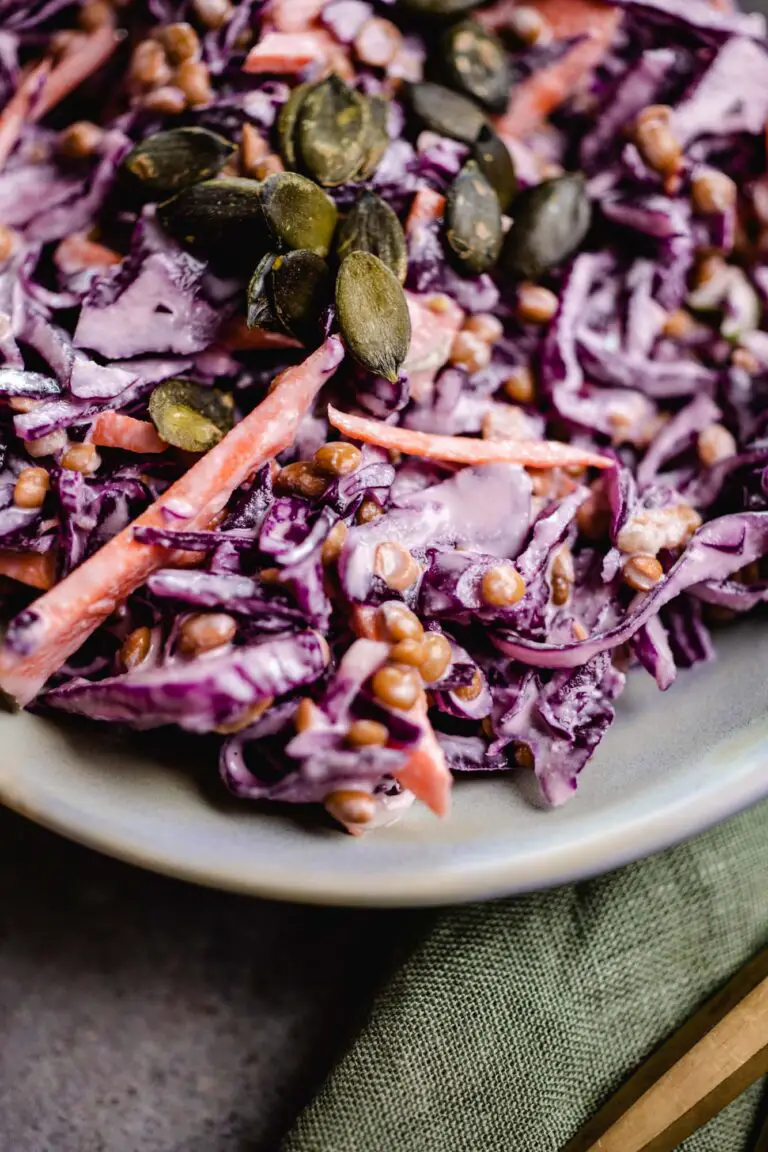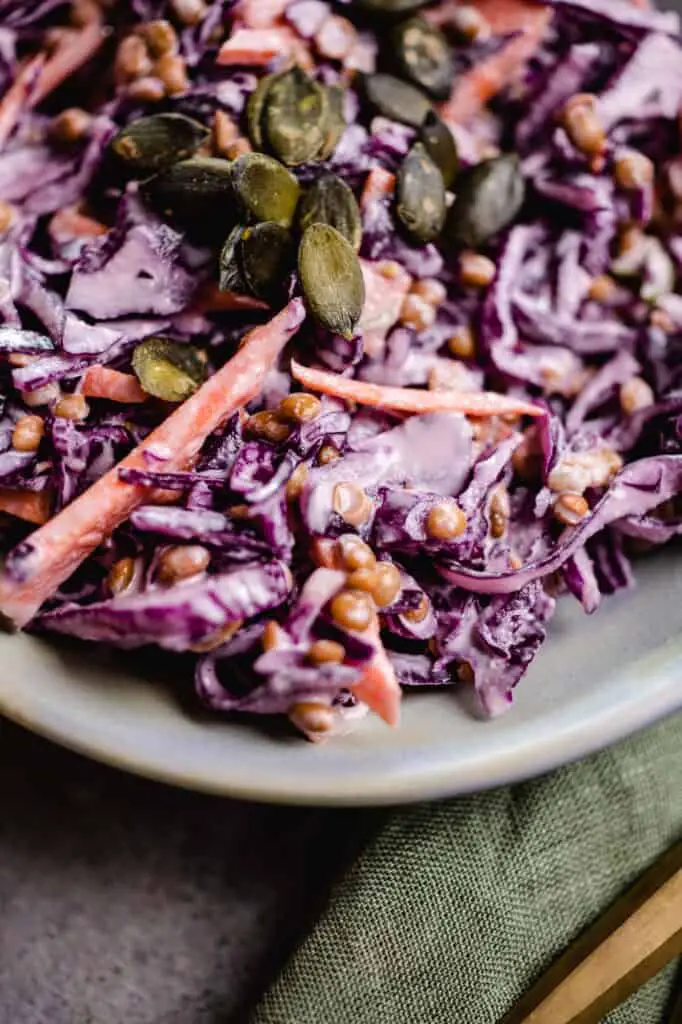 Basically, the salad consists of red cabbage, carrots and lentils. Add to this a fine dressing of cashews, oat milk, lemon juice, yeast flakes, mustard and garlic granules. All this is finely mixed and mixed with the vegetables.
TIP: If you have small powerful blender, then I recommend my guide on how to properly soak cashews.
The trick with red cabbage is that I first mix it with a little salt and really knead it with my hands. This breaks up the structures and the cabbage becomes a little softer and more digestible. But it remains nice and crisp and firm to the bite.
Simple vegan salads make yourself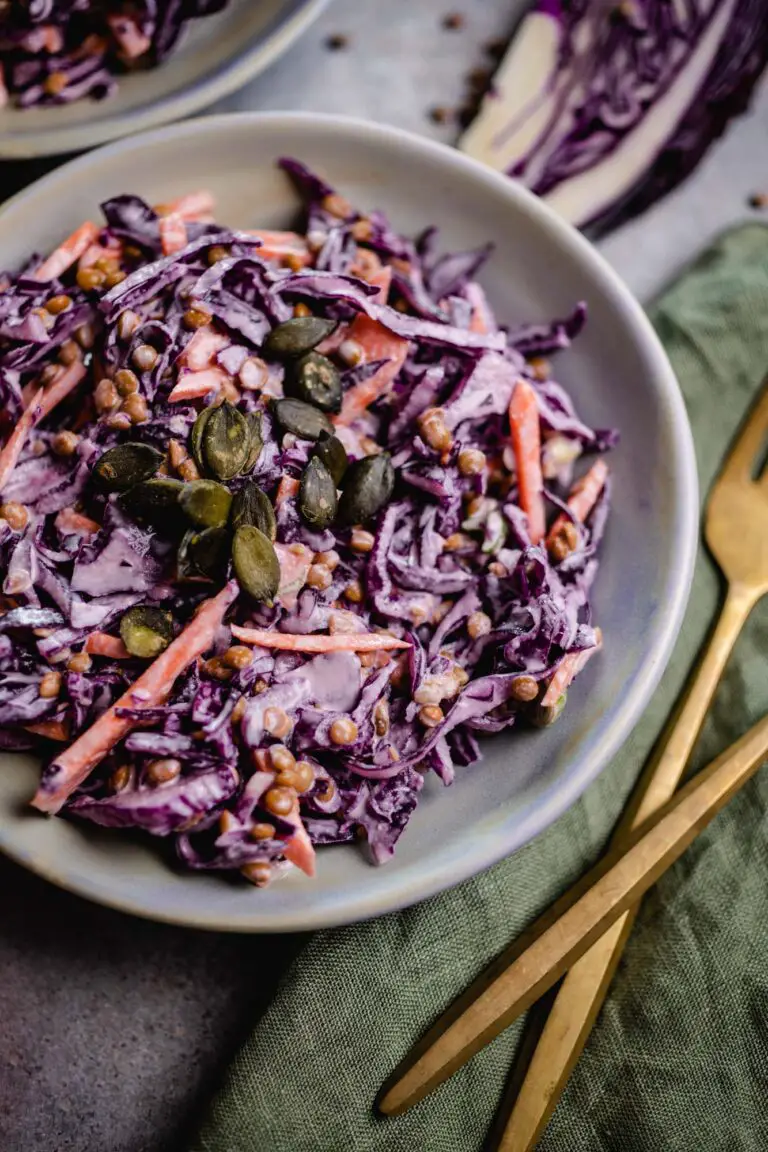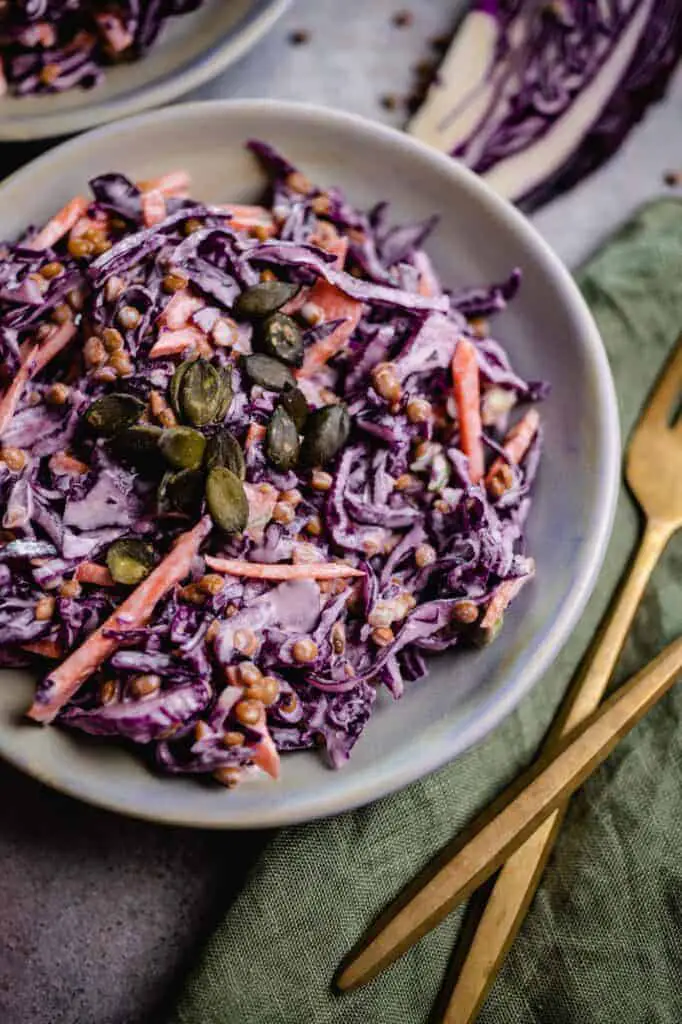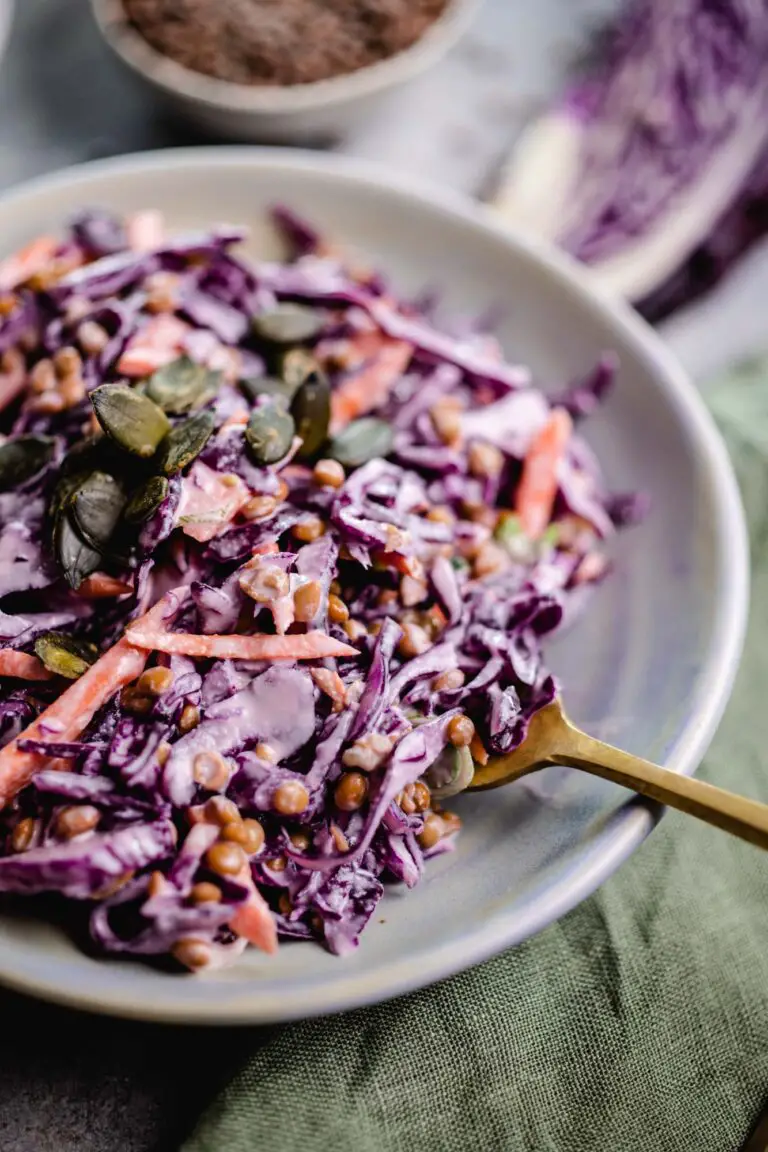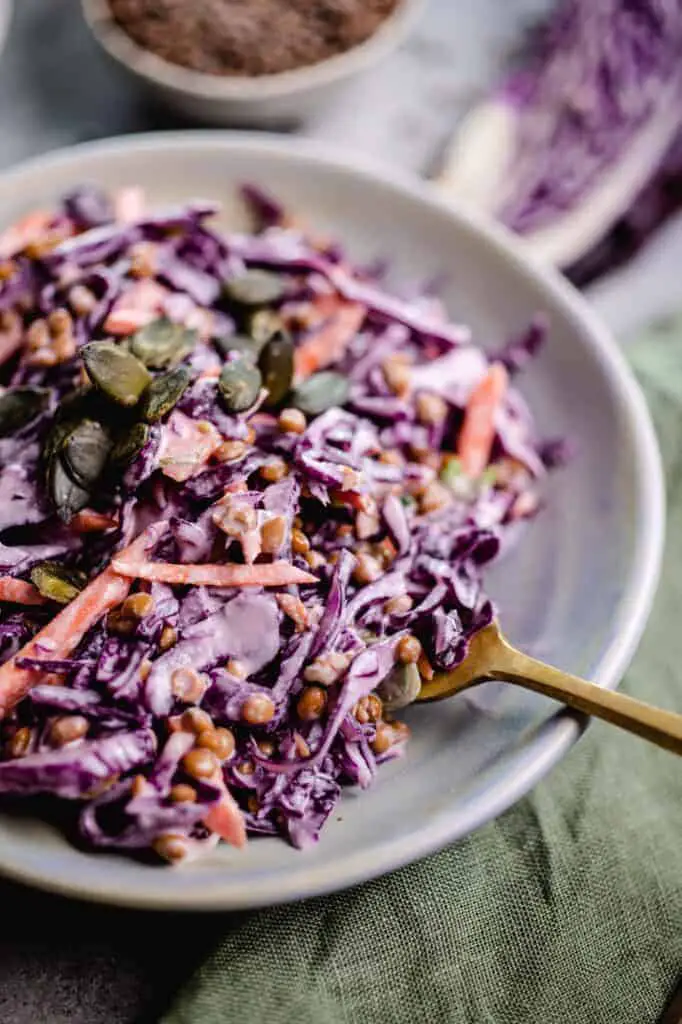 When everything is mixed together, the fine salad can also be served immediately. I like to add a handful of pumpkin seeds on top. My husband doesn't like it because he thinks the salad tastes better without it.
TIP: If you want to make a full-flavored pasta salad out of it, mix one serving each with a handful of buckwheat noodles. We tried it and it tasted great.
A few more words about our main ingredient, red cabbage. The herb is very healthy and, in addition to vitamins B6, B9, C, E and K, provides the minerals magnesium, calcium, potassium, chloride and sulfur. In addition, red cabbage contains diindolylmethane (DIM), which, according to the literature, inhibits two proteins during digestion that may play a role in the development of cancer. In addition, DIM can help regulate hormone balance and can be used for menopausal symptoms. Not to forget another exciting ingredient, mustard oil glycoside. It is known as an aid for diabetes, respiratory diseases and obesity. Our body converts the mustard oil glycoside into sulforaphane, which is said to have an antibacterial effect, especially in bladder infections. Incidentally, the red pigment in red cabbage belongs to the plant pigments of anthocyanins. These are supposed to reduce the risk of inflammatory processes in the body, which are the development of diabetes type 2, neurodermatitis and other common diseases.
If you're looking for a different, delicious salad today, I have the following suggestions for you:
The creamy salad with red cabbage and lentils is:
hearty
High protein
creamy
filling
Easy to make
Well, fancy this fine raw food variation? I wish you a lot of fun in recooking and of course a review at the bottom of this page. If you post a picture, use the hashtag #veganevibes.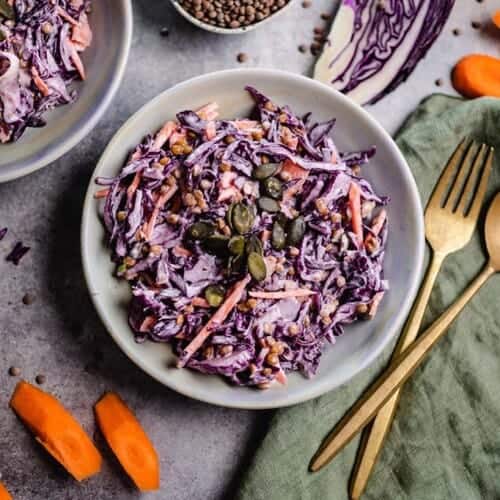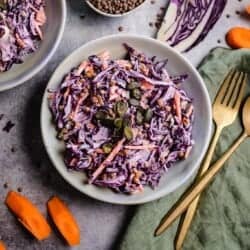 Creamy salad with red cabbage and lentils
Who's up for a fine, creamy, flavorful and nutrient-rich salad with red cabbage and lentils? This power salad is packed with vitamins, minerals and phytochemicals. Vegan, gluten free and high in fiber.
AUTOR: VEGANEVIBES
FOR THE SALAD:
1

kg

Red cabbage

Stalk removed and cut very finely, e.g. use vegetable slicer

2

Piece

Carrots

medium, cut into sticks

400

g

green lentils

cooked, drained and well washed, alternatively another lentil variety of choice

1

Piece

Spring onion
TO SERVE:
Roasted pumpkin seeds

Fresh parsley
Anleitung 
FOR THE SALAD , place red cabbage, carrots and green lentils in a large salad bowl.

1 kg Red cabbage,

2 Piece Carrots,

400 g green lentils

FOR THE DRESSING provide a blender. Add in cashews, garlic, vegetable milk, nutritional yeast flakes, Dijon mustard, lemon juice and salt. Process on high speed to make a fine sauce.

100 g Cashews,

1 tbspn Garlic granules,

180 ml Plant milk,

1 tbspn Nutritional yeast flakes,

1 tbspn Dijon mustard,

30 ml Lemon juice,

½ tbspn Salt

Add directly to the bowl with the vegetables and mix.

Divide among plates, garnish with parsley and roasted pumpkin seeds and enjoy!

Roasted pumpkin seeds,

Fresh parsley

This delicious salad lasts up to 4 days in the refrigerator. Best when slightly chilled.
Notizen
Nährwertangaben
Serving:
1
Portion
Calories:
608
kcal
Carbohydrates:
92
g
Protein:
36
g
Fat:
13
g
Saturated Fat:
2
g
Polyunsaturated Fat:
3
g
Monounsaturated Fat:
6
g
Sodium:
176
mg
Potassium:
1925
mg
Fiber:
38
g
Sugar:
16
g
Vitamin A:
9271
IU
Vitamin C:
155
mg
Calcium:
254
mg
Iron:
12
mg