A quick couscous salad with lots of colorful veggies is just the answer you need on "I don't feel like cooking" days. Granted, you have to do a little whittling, but it can be fun with the right music. After a few cloudy days, it's supposed to get really nice again and I'm looking forward to barbecues again. My motto this summer is "meat-free grilling" and I want to show that you can also create really good recipes with mushrooms, eggplant and other wonderful vegetables. My oyster-mushroom skewers have at least already made it into the online edition of ZEIT Magazine. Today, though, it's less about the Main Courses and more about the side dishes, and this couscous salad is a real flatterer because it's really quick to make. You can also start when the visitor is already in the door. So, I would say we start.
Quick coucous salad with colorful vegetables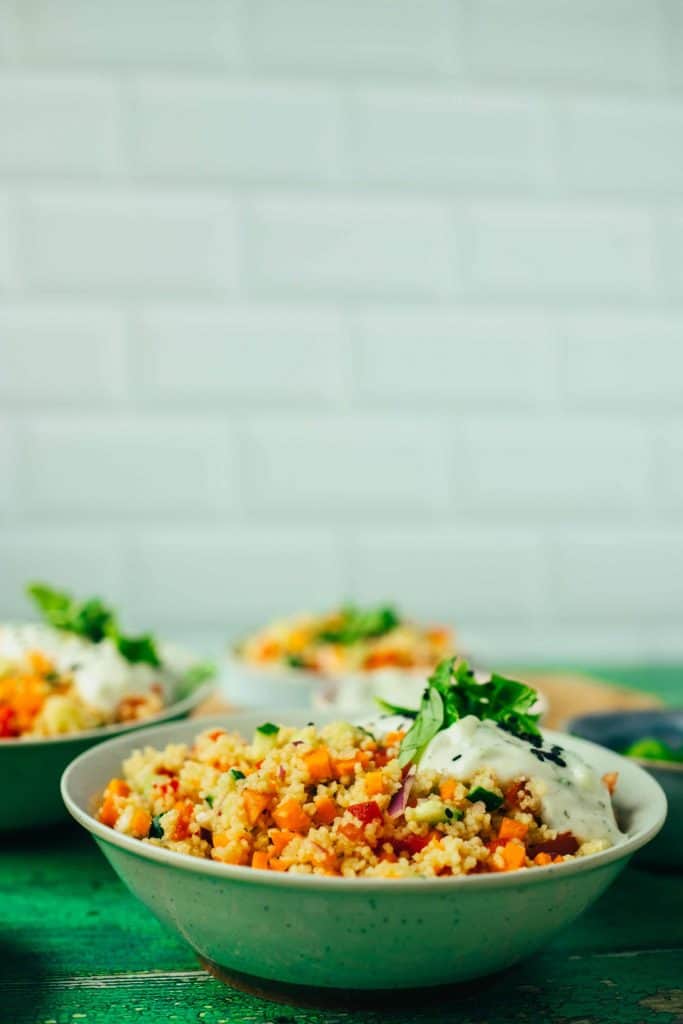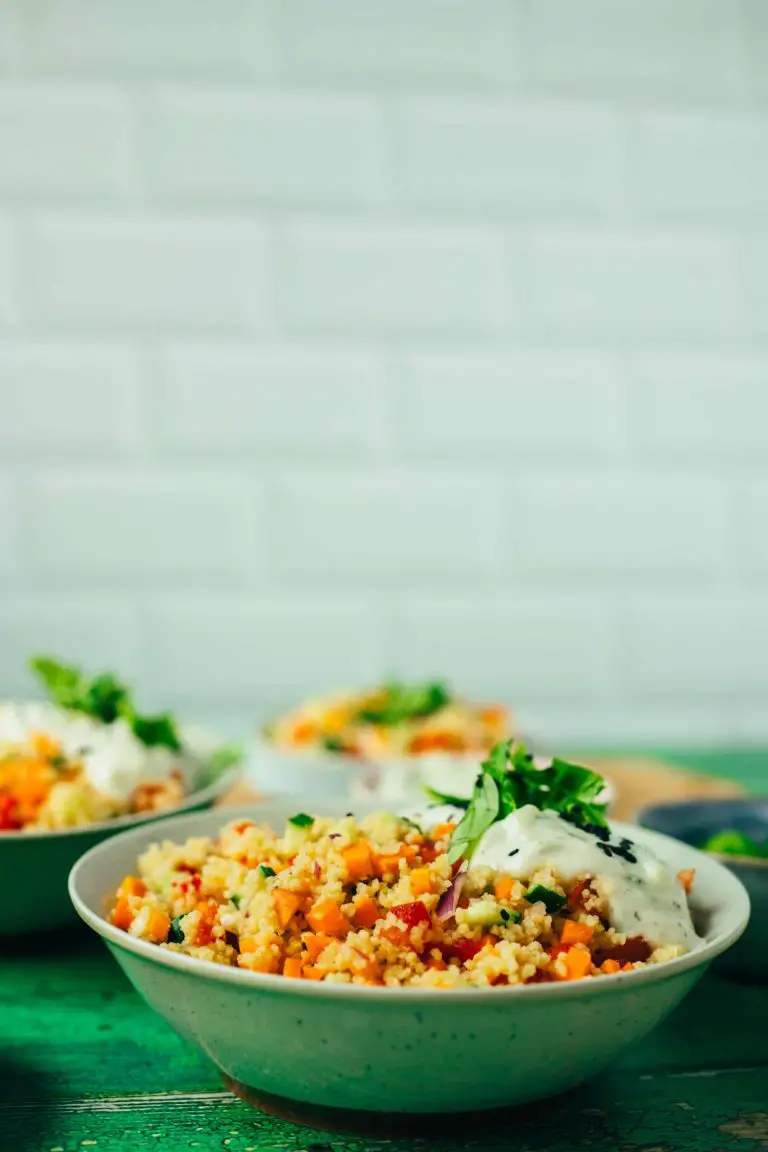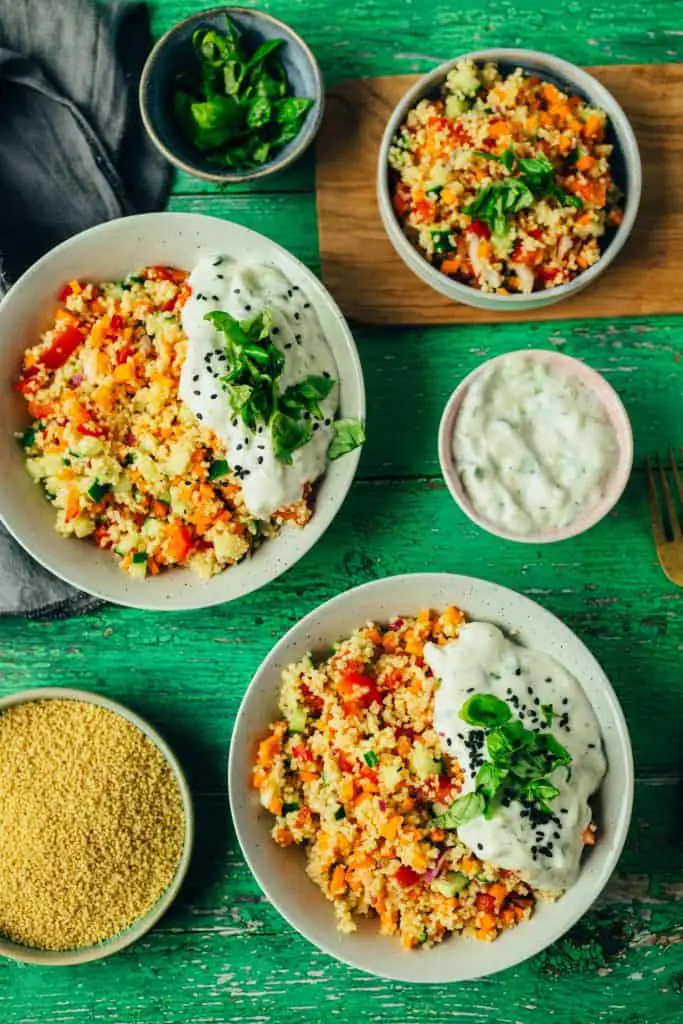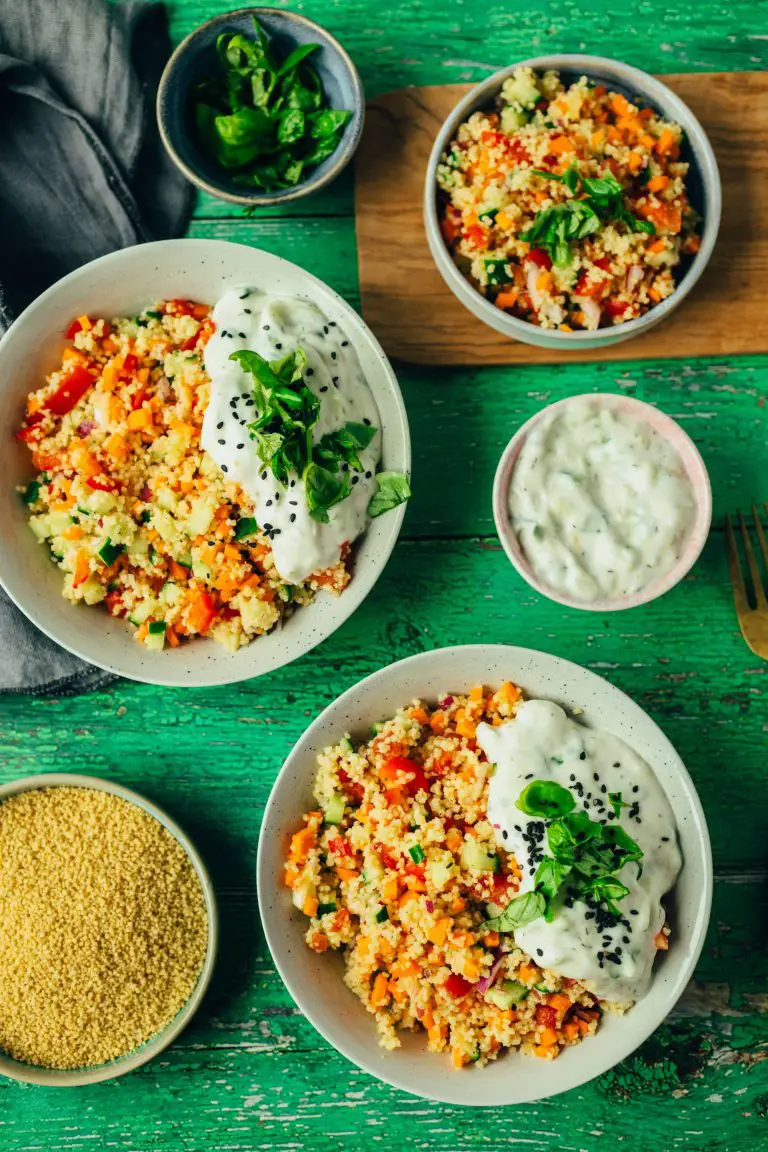 Right now I'm not a big fan of leaf lettuce, and I can't even put my finger on what it is. Maybe because I don't grow any myself yet and the plastic-wrapped ready-made salad from the supermarket doesn't appeal to me at all. That's exactly why I looked around for alternatives and that's when I came up with this couscous salad. Please don't misunderstand, I love the fresh, unpackaged organic salads from Ökokiste, however, it only comes once a week. Maybe drone delivery will soon work, such an organic salad fresh from the field directly into the kitchen? That would be something.
I make the salad with whole grain couscous, lots of fresh, chopped veggies and a really tasty dressing. While the couscous soaks in vegetable broth, I chop the vegetables and stir the dressing. After 10 minutes, everything is mixed together and ready to serve. The salad is then still lukewarm and goes perfectly with main dishes from the grill or from the pan.
Quick vegan salads are high on my popularity scale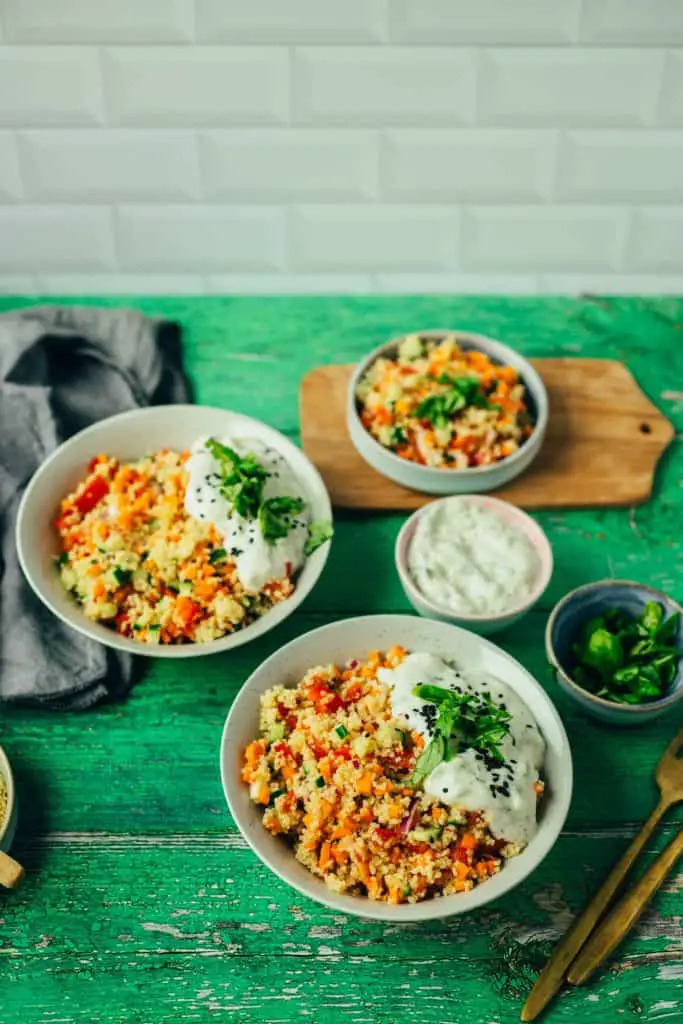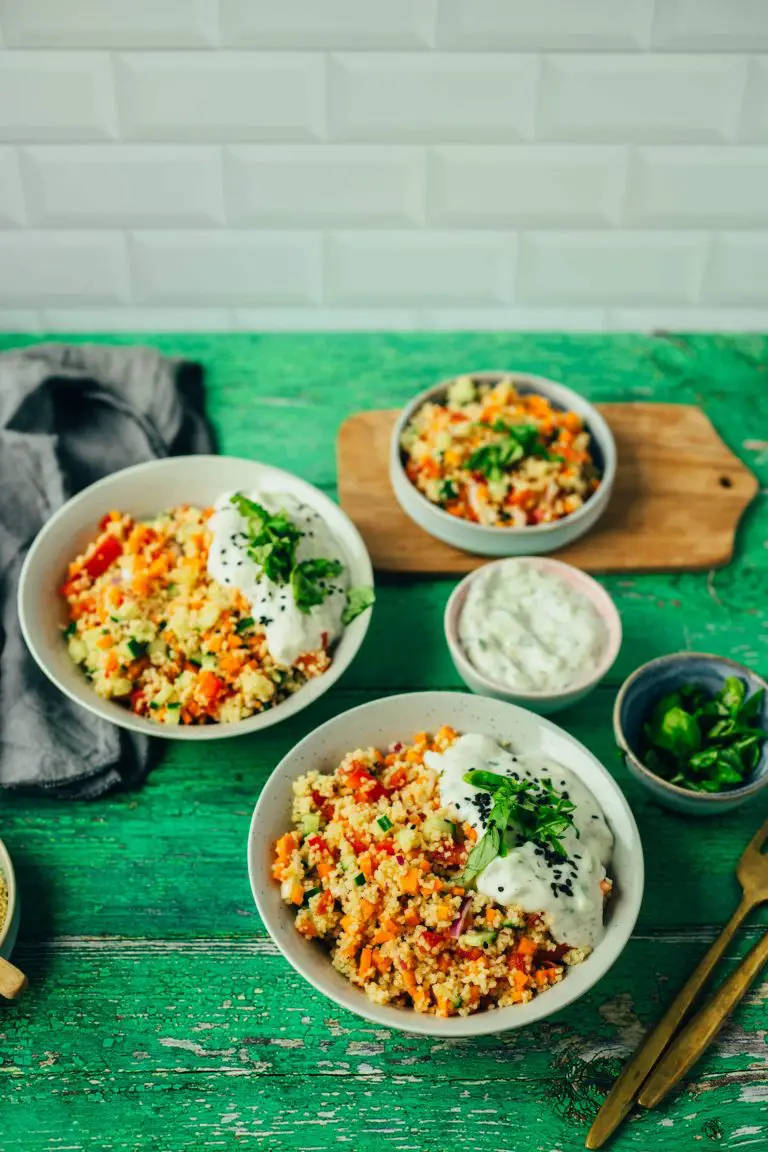 With this salad you may once again get creative. In terms of vegetables, almost everything is allowed and I have summarized my favorite vegetables here:
Carrots
Cucumbers
Red onion
Paprika
Tomatoes
Spring onion
Cherry tomatoes
Fried mushrooms
Pomegranate seeds or raisins for an oriental flair
When it comes to dressing, there are equally endless variations. In addition to the simple vinegar and oil dressing, I invite you to incorporate other spice blends. Ras-al-Hanout, cumin or even a curry mixture are ideal here.
What actually is couscous?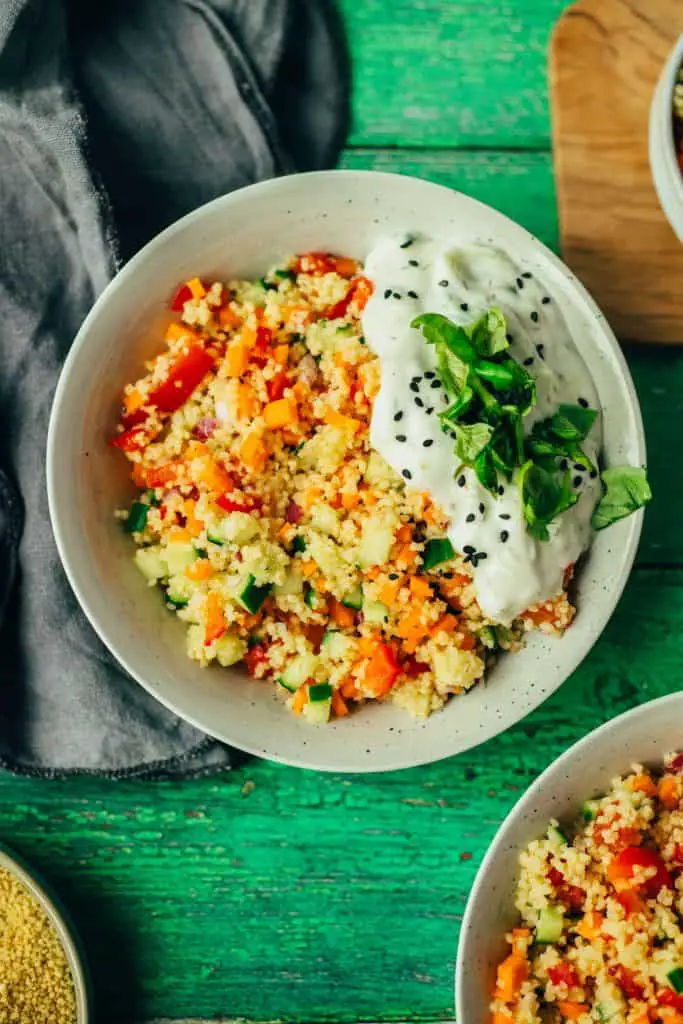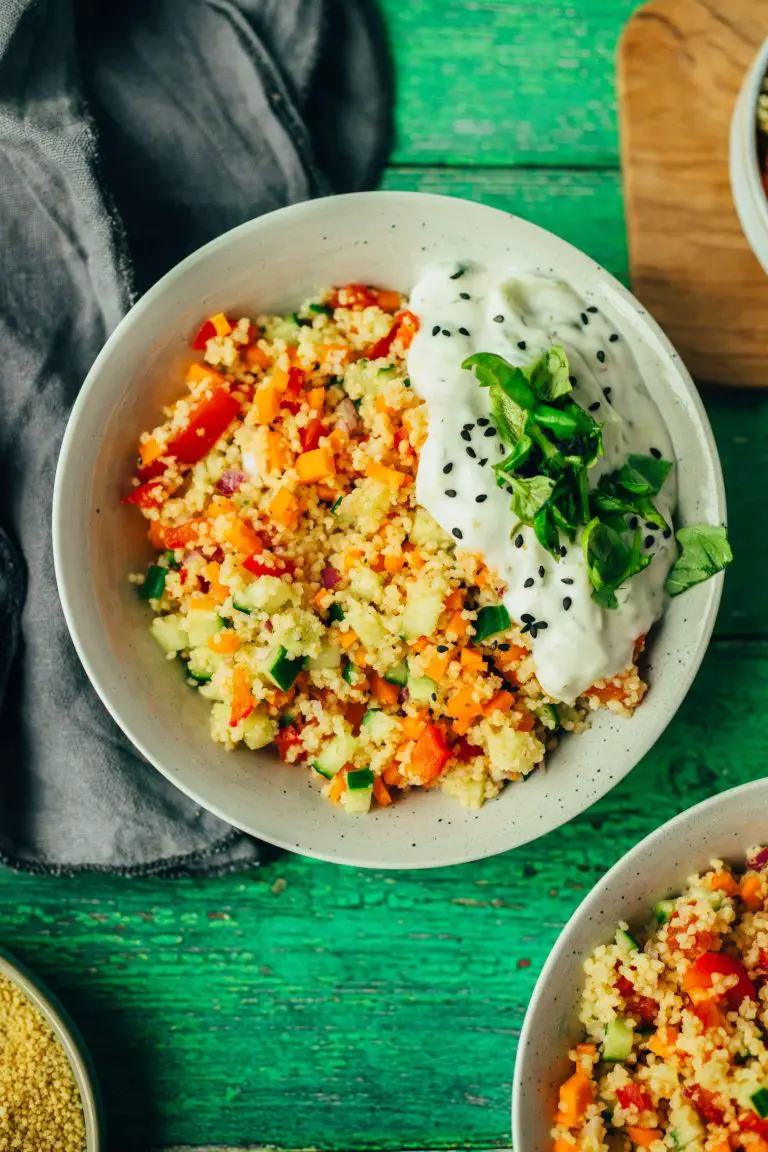 Couscous is an oriental specialty that is particularly at home in North Africa and Tunisia. The name sounds oriental, however, it is plain, often domestic grain. Couscous can be made from durum wheat, barley or millet. In this process, the grain is milled, moistened, pre-cooked and then dried. This processing method has the advantage of minimizing preparation time and allowing your couscous to be eaten within 10 minutes.
TIP: I always make sure when I buy couscous that it is organic. Conventional wheat farming typically uses a variety of pesticides that are harmful to the environment and wildlife. In addition, there are always pesticide residues in the finished products. So a little extra investment in organic products pays off. I've linked you my favorite product below.
This quick salad is ideal with herbed oyster mushroom skewers, oyster mushroom steaks, seitan burgers, eggplant filets, tempeh skewers or grilled corn on the cob.
The vegan couscous salad (10 minutes) is:
versatile
hearty
Good durable
filling
High fiber
Let's get started with this delicious vegan salad. I wish you a lot of fun with the re-cooking and am happy about a review at the bottom of this page. If you post a picture, use the hashtag #veganevibes.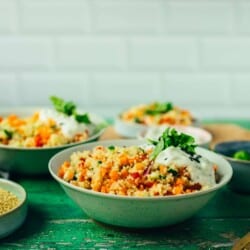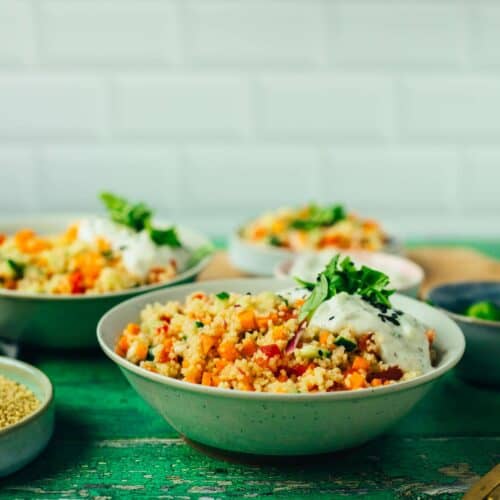 Quick couscous salad (10 minutes)
Quick vegan salad made with whole grain couscous, ready in 10 minutes. Packed with fresh veggies and topped off with a delightful dressing, this salad will pretty up any vegan barbecue.
AUTOR: VEGANEVIBES
FOR THE SALAD:
125

g

Wholemeal couscous

or any other couscous of your choice

250

ml

boiling hot water

15

g

Organic vegetable broth powder

2

Piece

Carrots

peeled and finely diced

1

Piece

red onion

peeled and finely diced

½

Piece

Snake cucumber

finely diced

1

Piece

Tomato

Stalk removed, diced small

½

Piece

red bell bell pepper

core removed, diced small
FOR THE DRESSING:
15

ml

Olive oil

or another oil of your choice, if oil-free simply omit it

30

ml

Water

30

ml

White wine vinegar

or other vinegar of your choice

15

ml

maple syrup

alternatively date sweetener or agave syrup
Anleitung 
Boil 250ml of water (I use my kettle).

Put the couscous in a bowl, add the organic vegetable broth powder and pour the hot water over it once. Cover and set aside.

125 g Wholemeal couscous,

15 g Organic vegetable broth powder

In the meantime, dice all vegetables as described above and set aside.

2 Piece Carrots,

1 Piece red onion,

½ Piece Snake cucumber,

1 Piece Tomato,

½ Piece red bell bell pepper

For the DRESSING, mix olive oil, water, white wine vinegar, maple syrup, salt and pepper and set aside.

15 ml Olive oil,

30 ml Water,

30 ml White wine vinegar,

15 ml maple syrup,

Salt to taste,

Pepper to taste

Cover couscous, add chopped vegetables and pour dressing over. Mix well once, portion and enjoy!

Can be prepared the day before, store covered in the refrigerator. Keeps up to 3 days airtight in the refrigerator.
Nährwertangaben
Serving:
1
Portion
Calories:
107
kcal
Carbohydrates:
19
g
Protein:
3
g
Fat:
3
g
Saturated Fat:
1
g
Sodium:
12
mg
Fiber:
2
g
Sugar:
2
g
Vitamin A:
56
IU
Calcium:
10
mg
Iron:
1
mg