Seitan Burger for the Grill my dears, because the grilling season is in full swing. At the moment the sun is taking a little break, but that should change again from tomorrow. I am looking forward to 20 degrees and sunshine. Finally put the lounger in the garden again and fill up on vitamin D. I don't really like the fluctuating temperatures, especially because you never know what to wear. Too warm, too cold, sweating, freezing, it's all there. I am now a master of the layered look and sometimes look like a peeled onion. Functional undershirt, thin shirt, thin jacket, maybe a fleece and then a trekking jacket with water column. What does this have to do with our Burger to do? Not much, but as you know, Germans love to talk about the weather.
Seitan burger for the grill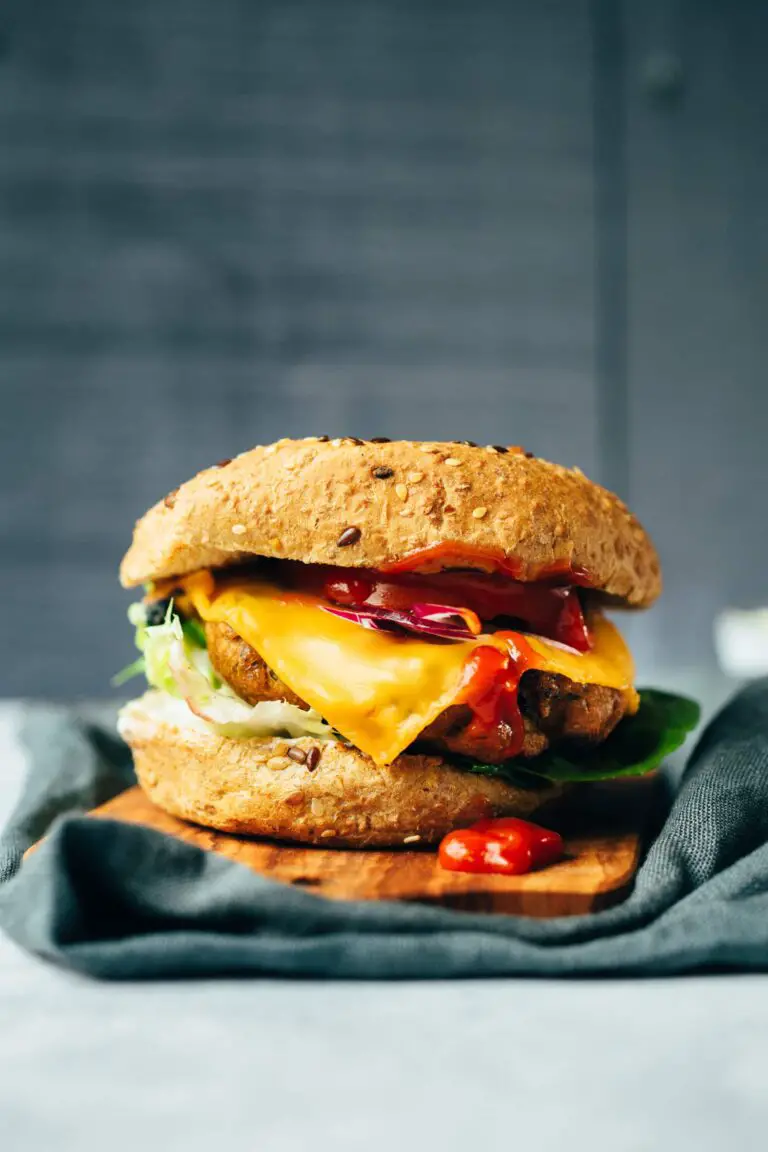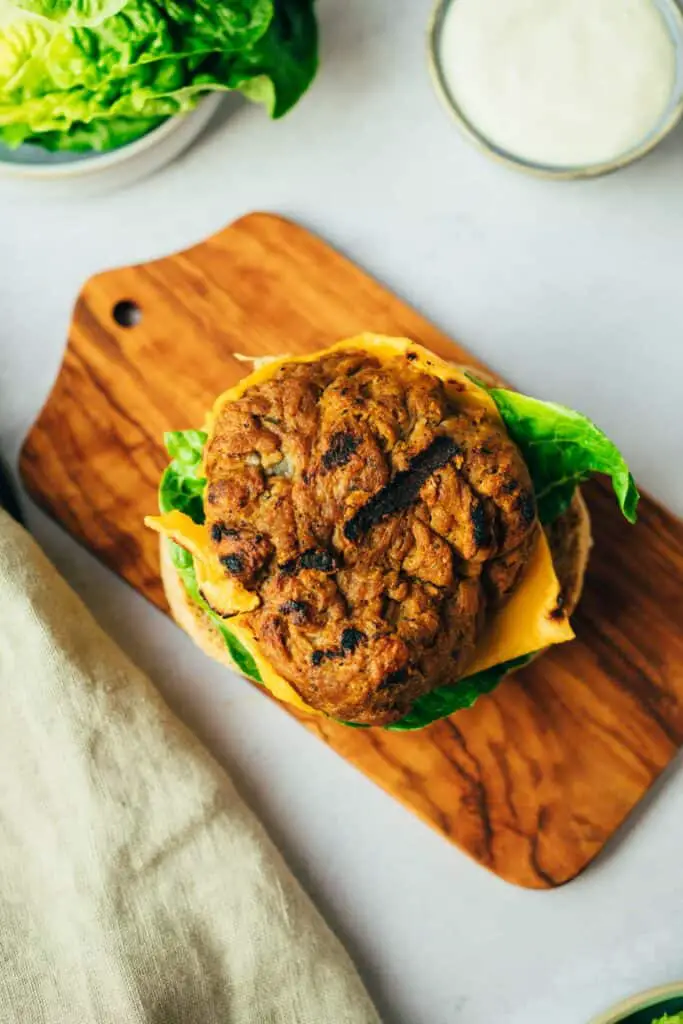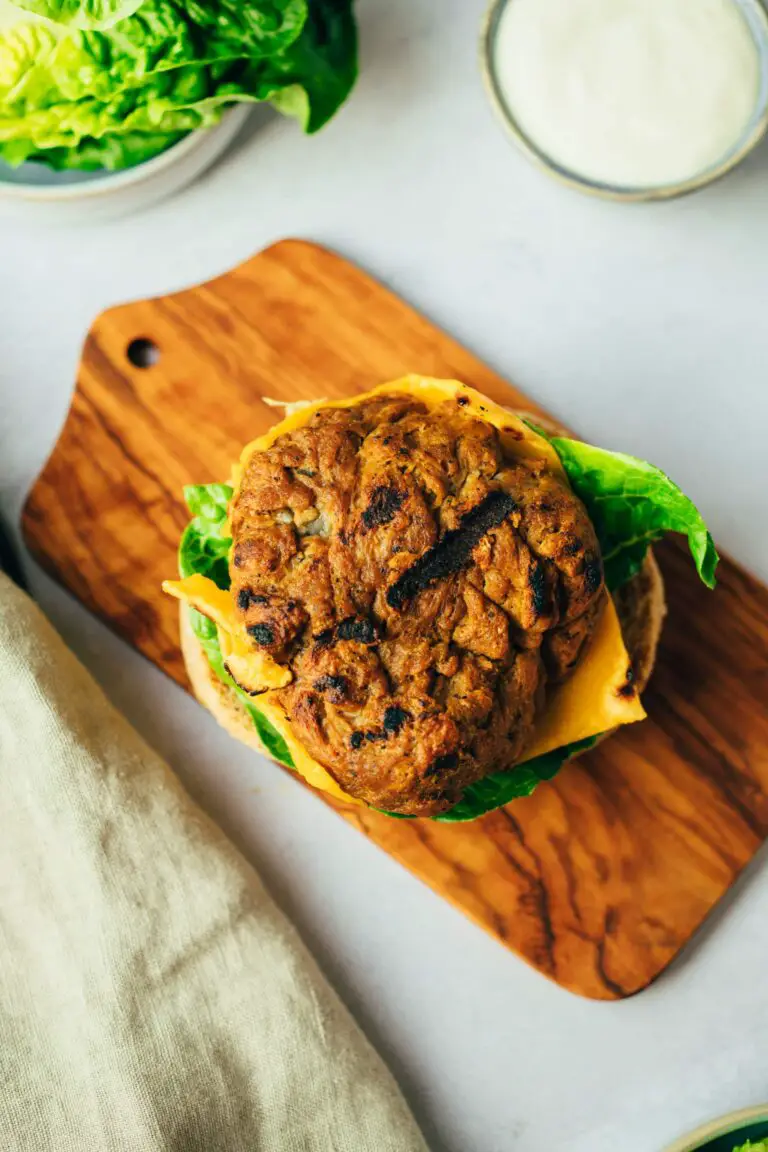 When I think back on how many Burger I have tasted in the last few years. Madness! I am still, and always will be, searching for the perfect burger. Admittedly Beyond Meat is pretty close, but unfortunately no one can quickly recreate it at home in his kitchen. Or is there someone here who has a food lab at home? Basically, you should think a few thoughts in advance, what purpose the vegan burger should serve:
Preparation time: (does it have to be quick, or can I prepare the burger the day before).
Healthy ingredients: What ingredients would I like to have in my burger, are there any intolerances or should it be as healthy as possible? Unfortunately, today's recipe is ruled out if you have a gluten intolerance.
Consistency: do I want it to be a fluffy pattie that I can fry out well in the pan or especially do I want it to look good on the grill?
I'm just thinking back to a party, I think it was about 2 years ago. Full of pride I had the vegan burger patties preformed and my brother-in-law packed them on the grill. The rest of the story, you can probably guess now. The Burger fell apart completely and I could only save parts of them. With today's recipe, I can promise you one thing, these patties are one hundred percent likely to stay whole and grill up really nice. Taste-wise, they also make a hell of a figure. Firm to the bite, aromatic and smoky. Just perfect for me.
Vegan Burger Grilling! Yes!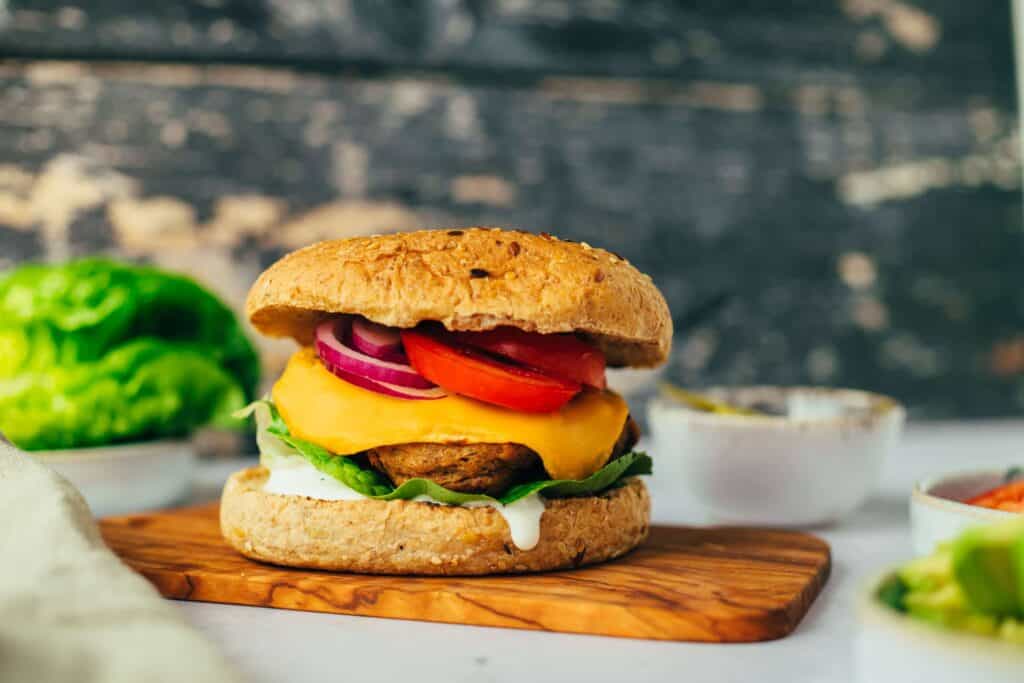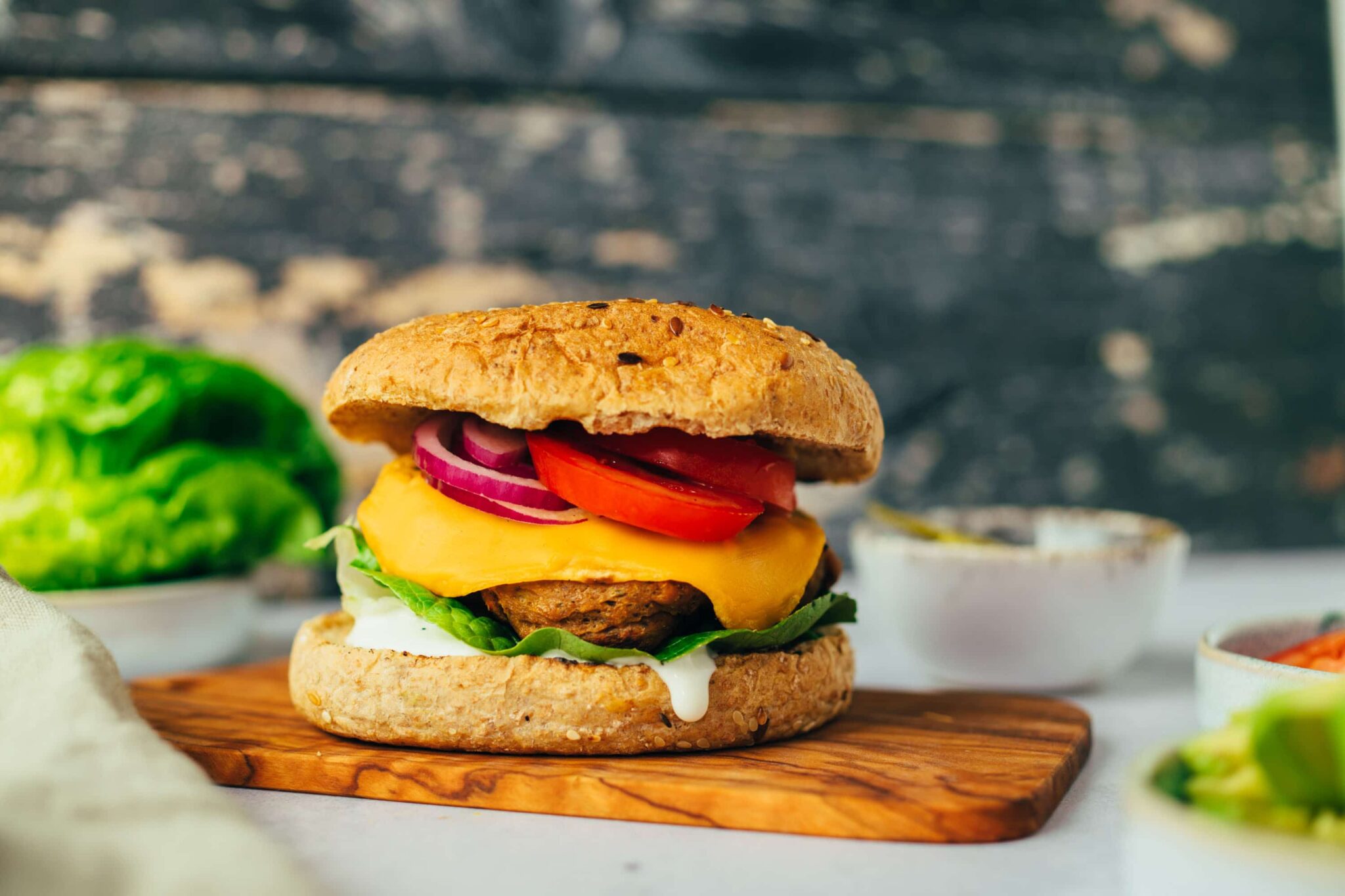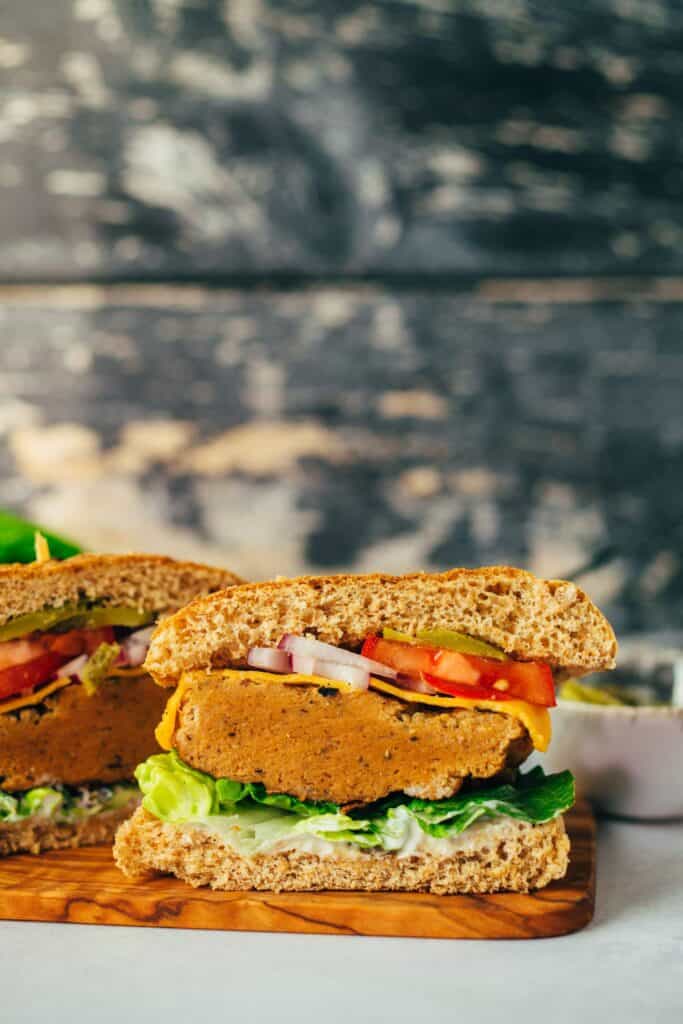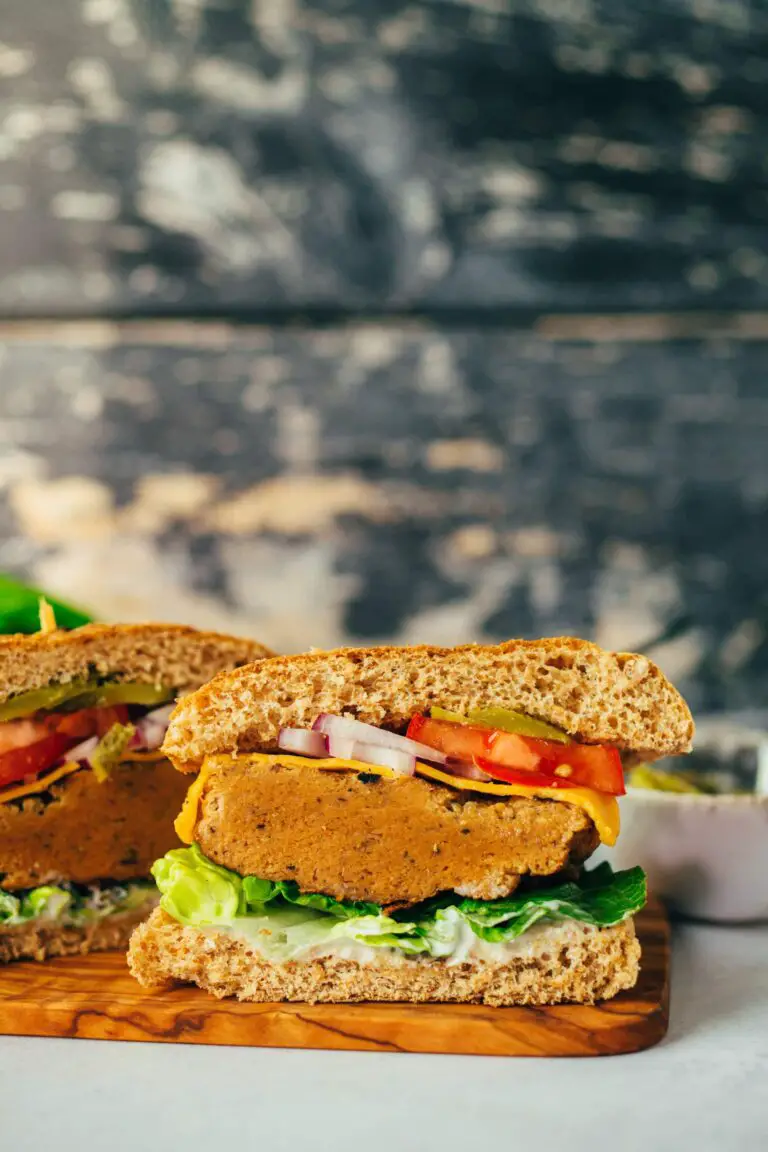 For this Recipe I must apologize at this point. why? Because, unfortunately, it is not quick and easy. But I promise you that I have prepared it for you as quickly and easily as possible.
Step 1

: Put porcini mushrooms in boiling hot broth and let them steep (If you don't have dried porcini mushrooms at home, no problem either. However, they are an excellent flavor carrier).

Step 2:

Heat the pan, sauté the onion and garlic.

Step 3:

Process porcini mushrooms in broth, onion & garlic, tomato paste, black beans, tamari, balsamic vinegar, mixed Italian herbs, smoked paprika, Bird Eye Chili, salt and pepper in a food processor to a fine paste.

Step 4:

Pour mixture into a large bowl, add seitan powder, chickpea flour and nutritional yeast flakes.
Here's the kicker, watch out! Either knead really hard with your hands until the seitan mixture has combined super well, becoming firm and "pulling". This can mean up to 10 minutes of manual labor.
TIP: For those who like it more convenient, I recommend processing the seitan mixture in a food processor. I used my Kitchen Aid here. However, all other food processors with a kneading attachment will also work.
What actually is seitan?
When the Seitan measures is finished kneading, you have two options. Either do as I do and form equally sized patties by hand. This can be a bit of a challenge because the seitan is quite chewy. Otherwise, I recommend you roll out the mixture evenly with a pastry roller and then cut out the burgers in circles according to your preference. The last step is then cooking in a broth, which takes another 55 minutes. Then they are ready and poof on the grill!
Let's move on to the all-important question of what seitan actually is.
Seitan, often called "wheat meat," was supposedly invented by Buddhist Zen monks in Japan several hundred years ago. The monks live strictly vegetarian and thought such a "Seitan Döner" would be something fine. Okay, I admit that I made up the kebab thing.
Here are the facts:
Seitan is made from wheat protein (gluten) with a firm-to-the-bite, meat-like consistency.
Spices and marinades are particularly well accepted and the texture is especially tender.
Seitan is not gluten-free and should definitely not be eaten by people with gluten intolerance or celiac disease.
INTERESTING: contains more protein and less fat than tofu (seitan 75g vs. tofu 8g / per 100g).
Those were all the important facts about seitan Burger and a tip at the end: The seitan burger patties are almost ready cooked and should be sizzled on the grill only 3-4 minutes per side. Then they are nice and hot and have a great grilled taste.
The seitan burger for grilling is:
hearty
Easy to manufacture
aromatic
Bite size
Grill-fest
Extremely tasty
If it can't be the seitan burger today, then I recommend the Burger with black beans, the ultimate Burger with Geling Guarantee or the Jackfruit Burger with Cole Slaw .
Well have you got a desire for this barbecue-fast Burger ? I wish you a lot of fun with the re-cooking and of course I am happy about a review at the bottom of this page. If you post a picture, use the hashtag #veganevibes.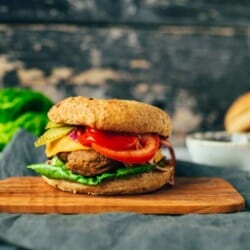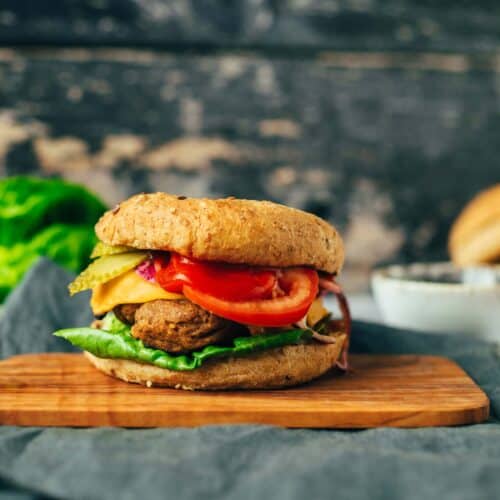 Seitan Burger (for grilling)
Bite- and grill-proof vegan burger made with seitan, black beans, chickpea flour and great flavorful spices. Perfect for the pan or grill, a treat for all lovers of vegan burgers.
AUTOR: VEGANEVIBES
FOR THE BURGERS (WET INGREDIENTS):
300

ml

Vegetable broth

I use an organic soup powder here

3

tbspn

Porcini mushrooms

dried, optional, omit if not at hand

15

g

Frying oil

or other high-heat oil of choice

110

g

red onion

finely chopped (equivalent to a medium onion)

2

Garlic clove

finely chopped or pressed

50

g

black beans

3

tbspn

Tomato paste

1

tbspn

Balsamic vinegar

1

tbspn

Tamari

1

tbspn

Paprika

smoked

2

tbspn

mixed italian herbs

or simply oregano, basil, sage and rosemary in equal parts.

1-2

Bird Eye Chilies

or other chili at will

1

tbspn

Salt

250

g

Seitan powder

50

g

Chickpeas flour

1

tbspn

Nutritional yeast flakes
FOR THE BROWN
1

Liter

Vegetable broth

I use an organic soup powder here

3

Garlic cloves

peeled
TO SERVE:
Burger buns at will

Vegan cheese slices

fusible

Red onion

cut into rings

Romaine lettuce

Vegan mayo

BBQ sauce
Anleitung 
For the burgers, place porcini mushrooms in a bowl and pour hot broth over them, let sit for about 5 minutes.

3 tbspn Porcini mushrooms,

300 ml Vegetable broth

Heat a pan with the oil, add the onion and garlic. Sweat for about 5-7 minutes and then set aside.

15 g Frying oil,

110 g red onion,

2 Garlic clove

Provide a blender, add porcini mushrooms, broth, onion, garlic, black beans, tomato paste, balsamic vinegar, tamari, smoked paprika, Italian herbs, Bird Eye chilies, salt and pepper. Blend once on high speed until a uniform mixture is formed.

300 ml Vegetable broth,

3 tbspn Porcini mushrooms,

110 g red onion,

2 Garlic clove,

50 g black beans,

3 tbspn Tomato paste,

1 tbspn Balsamic vinegar,

1 tbspn Tamari,

1 tbspn Paprika,

2 tbspn mixed italian herbs,

1-2 Bird Eye Chilies,

1 tbspn Salt,

Black pepper to taste

Place mixture in a large bowl, add seitan powder, chickpea flour and nutritional yeast flakes. Knead well with clean hands until an even dough is formed.

250 g Seitan powder,

50 g Chickpeas flour,

1 tbspn Nutritional yeast flakes

IMPORTANT: Now be sure to continue kneading, up to

10 minutes

total or place in a food processor fitted with a dough hook. This step is very important, stir until the dough has a "chewy" consistency (see video). Let rest briefly.

In the meantime, prepare the broth in a large pot. Bring to a boil along with the garlic cloves, then turn down to medium heat.

1 Liter Vegetable broth,

3 Garlic cloves

Divide seitan mixture into 6 equal parts and shape into burger patties by hand. The patties will not be perfect by hand, but will look really nice hand formed. Here you need a little tact, because seitan is quite tough to form.

ALTERNATIVE: Roll out mass whole with a dough roller, about 2 cm thick. Cut out with a knife in the desired size. Save leftovers and use as soup garnish or kebab meat, for example.

Add the finished patties to the broth and simmer, covered, over medium heat for 55 minutes. Important: Do not overcook, but simmer.

After the cooking time Pattiess fish out of the broth and put on a plate.

The patties could be grilled right now. Otherwise, feel free to store in the refrigerator overnight or freeze.

Place on hot grill and grill for 3-4 minutes on each side.

Optionally melt vegan cheese on top.

Place in a bun, garnish with desired toppings, bite into and enjoy.

Burger buns at will,

Vegan cheese slices,

Romaine lettuce,

Vegan mayo,

BBQ sauce

Keeps up to 3 days airtight in the refrigerator or up to 2 months in the freezer.
Nährwertangaben
Serving:
1
Pattie
Calories:
154
kcal
Carbohydrates:
19
g
Protein:
13
g
Fat:
4
g
Saturated Fat:
1
g
Sodium:
1138
mg
Potassium:
240
mg
Fiber:
3
g
Sugar:
4
g
Vitamin A:
544
IU
Vitamin C:
3
mg
Calcium:
12
mg
Iron:
1
mg