The other day I was shopping again at my trusted organic supermarket and for what felt like the hundredth time I passed by Jackfruit passed by. What should I do with it, I asked myself, and what is jackfruit anyway? Questions about questions and one thing I can tell you in advance, the fruit is damn tasty and it can conjure up great dishes. Since I am a big fan of Burgers I have thought of a delicious Recipe thought about it. As always, it's quick to make, delicious, filling and hugely addictive. Are you ready? Then let's get started.
Jackfruit Burger with Cole Slaw Recipe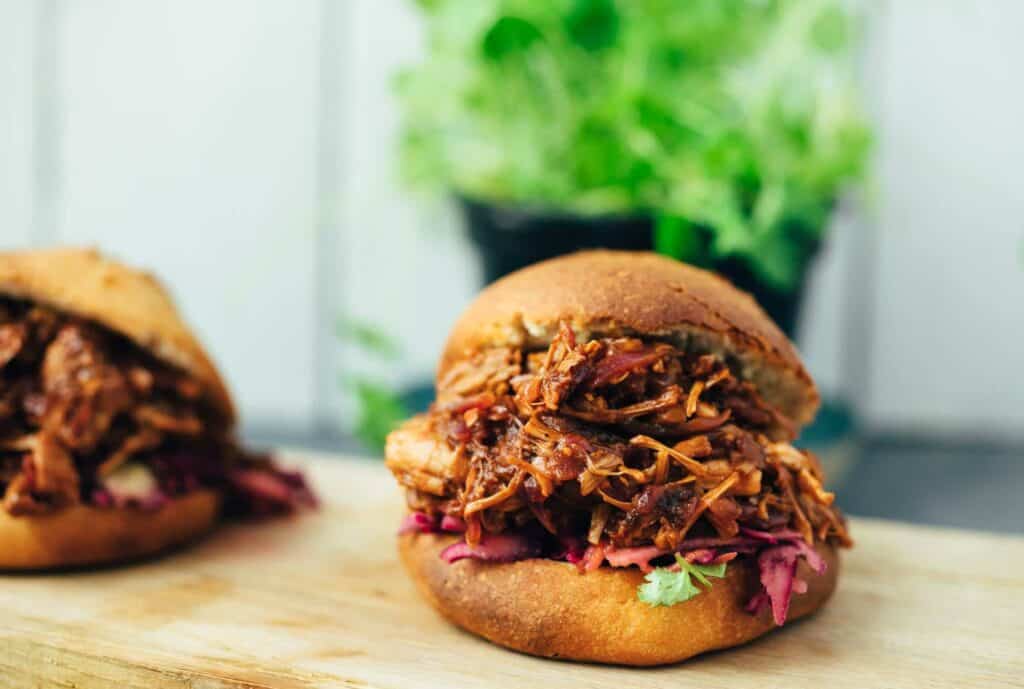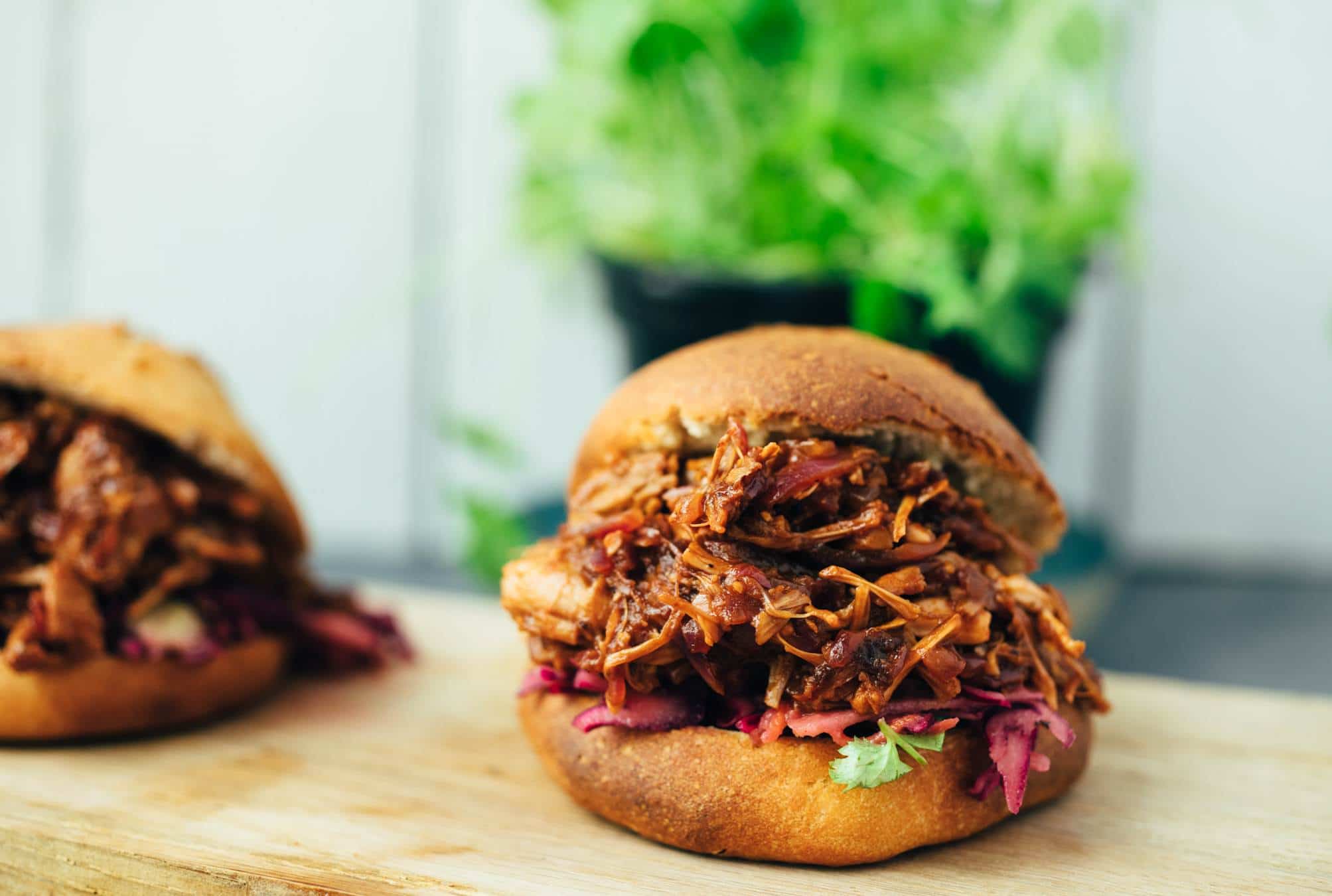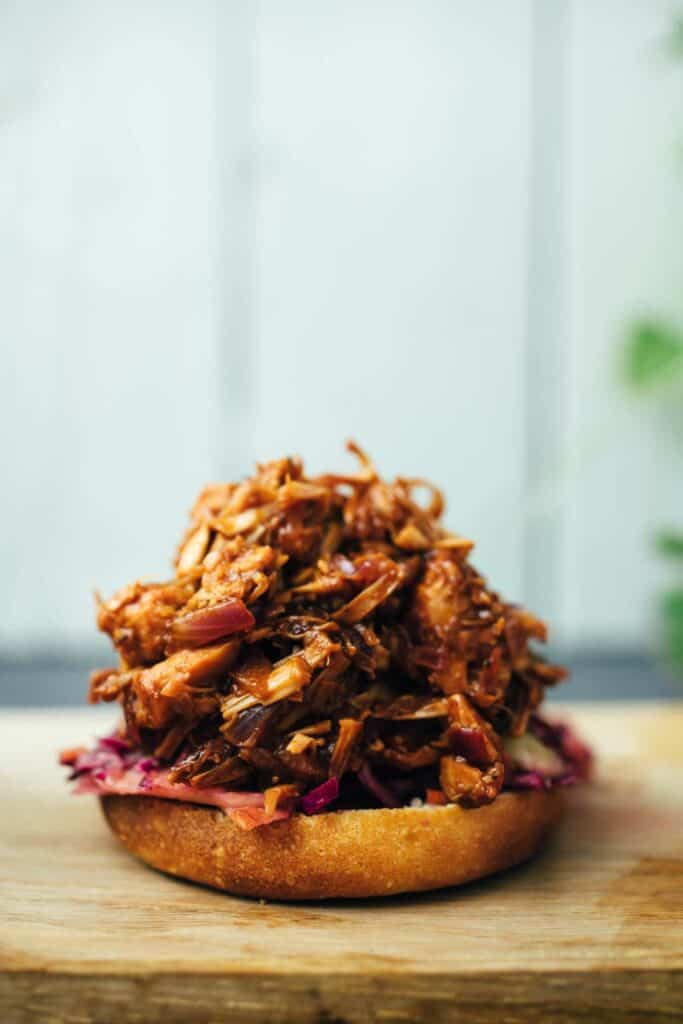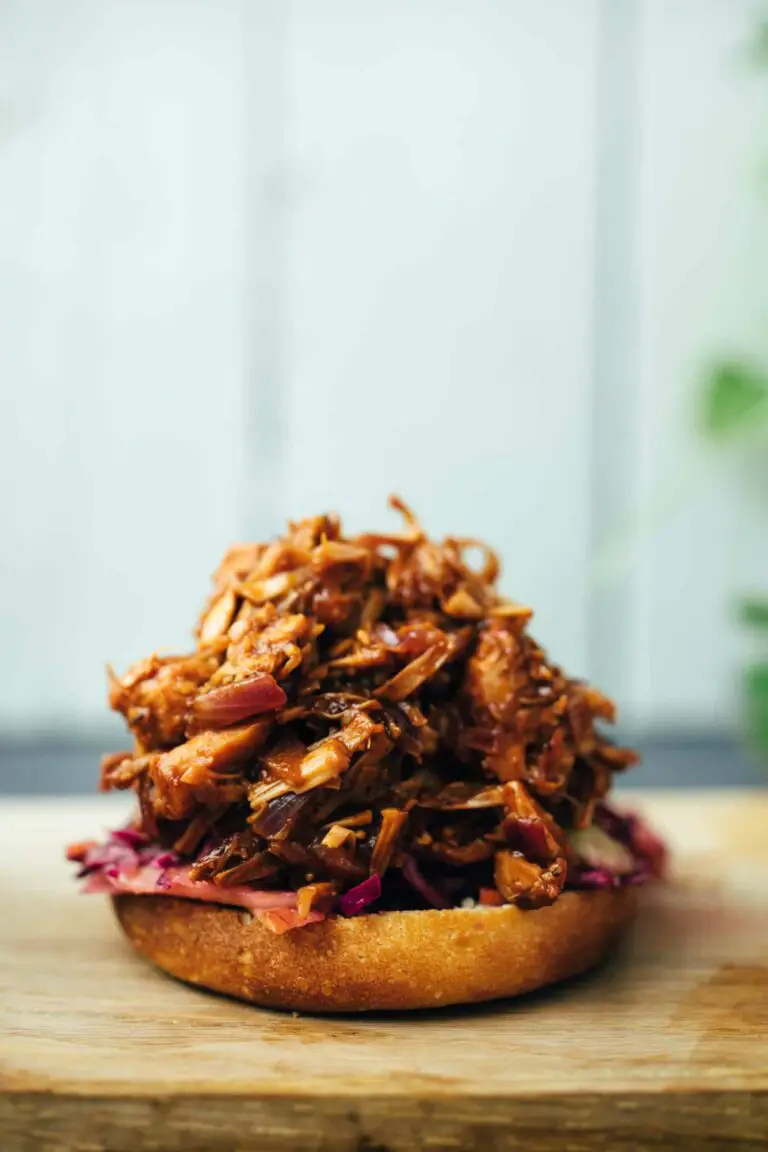 One thing I can tell you in advance, the jackfruit tree does not grow in the home garden. Too bad actually, otherwise I would certainly harvest the thing every day. Joking aside, jackfruit is the fruit of the jackfruit tree and grows in South and Southeast Asia. In countries like India, Sri Lanka or Thailand it belongs to the daily kitchen like the potato or carrot with us. The fruit is virtually a giant among the exotics and can reach up to 35kg in weight.
Here are the TOP advantages of Jackfruit at a glance:
The flesh is fibrous, remains nice and firm to the bite even when cooked, and for that reason alone is the perfect meat substitute. From my point of view, a great change in vegan cuisine.
The fruit is rich in fiber, antioxidants, iron, zinc and potassium
Rich in vitamin A and C
In terms of taste, jackfruit is relatively neutral and therefore incredibly versatile. What goes with it? A crunchy coleslaw with creamy avocado and, of course, lots of barbecue sauce.
Jackfruit Burger Time, Baby!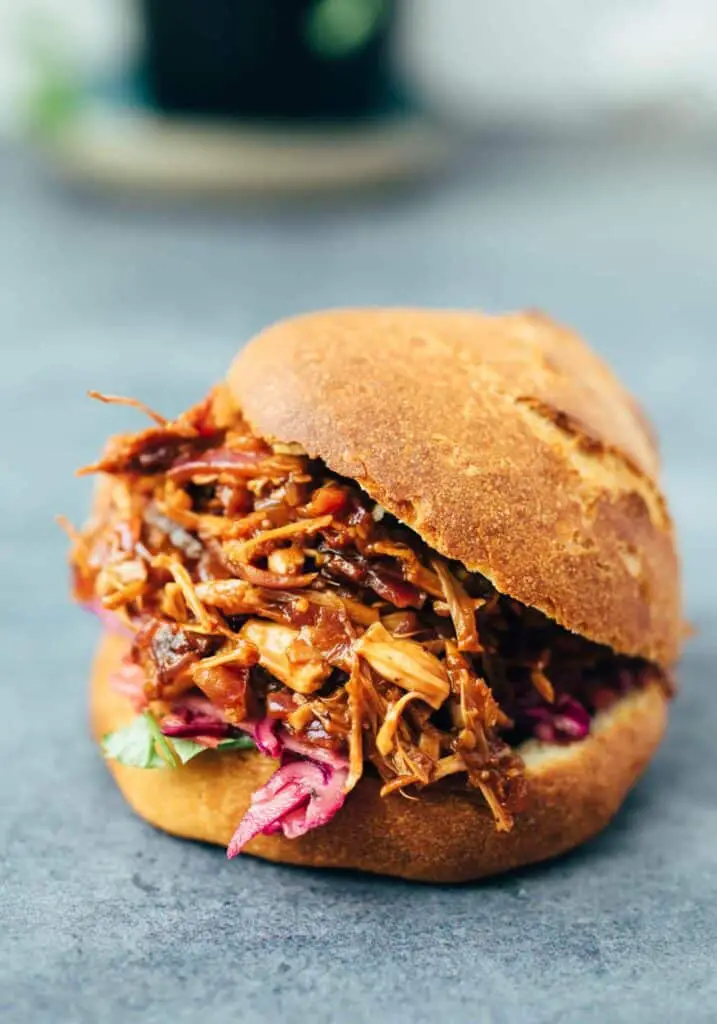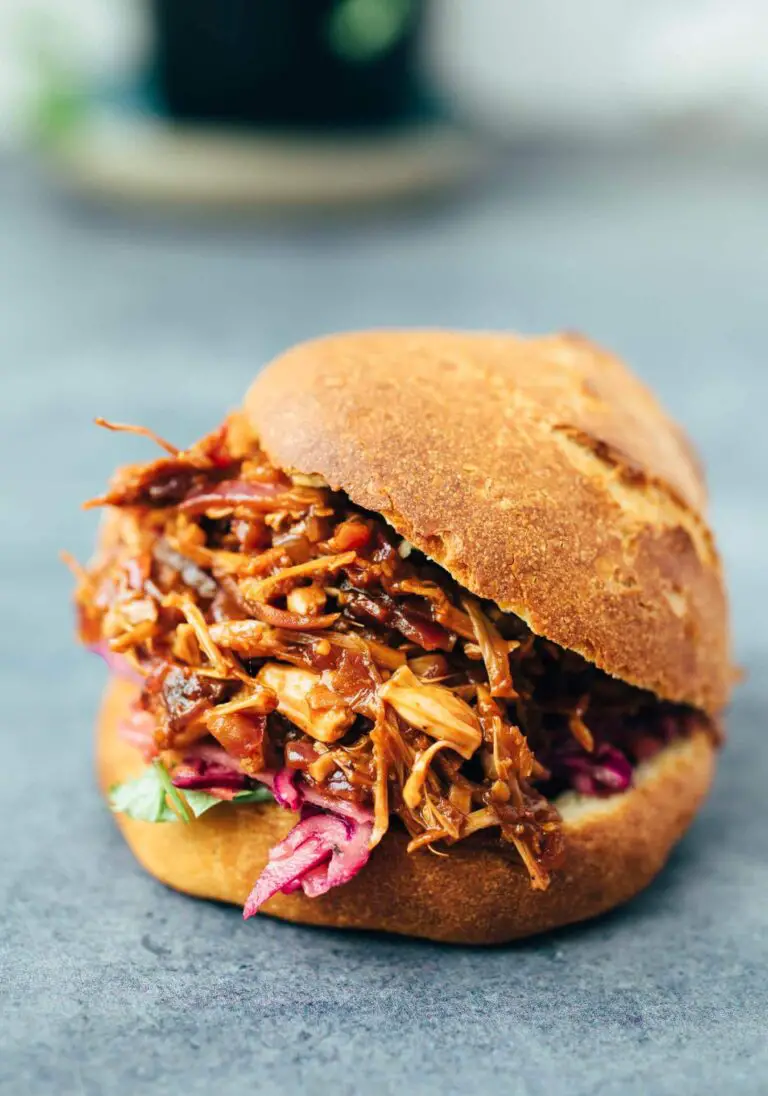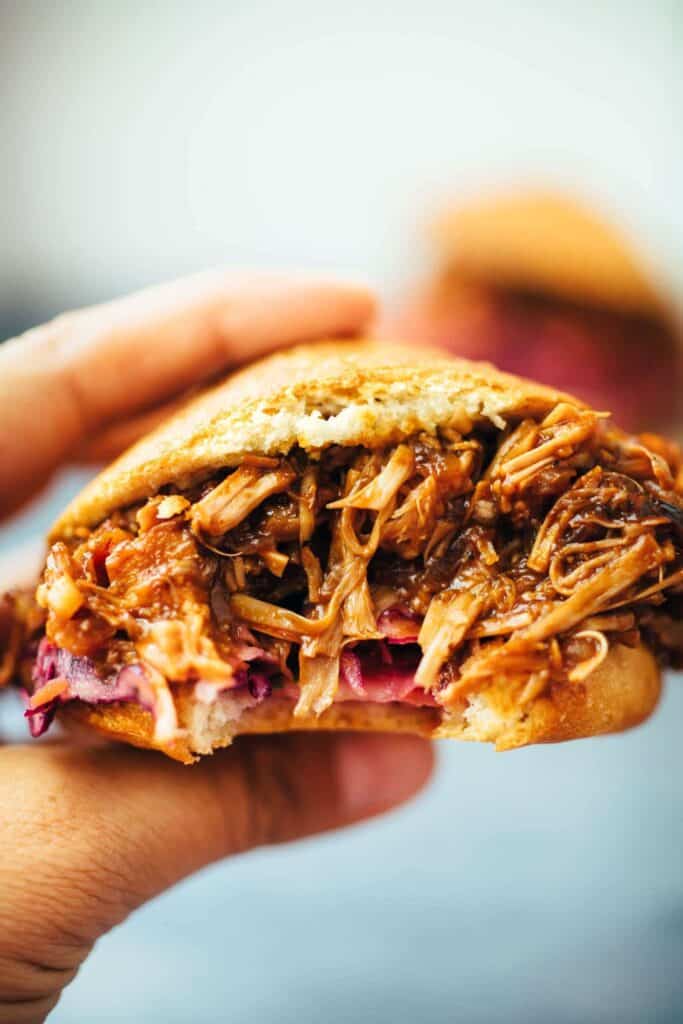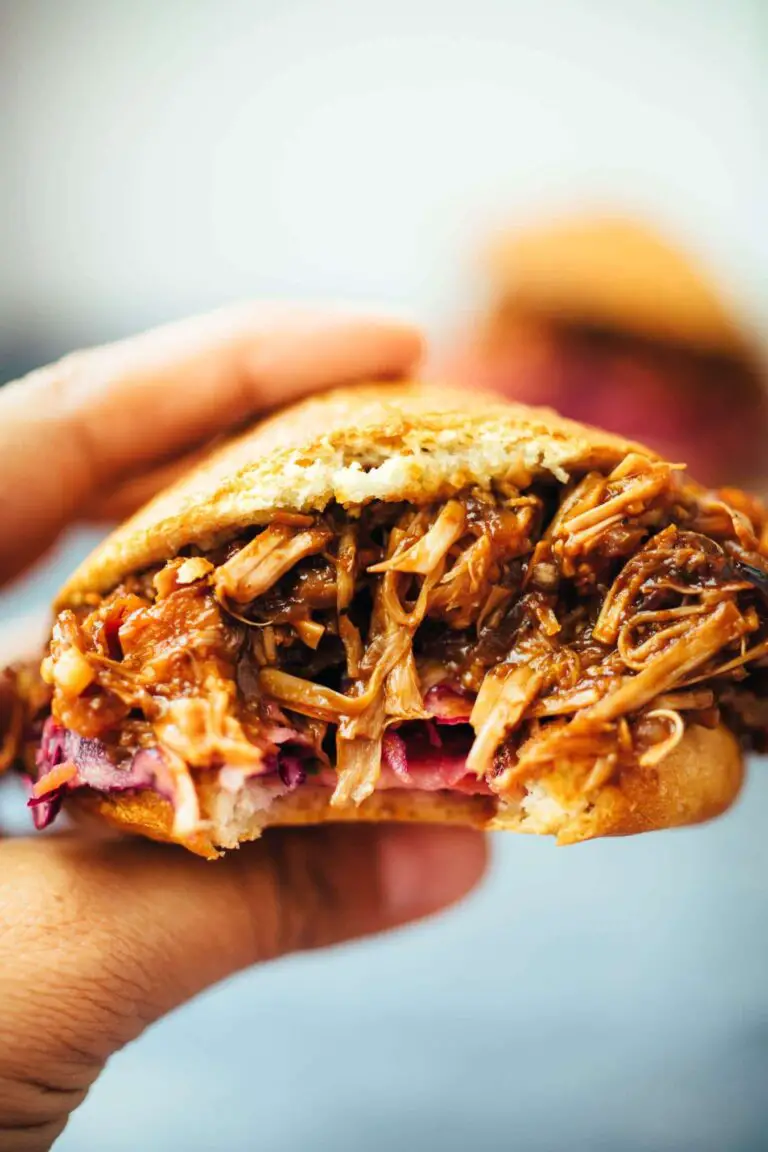 The Cole Slaw is as simple as it is quick to make. Red cabbage, a carrot, apple (gives quite a great flavor) with a simple vinaigrette of lemon juice, a dash of maple syrup, salt, pepper and an avocado. This provides a nice, creamy consistency.
This recipe is so simple and delicious that I am almost at a loss for words. It also makes you full, I can promise you that! For me, after two sandwiches, it was definitely time to call it a day. In doing so, I think I'll do a little experiment soon and serve the burger to my "non-vegan" friends. Let's see what the response is. Are you with us? If yes, then I am happy about your comment at the bottom of the page.
The Simple Jackfruit Burger with Cole Slaw is:
hearty
Easy to manufacture
aromatic
versatile
Fibrous consistency
Extremely tasty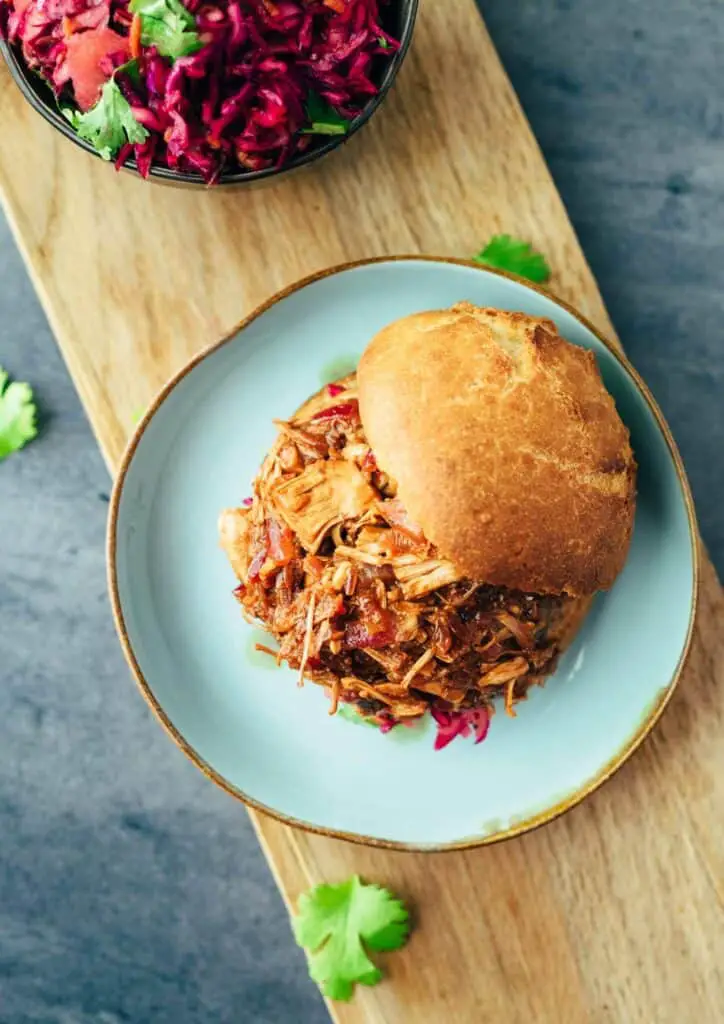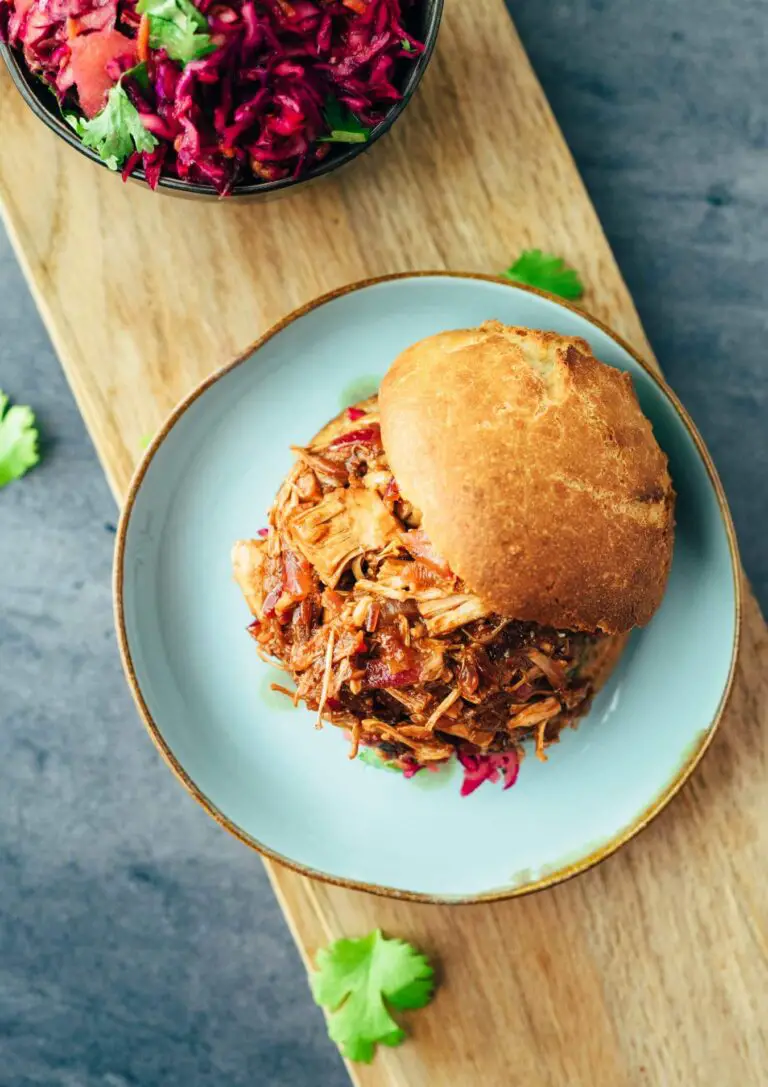 What goes with this exotic jackfruit Burger ? Smoky coconut chips, fermented veggies, French fries , homemade burger patties and a Favorite salad . As after dessert I think of a delicious Cookie Dough Ice Cream .
Well did you get a craving for this hearty burger ? I wish you a lot of fun with the re-cooking and of course I am happy about a review at the bottom of this page. If you post a picture, use the hashtag #veganevibes.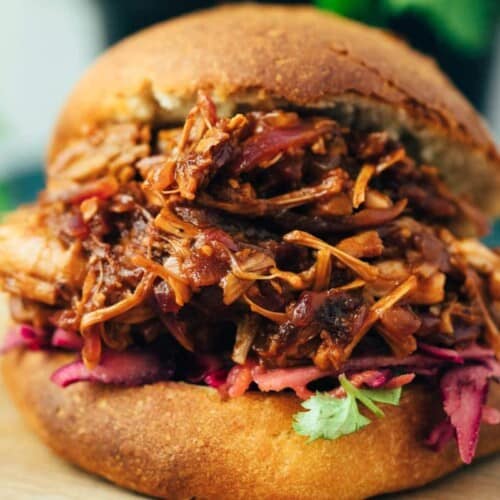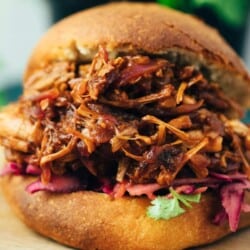 Simple Jackfruit Burger with Cole Slaw (30 minutes)
Incredibly flavorful jackfruit burger with unique BBQ aroma. Suitably served with delicious homemade coleslaw, a delight for all lovers of vegan burgers.
AUTOR: VEGANEVIBES
FOR THE JACKFRUIT:
15

g

Coconut oil

or other high heat frying oil

110

g

red onion

finely chopped (equivalent to a medium onion)

1

Piece

Garlic clove

finely chopped

400

g

Can young jackfruit

I take the one from Jacky F from Alnatura

1

tbspn

Paprika powder

½

tbspn

Salt

½

tbspn

Pepper

1-2

Bird Eye Chili or another chili to taste

Optional: ¼ tsp liquid smoke

optional for a smoky BBQ flavor

¾

Cup

BBQ sauce

vegan

Water for dilution
FOR THE COLE SLAW:
¼

Head red cabbage

cut into fine strips

1

medium carrot

grated

1

Apple

grated

1

small avocado

60

ml

Lemon juice or the juice of a medium lemon

15

ml

maple syrup

Salt and pepper to taste

Fresh coriander

coarsely chopped
TO SERVE:
Anleitung 
First, prepare the cole slaw. To do this, put all the ingredients in a large bowl. Add avocado, mix in and season to taste. Set aside.

¼ Head red cabbage,

1 medium carrot,

1 Apple,

1 small avocado,

60 ml Lemon juice or the juice of a medium lemon,

15 ml maple syrup,

Salt and pepper to taste

FOR THE JACKFRUIT , melt the coconut oil in a frying pan over medium heat.

Add the onion and garlic and sauté for 2-3 minutes until translucent.

110 g red onion,

1 Piece Garlic clove

Meanwhile, drain jackfruit, rinse briefly with cold water and dry lightly. "Tear" with a fork or your hands to make the flesh nice and fibrous.

400 g Can young jackfruit

Add to the pan and sauté.

400 g Can young jackfruit

Add spices and continue stir-frying.

25 g Coconut blossom sugar,

1 tbspn Paprika powder,

½ tbspn Salt,

½ tbspn Pepper,

1-2 Bird Eye Chili or another chili to taste,

Optional: ¼ tsp liquid smoke

Deglaze with BBQ sauce and add ¼ cup water. Stir and reduce over low to medium heat for 20 minutes. Finally, everything should be nice and creamy and easy to portion with a spoon.

¾ Cup BBQ sauce,

Water for dilution

Slice open burger buns, cover bottom with cole slaw, then top with plenty of jackfruit. TIP: I always like to hollow out the buns so that as much of the filling as possible fits inside. Serve cole slaw additionally as a side dish. enjoy!

Fresh coriander,

vegan spelt rolls

Jackfruit stuffing keeps 2-3 days covered in the refrigerator, preferably fresh.
Notizen
NOTES /HELPFUL ACCESSORIES:
Note: Nutritional information is without spelt roll
Nährwertangaben
Serving:
1
Burger
Calories:
284
kcal
Carbohydrates:
47
g
Protein:
3
g
Fat:
11
g
Saturated Fat:
4
g
Sodium:
81
mg
Potassium:
844
mg
Fiber:
6
g
Sugar:
32
g
Vitamin A:
2880
IU
Vitamin C:
29.8
mg
Calcium:
48
mg
Iron:
0.7
mg