What happened to the weather, please? Just a moment ago it was almost 30 degrees and when I look at the thermometer now, it hits me. Only 15 degrees, gray in gray and rain in sight. But I have the antidote, against this little low and that is called: Burger eat! Burgers go well known always and what could be better than to bite into a hearty(vegan) Pattie. I really like Mexican food because it's so great spiced and there's almost always a Avocado with it. The fruit just really has me wrapped around its finger, so our burger comes with a homemade guacamole on top.
Viva vegan Mexico! Tex Mex Burger Olé!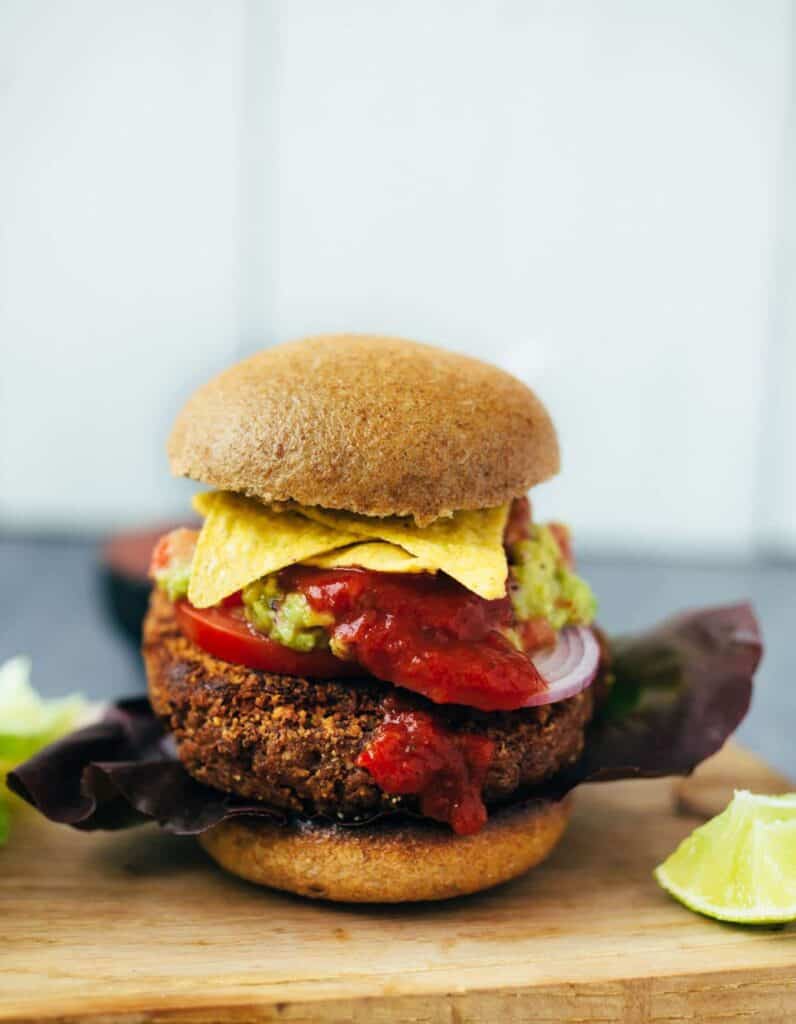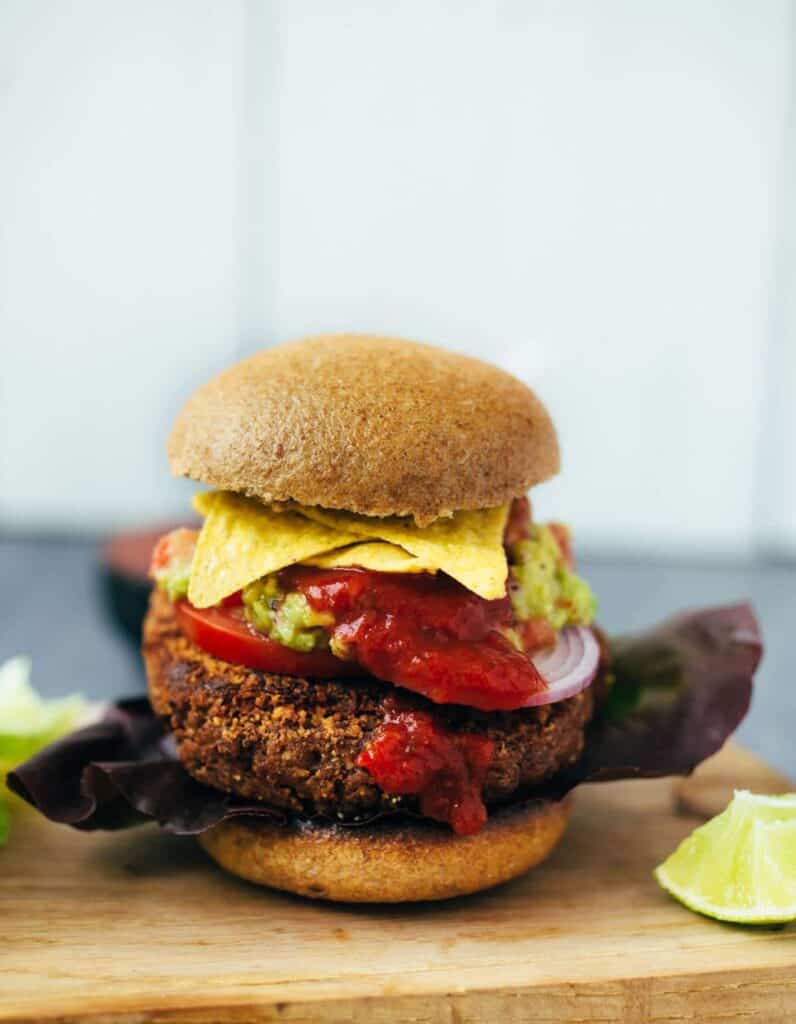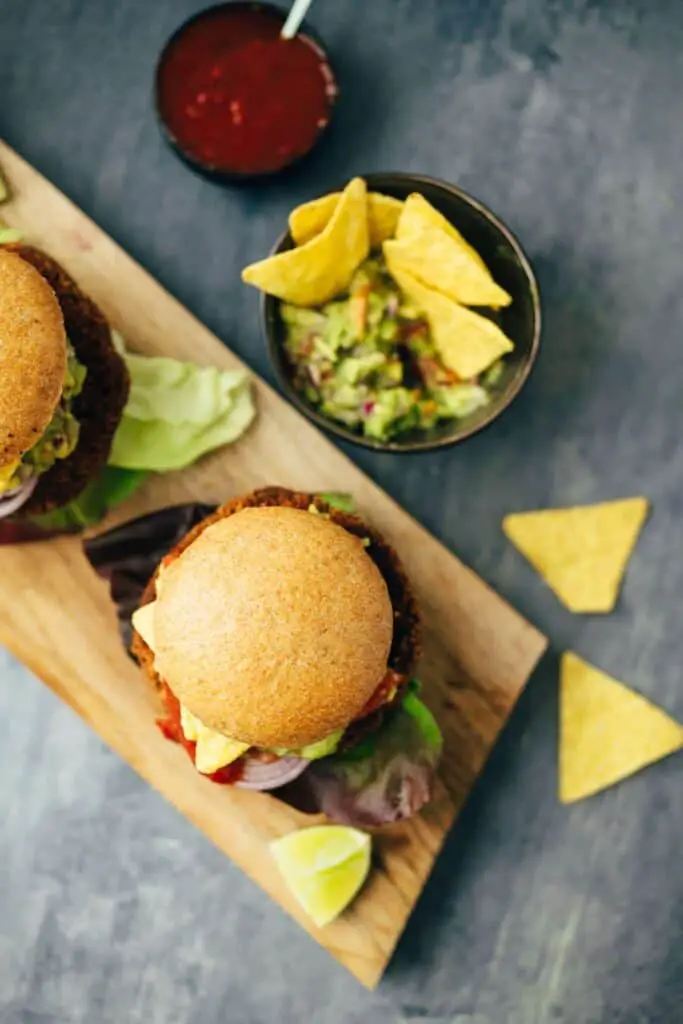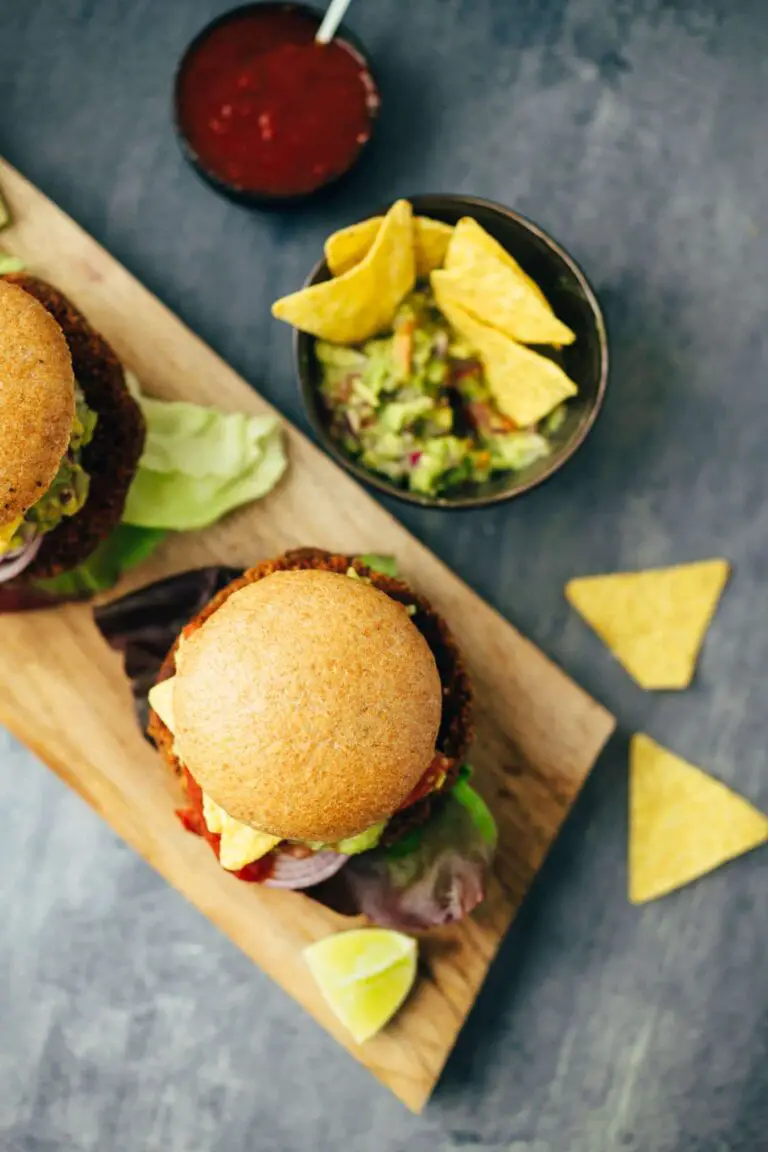 In keeping with the theme of Mexico, it must of course be spicy, with chili. My favorite chilies are Bird Eye chilies, because they are small, so they are easy to portion and they are really hot. The base of the patties are red kidney beans, red onion, ground almonds and oatmeal. Add garlic powder (or fresh garlic), smoked paprika, cumin, a little vegetable broth, Oat milk and ground flaxseed. A big issue with vegan patties is still the binding. There's nothing worse than having a night out with friends or family and when it's served, the Burger completely apart.
Here are my top 3 binders for vegan burger patties:
Oatmeal = has excellent absorption and swelling properties and therefore provide excellent binding. You can buy ready-made oatmeal, but I grind it myself with my food processor. Note for intolerances: There are also gluten-free oatmeal in all well-stocked (organic) supermarkets.
Flax meal = I discovered only recently and is made from the seeds of the flax plant. It is rich in fiber and vegetable protein. During production, the partially oiled seeds are ground and the ingredients are thus particularly well broken down. Its good swelling properties make it a wonderful fit for making burger patties.
Black beans = provide a great solid substance and are particularly high in easily digestible protein. In addition, beans contain a lot of vitamins, including B1, B2 and B6. In addition, there is plenty of magnesium, potassium, iron and phosphorus.
Another highlight of this burger is the homemade guacamole, which is really ready in no time. One ripe acocado, tomato, red onion, lime juice, chili and salt pepper. Violà.
Viva la Veggie Burger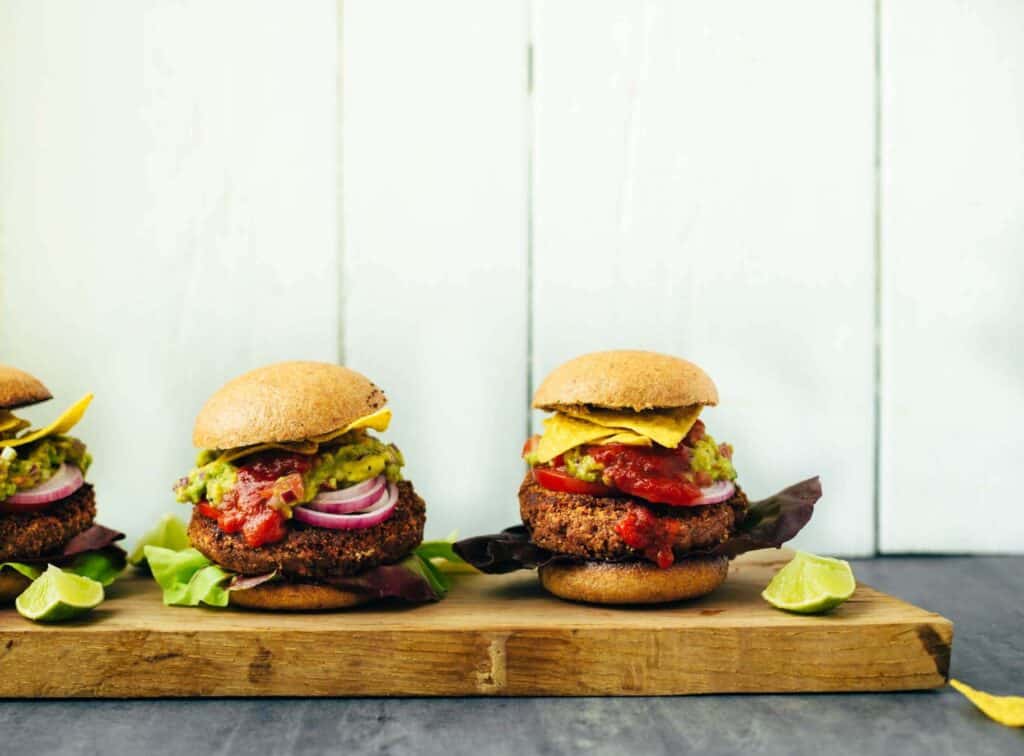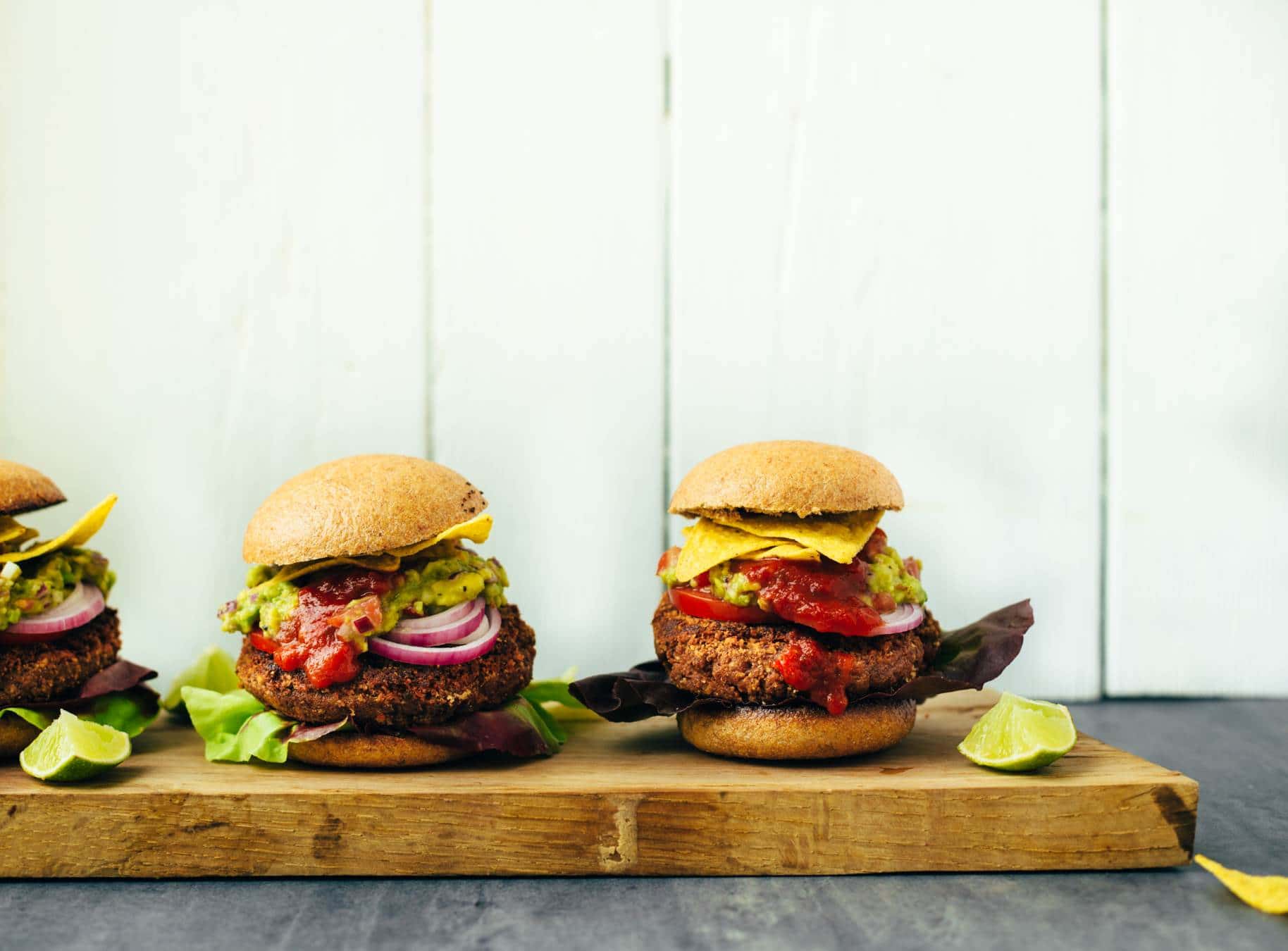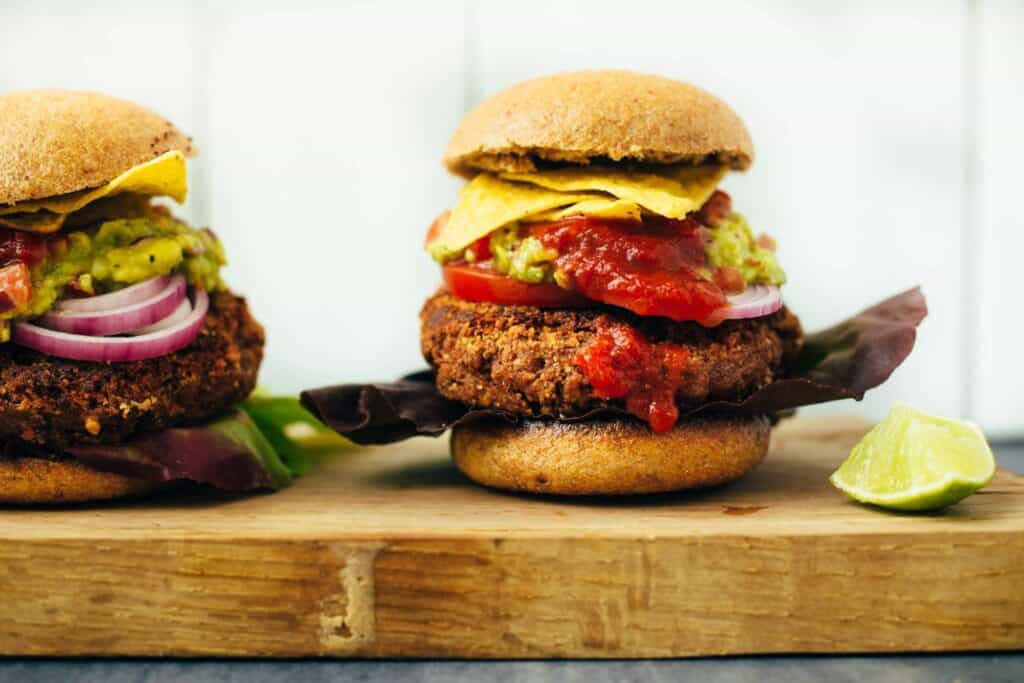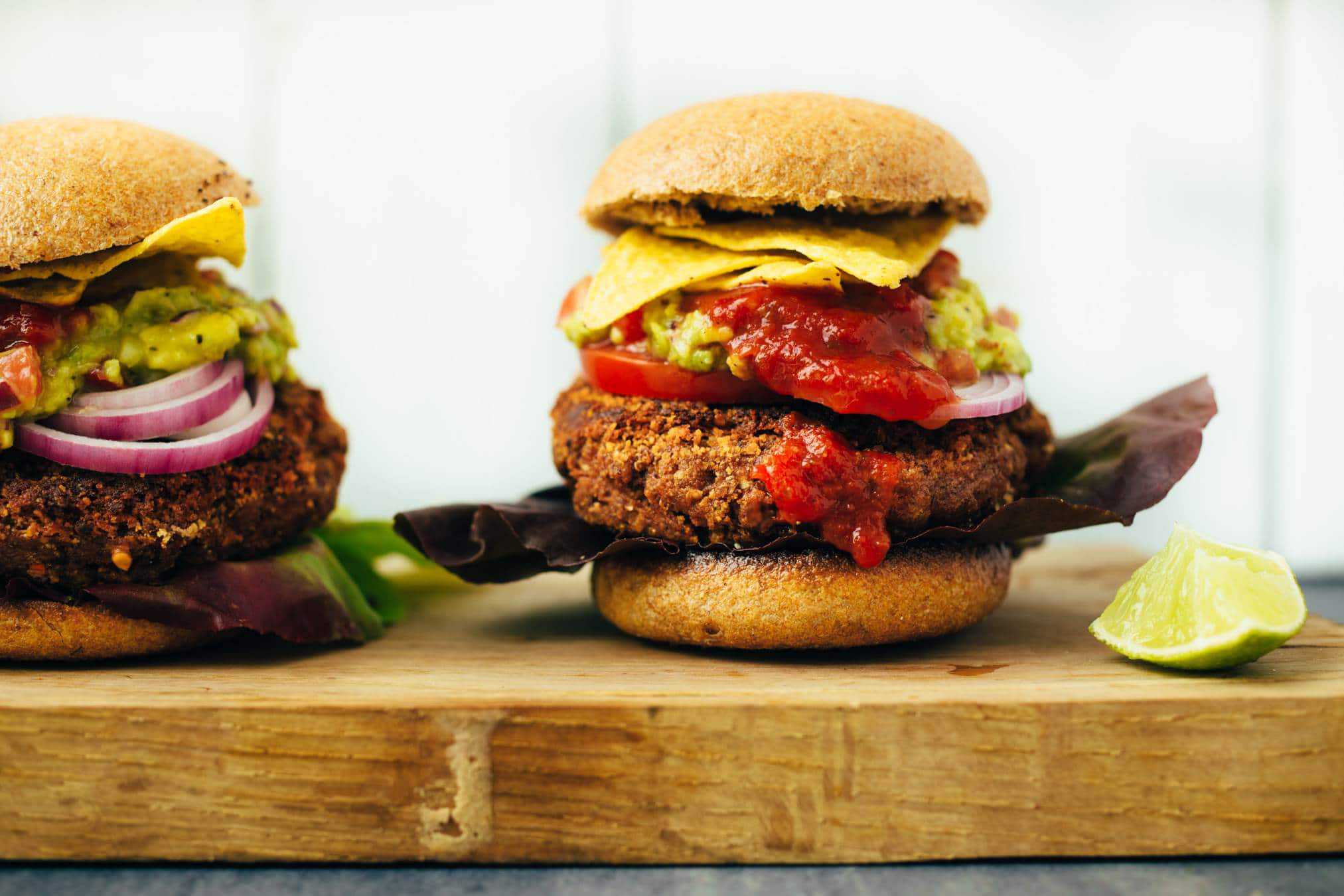 Perfect additional side dishes include a fiery sauce, crispy corn chips, lettuce, tomatoes and fresh onion rings. That's it! Now it can actually only go off, are you ready? Oh yes, I have not tested the Burger on the grill yet, if you do, feel free to share your experience below in the comments.
The vegan "Tex Mex" burger with homemade guacamole is:
hearty
Easy to manufacture
Fiery
versatile
Firm consistency
Extremely tasty
What else goes with this Burger ? Smoky coconut chips, sweet potato wedges, homemade burger patties. If you want to make a low carb version of this, then I recommend replacing the rolls with large lettuce leaves.
Well did you get a craving for this fiery, vegan burger ? I wish you a lot of fun with the re-cooking and of course I am happy about a review at the bottom of this page. If you post a picture, use the hashtag #veganevibes.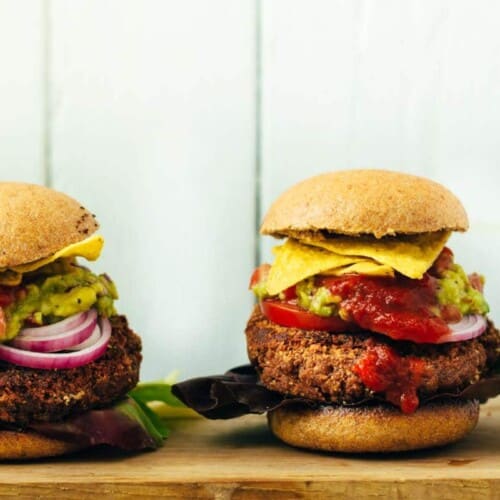 Vegan "Tex Mex" burger with homemade guacamole
Incredibly spicy and fiery vegan burger with unique flavor from red kidney beans, ground almonds and garlic. Topped with fresh lettuce leaves, onions and delicious guacamole. Mexican delicious, filling, just the perfect vegan burger experience.
AUTOR: VEGANEVIBES
FOR THE PATTIES:
15

g

Coconut oil

110

g

red onion

finely chopped (equivalent to a medium onion)

1

Piece

Garlic clove

finely chopped or 2 tsp garlic powder

240

g

red kidney beans

drained and washed (equivalent to a can or jar of 400g before draining).

130

g

almond

ground

25

g

Linseed meal

or replace with oatmeal or coarsely ground flaxseed

45

g

gluten free oatmeal

or already finished flour

2

tbspn

Cumin

ground

2

tbspn

smoked paprika powder

1

tbspn

Sea salt

30-60

ml

Plant milk
FOR THE GUACAMOLE:
1

Piece

ripe avocado

Remove the core, scrape out the flesh

1

Piece

medium tomato

diced

1

Piece

small

red onion, peeled and diced

60

ml

Lime juice

or juice of one lime

1

Bird Eye Chili or other chili of choice

Salt and pepper to taste

optional: fresh lime slices for decoration
TOPPINGS:
Red onion

cut into rings

Tomatoes

sliced

Leaf salad

Mexican burger sauce

Corn chips
TO SERVE:
Anleitung 
Melt the coconut oil in a frying pan over medium heat.

Add the onion and garlic and sauté for 2-3 minutes until translucent.

110 g red onion,

1 Piece Garlic clove

Add kidney beans, almonds, flax meal, oat flour, cumin, smoked paprika, salt, pepper and oat milk to a food processor (e.g. MagiMix) and pulse until a homogeneous mass is formed.

240 g red kidney beans,

130 g almond,

25 g Linseed meal,

45 g gluten free oatmeal,

2 tbspn Cumin,

2 tbspn smoked paprika powder,

1 tbspn Sea salt,

Pepper to taste,

30-60 ml Plant milk

Season to taste and add sea salt and pepper to taste. The consistency should be firm but malleable, neither too dry nor too mushy. If too dry, sip more oat milk; if too wet, add more oat flour.

Form into a ball, place in a bowl and cover and refrigerate for 30 minutes. The patty mixture should be really nice and firm now.

In the meantime, for the GUACAMOLE put all the ingredients in a bowl and mix well, season to taste and set aside.

1 Piece medium tomato,

1 Piece small,

60 ml Lime juice,

1 Bird Eye Chili or other chili of choice,

Salt and pepper to taste,

1 Piece ripe avocado

Heat medium sized pan and heat a little coconut oil or frying oil. Separate dough into 4 equal portions and shape into burger patties. Ideally, use a burger press to help.

Sear for about 3-7 minutes on each side until desired browning is achieved and patties are nicely done.

Slice open spelt roll, top with lettuce leaves, place patty on top, spread guacamole on top and garnish with desired toppings. enjoy!

Red onion,

Tomatoes,

Leaf salad,

Mexican burger sauce,

Corn chips,

vegan spelt rolls,

optional: fresh lime slices for decoration

Patties last 2-3 days covered in the refrigerator, preferably fresh.
Nährwertangaben
Serving:
1
Pattie
Calories:
446
kcal
Carbohydrates:
40
g
Protein:
15
g
Fat:
28
g
Saturated Fat:
5
g
Sodium:
111
mg
Potassium:
905
mg
Fiber:
13
g
Sugar:
5
g
Vitamin A:
590
IU
Vitamin C:
18.7
mg
Calcium:
140
mg
Iron:
4.3
mg