There are days when I really feel like eating fish. But what to do if you no longer eat fish after all? Hmmmm, I did some research and found out that yes seaweed has a similar taste. A bit fishy. Then I had the idea to make fish sticks and since I still had such great Roll at home, it simply became a Fish burger out of it. A really creamy remoulade could not be missing, of course, and poof that also came along on the Burger. A little green, a blob of lactic vegetables and ready is this uniquely delicious Dish . Well, curious now? Then let's get started.
Vegan fish, what?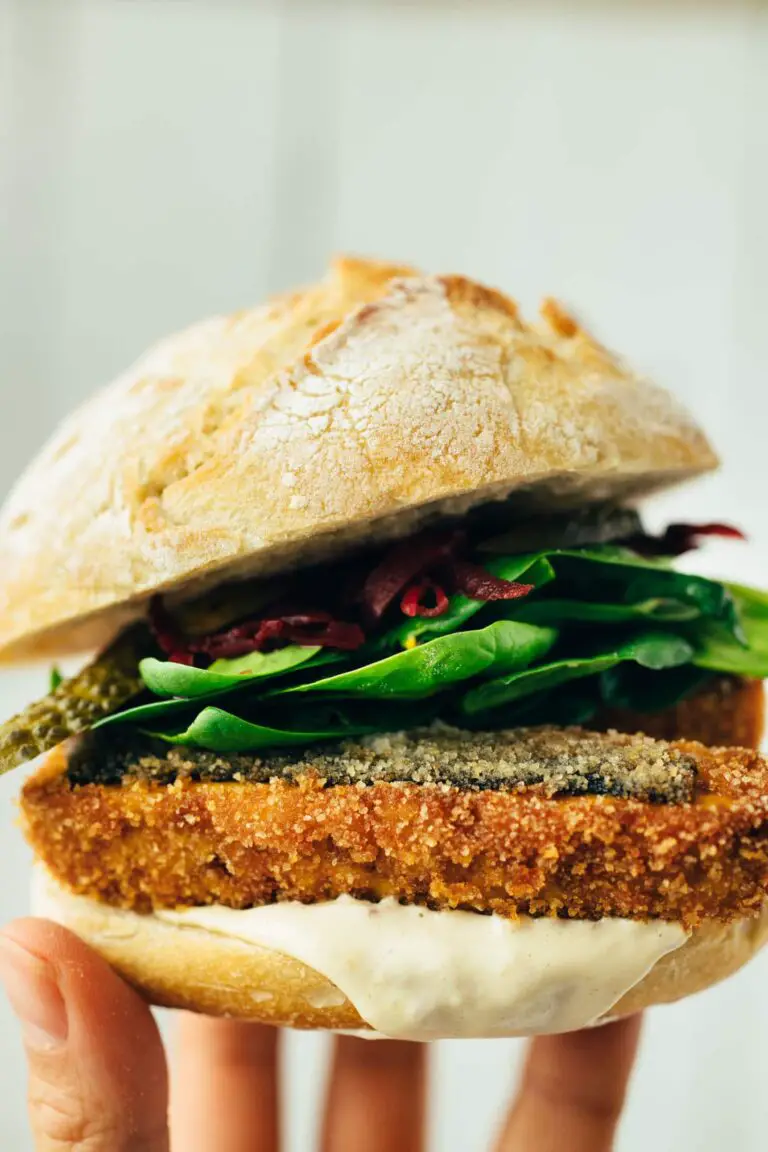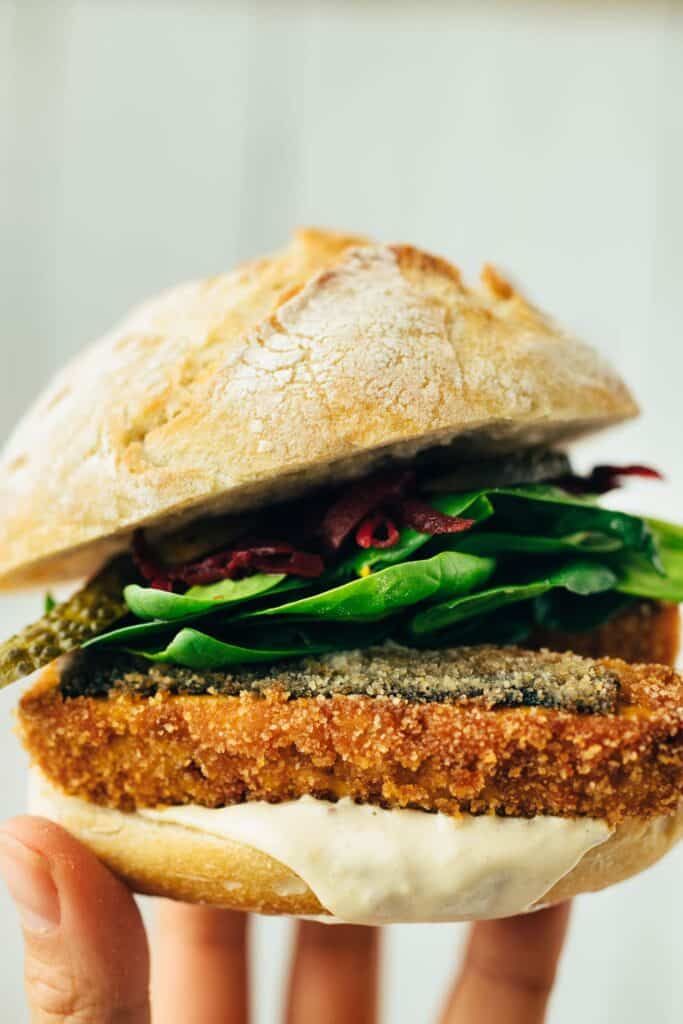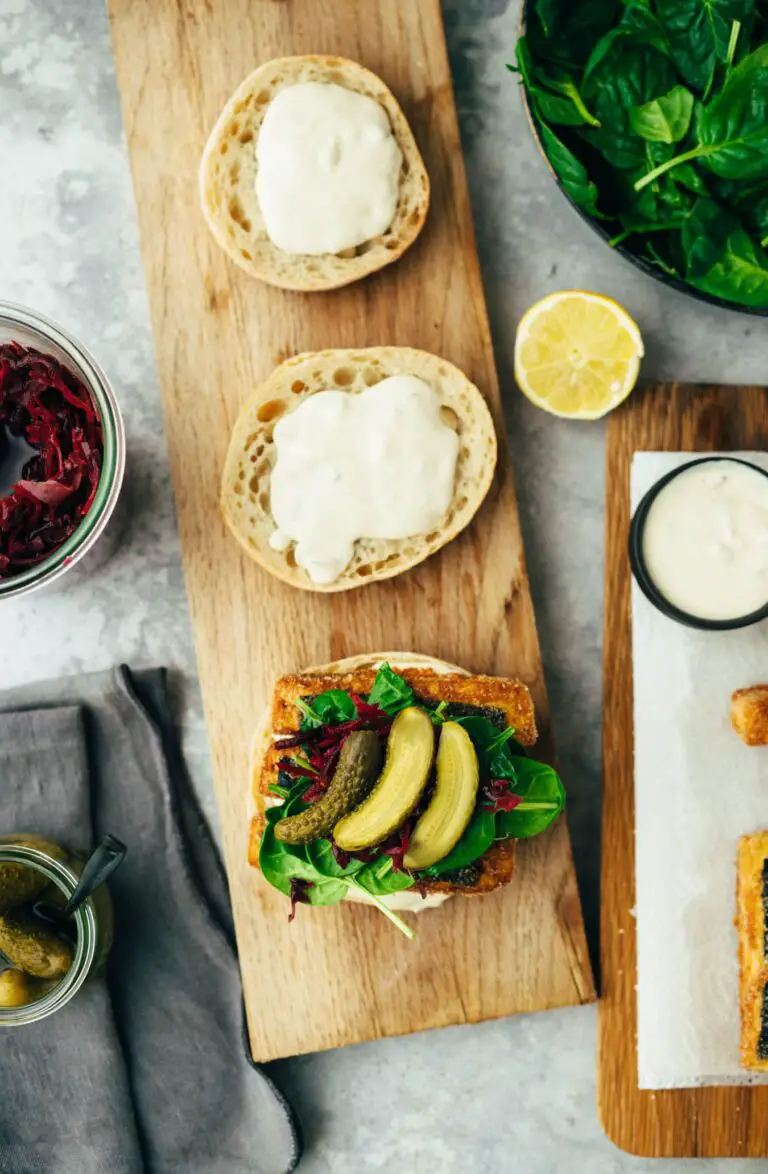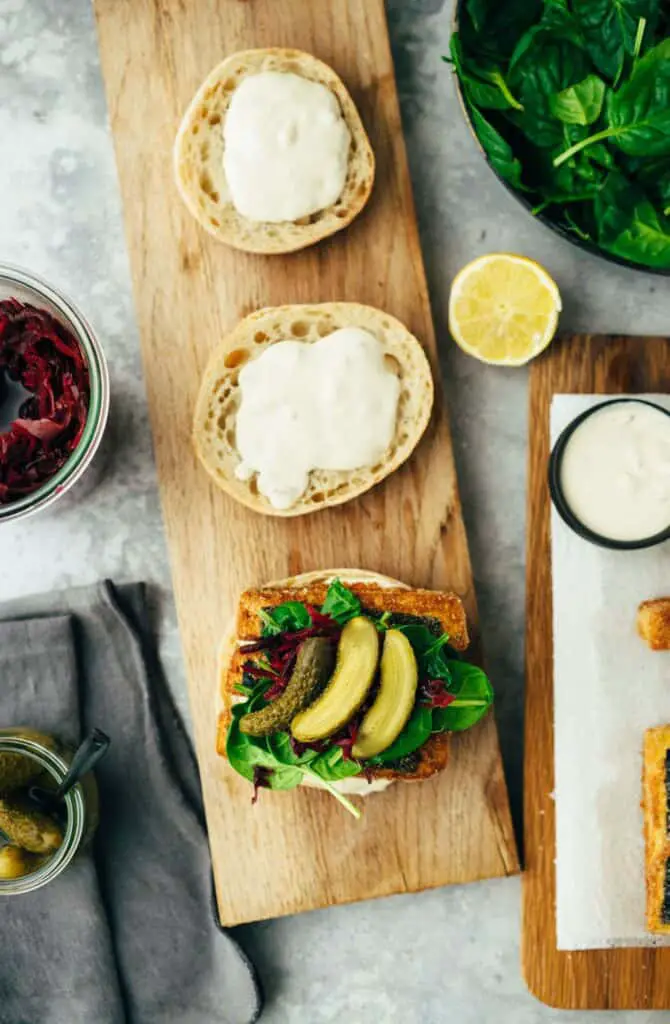 Our vegan Burger is really easy to make and the fish sticks are literally in the pan in no time. The Fish Fingers can also be wonderfully prepared and finished the next day within a few minutes. 5 minutes ready the next day. Like breading at grandma's house, we need a little station here. Once a board with our tofu, nori seaweed (cut into strips), a liquid of cornstarch and water for you binding and finally breadcrumbs (or what do they call them in northern Germany)?
Remoulade vegan? Vegan fish burger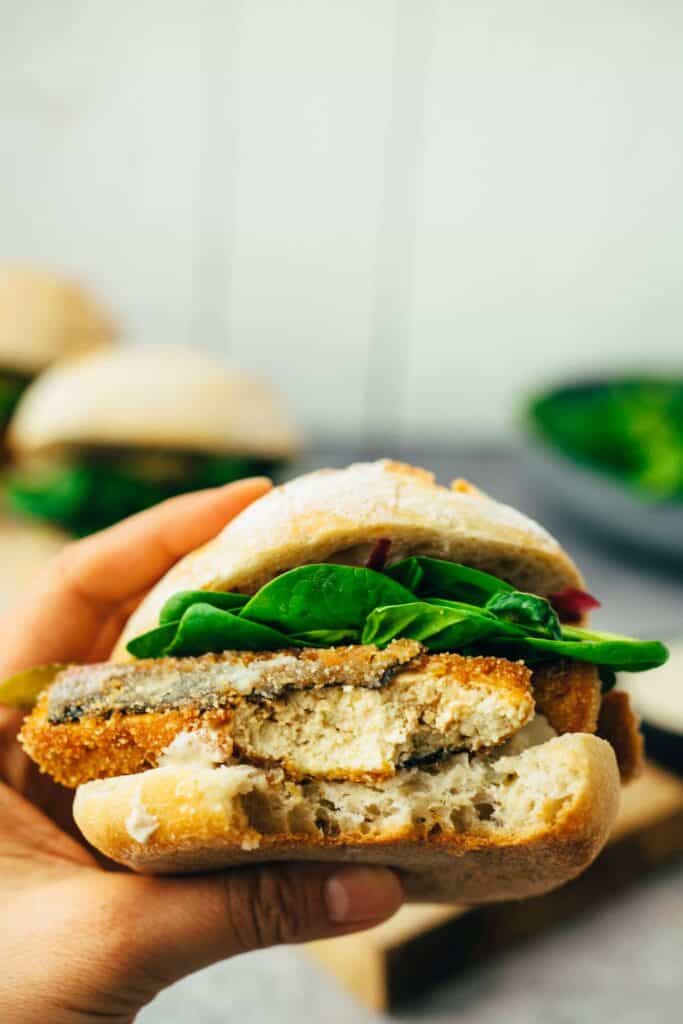 But of course! The basic recipe is my vegan remoulade on cashew basis, which is refined with onion, capers, pickles and a dash of lemon juice. Ready is the creamy base for our sandwiches. Soak the Cashews so that it can start right away.
In the end it's all about assembling. Roll Cut open, spread with remoulade, put fish sticks on top, garnish with some green salad, add lactic sour vegetables, put the lid on and enjoy! I was honestly amazed myself at how good the Sandwiches were. My husband ate two at once, but for me it was already over after one.
What actually are nori leaves?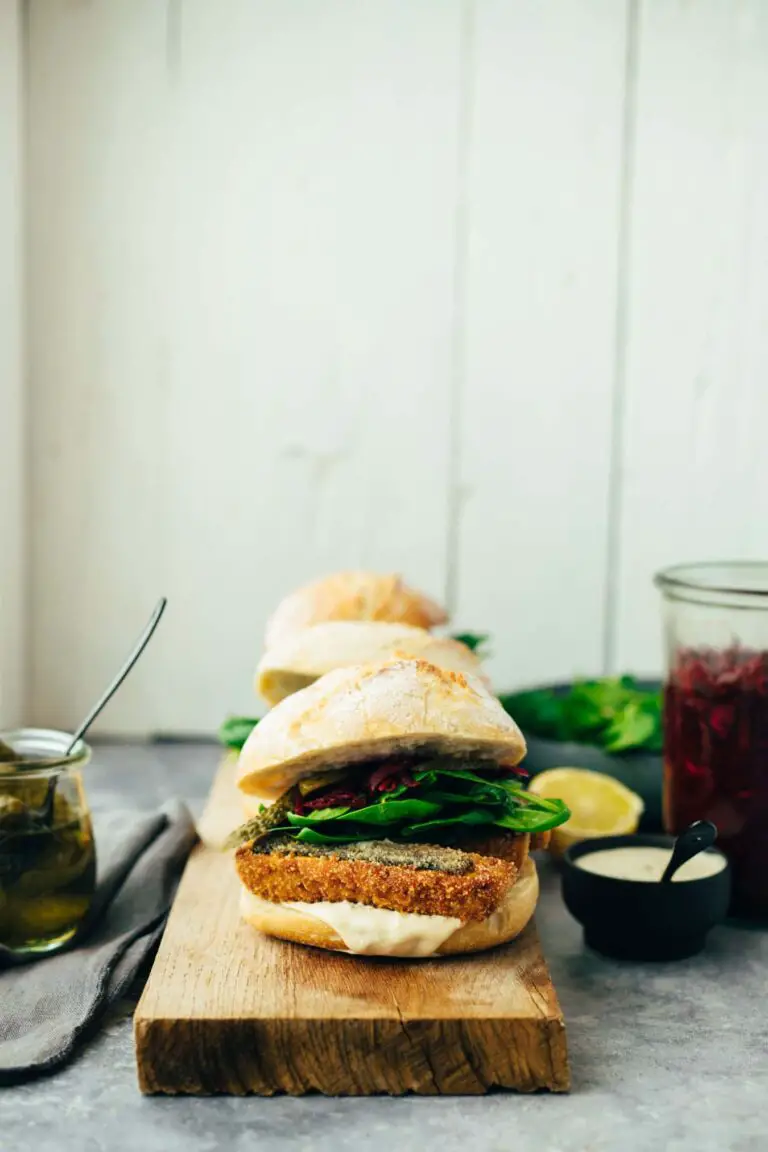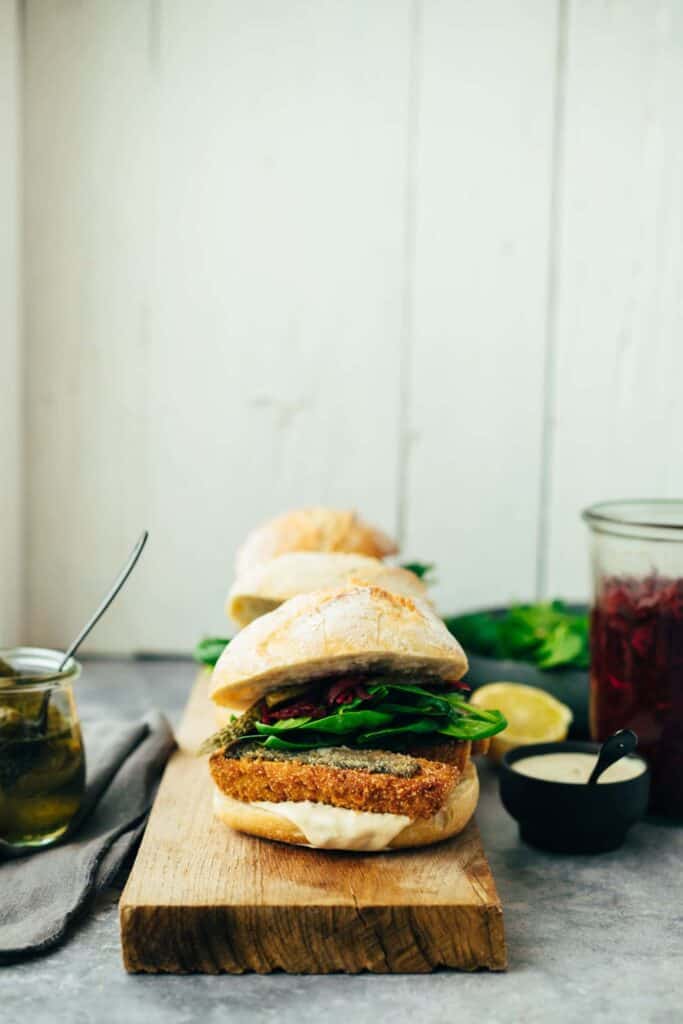 Nori are edible Marine algae produced mainly from leafy red algae. You are dried and roasted and made into paper-like, square leaves processed. Most often they are used for the preparation of sushi. Algae in itself can be very healthy and especially have a high content of vegetable Protein (about 30%). In addition, they contain a wide number of vitamins and Minerals. The only critical point, is the contained iodine, which at people with thyroid disease can be problematic. Otherwise you can You can enjoy the nori algae without a guilty conscience. In our case, it has the nice side effect that it has a slightly salty fishy flavor and that's exactly what we need for our fish burger.
Frying correctly, this is how it's done!
Another little tip on the subject of deep-frying. Basically frying or baking out in oil is not something you should do every day. Firstly, you need oodles of oil and secondly, the fried sucks full with it, of course. If you really don't want to do this, you can also use the sticks to Fry out in a well coated pan with a little oil at any time. Otherwise, put a good amount of oil in a pan, heat and add the Bake fish sticks until golden brown on each side.
TIP: Do not throw away the oil in any case, but pour it into a coffee filter and filter. Then use as usual for baking and frying. Generally, for higher temperatures I always use so-called 'high oleic' oils, which are made specifically for these temperatures.
The vegan fish burger is:
hearty
Crispy
Fishy
simple to be produced
Extremely tasty
So what else goes with our vegan fish burger? Sweet potato fries , the crispy fries , or a delicious Potato salad .
Well did you get a craving for this delicious, vegan fish Burger ? I wish you a lot of fun with the re-cooking and of course I am happy about a review at the bottom of this page. If you post a picture, use the hashtag #veganevibes.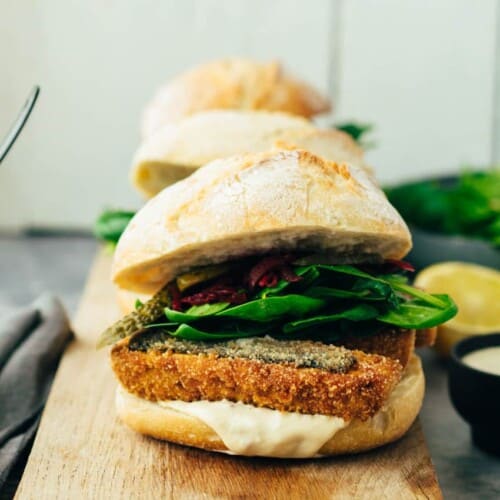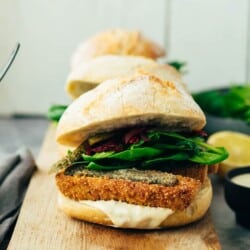 Vegan fish burger with homemade remoulde
Incredibly hearty vegan burger with crispy baked fish sticks on homemade remoulade with fresh lettuce leaves, lactic sour veggies and fresh buns. Filling, delicious, the perfect vegan fish substitute.
AUTOR: VEGANEVIBES
Inhaltsstoffe
4
Burger with a 2 fish sticks
FOR THE VEGAN FISH STICKS:
400

g

firm natural tofu

press dry*, equivalent to a large package of tofu, I use Taifun (no advertising), cut into 1 cm wide square strips.

60

ml

Tamari

Tamari is naturally gluten free

1

Sheet

Nori

50

g

Cornstarch

stir with 60ml water until smooth

100

g

Breadcrumbs or breadcrumbs

also available gluten-free, 1 cup

¼

tbspn

Salt
VEGAN REMOULADE
1

Portion

vegan cashew based mayo

60

g

red onion

finely chopped (equivalent to a small onion)

2

small

Gherkins

cut into small pieces

1

tbspn

Capers

chopped small

7,5

ml

Lemon juice

Salt and pepper to taste
TOPPINGS:
Red onion

cut into rings

Baby spinach

Green salad

Lactic fermented vegetables
TO SERVE:
vegan buns

Sweet potato fries

The crispiest fries

Potato salad
Anleitung 
For the VEGAN REMOULADE make a portion of cashew mayo. Add red onion, gherkins, capers, lemon juice, salt and pepper and mix well once. Place in a sealable container and refrigerate.

¼ tbspn Salt,

1 Portion vegan cashew based mayo,

60 g red onion,

2 small Gherkins,

1 tbspn Capers,

Salt and pepper to taste,

7,5 ml Lemon juice

Place tofu strips in the tamari and turn until well soaked. Set aside.

Set up a small station for processing the tofu.

As the first station, place the tofu strips in a small plate.

Cut the nori sheet into 1 cm wide strips. Set aside.

As a second station, provide the cornstarch mixed with water in a shallow dish.

Third, provide the breadcrumbs in a shallow dish.

100 g Breadcrumbs or breadcrumbs

FISH STAKES prepare as follows: Place 2 nori strips on the top and bottom of each tamari-soaked tofu strip and hold in place with your fingers.

1 Sheet Nori,

60 ml Tamari

Pull through the cornstarch-water liquid and then turn in the bread crumbs. Set aside.

Provide a plate with paper towels to drain the fish sticks.

Put plenty of oil in a frying pan and heat. Once the oil is hot, place the fish sticks in and deep fry for 2-3 minutes on each side until golden brown.

Plenty of high heat oil for frying

Place on plate with paper towel and allow excess oil to soak up.

Slice open bun, spread with generous amount of tartar sauce, top with fish sticks, top with spinach and lactic fermented vegetables, top with bun lid and enjoy with desired accompaniments.

Red onion,

Baby spinach,

Green salad,

Lactic fermented vegetables,

vegan buns,

Sweet potato fries,

The crispiest fries,

Potato salad

Fish sticks last 2-3 days covered in the refrigerator, preferably fresh.
Notizen
NOTE: Calories are calculated without burger bun!
Nährwertangaben
Serving:
1
Burger (a 2 fish sticks)
Calories:
245
kcal
Carbohydrates:
34
g
Protein:
14
g
Fat:
5
g
Sodium:
1057
mg
Potassium:
102
mg
Fiber:
2
g
Sugar:
2
g
Vitamin A:
15
IU
Vitamin C:
1.8
mg
Calcium:
177
mg
Iron:
2.8
mg