Somehow I wanted another Burger not always the same. BBQ Style , Mexican , there must be something else! Why not just go Italian? Sounds good and, above all, tastes good. But what makes an Italian burger? Of course, the spices and they remind a little pasta. Basil, oregano, thyme and marjoram, to name the best known representatives. This Recipe is especially suitable if you simply want to cook Italian food in a different way. Feel and taste the difference! Mamma Mia, I hope the Italian moms don't get out the rolling pin as soon as they hear there's a burger.
Bella vegan Italian burger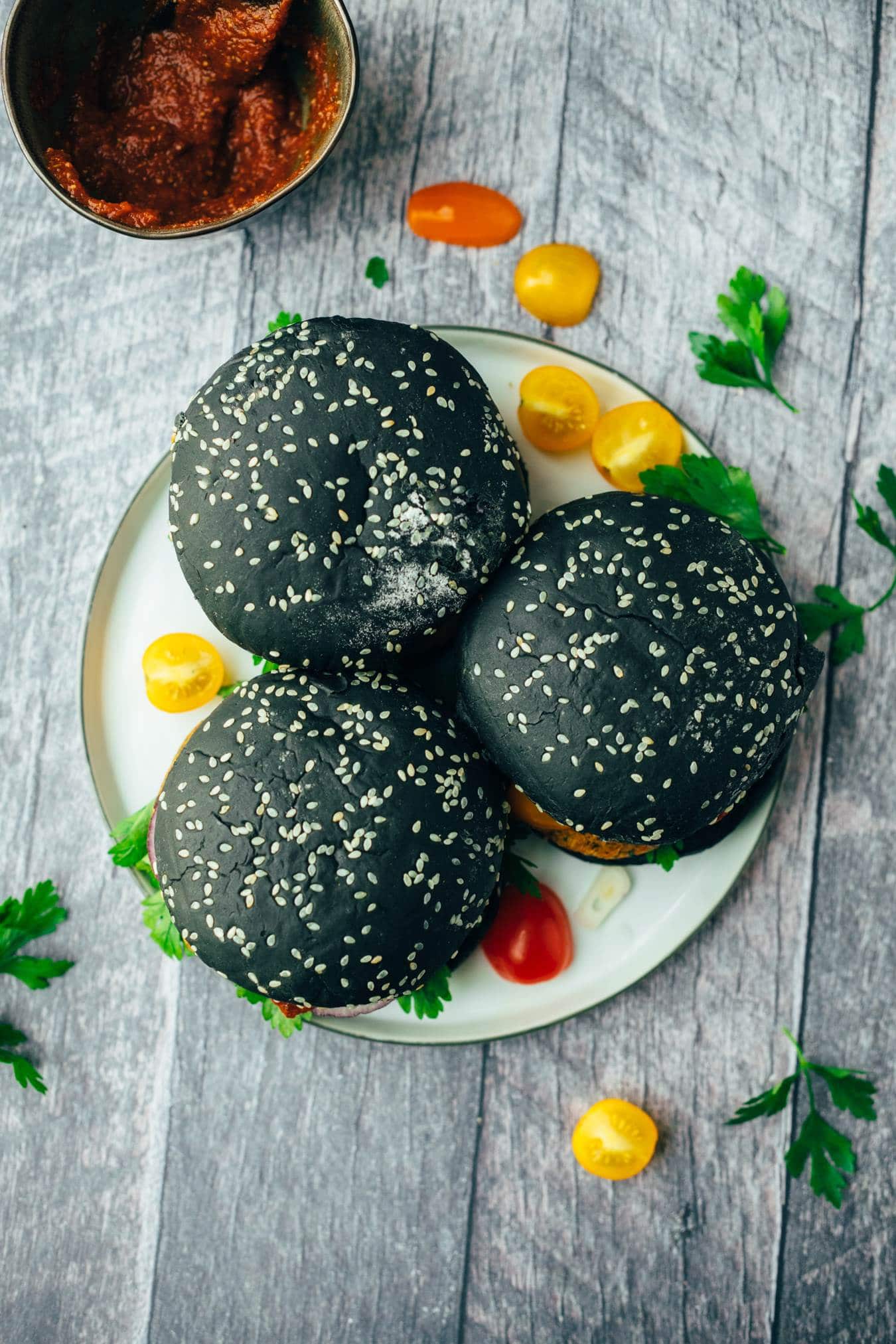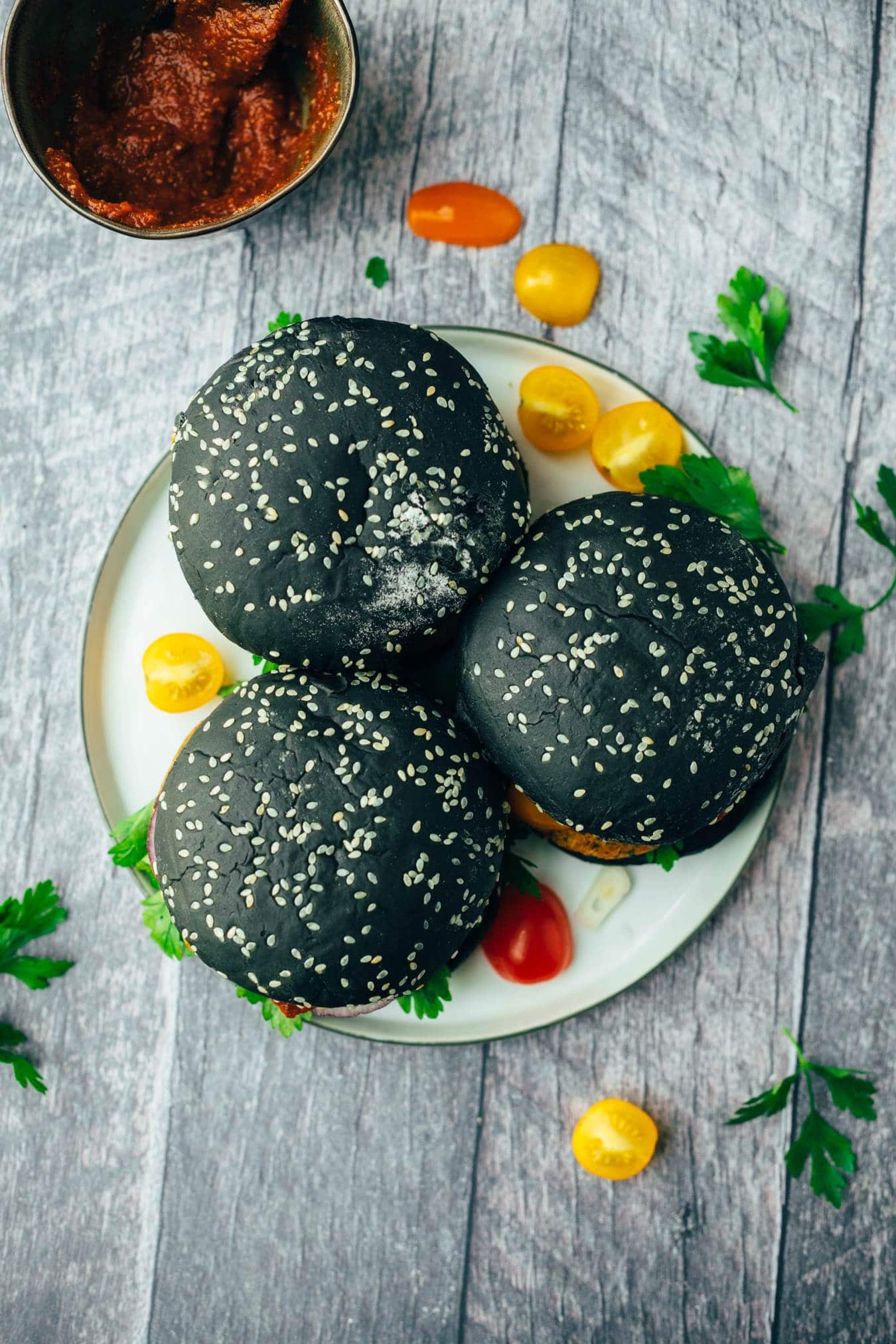 To be honest, I really enjoy Burger really fun by now, but that wasn't always the case. Especially in the beginning, I had so many failed attempts. At one point the patties were so soft they couldn't be formed, then they fell apart while frying. Even worse, they were rock hard that you could barely bite them. It just always hooked on the binding. Therefore, here are my top tips for the perfect binding Without egg or other stuff!
Here are my top 3 binders for vegan burger patties:
Oatmeal = has excellent absorption and swelling properties and therefore provide a top binding. You can buy ready-made oatmeal, but I grind it myself with my food processor. Note for intolerances: There are also gluten-free oatmeal in all well-stocked (organic) supermarkets.
Ground flaxseed = is made from whole Flaxseed produced. Please do not confuse with flaxseed meal, which contains only the empty shell, as the valuable oil has already been extracted. I grind my own flaxseed meal in the food processor and store it in the refrigerator (or freezer), so the valuable ingredients remain contained for a very long time. Flaxseed have swelling properties and thus help bind the burger patties.
Tapioca Starch: A wonderful starch that is quite well known in the Asian region and provides additional binding. Highly recommended, although optional with this recipe.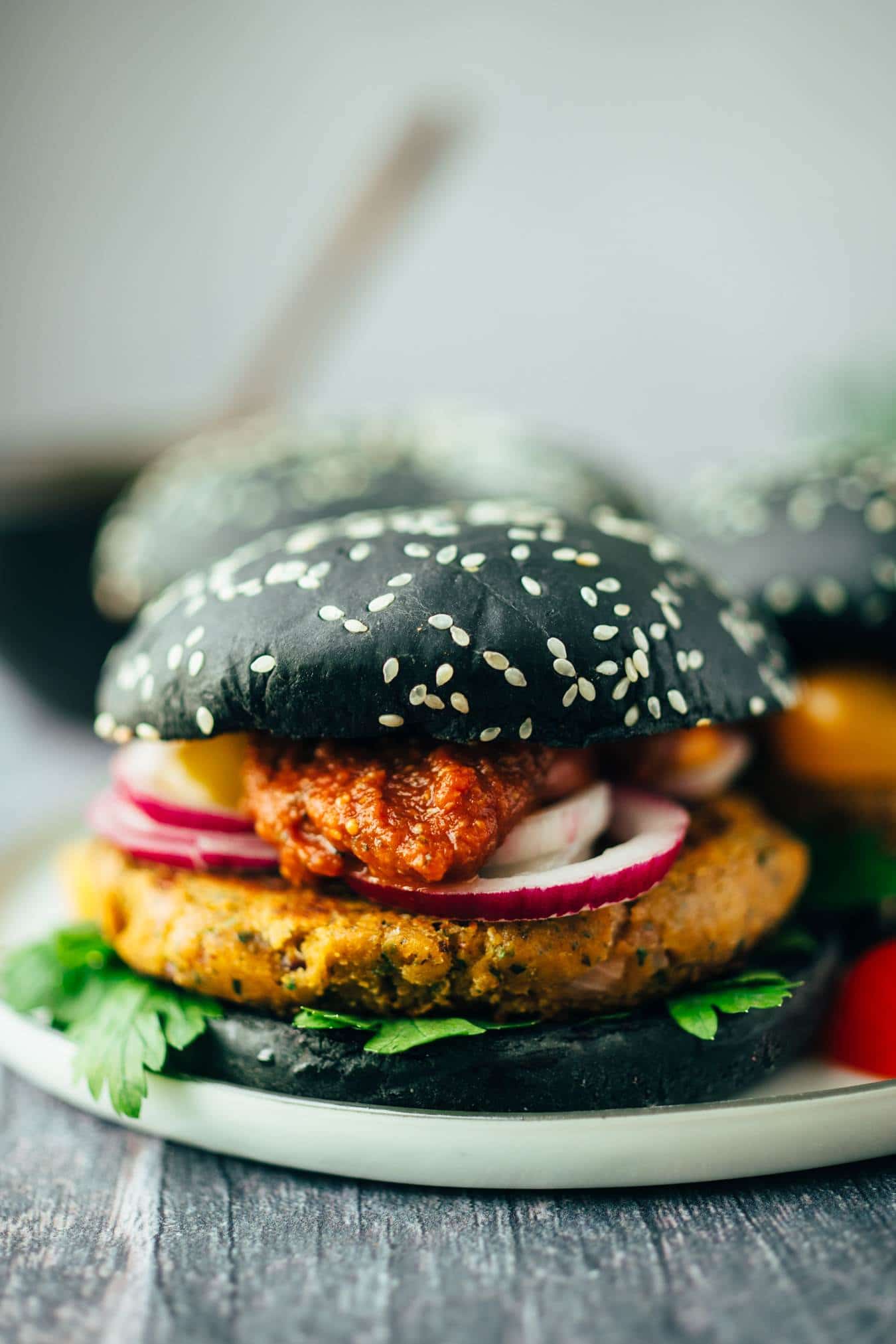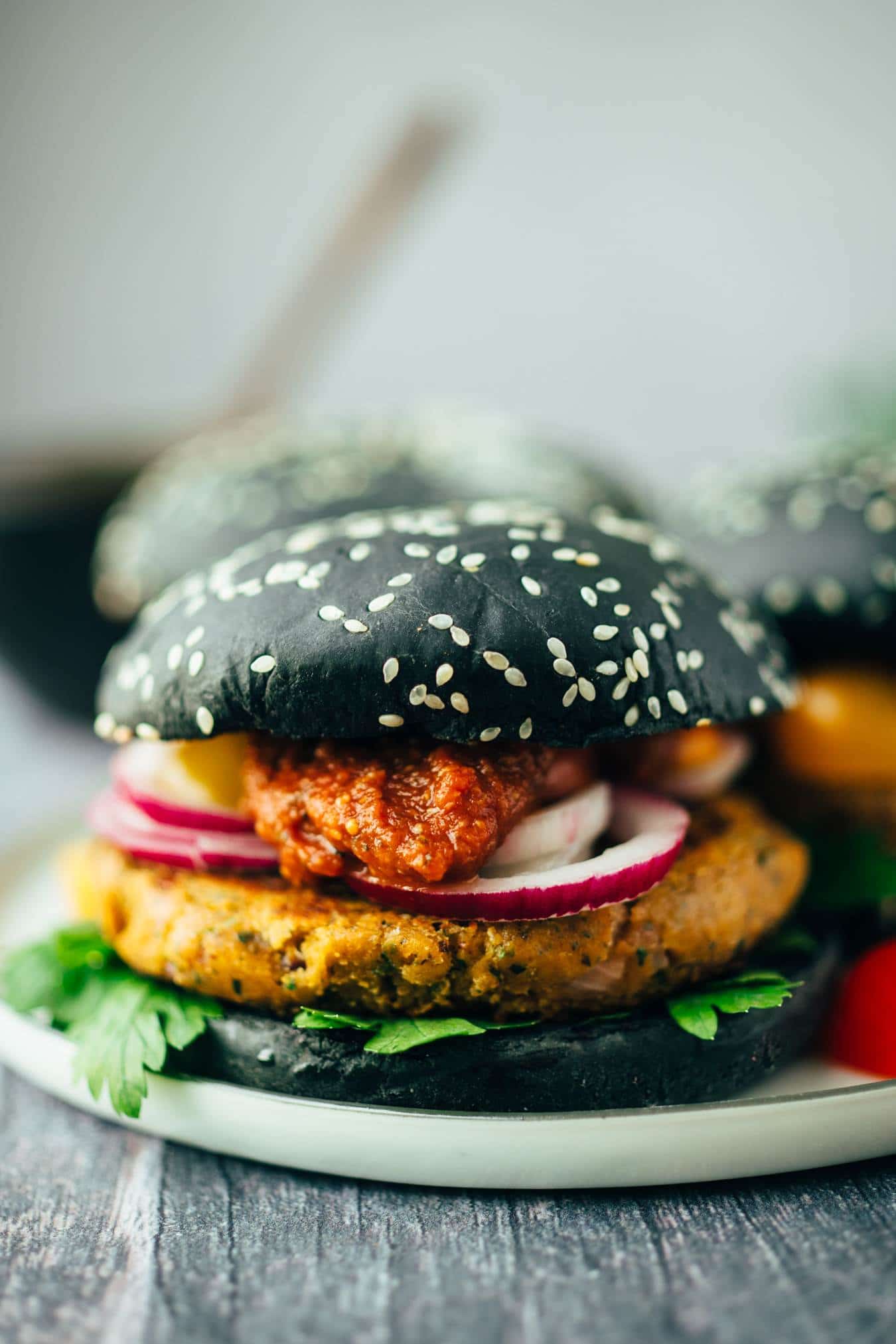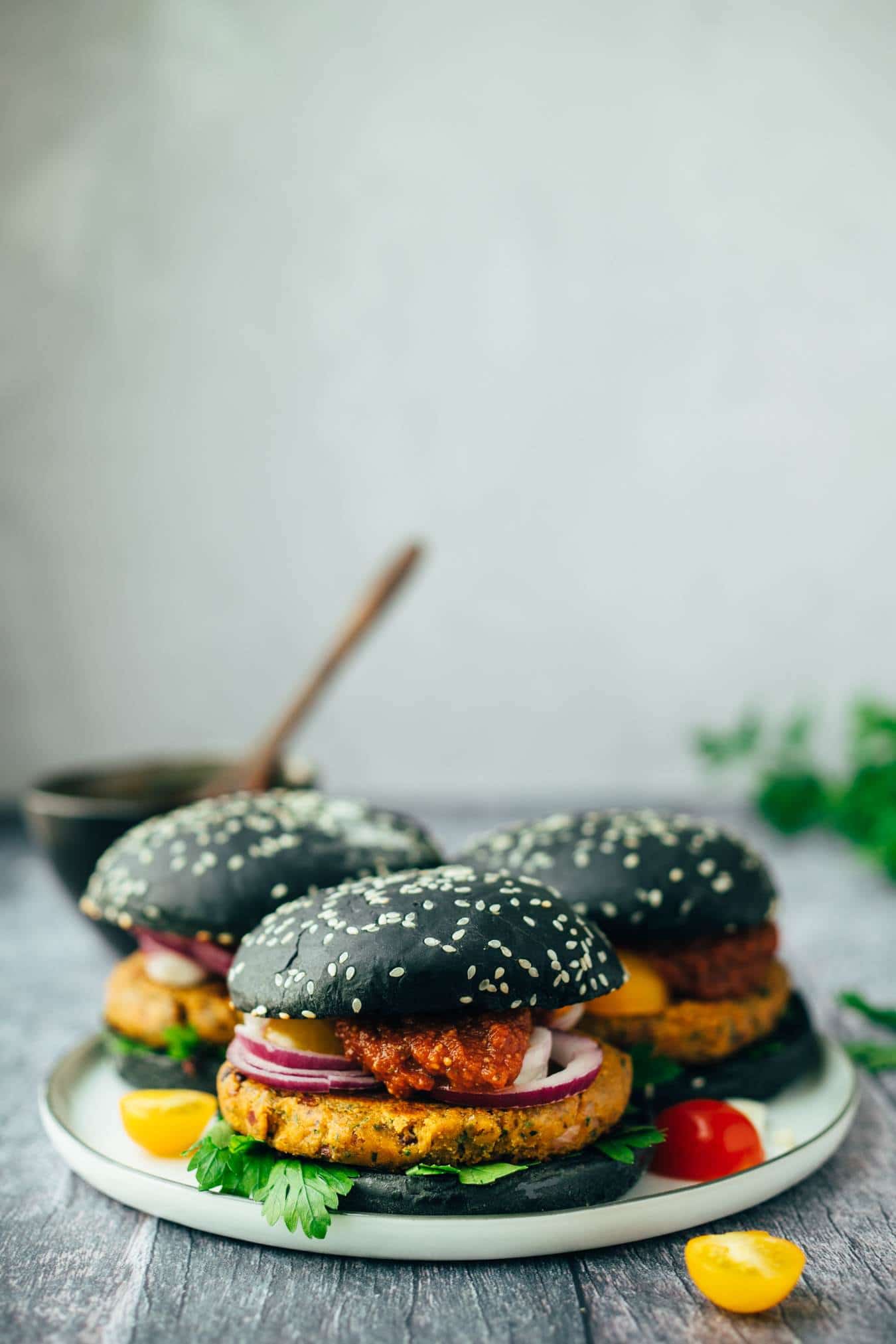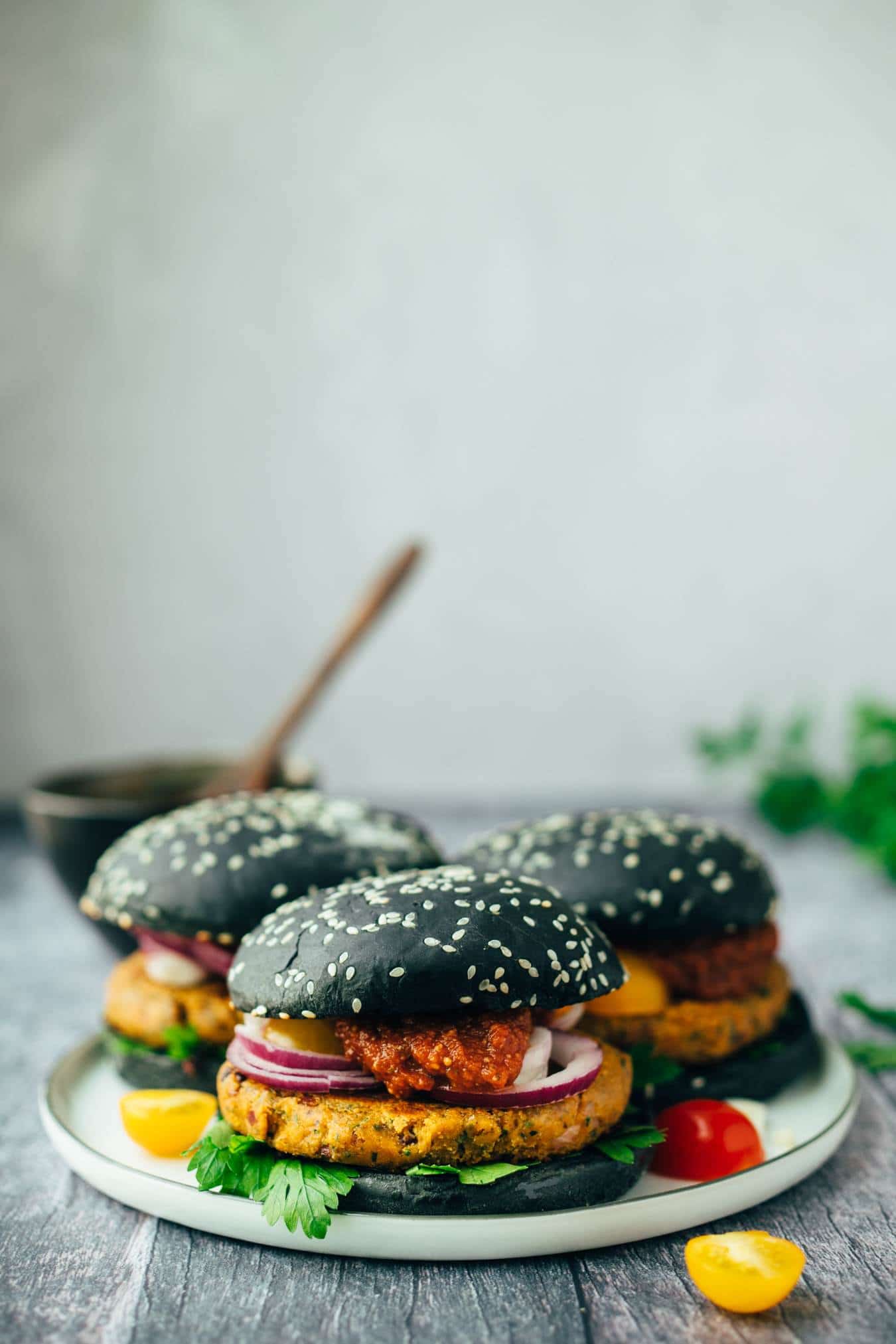 Among the other ingredients for the patties: red onions, garlic, olive oil, chickpeas, vegan parmesan , Italian herbs, parsley, oatmeal , Italian sauce (homemade), a pinch of sea salt and pepper. Topped with fresh cherry tomatoes, onion in a great bun. This time I opted for black buns, which I've linked below (in case you'd like to try it out).
That veggie life!
Shall we get started? Oh yeah, I haven 't tested the burger on the grill yet, if you do, feel free to share your experience at the bottom of the comments.
Simple Burger Italian Style:
hearty
Easy to manufacture
Spicy
versatile
Firm consistency
Extremely tasty
What else goes with this Italian highlight? Homemade Fries , Sweet Potato Wedges and homemade Burger Patties . If you want to make a low carb version of this, then I recommend replacing the Roll with large lettuce leaves.
Well did you get a craving for this spicy, italian style vegan burger ? I wish you a lot of fun with the re-cooking and of course I am happy about a review at the bottom of this page. If you post a picture, use the hashtag #veganevibes.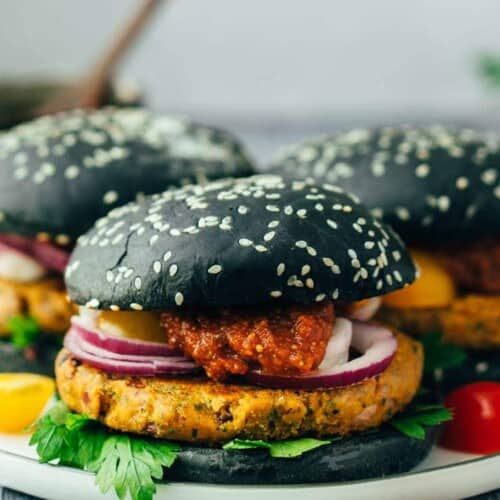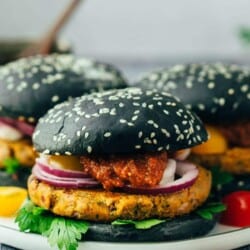 Simple Burger Italian Style
Italian seasoned vegan burger with unique flavor from chickpeas, herbs and a homemade Italian sauce. Topped with colorful cherry tomatoes, onions and tasty parsley. Italian delicious, filling, just the perfect vegan burger experience.
AUTOR: VEGANEVIBES
Inhaltsstoffe
4
medium patties (approx. 150 g)
FOR THE PATTIES:
15

g

Frying oil or other high heat oil

(sunflower oil, rapeseed oil, olive oil)

110

g

red onion

finely chopped (equivalent to a medium onion)

1

Garlic clove

finely chopped or 2 tsp garlic powder

240

g

Chickpeas

drained and washed (equivalent to a can or jar of 400g before draining).

25

g

Linseed meal

or replace with oatmeal or coarsely ground flaxseed

75

g

gluten free oat flour

grind yourself or buy ready

60

ml

Olive oil

20

g

vegan parmesan

cup alternative breadcrumbs

15

g

fresh parsley

asse washed and finely chopped

1

tbspn

Basil

ground

1

tbspn

Oregano

ground

½

tbspn

Marjoram

½

tbspn

Thyme

1

tbspn

Sea salt
FOR THE HOME-MADE ITALIAN SAUCE:
TOPPINGS:
Red onion

cut into rings

Cherry tomatoes

halved

parsley
Anleitung 
Melt the coconut oil in a frying pan over medium heat.

15 g Frying oil or other high heat oil

Add the onion and garlic and sauté for 2-3 minutes until translucent.

110 g red onion,

1 Garlic clove

Chickpeas, linseed flour, oat flour, olive oil,

vegan parmesan

, parsley, basil, oregano, marjoram, thyme, sea salt, pepper and optional tapioca starch in a food processor (e.g.

MagiMix

AD) and pulse until a homogeneous mass is obtained. Alternatively, place all ingredients in a large bowl and mix by hand to form a uniform dough.

240 g Chickpeas,

25 g Linseed meal,

75 g gluten free oat flour,

60 ml Olive oil,

20 g vegan parmesan,

15 g fresh parsley,

1 tbspn Basil,

1 tbspn Oregano,

½ tbspn Marjoram,

½ tbspn Thyme,

1 tbspn Sea salt,

Optional: 2 tablespoons tapioca starch

Season to taste and add sea salt and pepper to taste. The consistency should be firm but malleable, neither too dry nor too mushy. If too dry, sip more olive oil, if too wet, add more oatmeal.

Form into a ball, place in a bowl and cover and refrigerate for 30 minutes. The patty mixture should be really nice and firm now.

In the meantime, for the HOMEMADE ITALIAN SAUCE place all the ingredients in a small saucepan, bring to the boil once and then reduce over medium heat for about

15 minutes

until all the liquid has evaporated and a sauce has formed. Season and set aside.

1 tbspn Basil,

1 tbspn Oregano,

½ tbspn Marjoram,

½ tbspn Thyme,

½ tbspn Garlic granules or a clove of garlic pressed,

1 tbspn Coconut blossom sugar,

1 tbspn Balsamic vinegar,

Salt and pepper to taste,

250 g Tomatoes Passata

Heat medium sized pan and heat a little coconut oil or frying oil. Separate dough into 4 equal portions and shape into burger patties. Ideally, use a burger press to help.

Sear for about 3-7 minutes on each side until desired browning is achieved and patties are nicely done.

Slice open vegan burger buns, top with parsley, place patty on top, spread cherry tomatoes and Italian sauce on top and garnish with desired toppings. enjoy!

Red onion,

Cherry tomatoes,

parsley,

vegan burger buns,

Homemade frieze

Patties last 2-3 days covered in the refrigerator, preferably fresh.
Notizen
NOTES /HELPFUL ACCESSORIES:
Nährwertangaben
Serving:
1
Pattie
Calories:
370
kcal
Carbohydrates:
32
g
Protein:
9
g
Fat:
23
g
Saturated Fat:
6
g
Cholesterol:
4
mg
Sodium:
675
mg
Potassium:
423
mg
Fiber:
5
g
Sugar:
4
g
Vitamin A:
655
IU
Vitamin C:
11.6
mg
Calcium:
114
mg
Iron:
3.1
mg