1,2,3 – YES! I can still count to 3, because there were exactly 3 Sweet potatoes in my refrigerator. This immediately raised the question of what I could do with it. I do like to plan, but sometimes I like to let things come to me. Then there it was, the brilliant idea. Wedges!!! I love them, but until now I have only made them from potatoes. Do they also work from sweet potatoes? Of course! To match, it has to be a creamy cashew mayo and for contrast, a fiery sauce. Voilá!
Fries were yesterday – today we make vegan sweet potato wedges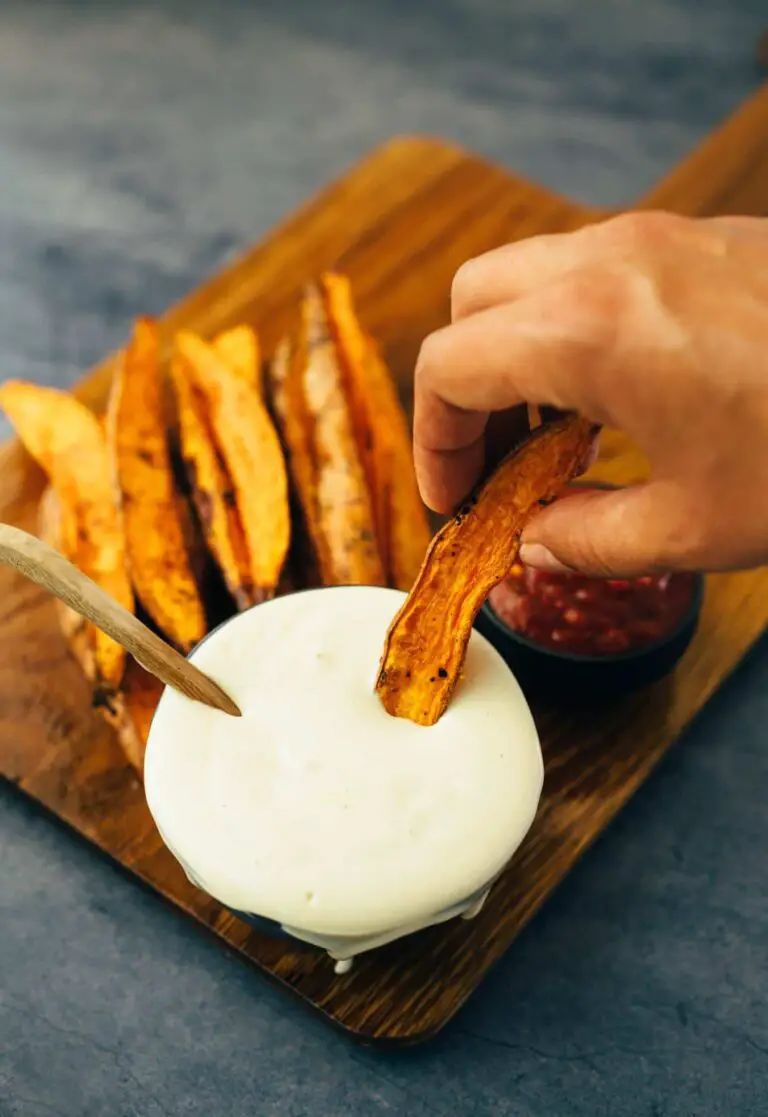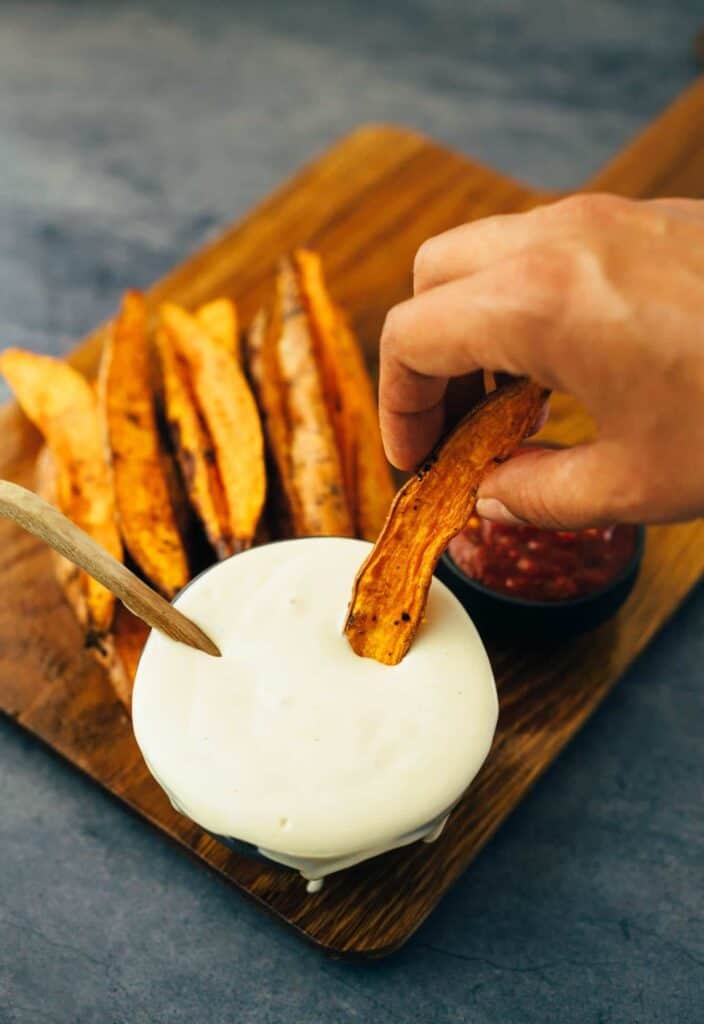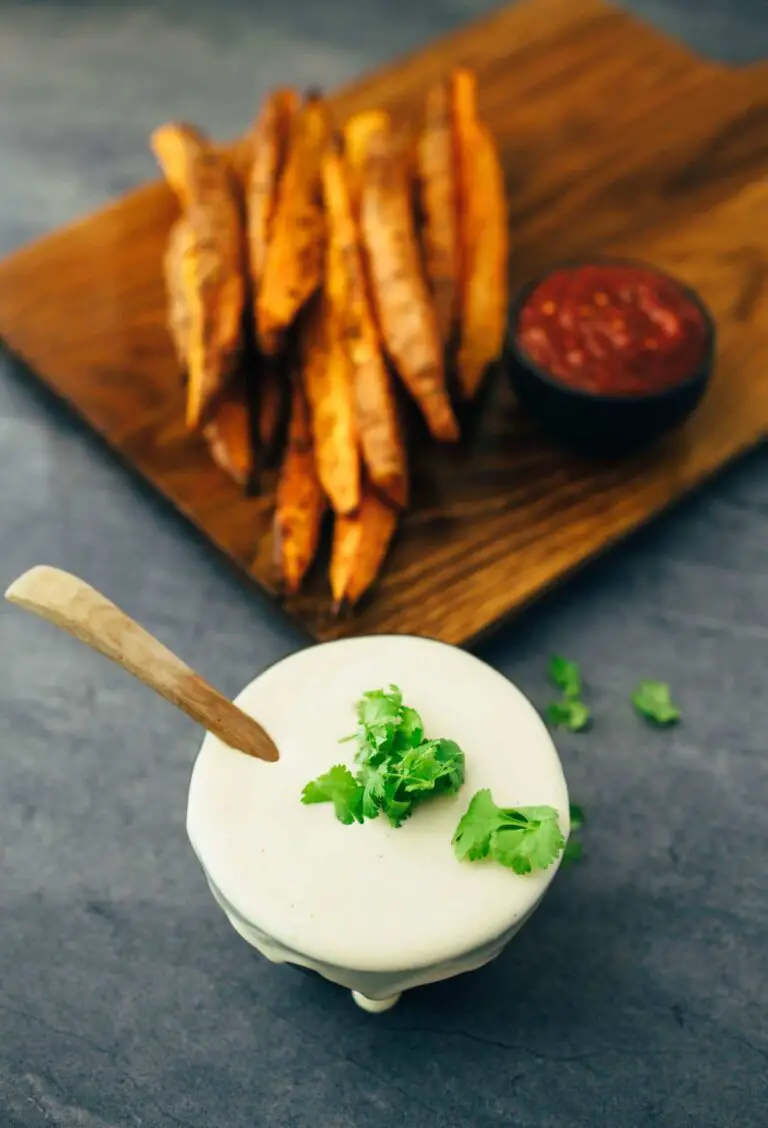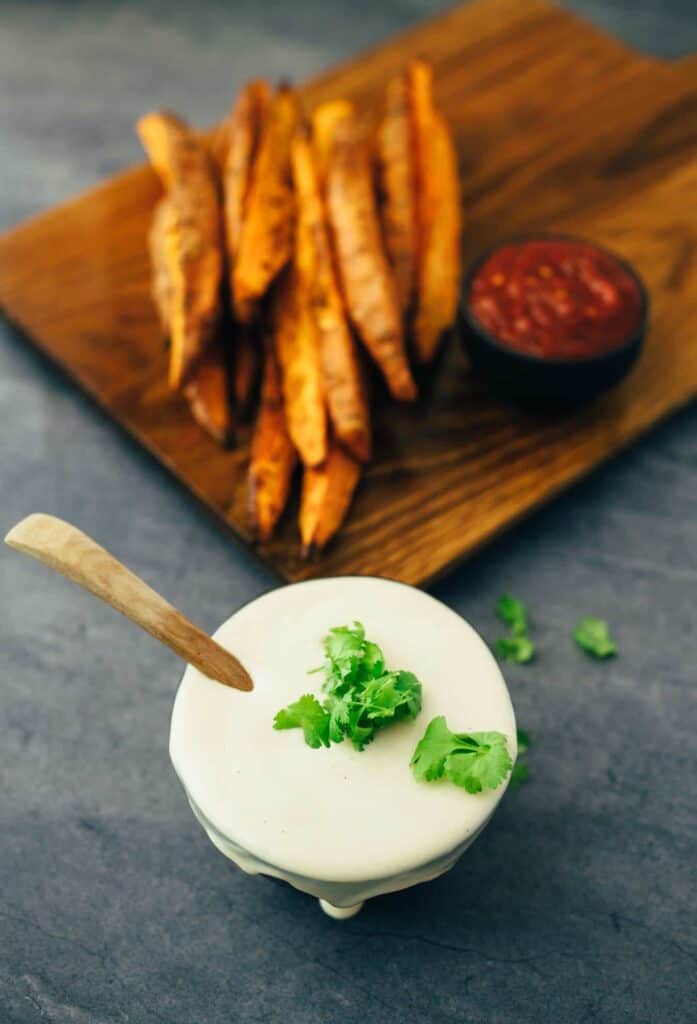 Plan on 30 minutes of time, an oven and a good mixer (as always). Then everything goes very quickly and the result is pure pleasure. My husband and I treated ourselves to the dish for lunch and were stuffed afterwards.
Sweet potatoes are somehow really practical, especially because you can eat the skin with. As much as I like potatoes, peeling them can get on your nerves. For sweet potatoes, simply brush off the skin with a vegetable brush. You can get them in any well-stocked supermarket. Then we cut the tuber in half and cut into wedges. When it comes to spices, anything is fair game, whether it's a ready-made barbecue spice from the organic supermarket, sea salt and pepper, or a handful of herbs from the garden.
The perfect dip for me personally is a creamy, vegan mayo. This time not classically made with oil, but from cashews. Here, too, as always, the rule applies: The mixer does it. I don't soak the kernels beforehand and promptly process them in my Blendtec. If your blender is not that powerful, then be sure to soak. At the bottom of the tutorial you will find two methods for this.
Cashew mayo – I have fallen in love again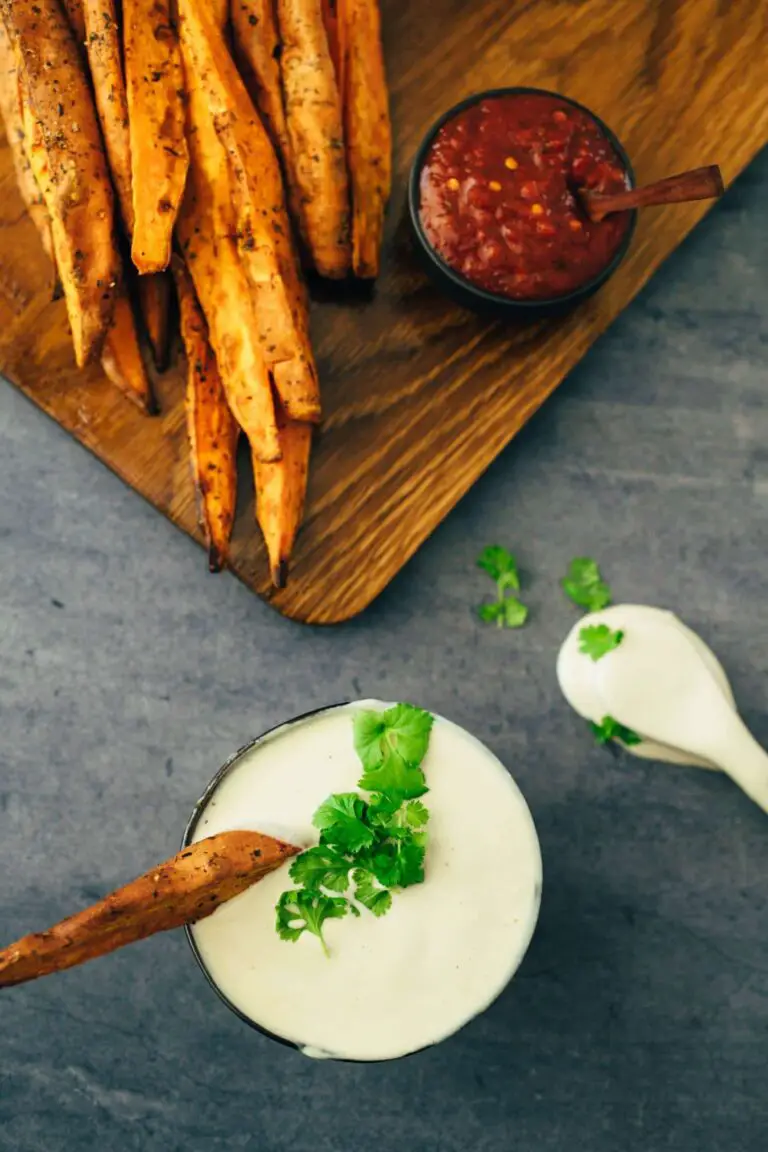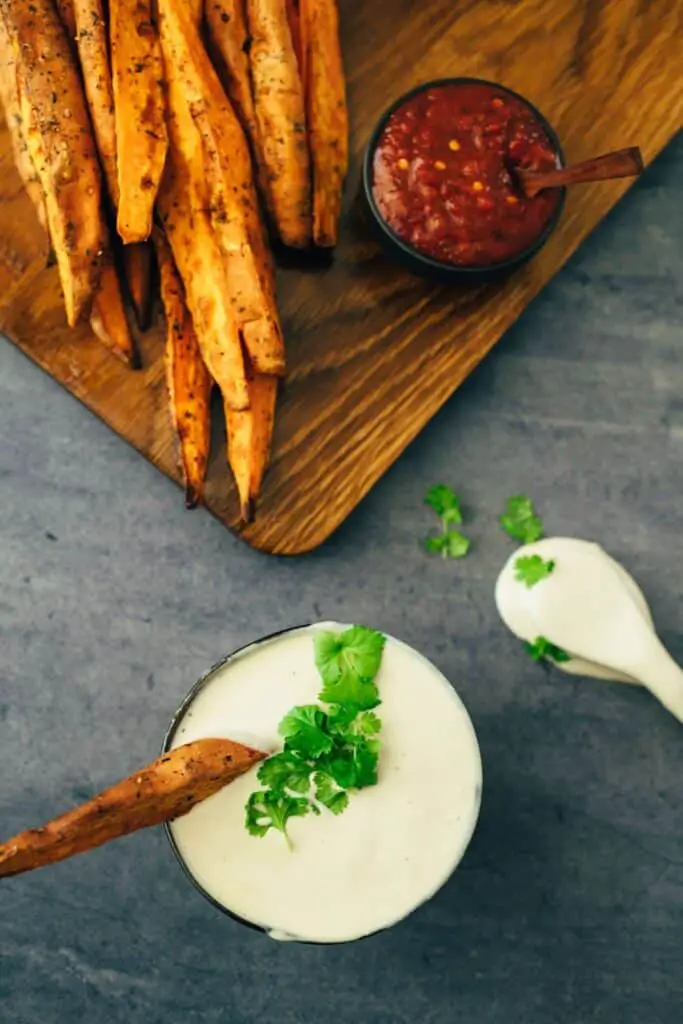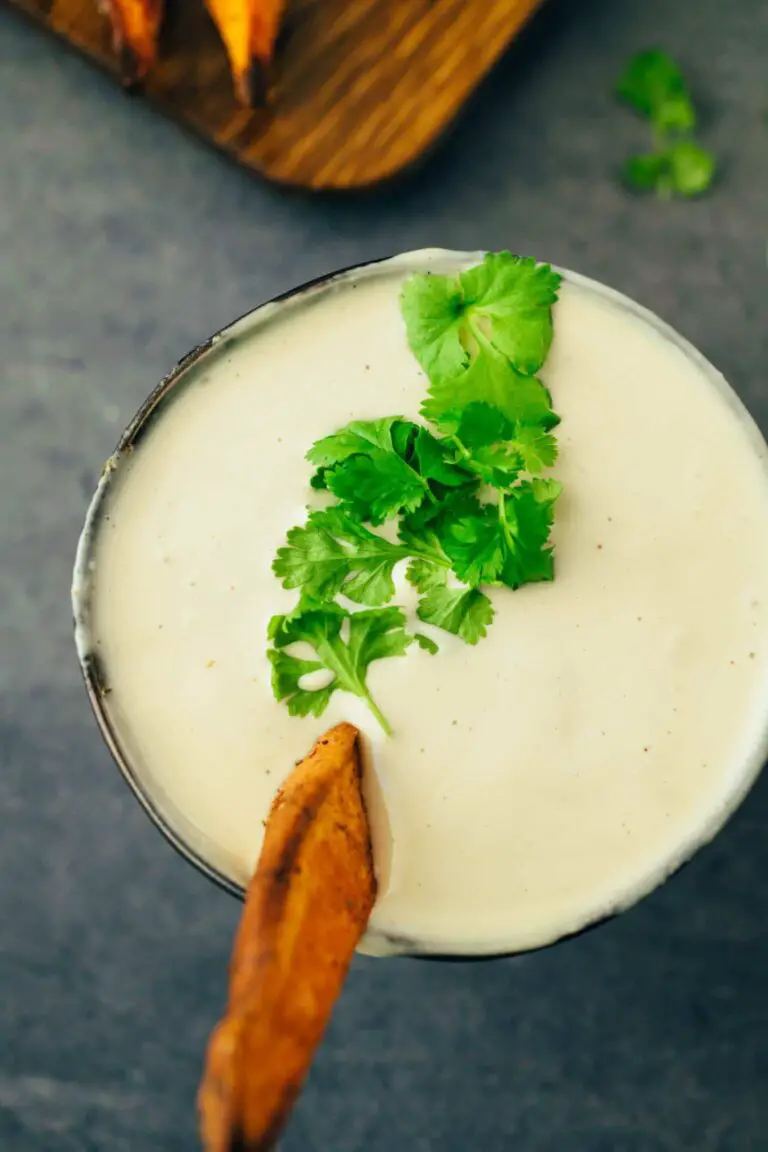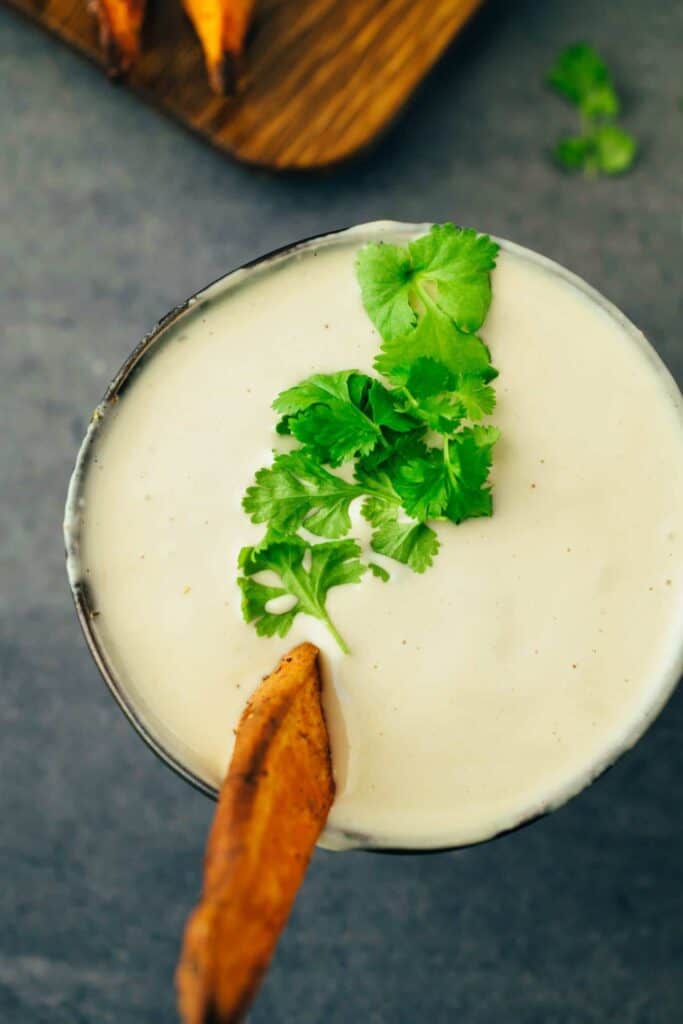 Ok, the vegan mayo is actually the highlight of this one Dish . The beauty is that it's also wonderfully versatile and goes with so many different dishes. Whether it's a salad, sandwiches or tofu sausages, it can be added to almost anything.
One thing is still missing and that is fire! How? A fiery sauce, of course. This one is not homemade in my case (still to come, I promise). It's a good thing that Ökokiste has such a great selection of barbecue sauces.
Depending on whether the dish is to be a lunch or dinner, served alone or as a menu, you can vary the portion sizes. For us, 3 medium sweet potatoes made a perfect lunch.
The sweet potato wedges with cashew mayo (30 minutes) are:
filling
Super fast made
Rich in vegetable protein
Spicy
Crispy
I hope my 30 minutes snack convinces you? If so, I'm happy to receive a review at the very bottom of this page. If you post a picture, use the hashtag #veganevibes.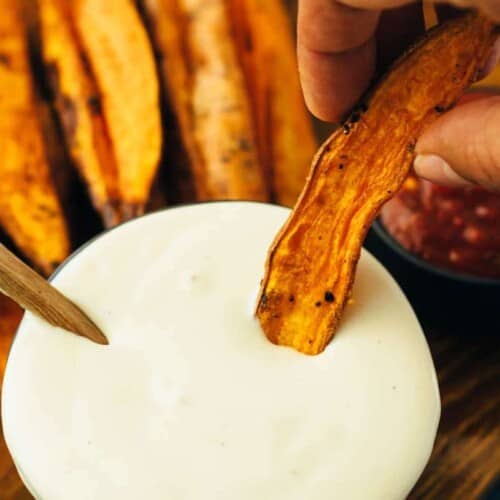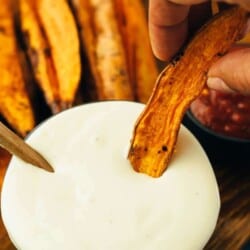 Sweet potato wedges with cashew mayo (30 minutes)
Extremely crispy, spicy, vegan sweet potato wedges. Finished with a delicious homemade cashew mayo. Perfect for a light lunch or dinner, or just in between. A small salad makes the dish a filling and healthy meal.
AUTOR: VEGANEVIBES
FOR THE WEDGES
30

ml

Frying oil

or alternatively coconut oil

3

medium sweet potatoes

halved and then cut into wedges (previously dry brushed clean).

Fresh or dried herbs to taste e.g. thyme

Rosemary, basil
FOR THE CASHEW MAJO
120

g

Cashews

soaked*

60

ml

cold pressed olive oil

125

ml

Oat milk or another plant milk

1

tbspn

Apple cider vinegar

1

tbspn

maple syrup

Sea salt to taste

Fresh coriander leaf as topping

optional
Anleitung 
Heat oven to 200 degrees (ideally grill setting) and line baking sheet with parchment paper.

Cut sweet potatoes into wedges cut, rub with oil, sea salt, pepper and herbs to taste.

30 ml Frying oil,

3 medium sweet potatoes,

Sea salt and pepper to taste,

Fresh or dried herbs to taste e.g. thyme

Spread on the baking sheet and bake for 25 minutes. Turn once halfway through baking time so that all sides are equally crispy.

In the meantime, mix all ingredients for the Cashew mayo in a high-powered blender and blend until a fine cream is formed. Transfer to a bowl and refrigerate, covered.

60 ml cold pressed olive oil,

125 ml Oat milk or another plant milk,

1 tbspn Apple cider vinegar,

1 tbspn maple syrup,

Sea salt to taste,

120 g Cashews

Remove wedges from oven at end of baking time and let cool for 1-2 minutes.

Arrange on a board or bowl, serve with the cashew mayo and another spicy dip to taste. Refine mayo with cilantro to taste.

Fresh coriander leaf as topping

Wedges are best enjoyed fresh, cashew mayo keeps covered for 2-3 days in the refrigerator.
* Here are 2 ways you can soak cashews: COLD SOAK: Soak cashews in cold, clear water and cover. Let stand at least 6 hours, or preferably overnight. Drain, pat dry with a clean cotton kitchen towel and use. HOT SOAKING: This is the quick method. Boil water, place cashews in a heatproof bowl and pour hot water over them. DO NOT COVER and leave to infuse for one hour. Drain, pat dry with a clean cotton kitchen towel and use.
Nährwertangaben
Serving:
1
Portion
Calories:
932
kcal
Carbohydrates:
63
g
Protein:
15
g
Fat:
72
g
Saturated Fat:
9
g
Sodium:
145
mg
Potassium:
1084
mg
Fiber:
8
g
Sugar:
16
g
Vitamin A:
27795
IU
Vitamin C:
4.7
mg
Calcium:
172
mg
Iron:
5.8
mg