Can you imagine life without fries? Personally, I really enjoy eating them, however, I spent a long time tweaking the right recipe. There are many different ways to make crispy French fries. They are often deep-fried in a lot of fat or baked in a deep fryer. Neither option sounds sexy to me. I set out to find crispy low-fat fries that are easy to make and bake in the oven . There are a few simple tricks and your favorite fries will be just phenomenal.
Vegan fries …. what?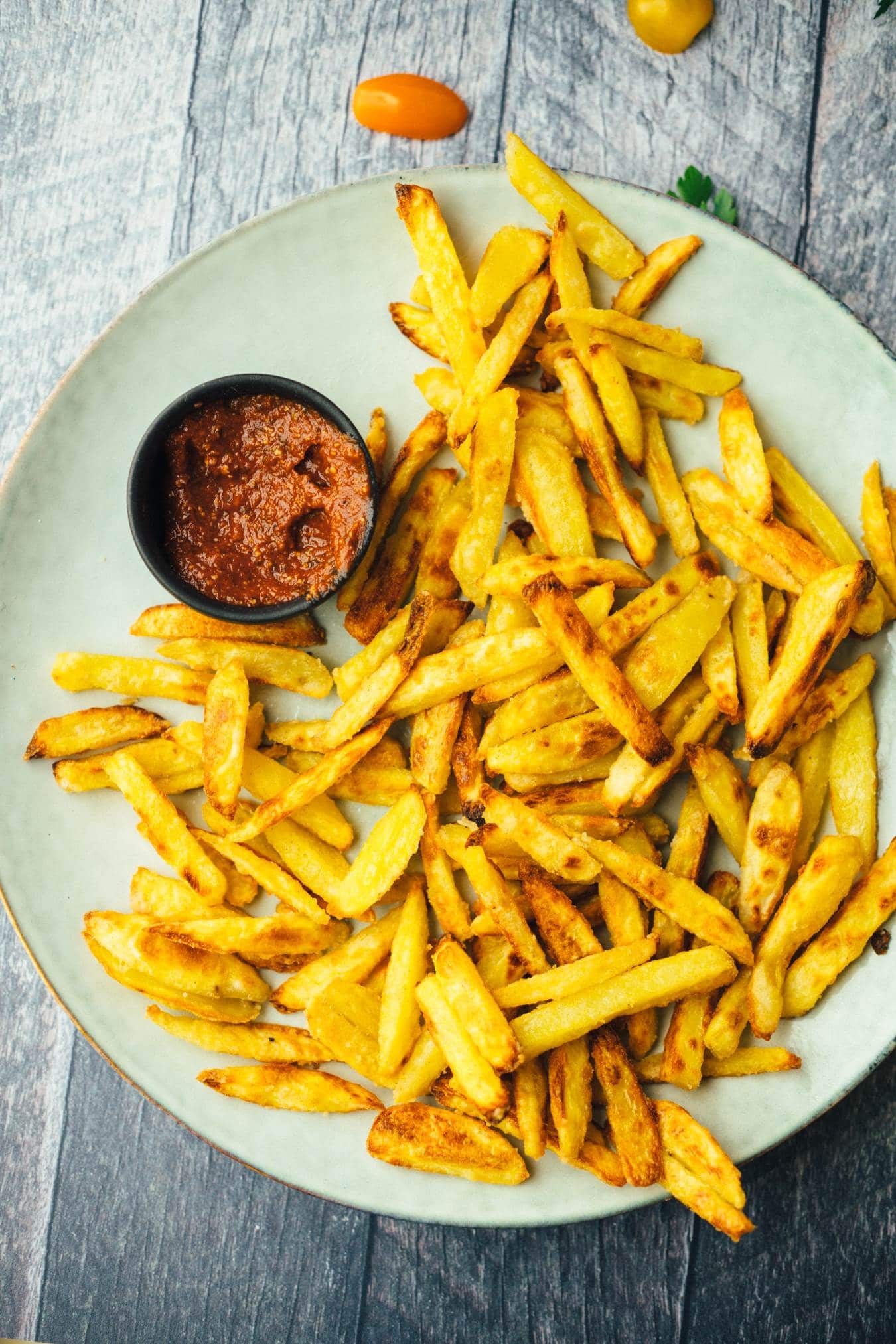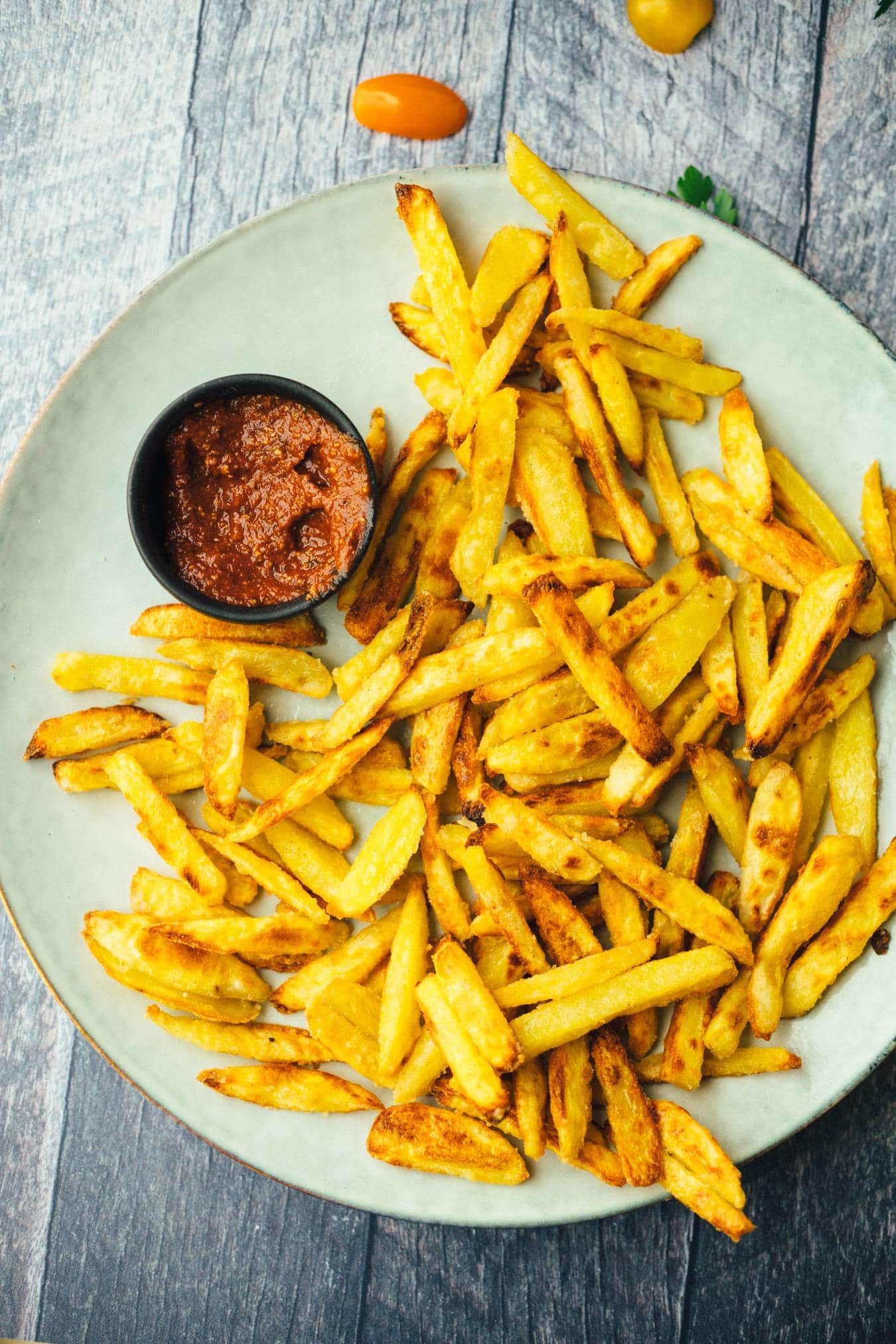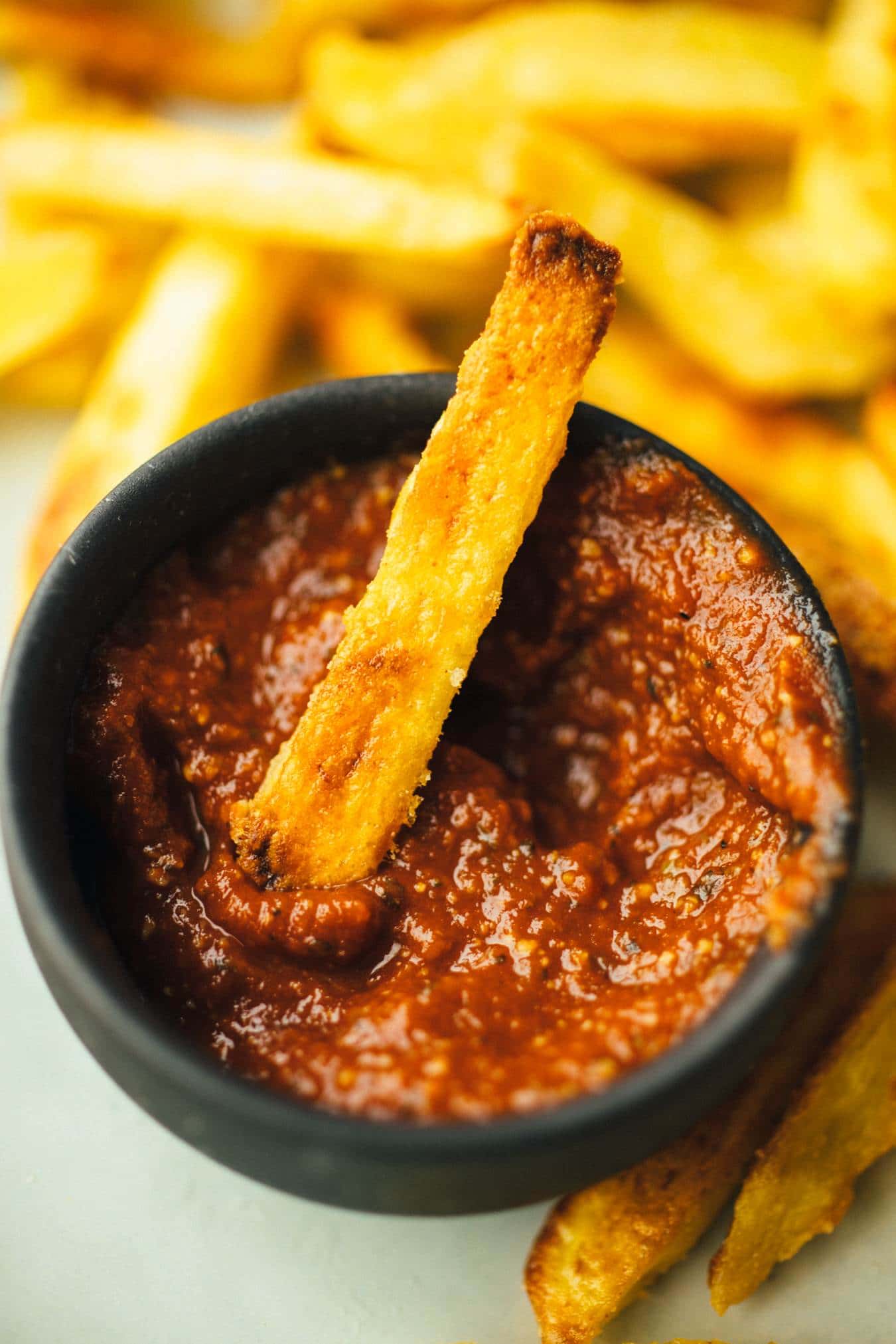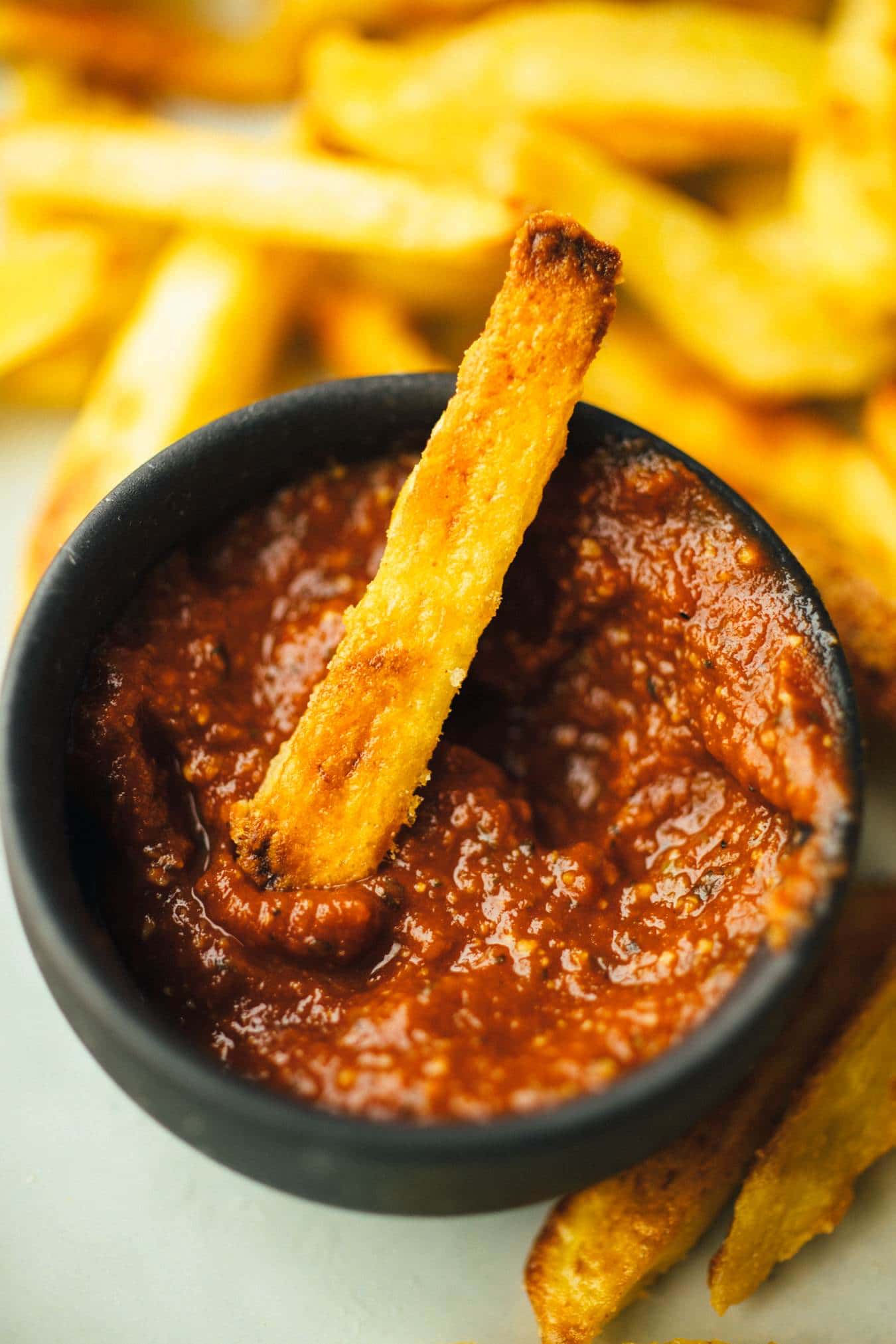 All you need is 45 minutes, an oven and a few simple ingredients. Home potatoes, high heat sunflower oil, rice flour and a little salt. Of course, you can always add a few more spices.
Here are a few variations:
Chili flakes for a fiery variation
Thyme, oregano, basil and marjoram for an Italian version
or with smoked paprika powder (very tasty!)
Greasy fries? No thanks!
Peel the potatoes, cut them into slices and then comes already the trick number 1: bathe the potatoes in hot water.
why? This washes out some of the starch, which in turn is responsible for why the fries don't crisp up. Drain, pat dry and trick number 2: dust with rice flour or cornstarch.
why? This once again takes away the last bit of moisture on the surface and paves the way for damn crispy fries.
Can fries actually not be vegan? Yes they can! However, only if you bake them with an animal fat and we want to avoid that as much as possible. I use a high oleic sunflower oil for baking, which I highly recommend. But olive oil or canola oil also works. Perfect! Now just preheat the oven, prepare the baking tray and off you go.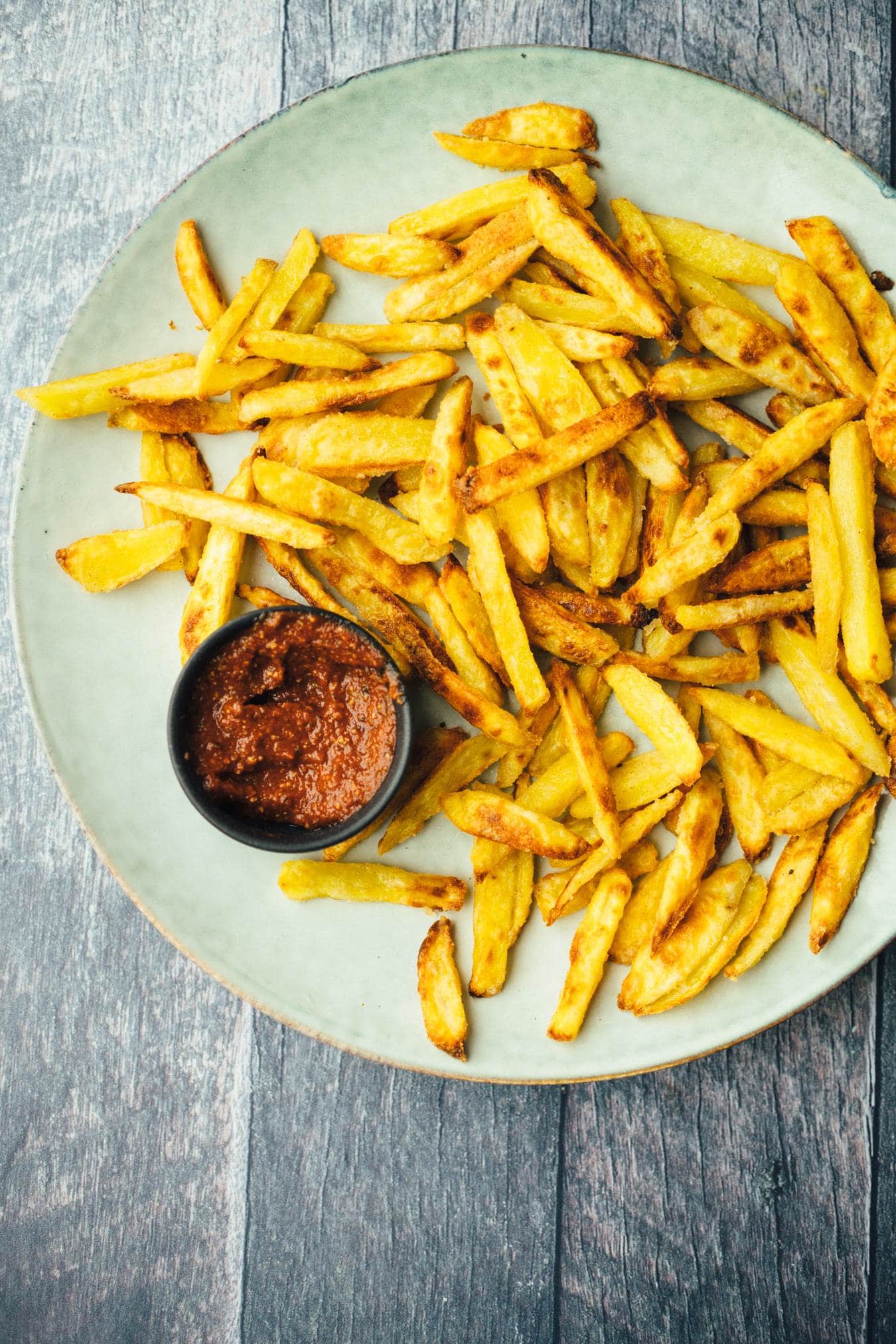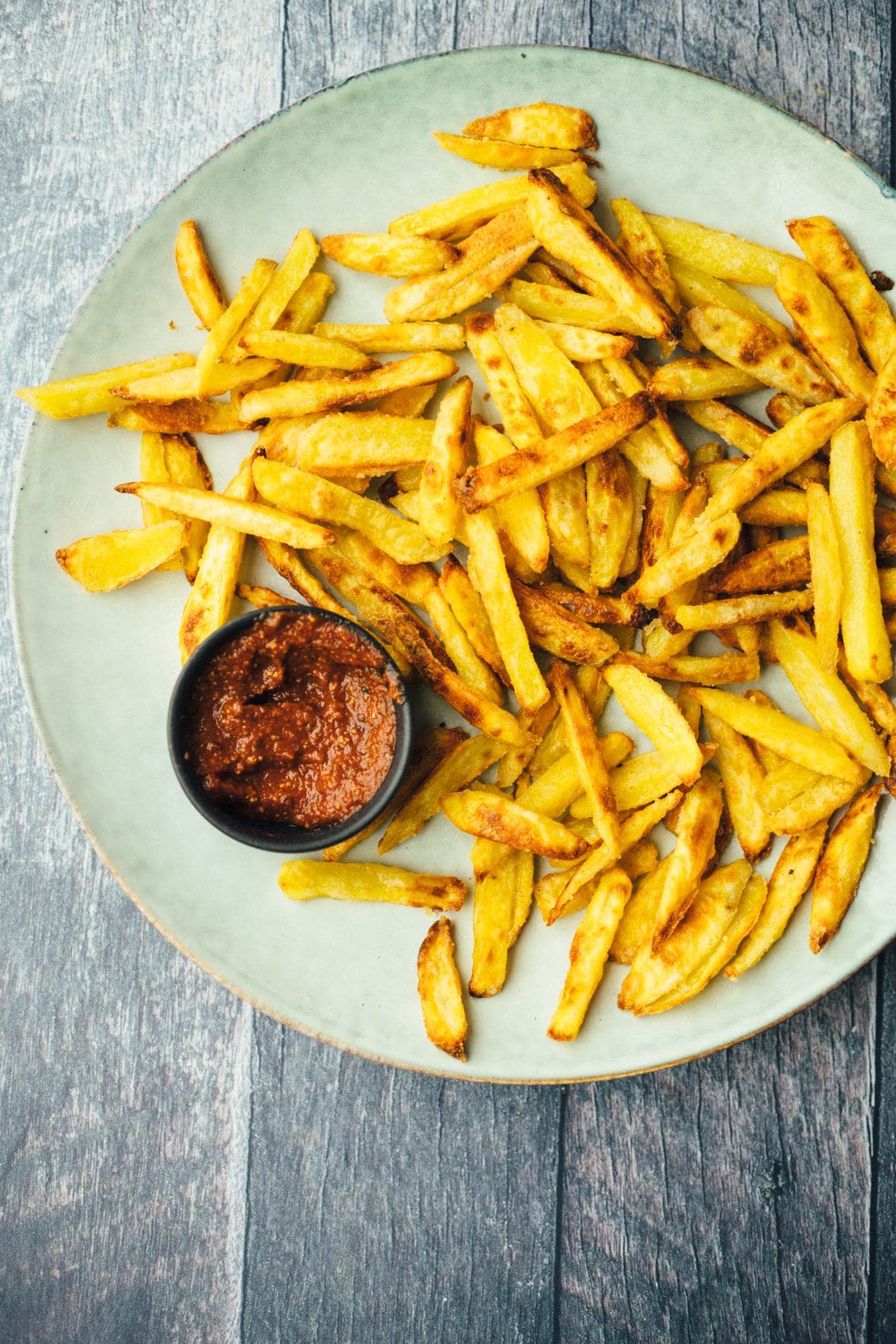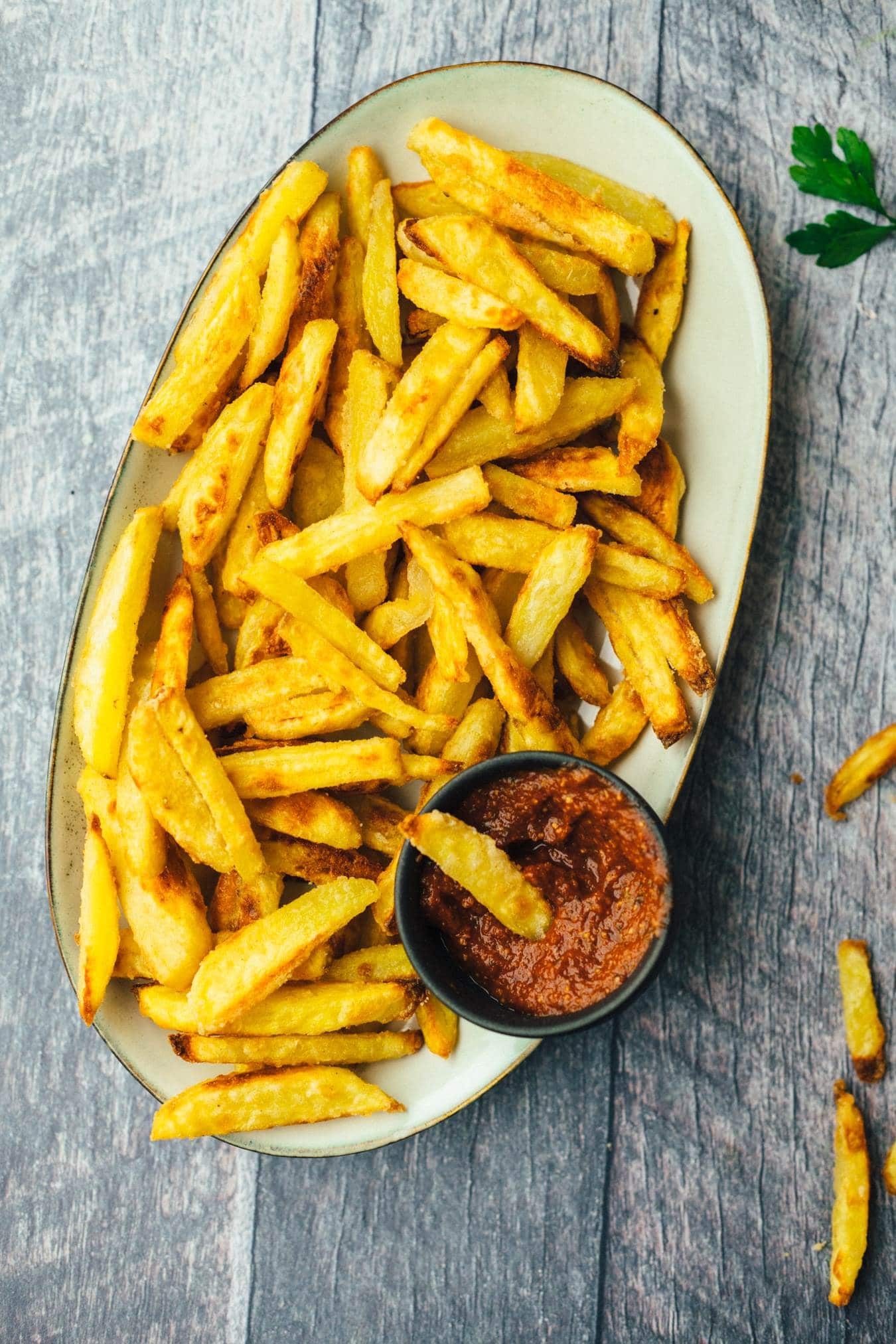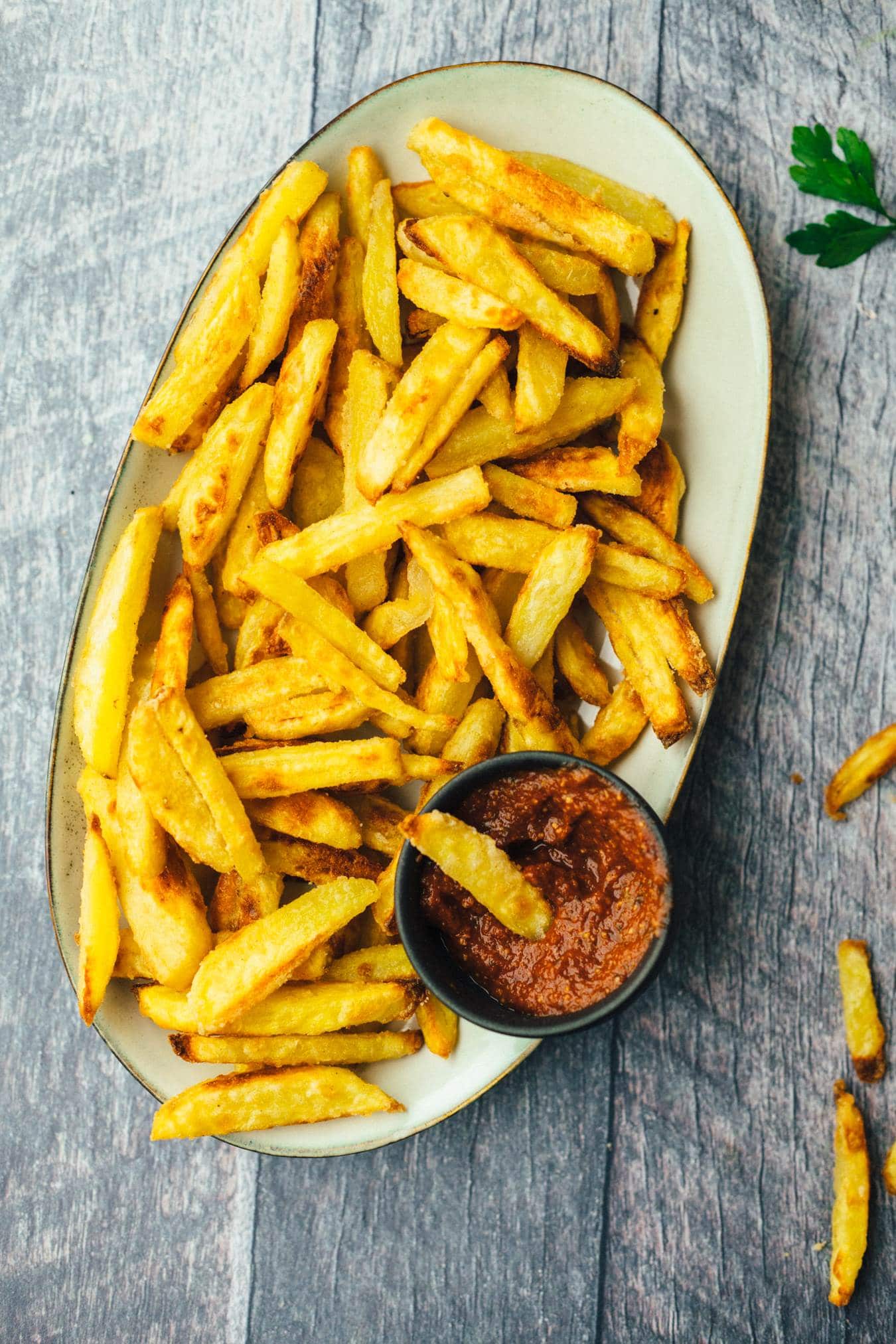 Are you more the ketchup or mayo type?
Somehow the question always reminds me of dating. Who's cooler, the ketchup or the mayo guy? Or is the French fries red and white guy your favorite? Honestly, for a long time I was not a fan of mayo at all, until I discovered my own variant. Mayo on the basis of cashew nuts , as I love them.
Depending on whether the dish is a Lunch or dinner Depending on whether the dish is to be served on its own or as a menu, you can vary the portion sizes. The standard quantity for this recipe is enough for two people as a side dish.
The crispiest fries (45 minutes) are:
filling
Super fast made
low fat
Spicy
Crispy
I hope my 45-minute snack convinces you? If so, I'm happy to receive a review at the very bottom of this page. If you post a picture, feel free to use the hashtag #veganevibes.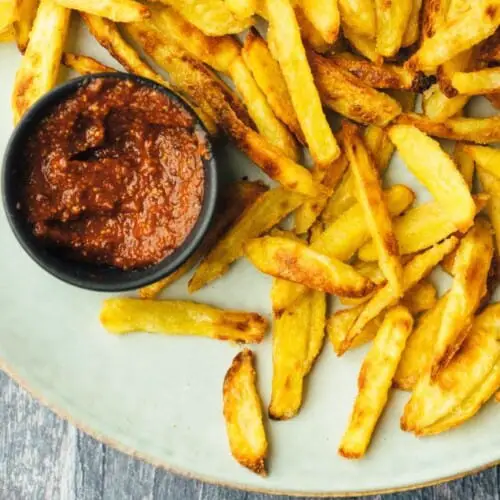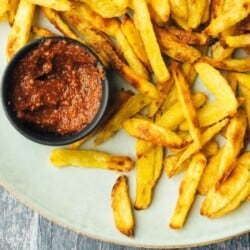 The crispiest fries (vegan, gf)
Extremely crispy, low-fat and vegan fries. Perfect for a light lunch or dinner, as a side dish or just in between. Baked in the oven in a little fat, seasoned to taste, they go perfectly with homemade cashew mayo or tomato ketchup.
AUTOR: VEGANEVIBES
FOR THE POMMES
750

g

mainly waxy potatoes

peeled and cut into sticks

30

ml

Frying oil

30

g

Rice flour

or cornstarch, TIP: If you don't have rice flour at home, you can also finely blend whole rice grains in a powerful blender.
To serve:
Anleitung 
Heat oven to 180 degrees (ideally grill setting) and line baking sheet with baking paper.

Put potato sticks in a heatproof bowl and pour hot water over them. Leave to infuse for

15 minutes

.

750 g mainly waxy potatoes

Drain and pat dry with a clean cotton kitchen towel or paper towel.

Place in a large bowl and add rice flour. Mix with hands until everything is evenly distributed.

Add sunflower oil, salt, pepper and other spices to taste and mix well again.

30 ml Frying oil,

Sea salt and pepper to taste

Spread on the baking sheet and bake for

30 minutes

. Turn once halfway through baking time so that all sides are equally crispy.

Remove fries from oven at end of baking time and let cool for 1-2 minutes.

Arrange on a board or bowl, serve with tomato ketchup, cashew mayo and other dips as desired and enjoy!

Tomato ketchup,

Cashew Mayo

Best fresh.
Notizen
NOTES /HELPFUL ACCESSORIES:
Nährwertangaben
Serving:
1
Portion
Calories:
405
kcal
Carbohydrates:
58
g
Protein:
10
g
Fat:
15
g
Saturated Fat:
1
g
Sodium:
37
mg
Potassium:
1548
mg
Fiber:
9
g
Vitamin C:
42.7
mg
Calcium:
113
mg
Iron:
12.2
mg