Beet millet salad sounds for many at first moment not particularly exciting. After all, we are just after Easter and for many it is back to work. Healthy dishes that are quick and uncomplicated to prepare are ideal for this. I'm talking about aromatic, nutrient-rich salads that have nothing in common with a classic green salad. Boring was yesterday, because today there is a sophisticated recipe that makes the heart of every vegan beat faster. I am in any case totally thrilled and also my husband was very positively surprised, what you can do with millet so everything. Let's get started together.
Beet millet salad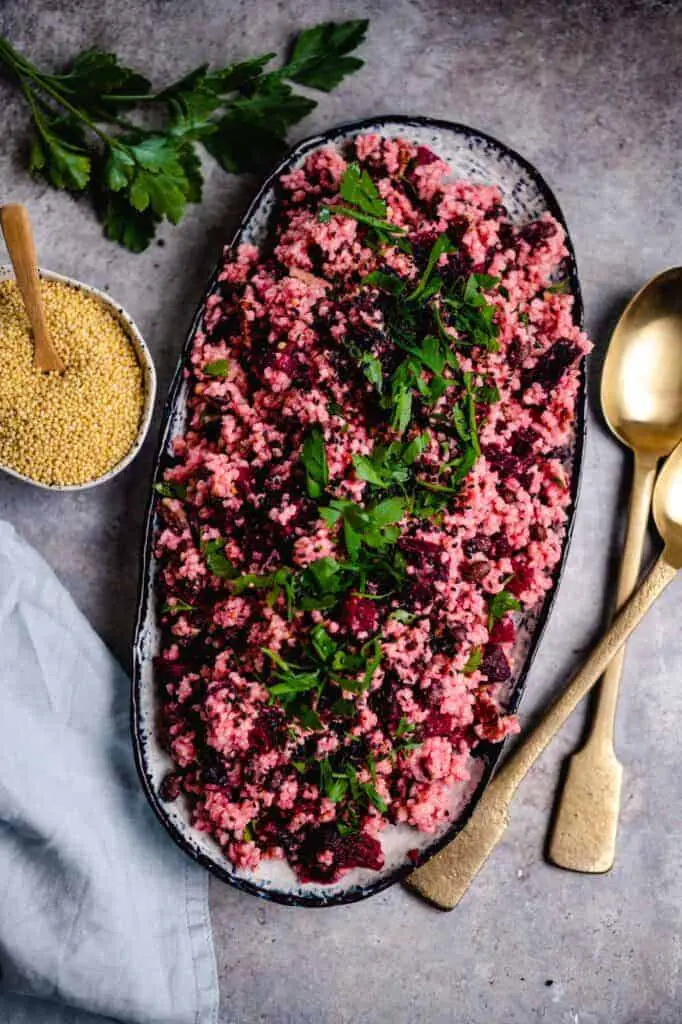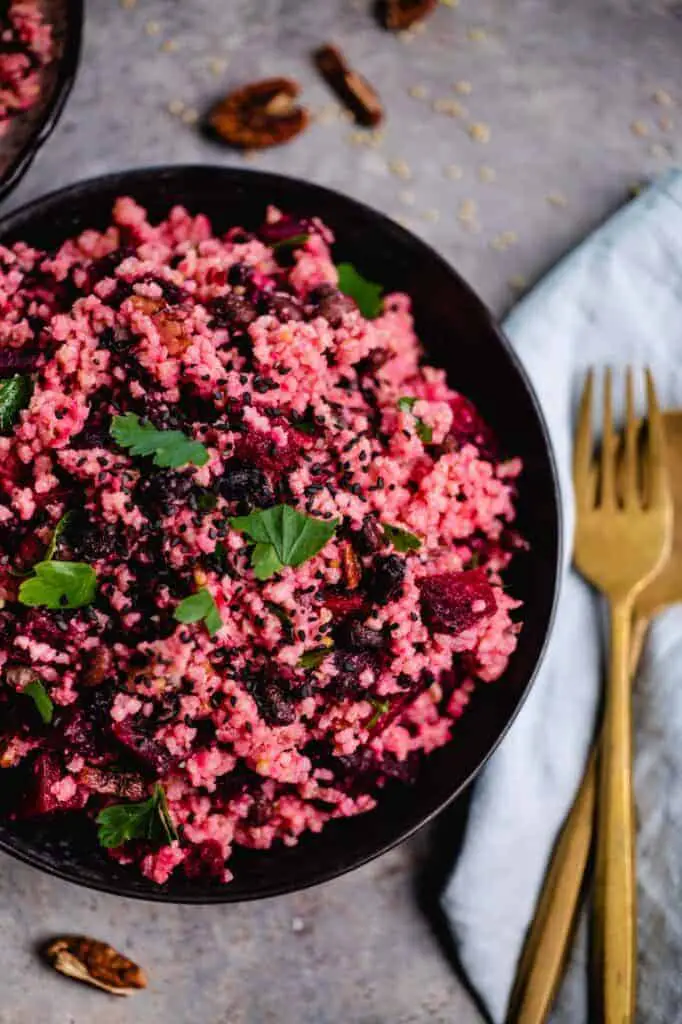 I did some research on Google and was amazed to learn that millet was once a staple food even in our latitudes. Unfortunately, it has been banned from domestic fields for efficiency reasons and corn and wheat have been grown on a large scale in its place. In many other parts of the world, the situation is quite different, because there millet is an absolute staple food. I would like to see it used again more often in our house, because the little yellow grains are super nutrient-rich, gluten-free and very digestible.
But now let's get to our salad. The dressing is simple and quickly mixed from light balsamic vinegar, olive oil, maple syrup, salt, pepper and hot mustard. That's all there is to it. For the salad we need cooked millet, beet, black beans and pecans (or other nuts of choice). This all goes together in a large bowl and is mixed together with the dressing. Then it goes again in the refrigerator and is allowed to draw a little. Simply delicious!
Let's take another closer look at millet and what all is in this small, fine grain:
Contains a lot of iron with 7mg per 100g
Rich in silicon for skin, hair and nails
High content of magnesium, vitamin A, B vitamins and vitamin E
TIP: Always wash millet hot before eating or boil briefly in a pot with plenty of water and then rinse with cold water. Small fat molecules, which can taste bitter, adhere to the millet grains. Since I rinse the millet with hot water beforehand, it tastes excellent. If you also want to make sure that the phytic acid is broken down, soak the millet in cold water for 2 hours before processing (pour away the soaking water).
Nutritious vegan salads with millet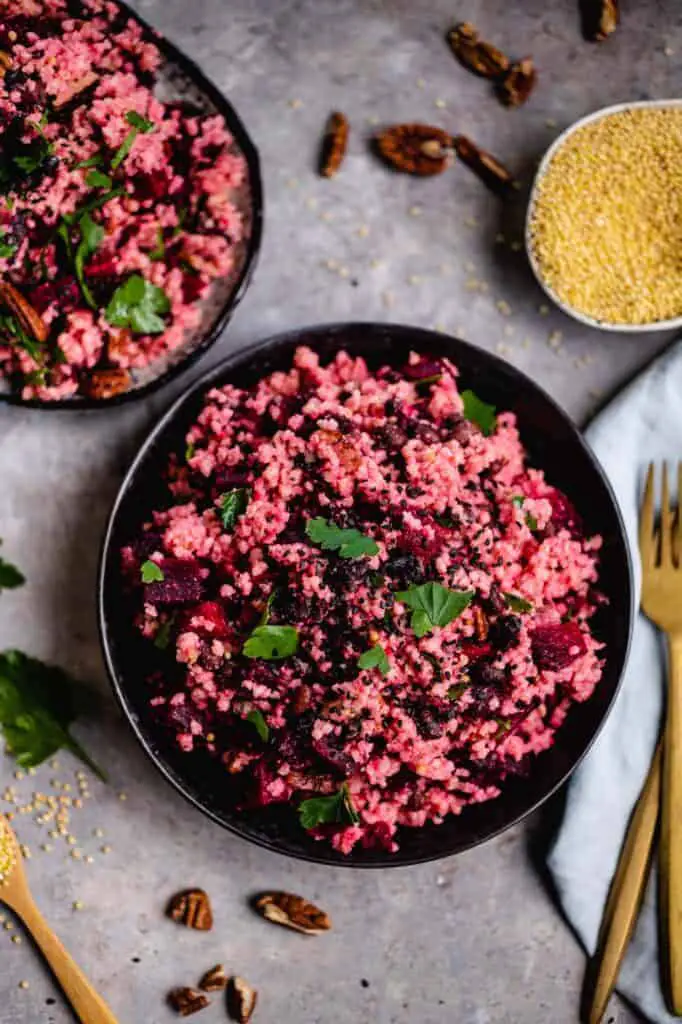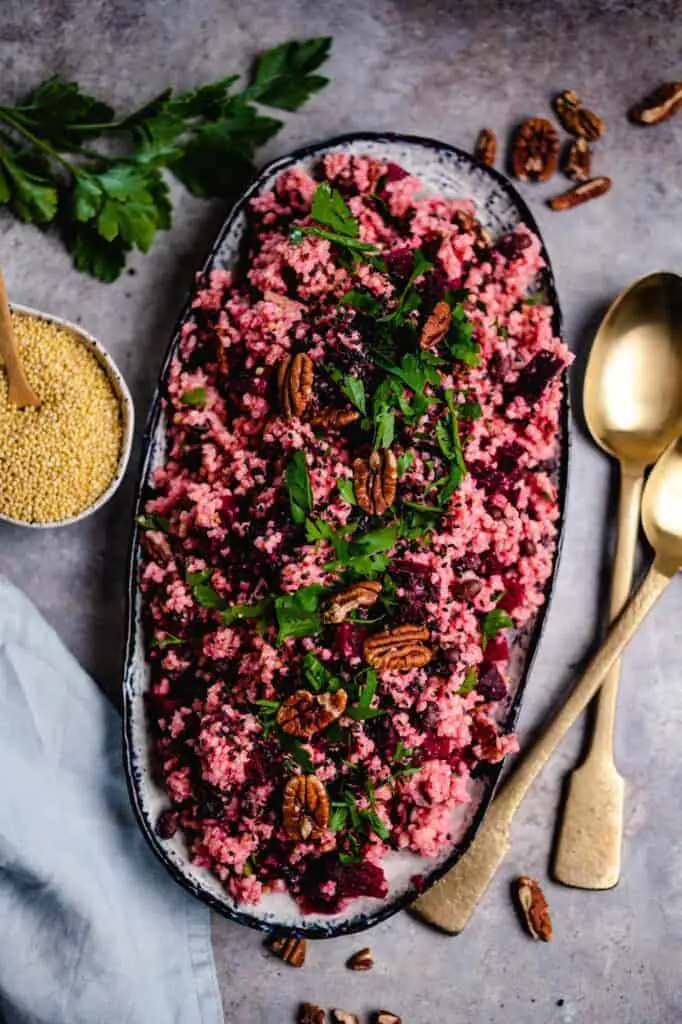 In our recipe, I made sure to use the most nutrient-dense ingredients possible. The black beans provide you with valuable fiber and high-quality vegetable protein, and the millet puts the crown on important nutrients. The beet scores with a very high water content, minerals, vitamin C and folic acid. If you prefer a different salad combination today, I have the following suggestions for you:
The beet millet salad is:
full of valuable vitamins and minerals
High fiber
balanced flavors
saturating
simply made
Well, did you get a craving for this delicious vegan salad? I wish you a lot of fun in recooking and of course a review at the bottom of this page. If you post a picture, use the hashtag #veganevibes.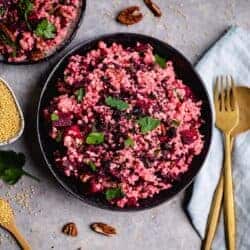 Beet millet salad
Aromatic and nutritious vegan salad with millet, black beans and beetroot. Topped off with a fine dressing of olive oil, balsamic dressing and pecans. Perfect as a side dish or main course together with fresh sourdough bread. Vegan, gluten-free and nutrient-rich.
AUTOR: VEGANEVIBES
FOR THE SALAD:
300

g

Millet

Cooked

500

g

beet

cooked and cut into cubes

240

g

black beans

cooked, equivalent to one can

50

g

Pecans

or other nuts of your choice, gladly roasted
Anleitung 
Cook millet according to package instructions. Wash briefly in hot water beforehand to remove bitter substances. 100g uncooked millet grains yield 300g cooked millet.

FOR THE DRESSING provide a small bowl. Pour in olive oil, balsamic vinegar, maple syrup, mustard, salt and pepper and mix with a spoon. Set aside.

30 ml Olive oil,

30 ml Balsamic dressing,

15 ml maple syrup,

2 tbspn Mustard,

½ tbspn Salt,

Pepper to taste

FOR THE SALAD Place millet, beet, black beans and pecans in a large salad bowl and pour dressing over. Mix well and, if possible, leave in the refrigerator for another 2 hours. Season to taste and divide into plates before serving. Top with fresh parsley and black sesame seeds and enjoy!

Pepper to taste,

300 g Millet,

500 g beet,

240 g black beans,

50 g Pecans,

Fresh basil

Store remaining lettuce in an airtight container in the refrigerator for up to 4 days.
Nährwertangaben
Serving:
1
Portion
Calories:
405
kcal
Carbohydrates:
57
g
Protein:
11
g
Fat:
15
g
Saturated Fat:
2
g
Polyunsaturated Fat:
4
g
Monounsaturated Fat:
7
g
Sodium:
149
mg
Potassium:
551
mg
Fiber:
11
g
Sugar:
8
g
Vitamin A:
35
IU
Vitamin C:
4
mg
Calcium:
37
mg
Iron:
3
mg