Vegan lentil salad with leeks and carrots is simply a dream. I love snacks and for me a salad is also part of it. In addition to the classic leaf salads, lentils must of course not be missing. Anyway, in this weather I like to be in the kitchen thinking up new recipes for the soul. It is gray in gray and raining cats and dogs, typical autumn weather. As research now knows, the majority of our happiness hormones (and precursors thereof) are produced in the gut. Therefore my dear ones, let's train this important organ in our body with legumes and maximum variety of plant foods. Experts recommend eating 40 different plant-based products per week to provide healthy fiber for the good bacteria.
Vegan salad from lentils, leeks and carrots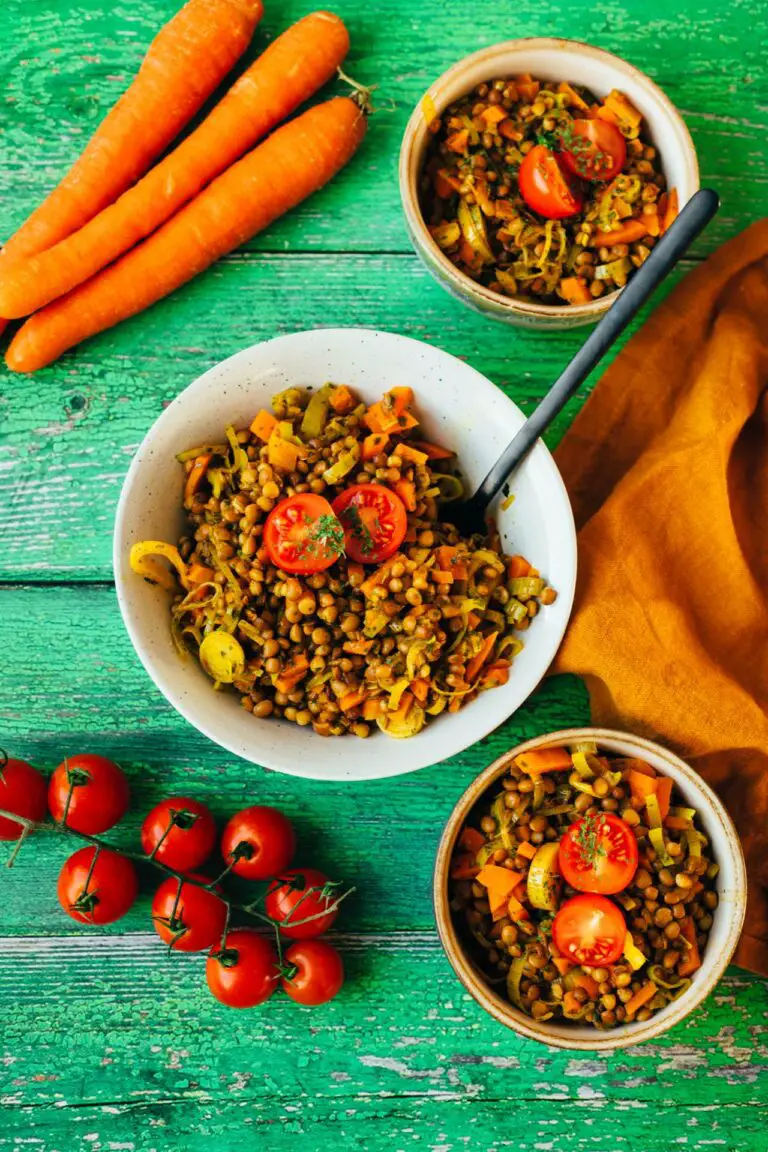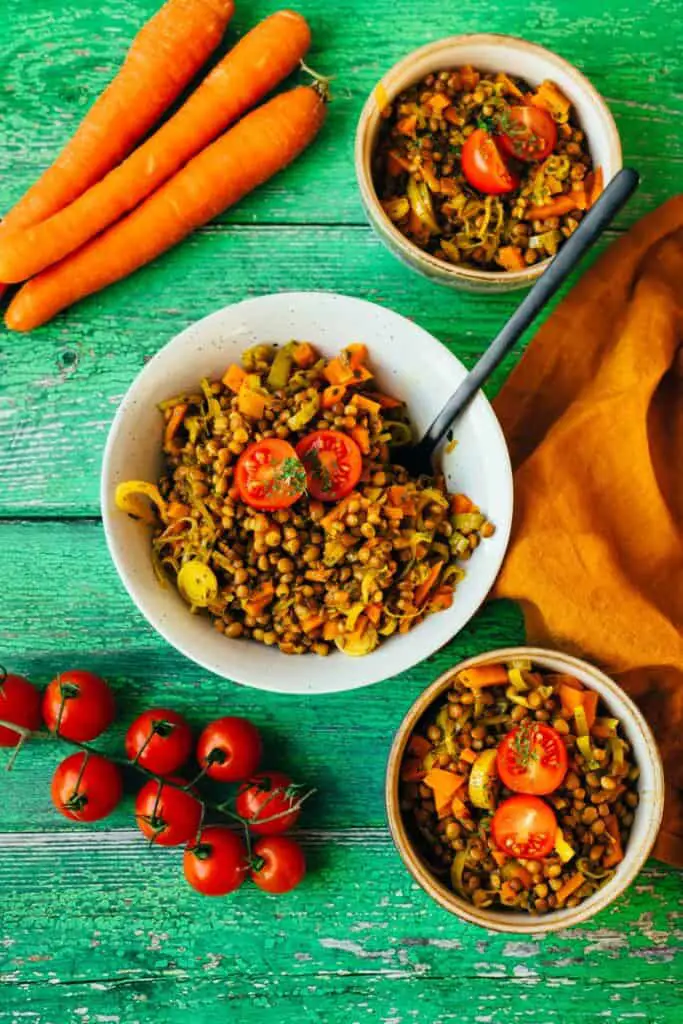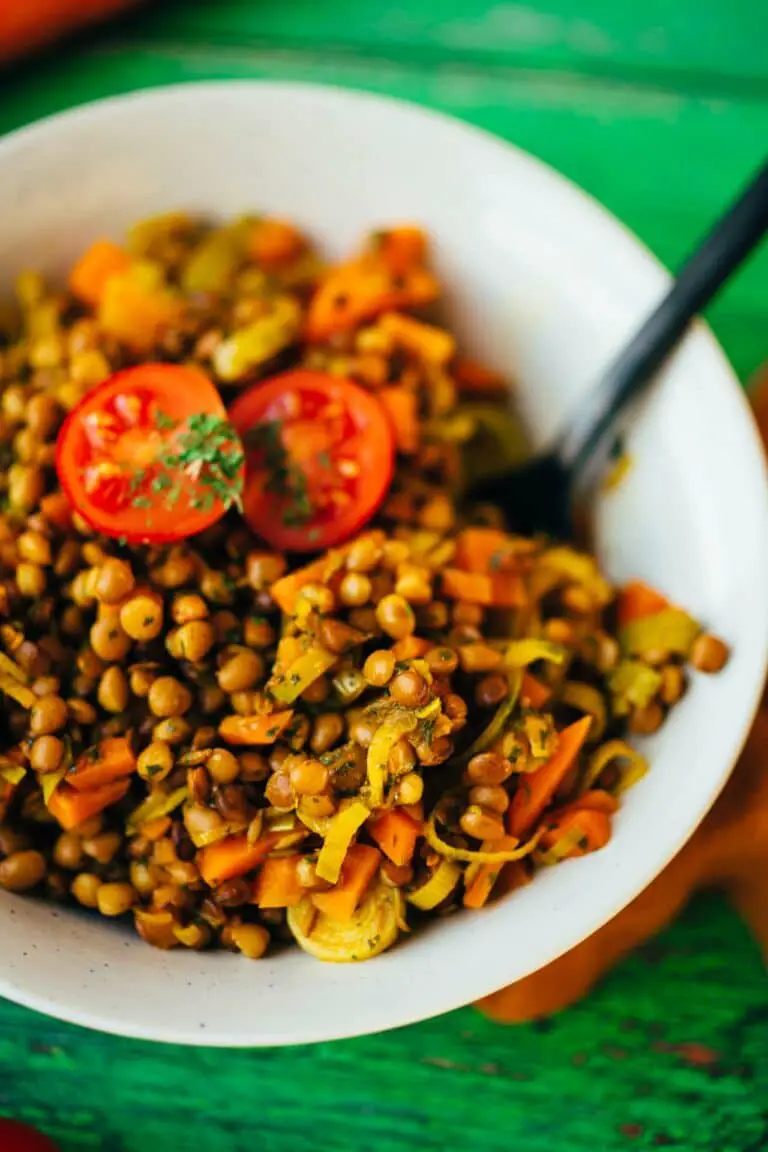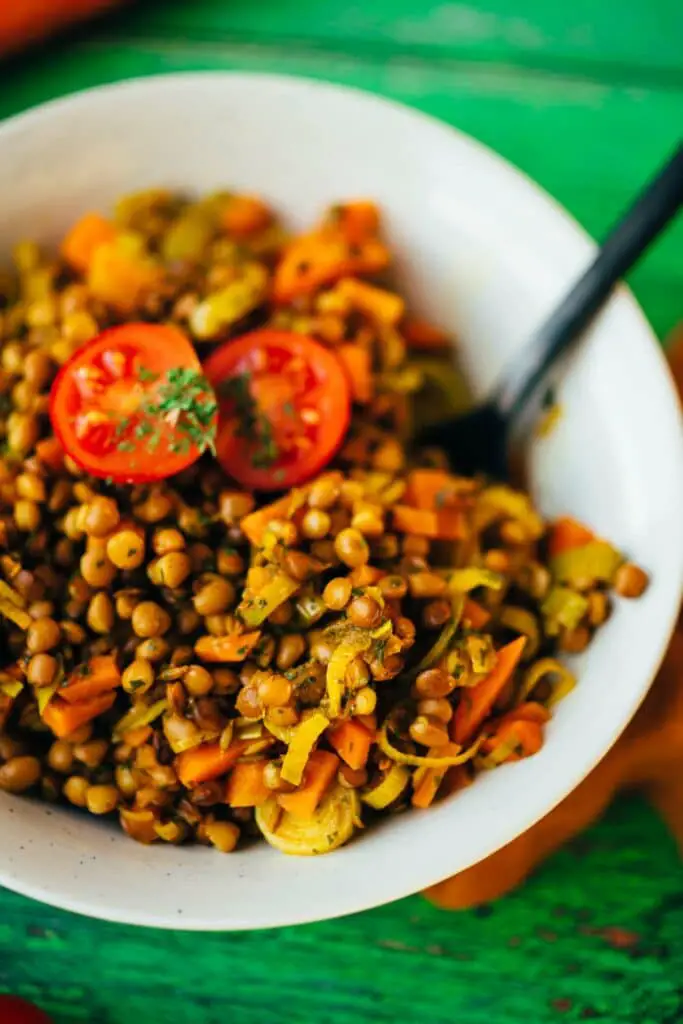 The idea for this salad came to me the other day in the organic market when I was browsing the pre-packaged vegan salads in the refrigerated section. There was such a super yummy one with leeks and I thought I'd just make it myself at home. I'm not a big fan of plastic packaging anyway, and also prefer larger quantities that I can eat spread out over a few days. On top of that, I have a husband at home who is always hungry and loves to eat all day. Then, when I bring a quick and hearty salad to the table along with a few slices of sourdough bread, everything is great. The mood rises and the bacteria in the intestine are happy.
Vegan salads for all occasions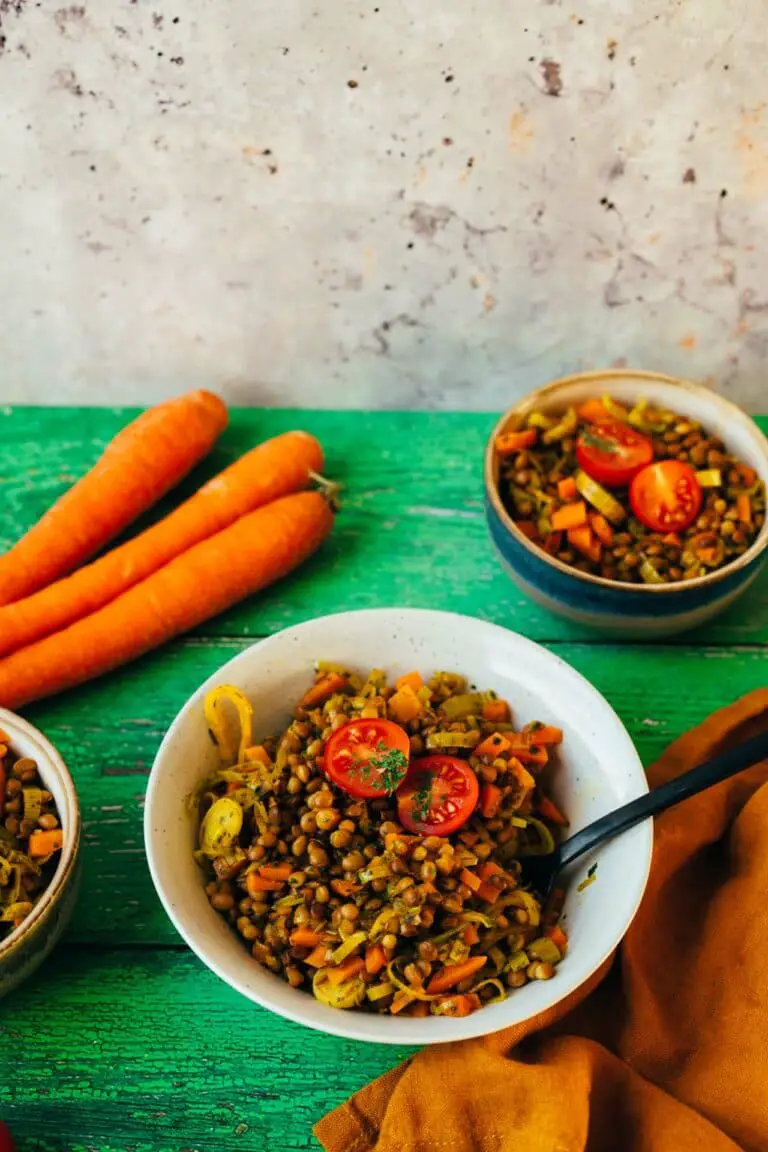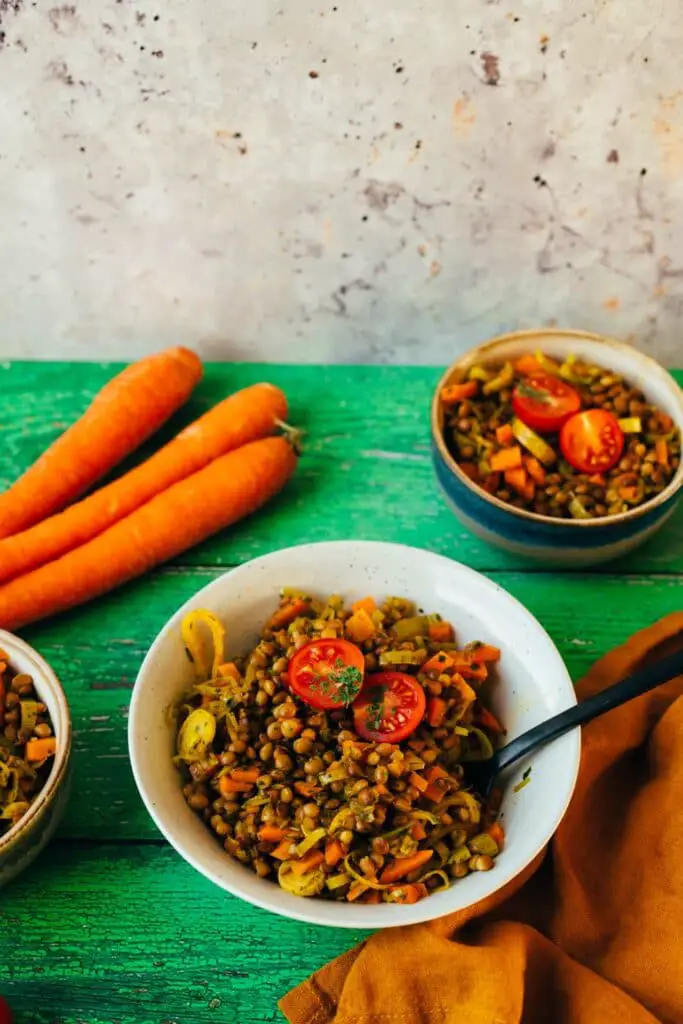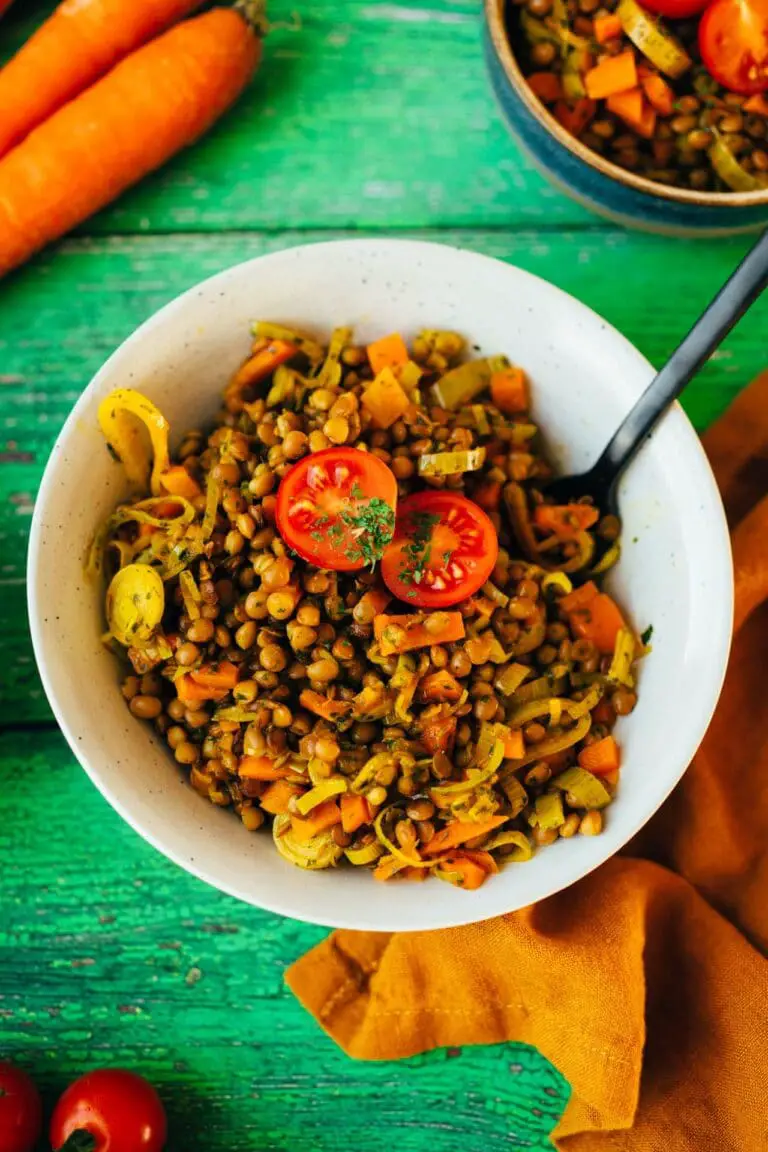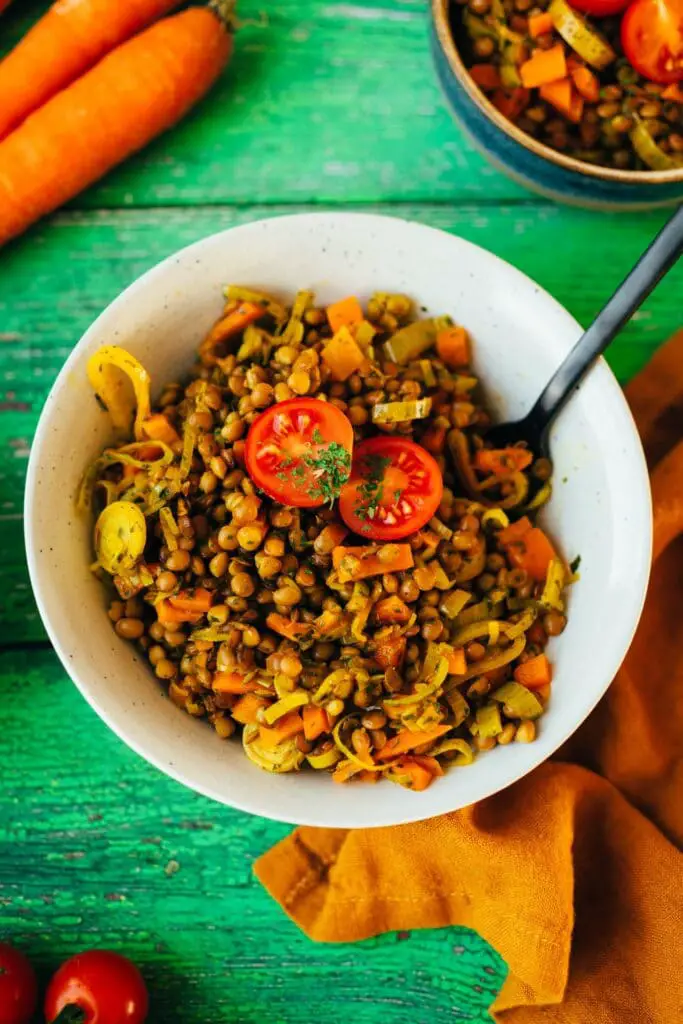 Our salad today is quick to make, full of healthy ingredients and bursting with flavors. You can use the lentils either from a jar or a can ready cooked. Alternatively, pre-cook them like I did in my new pressure cooker and then let them cool a bit. Sauté olive oil, leeks, cumin, curry, paprika, cardamom and parsley in a pan, add carrots and cook down a bit until the leeks soften and the spices release their full flavor. Then put in a large bowl, add cooked lentils, add maple syrup, tamari and vinegar. Stir and then comes the most important step.
TIP: Lentil salad best 2-4 hours or overnight in the refrigerator to infuse, only then are all the flavors through and the salad tastes simply heavenly.
Healthy intestinal flora, my 5 top tips
I am a total nutrition nerd and soak up all information about healthy eating like a sponge. Today I want to share with you my top 5 tips for healthy gut flora.
TIP 1: Consume as many different plant foods as possible, ideally 40 per week. However, this includes not only fruits and vegetables, but also grains, nuts and seeds.
TIP 2: Spend free time outside, in a garden, meadow or forest. Touch, smell and taste nature. Forest bathing in particular can make a decisive contribution to strengthening the immune system. This is now considered scientifically proven.
TIP 3: Eat fermented foods. Not in rough quantities, but in small portions. Here I recommend to ferment ideally yourself. Here you can find a tutorial . The bacteria produced during fermentation are the perfect food for a healthy gut.
TIP 4: Avoid too much sugar and processed foods that contain many additives. They mainly feed the bad bacteria.
TIP 5: Avoid stress and especially reduce it through meditation, yoga and breaks. The gut is closely connected to the brain and stress can lead to digestive problems. Sufficient good sleep helps the body to regenerate at night.
Perfect with our salad today is a slice of spelt bread, carrot walnut bread or spelt roll. If you like, make a real brunch out of it, for example with vegan egg salad and couscous salad.
The vegan lentil salad with leeks is:
hearty
spicy
aromatic
Full of healthy fiber
simply made
Well, did you get a craving for this delicious vegan lentil salad? I wish you a lot of fun in recooking and of course a review at the bottom of this page. If you post a picture, use the hashtag #veganevibes.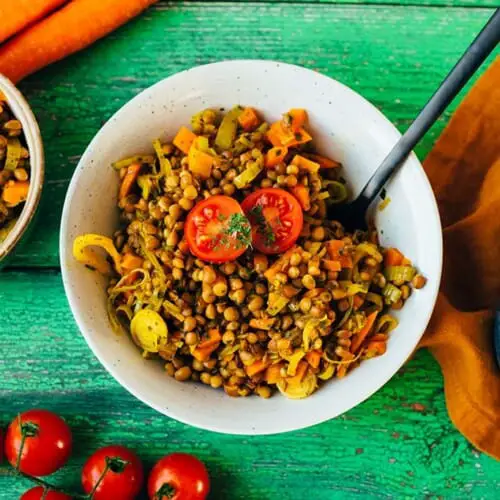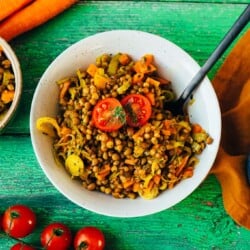 Vegan lentil salad with leeks
Aromatic vegan lentil salad with leeks and carrots. Refined with aromatic spices, olive oil and soy sauce. Perfect for a vegan snack, brunch or as a healthy office meal.
AUTOR: VEGANEVIBES
FOR THE SALAD:
1

Piece

medium leek

washed and cut into rings

15

ml

Olive oil

or another high-heat oil

1

tbspn

Cumin whole

or ground

1

tbspn

Curry powder*

ground

½

tbspn

Paprika powder

½

tbspn

Cardamom

ground

2

tbspn

parsley

ground

2

medium carrots

peeled and diced

Some water for deglazing

144

g

Lentils (cooked) drained and washed

corresponds to a jar or can, I use green lentils

30

ml

White wine vinegar

or other vinegar of your choice

15

ml

maple syrup

or another sweetener at will

15

ml

Tamari

or any other soy sauce to taste
SUPPLIES:
Cherry tomatoes

Fresh herbs
Anleitung 
Heat pan on the stove and pour in oil. Put in leeks (cut into rings), cumin, curry powder, paprika powder, cardamom, parsley and diced carrots.

1 Piece medium leek,

15 ml Olive oil,

1 tbspn Cumin whole,

1 tbspn Curry powder*,

½ tbspn Paprika powder,

½ tbspn Cardamom,

2 tbspn parsley,

2 medium carrots

Mix well once until everything is evenly combined. Deglaze with a sip of water, cover and simmer

for 10 minutes

until the vegetables are soft but still crunchy. Set aside.

Place cooked vegetables in a large bowl, add lentils, white wine vinegar, maple syrup, tamari, salt and pepper and mix vigorously until combined.

144 g Lentils (cooked) drained and washed,

30 ml White wine vinegar,

15 ml maple syrup,

15 ml Tamari,

Salt to taste,

Pepper to taste

Cover and place in the refrigerator to infuse for at least

2 hours

, ideally overnight.

Arrange on plates and optionally enjoy together with bread or rolls.

Spelt bread,

Spelt roll,

Cherry tomatoes,

Fresh herbs

Store remaining lettuce in an airtight container in the refrigerator for up to 4 days.
Notizen
Sources:
https://www.mittelbayerische.de/region/cham-nachrichten/heilkraft-des-waldes-nutzen-20909-art1940864.html
Nährwertangaben
Serving:
1
Portion
Calories:
242
kcal
Carbohydrates:
33
g
Protein:
13
g
Fat:
6
g
Saturated Fat:
1
g
Sodium:
285
mg
Potassium:
458
mg
Fiber:
15
g
Sugar:
4
g
Vitamin A:
268
IU
Vitamin C:
3
mg
Calcium:
32
mg
Iron:
4
mg