Why does a Vegan an egg salad? Honestly, I didn't want to write anything about this topic for a long time, but sometimes questions like this could just make my head spin. Have you invented Egg invented and a patent on it? Could be a possible answer to that. To be honest, I prefer to keep my distance from discussions of this kind, but sometimes you just can't hide under the carpet. My personal answer to why I make myself an egg flavored tofu salad? Because it simply tastes good to me and I don't hurt anyone with it. Sometimes, however, you might actually think that you are shaking certain people to their core. Guys, honestly, I don't speak up either, no matter what someone puts on their plate. Of course, I am happy to clarify if you are interested, but I am not there to proselytize. But now let's explore together a really simple and delicious Recipe with egg flavor, but without the Egg .
Vegan egg salad with Kala Namak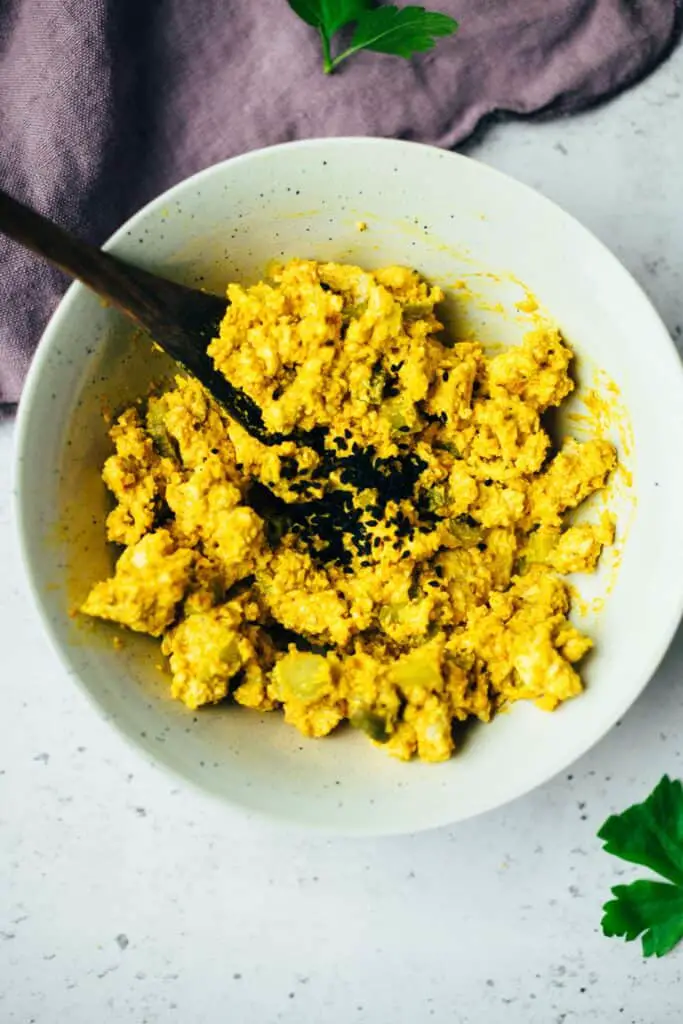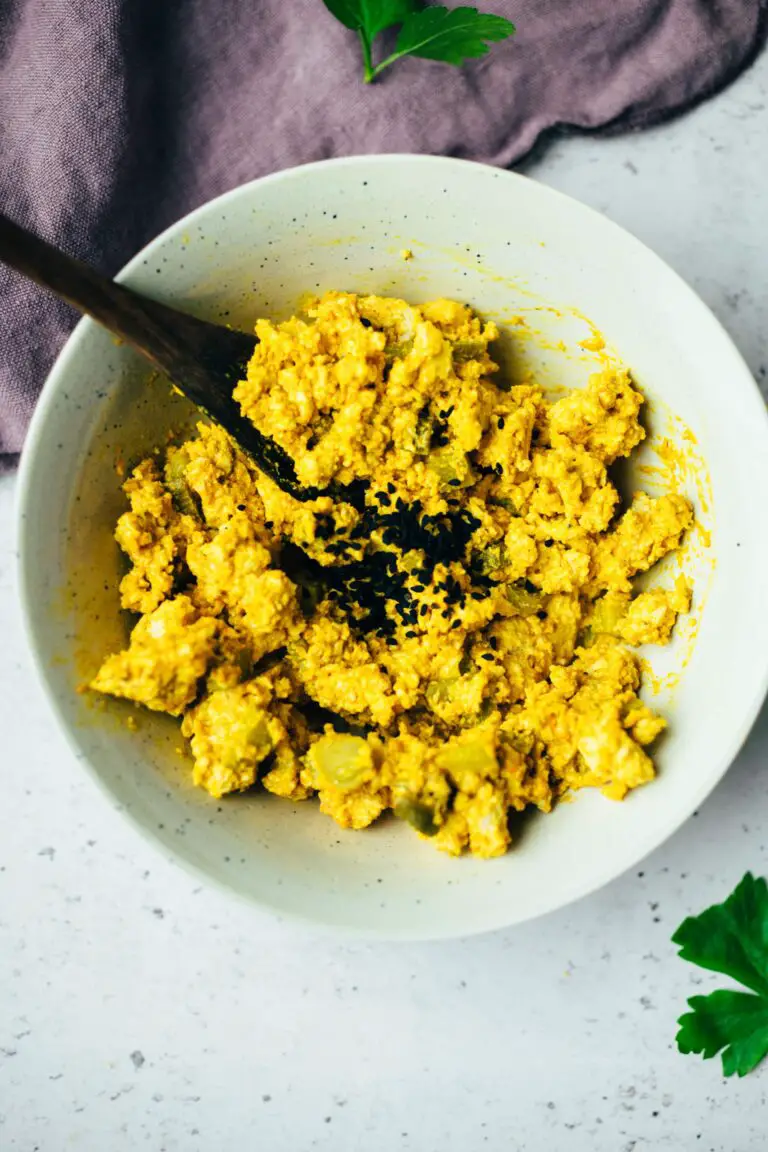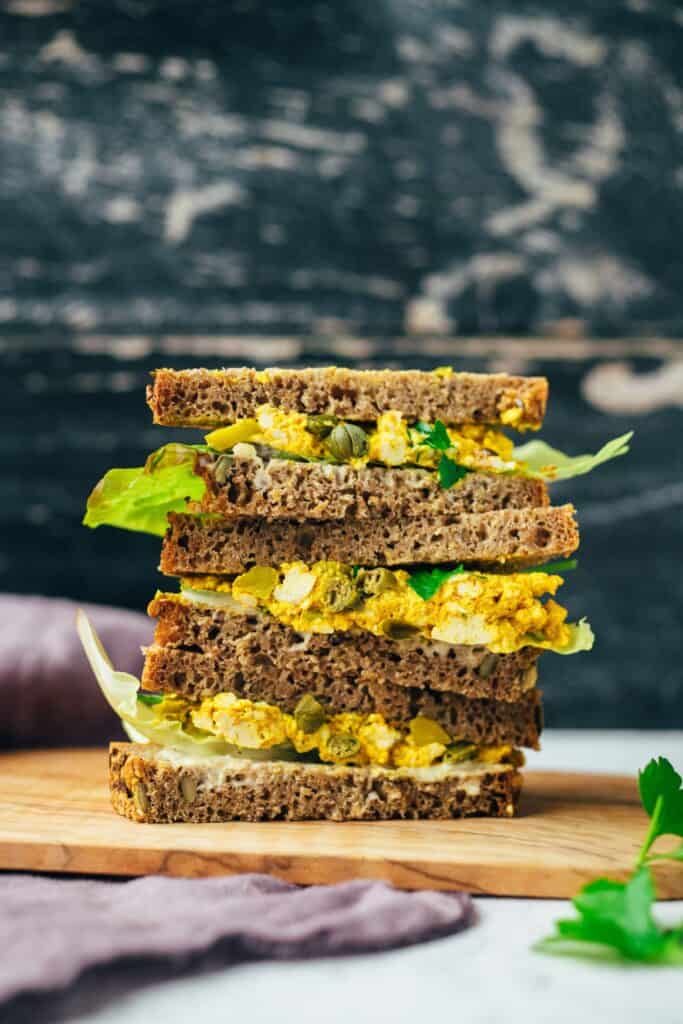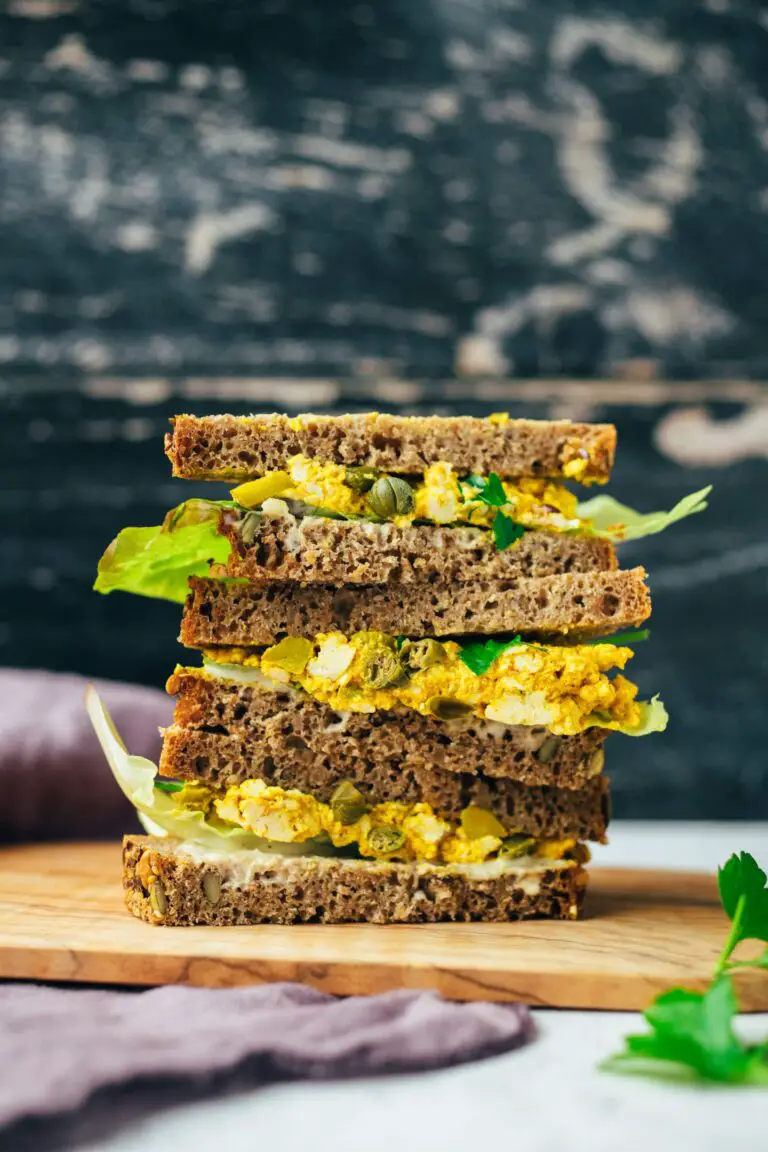 I can still remember well when eggs were firmly integrated into my diet. Boiled eggs, Scrambled eggs or even sometimes an egg salad. One thing that has always bothered me a lot was this feeling of fullness after eating eggs. I have not since I vegan live and I love it. You can eat super full, but you don't feel like you have to move to the next couch right away. Since I still find the pure taste of boiled egg interesting, I was looking for a vegan version of an egg salad. Perfect for this is the Ayurvedic salt " Kala Namak ", which tastes more or less like egg due to the sulfur compounds it contains.
Time for vegan sandwiches with egg salad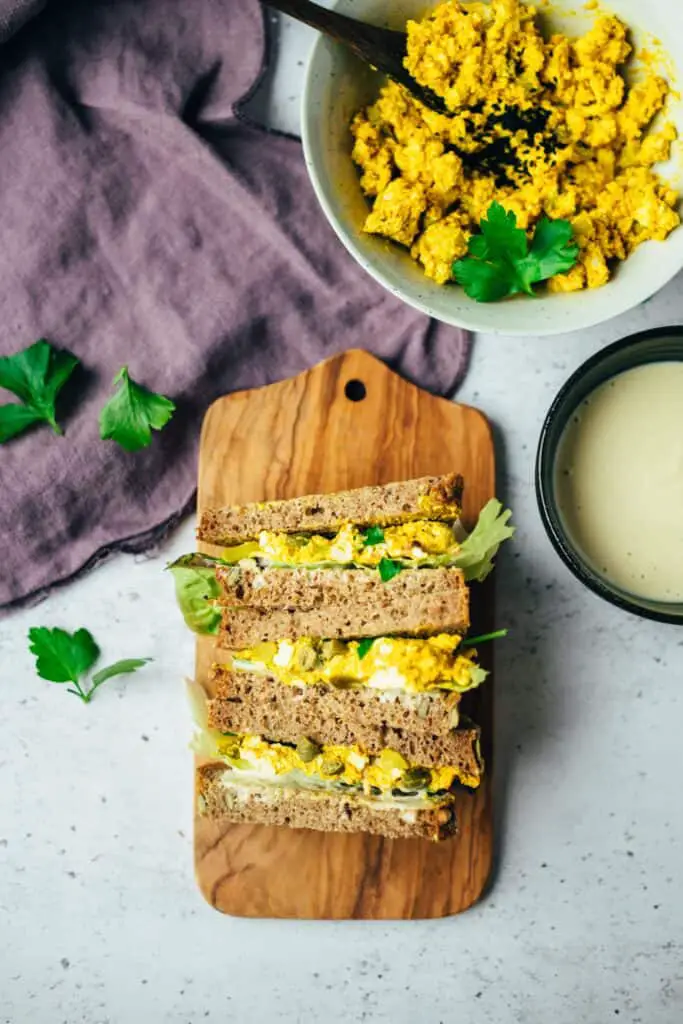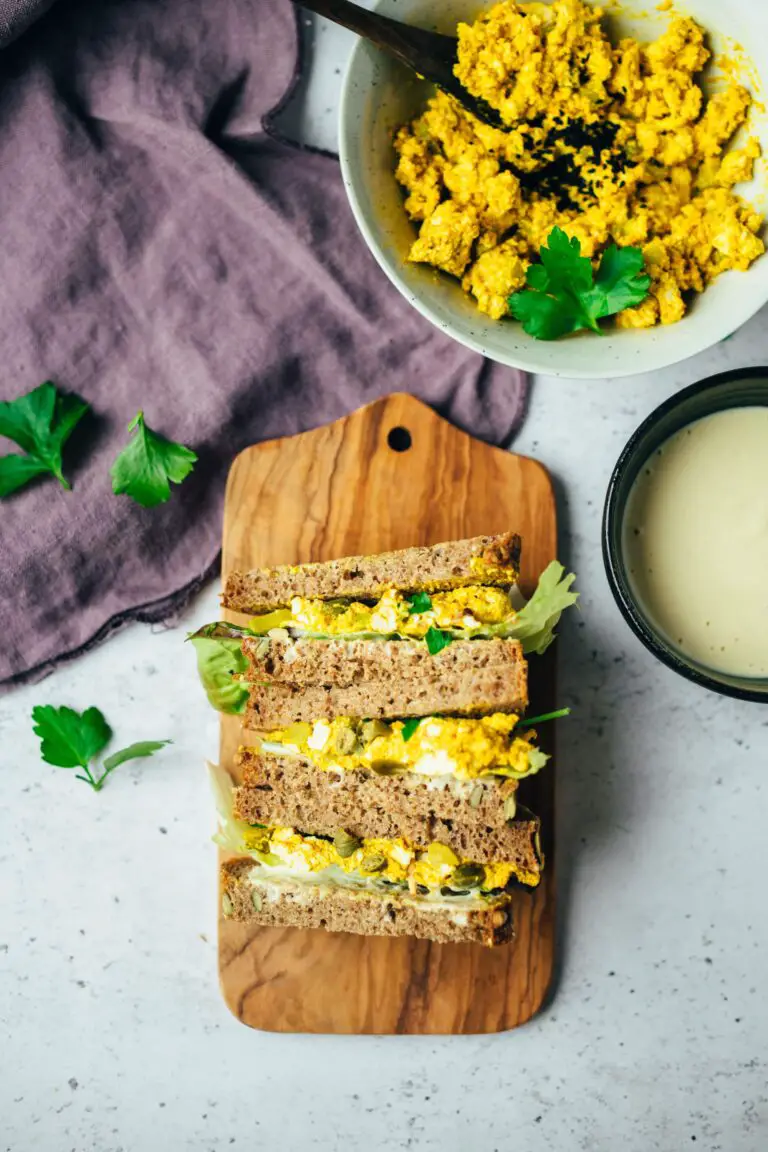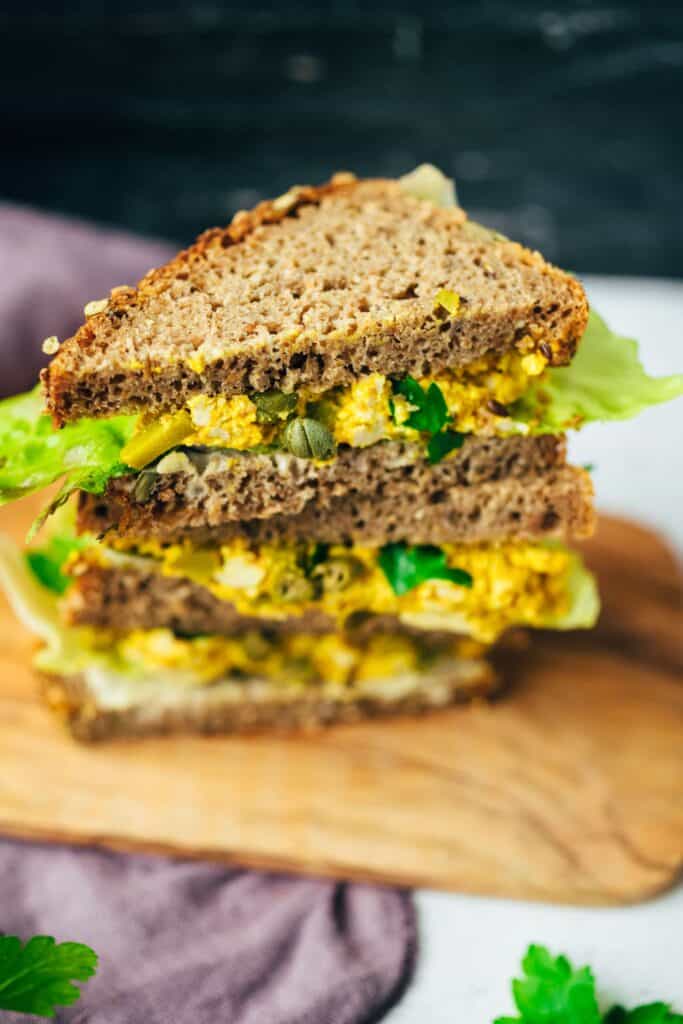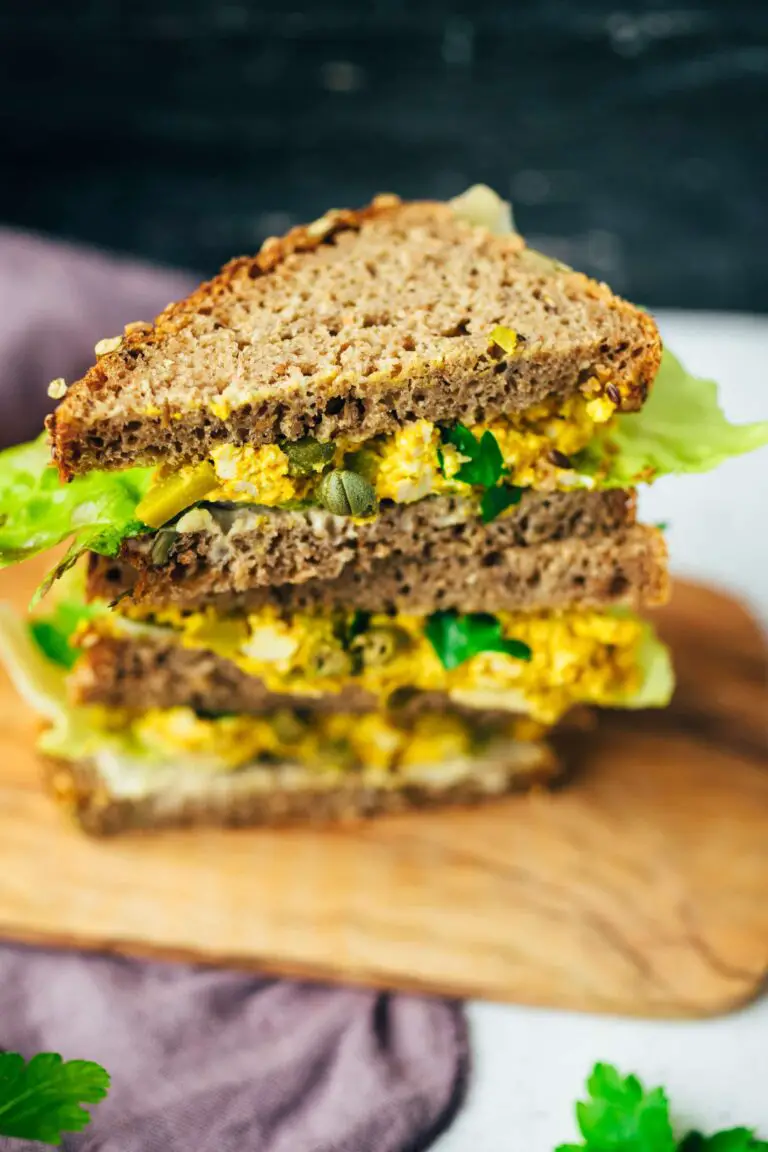 What do we need for today's " Salad "? First of all a portion of mayo, for this I use my homemade cashew mayo . Natural tofu, kala namak, apple cider vinegar, sweet paprika, yeast flakes, turmeric, pepper, pickles and capers. If you like, you can optionally add spicy mustard or ground mustard seeds. The whole thing is then stirred once vigorously and ready is our Salädchen.
I totally like the salad in a Sandwich wrapped with fresh lettuce leaves and a handful of herbs on top. However, it is also wonderful and delicious pure. It is equally perfect for a vegan buffet. The turmeric adds another beautiful golden color and we are ready!
How healthy is actually turmeric?
According to Dr. Greger and his book "How to not Diet" very, very healthy and above all a wonderful, natural way to stimulate fat metabolism. Greger and his team have made it their life's work to comb through thousands of studies and teach people how to eat truly healthy. I will certainly always include one or two nutrition tips in my blog articles. But today it's about Turmeric , because the spice is supposed to:
Stimulate the fat metabolism
Possess anticancer properties
Naturally counteract inflammation in the body
Even prevent Alzheimer's disease by preventing deposits of certain proteins in the cerebral cortex
Turmeric is also called turmeric and at the latest once you have worked with the spice, you know why. It stains massively, so it is best to protect clothing and wear gloves. Personally, I don 't wear gloves and am always happy to see fingers already dyed yellow. TIP : Turmeric am take together with a little pepper. why? The piperine contained in pepper is said to increase the body's ability to absorb curcumin (the active ingredient in turmeric).
Very much like to enjoy this salad in a Spelt bread roll or between two slices Spelt bread . But be careful, the salad makes really full (in the positive sense).
The vegan egg salad is:
hearty
spicy
aromatic
Like egg
simply made
Well, have you got a craving for this delicious, vegan egg salad? I wish you a lot of fun in recooking and of course a review at the bottom of this page. If you post a picture, use the hashtag #veganevibes.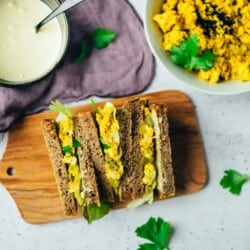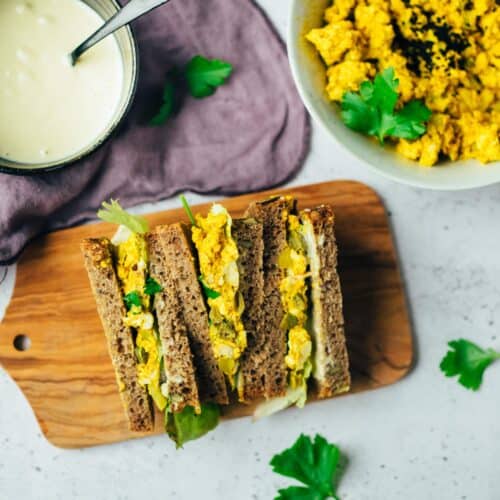 Simple vegan egg salad
Delicious egg salad with natural tofu, vegan mayo and savory spices for a perfect vegan and creamy egg flavored salad experience.
AUTOR: VEGANEVIBES
FOR THE SALAD:
200

g

Tofu natural

– I take the products of Taifun *advertisement since brand mention, but no connection to the company

60

g

Cashew Mayo

or another mayo at will

1

tbspn

Kala Namak

Ayurvedic salt for an egg-like taste

1

tbspn

Apple cider vinegar

1

tbspn

Paprika powder

noble sweet

2

tbspn

Yeast flakes

1

tbspn

Turmeric

½

tbspn

black pepper

Freshly ground

3

tbspn

Pickles

cut into small pieces

2

tbspn

Capers

Without brew

optionally 1 tsp. hot mustard or ½ tsp. mustard seeds, ground
SUPPLIES:
fresh salad leaves

Fresh herbs
Anleitung 
Remove tofu from packaging and ideally squeeze in a tofu press for

15 minutes

until almost no liquid remains. The less liquid in the tofu, the better it can absorb the marinade.

Alternatively, wrap tofu with paper towel or a clean kitchen towel and weigh down with a heavy object. Let stand for 15 minutes until the liquid is squeezed out as best it can.

Remove tofu from press and crumble by hand into a bowl.

Add cahew mayo, kala namak, apple cider vinegar, paprika, yeast flakes, turmeric, black pepper, pickles, and capers and stir until evenly combined.

60 g Cashew Mayo,

1 tbspn Kala Namak,

1 tbspn Apple cider vinegar,

1 tbspn Paprika powder,

2 tbspn Yeast flakes,

1 tbspn Turmeric,

½ tbspn black pepper,

3 tbspn Pickles,

2 tbspn Capers,

optionally 1 tsp. hot mustard or ½ tsp. mustard seeds, ground

For a sandwich, spread mayo on one bottom of each sandwich, top with a lettuce leaf and egg salad. Garnish with fresh herbs and finish with another slice of bread.

Spelt bread,

Spelt roll,

Fresh herbs,

fresh salad leaves

Best enjoyed fresh. Store remaining egg salad in an airtight container in the refrigerator for up to 3 days.
Nährwertangaben
Serving:
1
Portion (large)
Calories:
336
kcal
Carbohydrates:
14
g
Protein:
13
g
Fat:
24
g
Saturated Fat:
3
g
Sodium:
334
mg
Potassium:
220
mg
Fiber:
4
g
Sugar:
5
g
Vitamin A:
662
IU
Calcium:
139
mg
Iron:
2
mg