It was in Bali, of course, where I first ate a vegan Scrambled Egg on a delicious sourdough bread. Topped with a really ripe, perfect. Avocado , cress and sesame seeds. That was so incredibly good, I can tell you. When I happened to see a picture of it on Instagram the other day, I was floored. I had to copy it, absolutely and at any price. No sooner said than done this Recipe I will so include in my all-time classics. It simply always fits, Breakfast , vegan brunch, afternoon snack or as a Dinner . So, let's go!
Silken tofu 2.0 – the vegan scrambled egg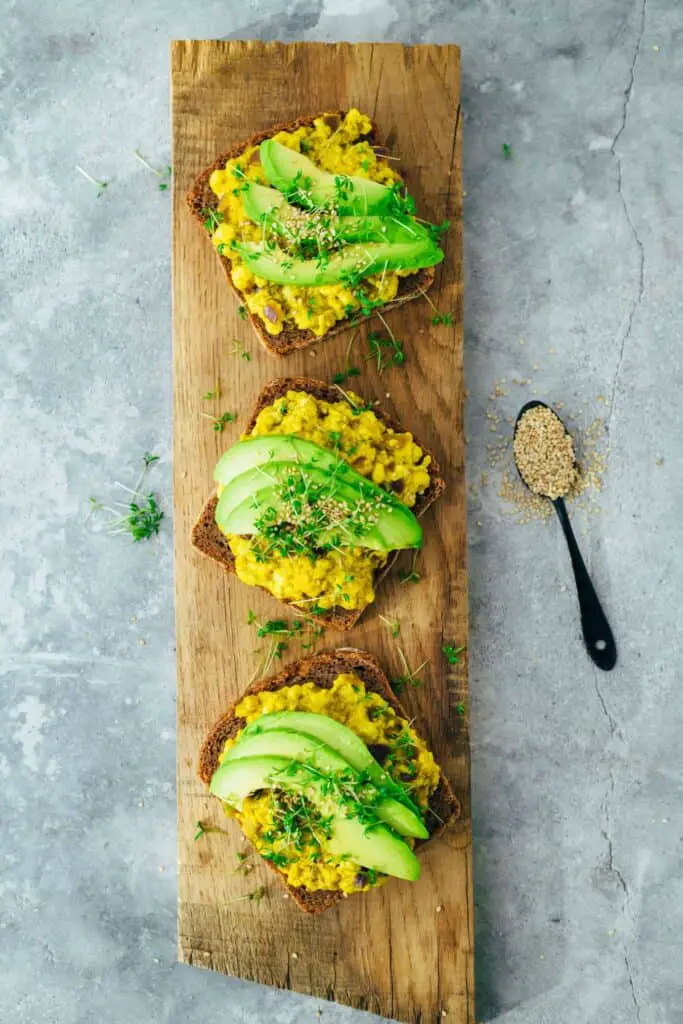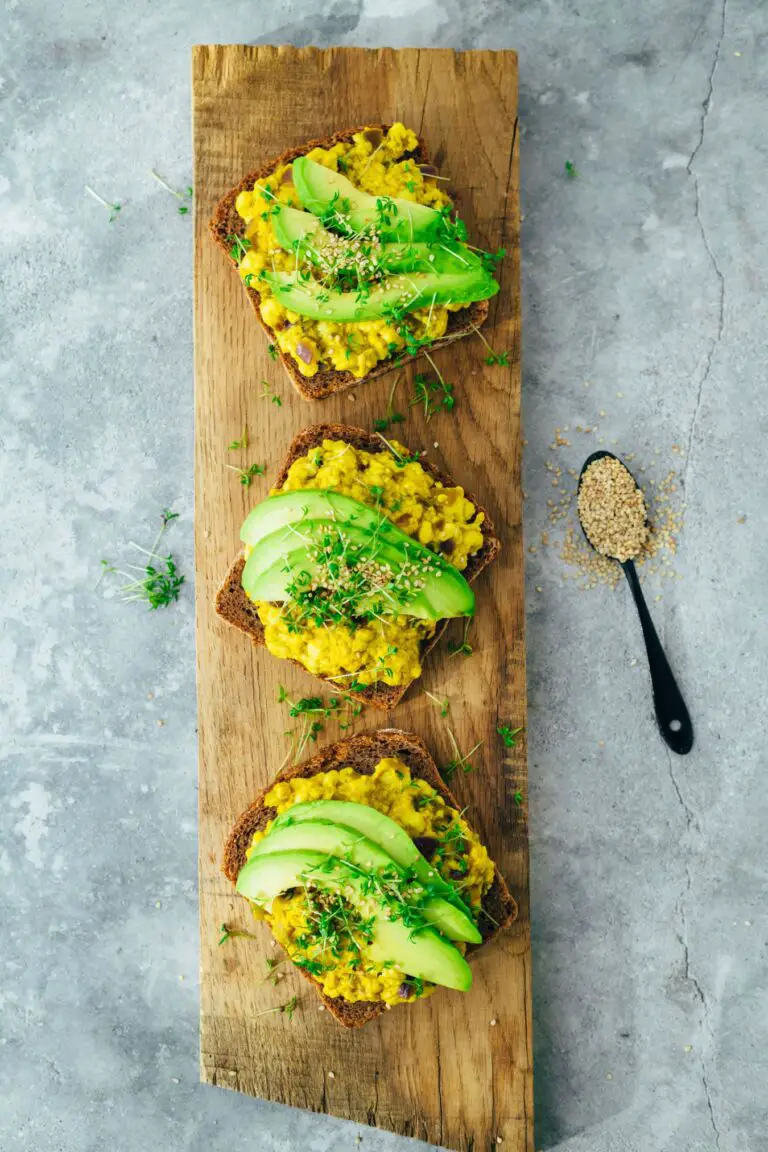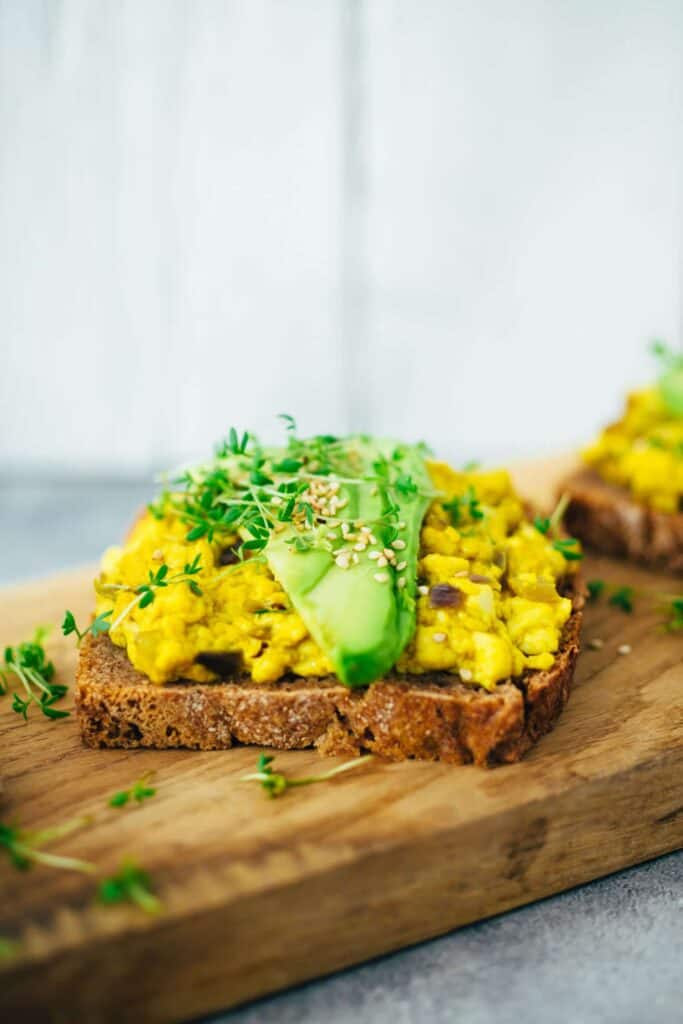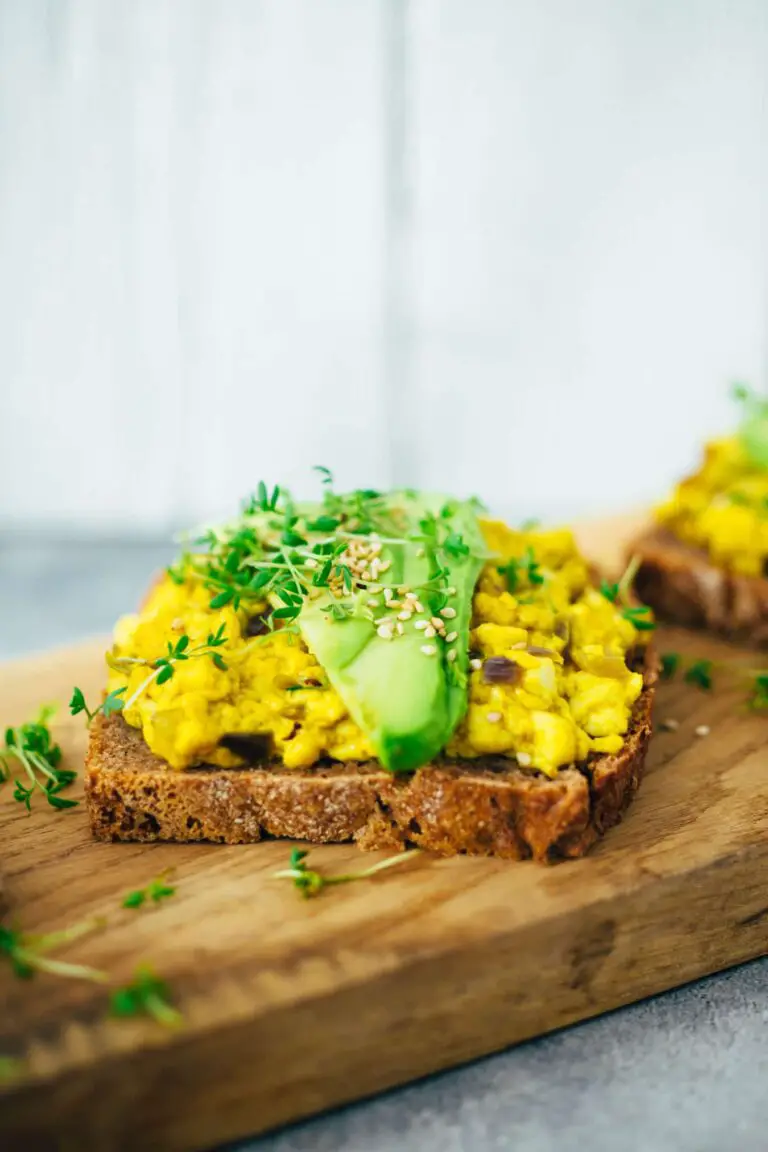 The ingredients are manageable, with Silken tofu , onion, turmeric, garlic granules or fresh garlic, nutritional yeast, tamari and a pinch of sea salt. The whole thing is then served on a slice of sourdough bread, topped with avocado, sprouts and sesame seeds.
Then it's up to you and your personal taste how you want to refine it. Chili, Tomatoes, mushrooms, herbs, actually (almost) anything goes.
In the production there are hardly anything to note. All you need is a pan, a stove, and off you go.
What is special about silken tofu?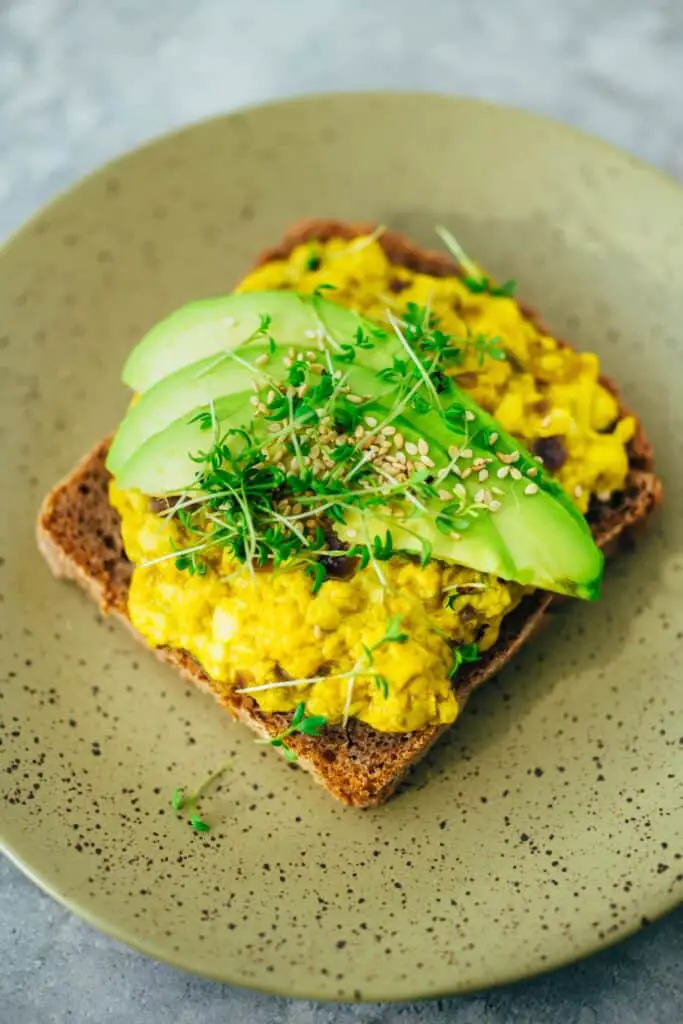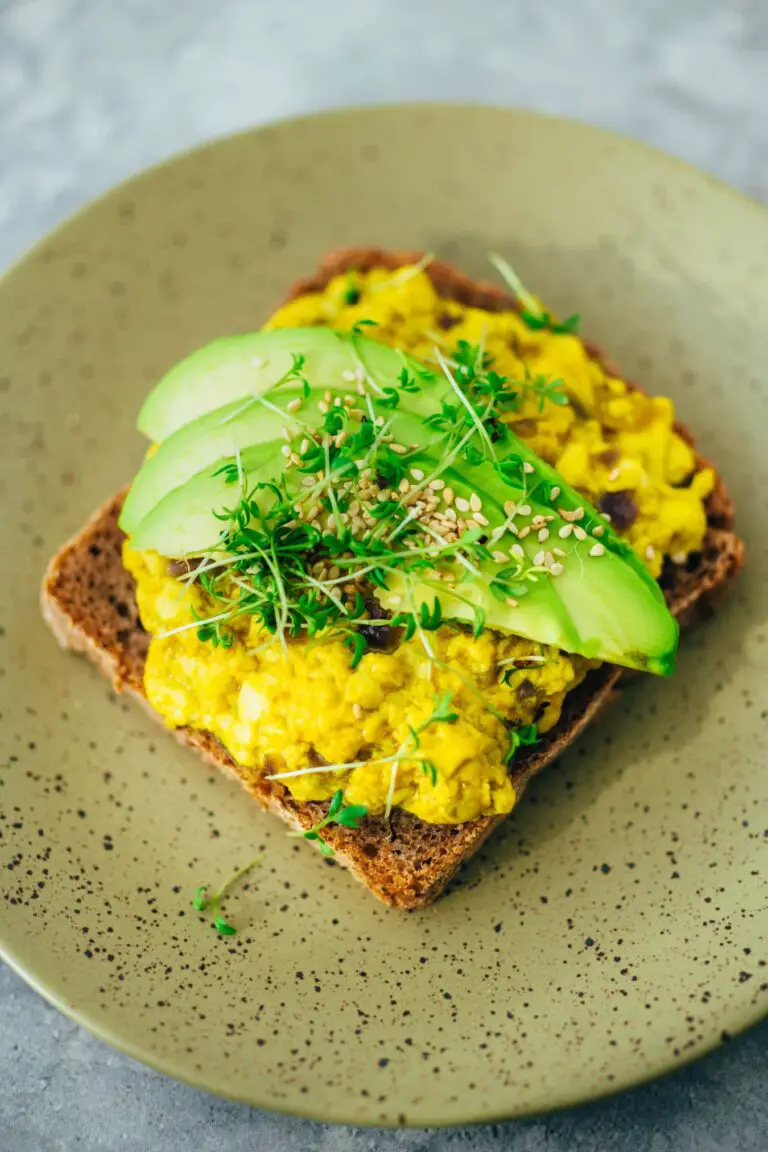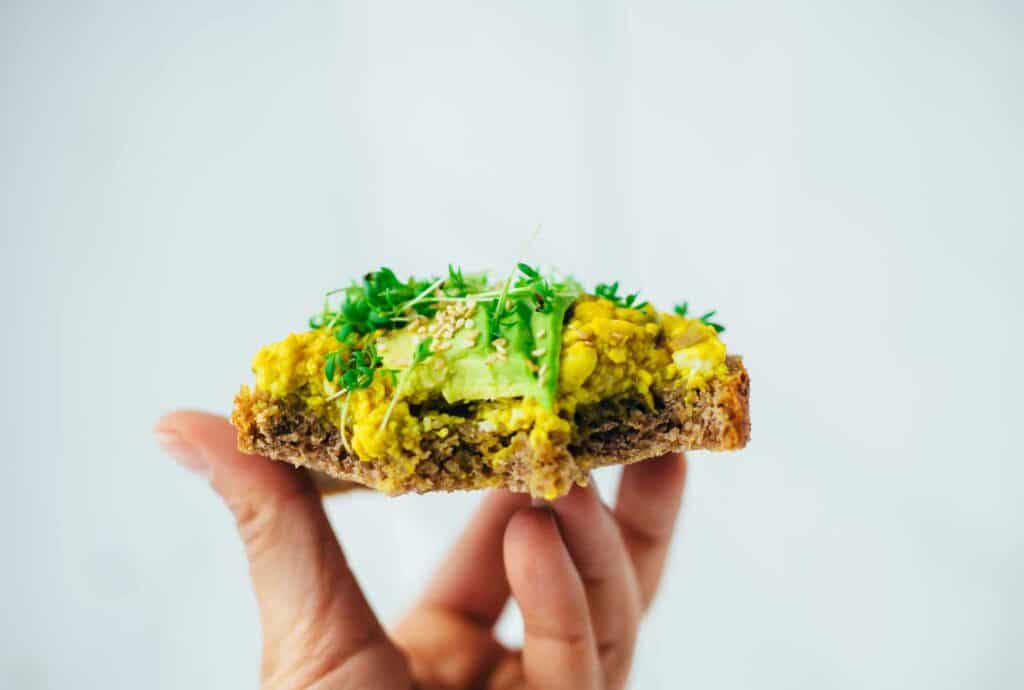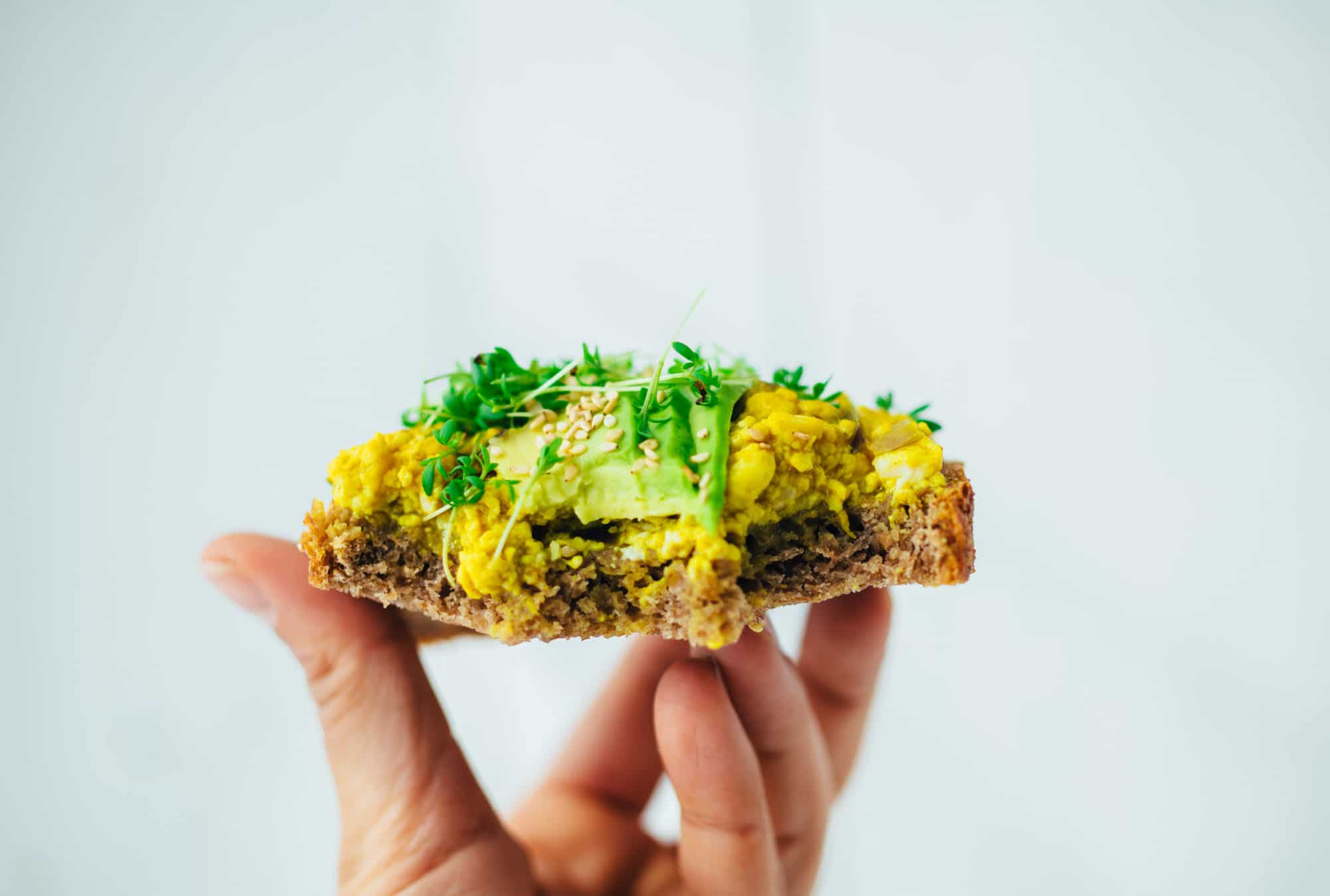 The Classic tofu is made from soybeans and comes from the Asian region. There are different types of tofu, which are used in different dishes. Silken tofu, for example, tends to be used in the preparation of desserts and our Scrambled Egg or scrambled eggs, while firmer tofu varieties are used for savory dishes. Interestingly, tofu is quite high in protein and is also rich in calcium, magnesium, copper and potassium. Not to be neglected is the content of iron, essential amino acids and B vitamins.
I'm a huge fan of silken tofu right now, mostly because it's so easy and quick to make. Maybe you would like to try something sweet with it? Then I recommend you my ultimate chocolate dessert .
The classic vegan scrambled eggs with silken tofu go very well with homemade Spelt bread or Spelt bread roll . Maybe you surprise your loved ones with it at the weekend? I will definitely do that.
The classic vegan scrambled eggs with silken tofu (15 minutes) is:
hearty
Universal
juicy
filling
simple to be produced
Here we go with our vegan Breakfast Classic. I wish you a lot of fun with the re-cooking and of course about a rating at the bottom of this page. If you post a picture, use the hashtag #veganevibes.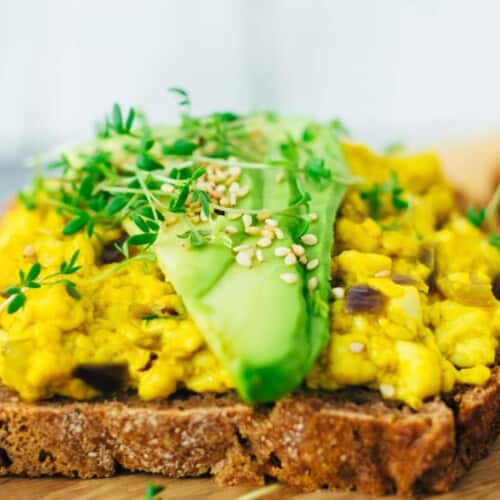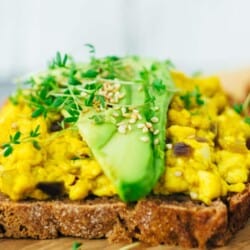 Classic vegan scrambled eggs with silken tofu (15 minutes)
Breakfast classic, interpreted vegan. Fine silken tofu combined with mild onion, subtly seasoned, served on a delicious sourdough bread. This delicious dish is topped with avocado slices, cress and sesame seeds. Easy and quick to make in 15 minutes.
AUTOR: VEGANEVIBES
ADD ONS (optional):
Fresh tomatoes

Mushrooms

Shiitake or other mushrooms

Zucchini
TO SERVE:
Fresh sourdough bread

Avocado

sliced

Cress

Kala Namak

is a special ayurvedic black salt with high iron content, which has an "egg-like" taste, available online or at Alnature (no advertising)
Anleitung 
Pour in oil and saute onion until translucent. Add garlic or garlic granules and continue to saute briefly.

2 tbspn Frying oil or other high heat oil,

1 small red onion,

½ tbspn Garlic granules or 2 cloves of garlic freshly pressed

Add in the silken tofu.

NOTE: Silken tofu does not need to be drained, it can be used straight from the package. The remaining moisture evaporates during frying. I just drained the tofu so I could photograph it better.

Add tamari, nutritional yeast, turmeric and sea salt.

1 ½ tbspn Tamari or another soy sauce,

1 tbspn Nutritional yeast,

¾ tbspn Turmeric,

Sea salt to taste

Stir until everything is well combined.

Simmer over medium heat until some of the liquid has evaporated and it has the consistency of scrambled rice.

Spread on 4 slices of sourdough bread, garnish with avocado slices, cress and sesame seeds and enjoy!

Fresh tomatoes,

Mushrooms,

Zucchini,

Fresh sourdough bread,

Avocado,

Cress
Notizen
Nährwertangaben
Serving:
1
Portion
Calories:
411
kcal
Carbohydrates:
67
g
Protein:
23
g
Fat:
7
g
Saturated Fat:
6
g
Sodium:
377
mg
Potassium:
52
mg
Fiber:
6
g
Sugar:
9
g
Vitamin C:
17
mg
Calcium:
180
mg
Iron:
6
mg