I don't like tofu, you've probably heard that before. Believe me, I know it so well. How can you eat that, it tastes like nothing! If that's your (or a friend's) opinion, then it's high time to give this incredibly delicious dish a try. It's brilliantly simple and tastes great. Not long ago, I could not imagine how life without an egg is even possible. Now I know: yes it is and damn tasty to boot!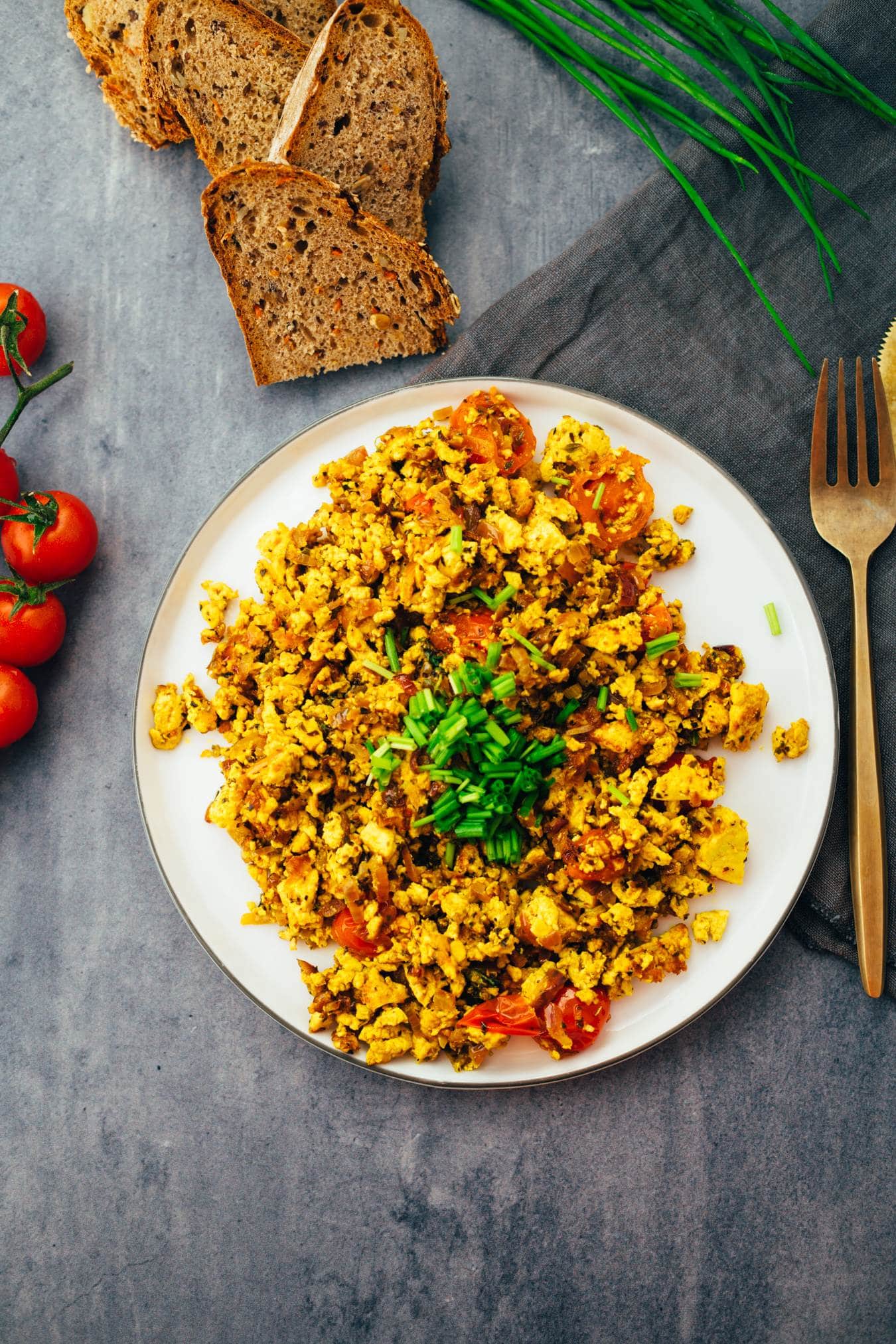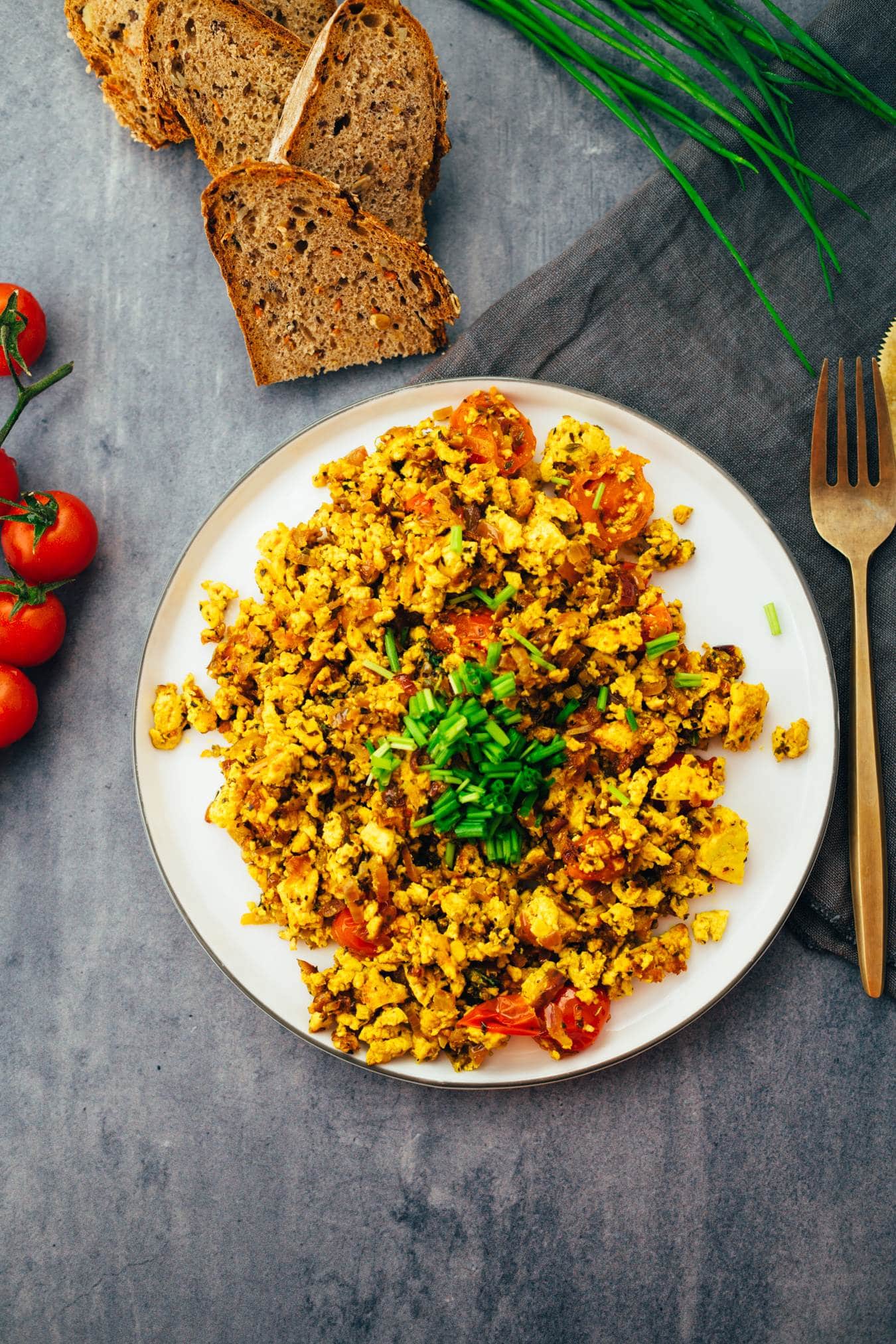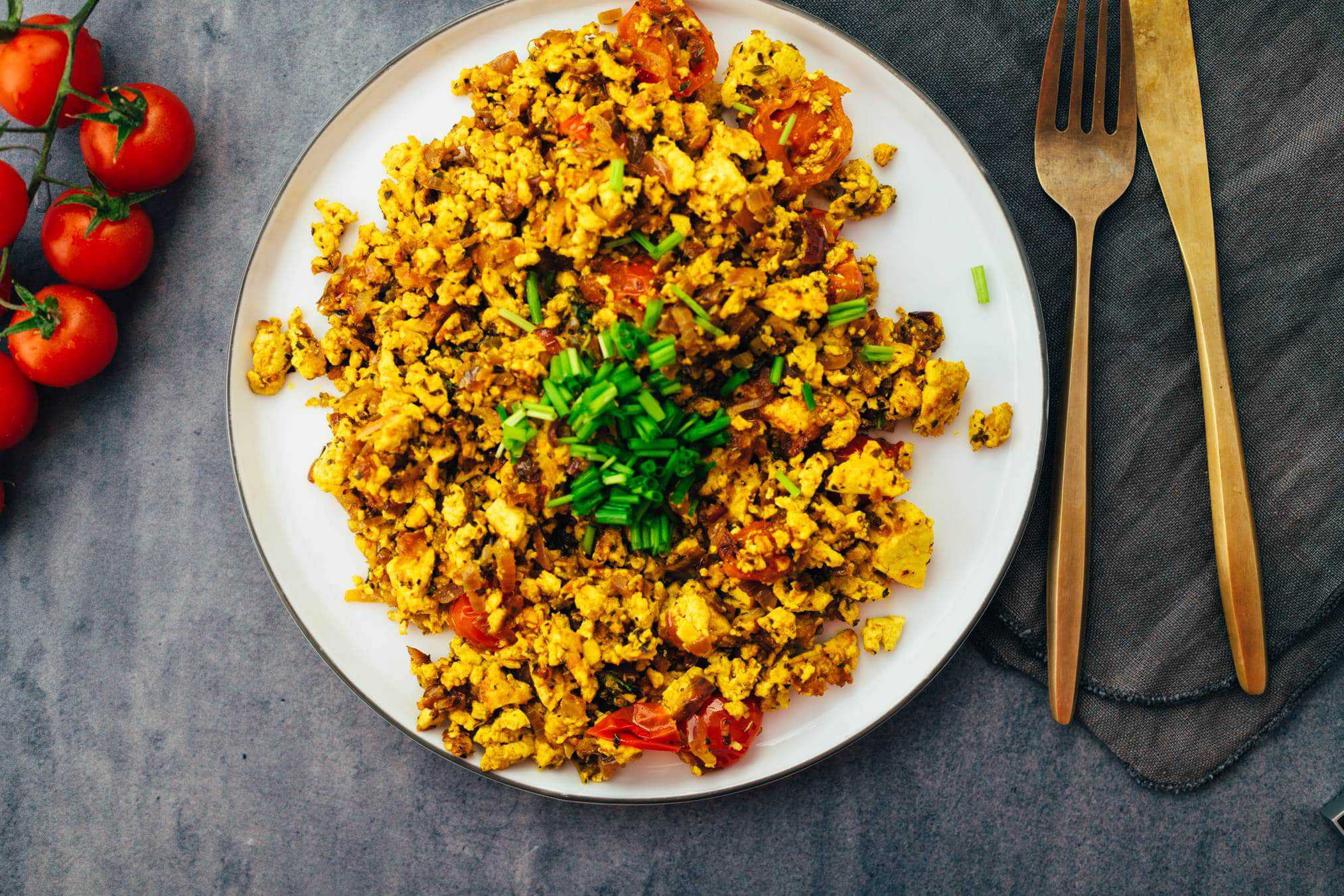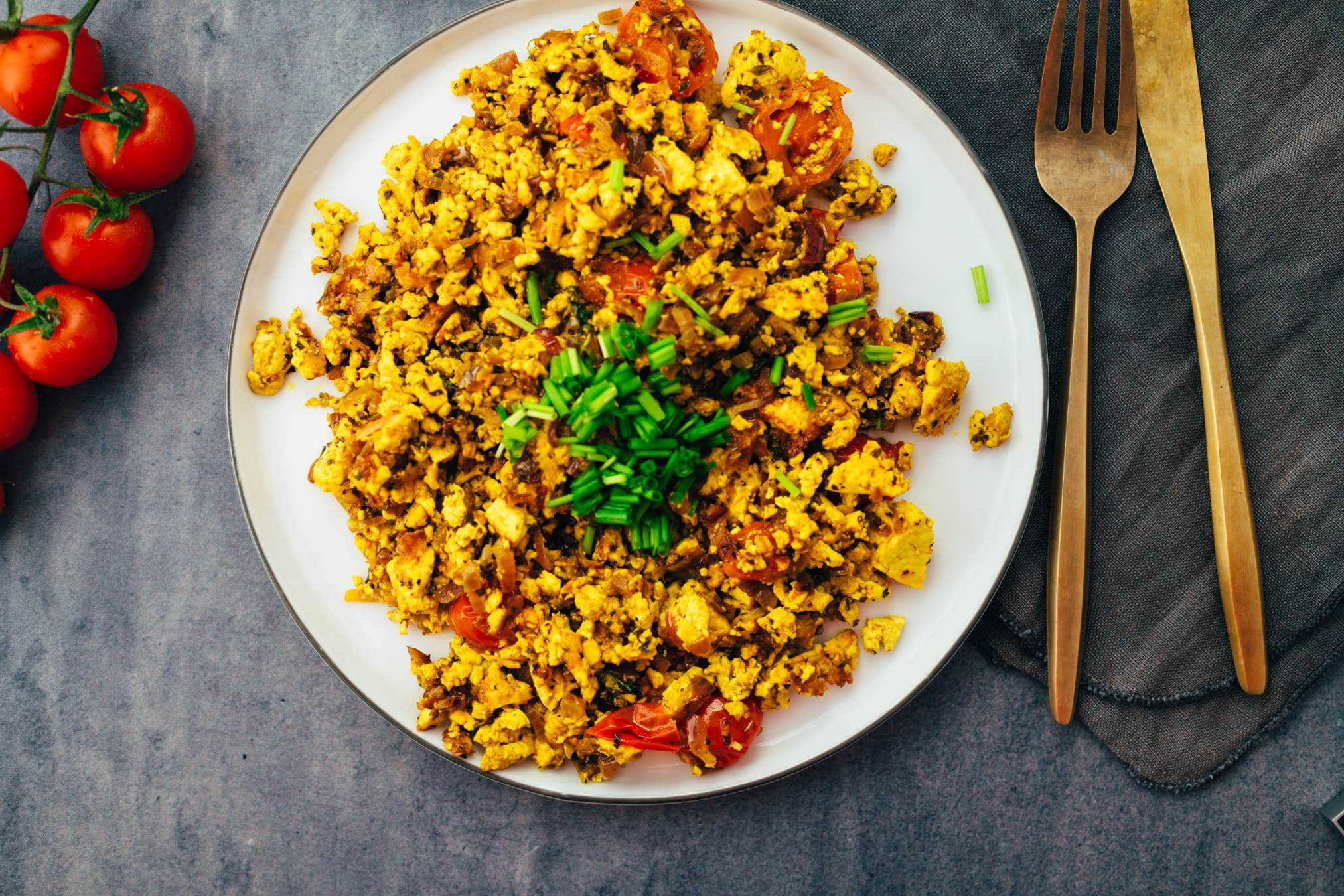 Scrambled tofu is a dish that goes almost anytime. To Breakfast , Lunch or dinner . Of course, most of us prefer it for breakfast or brunch, along with coffee, Pancakes , yogurt and whatever else you can imagine.
Scrambled tofu with Italian herbs, a poem
The recipe is ready in a flash, provided you have all the ingredients at hand. Tofu nature , olive oil, Italian herbs, turmeric, cherry tomatoes and onion. The Italian temptation is ready to start. Simply delicious and an enrichment on every breakfast table. By the way, the "Scrambled" is also very good as a sandwich between two Bread – or slices of toast. Try it!
What exactly is tofu?
Tofu is made from soybeans and originated in Asia. Actually, the production process is quite similar to that of cheese from cow's milk. There are different types of tofu, which are used in different dishes. Silken tofu is used more in the preparation of desserts, firmer types of tofu for savory dishes.
Here are a few more interesting facts about tofu:
Has a very high protein content (14.7g per 100g)
Rich in calcium, magnesium, copper and potassium
Especially rich in iron
Essential amino acids
B vitamins
Easily digestible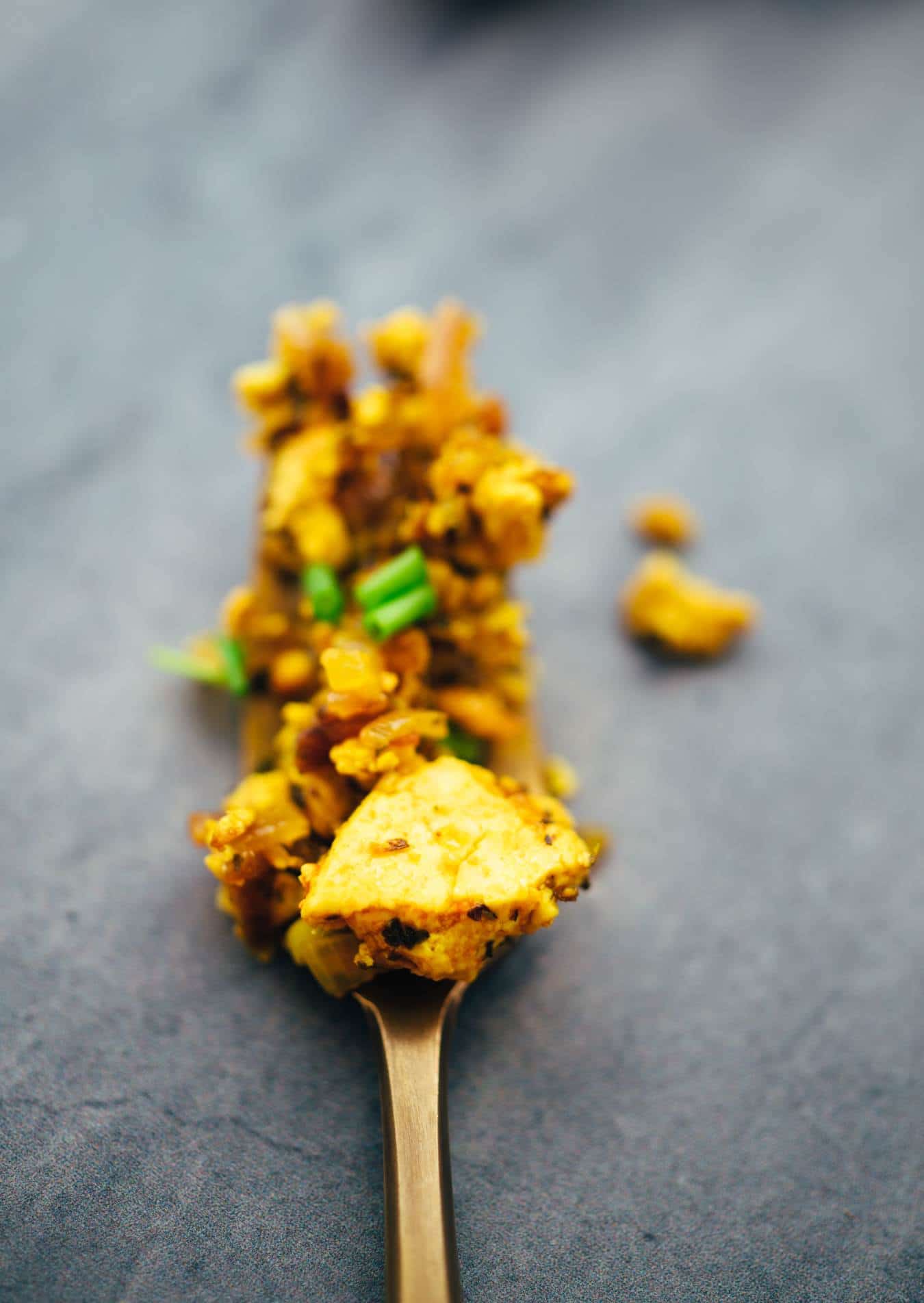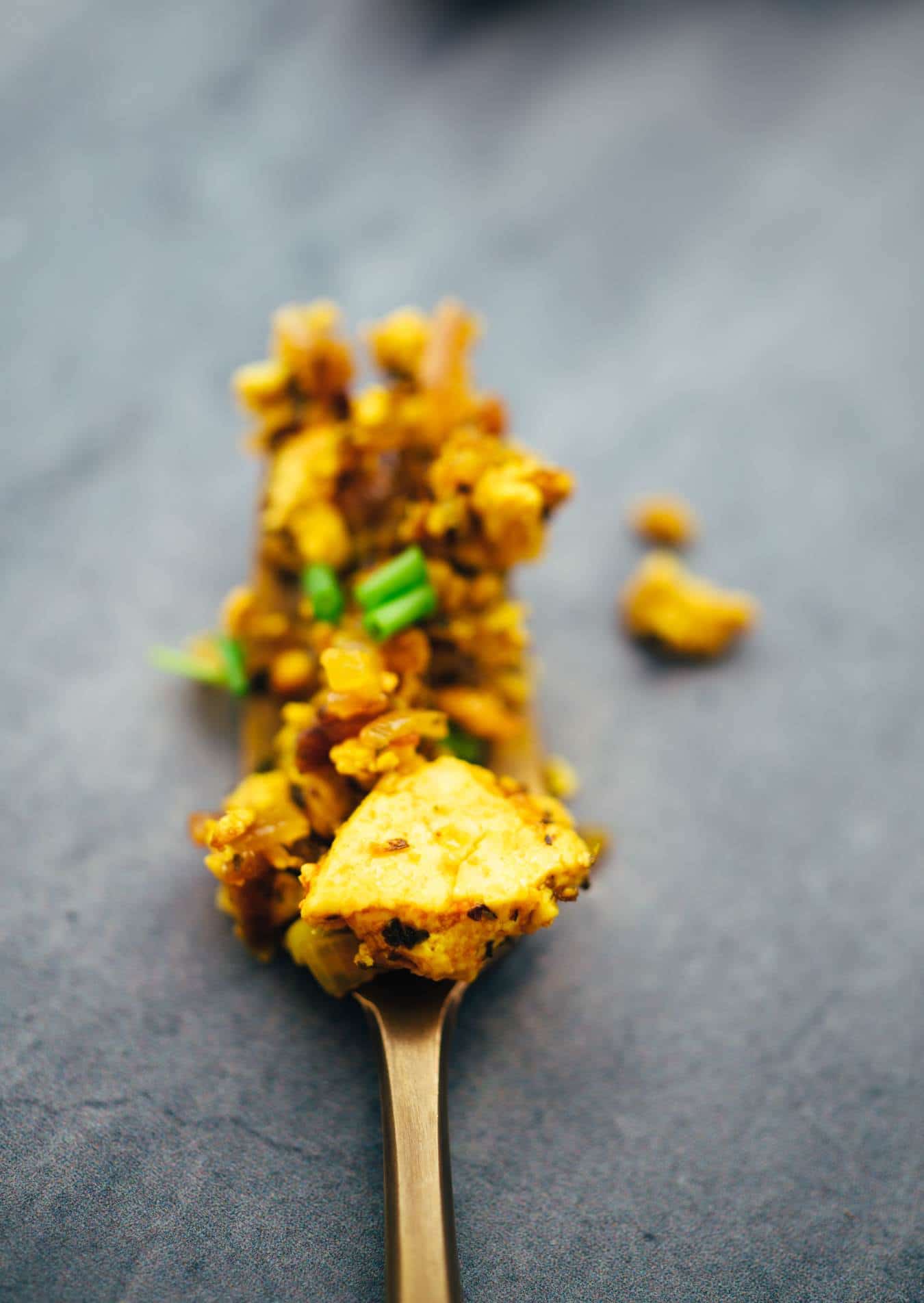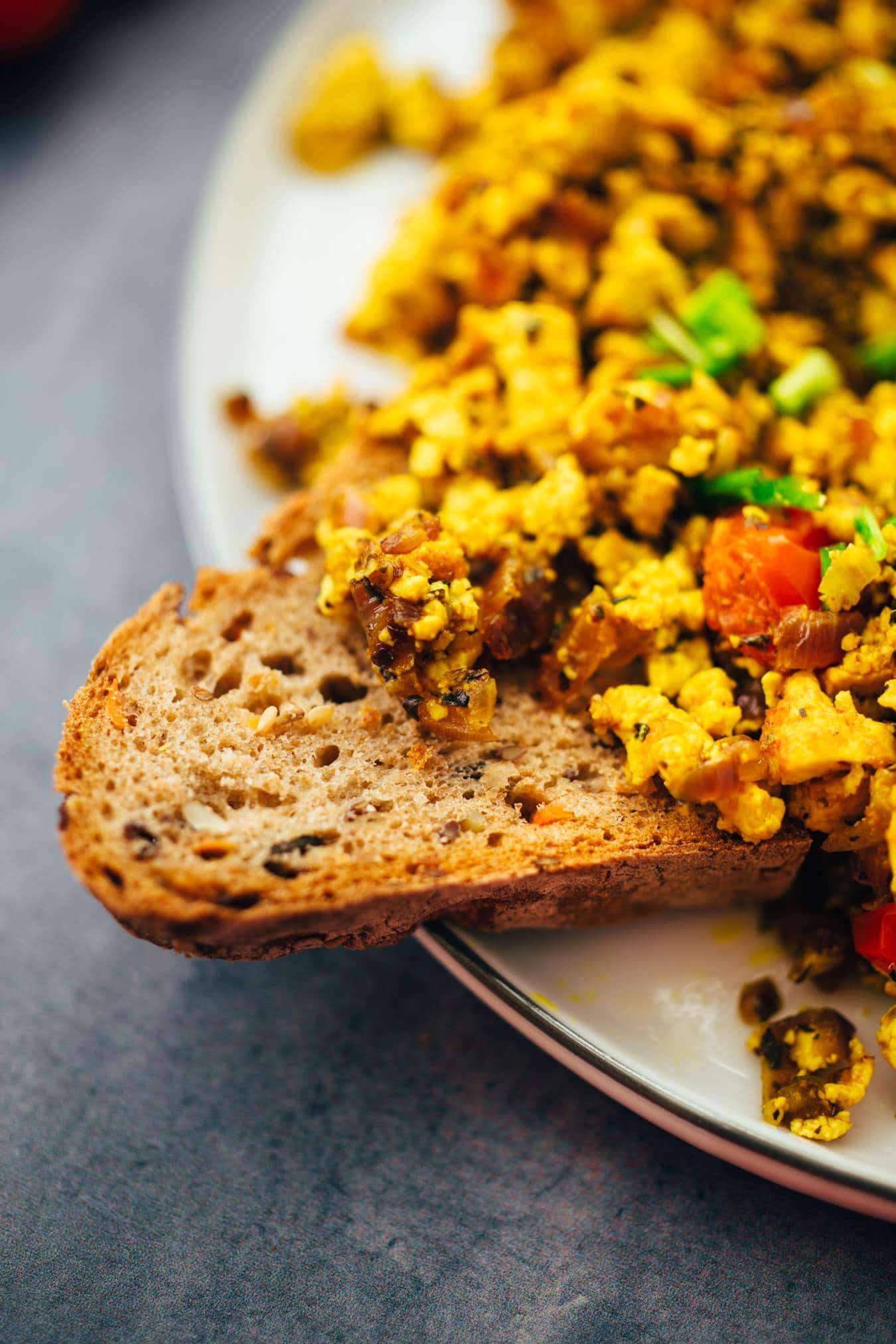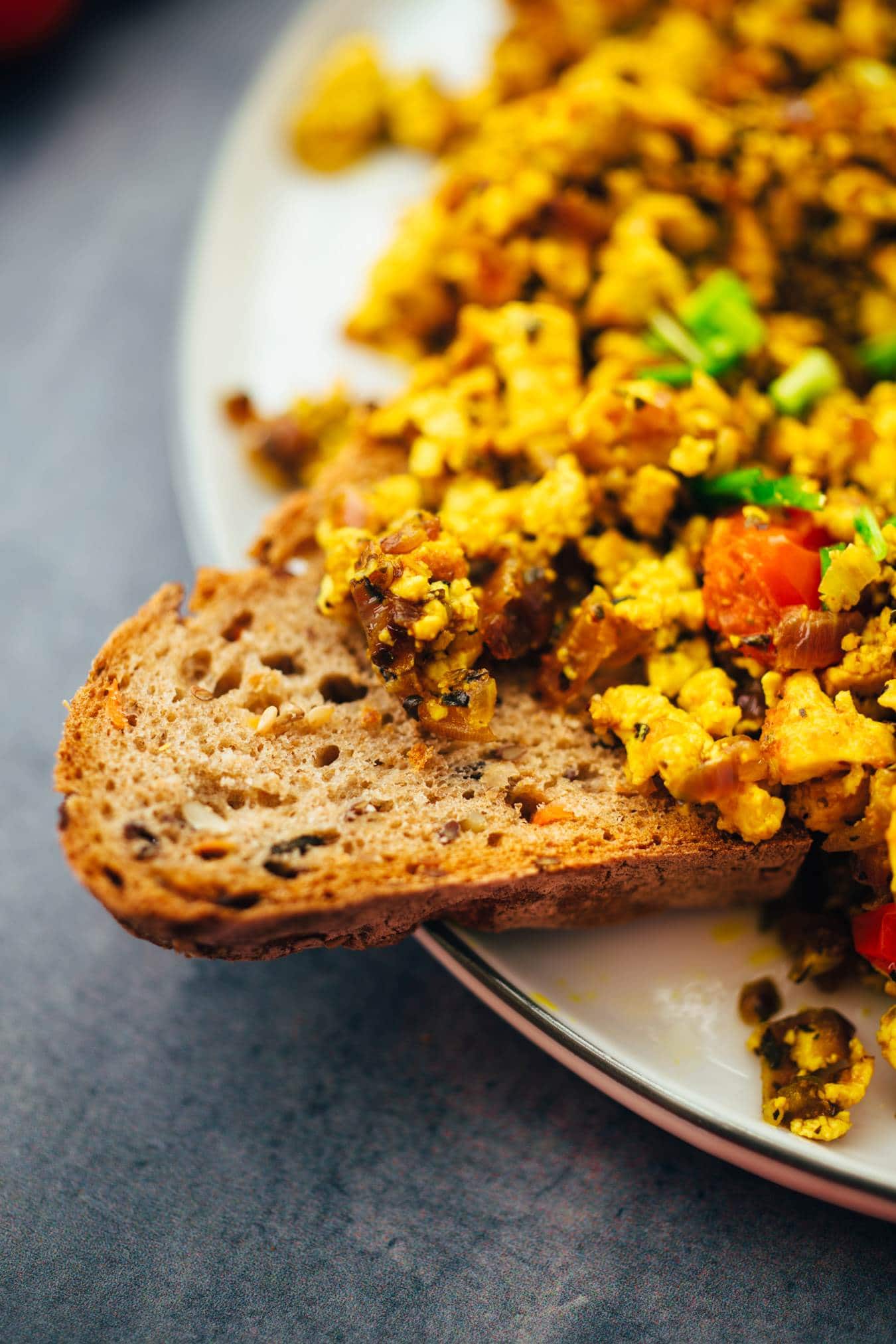 Conclusion: There are always voices that claim tofu is unhealthy. Is it true or not? I believe that tofu is very healthy, especially when eaten in moderation. Of course, it doesn't make sense to go vegan and eat only products made from tofu. It's best to keep things varied with lots of fruits and vegetables, whole grains and tofu.
The Scrambled Tofu Italian Style goes very well with homemade spelt bread or combined with a delicious brunch, together with gluten free pancakes , vegan Nutella , coffee, or a Golden Latte with healthy turmeric. As a topping I recommend homemade vegan parmesan .
The Scrambled Tofu Italian Style (15 minutes) is:
hearty
Tomato
juicy
Italian
filling
Easy to manufacture
Here we go with our tofu dish. I wish you a lot of fun in recooking and of course a review at the bottom of this page. If you post a picture, use the hashtag #veganevibes.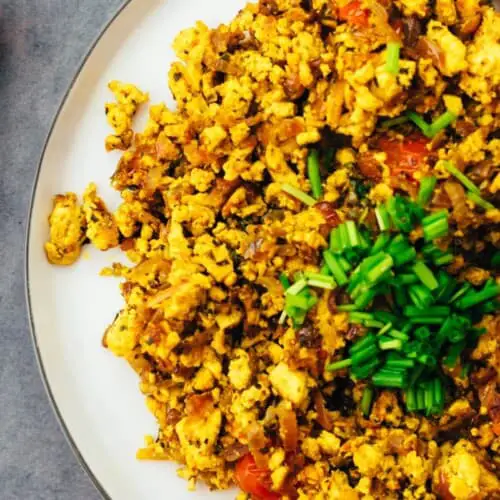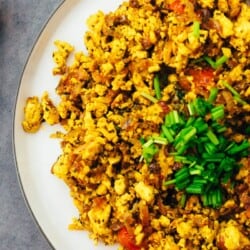 The Scrambled Tofu Italian Style (15 minutes)
Tart, filling and Italian seasoned scrambled tofu. Combined with juicy cherry tomatoes and mild onion, a dream for any breakfast or brunch. Easy and quick to make in 15 minutes.
AUTOR: VEGANEVIBES
FOR THE TOFU:
200

g

Tofu natural

(I take the products of Taifun #nosponsoring)

A handful of cherry tomatoes

halved

1

small red onion

chopped
Anleitung 
Heat pan to medium heat.


Tofu remove from packaging (does not need to be drained), place in a small bowl and crumble with a fork or your hands.

Add 1-2 tablespoons of oil to the pan, add cherry tomatoes and onion. Turn heat up a little and sear for 2-3 minutes.

2 tbspn high heat olive oil or frying oil,

A handful of cherry tomatoes,

1 small red onion

In the meantime, put all the ingredients for the sauce in a bowl and mix well.

2-4 tbspn Olive oil,

2 tbspn Water,

1 tbspn Turmeric,

1 tbspn Basil,

½ tbspn Thyme,

½ tbspn Oregano,

½ tbspn Rosemary,

½ tbspn Garlic granules,

1 tbspn Tamari or another soy sauce,

1 Bird Eye Chili

Add the tofu to the pan with the tomatoes and onion, pour the sauce over it and mix everything well. Fry for another 5 minutes until everything is evenly hot and the herbs have combined well with the tofu.


Divide between 2 plates, garnish with fresh herbs and desired toppings and enjoy!

Nährwertangaben
Serving:
1
Portion
Calories:
106
kcal
Carbohydrates:
3
g
Protein:
9
g
Fat:
6
g
Sodium:
32
mg
Vitamin A:
25
IU
Calcium:
125
mg
Iron:
1.5
mg