What a weekend! Finally the time had come and we were allowed to meet our two new family members. The two huskies are called WAPI & YUMA They are just 5 weeks old, cute, cuddly and you just have to love them. In 4 weeks it is so far and we may take the two rascals with home. For refreshment there were before the visit to the Husky Ranch some delicious, healthy and above all gluten-free pancakes. Naturally sweetened and guaranteed addictive!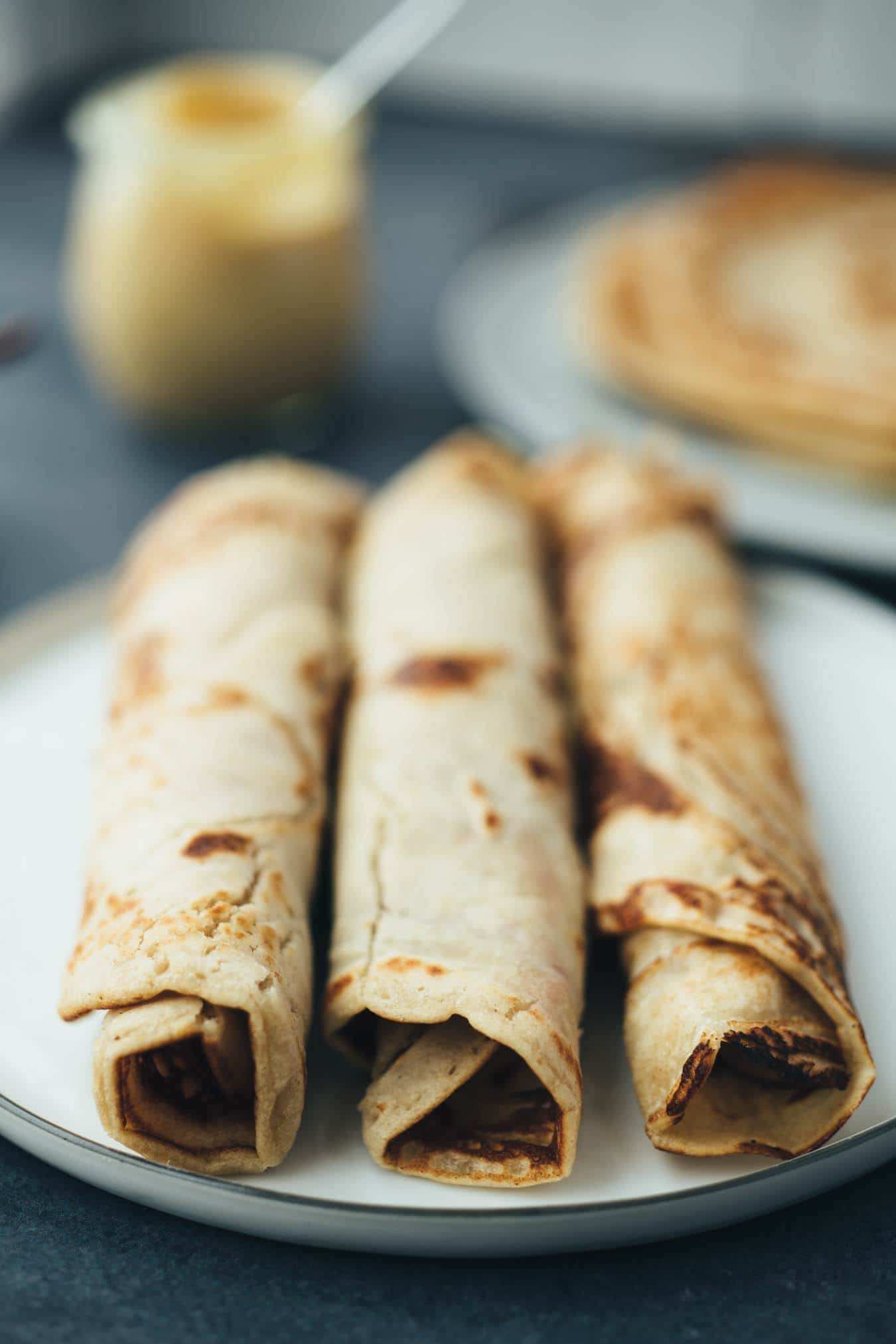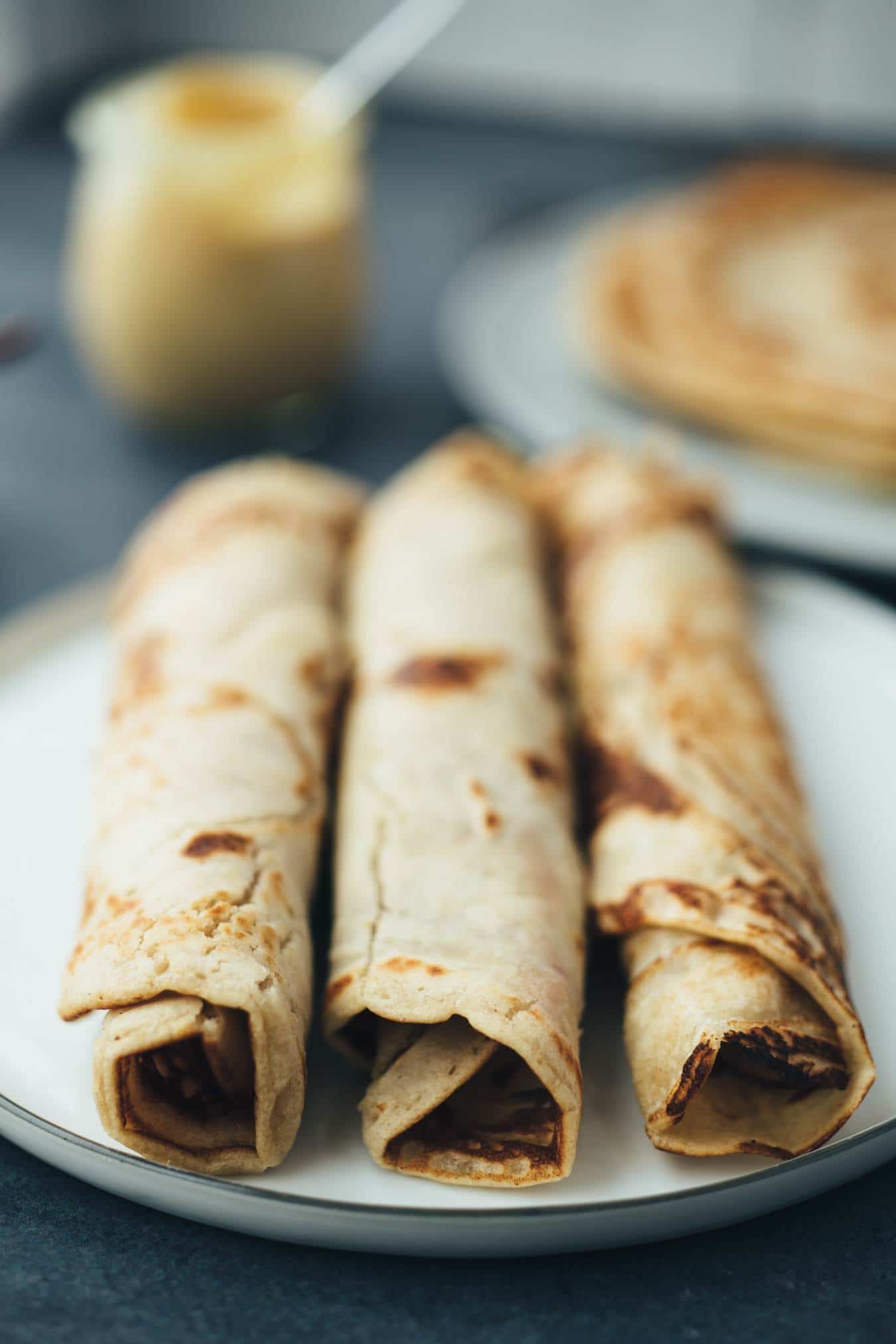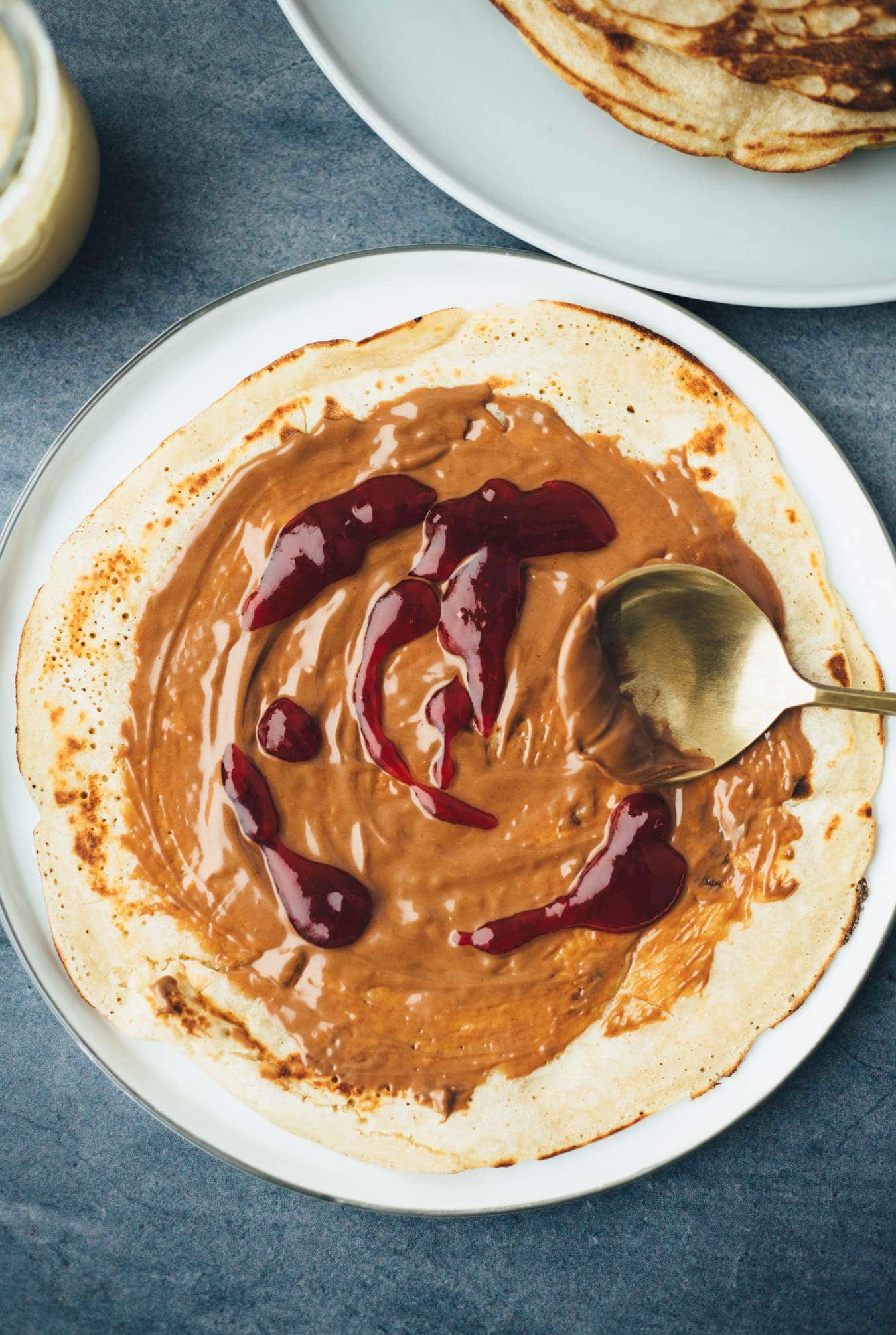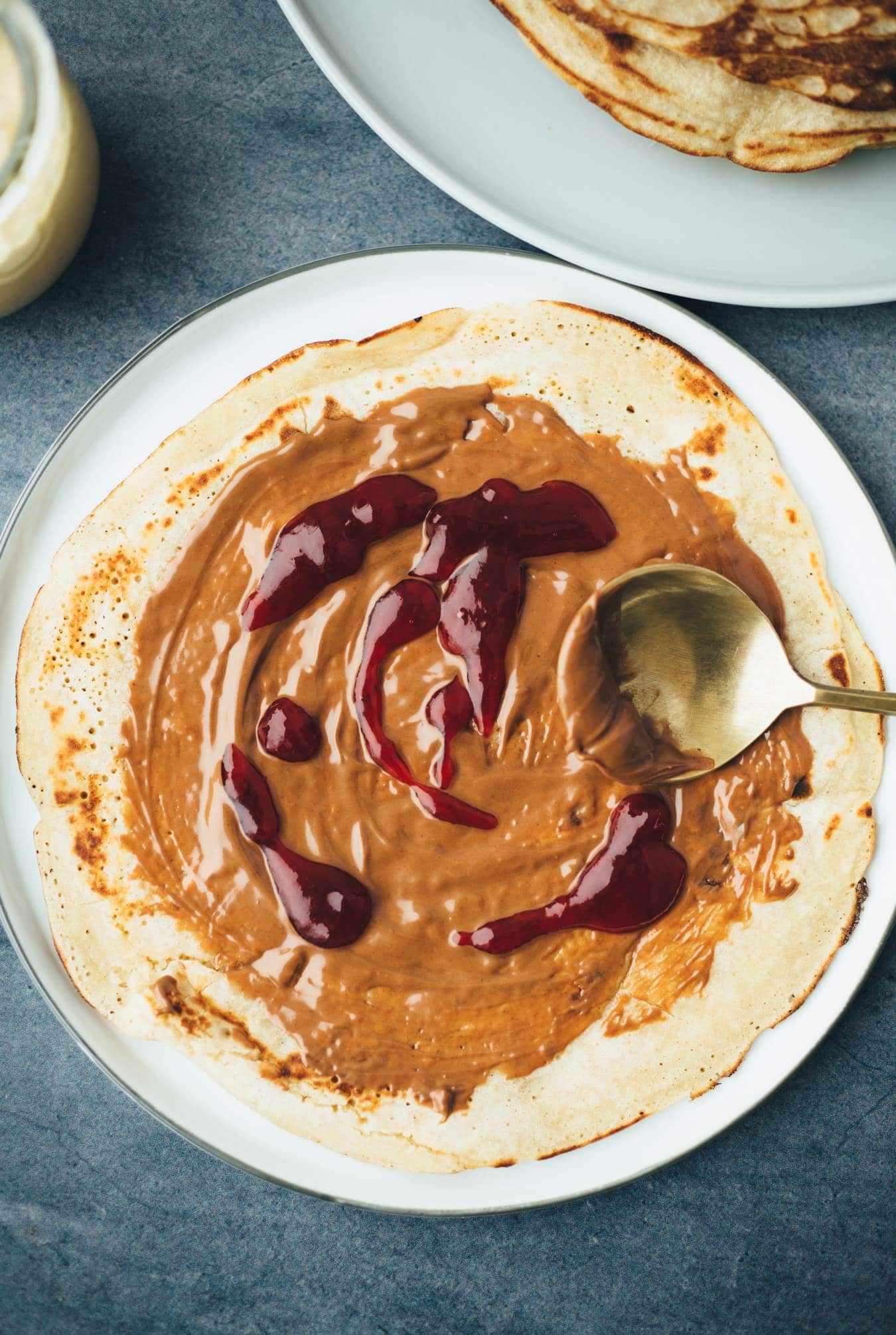 Pancakes are available in many different variations, sweet, savory, filled, baked or in soup. Yeah! I opted for the sweet version, filled with delicious vegan nut nougat cream . Hopefully it will make you want to plan your next Sunday breakfast right now?
Pancakes filled with delicious nut nougat cream, need I say more?
The Recipe itself is super quick, but it takes a while to bake out the beauties. Therefore, the recipe is perfect for the weekend or days off when you really want to take your time. In terms of taste, the gluten-free vegan pancakes are in no way inferior to the traditional classic. They are pleasantly sweet, roll well and taste a little like apple juice ! Why ? That's the trick, because the pectin in the juice provides an additional, natural binding and sweetness. Therefore, the whole dough comes with only a tablespoon of maple syrup. Perfect or?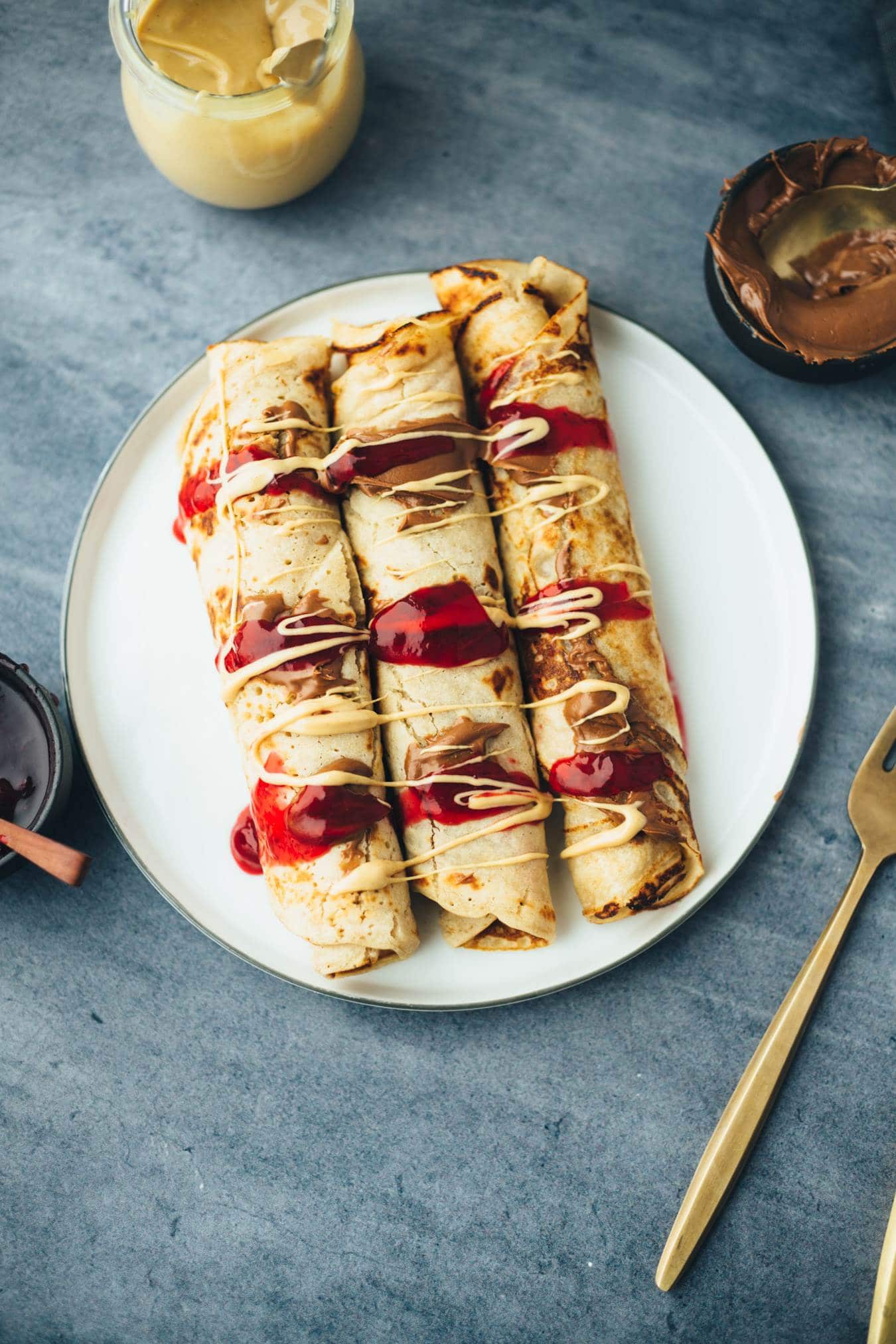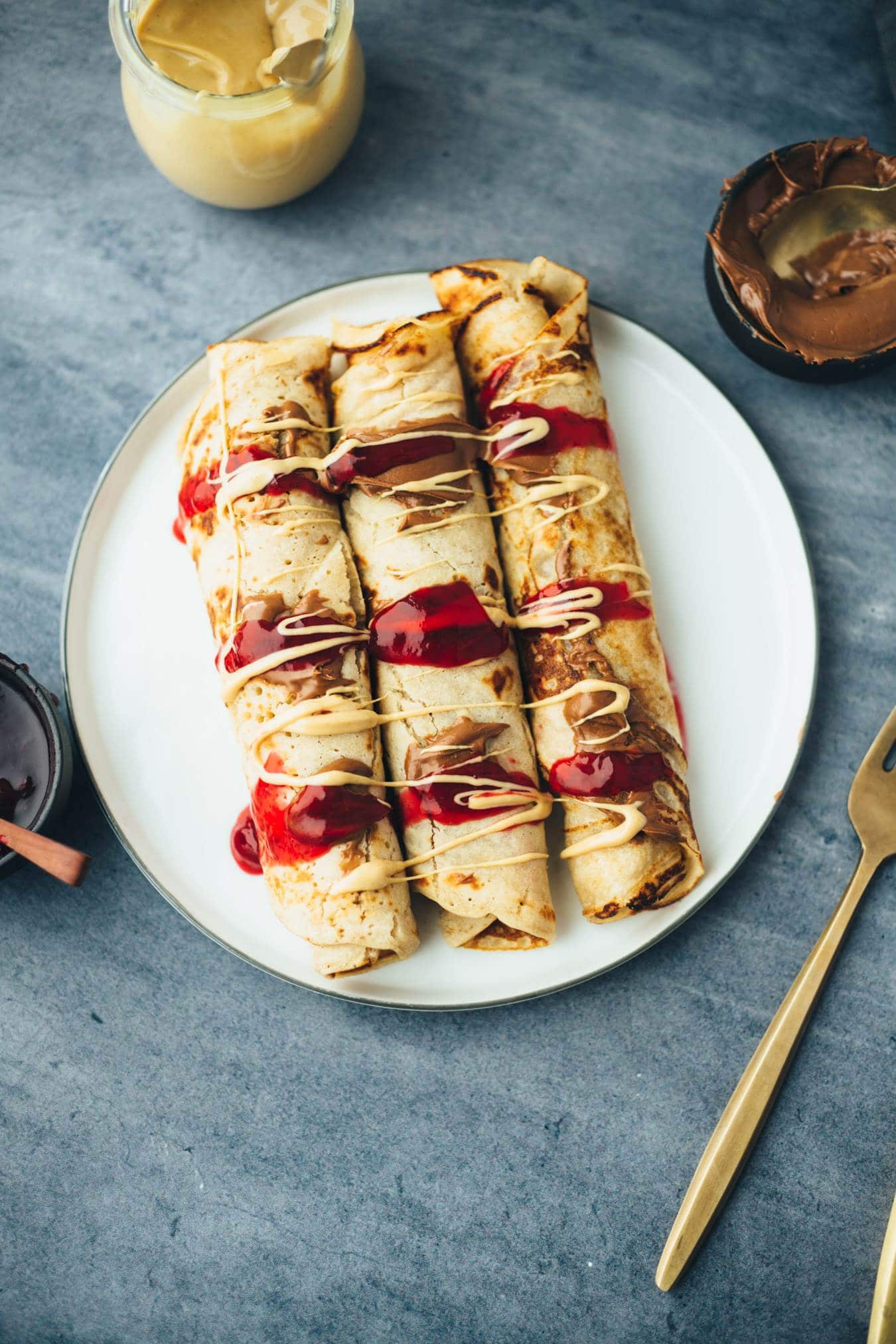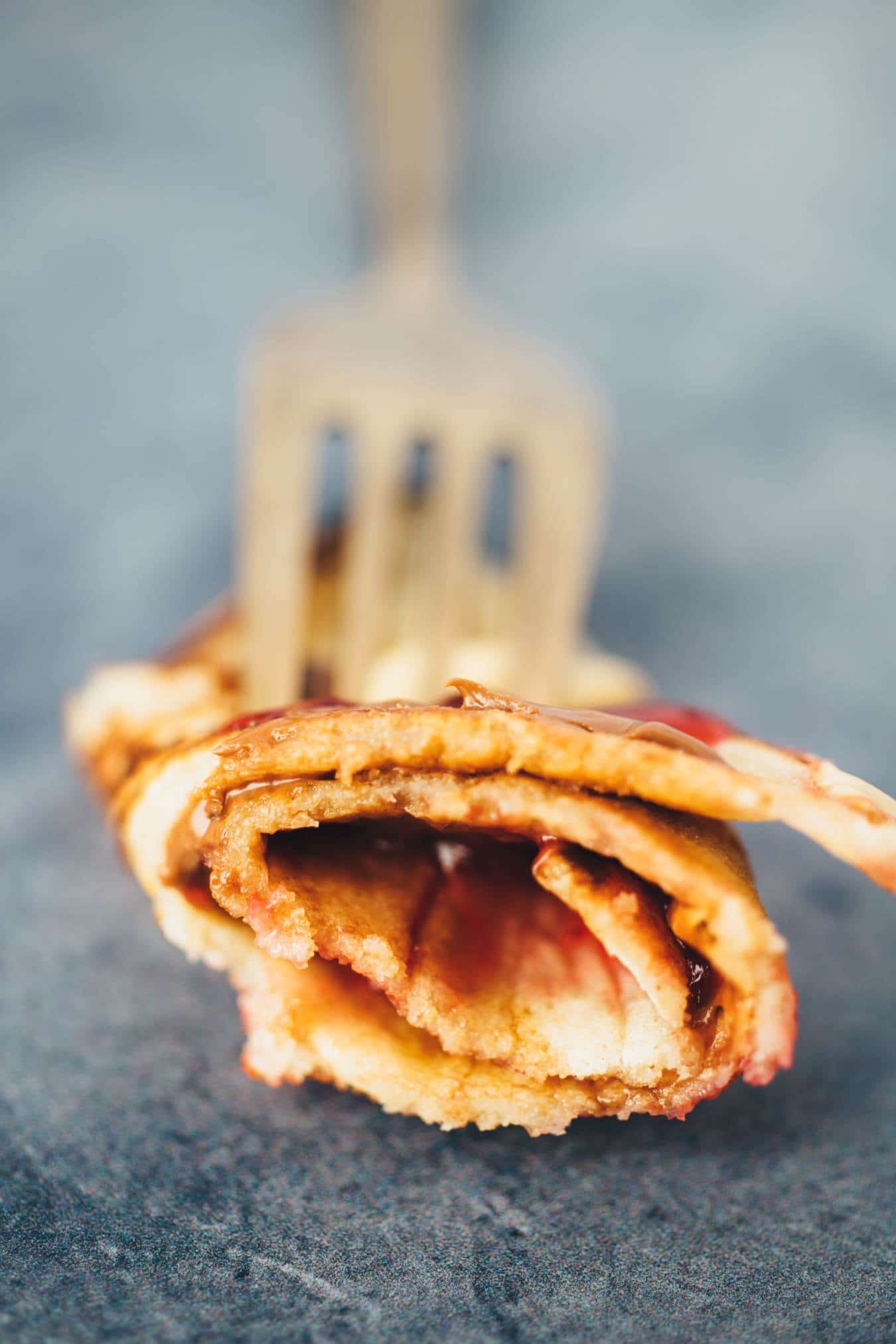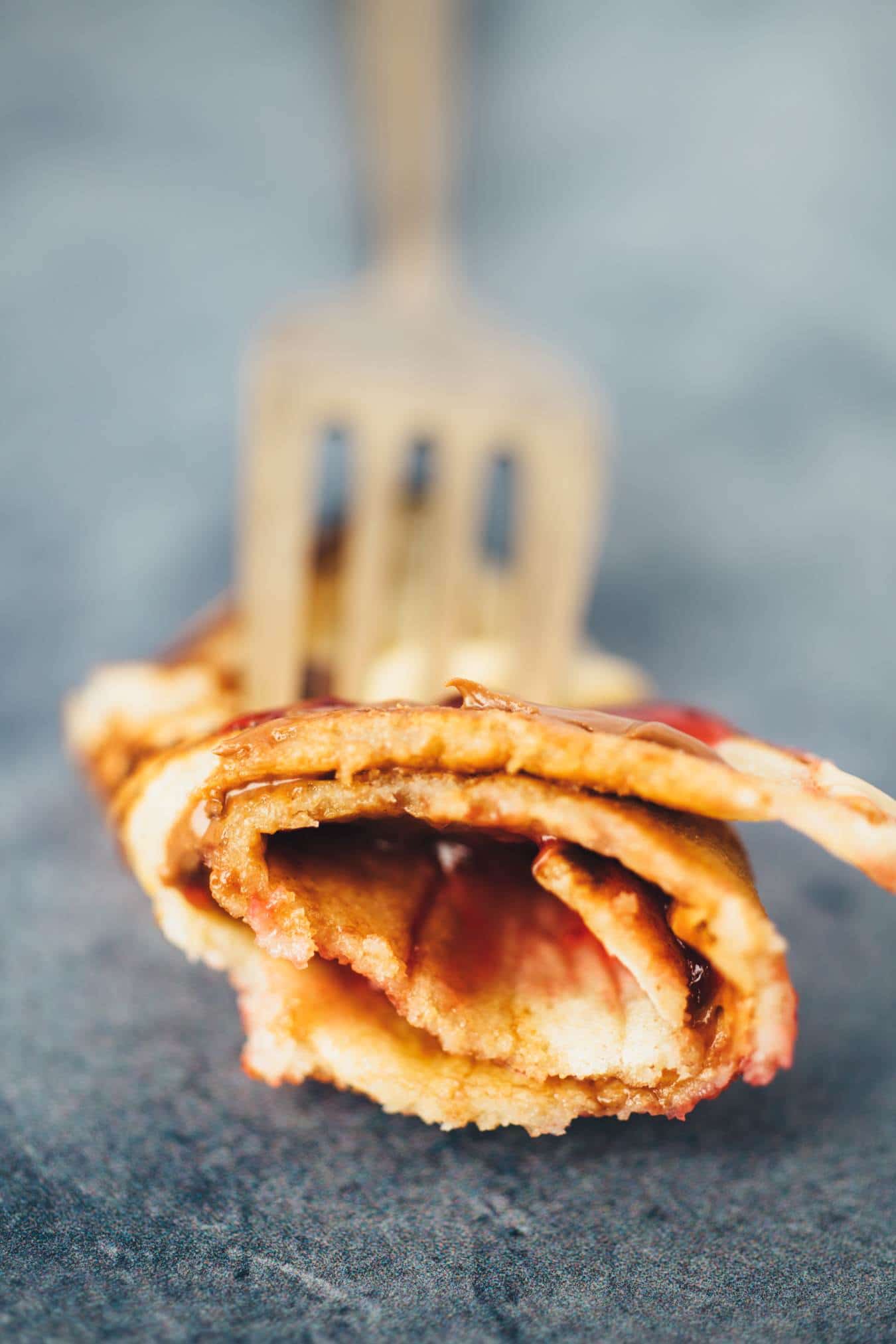 How healthy is maple syrup actually?
Again and again, a wide variety of opinions circulate about sweeteners. So today I took a closer look at my beloved maple syrup:
The syrup is obtained from the sap of maple trees from Canada. A whopping 40 liters of juice are needed for one liter of maple syrup. This is also the reason for the high price (especially for grade A, which is the newest crop and highest quality).
Maple syrup contains 65% sugar, so here too, use sparingly.
Rich in minerals (more than in honey and white sugar!)
35% fewer calories than conventional sugar
Conclusion: maple syrup is certainly not to be classified as super healthy, as it is too 65% around sugar acts. However, it is a healthier and very tasty alternative to refined sugar. Personally, I always have maple syrup in the house and use it daily to sweeten cakes, pastries, hot drinks and more.
But now back to our delicious vegan pancakes. I fill them with vegan nut nougat cream, currant jelly and cashew cream. However, you can combine here infinitely, starting from banana slices, to coconut flakes to various jams and cinnamon sugar is simply everything possible. I would say let's go or?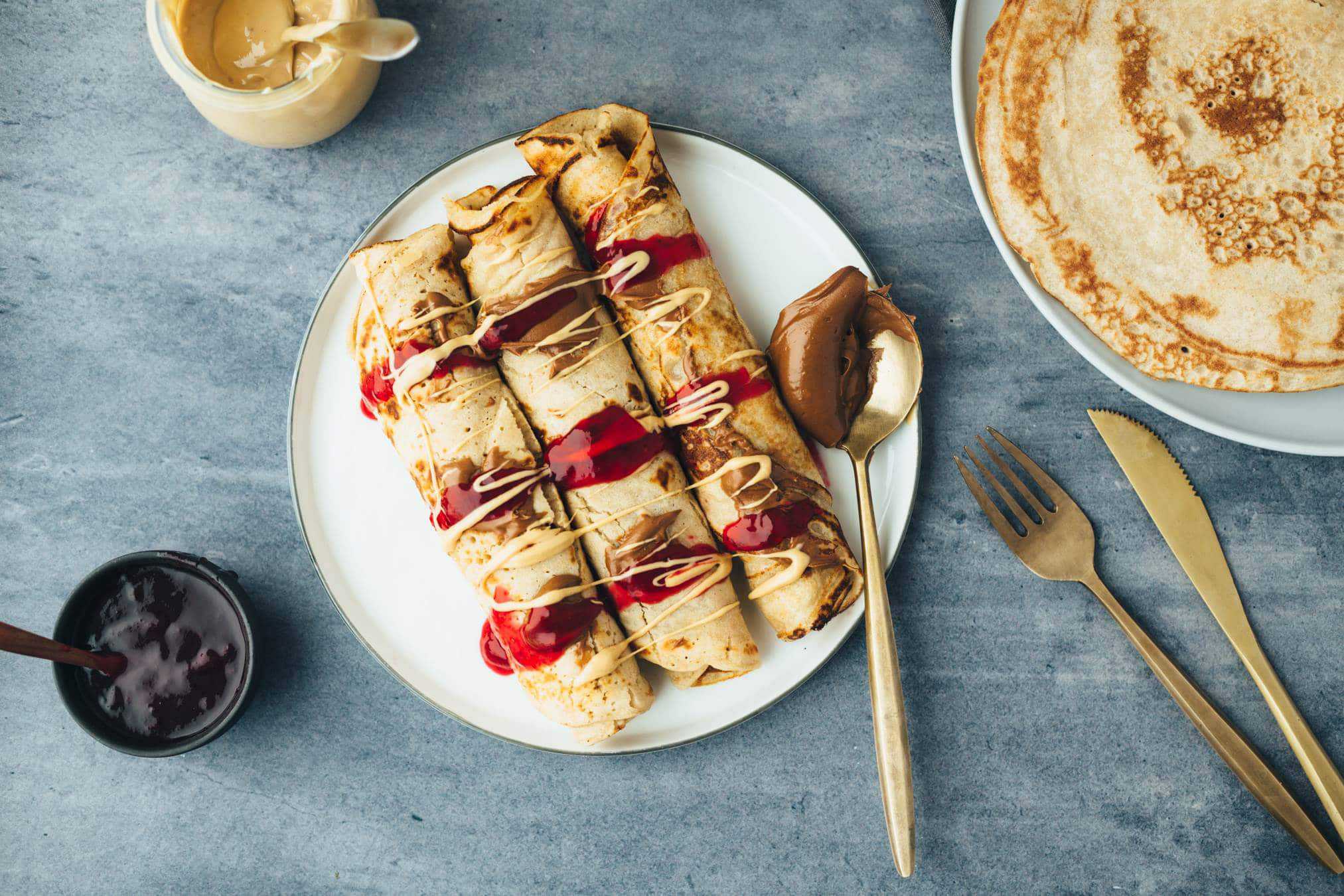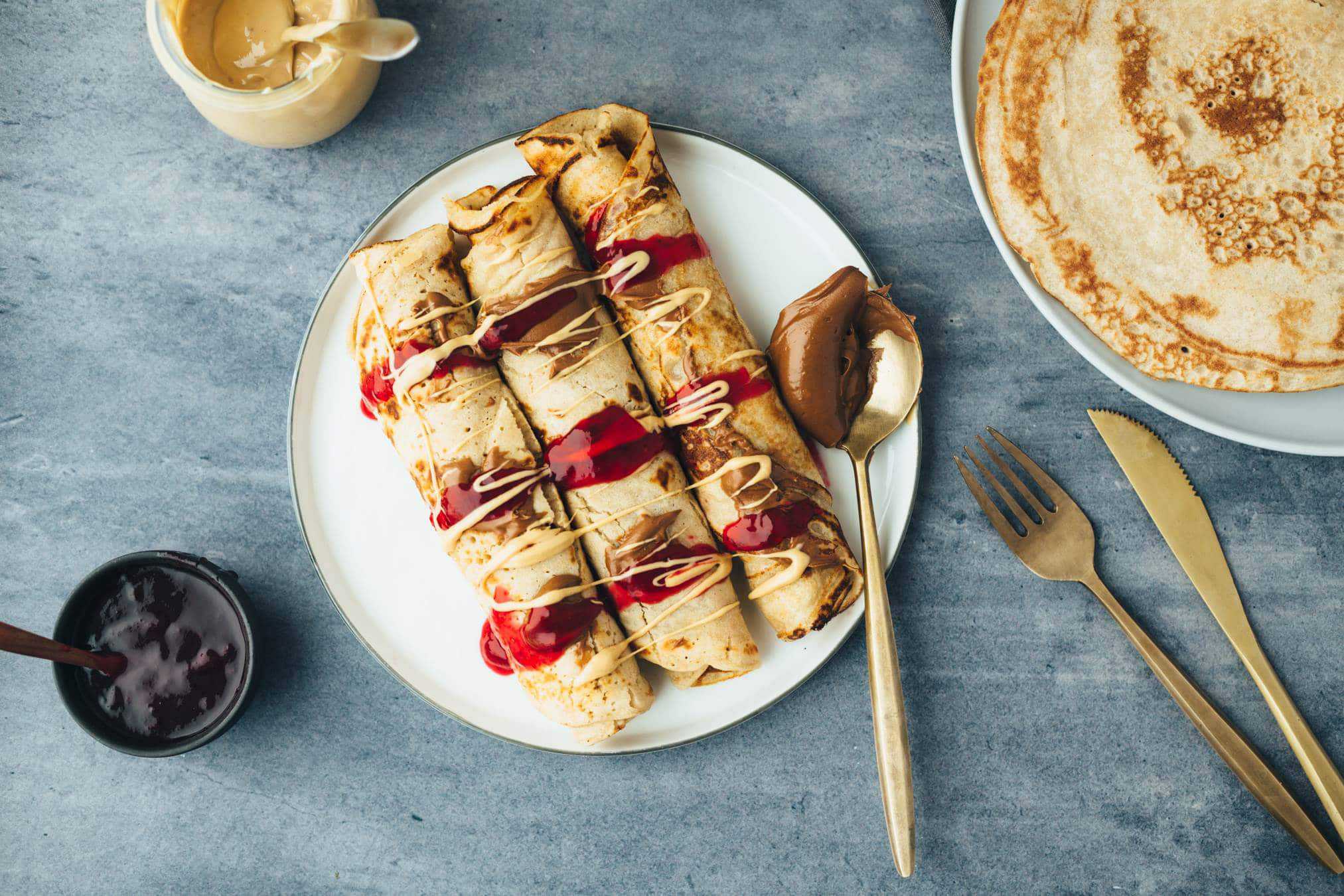 The pancakes go very well with a simple hot chocolate or golden milk . Do you have any ideas for unusual toppings? Then comment at the very bottom.
The simple vegan pancakes (gluten-free) are:
Pleasantly sweet
Light
chocolatey
filling
Easy to manufacture
Let's get started with wonderfully simple vegan pancakes. I wish you a lot of fun baking and of course a review at the bottom of this page. If you post a picture, use the hashtag #veganevibes.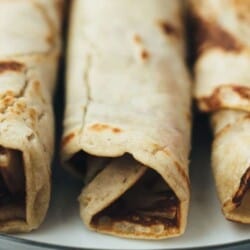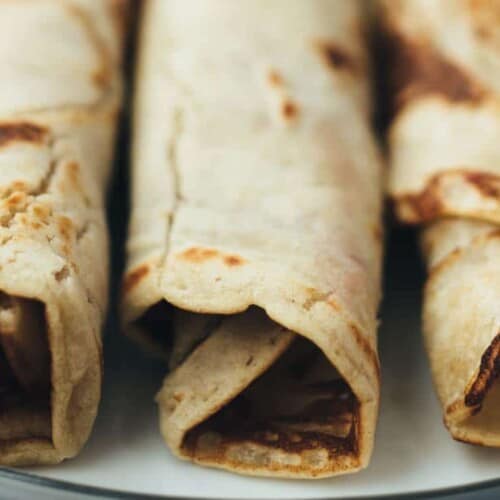 simple vegan pancakes (gluten free)
Naturally sweetened, filling and versatile vegan and gluten-free pancakes. Filled with delicious vegan nut nougat cream, currant jelly and cashew cream. Perfect for an extended breakfast or as a sweet lunch or snack.
AUTOR: VEGANEVIBES
Anleitung 
Heat pan to medium heat. Prepare a small key with high-heat oil and a silicone brush.


For the dough provide a bowl and put in all the ingredients in order. Mix with a whisk until smooth, which should be slightly more liquid than an ordinary cake batter. Alternatively, use a high-powered blender with a dough program to make it.

250 ml cup of almond milk or other vegetable milk,

250 ml naturally cloudy apple juice* preferably organic!,

15 ml maple syrup,

300 g gluten free flour mix,

2 tbspn Baking powder,

1 Pinch of salt,

Some high heat oil for baking

Dip the silicone brush into the oil and brush the bottom of the pan. It can also be baked without oil, but then the pancake will be a little drier.


Using a soup ladle, skim off a portion of batter and add to pan. Using a wooden pan turner or a special crepe batter spreader (see link below), spread the batter evenly in the pan and bake for 2-3 minutes on each side until golden brown. Remove and place on a plate.


Repeat this step until the batter is completely used up and all the pancakes are nicely stacked on top of each other (this keeps them nice and warm).


Place one pancake on each plate and spread with desired toppings. Toppings desired toppings. Roll and enjoy!

Nut nougat cream,

Currant jelly,

Cashew nut puree

Keep remaining pancakes covered in refrigerator for up to 2 days, and heat best in steamer or preheated oven.

Notizen
NOTES /HELPFUL ACCESSORIES:
Nährwertangaben
Serving:
2
Piece
Calories:
125
kcal
Carbohydrates:
21
g
Protein:
4
g
Fat:
2
g
Sodium:
15
mg
Potassium:
141
mg
Fiber:
1
g
Sugar:
4
g
Vitamin A:
45
IU
Vitamin C:
0.2
mg
Calcium:
54
mg
Iron:
1.2
mg