It's really hard. To be vegan? No, it's super easy!
It is much harder for me to wait for our little husky puppies. I wanted to spare you from too much information about the puppies, but as I said YUMA and WAPi but as I said, it is damn hard. Therefore, I have prepared for Today (MONDAY!) A very special recipe and I admit that I am not necessarily sad to shoot it: Nutella or vegan NUT NOUGAT cream. It comforts me through the next 3 weeks because our puppies will finally be home with us. HAPPY! So now but to the recipe.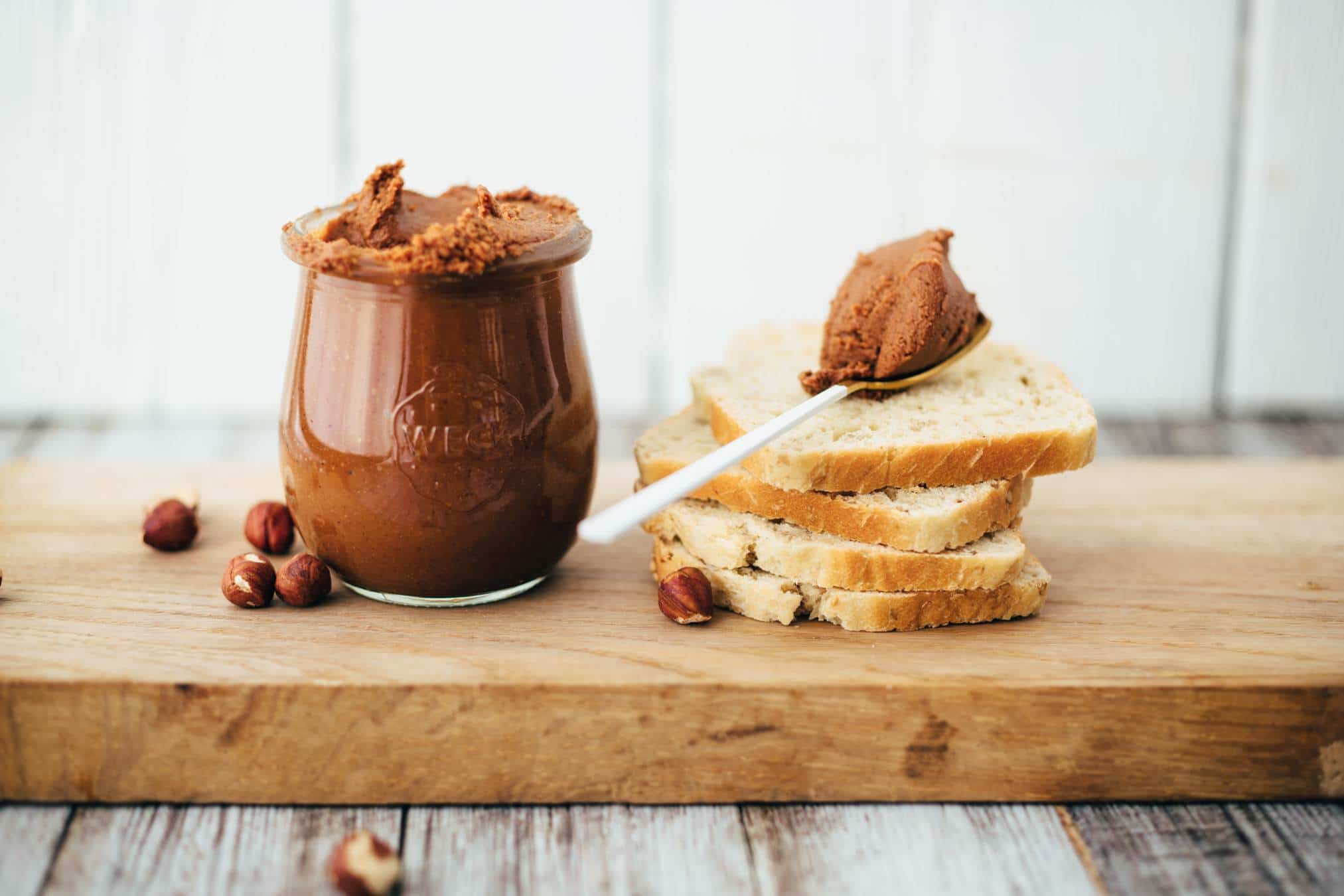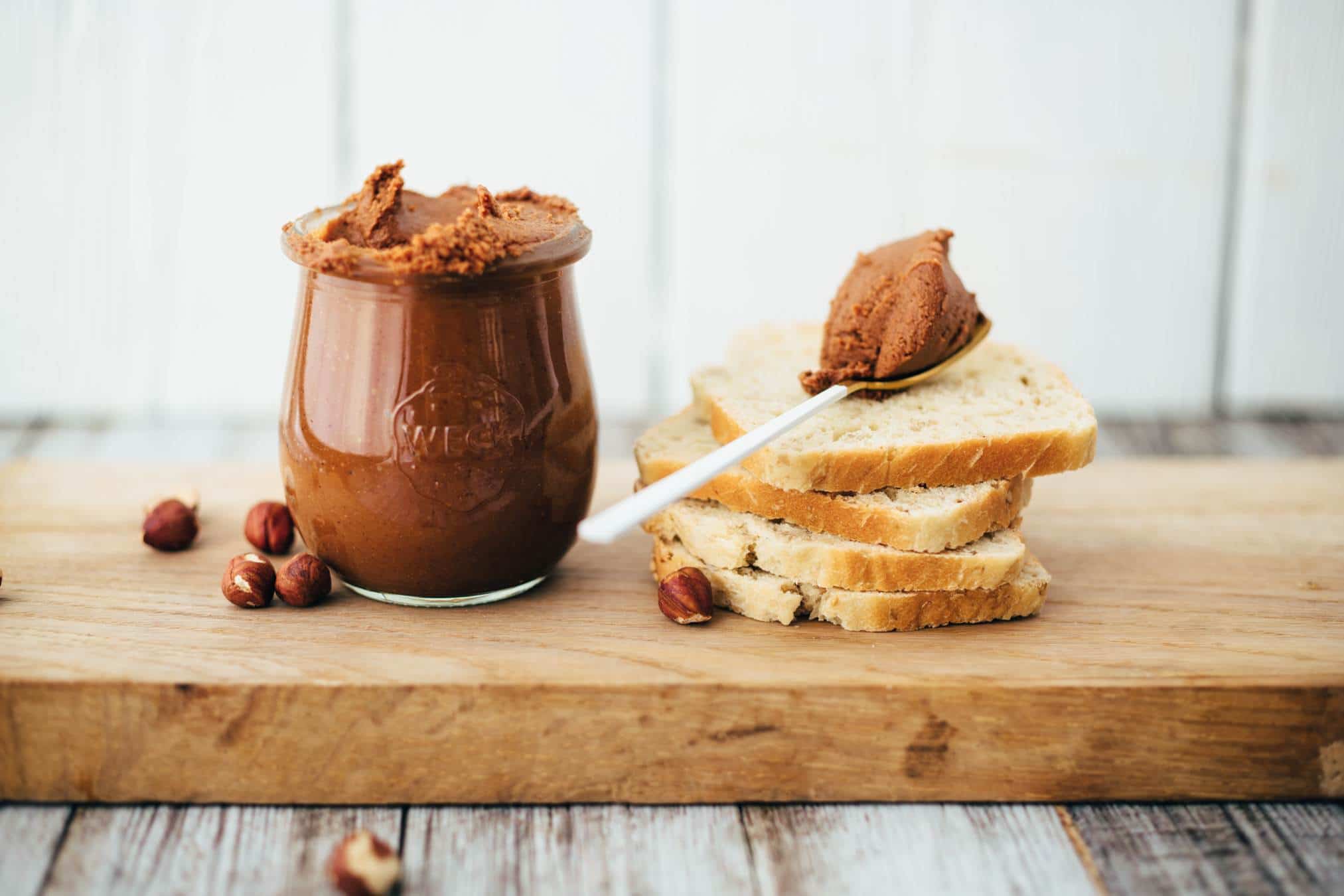 Nutella, vegan nut nougat cream, chocolate spread, or whatever you want to call it.

In general, the production of Nutella simple. The only hurdle is the roasting of the hazelnuts, although this is also quite easy if you pay attention to a few little things. How I love that roasted aroma in the kitchen! You can also buy ready-roasted hazelnuts, but they are usually a bit more expensive (especially in organic quality). So it's definitely worth roasting yourself. You can find more tips & tricks below in the tutorial.
Vegan Nutella, as simple as ingenious ready in 30 minutes – with only 3 ingredients
Maybe you're thinking, why on earth should I make Nutella myself when I can get it in any organic supermarket for less than three euros? The answer lies in the ingredients. Let's take a look at an ingredient list of any organic nut nougat cream: Cane sugar, sunflower oil, hazelnuts 15%, cocoa powder 7.5%, vegetable fat (palm) and I'll spare you the rest. The fact is that in most products there is a lot of fat and little flavor. Our homemade version is the opposite, 100% flavor and only 3 ingredients.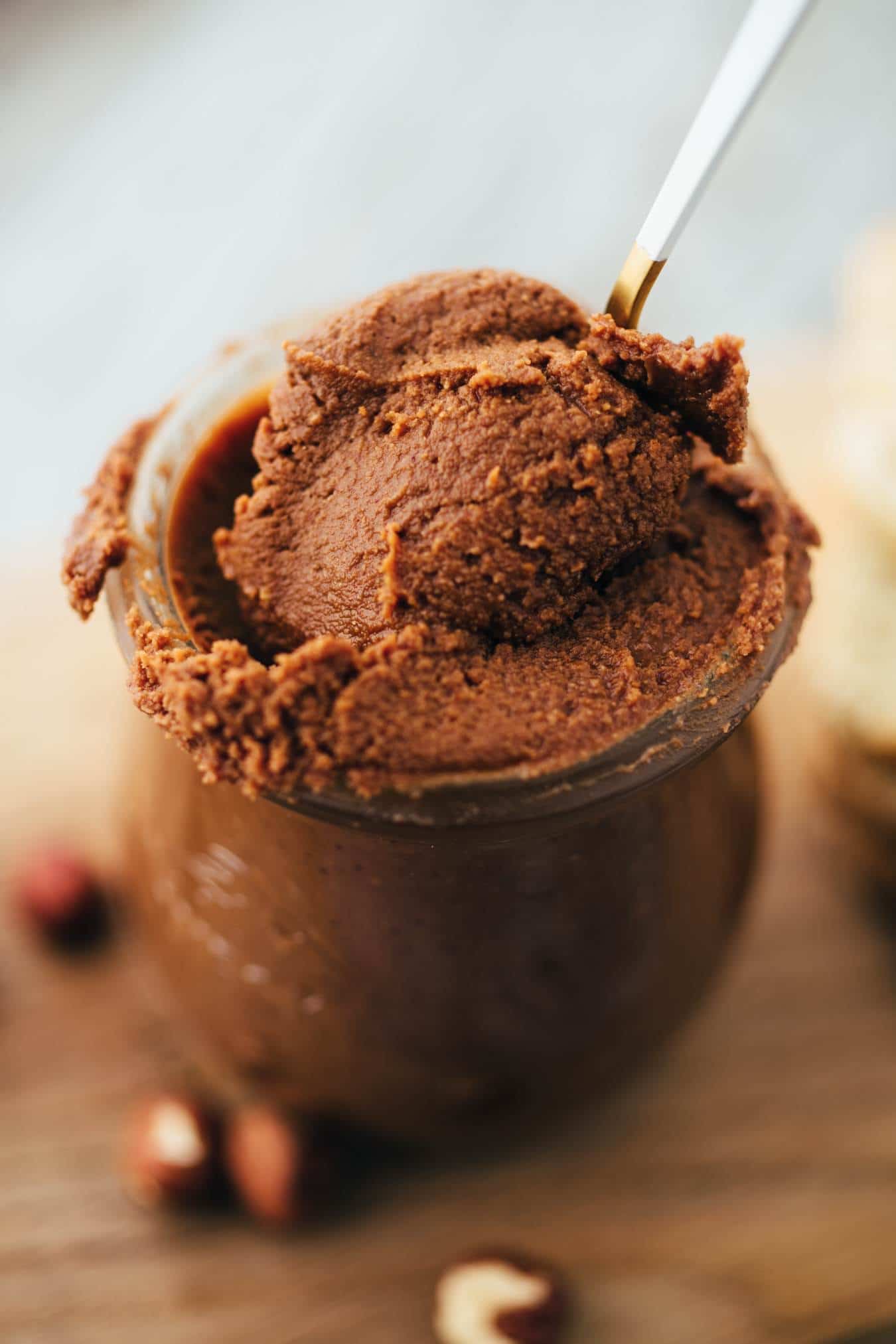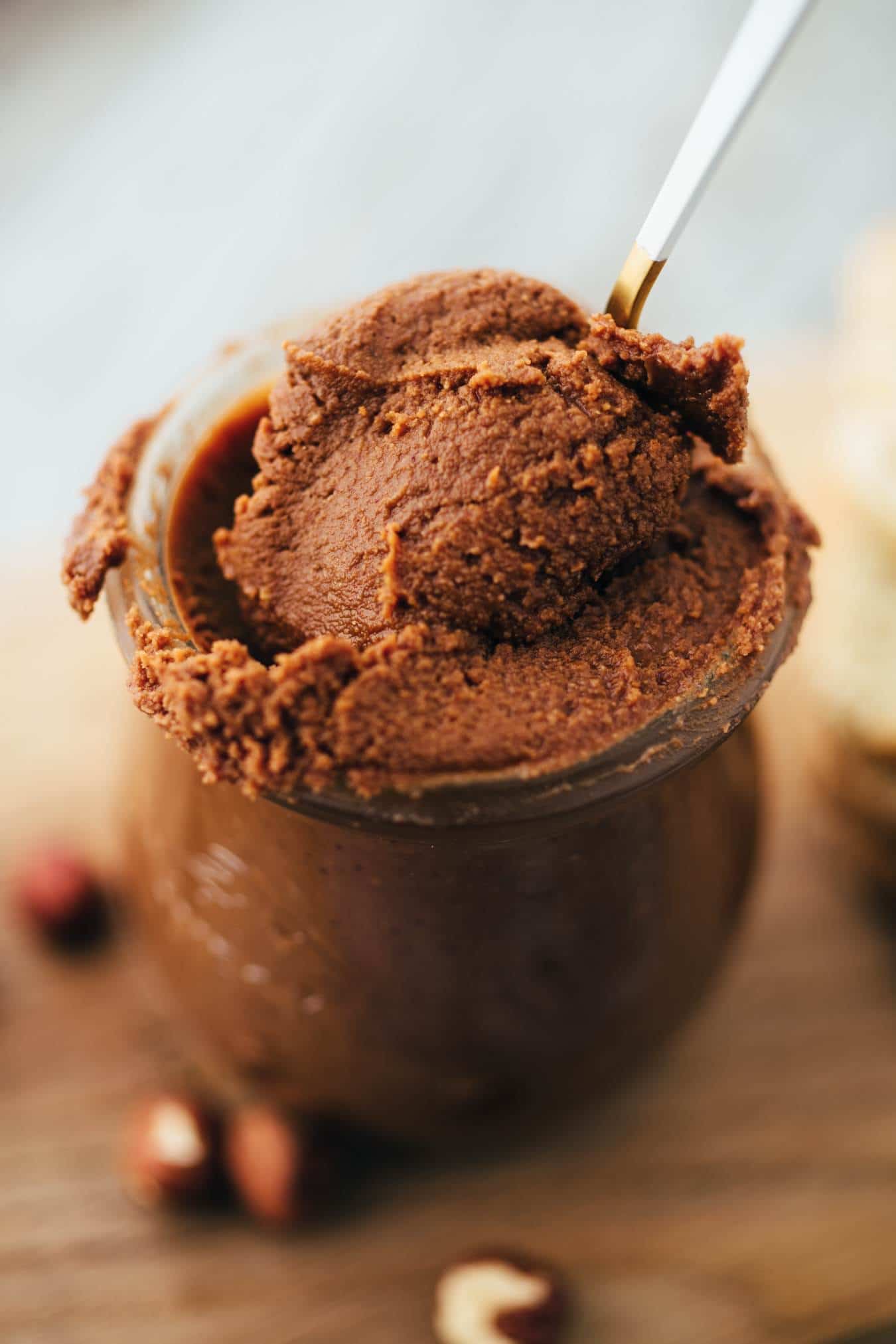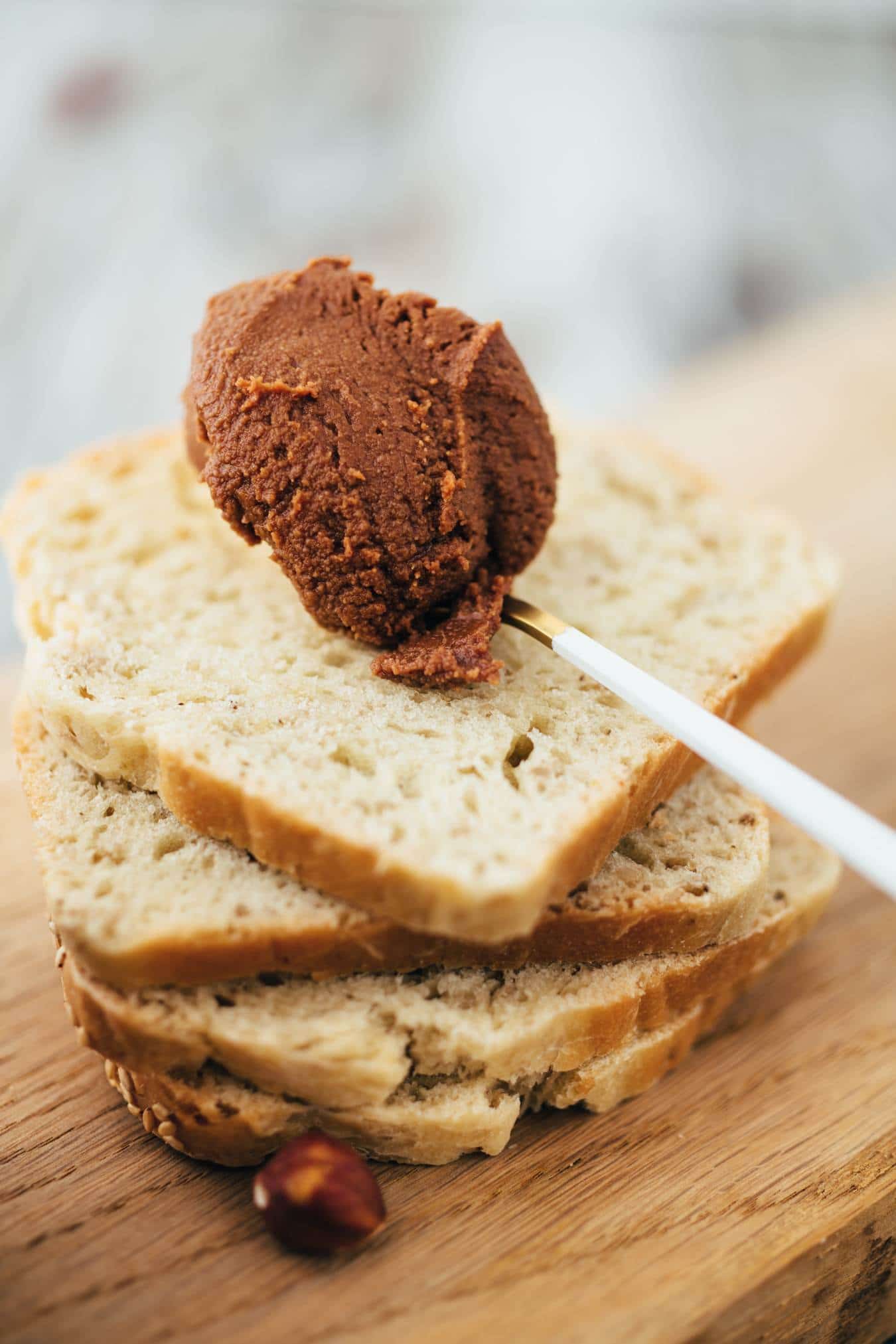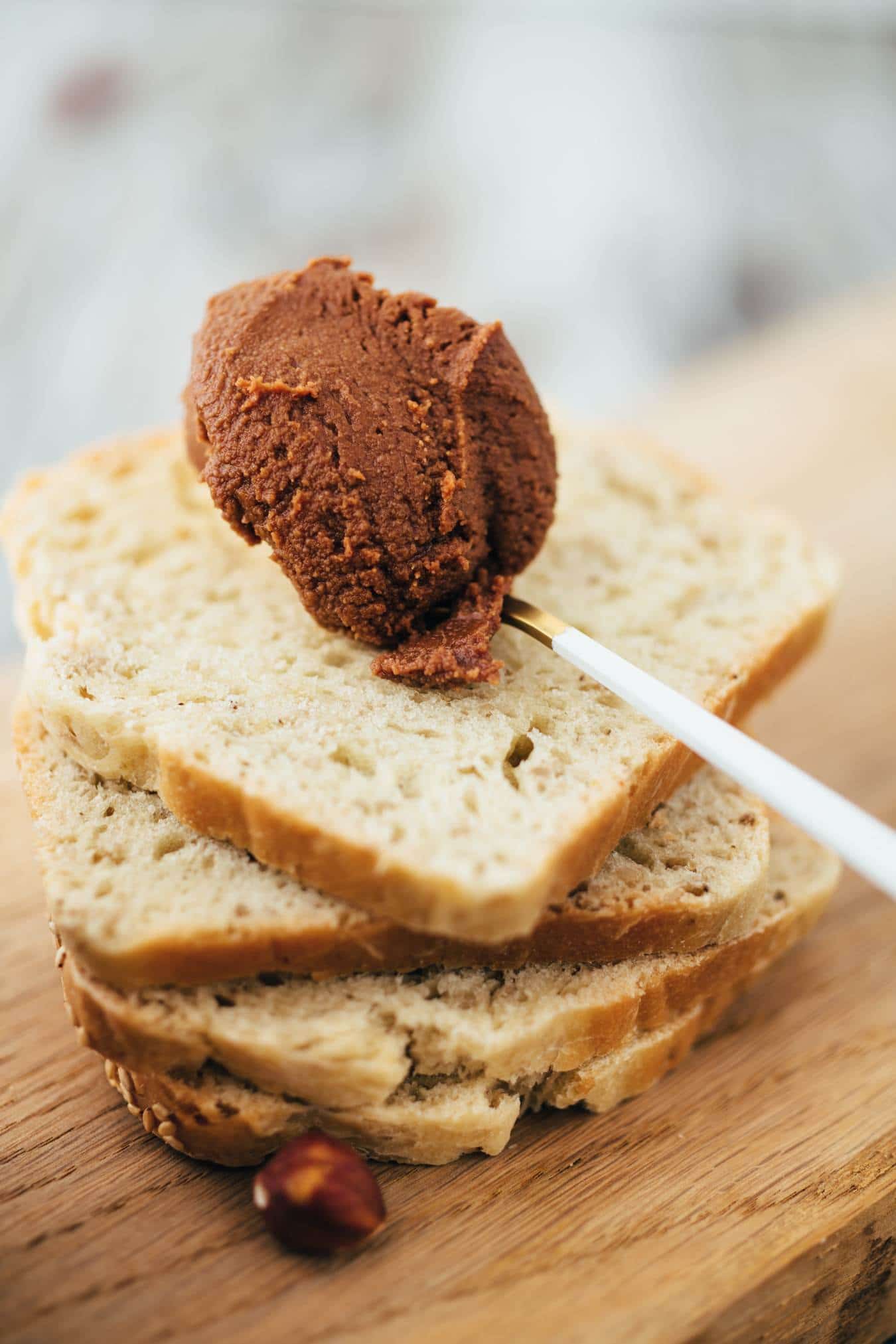 Here are a few more facts about the main ingredient hazelnuts:
100 grams have about 644 calories
High fat content but mostly healthy monounsaturated and polyunsaturated fatty acids
12% protein
Rich in calcium, magnesium, phosphorus, zinc and iron
B vitamins
High vitamin E content compared to other nuts
For the production I use my Blendtec high performance blender. However, you can also use other blenders, such as MagiMix Vitamix or food processors with special blades for chopping nuts or making nut purées. Feel free to share your experiences below in the comments.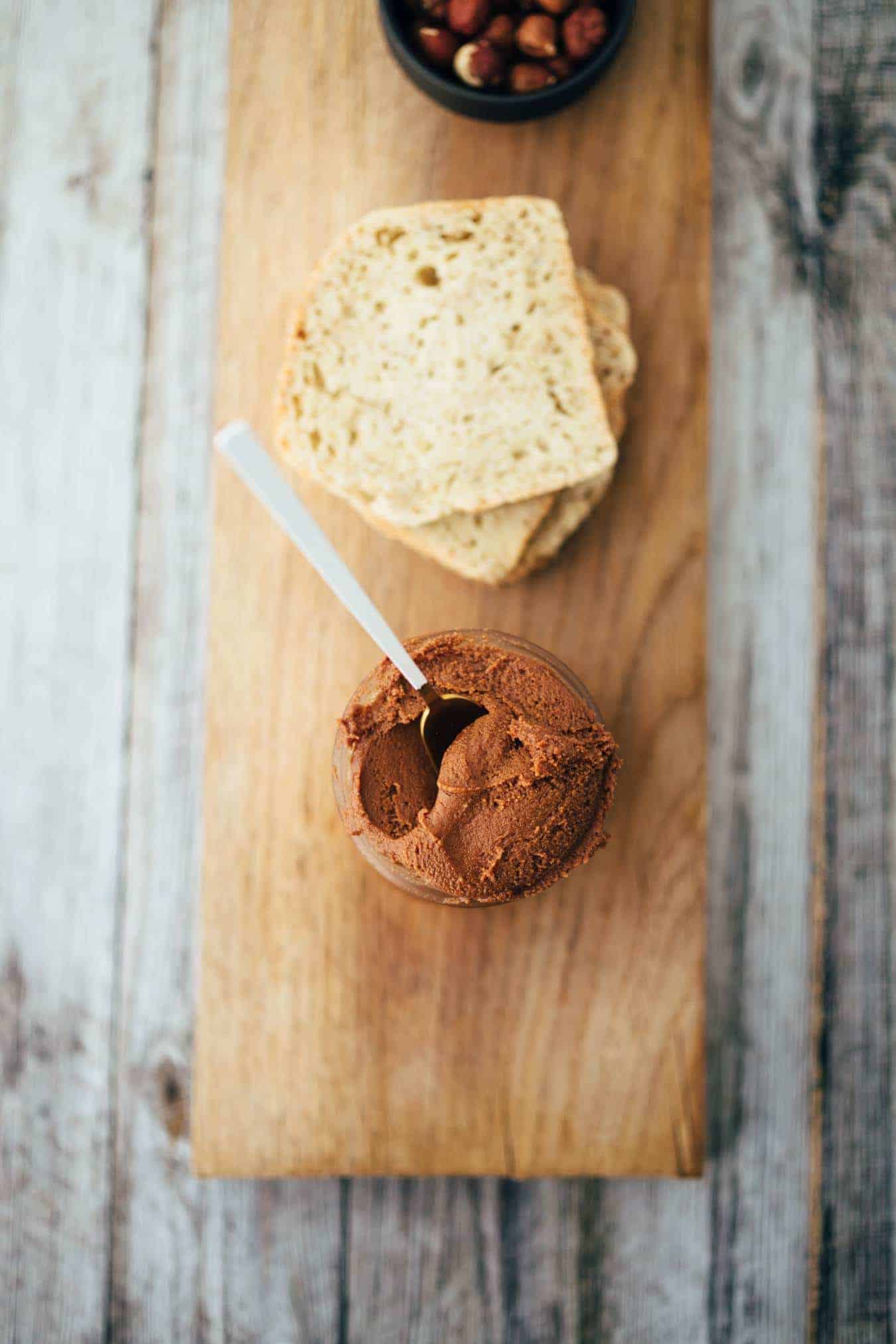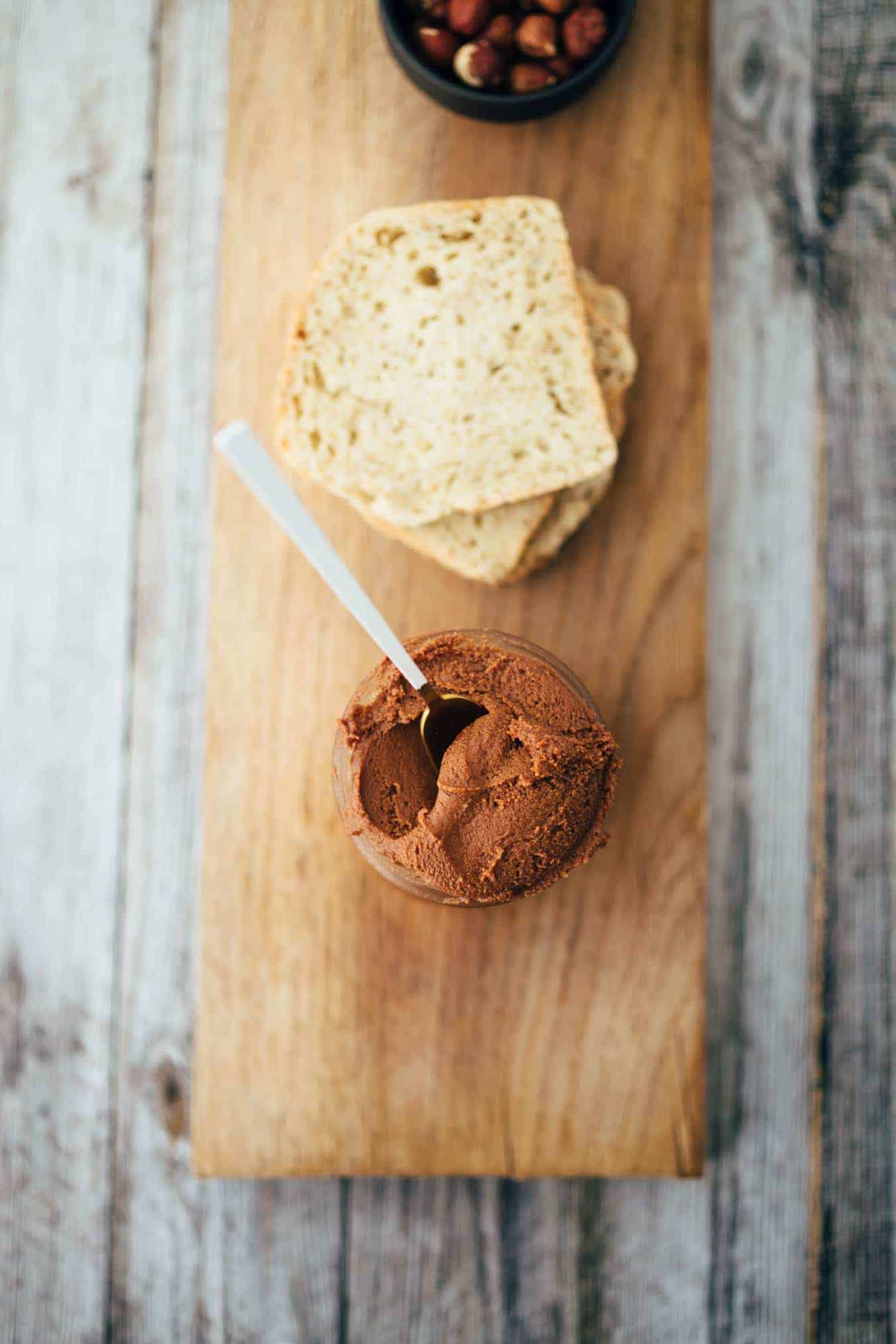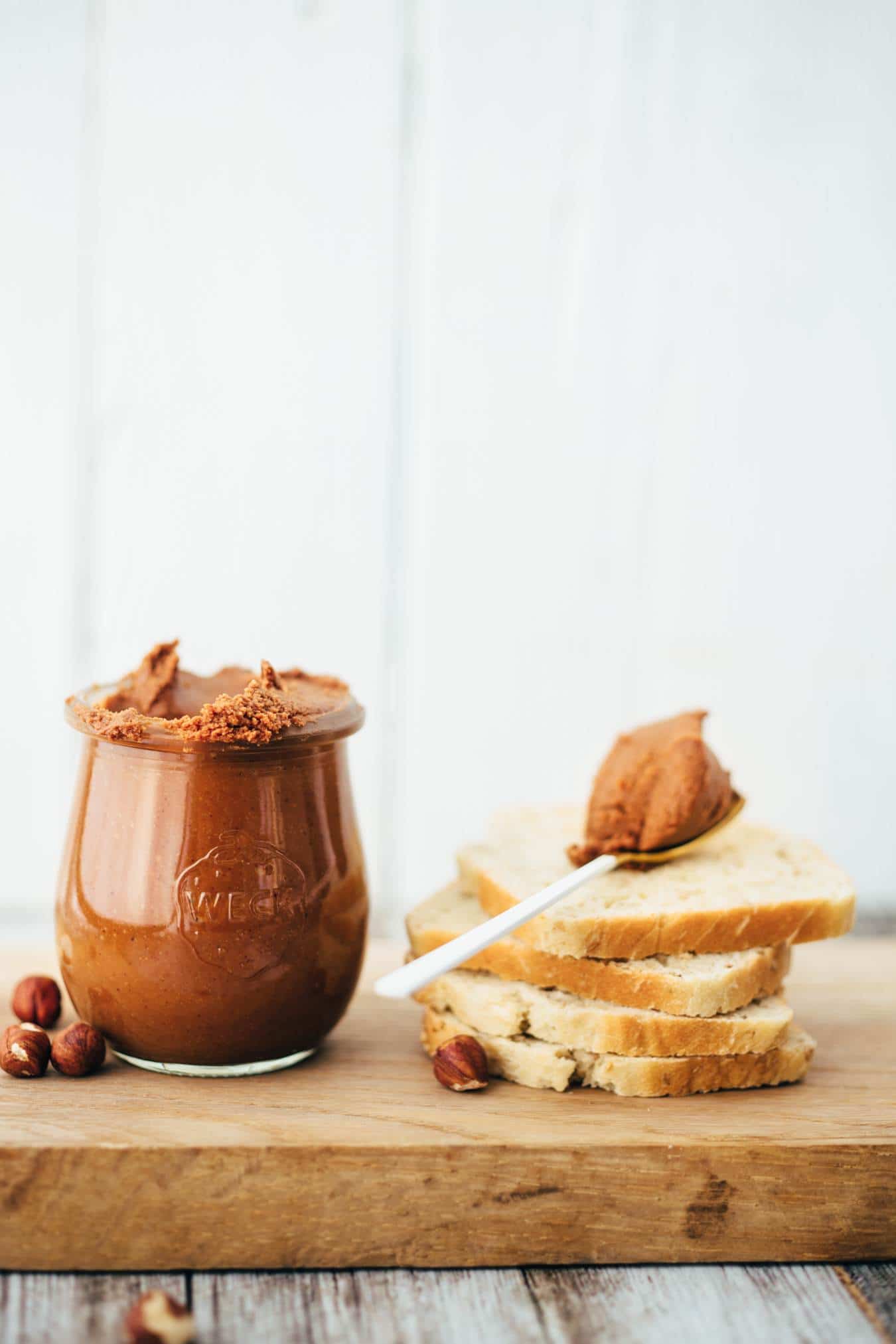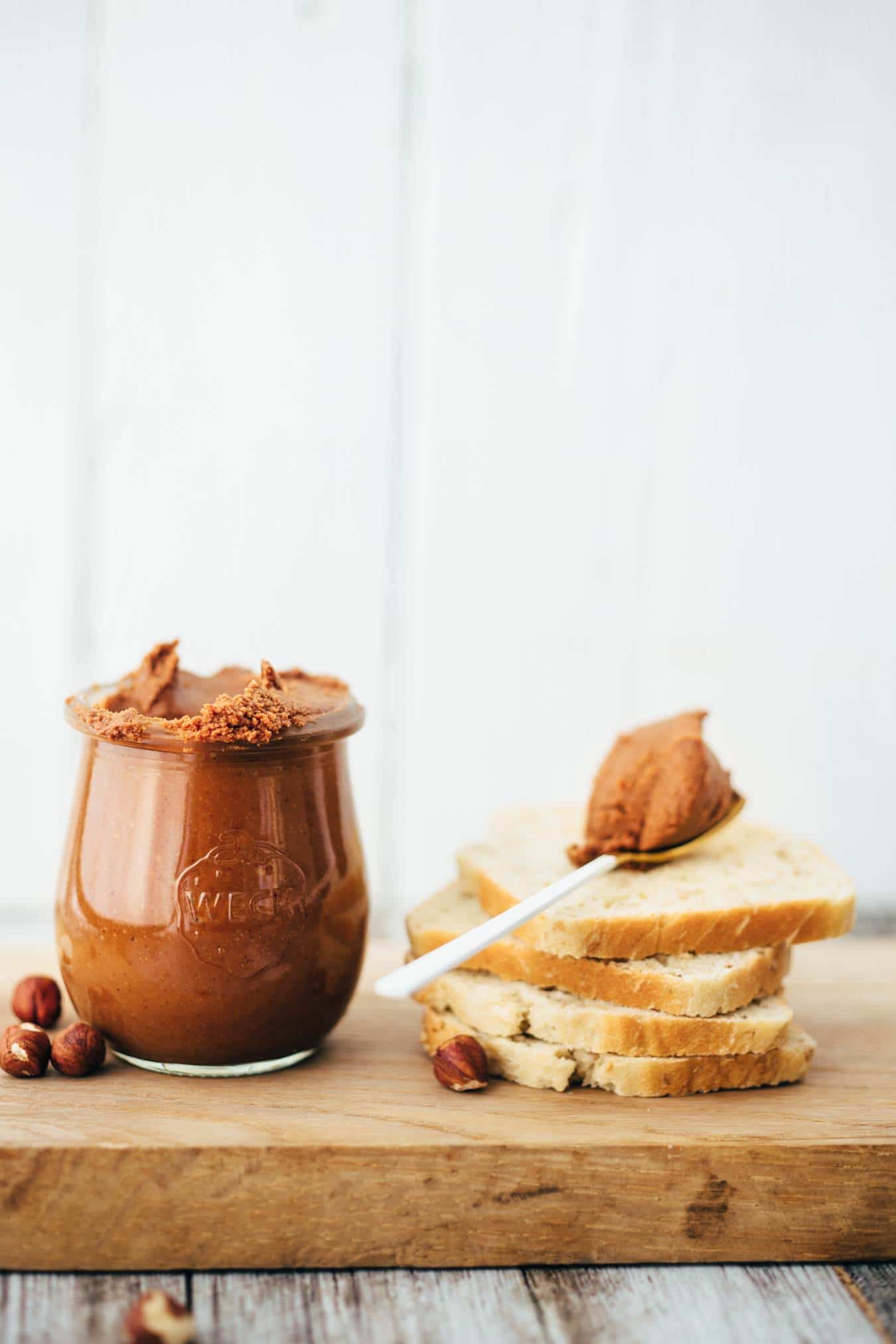 What else goes into the Nutella? Dark, vegan chocolate or chocolate coating and maple syrup. Melted chocolate is not your thing? You can replace it with cocoa, but then the Nutella will not be so creamy! Do you like coconut? Then I recommend you to add 2-3 tablespoons of coconut puree to the Nutella. Ingenious!
It tastes particularly good on fresh bread or Spelt roll with vegan margarine, as topping on gluten-free pancakes or simply nibbled with a spoon (my biggest weakness).
The vegan Nutella is:
creamy
chocolatey
Rich

Naturally sweet

Easy to make

Hazelnutty
Are you ready for a healthy, delicious and lactose-free spread? Then I look forward to a review at the bottom of this page. If you post a picture, then like to use the hashtag #veganevibes.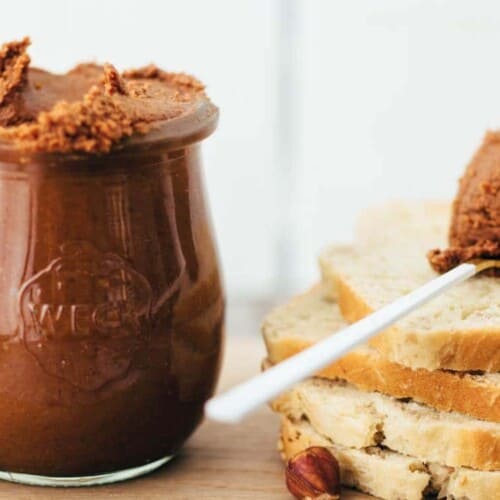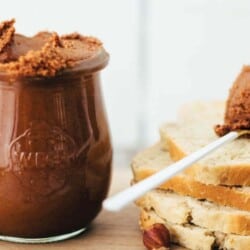 HOW TO make vegan Nutella yourself (3 ingredients)
A 3 ingredient, 30 minute vegan Nutella, creamy chocolatey and versatile spread, lactose free and perfect for finishing pastries, breads, rolls, pancakes and cakes.
AUTOR: VEGANEVIBES
Anleitung 
To roast the hazelnuts, preheat the oven to 175 degrees and spread the hazelnuts on a baking sheet lined with baking paper.


405 g raw or roasted hazelnuts

Put in the oven and roast raw hazelnuts for

15 minutes

. If the nuts are already roasted, "heat" only briefly for about 5-8 minutes , so the nuts are easier to handle.

Remove from the oven and let cool briefly. Place in a clean cotton kitchen towel and rub with hands, this will loosen most of the shell from the nuts. Do not worry if the shell can not be removed 100% perfectly.


Place "shelled" nuts once more on the baking sheet and roast for an additional

5 minutes

(omit this step if nuts are already roasted). Remove from oven, turn off and let nuts cool again briefly.

Carefully melt the chocolate over a water bath.


85 g dark vegan chocolate

Place nuts in food processor or other suitable blender and blend on low speed until nuts have turned into nut butter. Keep scraping down sides with a silicone spatula to make sure everything is worked evenly.


Add melted chocolate and optional vanilla and sea salt and mix well. The dimensions should now still be rather fluid.


85 g dark vegan chocolate,

¼ tbspn coarse sea salt,

¼ tbspn Bourbon vanilla ground

Add maple syrup and blend again. Now the mass becomes solid: The more maple syrup is added, the FESTER becomes the vegan Nutella (sounds strange at first, but is so).


Enjoy immediately or pour into an airtight jar or bowl and use at room temperature within 2-3 weeks.

Notizen
*If you don't want to use melted chocolate, just add 3 tablespoons raw cacao powder and 2 tablespoons melted cacao butter to the hazelnut butter.
Note: With cocoa powder alone (without cocoa butter, the Nutella will not be as creamy).
NOTES /HELPFUL ACCESSORIES:
Nährwertangaben
Serving:
1
Cup
Calories:
2628
kcal
Carbohydrates:
88
g
Protein:
60
g
Fat:
246
g
Saturated Fat:
18
g
Sodium:
99
mg
Potassium:
2821
mg
Fiber:
39
g
Sugar:
35
g
Vitamin A:
80
IU
Vitamin C:
25.5
mg
Calcium:
494
mg
Iron:
19
mg