Ok, maybe I'm boring you by now with my Pumpkin dishes and I also promise that something else will come soon. However, there is still this one, delicious Recipe that I do not want to withhold from you. It's just so incredibly good and fits the season perfectly. If you are like me, then you still have a few Pumpkins standing around, which you have received as a gift. Many of my circle of friends know that I write a food blog and all wanted to please me at the same time. That's why I'm currently stocked up on Hokkaido, butternut and nutmeg squash. In fact, I'm not going to complain about it either, I'm very happy about it. Thanks to all pumpkin friends who thought of me (Andi, Marianne, Angie & Co.).
Chickpea and pumpkin salad with tahini dressing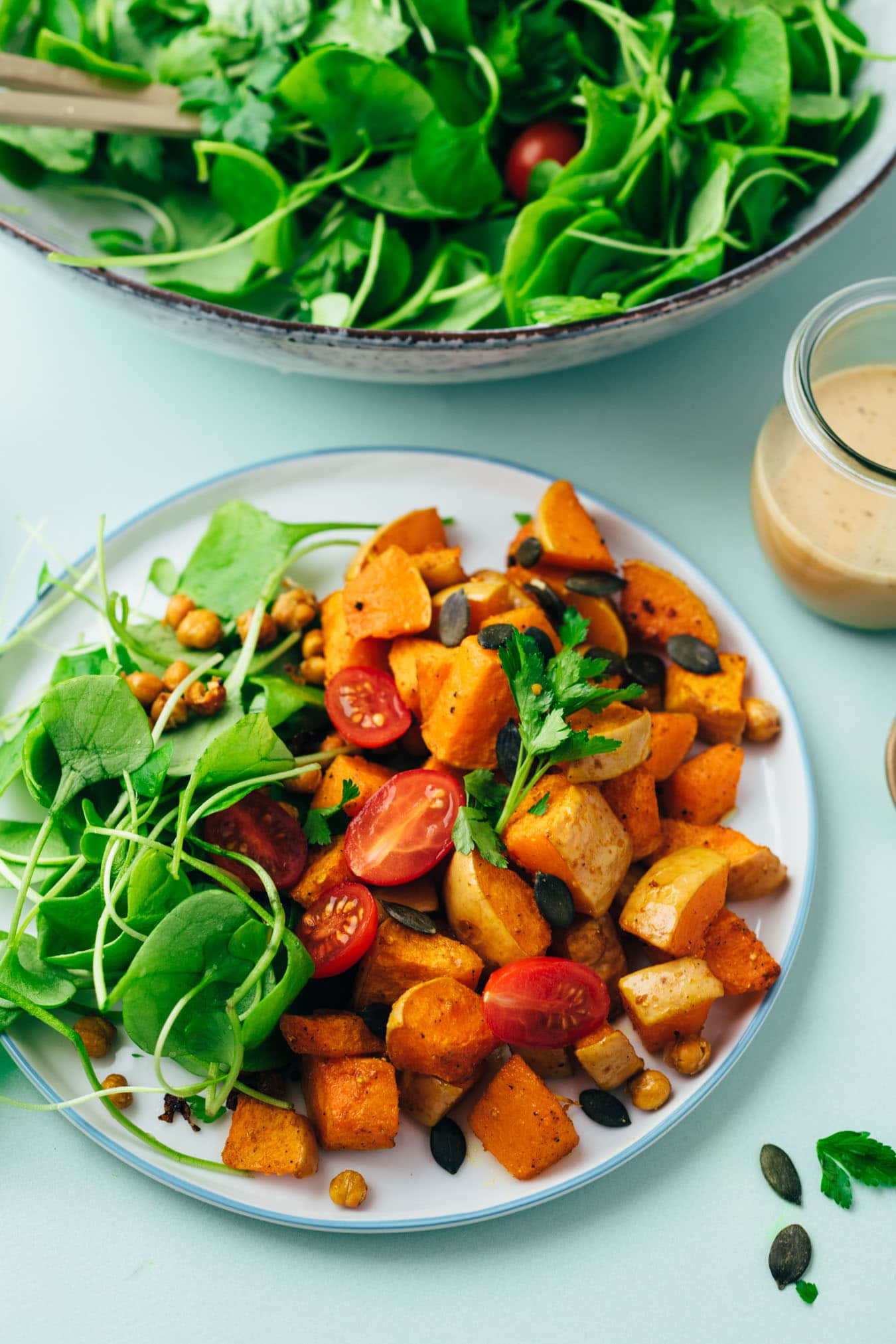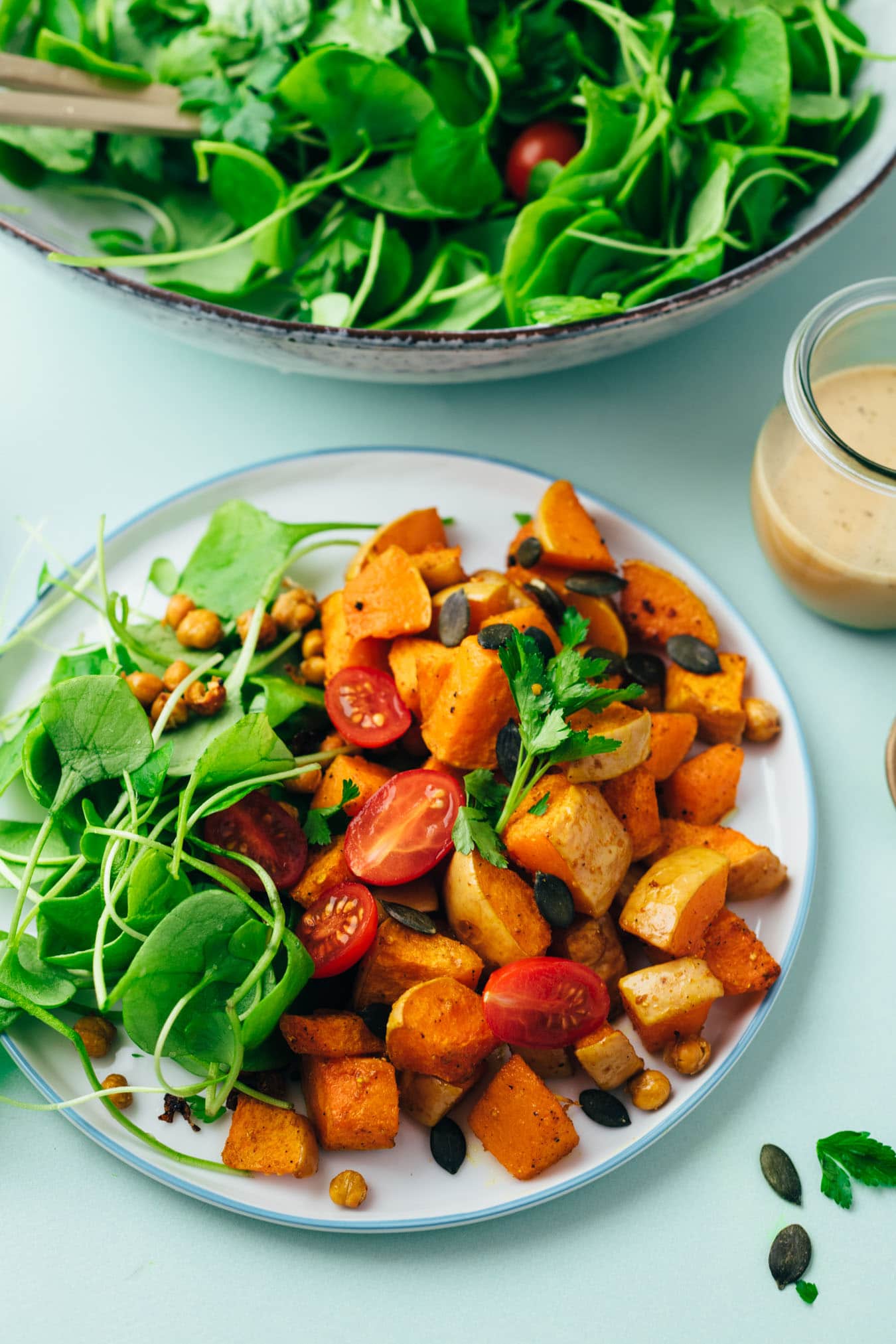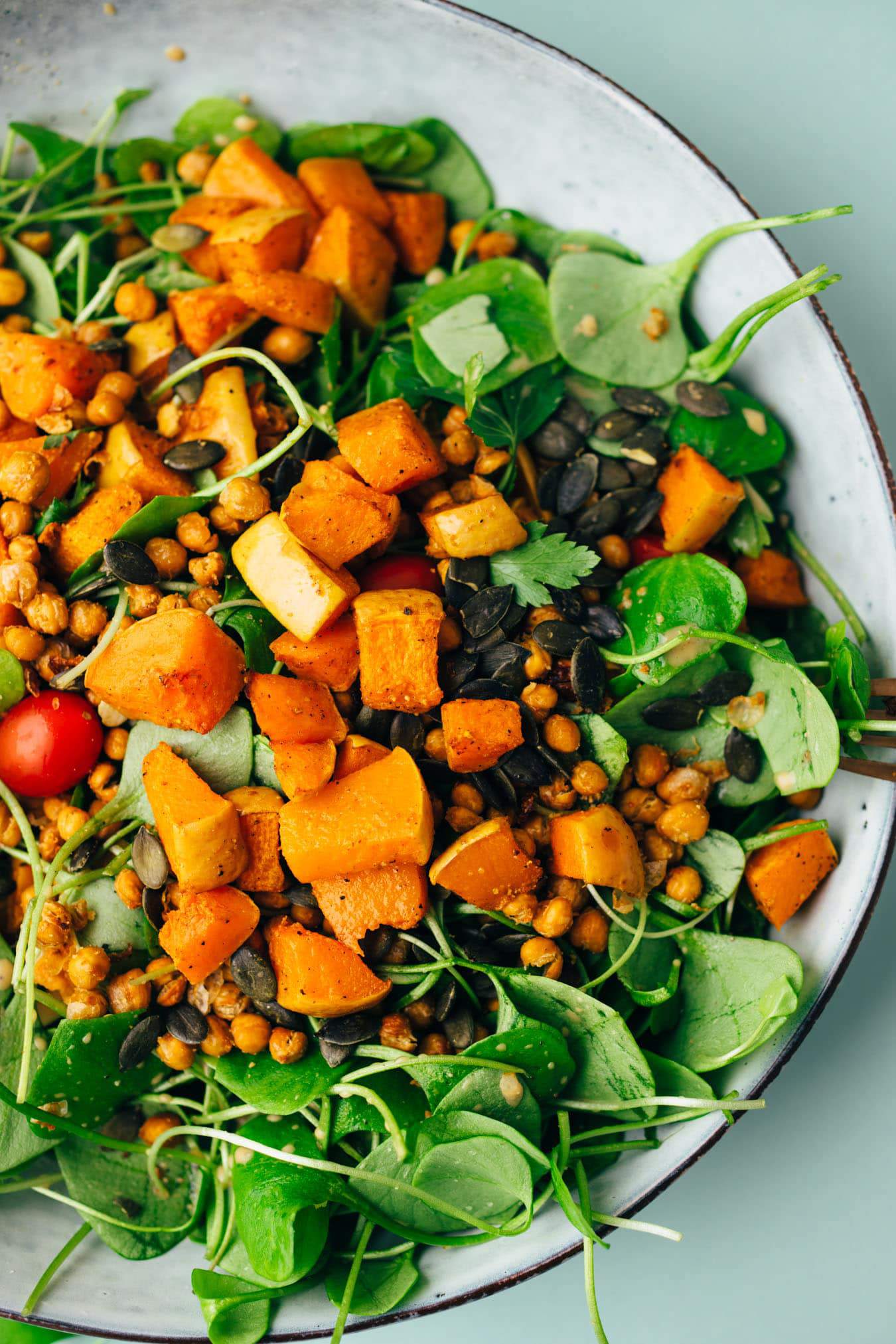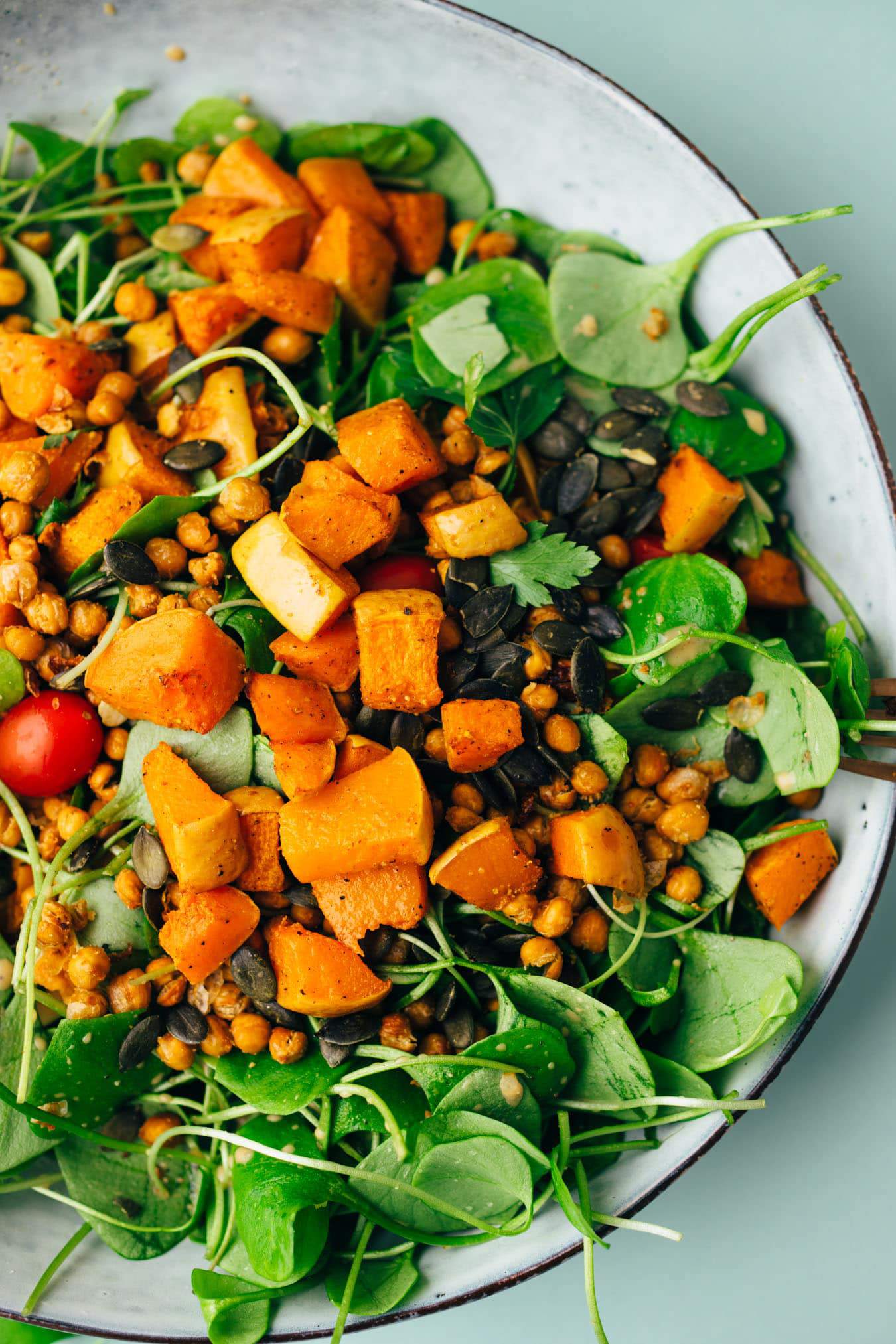 Baked pumpkin is simply a must in autumn
I chose a butternut squashfor this recipe, which tastes a little sweeter than its peers. To match, I use a homemade curry powder that I mix with some high heat oil and sea salt. Add to this a can of chickpeas, mix once properly and off into the oven. The squash and chickpea mixture is simply gorgeous, because while the butternut squash still remains soft and squishy, the chickpeas get really crispy and crunchy.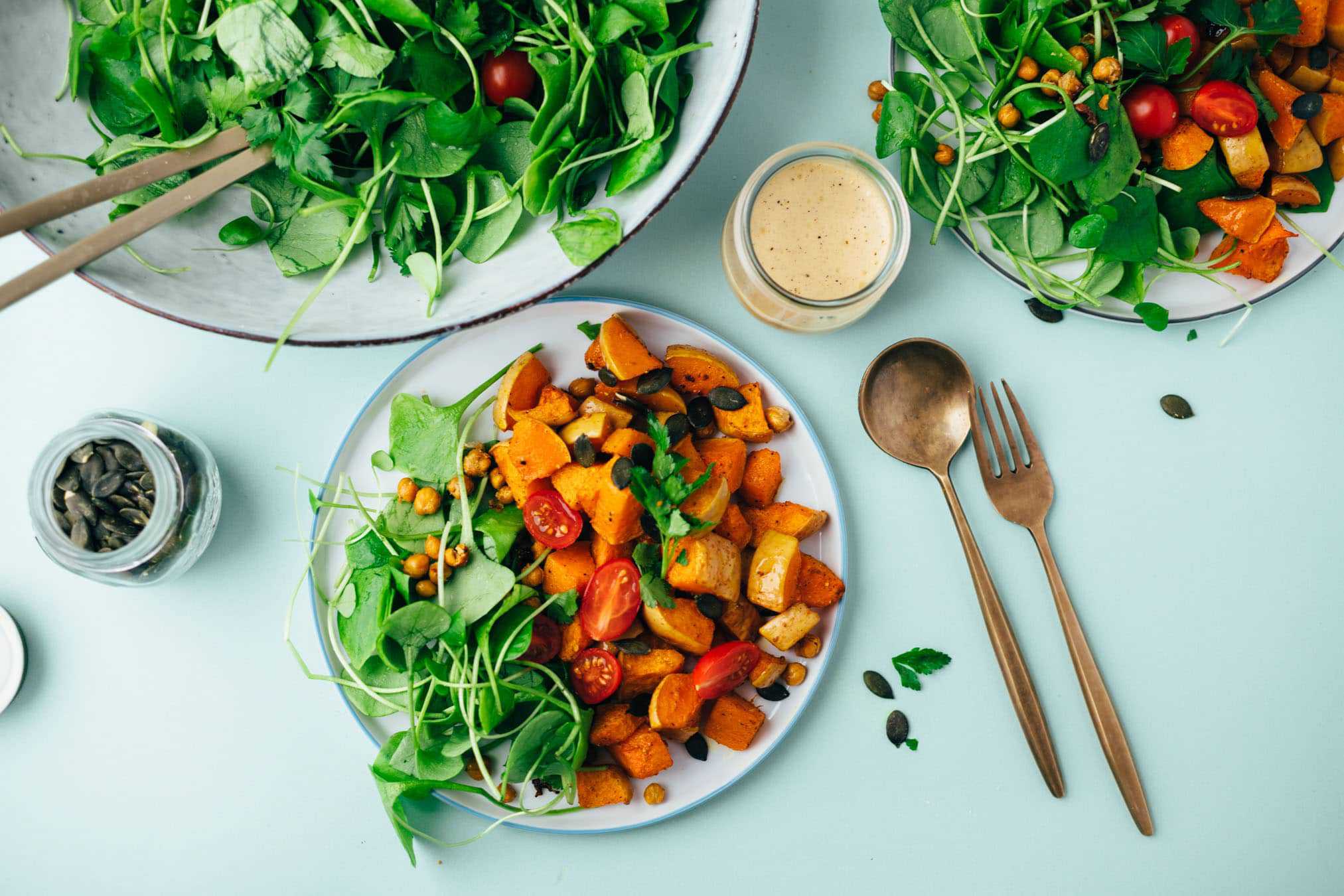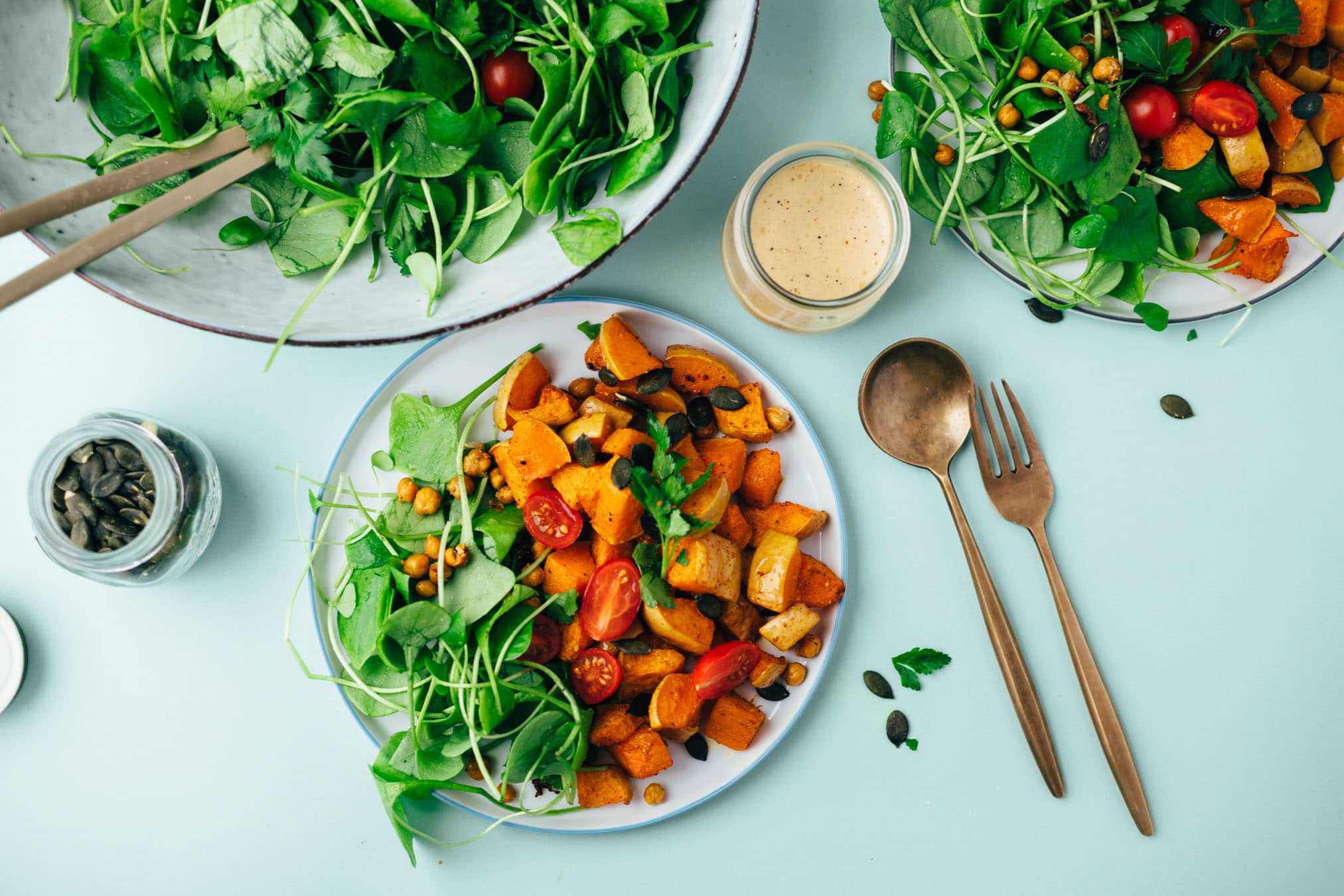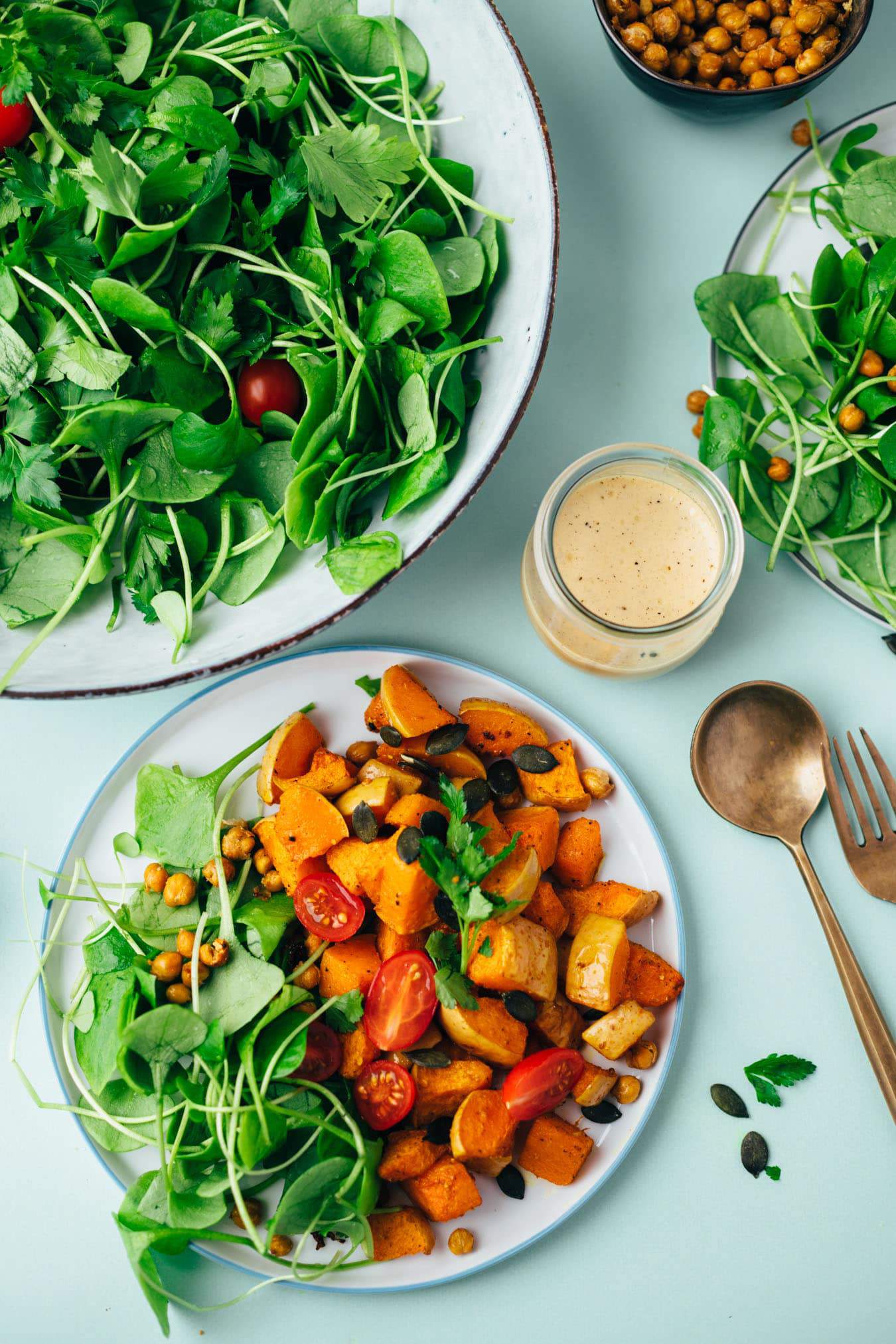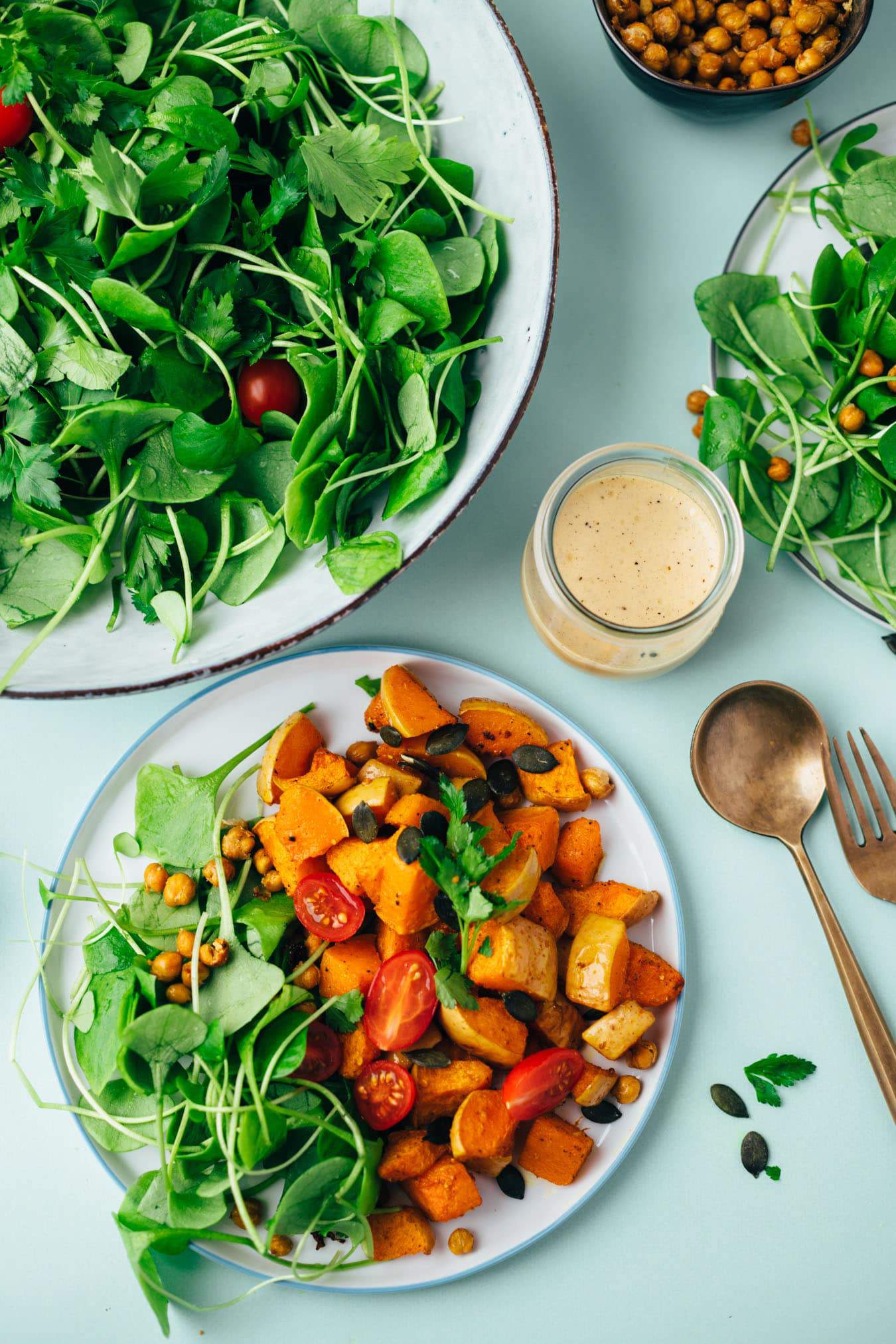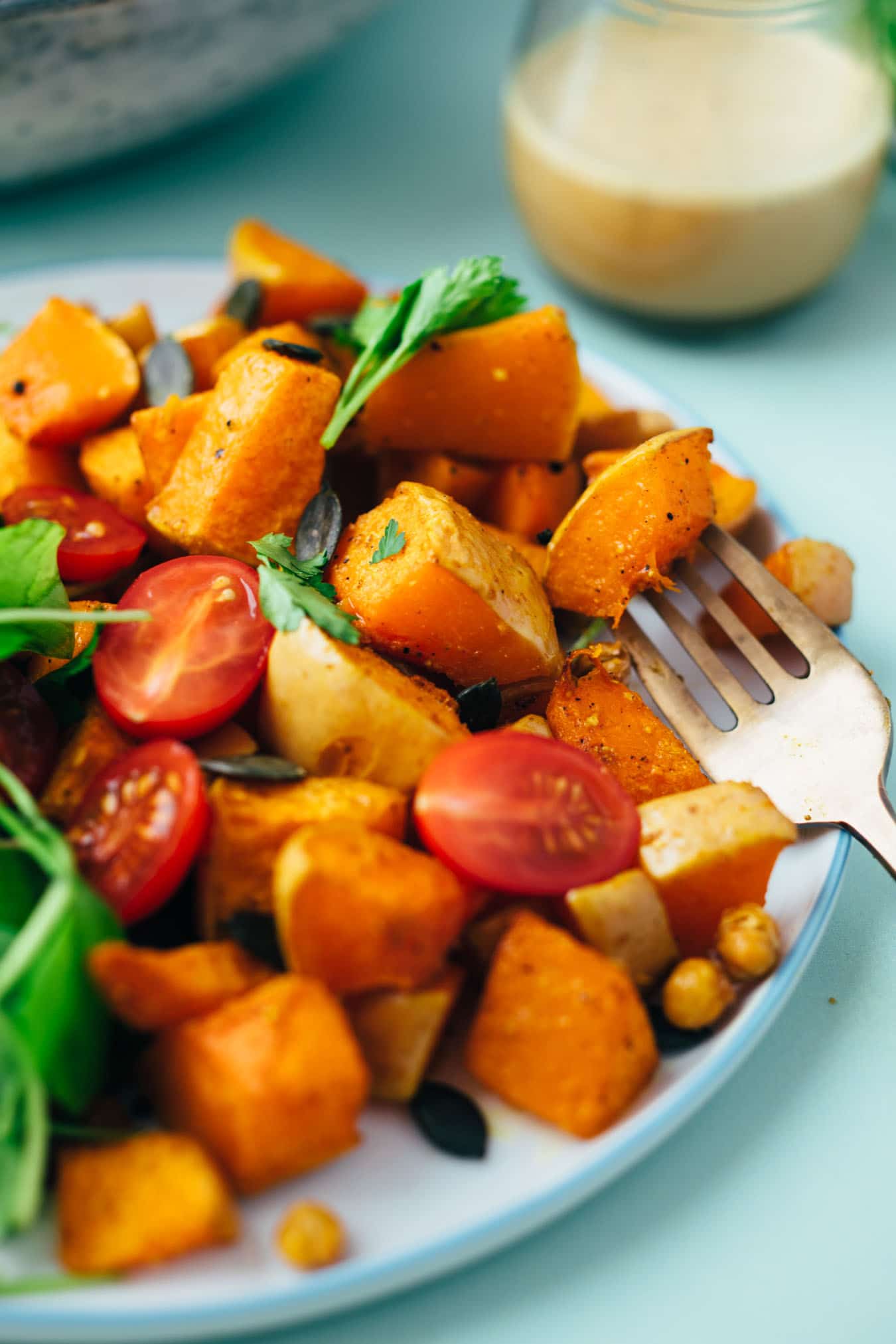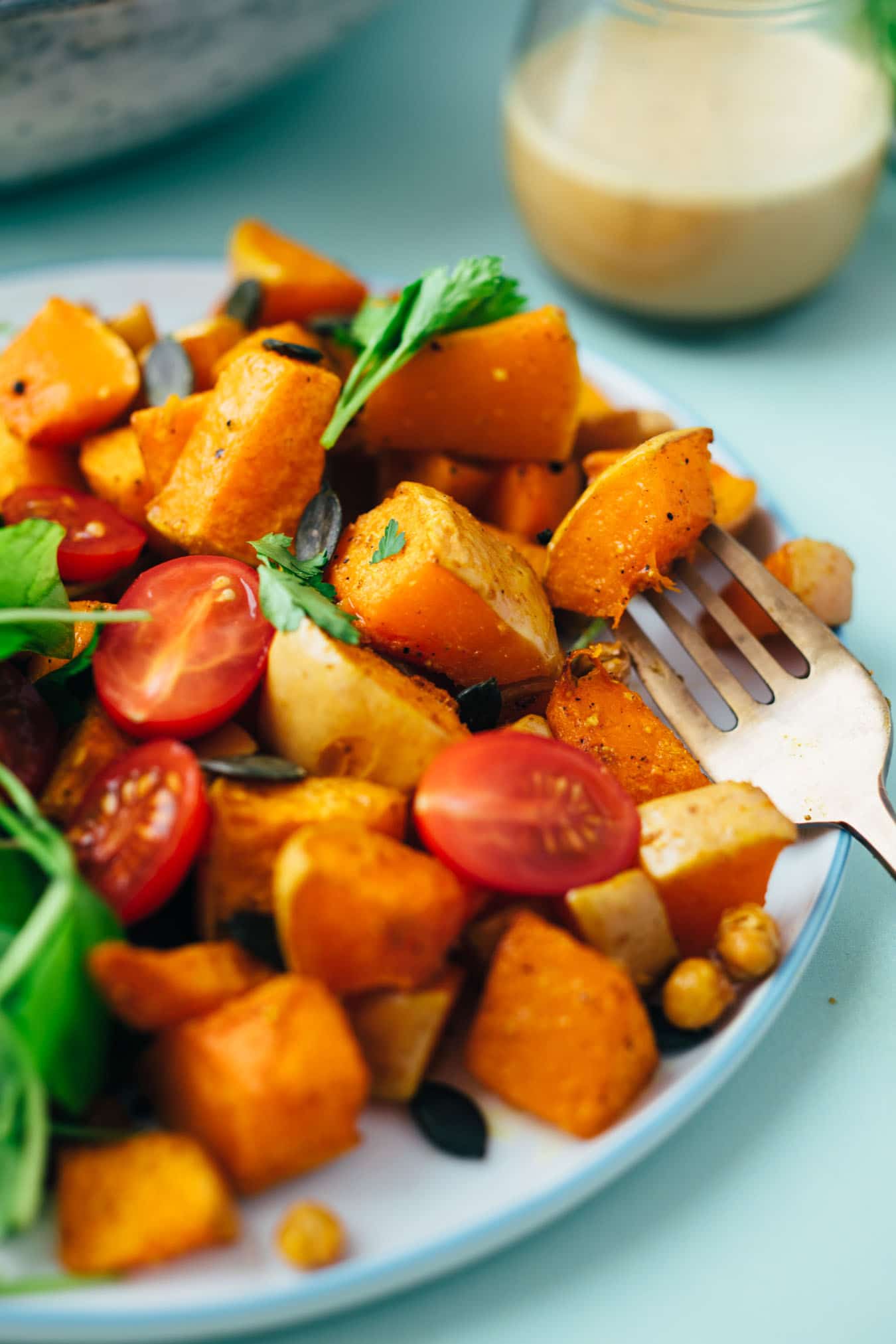 What makes the salad special is the dressing. I love Tahini and you? For me it enhances almost everyone and everything and I can hardly do without this magic. At the same time it is really easy and quick to make. In comes tahini, lemon juice, sea salt, maple syrup, garlic (fresh or granulated) and about water to dilute.
Any green salad you can think of will work as a base, Baby spinach or Kale , mixed with a handful of cherry tomatoes. Voilá!
Ideal for this I recommend homemade Spelt bread , wholemeal roll and a handful of pumpkin seeds.
Salad with pumpkin, chickpeas and tahini dressing (25 minutes) is:
hearty
Autumnal
aromatic
Crisp
Perfect light dish
Well, did you get a craving for this delicious, vegan Salad ? I wish you a lot of fun in recooking and of course a review at the bottom of this page. If you post a picture, use the hashtag #veganevibes.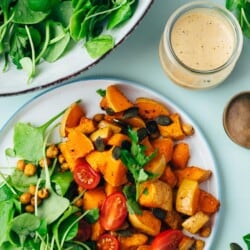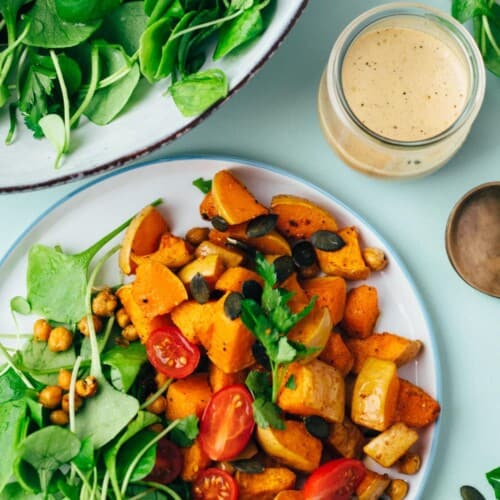 Salad with pumpkin, chickpeas and tahini dressing (30 minutes)
Autumnal 25 minute salad with delicious baked pumpkin and chickpeas, covered in a delicious tahini dressing. The perfect side dish or skin dish, combined with homemade spelt bread or crunchy fresh vegan rolls.
AUTOR: VEGANEVIBES
Anleitung 
Preheat oven to 190 degrees. Line baking sheet with baking paper.

FOR THE OVEN VEGETABLE: Place butternut squash cubes and chickpeas in a large bowl, mix with curry powder, frying oil, salt and pepper. Pour onto the baking sheet, spread well and bake for 20 minutes. When the baking time is over, remove from the oven and let cool briefly. Set aside.

500 g Butternut squash,

265 g Chickpeas drained and well washed*.,

2 tbspn Curry powder**,

30 ml Frying and baking oil or other high-heat oil,

Sea salt to taste,

Pepper to taste

FOR THE TAHINI DRESSING: Place all ingredients in a small blender, jar or just a bowl and blend well until a creamy sauce is formed. Season and set aside.

80 g Tahini,

15 ml Maple syrup,

30 ml Lemon juice,

½ tbspn Garlic powder or a fresh clove of garlic,

Sea salt to taste,

Black pepper to taste,

60 ml warm water for dilution

To serve, divide leaf lettuce and cherry tomatoes between 2 large or 4 small plates, decorate with oven vegetables, pour the dressing over, garnish with pumpkin seeds and serve with fresh spelt bread (optional).

170-200 g mixed green salad,

150 g Cherry tomatoes

Spelt bread,

Spelt roll,

Pumpkin seeds to taste
Notizen
*Aquafaba (intercept chickpea water and turn it into chickpea snow) for example to make chocolate ice cream or a chocolate mousse tart. ** Curry powder you can easily make yourself (for 1/3 cup): 2 tbsp (7.2g) coriander, 2 tbsp (7.2g) cumin, 1 ½ tbsp (5.4g) turmeric, 2 tsp ginger (3.6g), ½ tsp mustard seeds, ½ tsp black pepper (0.9g), 1 tsp cinnamon (1.8g), ½ tsp cardamom (0.9g), ½ tsp cayenne pepper (0.9g) or chili flakes. All spices in ground form. Alternatively, process all the seeds in the mortar into powder. Store airtight in a spice glass.
NOTES /HELPFUL ACCESSORIES:
Nährwertangaben
Serving:
1
large portion
Calories:
753
kcal
Carbohydrates:
86
g
Protein:
23
g
Fat:
40
g
Saturated Fat:
4
g
Sodium:
64
mg
Potassium:
1758
mg
Fiber:
17
g
Sugar:
18
g
Vitamin A:
27970
IU
Vitamin C:
98.5
mg
Calcium:
269
mg
Iron:
8.7
mg