Autumn is just beautiful, why? Because there are just so many great things to harvest. Starting with Apples , pears, walnuts, to the pumpkin. You can really do a lot with that, too. One thing that I particularly love is. Pumpkin puree , because it's easy to make, has super flavor, and is especially handy when things need to go fast. That's when I got the idea for the pumpkin scones. Actually, the first time I ate this delicious, sweet temptation was in a coffee chain in the US. Very tasty, but also not very healthy. That's why I tried to make the treat as healthy as possible. Let's get started!
Pumpkin Scones with Frosting – Lets Go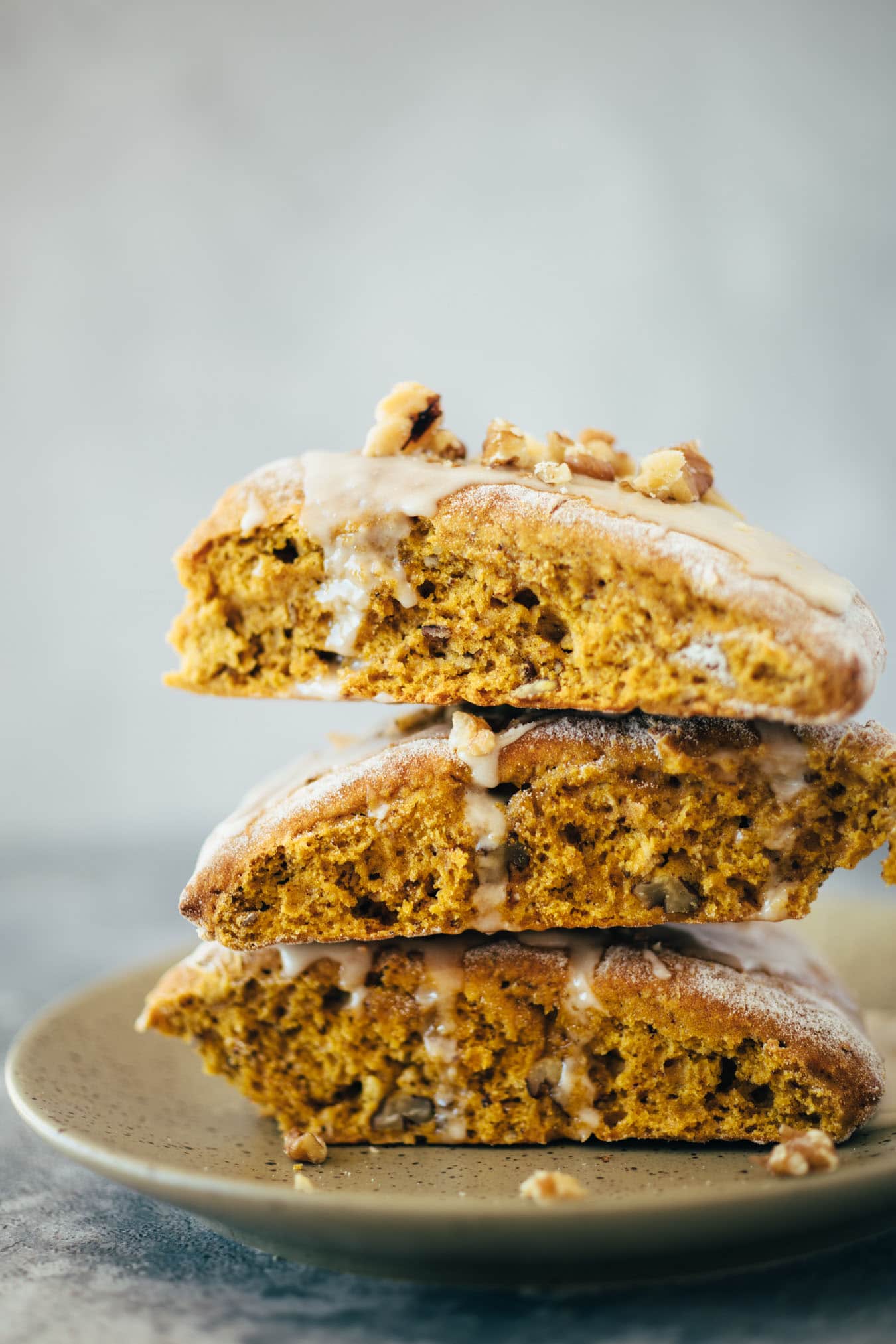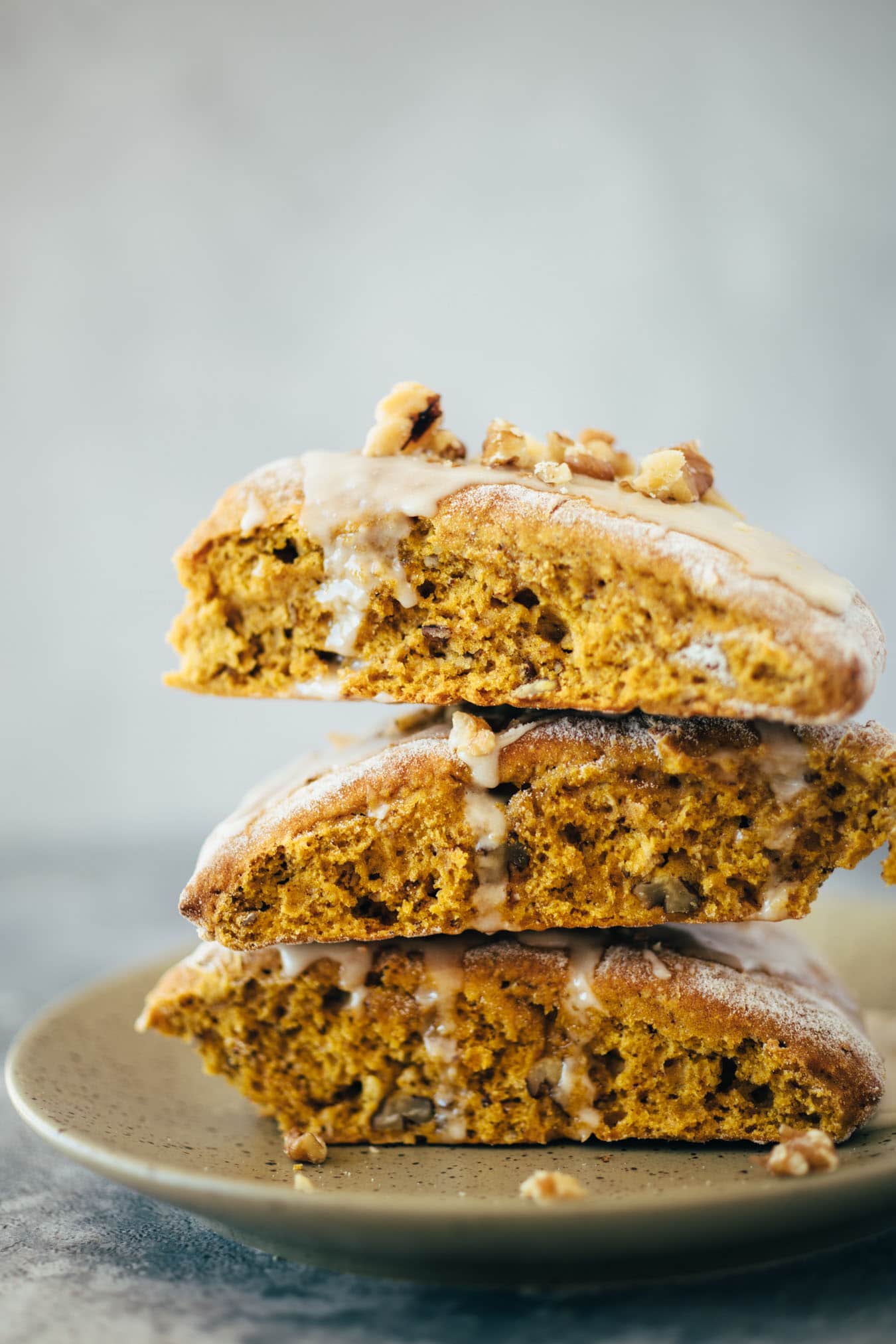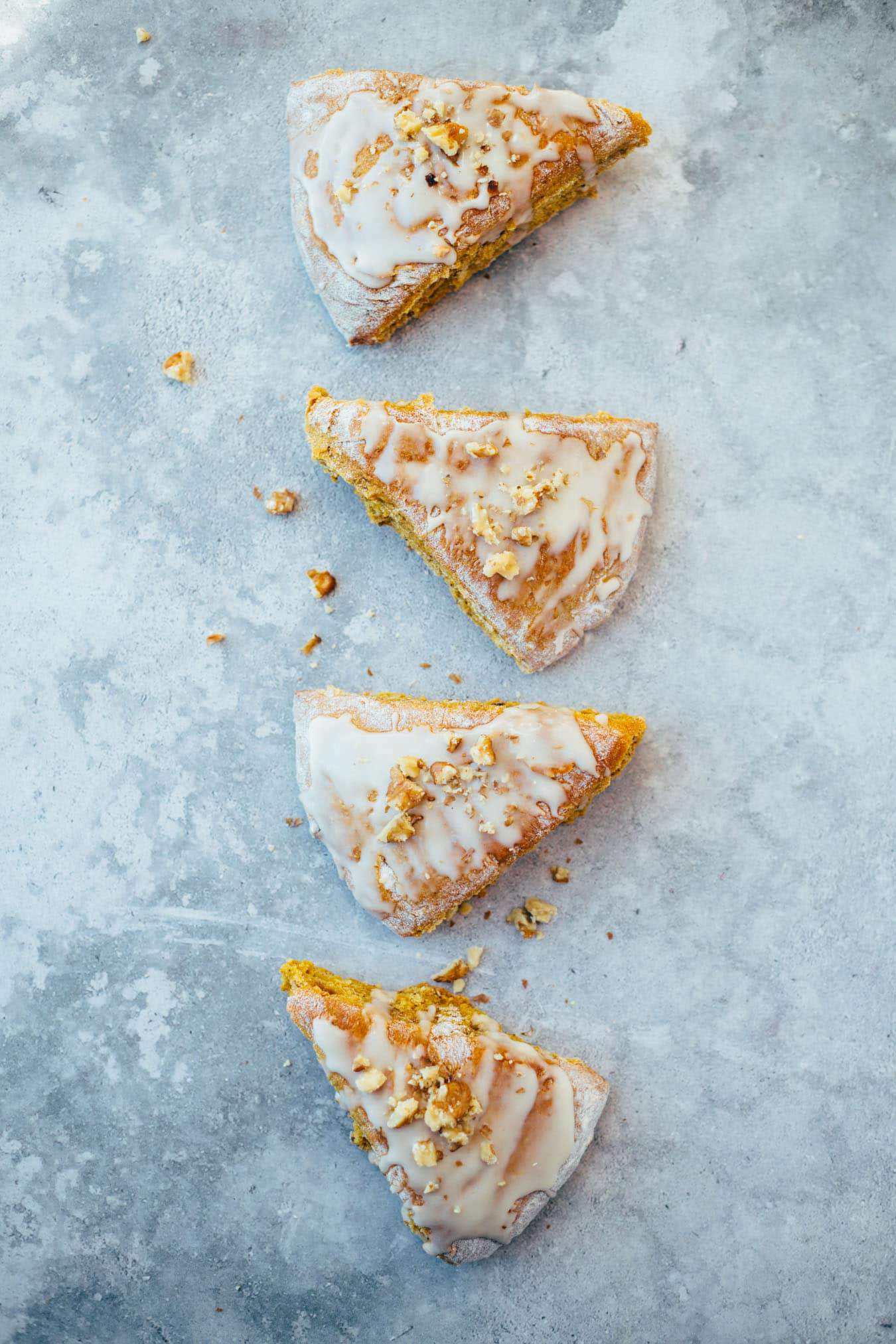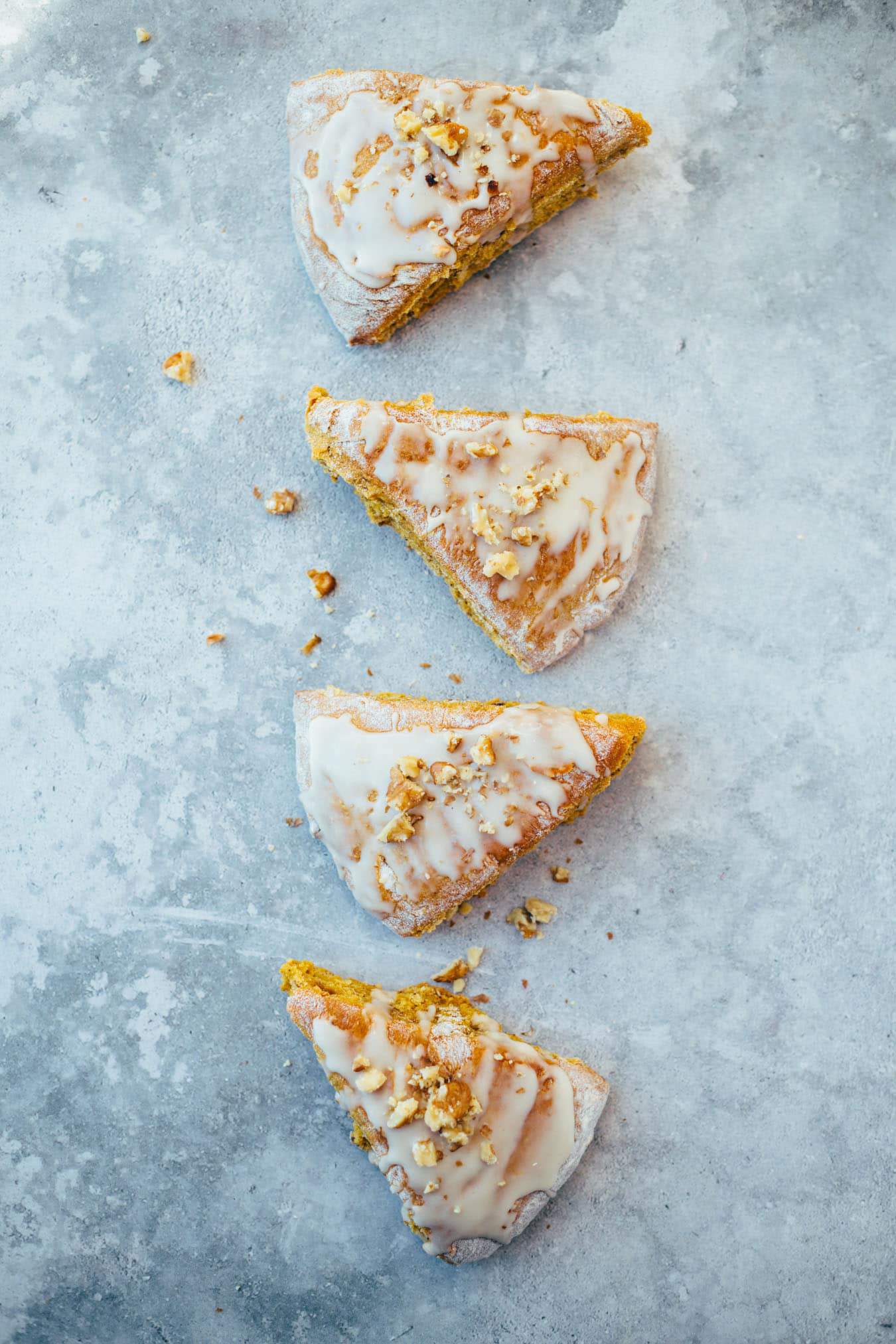 My favorite pumpkin? Clearly the Hokkaido because it has a juicy, low-fiber flesh and tastes nutty-aromatic. Almost a bit like chestnuts! The ingredients are also impressive, as the pumpkin owes its orange-red color to its high beta carotene content. Our body builds this in combination with fat to vitamin A, which in turn strengthens our eyesight in particular. Little tip! Be sure to eat the peel, because it contains plenty of B & C vitamins, as well as folic acid, magnesium and iron.
Vegan into autumn with pumpkin … Yummy!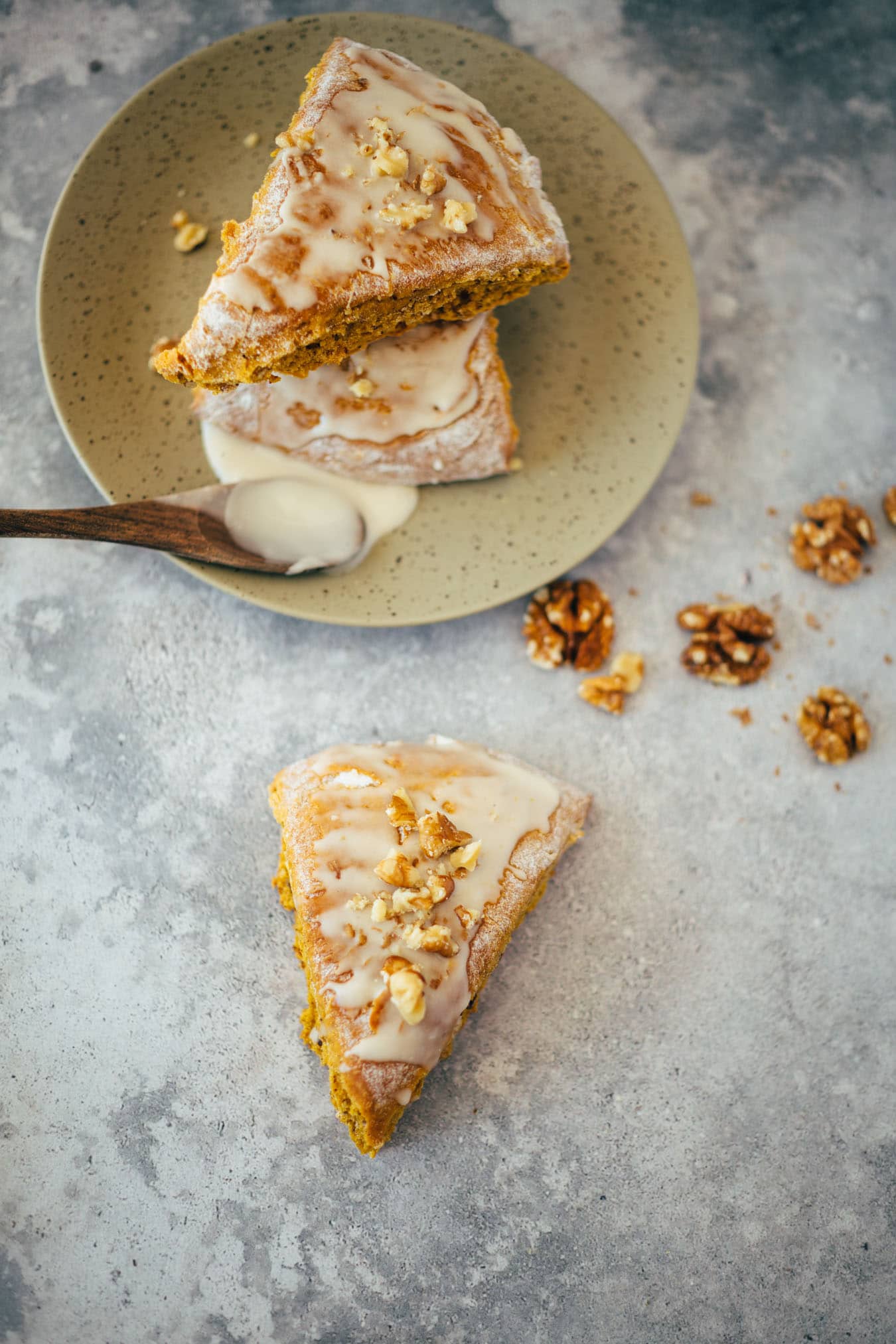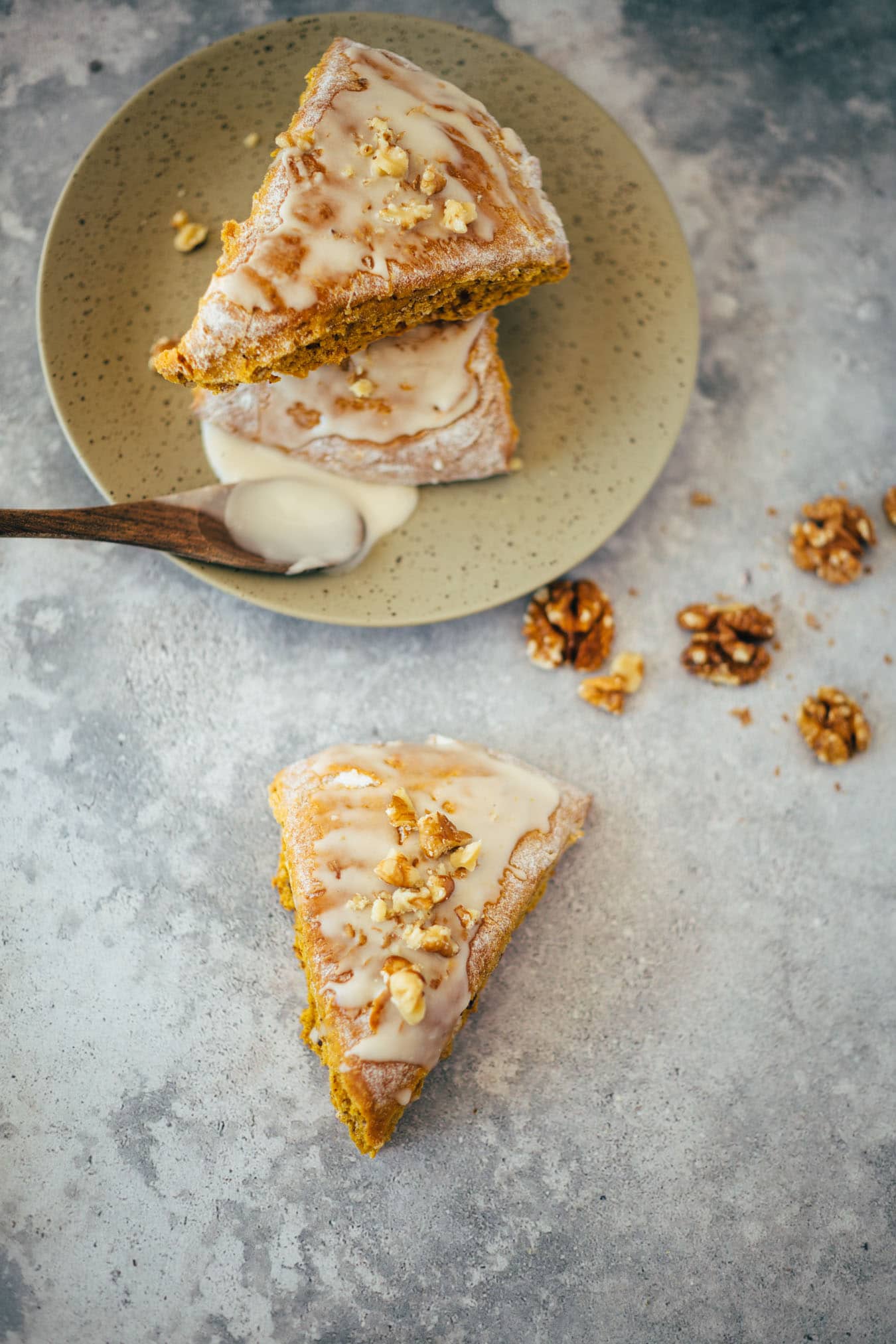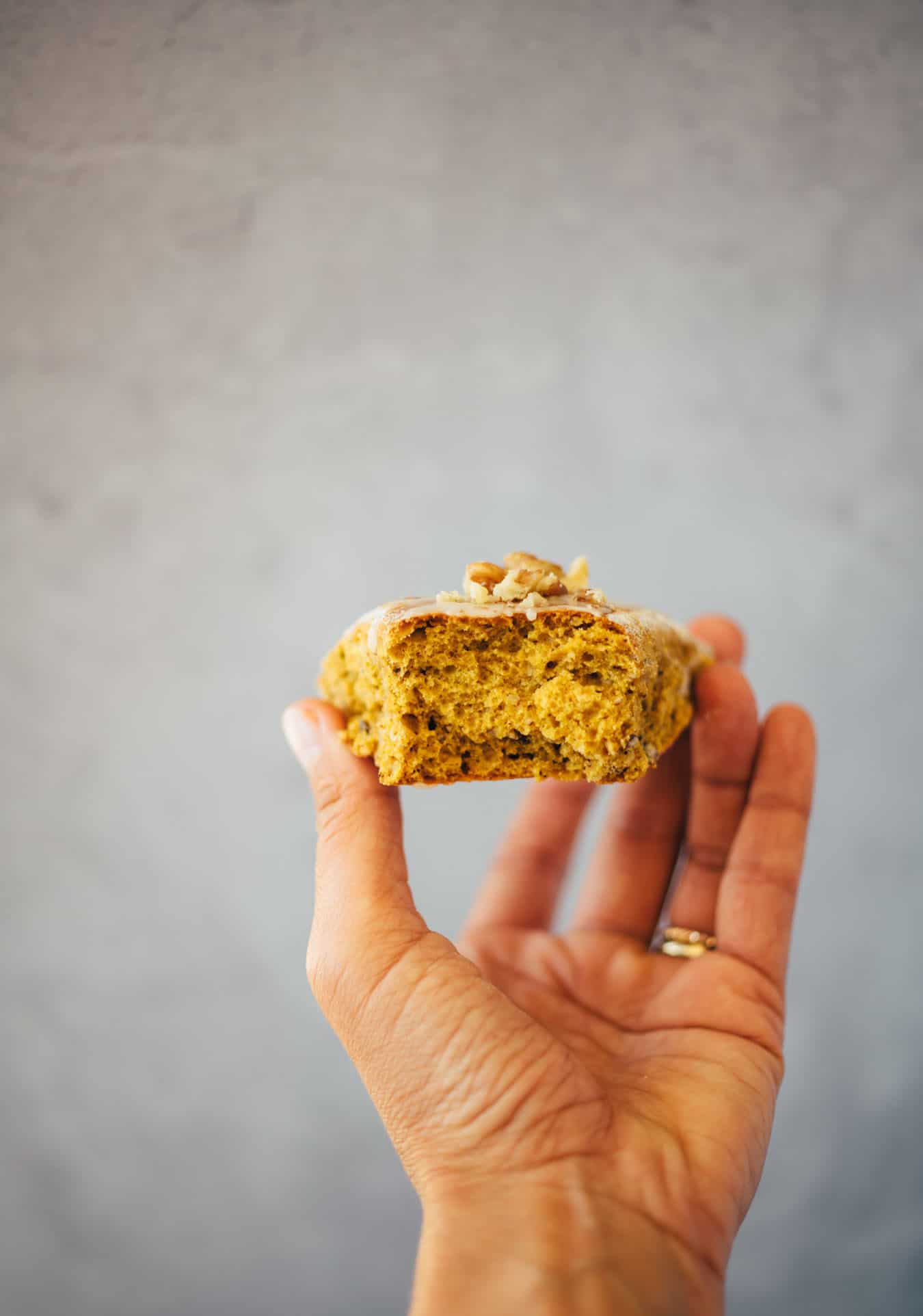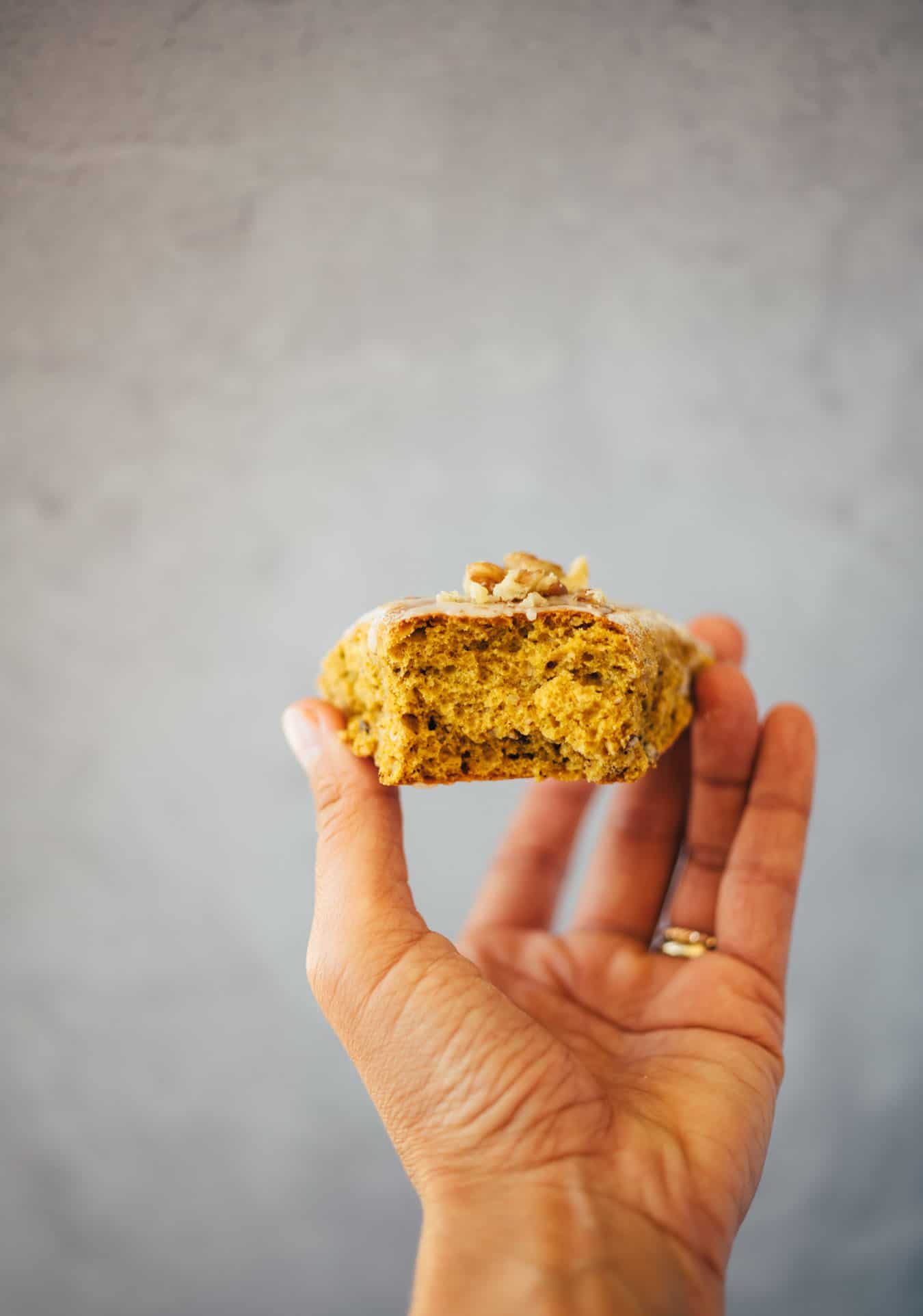 Let's move on to the dough. Fine spelt flour (or gluten free flour mix ), almond flour, baking soda, apple cider vinegar, baking powder, walnuts, raw cane sugar, pumpkin spice, sea salt, almond milk, margarine, pumpkin puree and a touch of vanilla. The good news is that the dough uses very little fat or oil and is still super fluffy and flavorful.
Topped with a frosting of powdered sugar, maple syrup and a dash of Almond milk . Ready! Let's go to the coffee party, I'd say.
Vegan Pumpkin Fun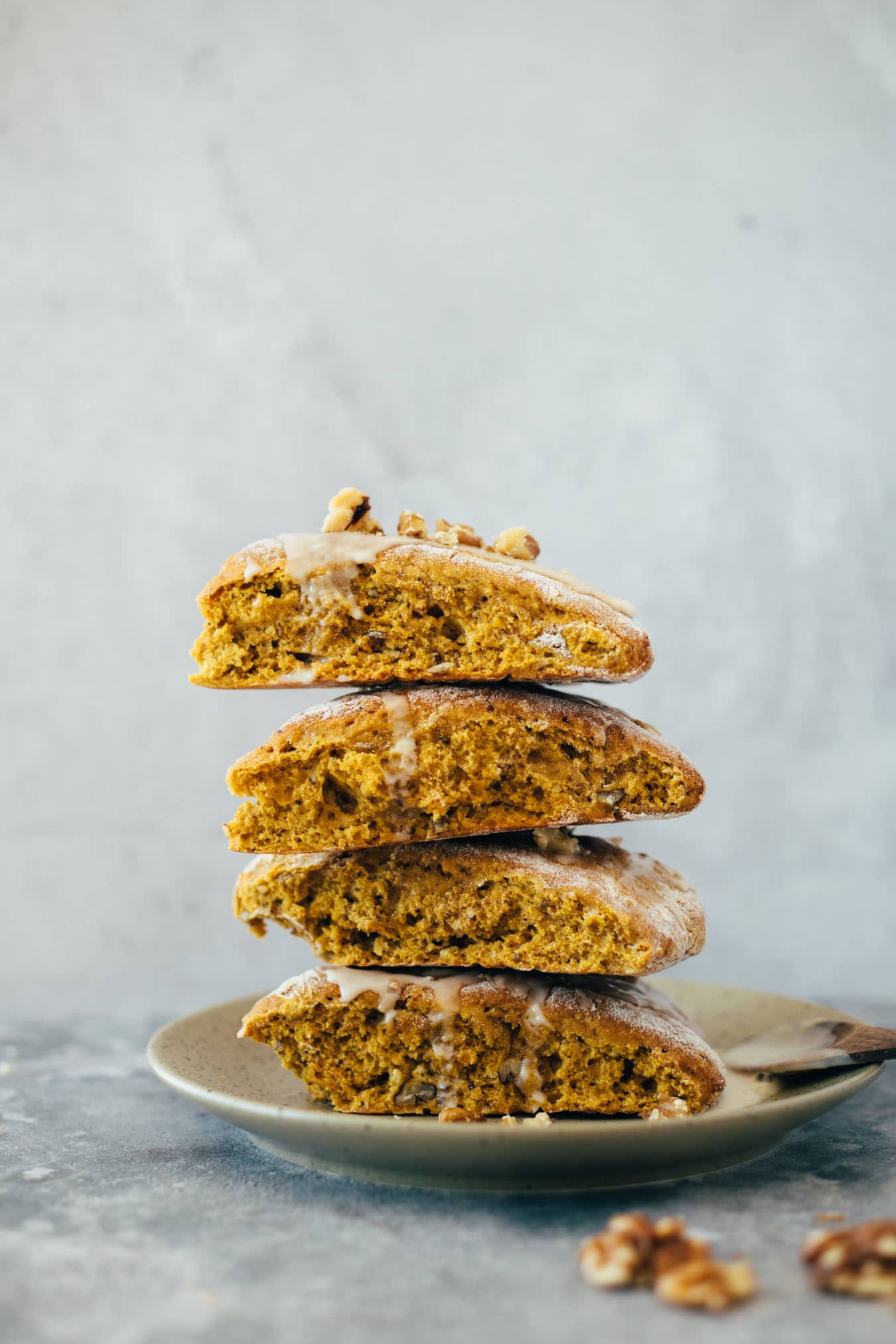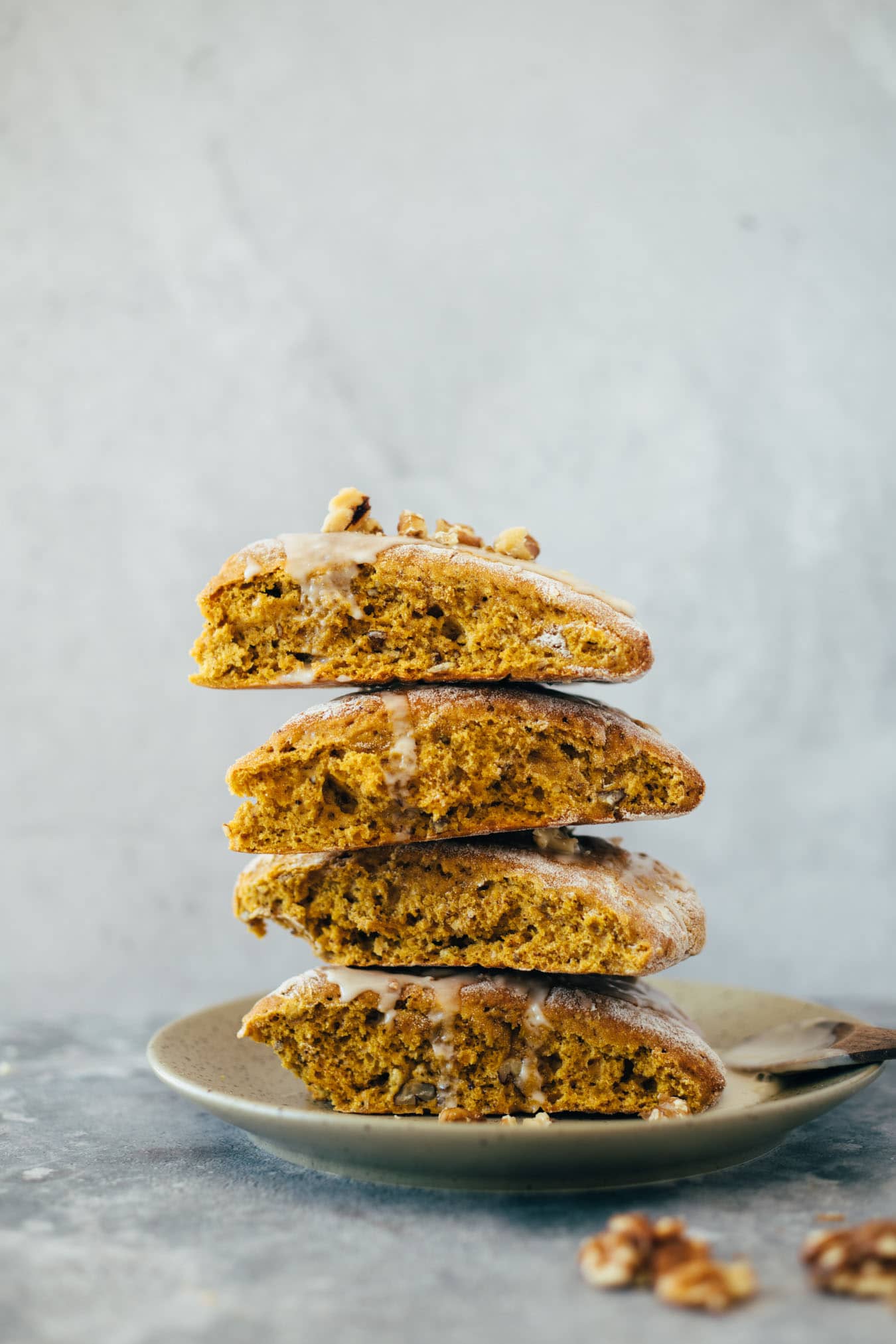 You may be asking yourself why I don't use an egg substitute in this recipe. Egg substitute in this recipe. The pumpkin puree has excellent binding properties, so this is quite enough. You can make the pumpkin puree either in a well-stocked organic store, online or best of all yourself.
What goes with the scones? Definitely a hot drink, for example a cappucchino with almond milk, a delicious chai latte or hot chocolate . Ahhh, I have a picture of my couch in my head right now with a thick blanket, scones and chocolate. What more could you want?
We summarize: The scones take just 35 minutes, including prep time, and make do with a handful of ingredients. 1 bowls, 1 baking sheet and go!
Pumpkin scones with frosting (35 minutes)
Locker & Fluffig
Super fruity -nutty
Perfectly sweet
Vegan & gluten free on request
Extremely fast to produce
Well, are you ready for these American sweet sins? I wish you a lot of fun baking and of course a review at the bottom of this page. If you post a picture, use the hashtag #veganevibes.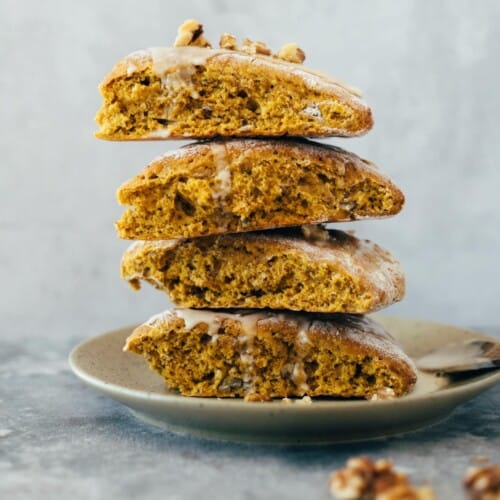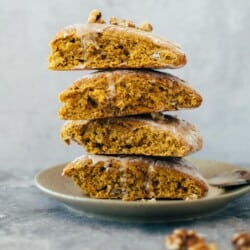 Pumpkin scones with frosting (35 minutes)
Incredibly moist pumpkin scones with delicious homemade pumpkin puree. Vegan and gluten-free on request. Fluffy, fruity and nutty with a sweet frosting of powdered sugar and maple syrup. Autumn can come.
AUTOR: VEGANEVIBES
FOR THE FROSTING:
7,5

ml

maple syrup

OPTIONAL: chopped walnuts for decoration
Anleitung 
Mix almond milk, baking soda and apple cider vinegar in a large baking bowl or the bowl of a food processor (I use my MagiMix for the batter). The liquid should foam slightly.

150 ml Almond milk or other unsweetened plant milk,

½ tbspn Baking soda,

1 tbspn Apple cider vinegar

Margarine, raw cane sugar, spelt flour, almond flour, baking powder, walnuts,

Pumpkin puree

, add pumpkin spice, sea salt and vanilla and mix to a uniform dough.

30 g vegan margarine or tasteless oil,

55 g Raw cane sugar,

250 g cups fine spelt flour or gluten-free flour blend,

12 g Almond flour,

1 tbspn Baking powder,

50 g Walnuts,

120 g Pumpkin puree,

2 tbspn Pumpkin spice,

¼ tbspn Sea salt,

½ tbspn Bourbon vanilla ground

Don't stir too much, otherwise you'll stir out the driving force of the natron again.

Remove dough from food processor and place on a floured work surface. Depending on the firmness of the dough, add a little more flour (if too soft) or almond milk (if too firm) so that the dough is easy to shape.

Carefully roll out with floured hands into a round disk about 1.5cm thick or shape with your hands.

Cut into 8 even pieces with a knife (see picture).

Place in oven as a whole (you do not need to separate the individual scones when baking) and bake for 20 minutes. The scones should be nicely risen and golden brown around the edges.

In the meantime, prepare the FROSTING prepare. To do this, put powdered sugar, almond milk and maple syrup in a small bowl and stir until everything is well combined. Start with LESS liquid or the frosting will quickly become too thin.

Organic powdered sugar,

30 ml Almond milk or another vegetable milk,

7,5 ml maple syrup

Remove scones from oven at end of baking time and let cool completely.

Break apart, decorate with frosting toppings and chopped walnuts. enjoy!

OPTIONAL: chopped walnuts for decoration

Store remainder (if any) in an airtight box in the refrigerator for up to one week. Can be kept frozen for up to one month.
Notizen
* If you do not have pumpkin spice in the house, then you can easily mix your own: 1 tsp cinnamon, ¼ tsp nutmeg, ¼ tsp ginger, 1/8 tsp cloves.
NOTES /HELPFUL ACCESSORIES:
Nährwertangaben
Serving:
1
Piece
Calories:
209
kcal
Carbohydrates:
33
g
Protein:
5
g
Fat:
6
g
Sodium:
60
mg
Potassium:
71
mg
Fiber:
5
g
Sugar:
8
g
Vitamin A:
2335
IU
Vitamin C:
0.7
mg
Calcium:
47
mg
Iron:
2
mg