Again Ice cream ? Yes absolutely! Honestly, I can't think of anything else at these temperatures. You think I'm exaggerating? Regensburg was the hottest city in Germany a few days ago with 37.6 degrees. Therefore, at the moment I would like to have Ice cream for breakfast, lunch and dinner. Gladly in between and if possible I would also like to lie down in a bathtub full of ice. Well, I hope you understand that I make a lot of ice cream recipes at the moment. Ice cream recipes recipes. But who should actually object to that? The heat is up, I'd say, and off we go with this healthy ice cream recipe.
Delicious vegan ice cream made from bananas … yummy!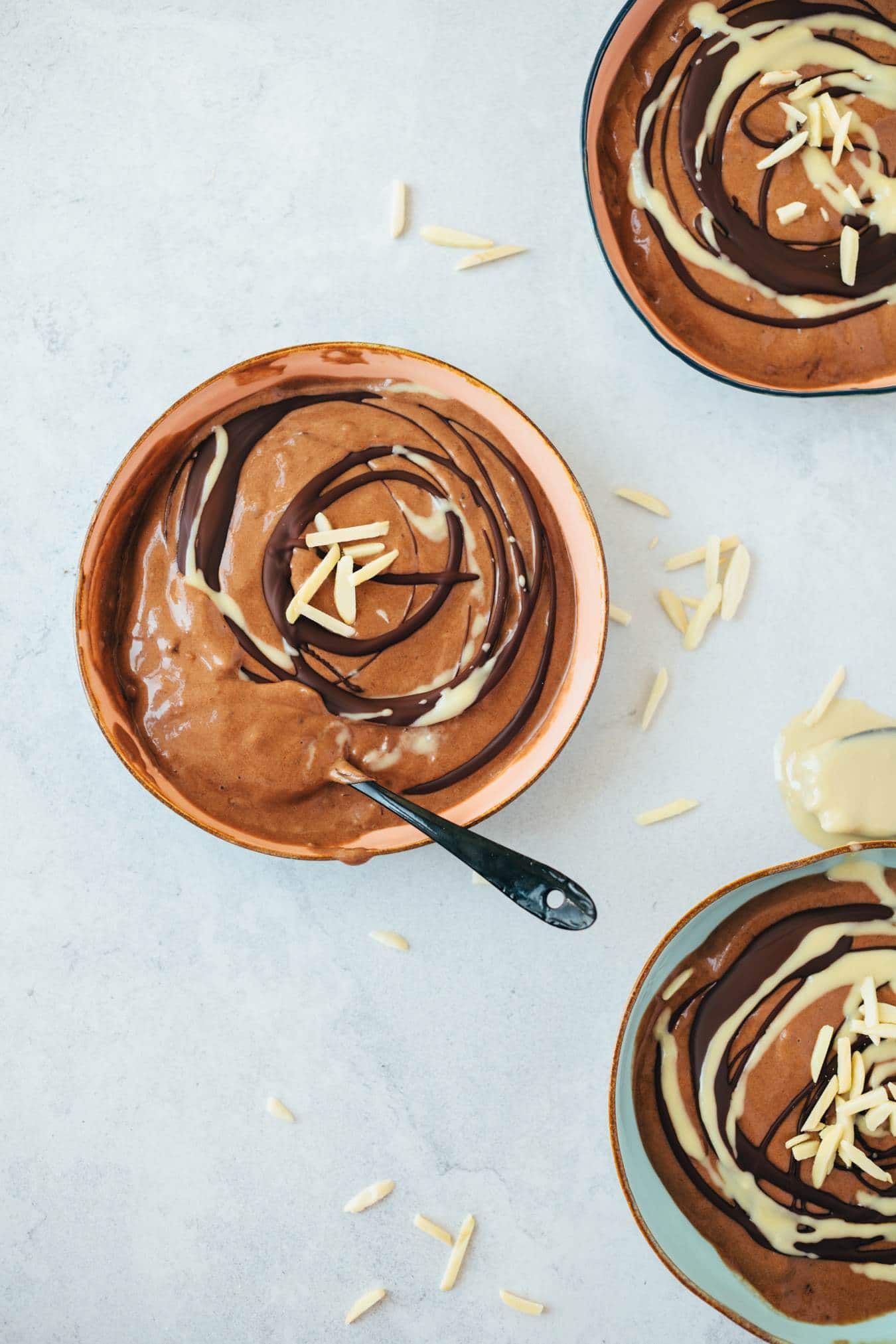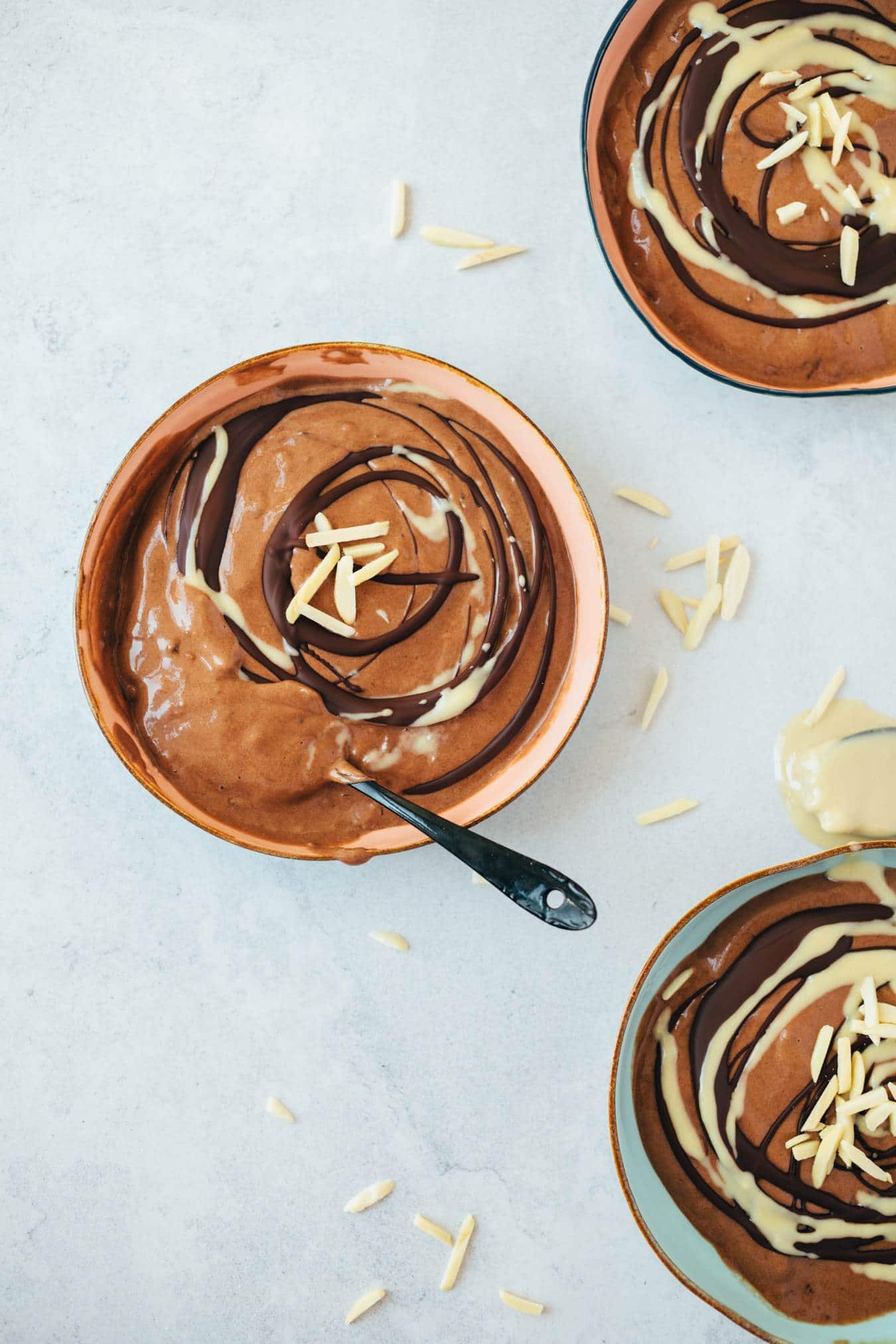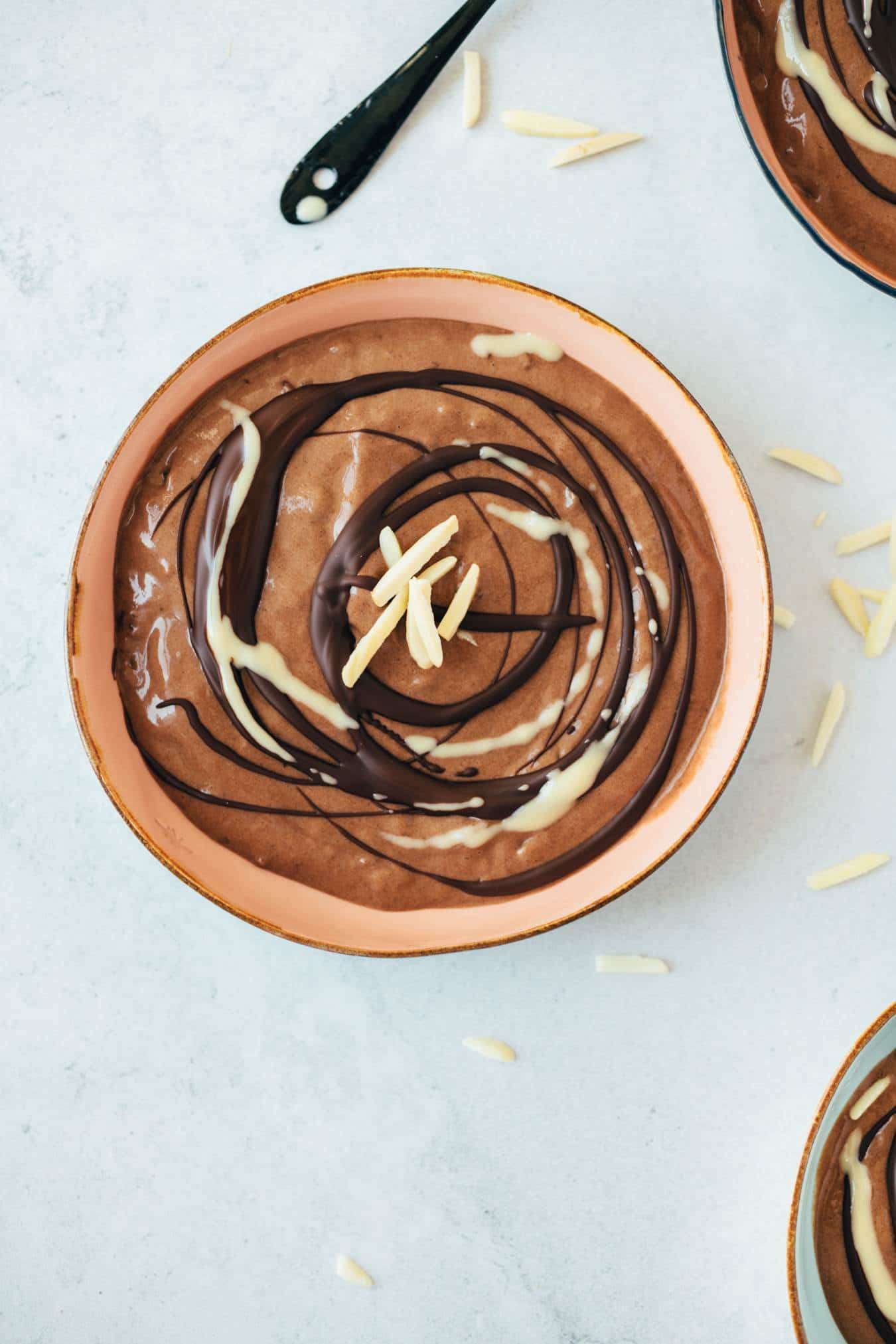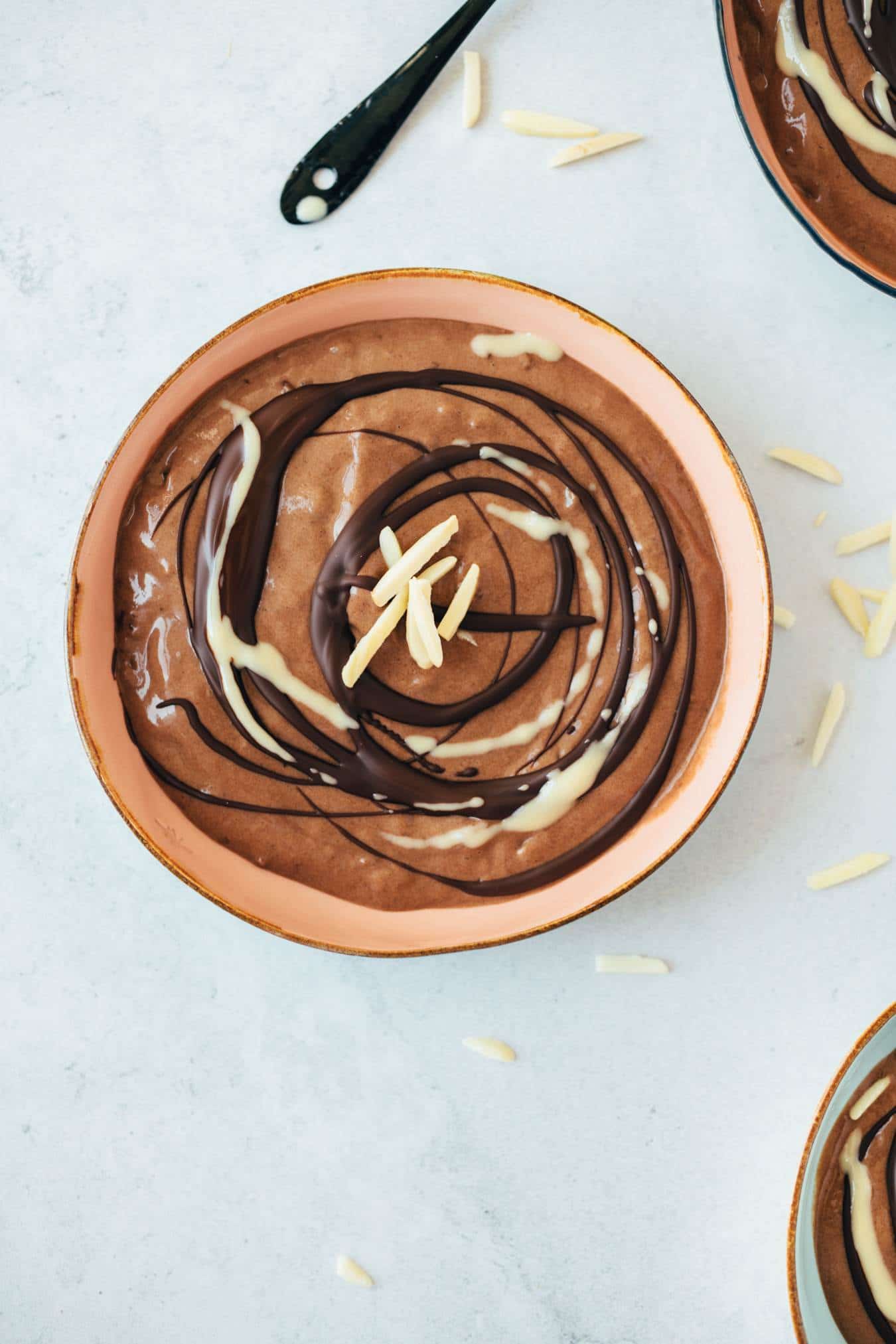 Vegan chocolate banana soft ice cream
I've always loved soft serve ice cream, with such a great crunchy chocolate icing. I could almost never resist. However, it has always been a mystery to me what is in there. Starting with powdered milk, tons of sugar, other preservatives and flavor enhancers. That's why we're now making a dairy-free alternative to classic soft serve ice cream based on frozen bananas. It is accompanied by delicious tahini, cocoa and ahoirn syrup. That's it! You can then refine the whole thing with dates, bourbon vanilla and a crunchy chocolate glaze. The only question is what tastes better? Soft ice cream from the vending machine or homemade? You decide!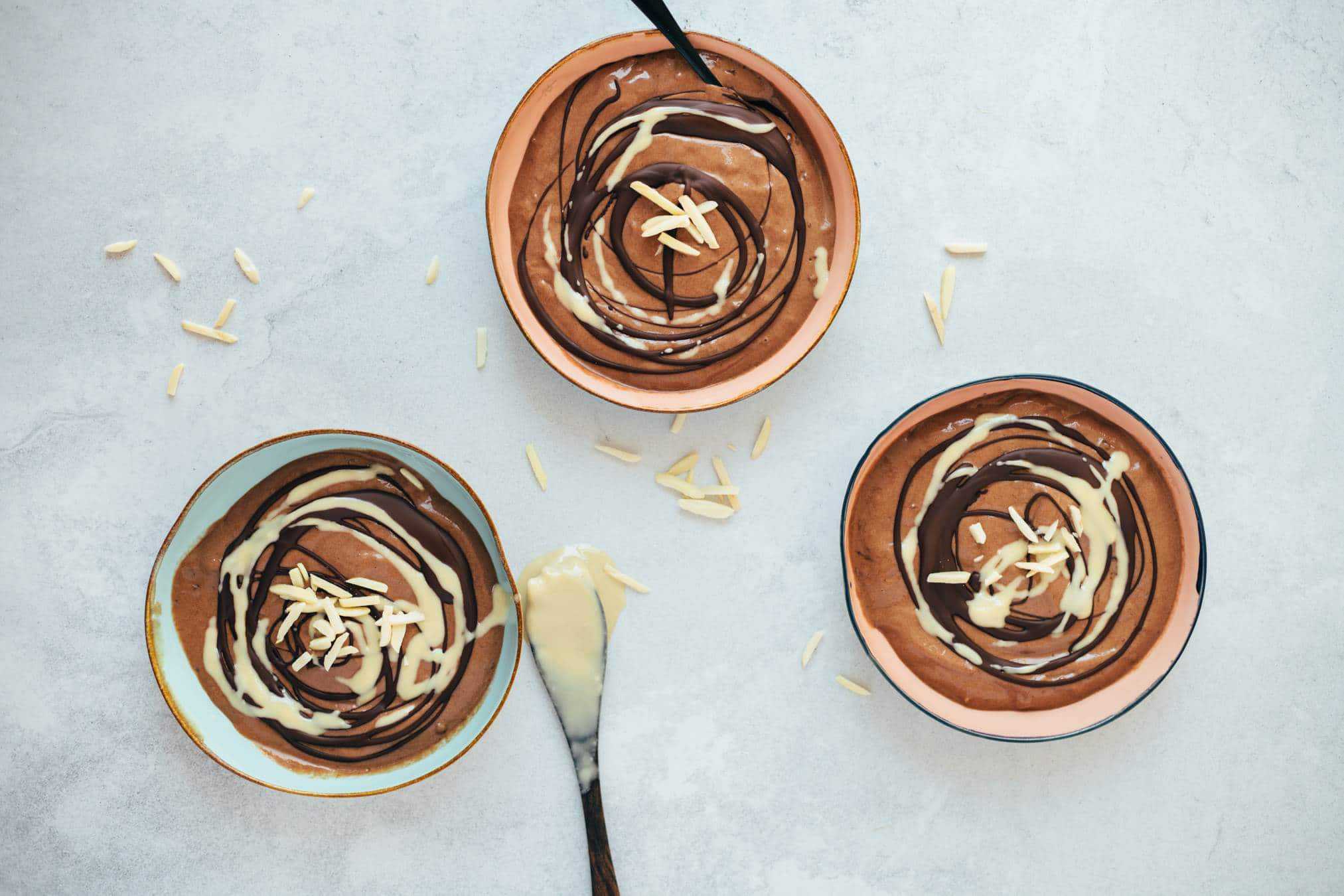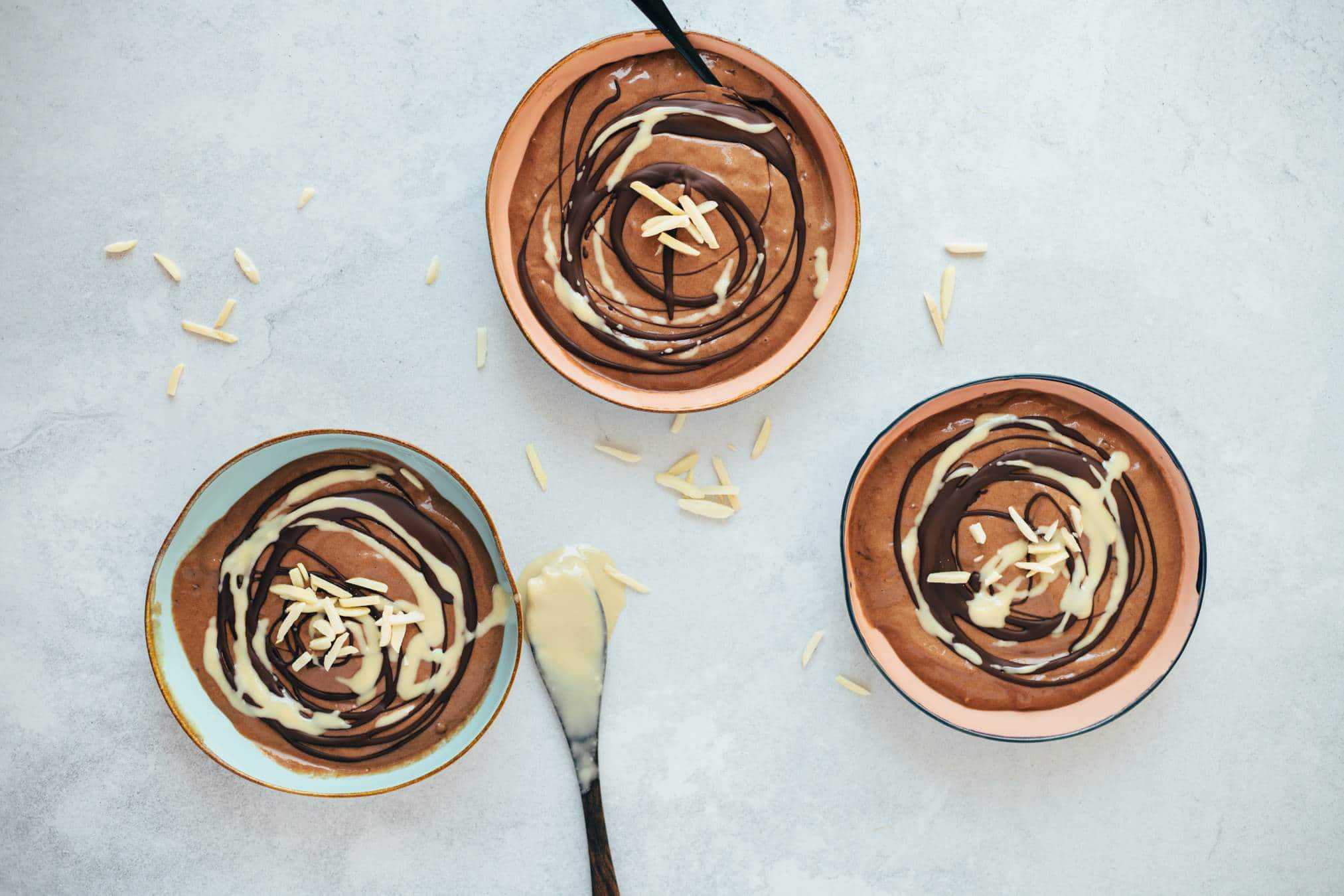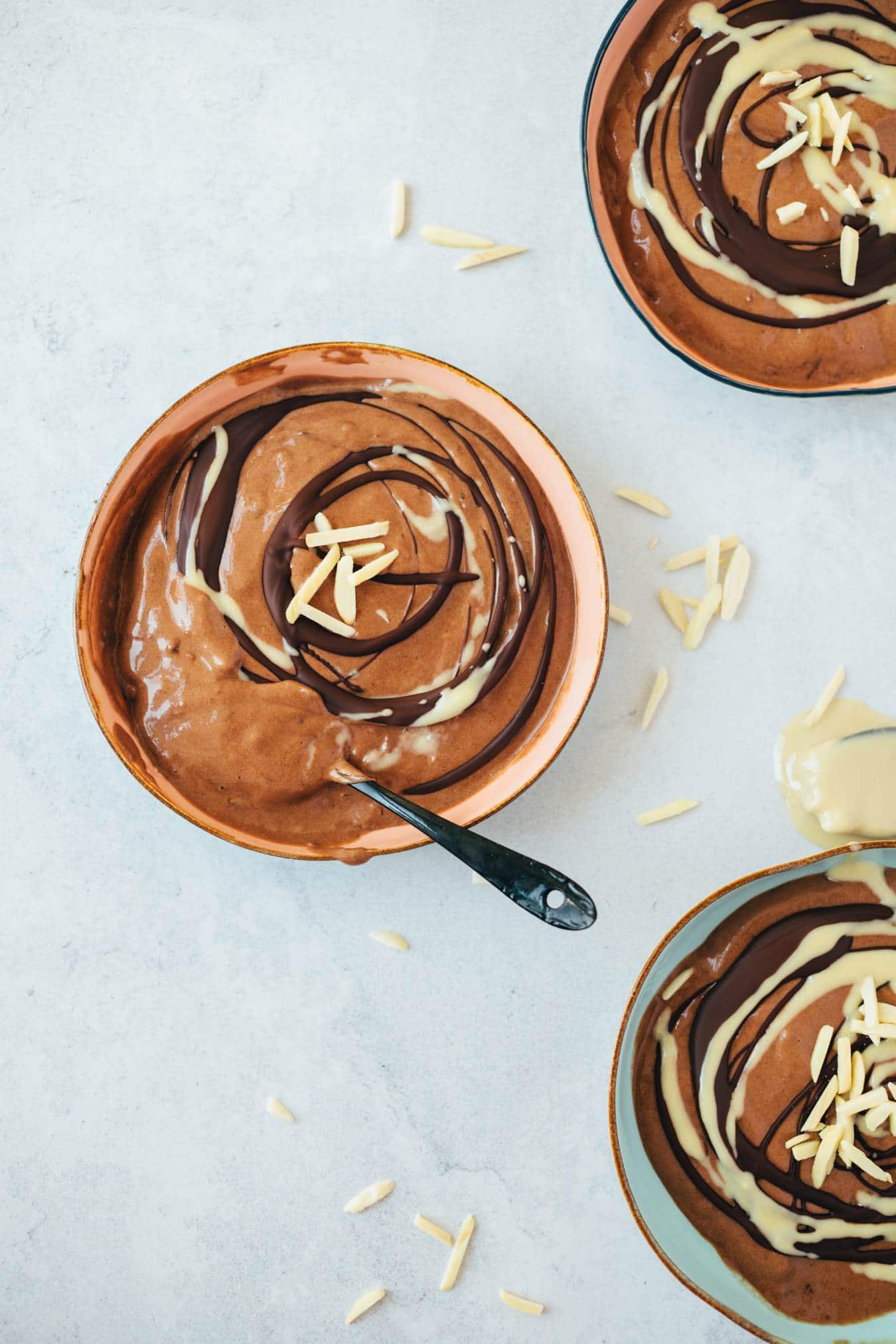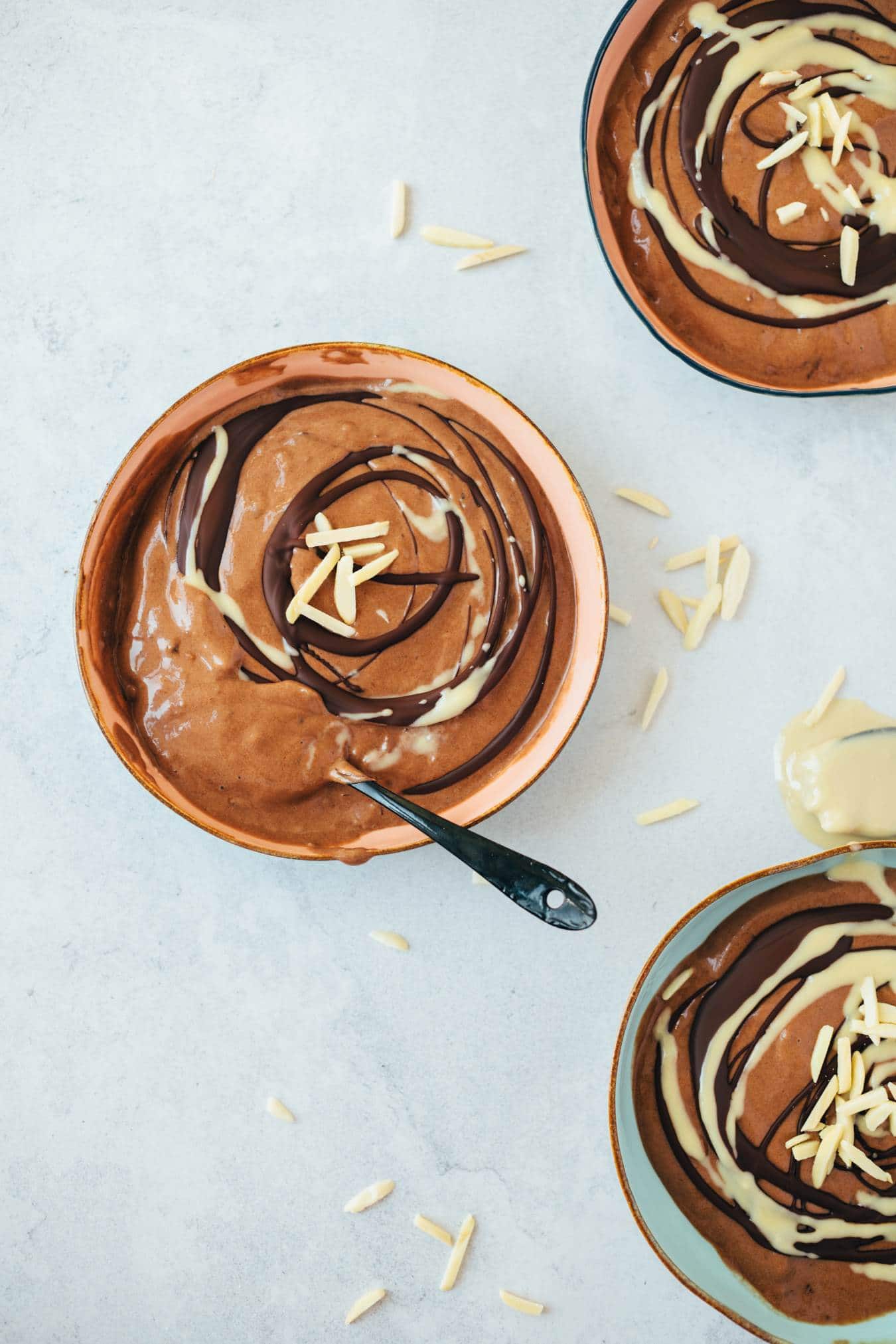 Here are a few tips on how to make it:
The blender should run on low speed. I use here my Magi Mix and NOT the Blendtec. The Magimix can process the bananas better and more evenly at low speed and you get a top result. Otherwise eigen sich also high performance blender with pestle (I think there is one from Vitamix)(advertising since brand name). The problem with high-powered blenders without a pestle is that they go haywire very quickly without liquid. As I said, my recommendation would be a MagiMix or similar blender for this purpose.
The bananas must be frozen beforehand. I use extremely ripe bananas here, which I actually wouldn't eat like this anymore. They should already be really brown, then they have the maximum content of natural sweetness and can be frozen. I peel the ripe bananas, cut them into 2-3 cm long pieces and freeze them in a reusable box. So they are perfectly portionable for all kinds of Smoothies , Desserts or just ice cream!
The beauty of this ice cream is that you can decorate it as you love. With nuts, nut mush, dried fruits, Coconut cream , almond slivers or extra chocolate.
Is the consistency the same as that of "normal" soft ice cream?
Almost! Of course, it tastes a little like banana, but the consistency is soft, delicate and creamy. The guilty conscience is also absent with this ice cream, because it is sweetened only with natural fructose.
The 5-ingredient chocolate banana soft ice cream is:
chocolatey
creamy
Naturally sweetened
Easy to manufacture
Delicately melting
If you love soft serve ice cream as much as I do, I'd love a review at the very bottom of this page. If you post a picture, use the hashtag #veganevibes.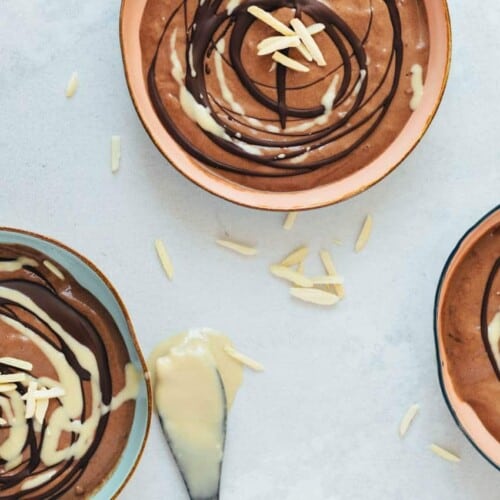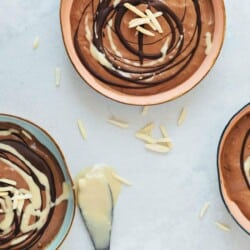 5-Ingredient Chocolate Banana Soft Serve Ice Cream
Simple instructions for making super creamy chocolate banana soft ice cream based on bananas, cocoa and dates. Creamy, chocolatey-banana and deliciously melt-in-your-mouth with only 5 ingredients.
AUTOR: VEGANEVIBES
Anleitung 
Add frozen bananas, cocoa powder, nut puree, maple syrup and other optional ingredients to blender and blend until creamy.

300 g ripe bananas,

30 g Almond paste,

12 g Cocoa powder,

30 ml maple syrup,

½ tbspn Bourbon vanilla ground,

optional: 2-3 Medjool dates instead of maple syrup,

optional: a pinch of sea salt

Divide into two dessert bowls, garnish with desired toppings and enjoy!

Coconut cream,

Almond sticks,

dark vegan chocolate

Leftover ice cream lasts up to a week in the freezer.
Nährwertangaben
Serving:
1
Portion
Calories:
290
kcal
Carbohydrates:
51
g
Protein:
4
g
Fat:
9
g
Saturated Fat:
1
g
Sodium:
54
mg
Potassium:
682
mg
Fiber:
5
g
Sugar:
31
g
Vitamin A:
95
IU
Vitamin C:
13
mg
Calcium:
82
mg
Iron:
1
mg