Welcome back! I could tell myself, because I'm back in the country. Two weeks my husband and I were traveling in Switzerland and it was gigantic. The weather, the mountains and the nice Swiss people themselves were a real highlight. The recreation did not come too briefly, I think there only of the casual afternoons at the Lake Caumer the most beautiful lake I have ever seen. I have also thought in between, whether I should write a small vegan Switzerland travel guide. However, I quickly discarded the idea, because outside of Zurich and co. the selection of vegan dishes is, let's say, very meager. No matter, we had a lot of food with us ourselves and therefore got by quite well. But now I'm back in the kitchen and ready to go!
Tofu Stir Fry – Sweet and sour and just damn tasty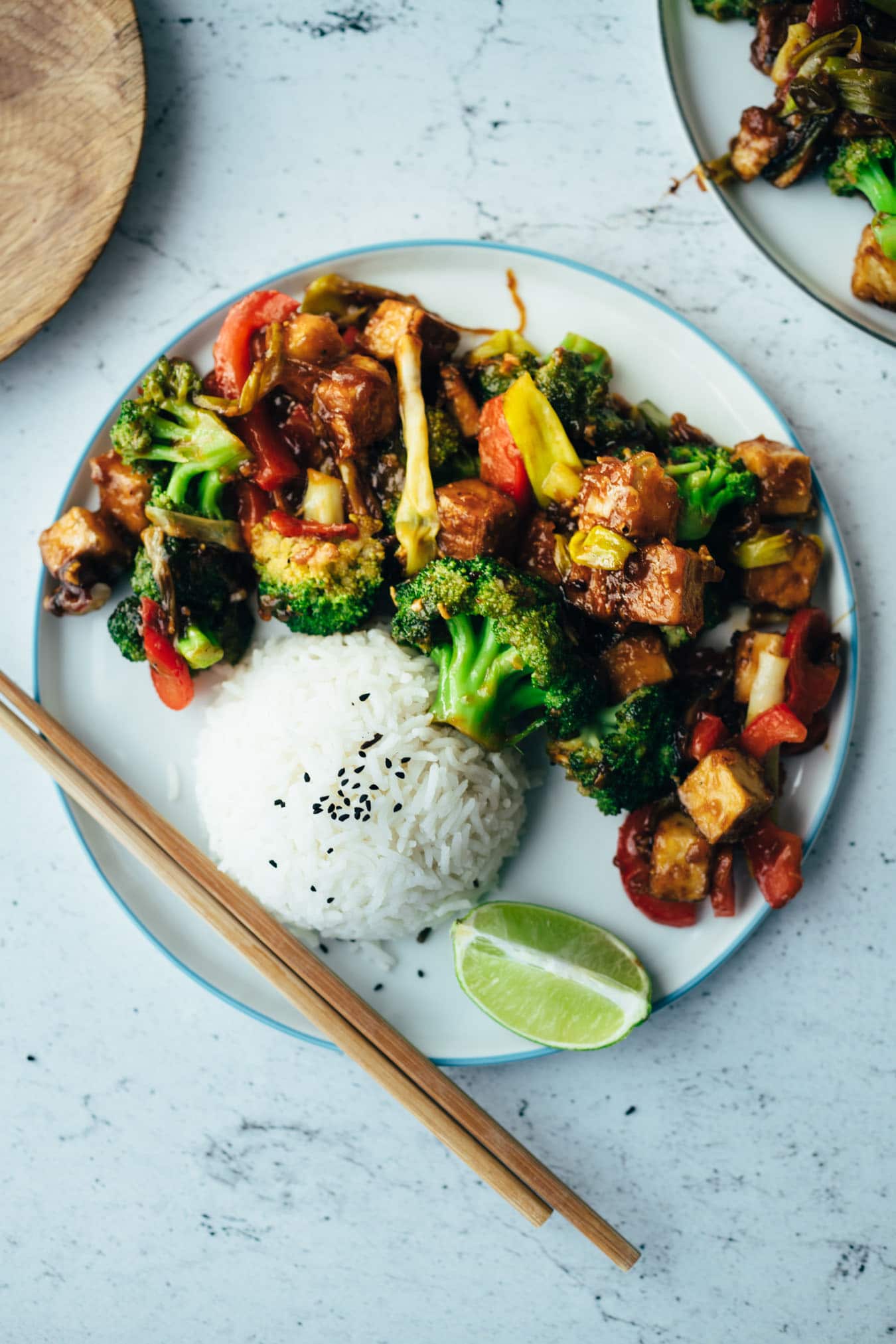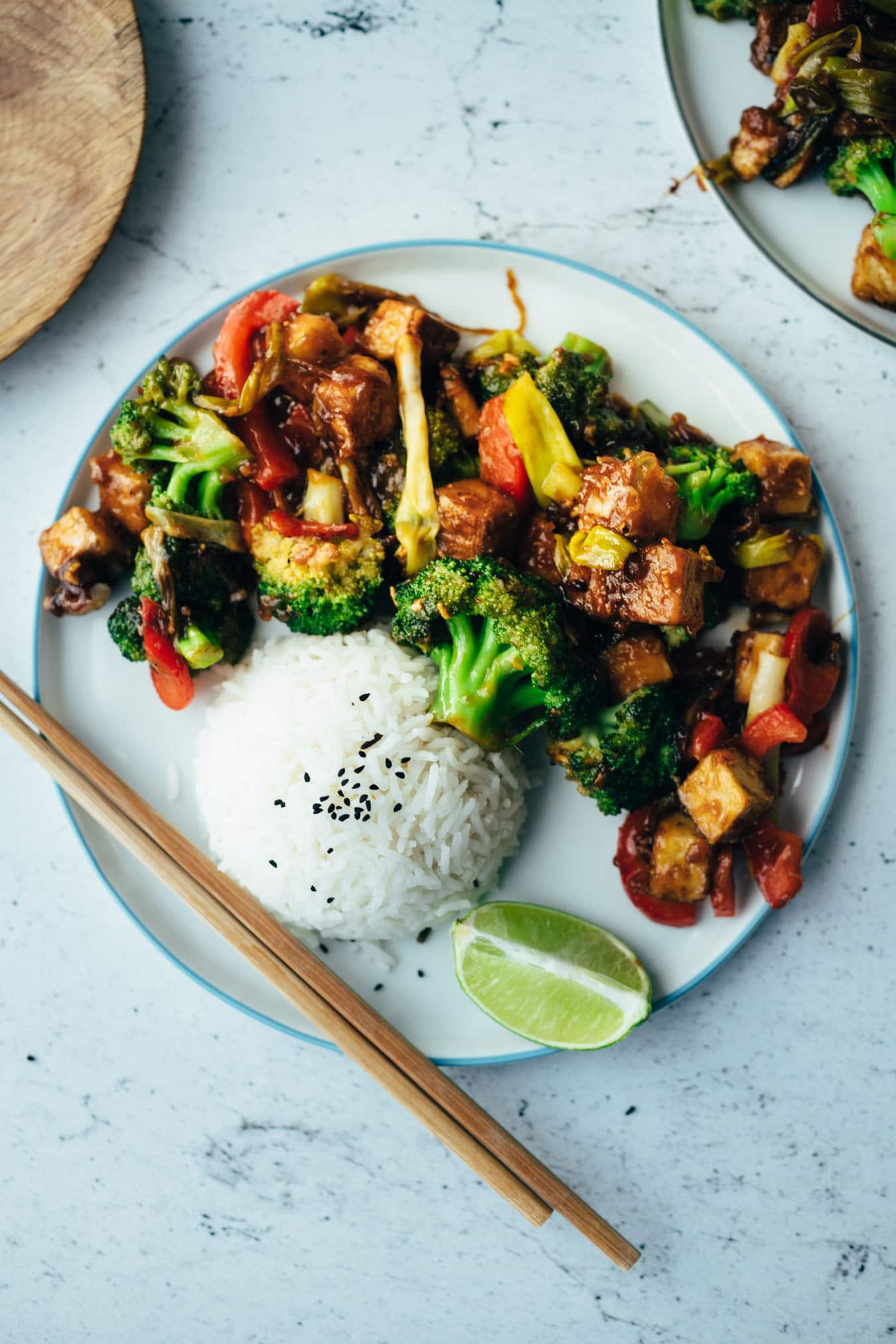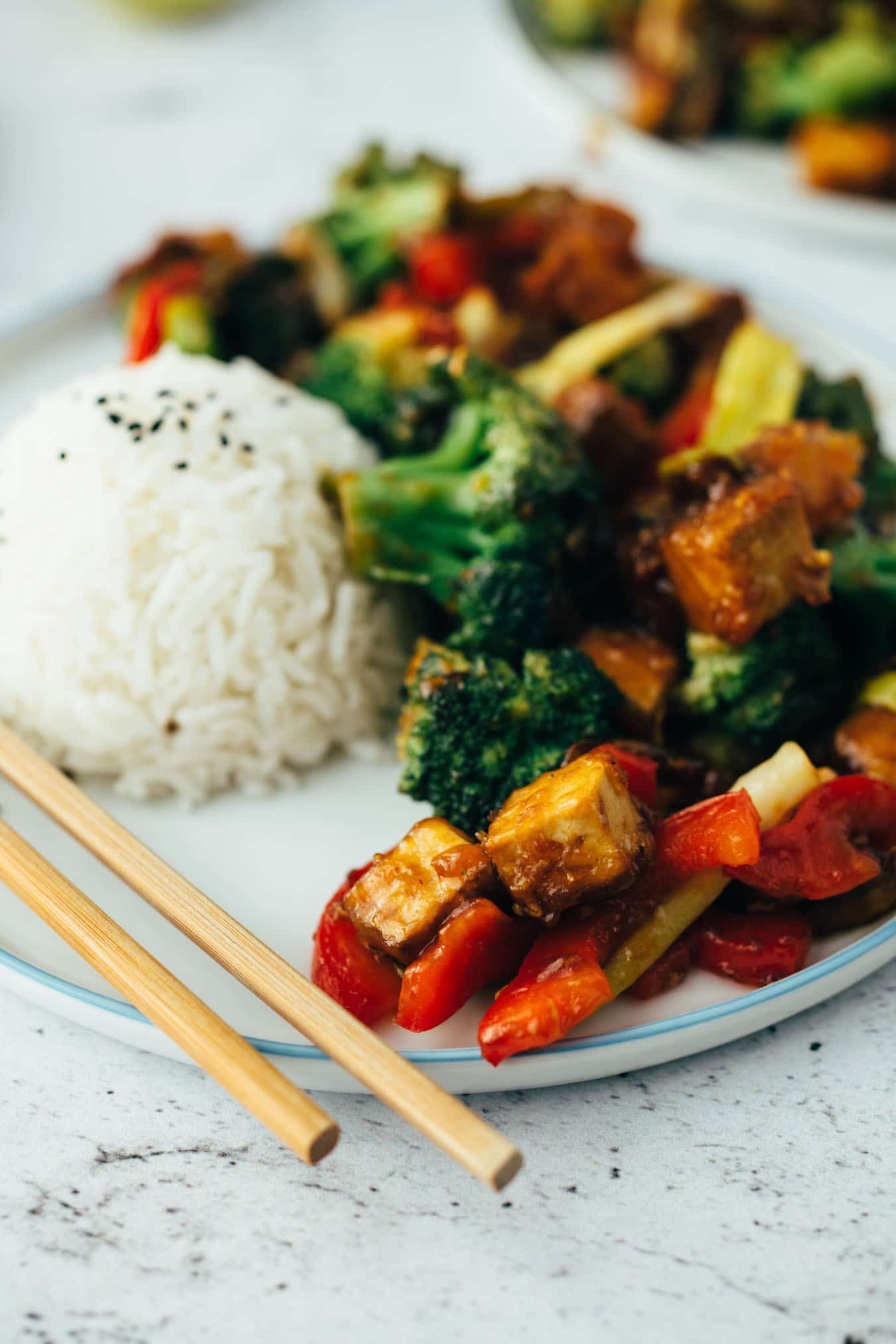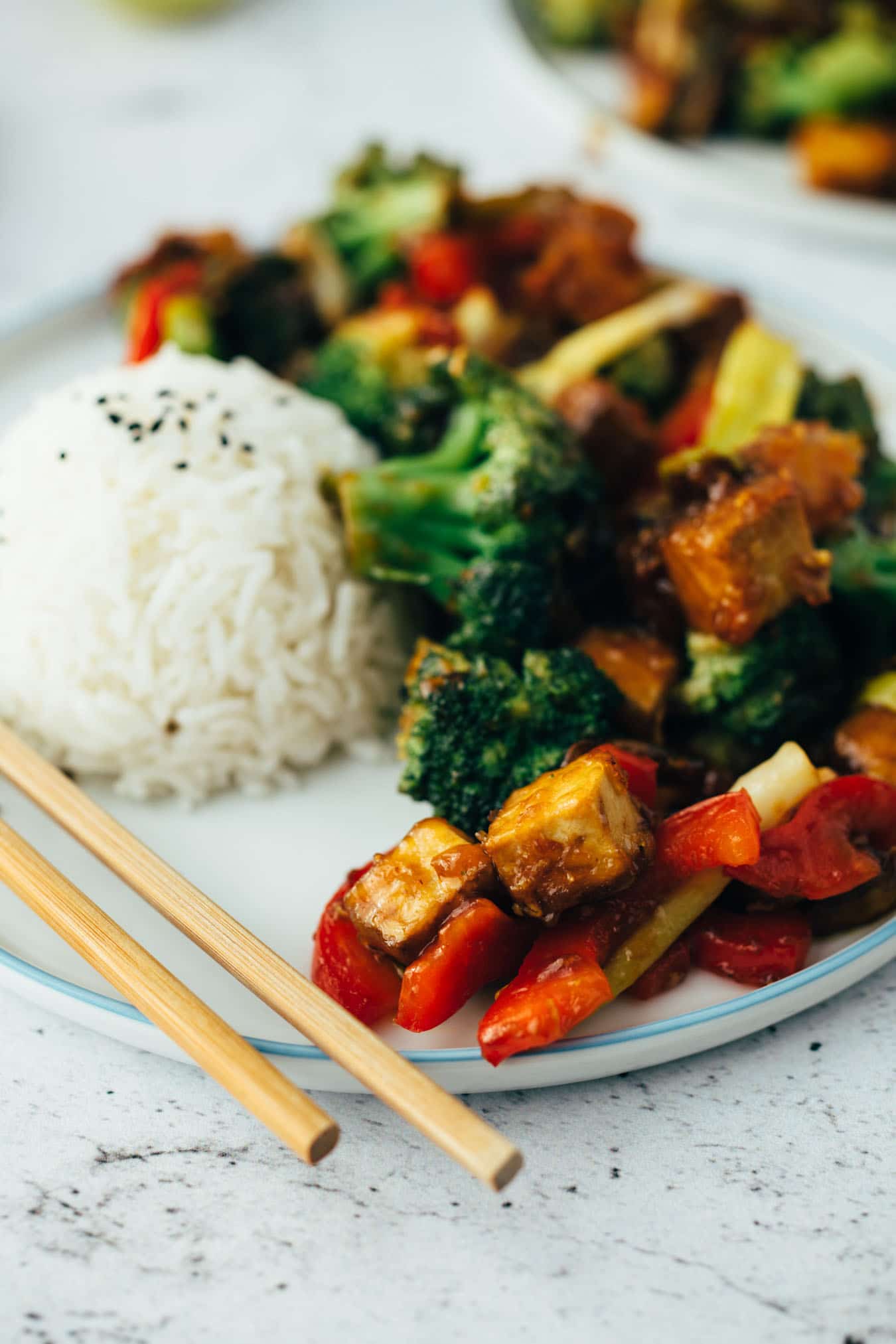 Tofu does not taste good? What a load of rubbish!
The other day I was at my favorite organic supermarket and got to talking with the nice man at the register. He said he thinks organic food is great, but tofu just tastes awful. I then told him that I would write a vegan food blog blog and that he would find delicious recipes with Tofu finds. The trick with all dishes is solely seasoning and habit. I suggest today we make an extremely delicious Tofu from the pan, in which you will literally lie down.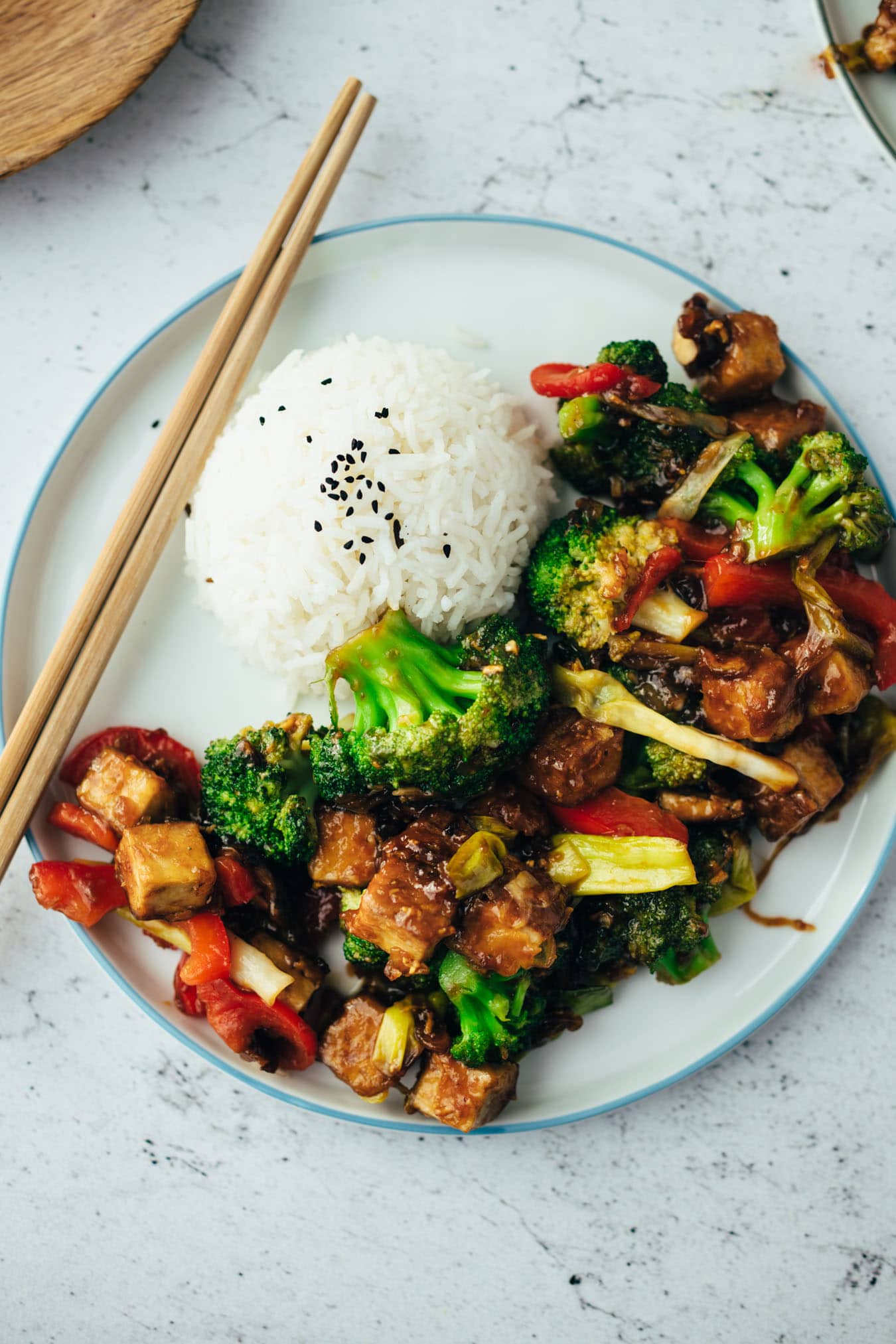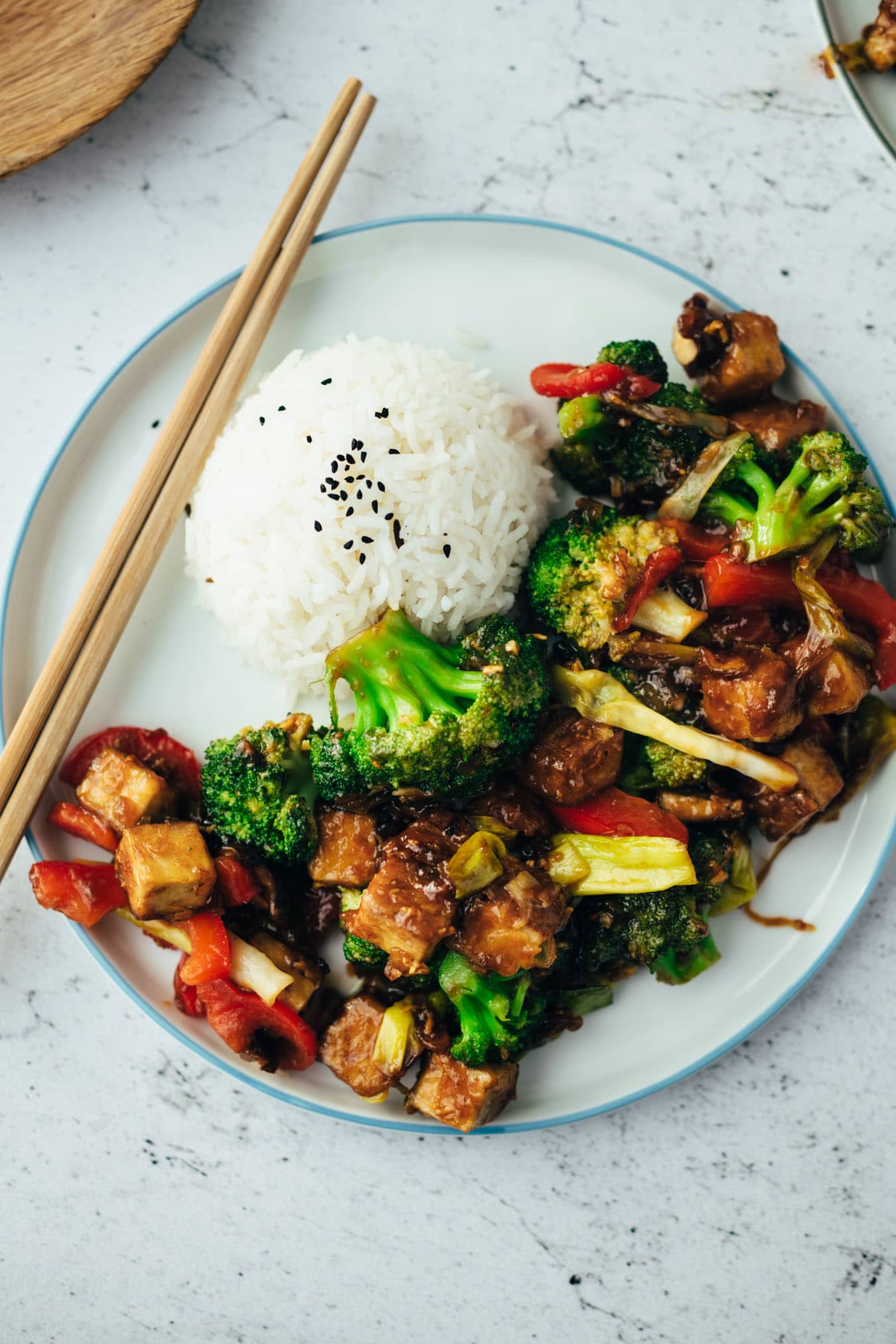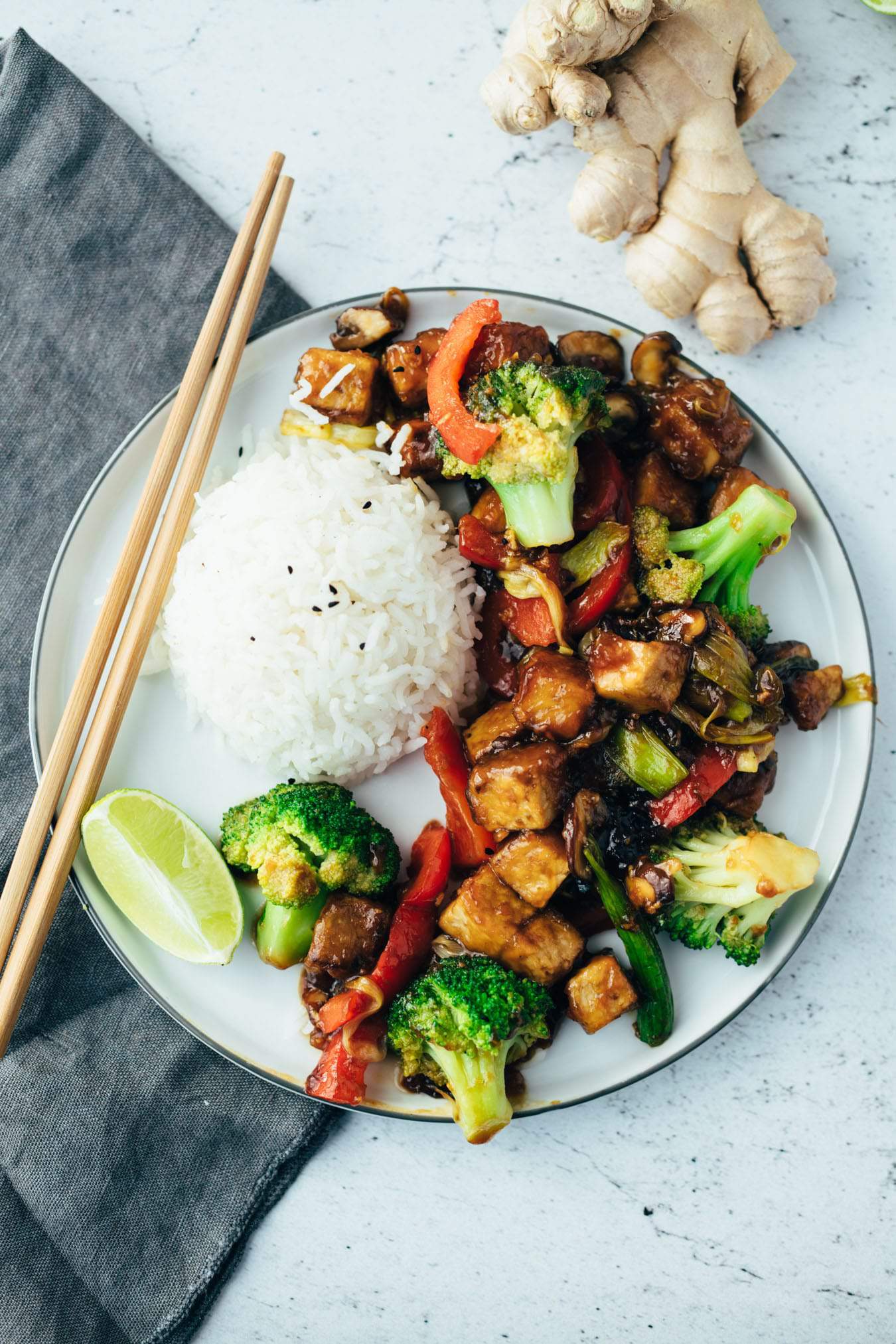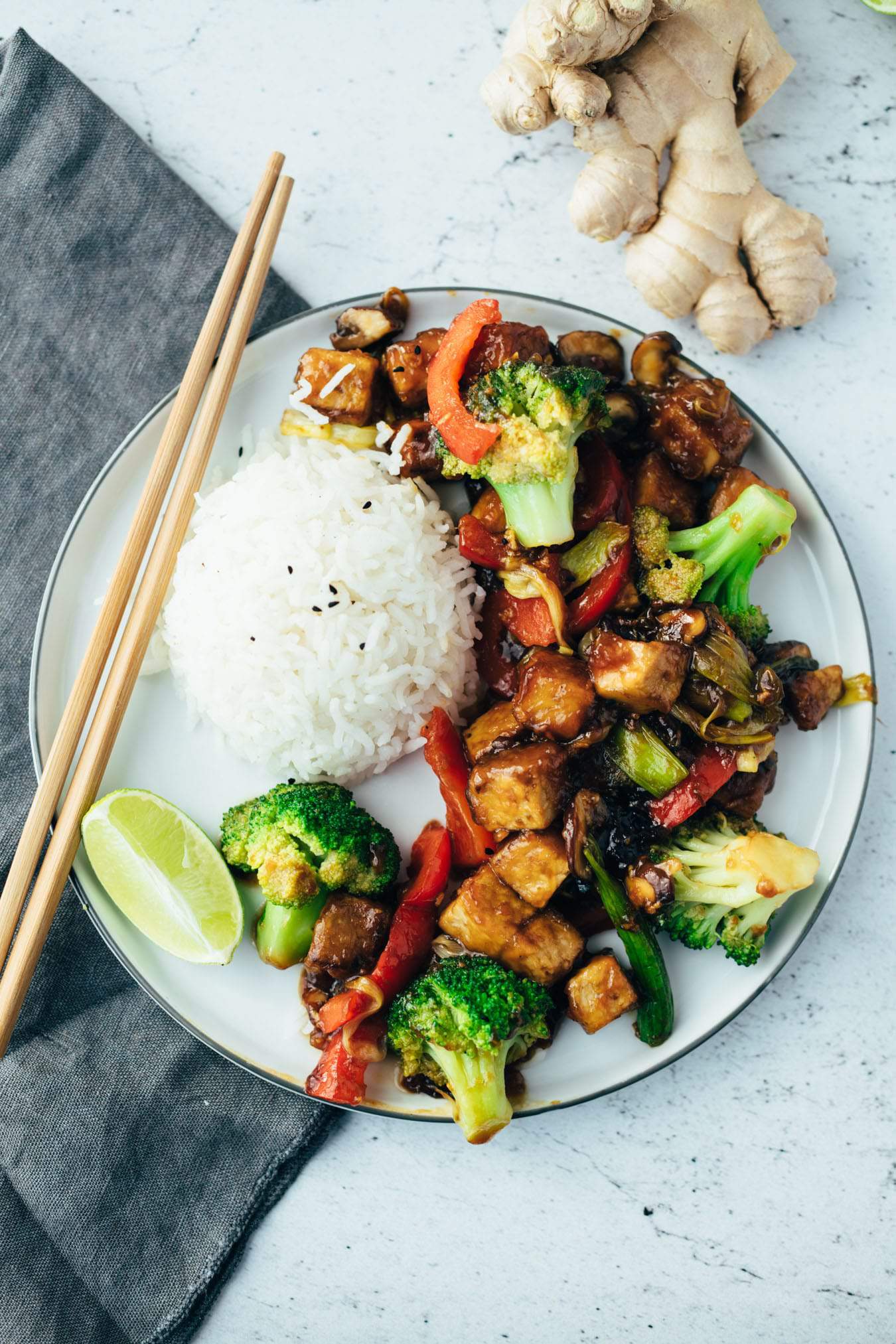 Let's start with the tofu. This is marinated in a delicious sauce of tamari, bird eye chili, sesame oil and maple syrup and then rolled in cornstarch. This makes it very nice and flavorful and damn crispy when fried. Then comes the vegetables, consisting of broccoli, peppers and green onions. This is steamed and cooked down with a wonderfully delicious sweet and sour sauce.
Perfect with rice, Cauliflower rice or quinoa. Yum, Yum, Yum! I would say you can save ordering from the delivery service and just cook this delicious dish yourself.
The simple Tofu Sir Fry(30 minutes) is:
hearty
Healthy
aromatic
Asian
filling
Quickly made
simple
Perfect for a vegan Lunch or dinner that fills you up and is full of healthy ingredients. I wish you a lot of fun in recooking and of course a review at the bottom of this page. If you post a picture, use the hashtag #veganevibes.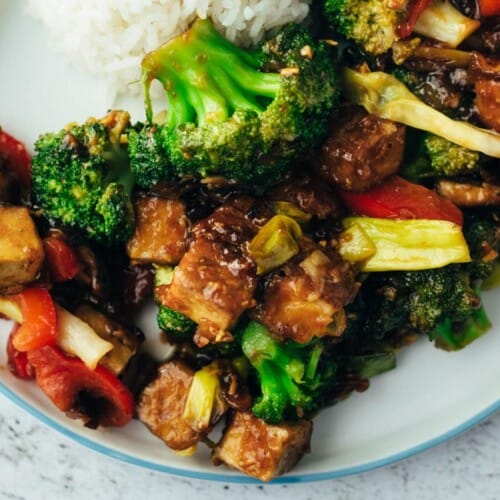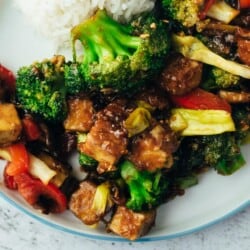 Simple Tofu Stir Fry (30 minutes)
Delightfully flavorful Asian-inspired dish with marinated tofu Stir Fry (30 minutes), pan fried until crispy. Combined with a fine Asian sweet and sour sauce, delicious vegetables and rice a perfect tasty lunch or dinner for all fans of vegan Asian cuisine.
AUTOR: VEGANEVIBES
FOR THE SAUCE:
30

ml

Sesame oil

2

tbspn

Cornstarch

1

tbspn

Ginger

peeled and grated or finely chopped

2

Piece

Garlic cloves

peeled and pressed or finely chopped (6g)

15

ml

Asian rice wine

or replace with white wine vinegar

45

ml

maple syrup

Optional: a little water for dilution
FOR THE VEGETABLES:
One head of broccoli

washed and cut into small pieces as desired

1

bunch green onion

washed and cut into coarse pieces

1

red bell bell pepper

cut into strips
TO SERVE:
Basmati rice to taste

Fresh coriander

Limes

quartered

Sesame seeds to taste
Anleitung 
If serving rice, prepare according to package directions, sauté broccoli briefly to soften (optional to taste).

Remove the tofu from the package and I wrap kitchen roll or a clean cotton cloth and press dry. This is best done with a heavy pan or other heavy object. Let stand for 15 minutes.

In the meantime, for the SAUCE Put sesame oil, cornstarch, ginger, garlic cloves, rice wine, tamari, maple syrup in a bowl and whisk well. Dilute with a small sip of water if desired.

30 ml Sesame oil,

2 tbspn Cornstarch,

1 tbspn Ginger,

2 Piece Garlic cloves,

15 ml Asian rice wine,

45 ml Tamari or another gluten-free soy sauce,

45 ml maple syrup,

Optional: a little water for dilution

Heat a large frying pan. Tofu unwrap and I cut small square pieces.

Place tofu in a bowl, add tamari, sesame oil, Bird Eye chilies and maple syrup and stir well. Let marinate for about 3-5 minutes.

45 ml Tamari or another gluten-free soy sauce,

15 ml Sesame oil or water if oil is to be avoided,

1-2 Bird Eye chilies or other chilies to taste,

15 ml maple syrup

After marinating time is up, place tofu in a sealable jar, bag or box, add cornstarch, seal and shake until cornstarch is evenly coated around tofu pieces.

Add frying oil to preheated pan and fry tofu until golden brown. Do not fry too long, it is enough to fry the tofu once on each side.

30 ml Frying oil or other high heat oil

Remove tofu from pan and set aside.

Now add the vegetables in the same pan and sauté for 1-2 minutes. Deglaze with the SAUCE and continue to simmer.

One head of broccoli,

1 red bell bell pepper,

1 bunch green onion

Now add the tofu and simmer until the vegetables are soft but still firm to the bite and everything is well combined.

Divide between two plates, garnish with basmati rice, cilantro, lime, sesame seeds and chili sauce (all optional) and Enjoy!

Basmati rice to taste,

Fresh coriander,

Limes,

Sesame seeds to taste,

Chili Sauce
Notizen
NOTES /HELPFUL ACCESSORIES:
Nährwertangaben
Serving:
1
Portion
Calories:
646
kcal
Carbohydrates:
34
g
Protein:
23
g
Fat:
46
g
Saturated Fat:
16
g
Sodium:
2527
mg
Potassium:
271
mg
Fiber:
3
g
Sugar:
21
g
Vitamin A:
1865
IU
Vitamin C:
79.6
mg
Calcium:
283
mg
Iron:
3.7
mg