A slice of carrot cake just always goes. My favorite is with a thick layer of cashew frosting and a really big mug of coffee. How do you drink your coffee? I like it best black, without anything, no plant milk, sugar or other Schnick Schnack. When we're on vacation, or happen to be at a coffee shop with vegan coffee options, I might treat myself to 1-2 cappuccinos with frothed milk. As with everything in life, opinions are divided when it comes to coffee. Some are firmly convinced that it is a super healthy food. Opponents strictly avoid coffee and caffeine of all kinds. I would be interested to know what you think about the black bean. Indispensable or no-go? Feel free to write me below in the comments.
Carrot cake – juicy, vegan and oil-free? Here you go!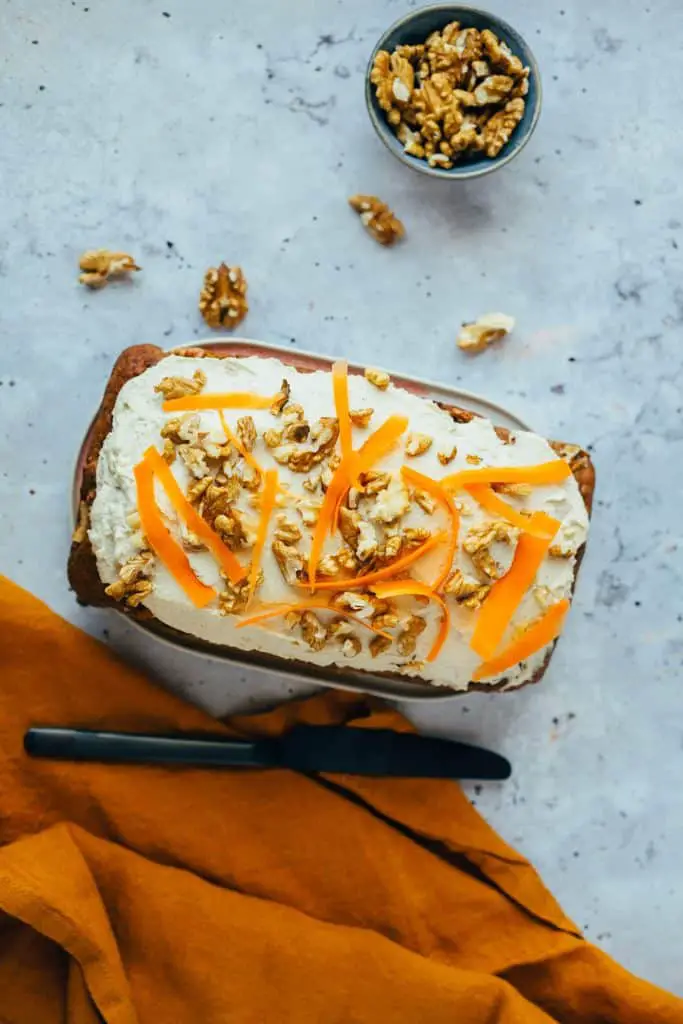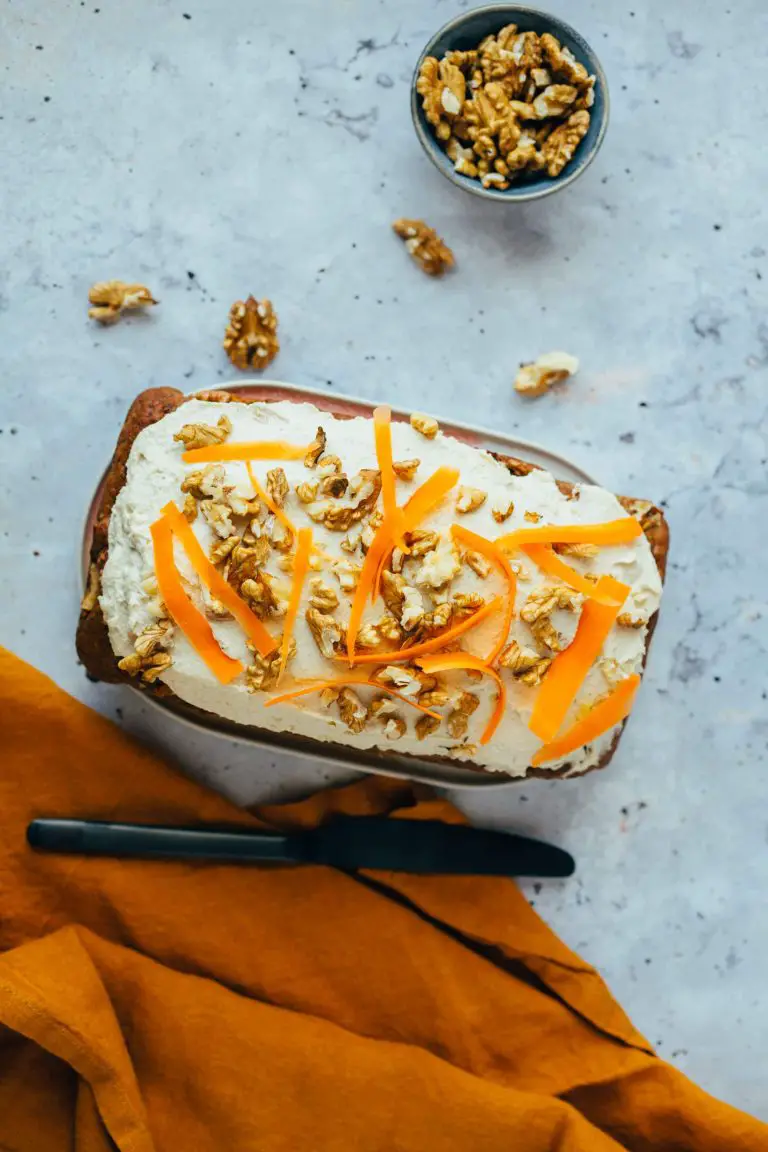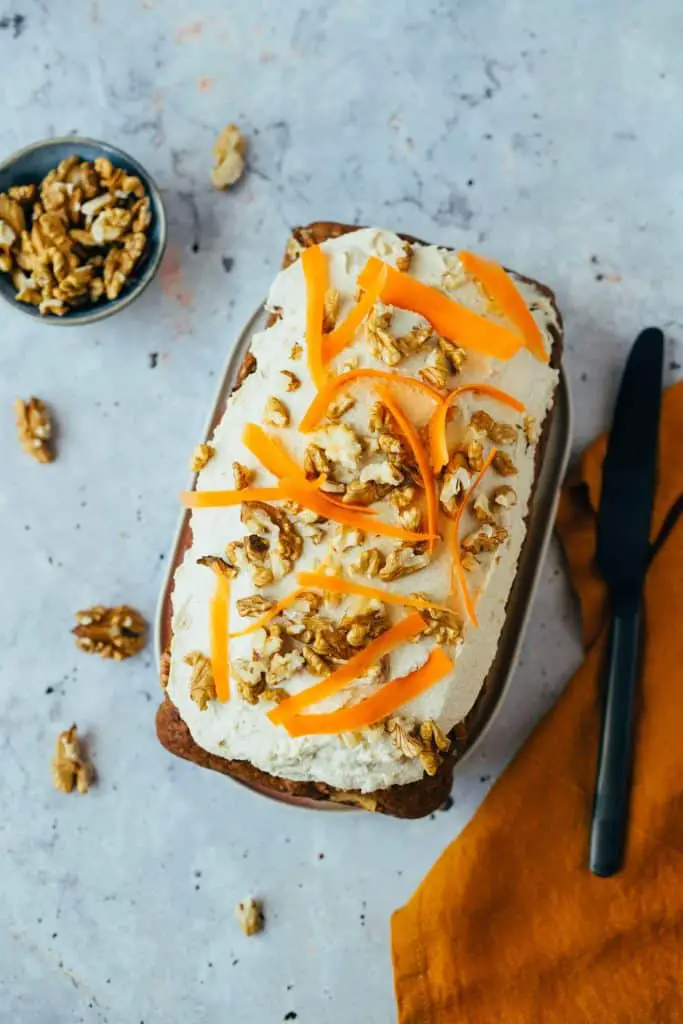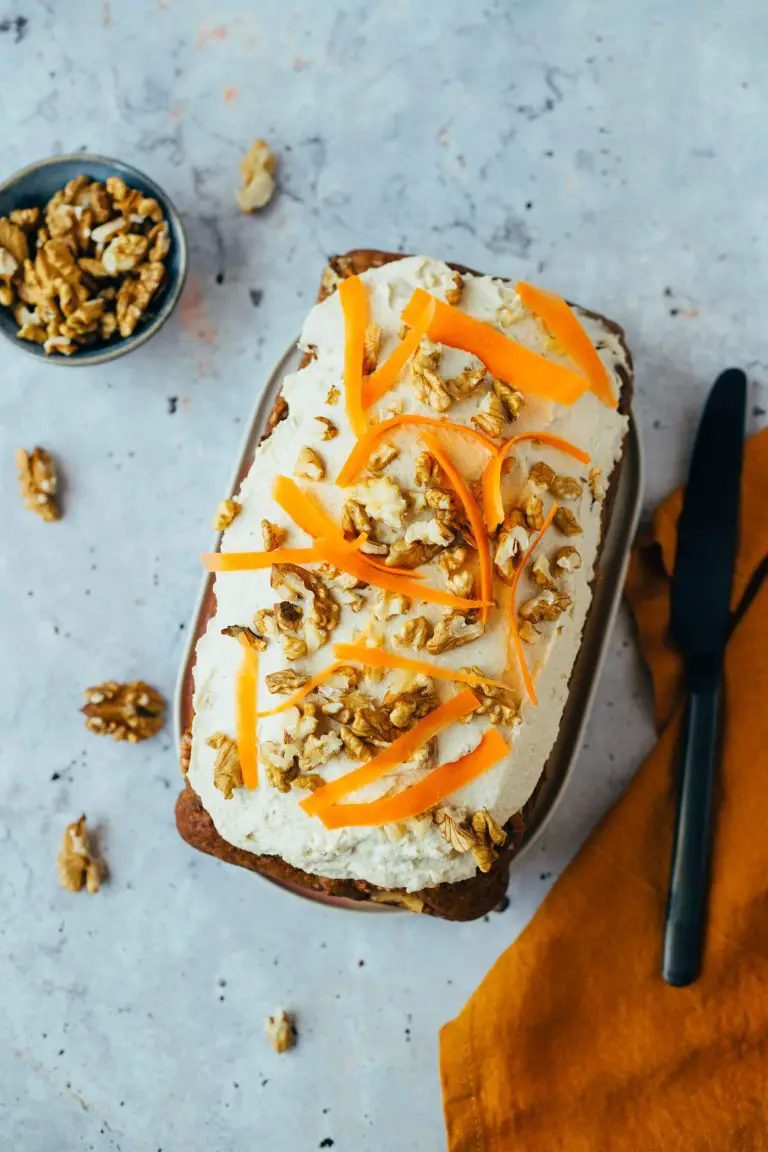 All those who have been following me for a while know that there is already a vegan carrot cake recipe on my site. However, this is with oil and gluten-free. With today's variant we get along completely without oil and bake with applesauce, so that it remains really nice and juicy.
Spelt flour, baking powder, cinnamon, baking soda, ginger, nutmeg, bourbon vanilla, raw cane sugar. Mix the dry ingredients to break up any small lumps in the flour. Continue with flaxseed eggs, plant milk, applesauce, apple cider vinegar and maple syrup. Mix everything together until smooth and fold in the grated carrots. Put it in the baking pan, add some walnuts and put it in the oven.
For the frosting we need cashews, plant milk, lemon juice, maple syrup and some bourbon vanilla. The cashews are soaked and only then go into the blender. Soaking is especially important when not so much liquid is used. At the end, I add xanthan gum, a natural binder that provides great firmness. With it, nothing is guaranteed to run.
TIP: I use my special Blendtec "Twister Jar Mixing Container" to make the frosting. This makes it super easy to process nut purees and nuts in general. The lid is designed so that the contents are always constantly pushed down during mixing. Thus, the mass is processed evenly and you save the constant opening and closing of the lid during processing. Here you come directly to this ingenious product.
How healthy are actually carrots?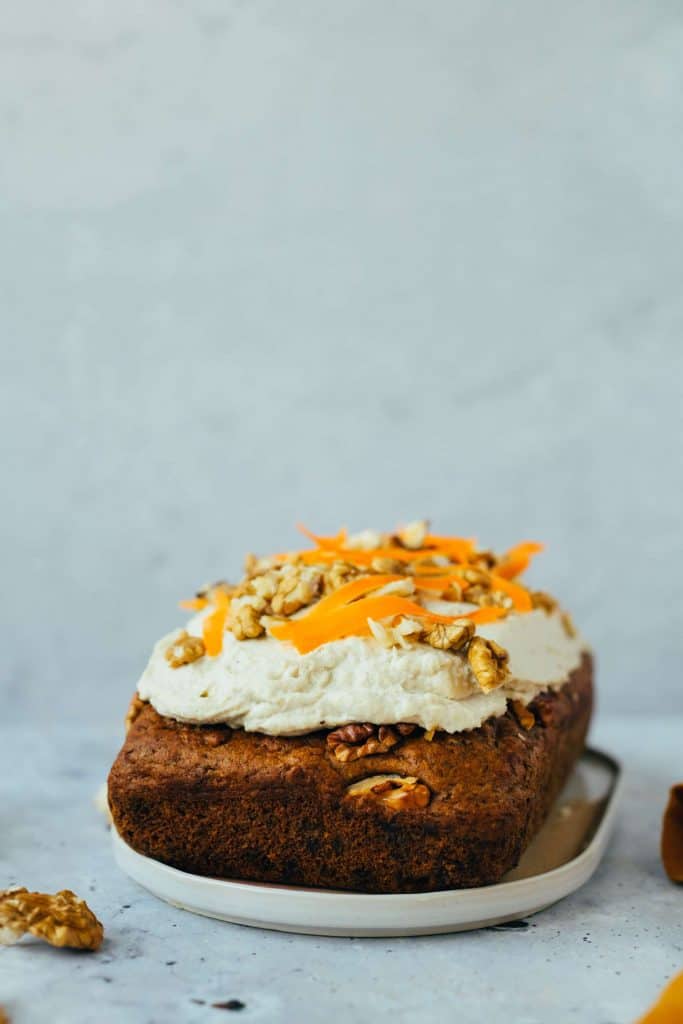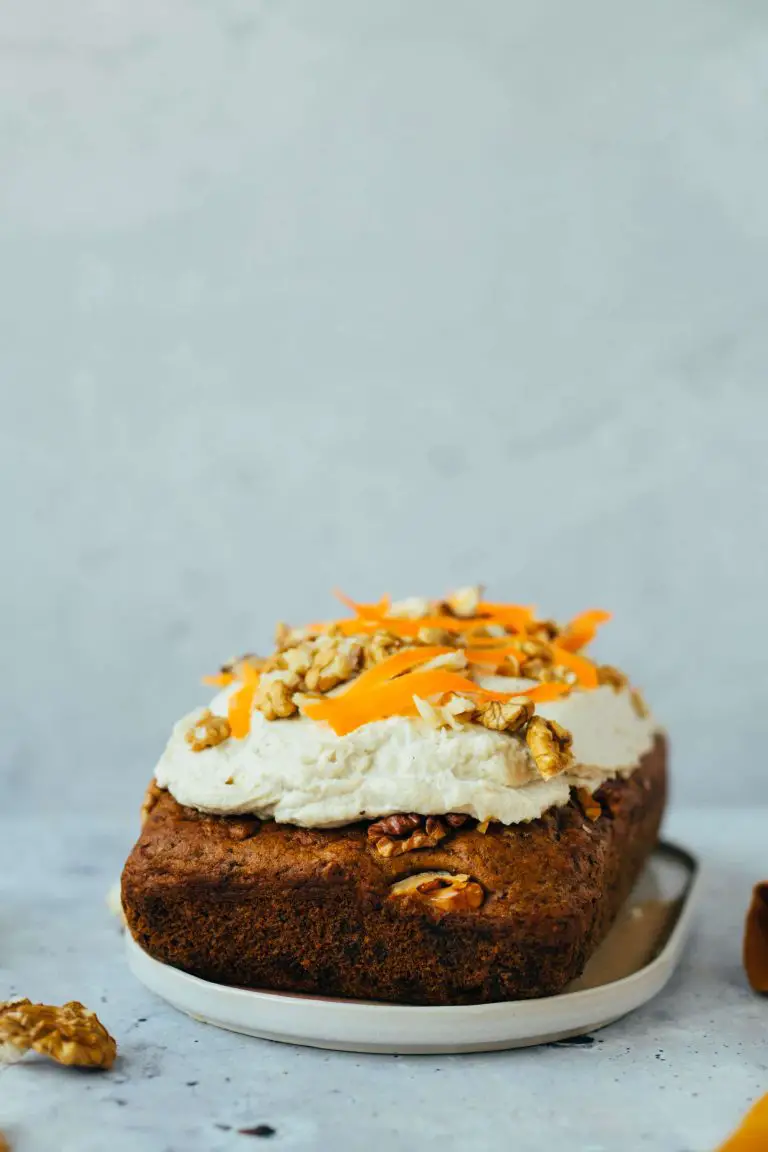 Here are some more interesting facts about carrots because they contain much more than just vitamin A:
31kcal per 100g (very low calorie)
Rich in beta-carotene (is converted to vitamin A when combined with fat). TIP : Cooking and steaming increases availability!
Polyethine, new research provides evidence that bioactive compounds in carrots may help protect against leukemia and cancer cells
Lycopene, the red antioxidant found in many red and yellow vegetables, is thought to reduce the risk of developing cardiovascular disease
Let's get started with this brilliant carrot cake. I hope you enjoy baking and of course about a review at the bottom of this page. If you post a picture, use the hashtag #veganevibes.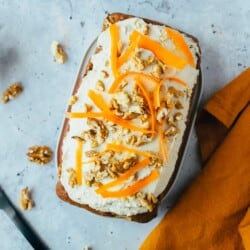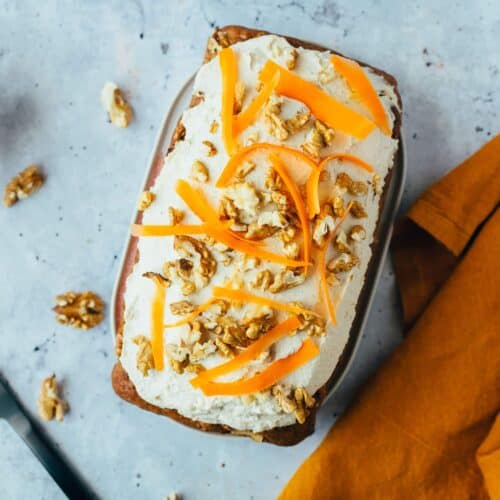 Carrot cake with cashew cream cheese (oil free)
Simple, moist, oil-free carrot cake? Made with just a few ingredients, super moist thanks to applesauce and fluffiness that can't be beat. The cream cheese topping adds the finishing touch to the cake. A real treat for all fans of vegan, oil-free baking.
AUTOR: VEGANEVIBES
FOR THE CAKE:
220

g

Spelt flour

I mix whole spelt flour with type630 in equal parts, alternatively use wheat flour

2

tbspn

Baking powder

2

tbspn

Cinnamon

1

tbspn

Baking soda

½

tbspn

Ginger

ground or 1 tsp fresh ginger grated

1

tbspn

Bourbon vanilla

ground

115

g

Cane sugar

2

Piece

Flaxseed eggs

or 7g flaxseed meal mixed with 6 tbsp or 45ml hot water

15

ml

Apple cider vinegar

alternatively lemon juice or another mild vinegar of choice

85

g

Applesauce

30

ml

maple syrup

125

ml

Plant milk

I use soy vanilla milk, but any other plant milk will work

150

g

finely grated organic carrots

⅓

Cup

Walnuts as topping
Anleitung 
FOR THE CAKE Preheat oven to 200 degrees and line a king cake pan with baking paper.

Place the flaxseed eggs in a small bowl and set aside. For the frosting, soak the cashews in advance. Click here to go directly to a detailed tutorial.

For the dough, combine spelt flour, baking powder, cinnamon, baking soda, ginger, nutmeg, bourbon vanilla, and raw cane sugar in a bowl and whisk to combine. This is how small lumps dissolve.

220 g Spelt flour,

2 tbspn Baking powder,

2 tbspn Cinnamon,

1 tbspn Baking soda,

½ tbspn Ginger,

1 Pinch of nutmeg,

1 tbspn Bourbon vanilla,

115 g Cane sugar

Add flaxseed eggs, apple cider vinegar, apple pulp, maple syrup, vegetable milk and mix until smooth.

2 Piece Flaxseed eggs,

15 ml Apple cider vinegar,

85 g Applesauce,

30 ml maple syrup,

125 ml Plant milk

NOTE: Do not stir too long, otherwise the driving force of the natron will disappear.

Finally, fold in the grated carrots and pour the batter into the baking dish.

150 g finely grated organic carrots

Place in oven, bake for

35 minutes

.

In the meantime, make THE FROSTING. To do this, put the soaked cashews, plant milk, lemon juice, maple syrup, bourbon vanilla in a blender and blend to a fine cream. Season to taste and add the xanthan gum at the very end.

30 ml maple syrup,

100 g Cashews,

40 ml Plant milk,

1 tbspn Lemon juice,

2 tbspn maple syrup,

¼ tbspn Bourbon vanilla,

¼ tbspn Xanthan Gum

At the end of the baking time, test the cake with a wooden stick to see if it is done. When the wooden stick comes out clean, then the cake is ready. Turn off oven and let cake cool completely (preferably at least an hour).

Spread cashew frosting over carrot cake, garnish with walnuts and cut into pieces. enjoy!

⅓ Cup Walnuts as topping,

More walnuts

Store in an airtight container in the refrigerator for up to 5 days, keep frozen for a few weeks. However, fresh is best.
Nährwertangaben
Serving:
1
Portion
Calories:
238
kcal
Carbohydrates:
38
g
Protein:
6
g
Fat:
8
g
Saturated Fat:
1
g
Sodium:
49
mg
Potassium:
174
mg
Fiber:
4
g
Sugar:
17
g
Vitamin A:
2540
IU
Vitamin C:
1
mg
Calcium:
50
mg
Iron:
2
mg