Refreshing berry slushie for the hot summer days. At the moment it's 30 degrees Celsius and I always treat myself to longer breaks at the lake. We have a beautiful lake nearby and there's just nothing better than swimming a few laps and then lingering in the sun for a bit. Besides my hammock in the garden, this is currently my favorite activity and I enjoy it to the fullest. Admittedly, our two huskies Wapi & Yuma are not necessarily happy about the hot temperatures, because they prefer to crawl into the stairwell towards the basement. The cool stone slabs are just perfect for an extended nap. In the evening we will go full throttle again in the garden. But now we're getting ready to cool down with lots of ice cream and berries. Be curious!
Fancy a vegan berry slushie?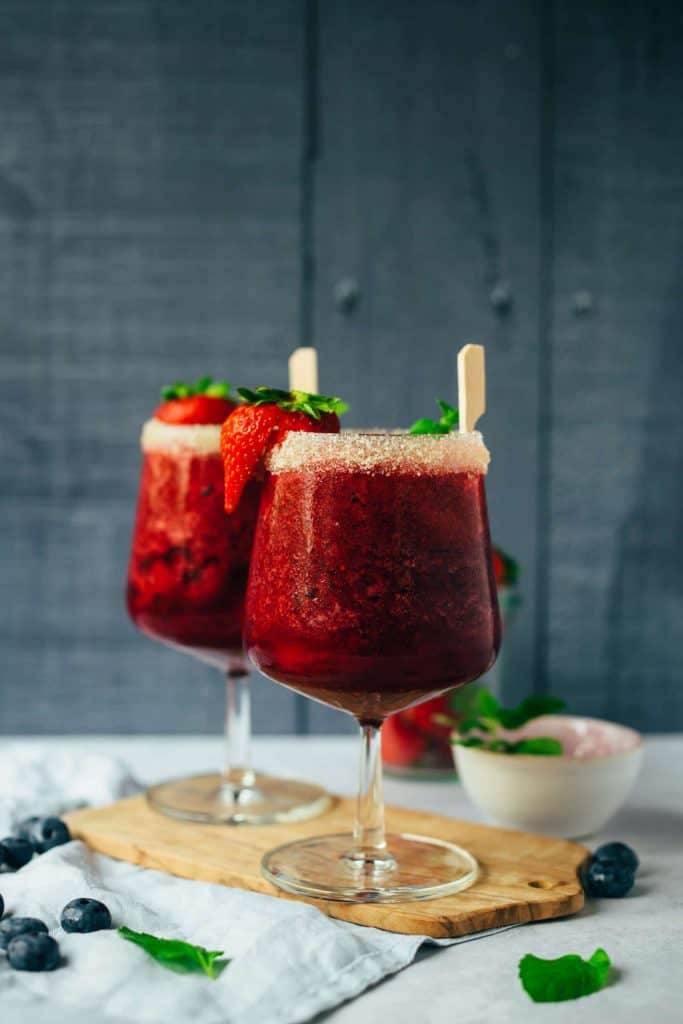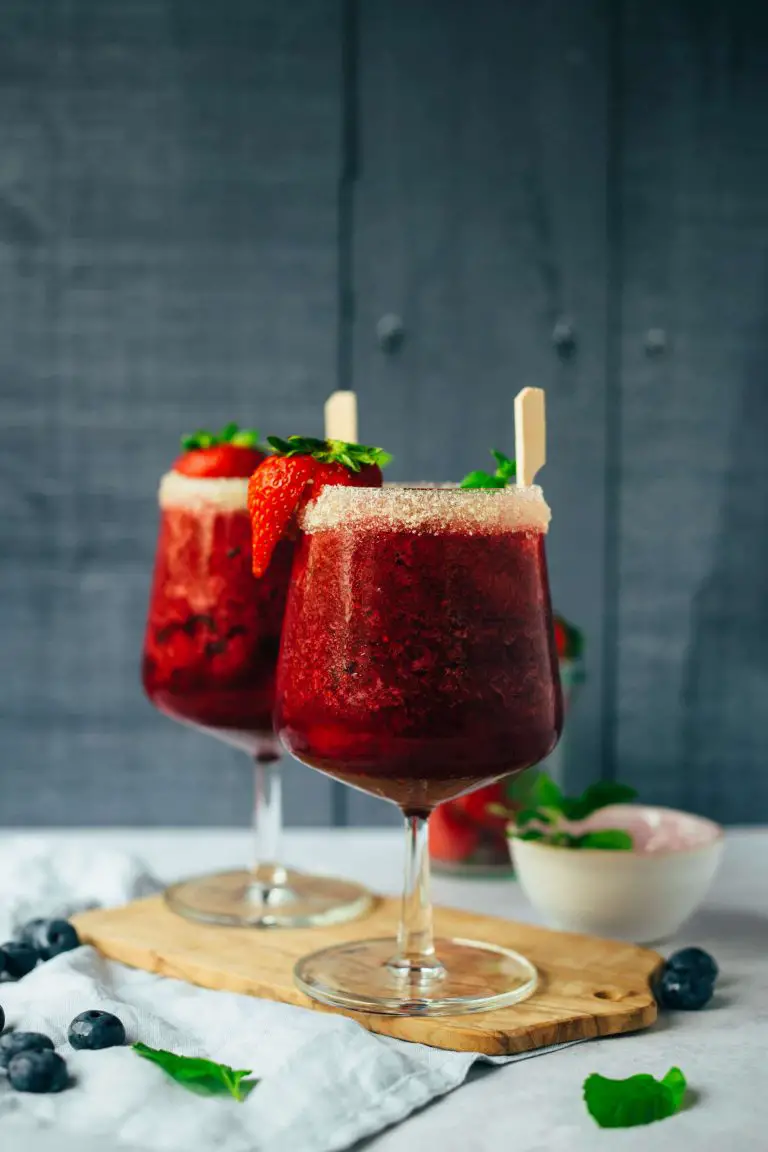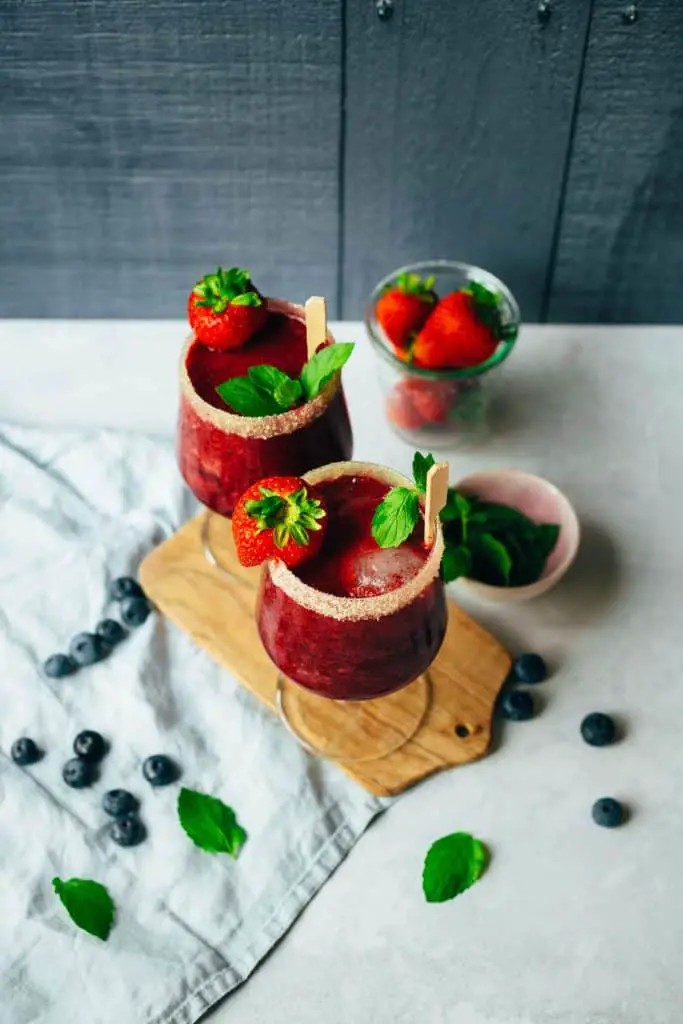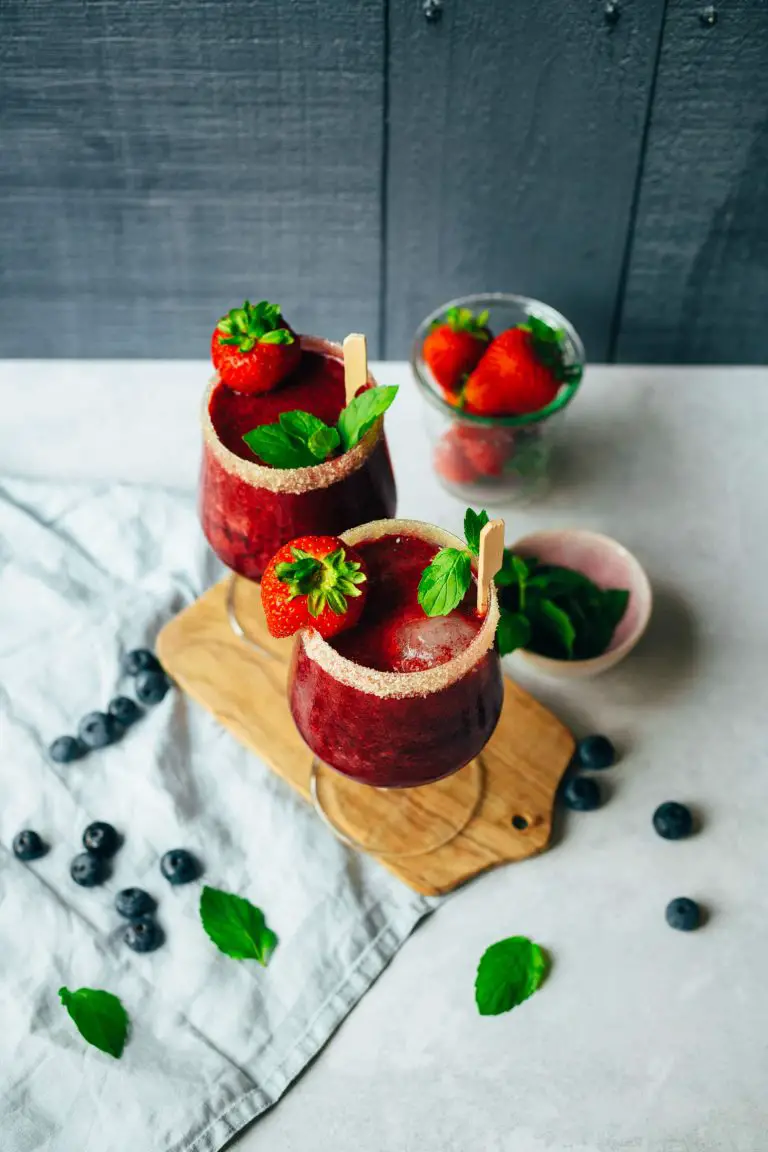 Berries have a very special meaning in nutrition and yet they are so often forgotten. After all, I'm a big fan of Dr. Michael Greger and his Daily Dozen Guidelines, where he recommends consuming ½ cup of fresh or frozen and ¼ cup of dried berries. His nutritional guidelines are based on current science and he even gives an app "Daily Dozen" that you can download for free from the App Store. *unpaid advertising by conviction
What is actually a Slushie ? Slush or slushie refers to a semi-frozen drinking ice that looks a bit like slush in consistency. In conventional slushies you can find a lot of sugar, artificial flavors and colors. However, we make the drink completely without industrial sugar or other Schnick Schnack. Berries, mint, maple syrup, lime juice, water and ice cubes.
Tip: One serving of this slushie covers the recommended amount of berries to be consumed daily, according to Dr. Greger.
How healthy is actually soft fruit?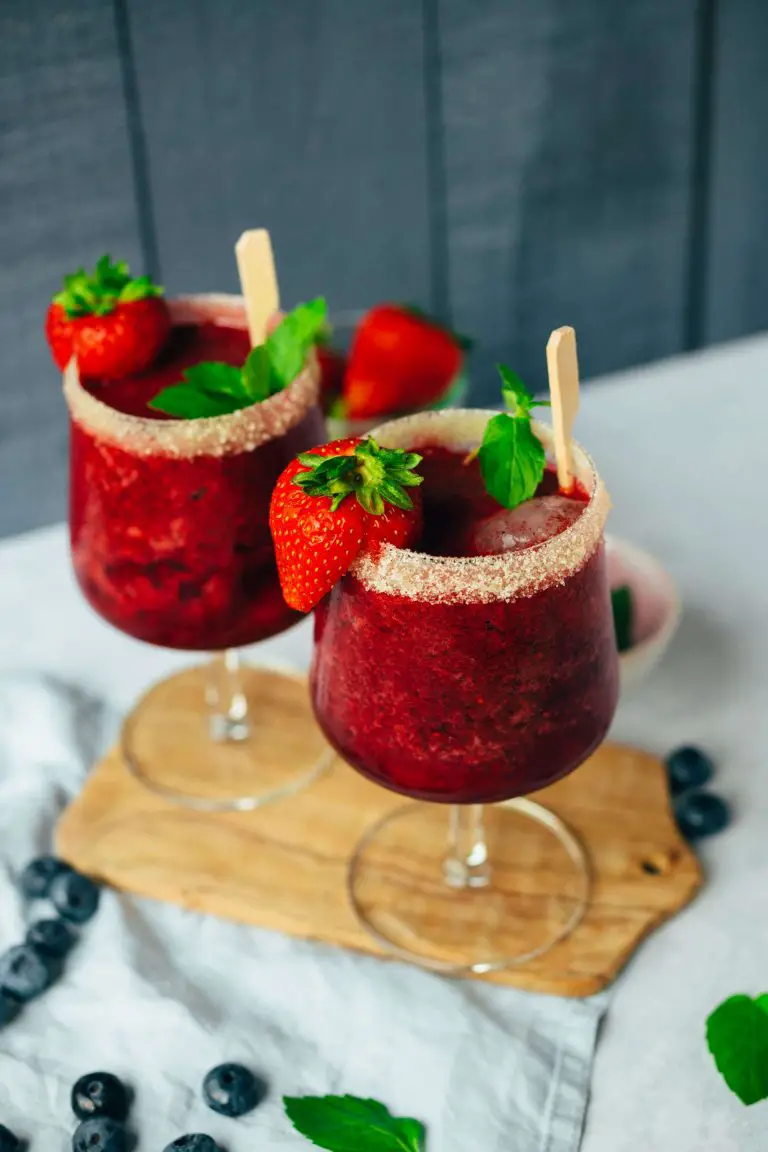 Basically, berries are called the healthiest fruit. Numerous studies have already proven the preventive and even therapeutic effect. This is especially true for neurodegenerative diseases, cancer and cardiovascular diseases. For this reason, experts recommend daily consumption of berries. The antioxidant richness of the berries can be seen especially in the dark color.
TIP: Remember, the darker the berries, the healthier they are.
Below you will find the main varieties of berries and their nutritional characteristics:
ARONIA BEERE is current subject of research. The berry has a high content of phenolic compounds and according to studies is said to be antioxidant, antiproliferative (against the proliferation of cancer cells), antidiabetic, cardioprotective, hepatoprotective, and antimutagenic. Should you come across fresh Arionia berries or Aronia juice here and there, grab it!
EDGEBERRIES are not actually berries at all and are often called "false berries". Strictly speaking, they belong to the group of the collector's nut fruits. They are particularly rich in vitamin C with 55mg per 100g and phytosterols. They also contain tannins, such as ellagic acid, which may have preventive and therapeutic effects on various types of cancer.
CHEAPBERRIES are rich in vitamin E (2.1mg per 100g), iron (0.7mg per 100g) and vitamin C (20mg per 10g). Blueberries belong to the true berries and are rich in polyphenolic compounds and pigments, such as quercetin. Blueberries owe their blue color to the pigment myrtillin, which belongs to the anthocyanins. These are secondary plant substances that have anti-inflammatory and blood-forming effects.
RIMBERRIES belong to the oldest cultivated plants in Germany and were already cultivated in monastery gardens in the Middle Ages. If you go by Prof. Dr. Richards Bélivau's book "Cancer Cells Don't Like Raspberries," you might even eat raspberries to prevent cancer. The berries are rich in vitamins, trace elements, and phytochemicals. They strengthen the body's defenses and immune system.
BROMBEEREN are low in calories and very healthy. I am so happy to have wonderful shrubs in my garden. The dark berries are rich in beta-carotene, B vitamins, vitamin C, E, potassium, calcium. Magnesium, zinc and iron. They also contain valuable flavonoids and antioxidants.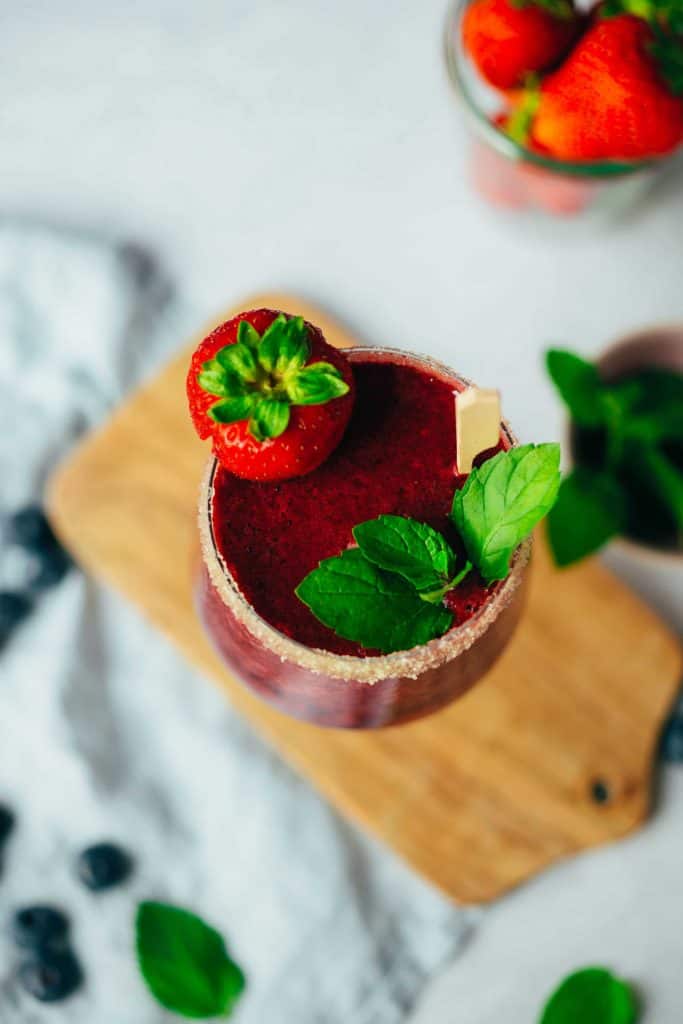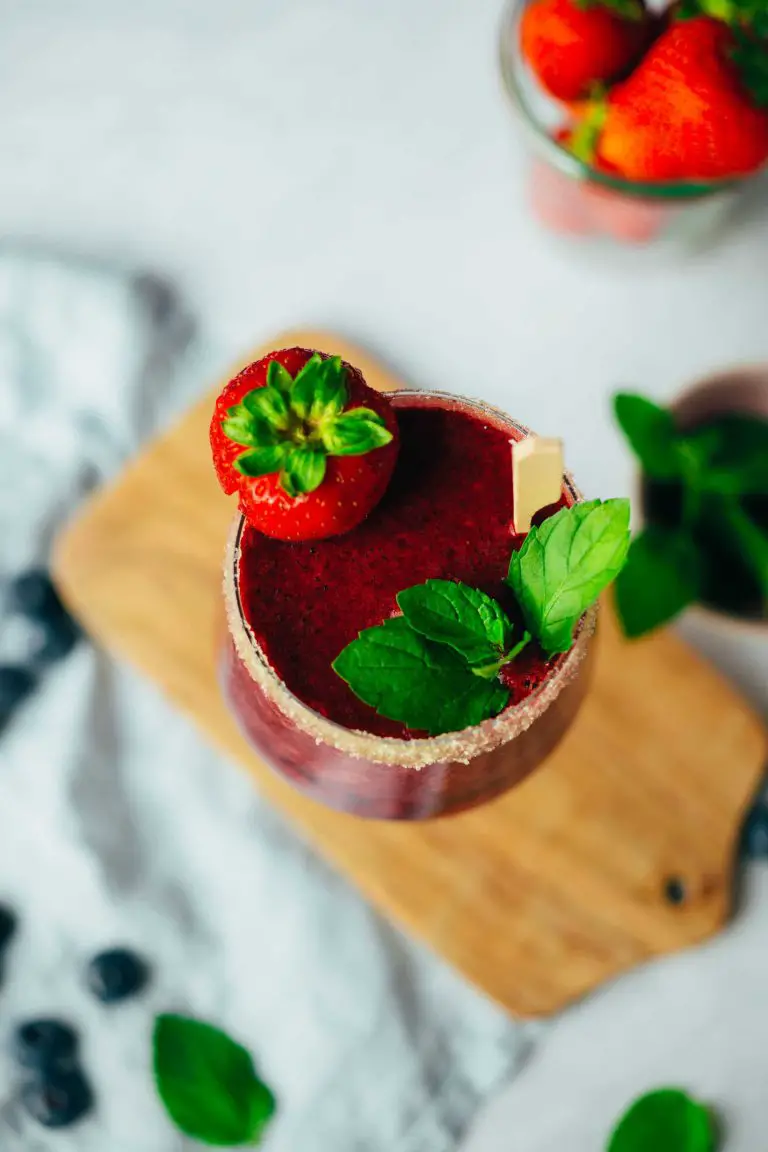 TIP I buy only berries from organic farming, because they have not been treated with pesticides. TheFederal Office of Consumer Protection and Food Safety (BVL) assures that producers are not allowed to exceed the specified pesticide residues. But if you look around in practice. fewer and fewer food inspections are taking place to the detriment of consumers . If money is tight and organic berries are too expensive for you, ask around your area if anyone has berry bushes or if an organic farmer offers strawberries. Just buy in bulk and freeze.
Let's get back to our delicious slushie. The drink is simply wonderful on hot summer days and provides you with numerous vitamins, minerals and secondary plant substances. Beautifully decorated, it can also be perfectly served as a non-alcoholic cocktail.
The refreshing Berren Slushie is:
Refreshing
Extremely healthy
Naturally sweetened
Summery
Cooling
It's berry time! If you love the recipe, I appreciate a review at the very bottom of this page. If you post a picture, then like to use the hashtag #veganevibes.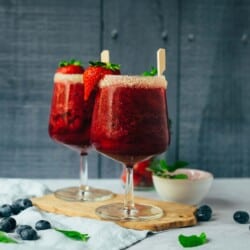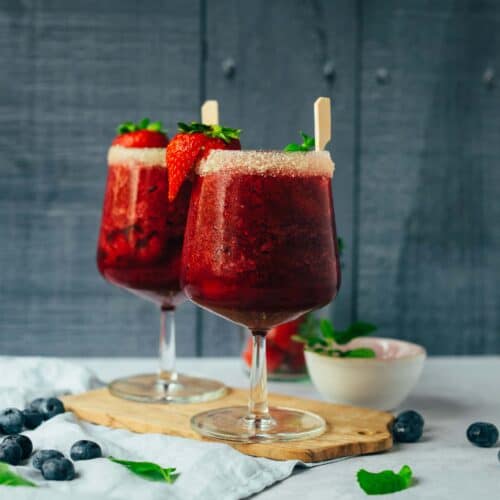 Refreshing berry slushie
Refreshing and very healthy summer drink with healthy berries, lime juice and ice. Perfect as a refreshment in between or beautifully decorated as a non-alcoholic cocktail.
AUTOR: VEGANEVIBES
150

g

mixed berries

frozen or fresh, if you use fresh berries, then I recommend not to use water, but more ice

45

ml

Lime juice

alternatively lemon juice

30

ml

maple syrup

Alternatively, dates, date sweetener or other sweetener of choice, more (or less) sweetener may be needed depending on the acidity of the berries

4-6

Mint leaves

or 1-2 drops of mint essential oil

250

g

Ice cube

125

ml

Water

If you like it sweeter, use a natural apple juice, pineapple juice or a ¼ – ½ watermelon

Raw cane sugar for decoration
TOPPING:
Fresh mint leaves

Fresh berries
Anleitung 
If the slushie is to be served as a cocktail, place some raw cane sugar in a bowl, wet the rims of the glass and press into the sugar.

Place berries, lime juice, maple syrup and mint in a high-powered blender and blend on high speed until smooth.

150 g mixed berries,

45 ml Lime juice,

30 ml maple syrup,

4-6 Mint leaves,

125 ml Water

NOTE: To make the berry puree even finer, pour through a hair sieve once! Some people don't like the pithy residue of berries because it can scratch the throat. So once through the sieve and enjoy!

Rinse the blender jug once briefly and process the ice in it to crushed ice. Immediately pour into two cocktail glasses.

Pour berry puree over, decorate as desired and enjoy!

Raw cane sugar for decoration,

Fresh mint leaves,

Fresh berries
Nährwertangaben
Serving:
1
Cup (glass)
Calories:
86
kcal
Carbohydrates:
21
g
Protein:
1
g
Fat:
1
g
Saturated Fat:
1
g
Sodium:
13
mg
Potassium:
101
mg
Fiber:
2
g
Sugar:
16
g
Vitamin A:
119
IU
Vitamin C:
9
mg
Calcium:
22
mg
Iron:
1
mg