Simple rhubarb cake, but please with Cream ?! It's really funny, because some people love and others hate Cream . I am definitely one of the lovers, I must get that from my dad. On Thursday it's that time again, Father's Day is coming up and I'm already looking forward to a little Coffee klatsch with my dad. He loves all Fruit cake n, Cakes , pastries with Poppy seed , cinnamon and whatever else is delicious. On top must always be a big blob Cream . I am now very happy that there are such great cream alternatives on the market. In any case, I'm excited to hear what he has to say about this one. Cake says, because my dad is actually my biggest critic. It could be a little sweeter, there is something wrong with the consistency, you could still make it fluffier. I am curious and will gladly report to you.
Simple rhubarb cake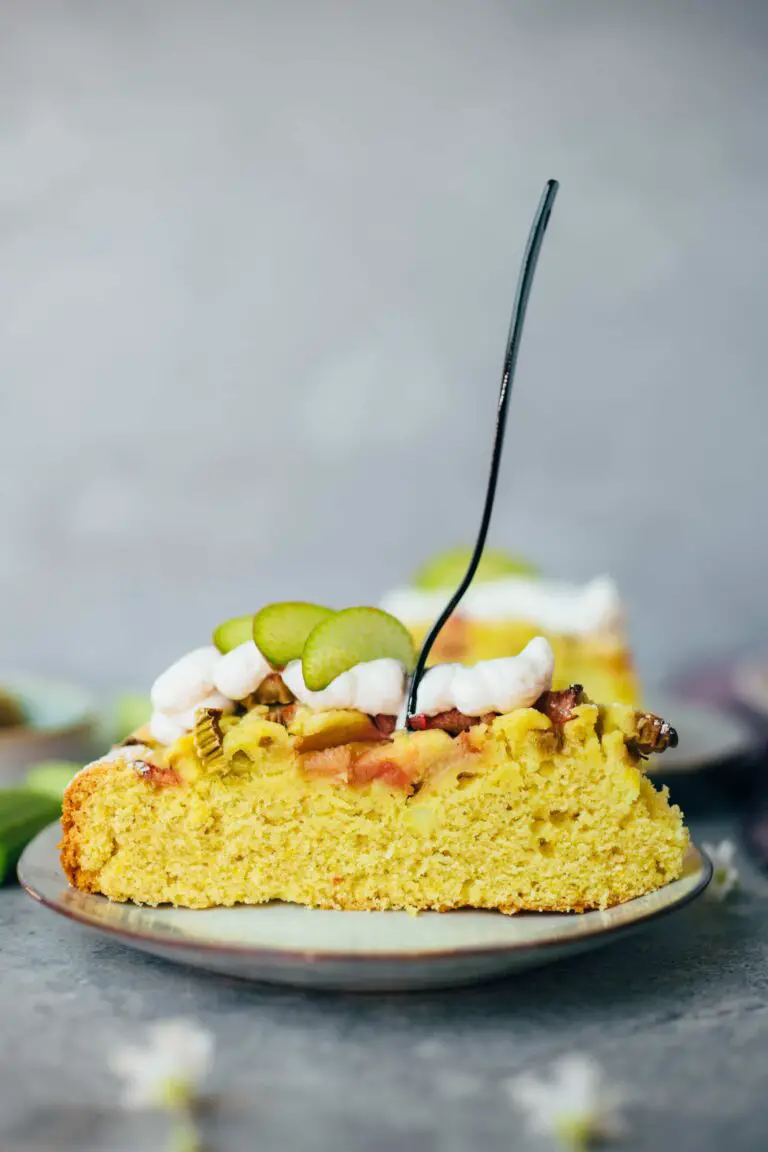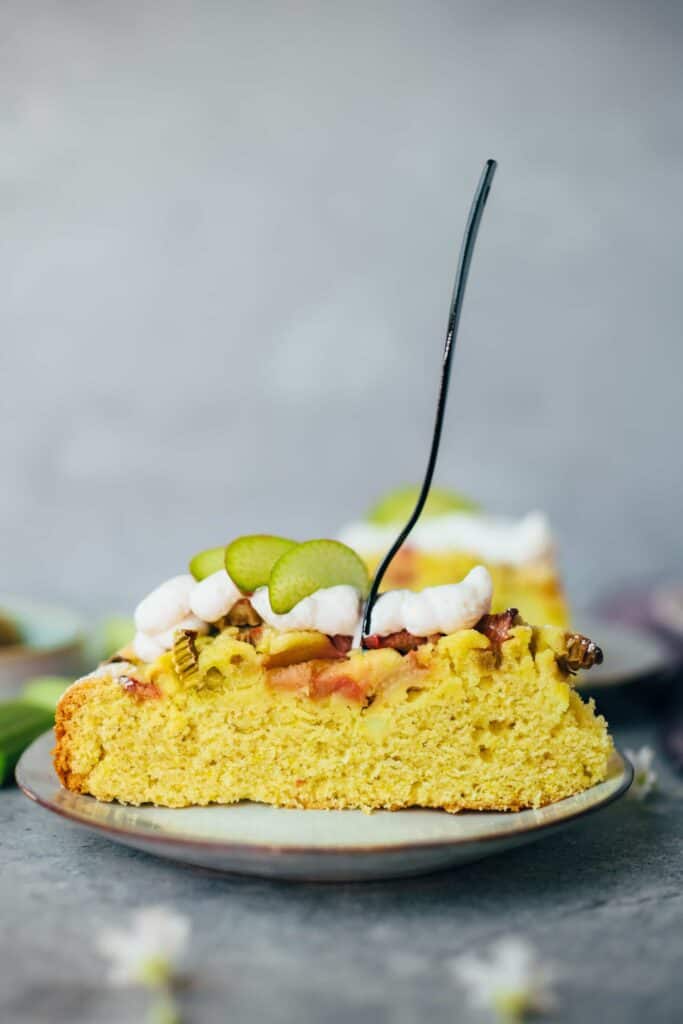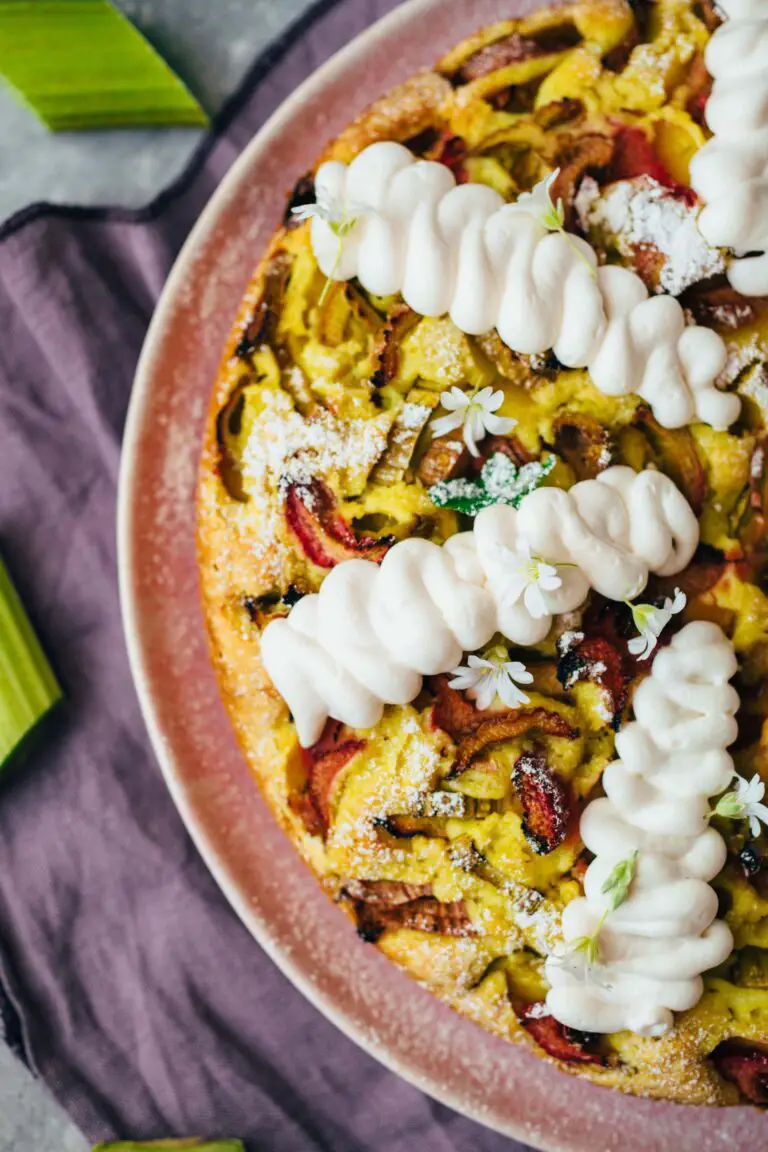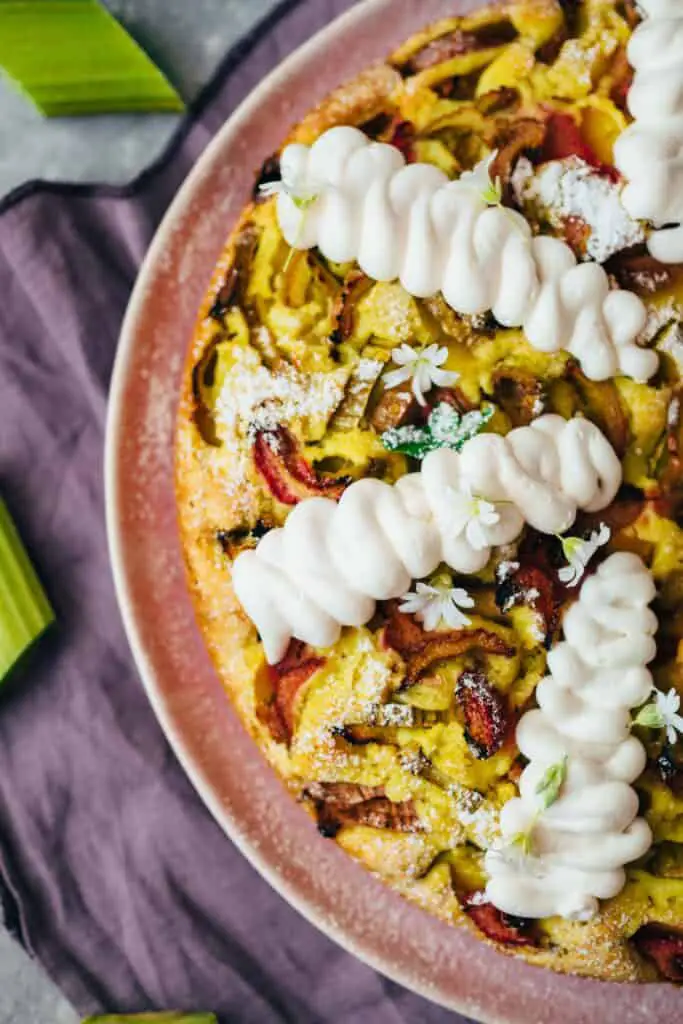 The bottom is once again simply knitted. Flour, sugar, baking powder, starch, bourbon vanilla, turmeric, margarine, yogurt or cottage cheese and Vegetable milk . This cake doesn't come completely without fat, but at least I reduced it. Work into a smooth dough and off into a springform pan. Then comes also only the rhubarb on the dough, which I have previously cut into pieces. Press a little firmly and then off into the oven.
TIP: If you want to bake the dough gluten-free, simply add 2 teaspoons of locust bean gum to the gluten-free flour mixture .
How healthy is rhubarb actually?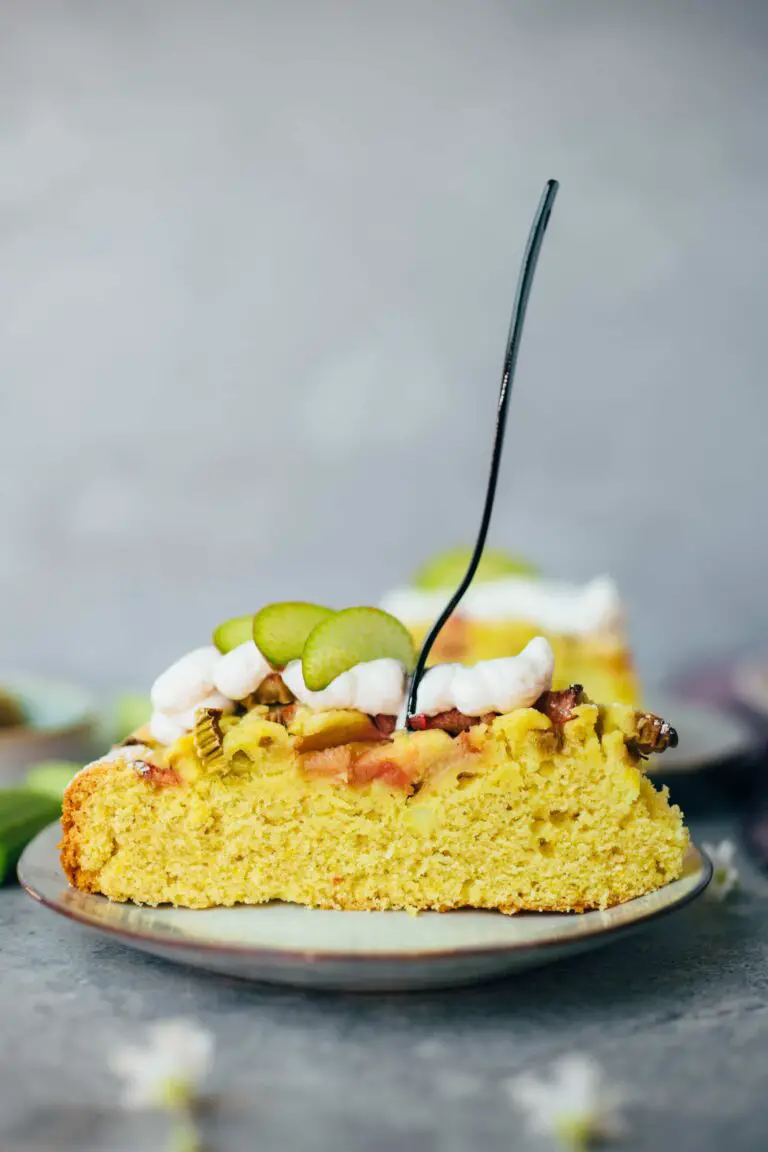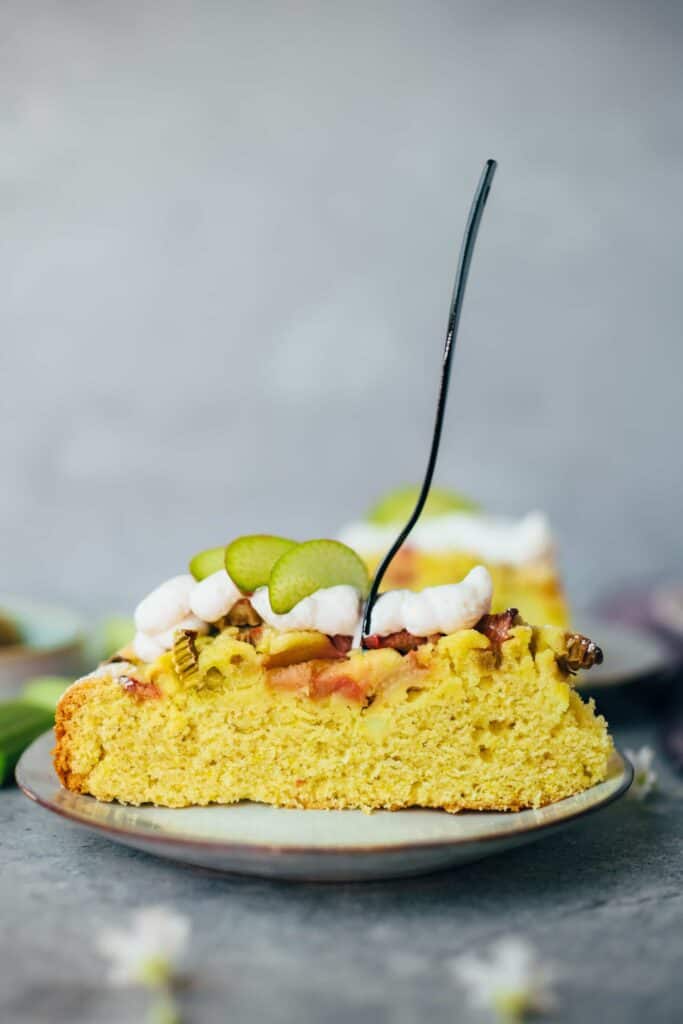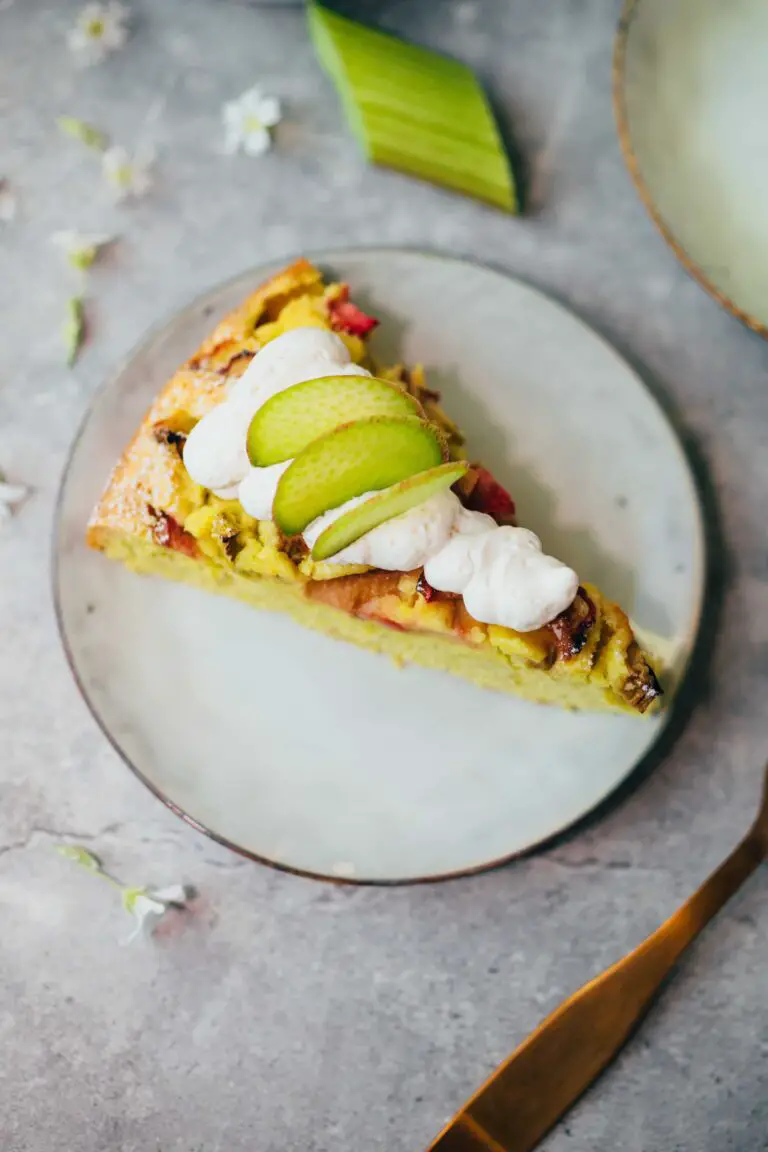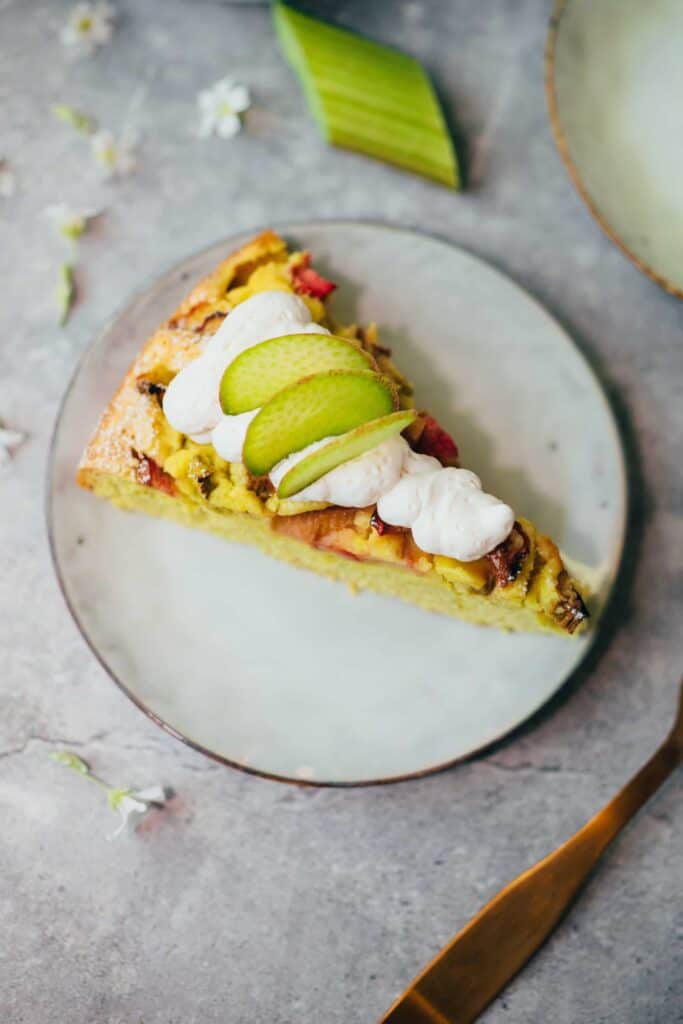 I must confess that rhubarb is one of the species Vegetables that I have not yet used so often in the kitchen. Maybe it's because I always see the sticks lying around in the organic supermarket and I've never come up with anything great to do with them. Did you know that rhubarb is a vegetable and is often mistakenly called a fruit? The red-green sticks don't necessarily look like Apples or pears.
The taste of rhubarb is rather sour and less fruity, the season begins in early April and ends in June.
TIP: The greener the stalks, the more sour the rhubarb tastes; the redder, the "less sour".
Let's get down to the real issue, which is whether rhubarb is actually healthy and why:
Very low in calories with 14kcal per 100g
High content of calcium, phorsphor and vitamin C
Particularly high content of potassium (270mg per 100g), can positively influence the acid-base balance and contributes to the maintenance of normal blood pressure
Rich in antioxidants
CONCLUSION: Rhubarb is a sour treat, however, it brings a wonderful and most importantly healthy touch to any dish. I deliberately do not spare sugar in this cake and with good reason. Try a little piece of rhubarb and you'll know what I'm talking about.
Not in the mood for rhubarb today after all? Then I make a Strawberry cake with vanilla pudding, Coffee cake with cinnamon sugar or juicy Banana cake suggested.
Are you ready for these incredibly delicious rhubarb pies? He is:
Quickly made
creamy
juicy
Sweet and sour
Pleasantly sweet
Let's go with these incredibly delicious vegan Cake I wish you a lot of fun with the Nachbacken and of course about a rating at the bottom of this page. If you post a picture, use the hashtag #veganevibes.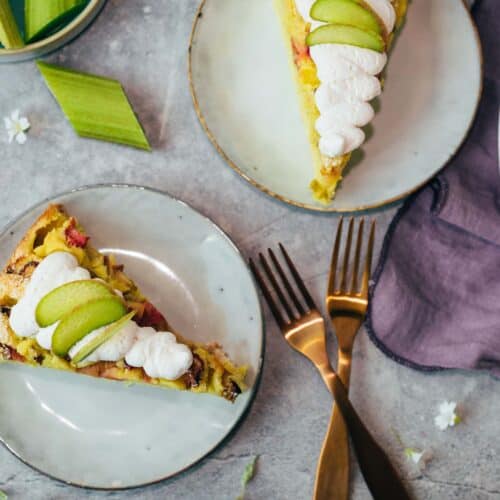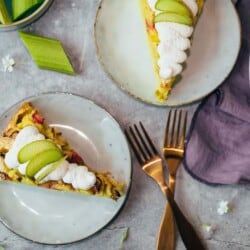 Juicy rhubarb cake
Vegan, sweet and sour, juicy cake with fine rhubarb, gluten-free on request. Refined with powdered sugar and vegetable cream perfect for the pre-summer coffee party.
AUTOR: VEGANEVIBES
FOR THE DOUGH:
300

g

Wheat flour

Spelt flour, or gluten-free flour mix (for gluten-free, add 2 tsp. carob bean gum).

250

g

Raw cane sugar

or other sweetener of choice

40

g

Cornstarch

3

tbspn

Baking powder

¼

tbspn

Turmeric

¼

tbspn

Bourbon vanilla

¼

tbspn

Salt

75

g

Margarine

alternatively baking oil or another, tasteless oil

75

g

Vegetable yogurt or cottage cheese

alternatively more oil or margarine

175

ml

Plant milk

I use a soy vanilla milk

450

g

Rhubarb

washed and cut into pieces
TOPPINGS (optional):
Anleitung 
Preheat oven to 180 convection. Grease springform pan and (optionally) line with baking paper.

FOR THE DYING Put flour, raw cane sugar, cornstarch, baking powder, turmeric, bourbon vanilla, salt, margarine, vegetable yogurt and vegetable milk in food processor and process until smooth. The consistency should be as in the video, if too dry add more milk, if too wet add more grind.

300 g Wheat flour,

250 g Raw cane sugar,

40 g Cornstarch,

3 tbspn Baking powder,

¼ tbspn Turmeric,

¼ tbspn Bourbon vanilla,

¼ tbspn Salt,

75 g Margarine,

75 g Vegetable yogurt or cottage cheese,

175 ml Plant milk

Alternatively, process everything in a baking bowl with a hand mixer.

Pour into the springform pan, smooth and rhubarb pieces on top of the dough. Press down with your hands and place in the oven.

Bake for 60 minutes, check for doneness and remove from oven.

Cool completely, cut into pieces and garnish with (optional) cream and powdered sugar and serve. enjoy!

Garnish with cream if desired, cut into pieces and enjoy!

Vegetable cream to taste,

Powdered sugar,

Flaked almonds

Best fresh, keeps up to 3 days covered in the refrigerator.
Nährwertangaben
Serving:
1
Piece
Calories:
238
kcal
Carbohydrates:
47
g
Protein:
3
g
Fat:
6
g
Saturated Fat:
1
g
Sodium:
77
mg
Potassium:
174
mg
Fiber:
2
g
Sugar:
23
g
Vitamin A:
292
IU
Vitamin C:
4
mg
Calcium:
78
mg
Iron:
1
mg