Strawberry cake with Vanilla pudding and Cream . Sounds delicious, doesn't it? I just remembered the day before yesterday when we destroyed the last pieces of this cake. My best friend was there (he's allowed to do that again now) and we really feasted. First we had a vegan grill plate with eggplant fillets , green asparagus , Potato salad and a few other vegan specialties. As if that wasn't enough, we had a delicious dessert afterwards and it was this great Cake . The first piece was eaten quickly and then quickly sparked a small dispute, about the last piece. I gave it, as befits a good Host I gave it to my BFF. The sounds he made while devouring the last, monstrous piece, I can't even reproduce that well. But it sounded like "Boah", "Hmmmm", "OMG", … ok, I'll spare you the rest.
Strawberry cake with vanilla pudding, what else?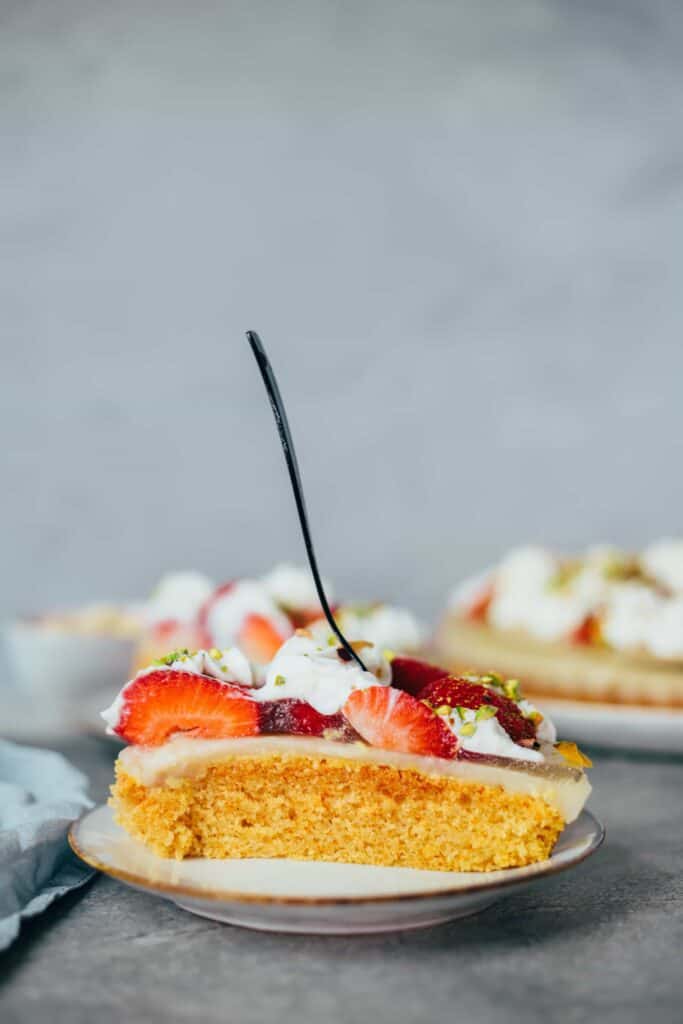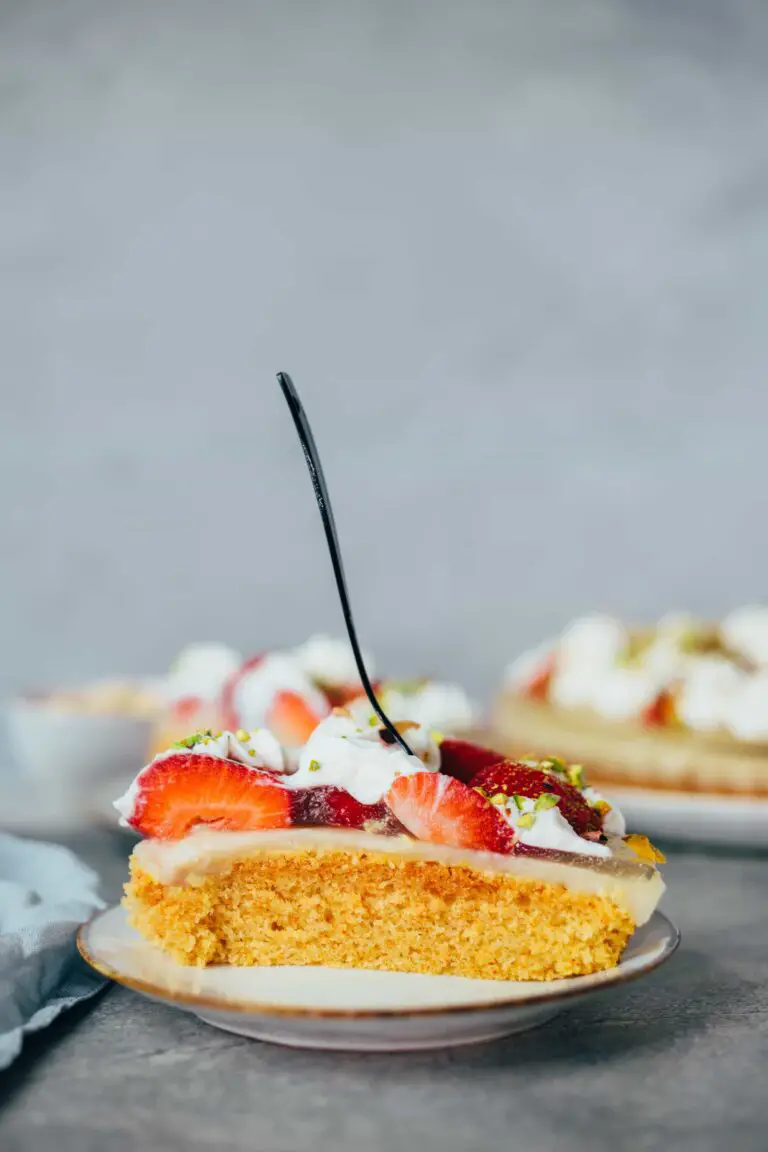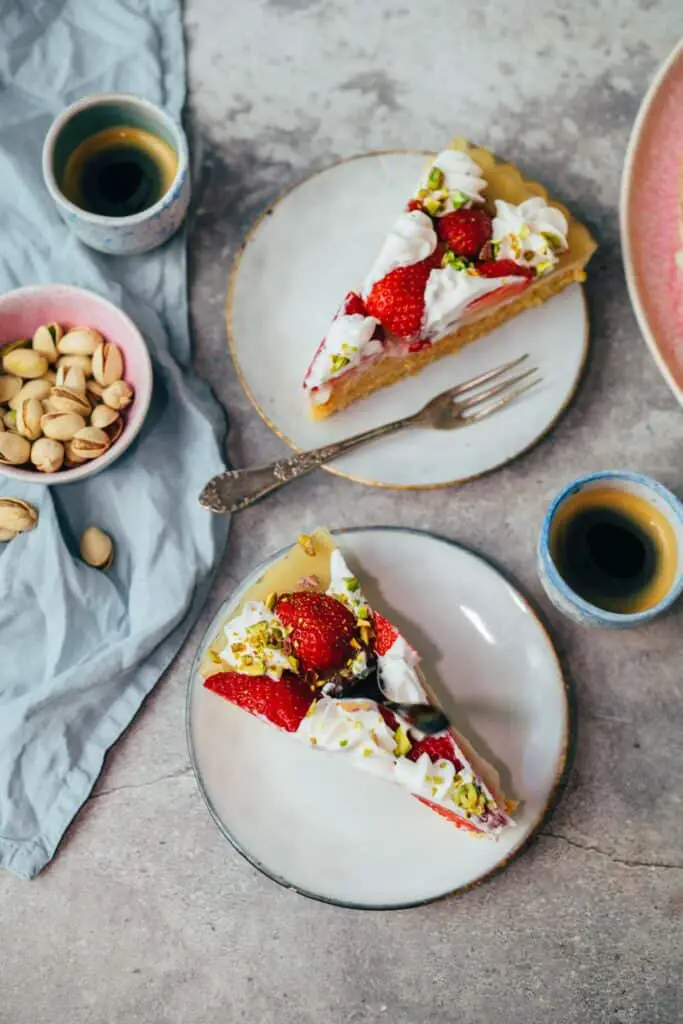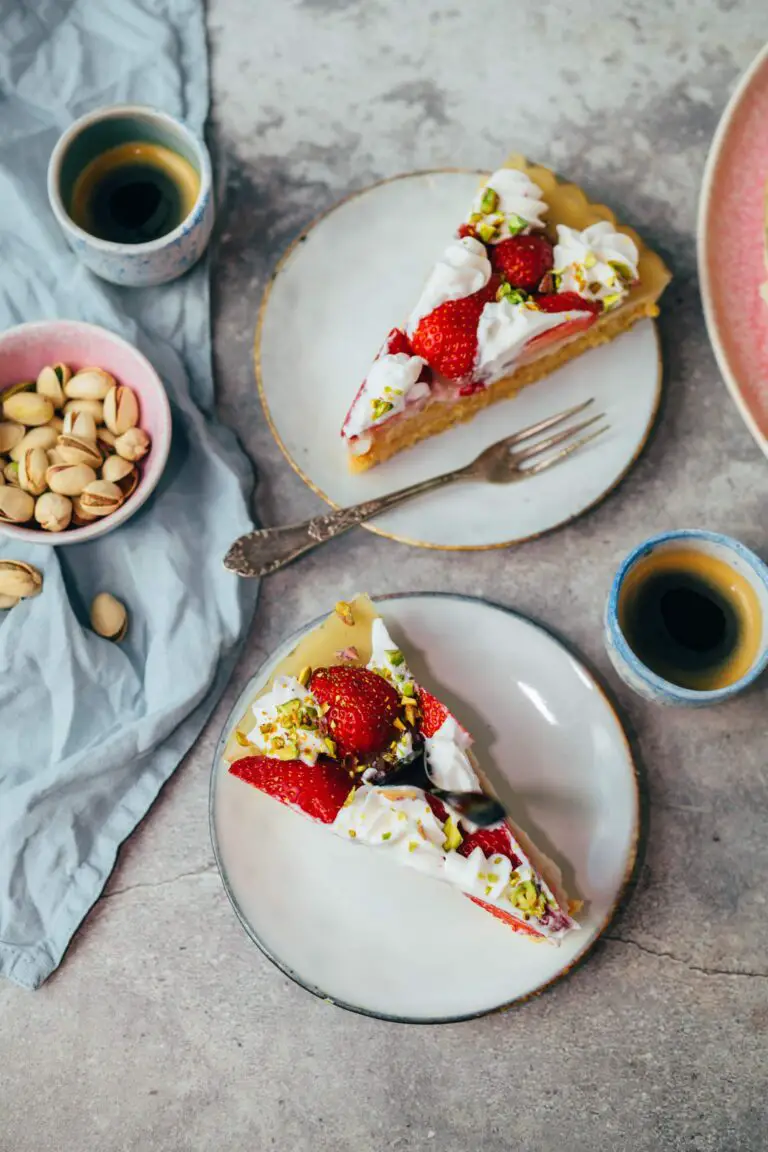 How could I live so long without this Cake live? You can find the basis for this in the last blog post . It's funny because as a food blogger, I don't even have a fruitcake pan at home. I just bake the base in my tart pan, which I find extremely convenient. why? Because the bottom is removable and the finished cake is really easy to transport and lift out of the mold.
On top of the Sponge cake comes a layer of vanilla pudding or clay pudding. I have tested both and find all two variants wonderful. You can't get clay pudding on every corner, but if you have the opportunity, be sure to try it. The flavor is rather sweet, floral and reminiscent of a mixture of vanilla, caramel and almonds. The Pudding you can always make yourself, but then the recipe should be perfect. Or do you feel like having half the filling run off the bottom of your pie? I play it safe and add a quarter teaspoon of agar agar powder. Then the pudding becomes a tad firmer and stays where it should be.
TIP: I boil the pudding with a ¼ teaspoon of agar agar powder, then it becomes even a tad firmer.
What actually is Agar Agar?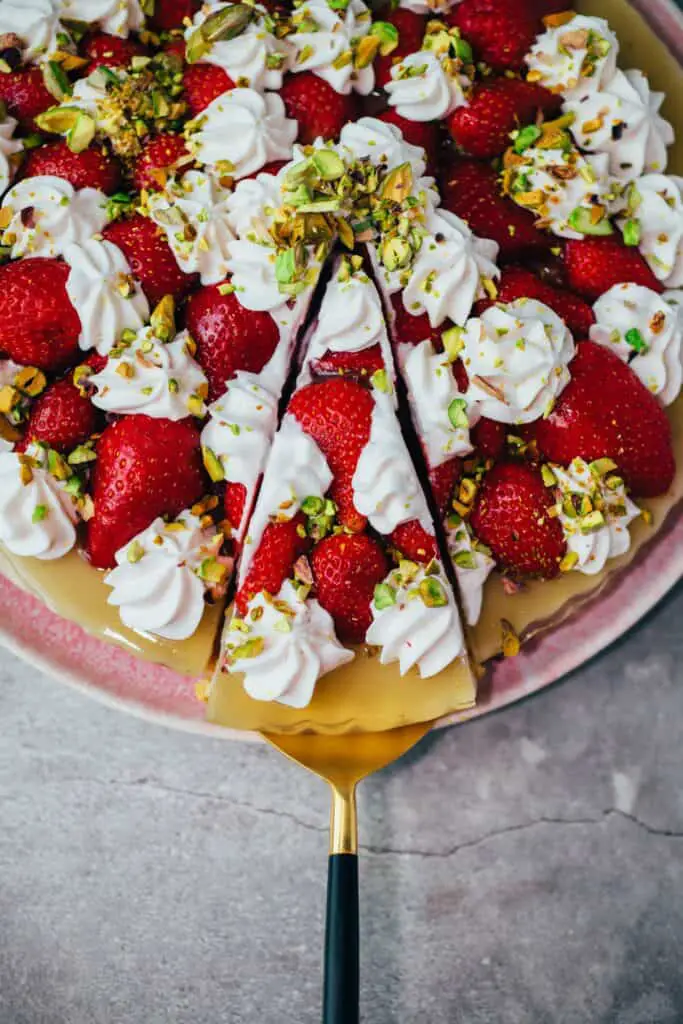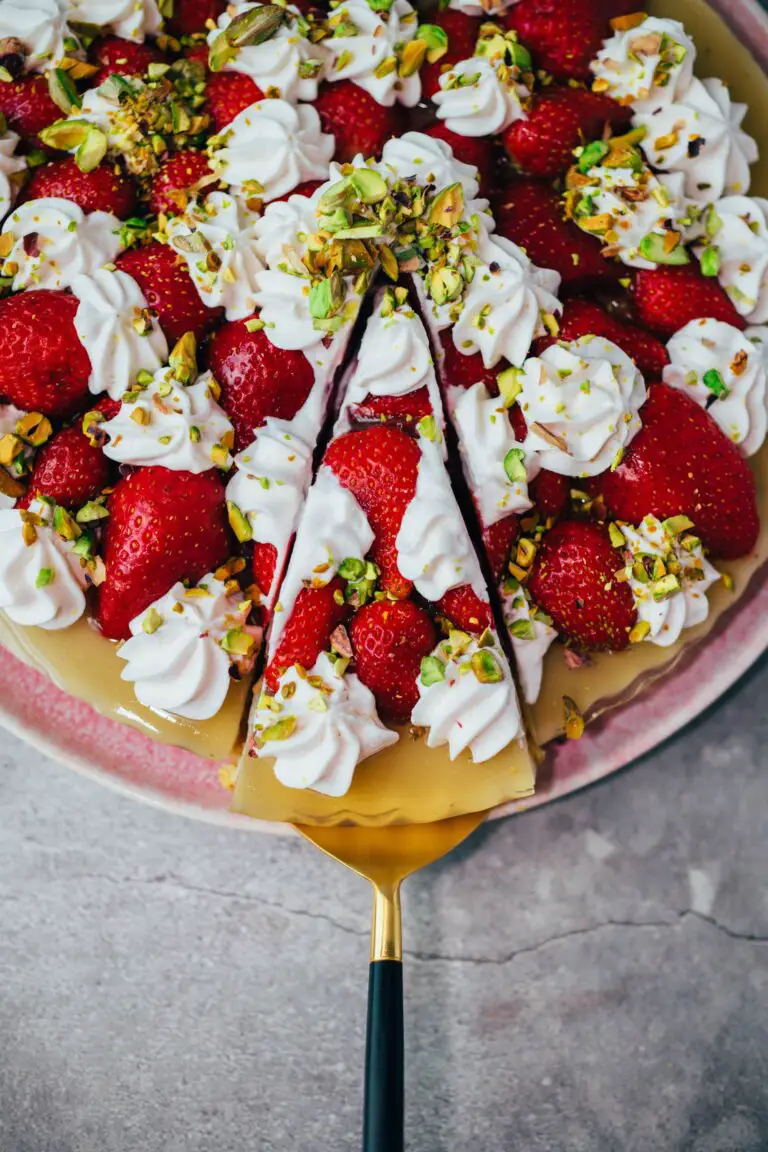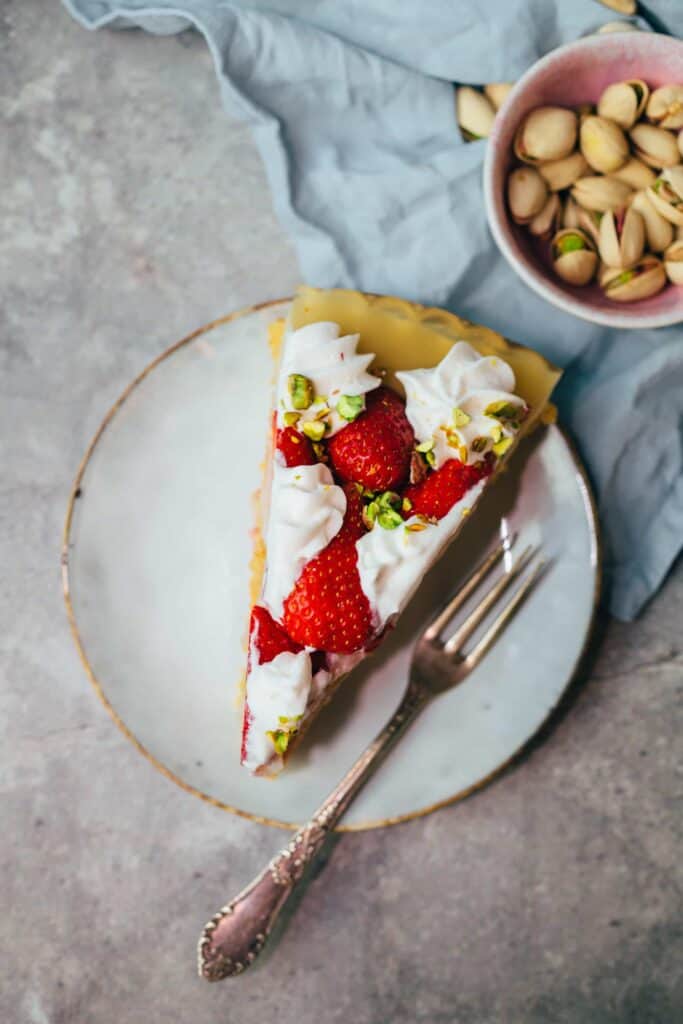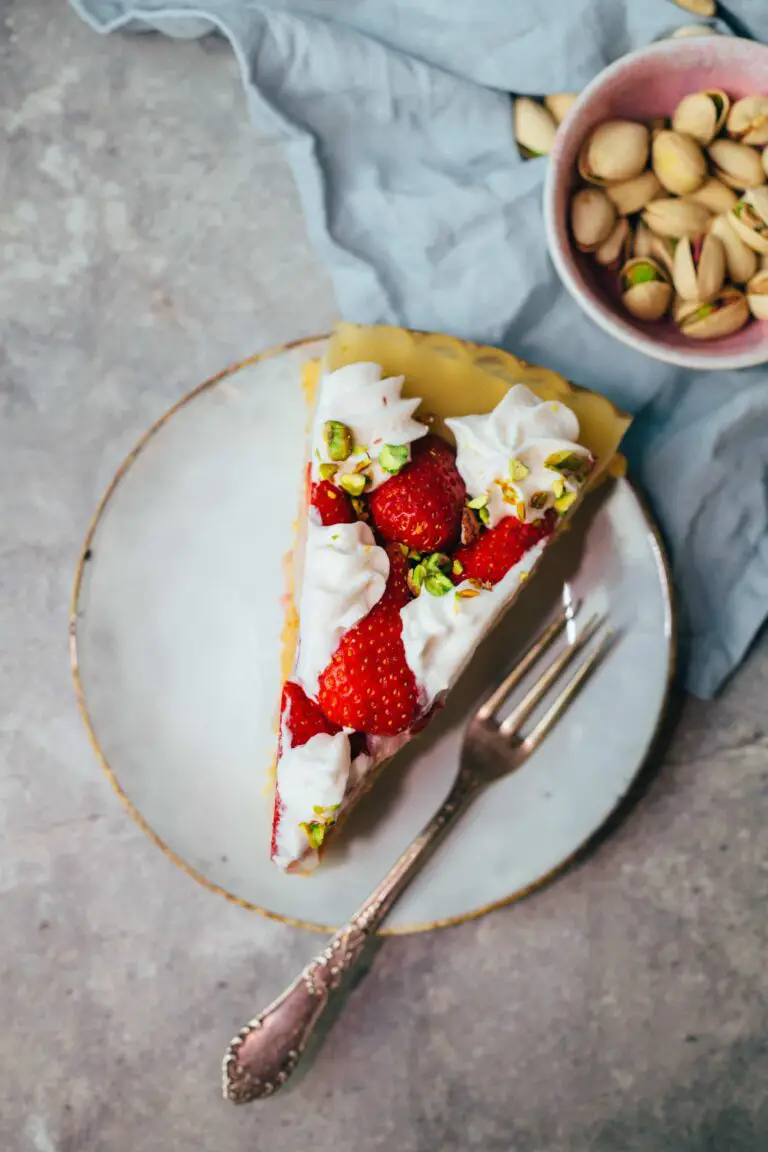 Let's move on to the final step, our frosting that holds the fruit together on the cake. Who thinks that "normal" gelatine is always vegetable I must unfortunately disappoint at this point. Gelatine, as we know it from the trade, is obtained from Bones, cartilage and connective tissue from cattle and pigs. extracted. I'll just leave it up to you at this point whether you think that's good or gross. If you already know me a little, then you know what I think about it.
AgarAgar on the other hand, are carbohydrates located in the cell walls of red and blue-green algae. It is obtained in a gentle way from the dried seaweed, dried and processed into powder. In Japan, the natural gelling agent has had an important place in the kitchen since the 17th century.
Here are a few more important tips and tricks when using gelatin:
Read the instructions on the packaging from the manufacturer very carefully and be sure to dose very precisely. Agar agar does not equal gelatin and too much can quickly make your cake frosting hard as a block
The gelling power is many times stronger than gelatin (up to 10x)
Agar Agar must be boiled up otherwise it cannot develop its effect
TIP: Here's my simple tip on how to test if you've dosed correctly. Place a bowl in the freezer and prepare your cake frosting. Take the ice-cold bowl out of the freezer and put a spoonful of the hot agar-agar measures on the plate. Once it cools to 42 degrees, see if it gets firm enough. Otherwise, just add a little more agar agar to the liquid.
CONCLUSION: Less is more, rather start with less powder and then increase. Once there is too much in the liquid, it cannot be corrected. If the whole thing is too much work for you, you can find ready-made vegan cake frostings in many organic and online stores.
Not in the mood for cake today after all? If you Strawberries have strawberries in the fridge, I recommend my Salad with strawberries and asparagus , Strawberry ice cream or my quick Strawberry tartlet
Are you ready for these incredibly delicious strawberry pies with vanilla pudding? He is:
Quickly made
creamy
Vanilla
fruity
Pleasantly sweet
Let's go with these incredibly delicious vegan Cake I wish you a lot of fun with the Nachbacken and of course about a rating at the bottom of this page. If you post a picture, use the hashtag #veganevibes.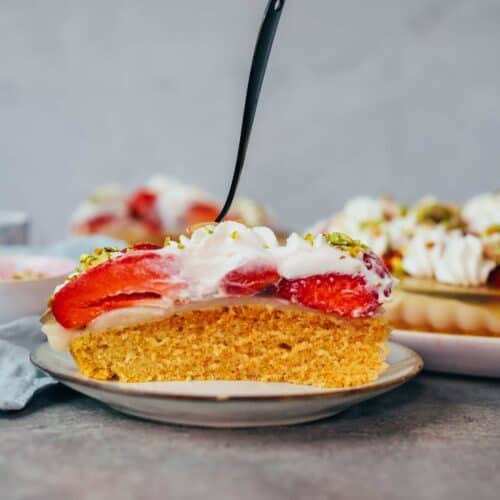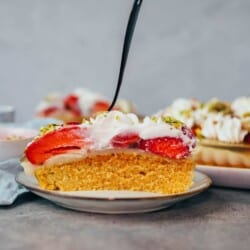 Strawberry cake with vanilla pudding
Vegan, fruity, creamy cake made from a fine sponge cake base, topped with vanilla pudding, fresh strawberries, homemade cake icing and whipped cream.
AUTOR: VEGANEVIBES
Anleitung 
1 Piece Make sponge cake base according to instructions or buy a ready-made sponge cake base

Prepare vanilla pudding according to package instructions, optionally add ¼ cup agar agar and pour directly hot from the pot onto the sponge cake base.

1 Pack Make vanilla pudding according to package instructions,

¼ tbspn Agar agar powder

Directly spread the strawberry halves on top as desired.

250 g fresh organic strawberries

FOR THE TORT CASTING, bring the water to the boil with the sugar and stir until the sugar has dissolved. Add AgarAgar and cook for another 3-4 minutes. NOTE: AgarAgar must boil, otherwise it will not develop its effect.

120 ml Water,

50 g Raw cane sugar,

1 tbspn AgarAgar

Pour finished AgarAgar cake glaze over strawberries and let set in refrigerator for one hour.

Garnish with cream if desired, cut into pieces and enjoy!

Best fresh, keeps up to 3 days covered in the refrigerator.
Notizen
*The product I used for the clay pudding alternative: https://amzn.to/3fxQbW3
Nährwertangaben
Serving:
1
Piece
Calories:
190
kcal
Carbohydrates:
64
g
Protein:
5
g
Fat:
11
g
Saturated Fat:
2
g
Sodium:
1
mg
Potassium:
44
mg
Fiber:
1
g
Sugar:
18
g
Vitamin C:
12
mg
Calcium:
3
mg
Iron:
2
mg