Gluten-free Apple pie , which is completely without oil? Perhaps one or the other thinks now that this Cake surely can only taste like cardboard. I can already assure you at this point that it is not at all like that. It does taste a little different because Buckwheat has a slightly more intense flavor. However, it's just delicious in a different way, like drinking your cappuccino for the first time with soy milk instead of cow's milk. I remember that my first coffee without "real" milk did not taste good at all. Then I just switched and now I can't stand the taste of cow's milk. Man is simply a "creature of habit" in the truest sense of the word.
Gluten-free, oil-free apple pie, now really?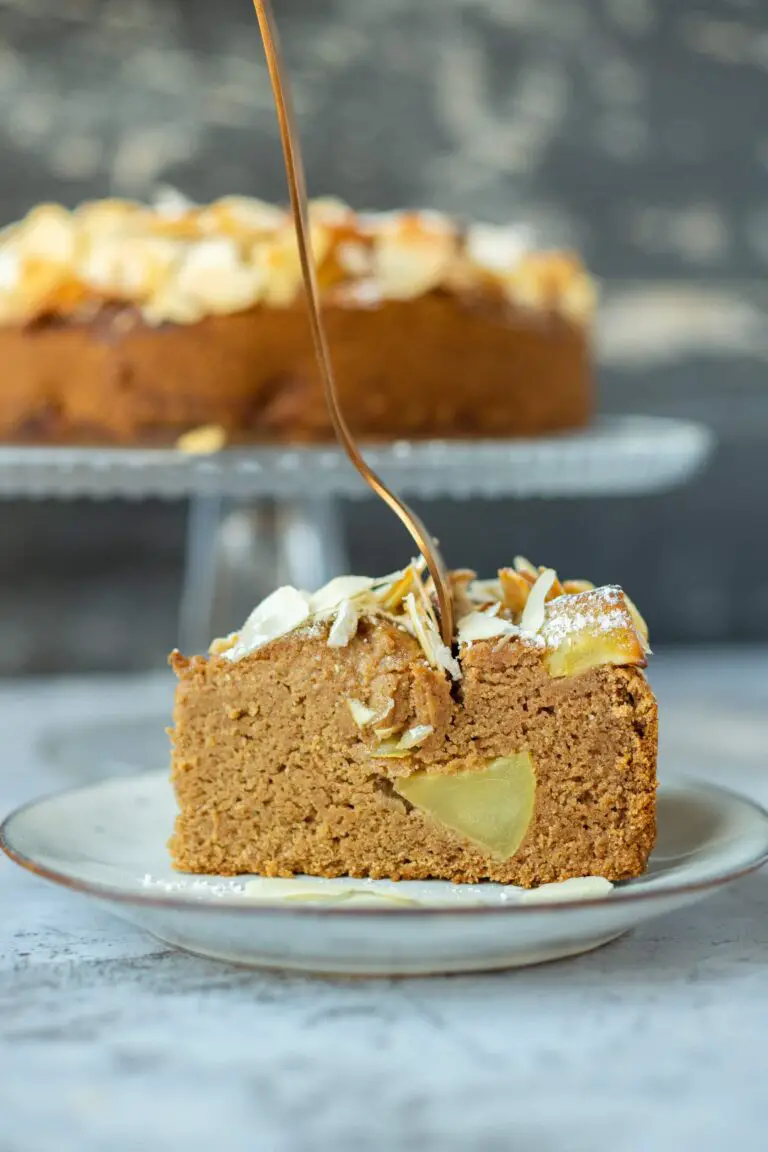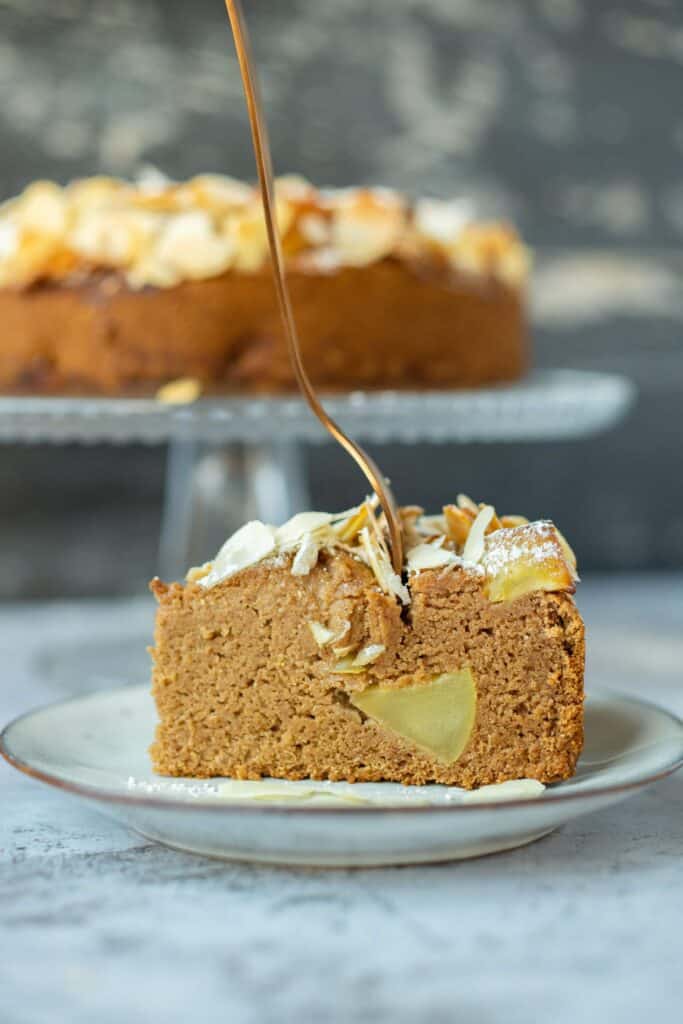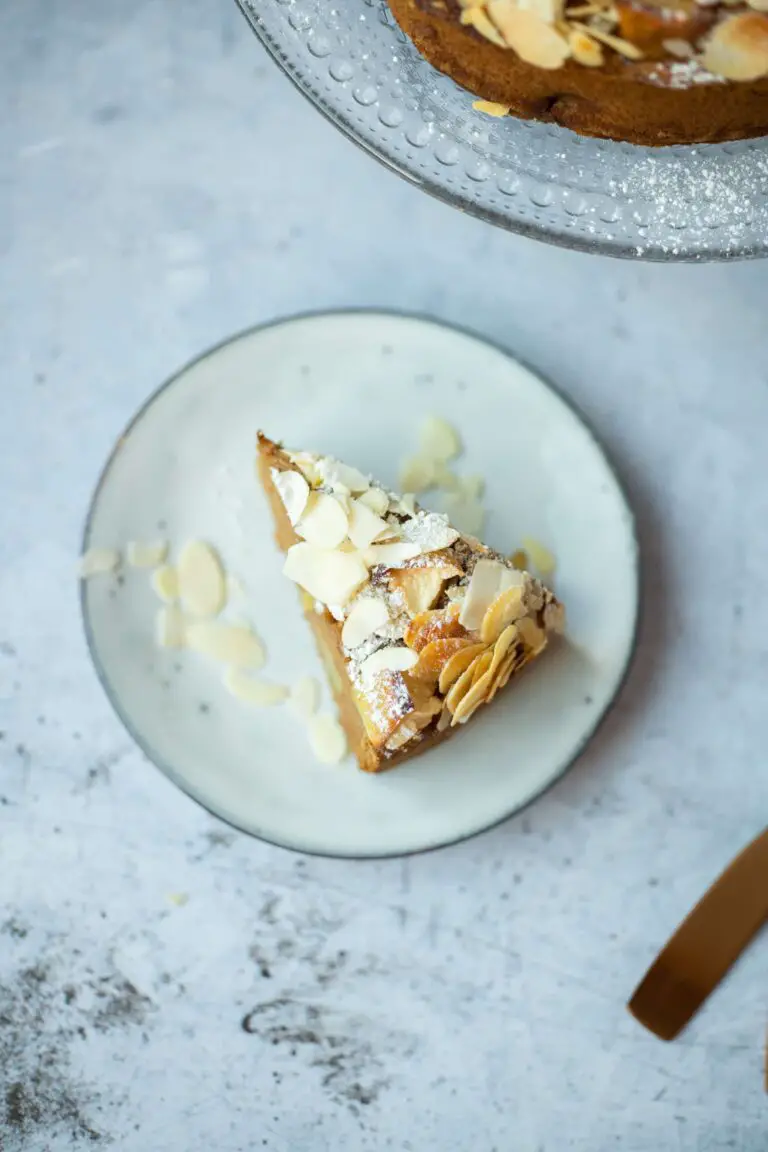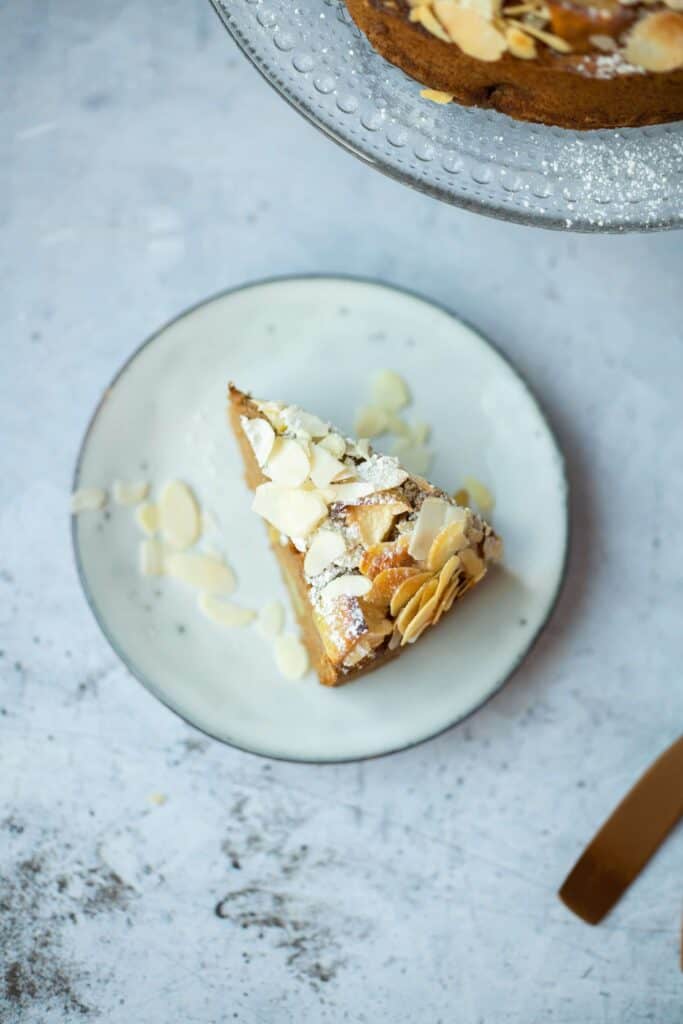 Perhaps you are now asking yourself whether I personally live very strict gluten-free live? No, I don't do that at all. When it comes to the question of whether gluten is yes or no, opinions are divided in the scene. Some say it's the worst thing you can do to yourself and others are of the complete opposite opinion. However, I am not talking about just any people here, but about specialists, doctors and renowned nutritionists. I follow that yes as a prospective vegan nutritionist very intensively and at this point I can only give you my personal opinion.
How healthy is gluten, actually?
Here it makes sense to first understand what gluten actually is. It is an adhesive protein that is present to a greater or lesser extent in various cereals. Wheat, spelt and rye, for example, contain gluten, Amaranth , Quinoa , Millet or Buckwheat not. A strict renunciation of gluten is absolutely necessary, if you suffer from celiac disease (gluten allergy). . However, many people now suffer from a gentler form of allergy called a Gluten intolerance . You can test this for yourself, how you feel after eating wheat or other meals containing gluten. In the case of flatulence, skin rashes, headaches or other diffuse symptoms, it makes sense to eat a gluten-free diet for a while to see if the symptoms decrease. The more complete the better. This is exactly why I like to use my gluten free flour blend with a high proportion of whole buckwheat flour, rice flour and only a small amount of starch.
Personally I suffer from no intolerance to gluten but I like to bake gluten-free in between. why? Because I like to incorporate as many different, healthy foods as possible into my diet and just like to experiment.
Bake, bake gluten free apple pie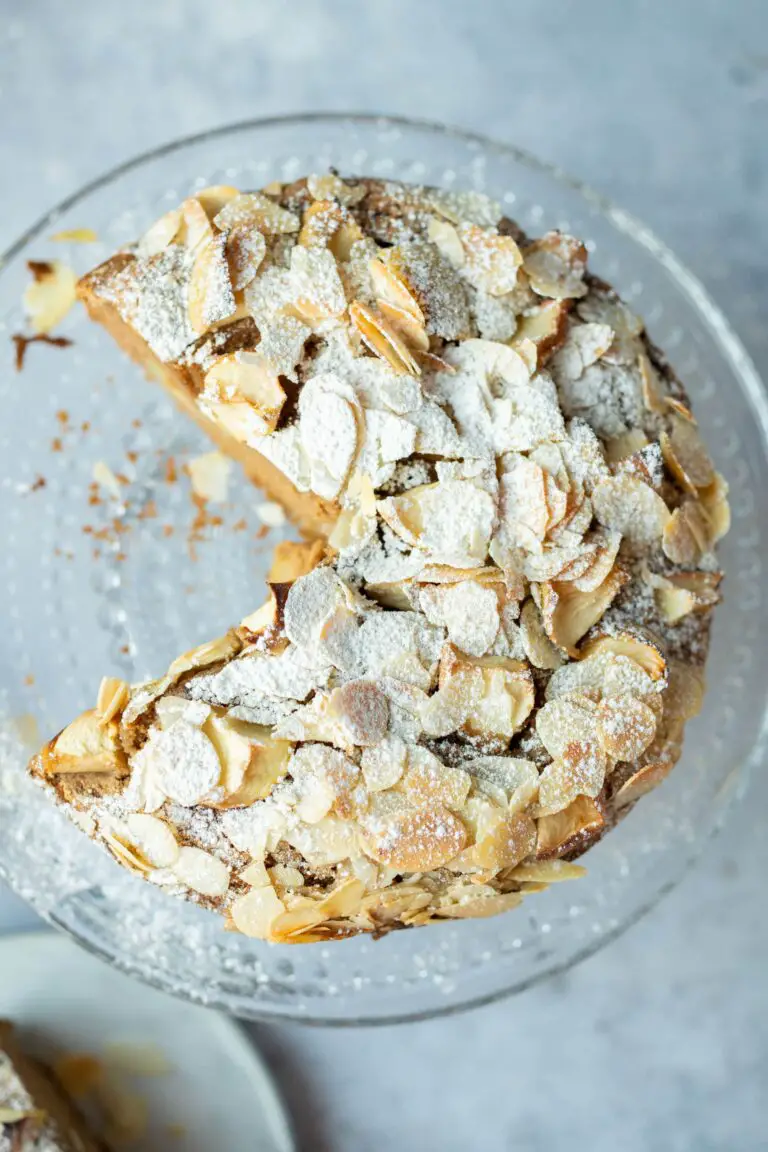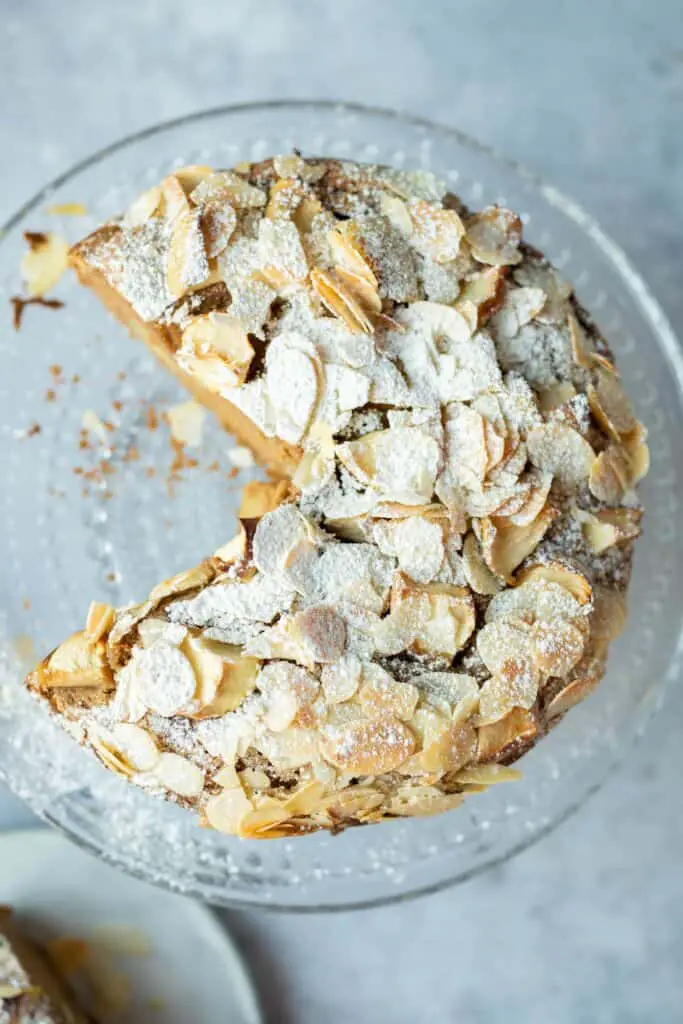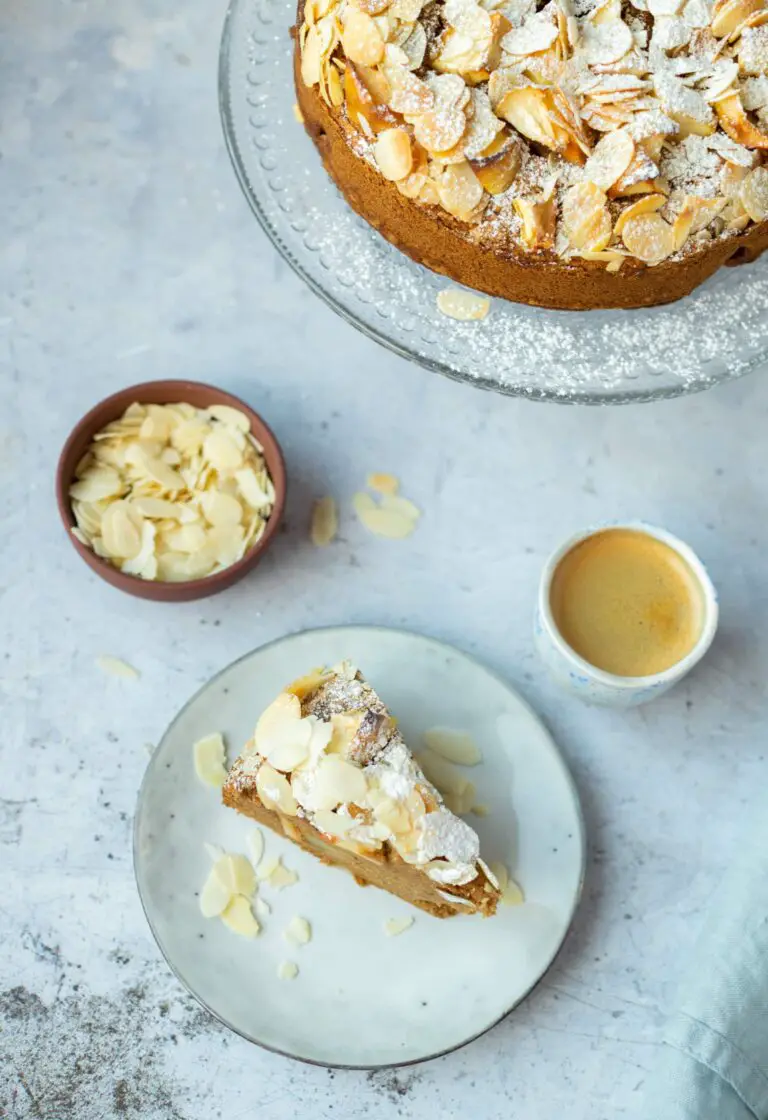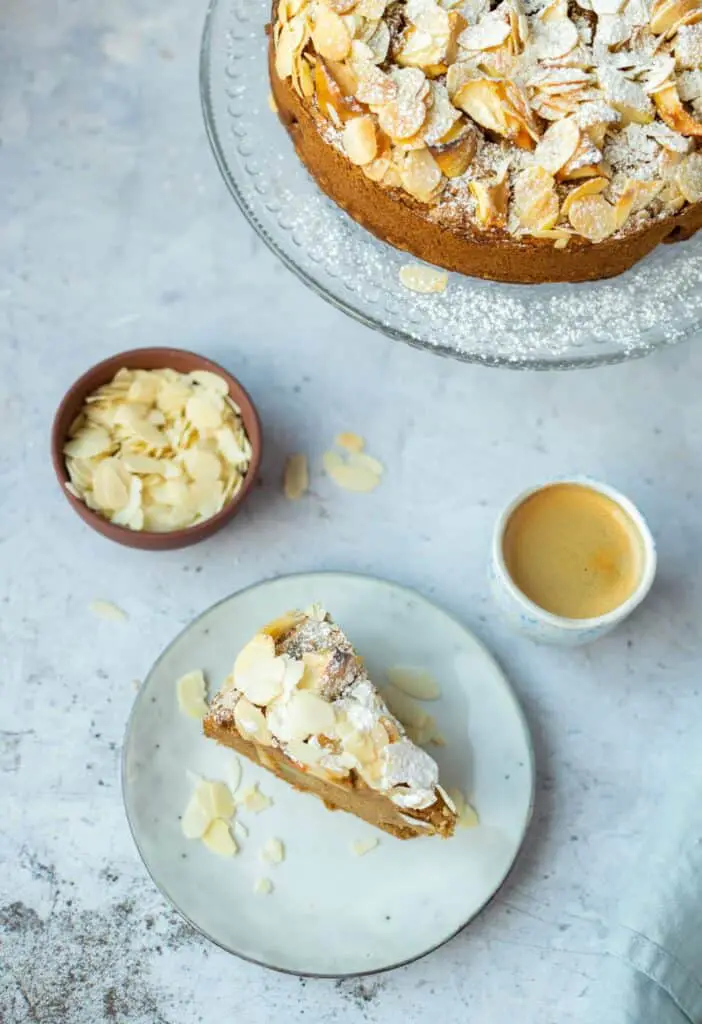 Let's move on to the ingredients, Almond milk , baking soda and apple cider vinegar give the cake the necessary buoyancy. Bourbon vanilla, apple pulp, coconut sugar, gluten-free flour blend, cornstarch, baking powder, xanthan gum, salt, cinnamon, nutmeg, Apple , flaked almonds.
Tip: Do you know Xanthan Gum ? This is a natural thickener made from bacteria. For me it is an absolute must-have in the vegan kitchen. I have linked you the product I use below with the ingredients.
There is not so much to consider when making it, yet I have summarized the most important tips & tricks especially for this gluten-free cake for you here:
Gluten-free Cake do not rise as much as ordinary cakes. But this is not bad at all, they are just a little more compact. This is already noticeable in the raw dough, which is also somewhat firmer than gluten-containing cake doughs.
Always grease the baking pan well and/or line the bottom with baking paper. There is nothing worse than having to scrape the finished cake out of the pan.
Stick testing is also a great way to test if the cake is ready when it comes to gluten-free cakes. To do this, simply take a wooden stick and insert it into the cake. When that comes out clean, the cake is done. TIP: If I'm not quite sure, I like to use the reheat of the oven and just leave the cake in the oven for up to 20 more minutes.
How healthy is buckwheat?
One more thing I have to give you and that is the nutritional content of buckwheat. The pseudo cereal is unfortunately hardly on the table in Germany, but is Full of healthy micro- and macronutrients. :
Rich in Calcium and magnesium
Potassium
Iron
Vitamin E
Vitamins B1 and B2
Our cake goes perfectly with a cappuccino for example with my Oatly Barista milk a chai latte hot chocolate or golden milk .
Let's get started with this moist, gluten free cake . I hope you enjoy baking and of course about a review at the bottom of this page. If you post a picture, use the hashtag #veganevibes.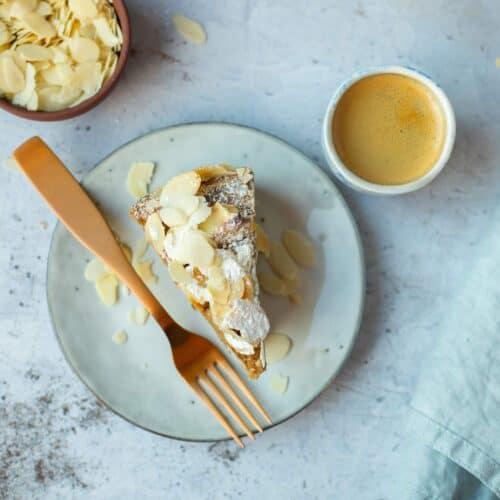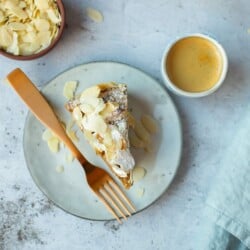 Simple gluten-free apple pie (oil-free)
Simple, moist and gluten-free apple pie, fluffy and delicious without the addition of oil or margarine. Perfect for the vegan coffee party.
AUTOR: VEGANEVIBES
FOR THE CAKE:
310

ml

Almond milk

or any other vegan plant milk

½

tbspn

Baking soda

7,5

ml

Apple cider vinegar

or lemon juice

175

g

gluten free flour mix

or 40g (1/4 cup) cornstarch, 40g (1/4 cup) rice flour, 95g (2/3 cup) buckwheat flour.

96

g

Almond flour

alternatively coconut flour, or more gluten-free flour mixture

2

tbspn

Baking powder

150

g

Coconut sugar

alternatively raw cane sugar or cane sugar

85

g

Apple pulp

alternatively applesauce, note with applesauce is already added sugar, possibly take a little less sugar

½

tbspn

Xanthan Gum

alternatively 1 tsp (spread) locust bean gum or simply omit completely

1

tbspn

Cinnamon

ground

½

tbspn

Bourbon vanilla

ground

¼

tbspn

Nutmeg

1

Piece

medium apple

core removed and cut into pieces, approx. 250g
Anleitung 
Preheat the oven to 175 degrees Celsius (195 degrees Celsius top-bottom heat) and line a 20cm springform pan with baking paper (bottoms) and brush the sides with a little margarine.

FOR THE CAKE Pour almond milk into a large bowl, add apple cider vinegar and baking soda. Stir briefly. The liquid should now foam slightly.

310 ml Almond milk,

½ tbspn Baking soda,

7,5 ml Apple cider vinegar

Add gluten-free flour blend, almond flour, baking powder, coconut sugar, apple pulp, xanthan gum, cinnamon, bourbon vanilla, nutmeg and a pinch of salt. Stir with a whisk or wooden spoon until a uniform dough is formed.

175 g gluten free flour mix,

96 g Almond flour,

2 tbspn Baking powder,

150 g Coconut sugar,

85 g Apple pulp,

½ tbspn Xanthan Gum,

1 tbspn Cinnamon,

½ tbspn Bourbon vanilla,

¼ tbspn Nutmeg,

1 Pinch of salt

Fold in apple pieces.

Pour into springform pan, smooth, sprinkle almonds and coconut blossom sugar on top. Bake for 35 minutes. At the end of the baking time, use a wooden stick to check if the bottoms are done. If the wooden stick comes out "clean", the bottoms are ready. Remove from oven and let cool completely.

¼ Cups Almonds,

15 g Coconut blossom sugar

Cut into 10 pieces and serve.

Store in an airtight container at room temperature for up to 3 days.
Nährwertangaben
Serving:
1
Piece
Calories:
190
kcal
Carbohydrates:
30
g
Protein:
5
g
Fat:
7
g
Saturated Fat:
1
g
Sodium:
136
mg
Potassium:
152
mg
Fiber:
3
g
Sugar:
12
g
Vitamin C:
1
mg
Calcium:
104
mg
Iron:
1
mg