How many times have I passed Portobello mushrooms in the organic supermarket? Probably hundreds of times, until that one day when I thought I had to do something with it. Said done, I sat down on the laptop and researched for a great recipe. Since I am a big fan of quinoa and fresh, green sauces, it has become this variant. The Portobellos are the perfect basis for the magnificent filling of vegetables and quinoa. My husband and I really ate EVERYTHING (2 Portobellos per person) and for us it was a lunch. If you serve it as an appetizer, then one Portobello per person is perfect.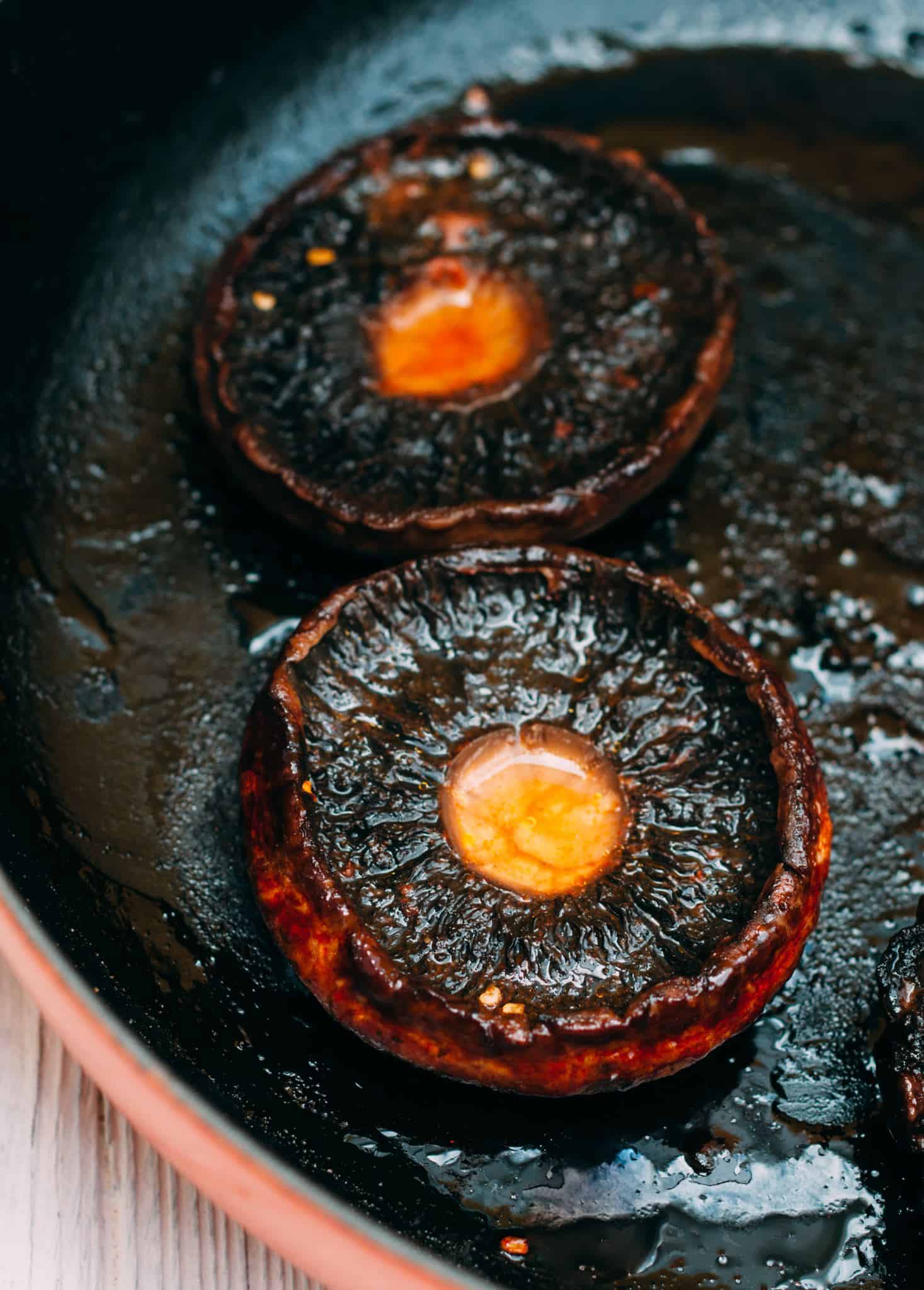 Portobello? No I don't mean the city in Sardinia – but a delicious 30 minute meal
30 minutes, then you have the dish on the table. I recommend you to read the recipe thoroughly beforehand, because timing is everything. Yum, Yum, Yum! The base consists of Portobellos in a balsamic lime marinade and is also suitable for grilling. Let's go, because the barbecue evenings in September are rare.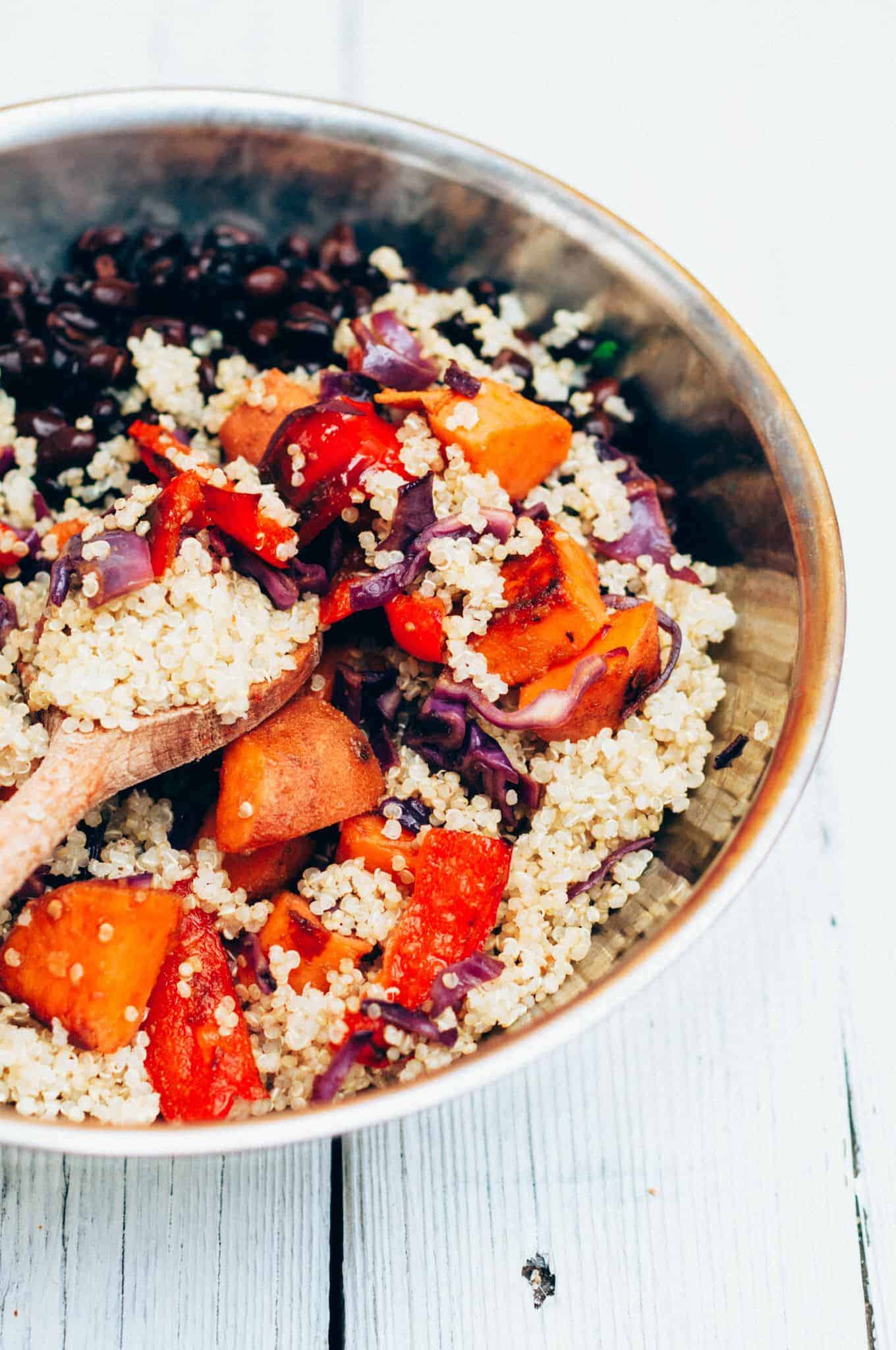 Incredibly delicious is also the filling of quinoa, sweet potatoes, black beans, peppers, red cabbage and a sauce of chilli flakes, lime juice and spices such as cumin and sea salt. The perfect combination is an Argentinian chimichurri sauce that gives the dish an intense, refreshing touch. Let's go!
Appropriately, for example, is a delicious salad and if it can be a dessert, then I have in mind such a delicious vegan caramel pudding.
I'm sure you'll love this dish because it's:
hearty
Full of flavours
filling
Grill-friendly
Very healthy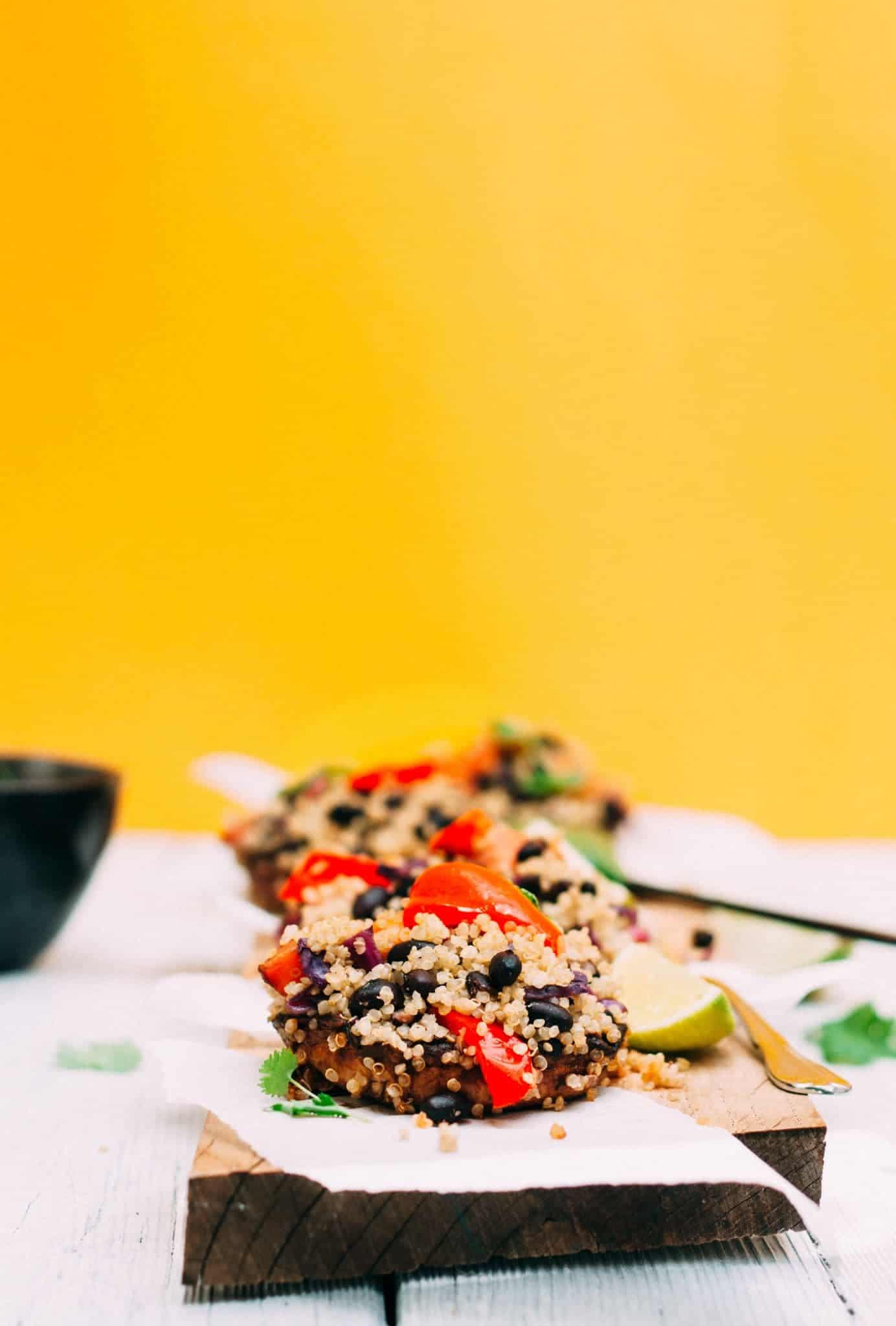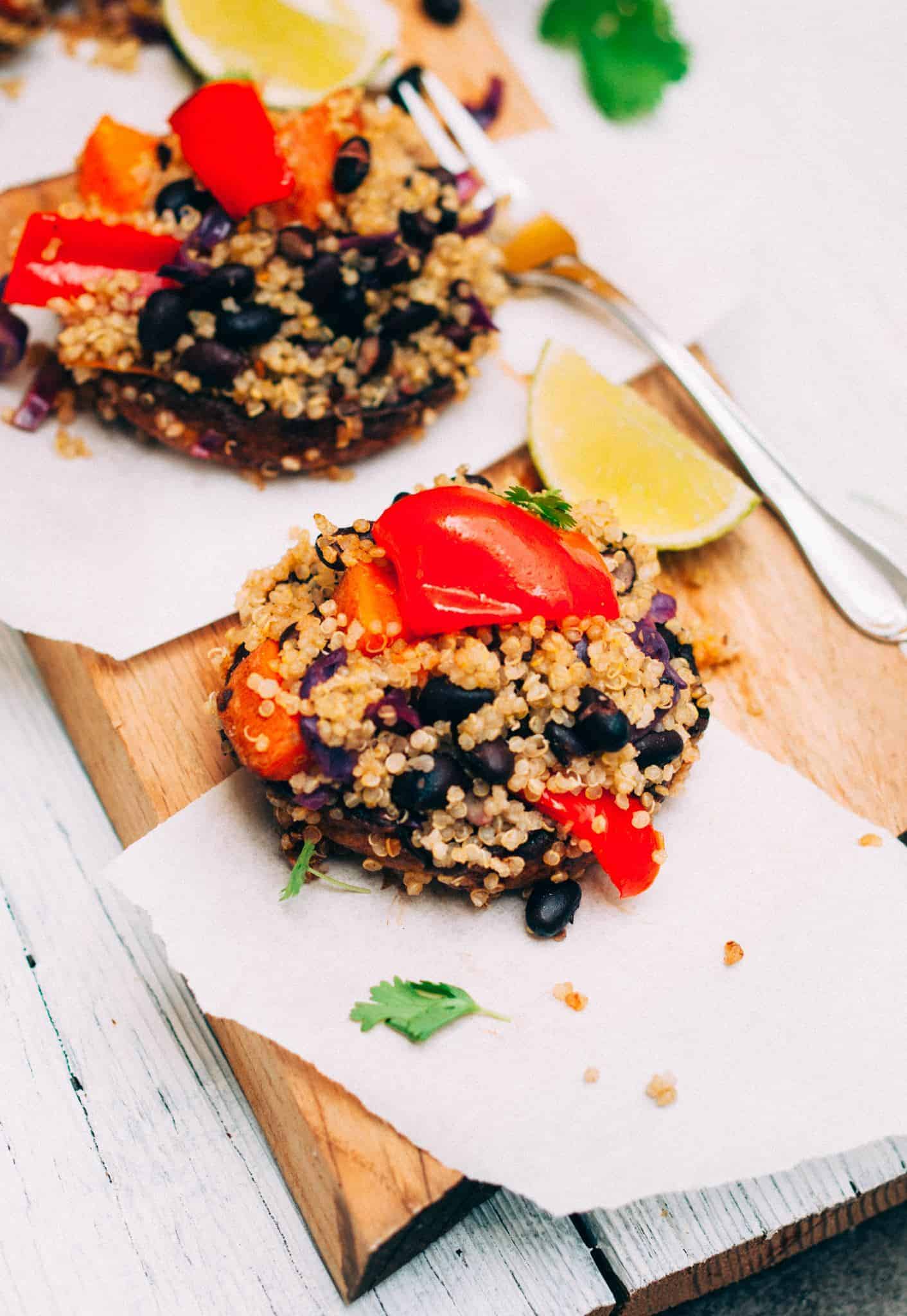 If you try the recipe, then I'm happy to get a review at the bottom of this page. If you post a picture, use the hashtag #veganevibes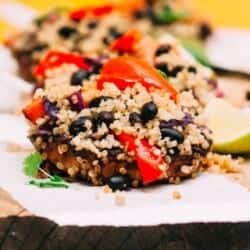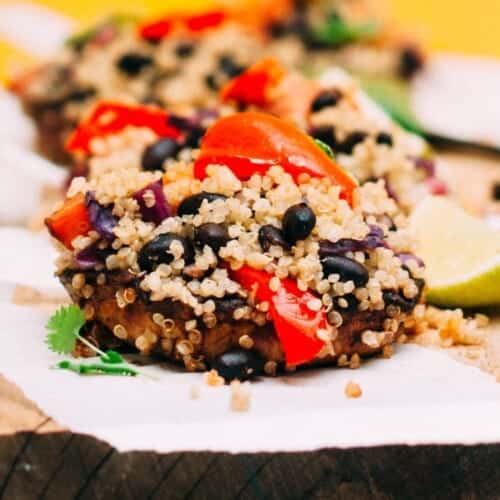 Quinoa & Vegetable Stuffed Portobello Mushrooms
Barbecue once different, only for vegans? Misrepresentation, because this dish will inspire vegans and non-vegans alike. The flavors will enchant you.
AUTOR: VEGANEVIBES
For the filling:
1

TL

Coconut oil

or another heat resistant oil

85

g

Quinoa "uncooked

or (1 ¼ cup (230g) cooked quinoa*)

15

g

Coconut oil

melted

200

g

Sweet potatoes

neatly brushed and cut into cubes with peel

150

g

red bell bell pepper

cut into strips

90

g

Red cabbage

cut into strips

1

TL

Cumin

ground

1

TL

Chili powder or 1-2 Bird Eye Chili

1/2

TL

Sea salt

240

g

black bean

drained and washed
For the Portobellos:
4

Piece

large portobello mushrooms

Trunk removed and dry brushed clean**.

15

ml

Coconut oil

melted

30

ml

Balsamic vinegar

15

ml

Lime juice

1/2

TL

Cumin

1

TL

Chili powder or 1-2 Bird Eye Chili

1/4

Tl

Salt
Optional for serving
Chimichurri Superfood Sauce

Fresh limes cut into quarters
Anleitung 
Preheat the oven to 200 degrees and line a baking sheet with baking paper. If you grill the mushrooms, preheat the grill.


Cook quinoa according to packaging instructions or prepare it in a steam era.


85 g Quinoa "uncooked,

1 TL Coconut oil

Place Portobellos in a medium-sized casing dish and marinate with coconut oil, balsamic, lime juice, cumin, chilli and sea salt. The mushrooms should be evenly coated by the marinade. Set aside.


Heat a large pan for the vegetables, melt

1 tbsp of oil

in it, sauté sweet potato and pepper for about 5

minutes

(with lid to make the vegetables nicely crisp, soft and lightly browned). Stir from time to time.

Add red cabbage,

1/2 tsp cumin,

1/2 tsp chilli

or a birdeye chilli and

1/4 tsp salt.

Sauté for a further

3-5 minutes.

Set aside.

Put the vegetables in a large bowl. Then put the marinated Portobellos in the same pan and fry for

2 minutes

on each side. Remove the heat and soften for another

3-5 minutes

at a medium temperature with the lid closed. Then place the slats upwards on a baking sheet.

Add the quinoa and black beans to the vegetable mixture in the mixing bowl, remaining

1/2 tsp cumin,

1/2 tsp chilli

or a birdeye chilli and

1/4 tsp salt

and mix well.

Spread the vegetable quinoa filling on the Portobellos (the filling will be much more than fits on the Portobellos, but that's no problem – just spread on the baking tray).

Bake

for 5 minutes at 200 degrees. Remove from the oven and spread on plates. Eat with chimichurri sauce or pure. Mushrooms are best eaten fresh.
Notizen
*I like to prepare quinoa in steam cooker, washed with twice the amount of water I use the program for millet. It is best to take a look at the user manual if you have a steam cooker.
**Portobello do not wash mushrooms for cleaning, but clean with a special brush for mushrooms or a kitchen towel.
Nährwertangaben
Serving:
2
Servings
Calories:
264
kcal
Carbohydrates:
43
g
Protein:
10
g
Fat:
5
g
Saturated Fat:
3
g
Sodium:
120
mg
Potassium:
634
mg
Fiber:
9
g
Sugar:
5
g
Vitamin A:
8665
IU
Vitamin C:
63
mg
Calcium:
54
mg
Iron:
3.2
mg