It happens quite often that spontaneous visitors are announced. Cake again? No thanks, I'm almost thinking finger food. Small cupcakes that go perfectly with a cup of coffee or tea. Wonderful! Especially at Strawberry time these little temptations really put you in the mood. Refreshing, light, fruity and super creamy thanks to the coconut cream. Well, ready? Then let's get started.
Vegan, gluten-free strawberry tartlets – I'll put the coffee on already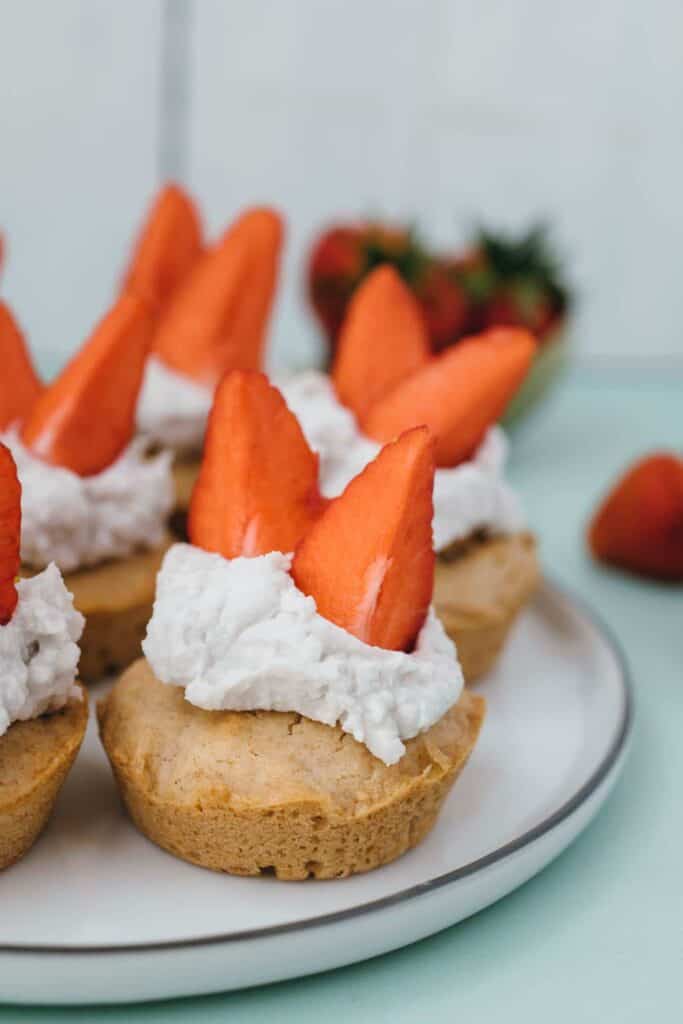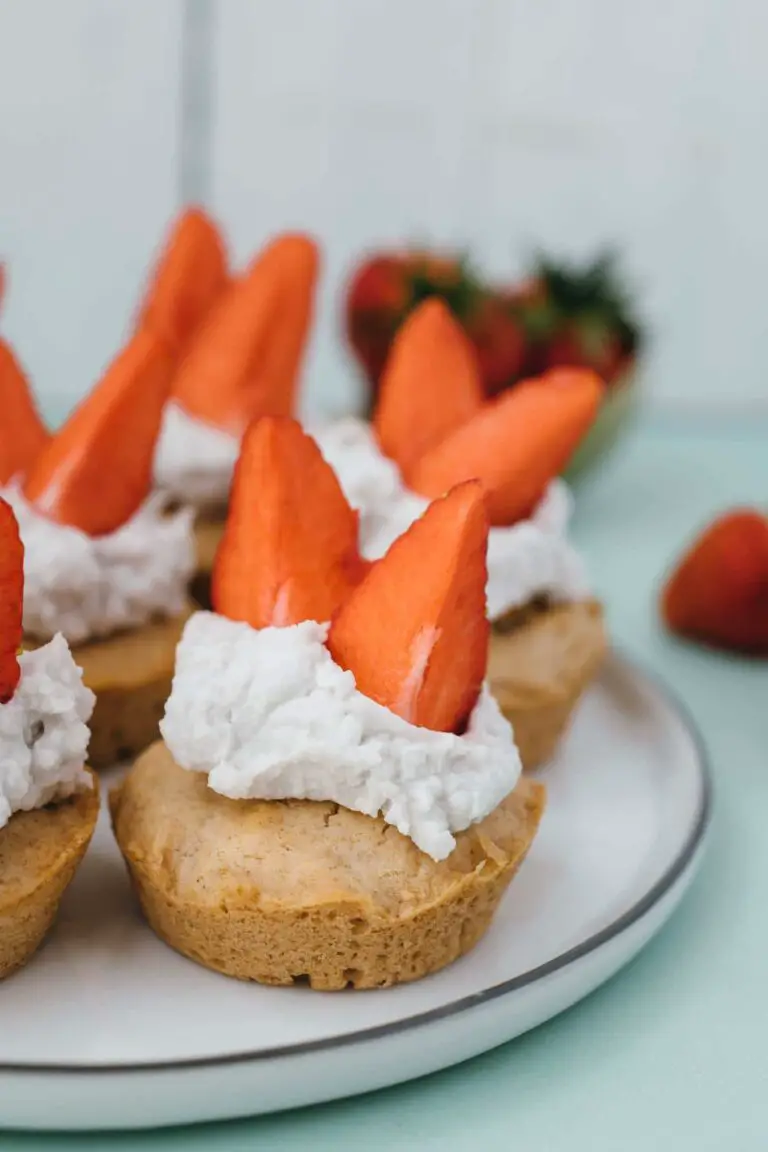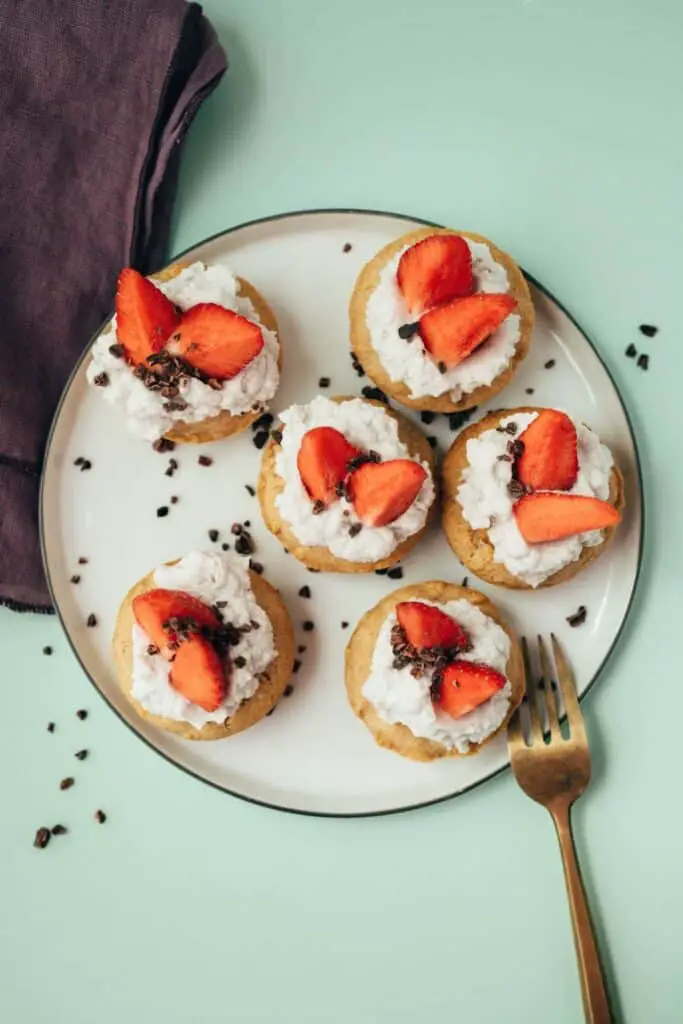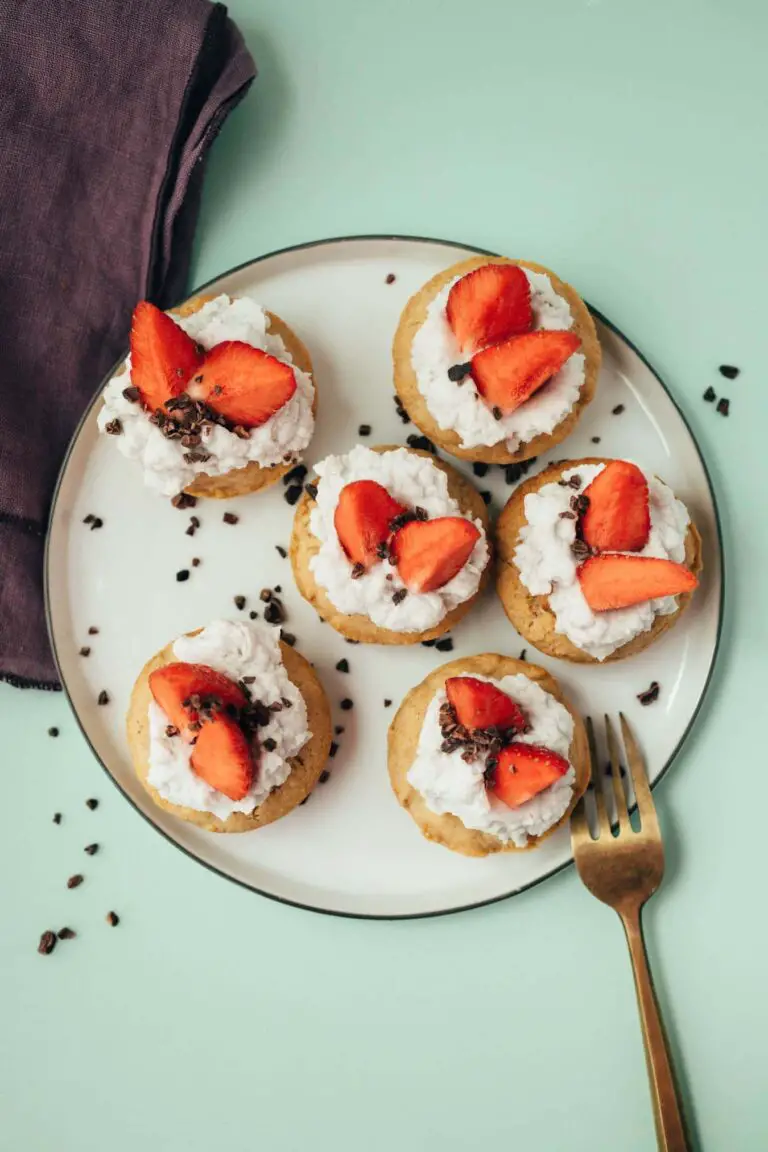 The tartlet base couldn't be simpler, especially it can't get out of shape at all. why? Since I bake them in the muffin tin, yay! Reason enough for all perfectionists below to clap their hands for once. The ingredients are manageable, starting with my. gluten free flour mix , almond flour, some starch flour (which makes the base almost a little cookie-like), coconut oil, powdered sugar, baking powder and a pinch of salt. Simply baked, quickly cooled and ready to decorate.
Is gluten-free really healthier?
This is where the minds and opinions of nutrition experts, scientists and gurus around the world diverge. Some blame gluten (gluten protein) for various diseases, such as allergies, obesity, to autism and schizophrenia. For example, a great advocate of a gluten-free diet is Anna Lewandowska, the wife of footballer Robert Lewandowsky. There is a detailed article on her blog about the gluten-free diet.
Personally, I do not strictly avoid gluten-containing grains, however, I am trying to limit my consumption more and more. There are also so many great alternatives such as millet, amaranth and co.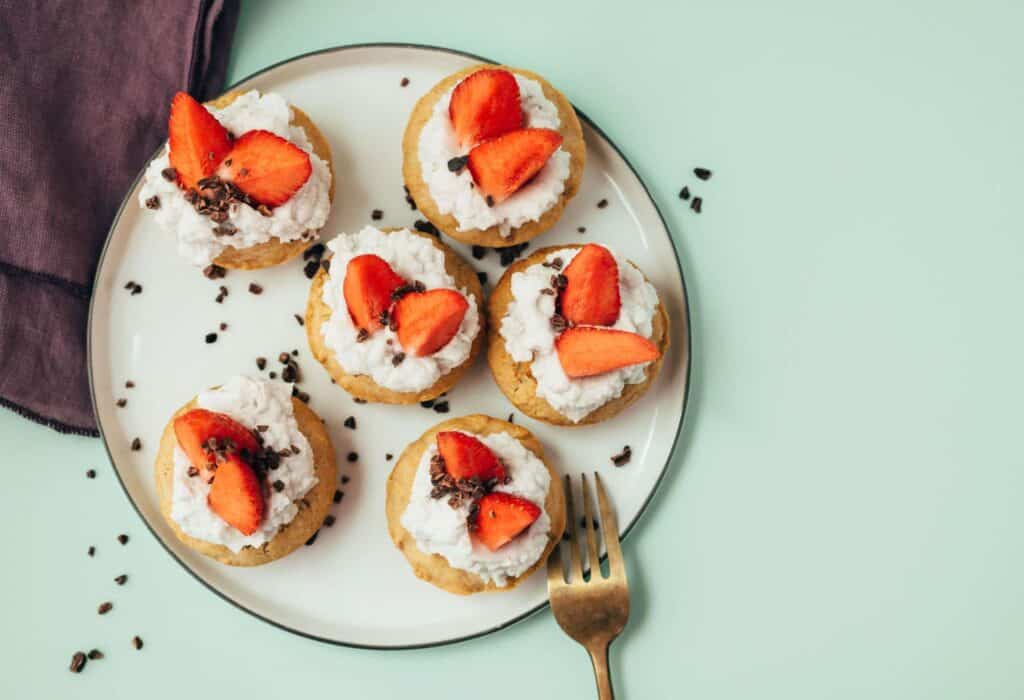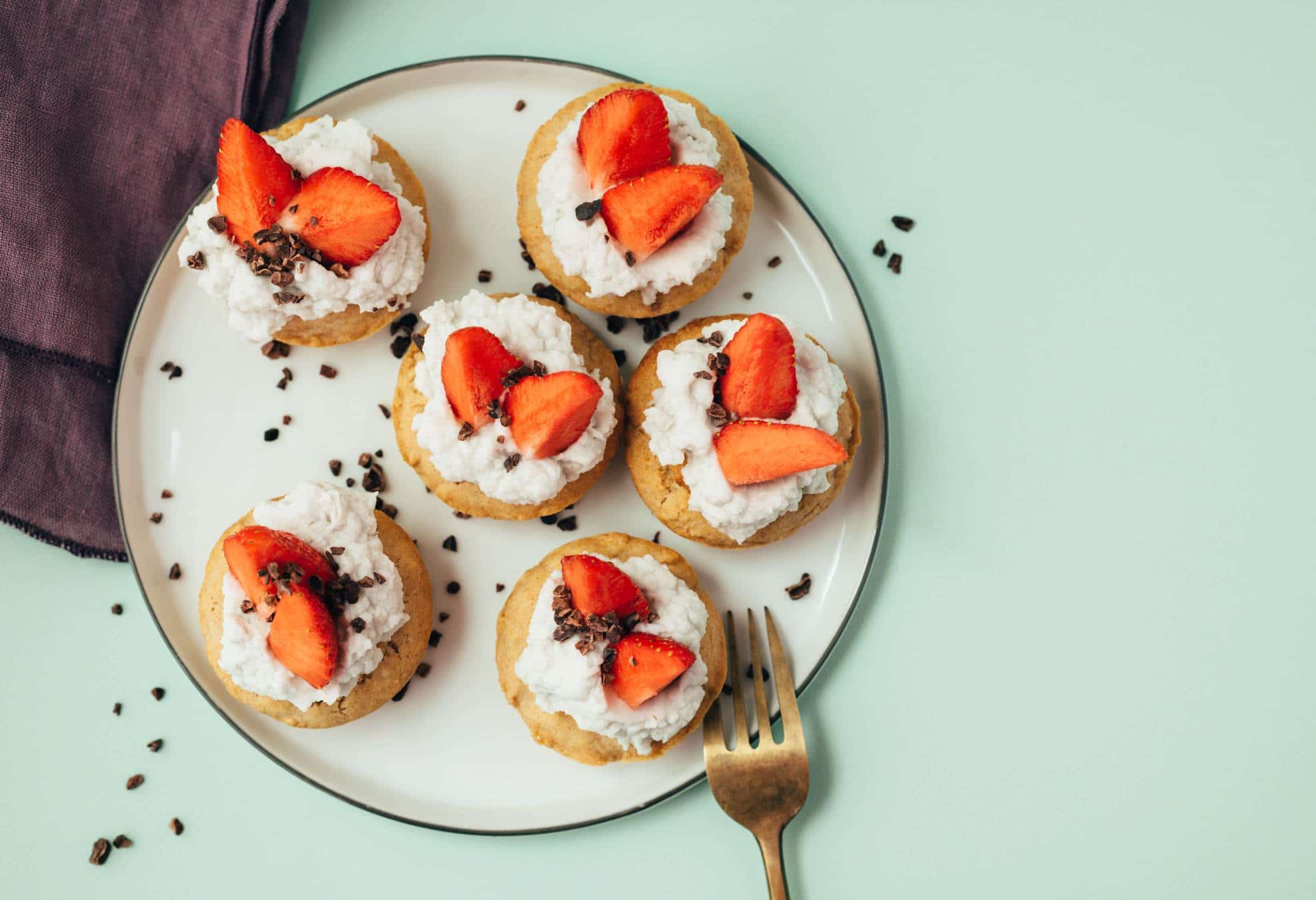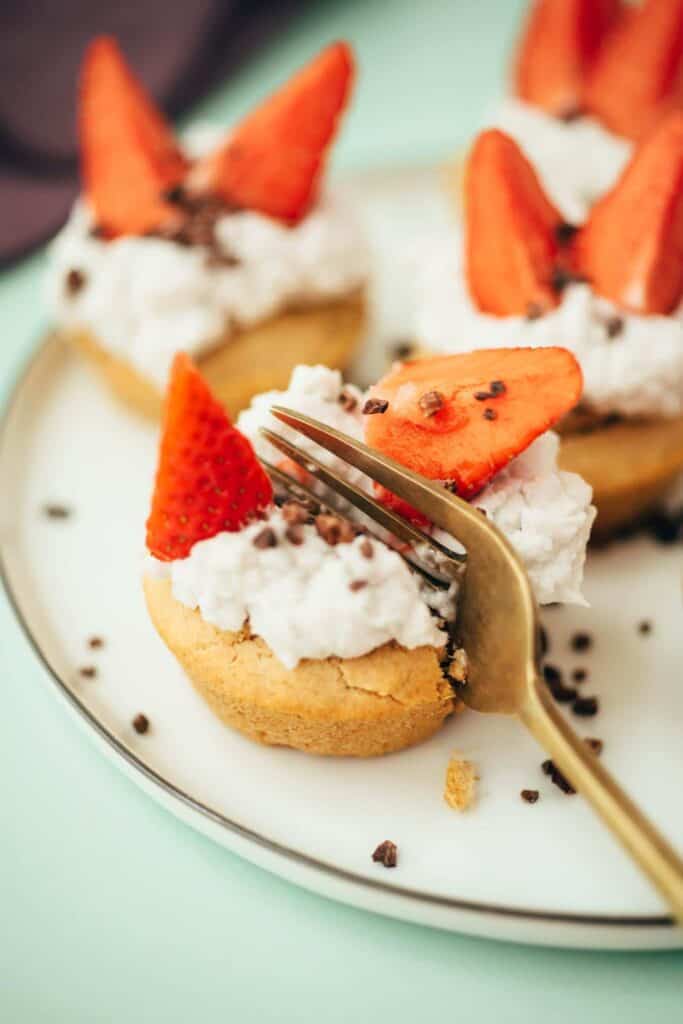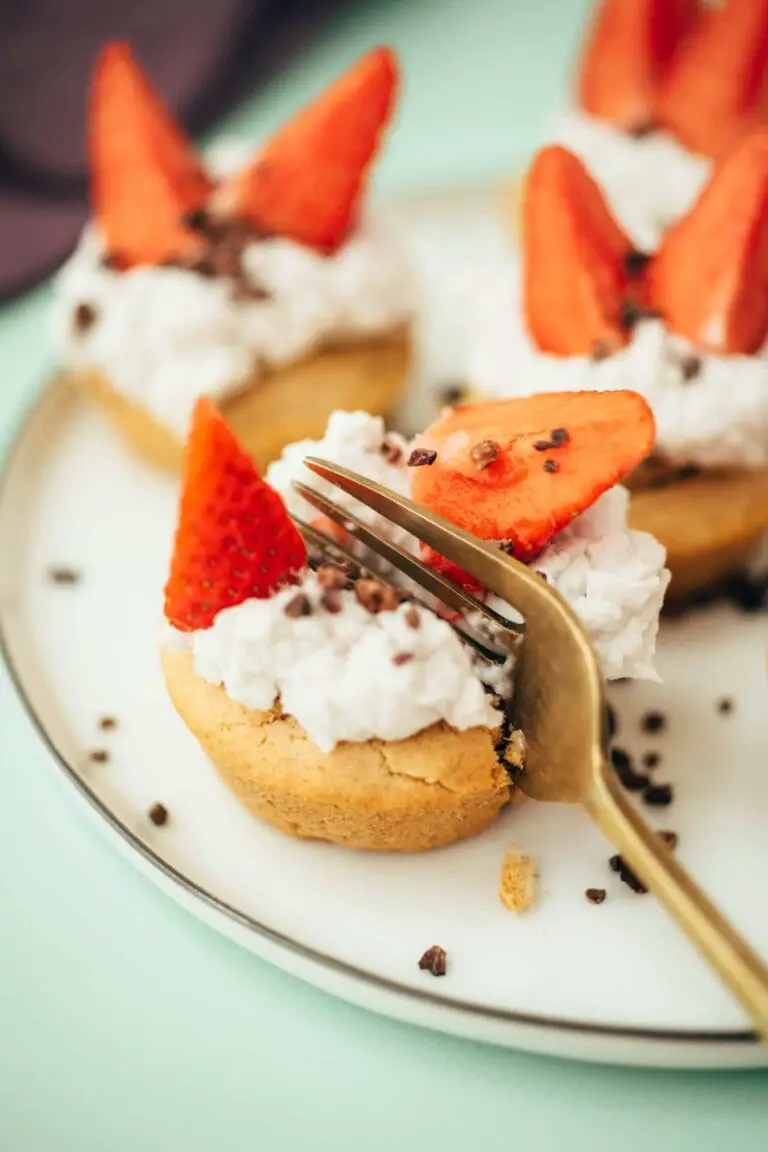 Vegan coconut cream – it works!
The tartlets are topped with delicious Coconut cream (click here for the recipe) and of course fresh, juicy and deliciously sweet strawberries. If you want to know how healthy strawberries actually are, you can here in my blog post read about it. If it is not in season, then the following toppings would also be conceivable:
Strawberries
Raspberries, or other fresh fruit
Chocolate chips & caramel sauce or whatever else your vegan heart desires
These small, simple, delicious and quickly made cupcakes just go with (almost) all occasions. The ideal accompaniment is a classic cup of café and, above all, they go particularly well as a dessert with summer main courses, such as the Pasta with arugula pesto or the creamy pasta with green asparagus .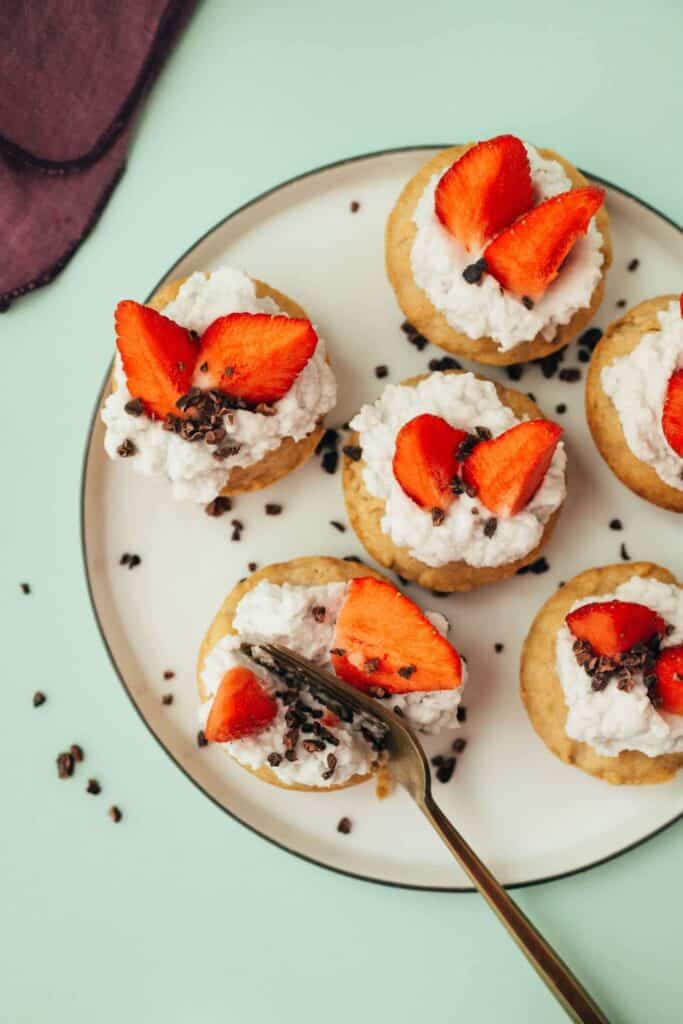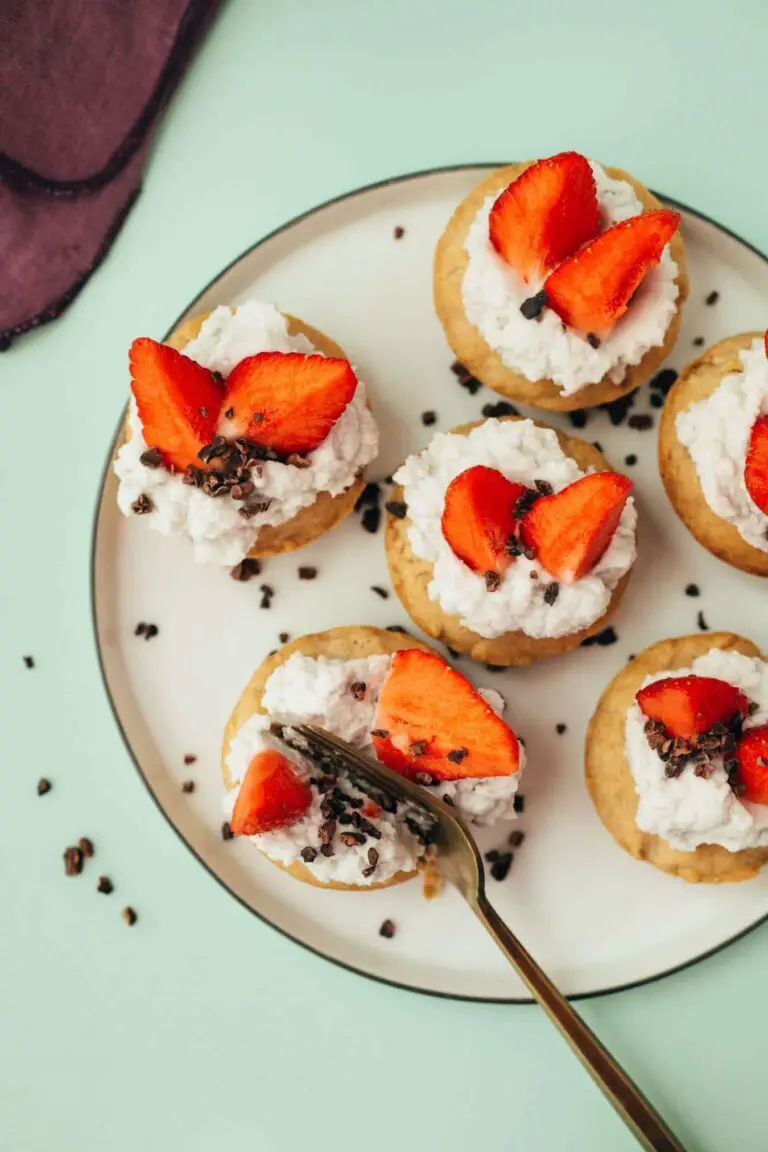 I hope you now have a desire for these small, fine tartlets. If yes, then I wish you much fun with the "Nachbacken" and of course about a rating at the bottom of this page. If you post a picture, use the hashtag #veganevibes.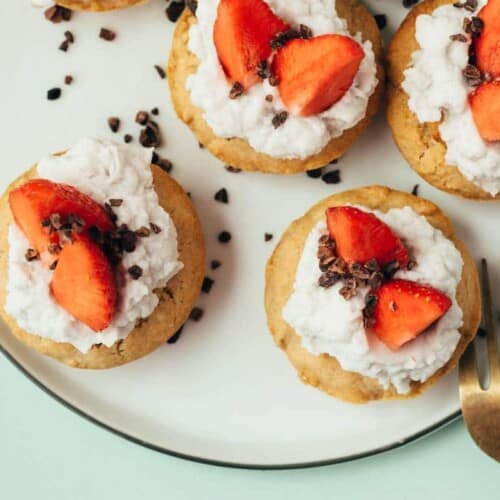 Quick strawberry shortcake with coconut cream (gluten free)
Quickly made fruity strawberry shortcake with a delicious base of crumbly cookie dough, topped with coconut cream and fresh strawberries. Refined with valuable, healthy cocoa nibs, vegan & gluten-free.
AUTOR: VEGANEVIBES
FOR THE TOPPING:
250

g

Organic strawberries

Cocoa Nibs
Anleitung 
Lightly grease a muffin tin and preheat oven to 200 degrees.

FOR THE BOTTOM add all the ingredients one by one in a large baking bowl (sift the flour and powdered sugar) and mix until smooth. If the dough is too firm, add a sip more almond milk. If too wet, add a little more flour mixture. Spread the batter evenly into the muffin tin (about 1-2 tablespoons per well) and press down lightly with damp hands.

160 g gluten-free flour mix or alternatively fine spelt flour,

100 g Almond flour,

14 g Cornstarch,

37 g Powdered sugar,

45 g Coconut oil or other high heat oil,

150 ml Almond milk or another vegetable milk,

2 tbspn Baking powder,

A pinch of sea salt

Put in the oven and bake for

15-20 minutes

at 200 degrees. The cake layers are ready when the edges are nice and golden brown. Be careful, do not burn.

Remove from the oven and allow to cool completely.

Wash, clean and quarter the strawberries.

Loosen tartlet bottoms from muffin tin (simply invert and tap the back vigorously once with the flat of your hand).

250 g Organic strawberries

Spoon coconut cream evenly over tartlet bottoms and garnish with quartered strawberries.

Coconut cream,

Cocoa Nibs

If possible, eat immediately and fresh, otherwise store in the refrigerator for a maximum of one day.
Notizen
NOTES /HELPFUL ACCESSORIES:
Nährwertangaben
Serving:
1
Piece
Calories:
126
kcal
Carbohydrates:
16
g
Protein:
4
g
Fat:
5
g
Sodium:
19
mg
Potassium:
101
mg
Fiber:
2
g
Sugar:
4
g
Vitamin C:
12.2
mg
Calcium:
50
mg
Iron:
1
mg