Today is? Valentine's Day! What? And then there should be "only" pasta with pesto? I am of the opinion that there are two Valentine's Day variants: The wishful thinking and the hard, cruel reality. Wishful thinking: Your sweetheart has taken time off and booked a great spa hotel with "Valentines Special". In the evening there is a 7-course menu and you wear a beautiful little black (or little black … suit). Later, the champagne bottle is waiting in the room and I'll save you the rest. Now to the reality: The day is no different than any other, your sweetheart is just in an appointment and has not even thought that Valentine's Day is. In the evening, one of you cooks a great, delicious meal that's ready in 30 minutes and you spend a super cozy and fun evening. I think I almost like the reality better.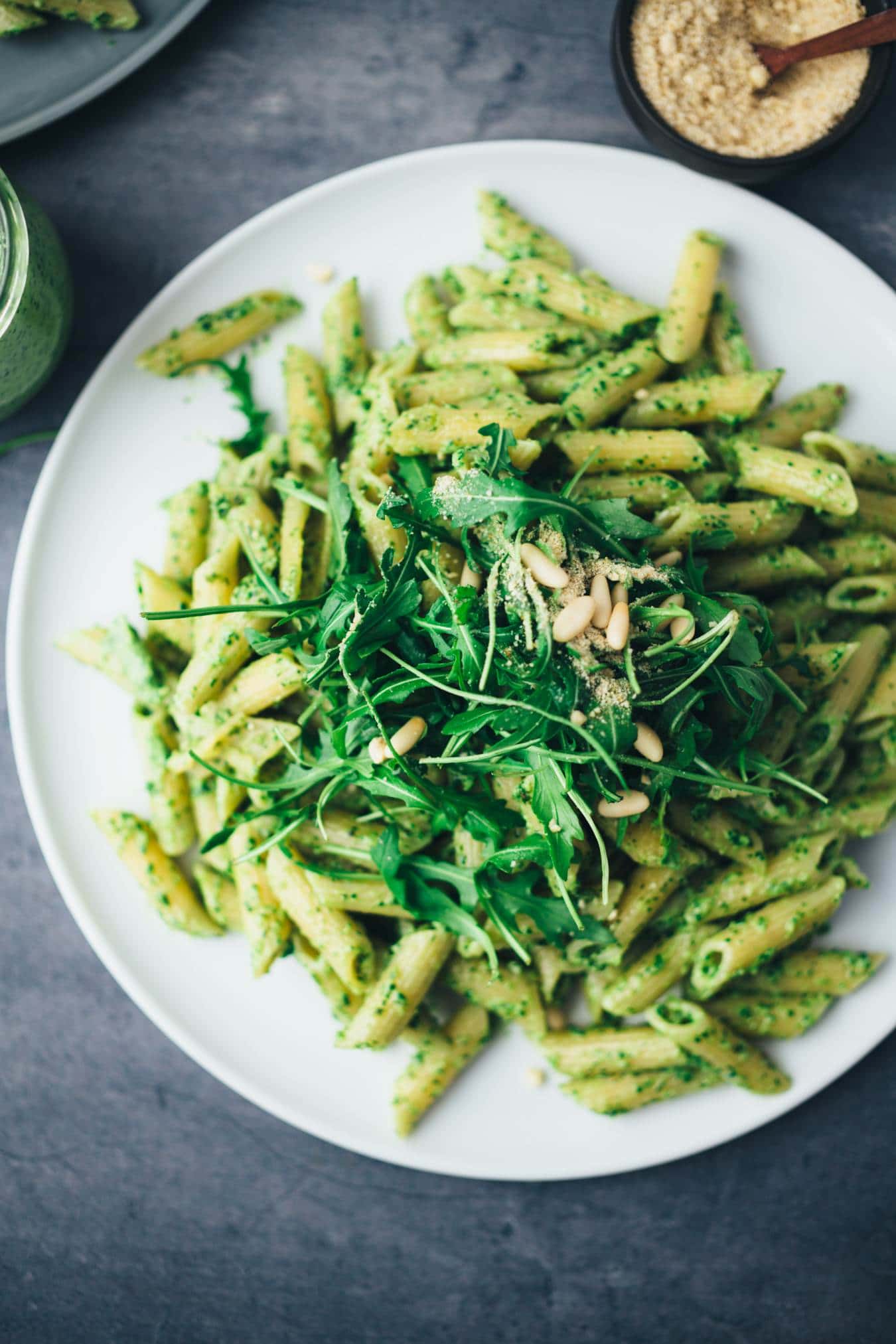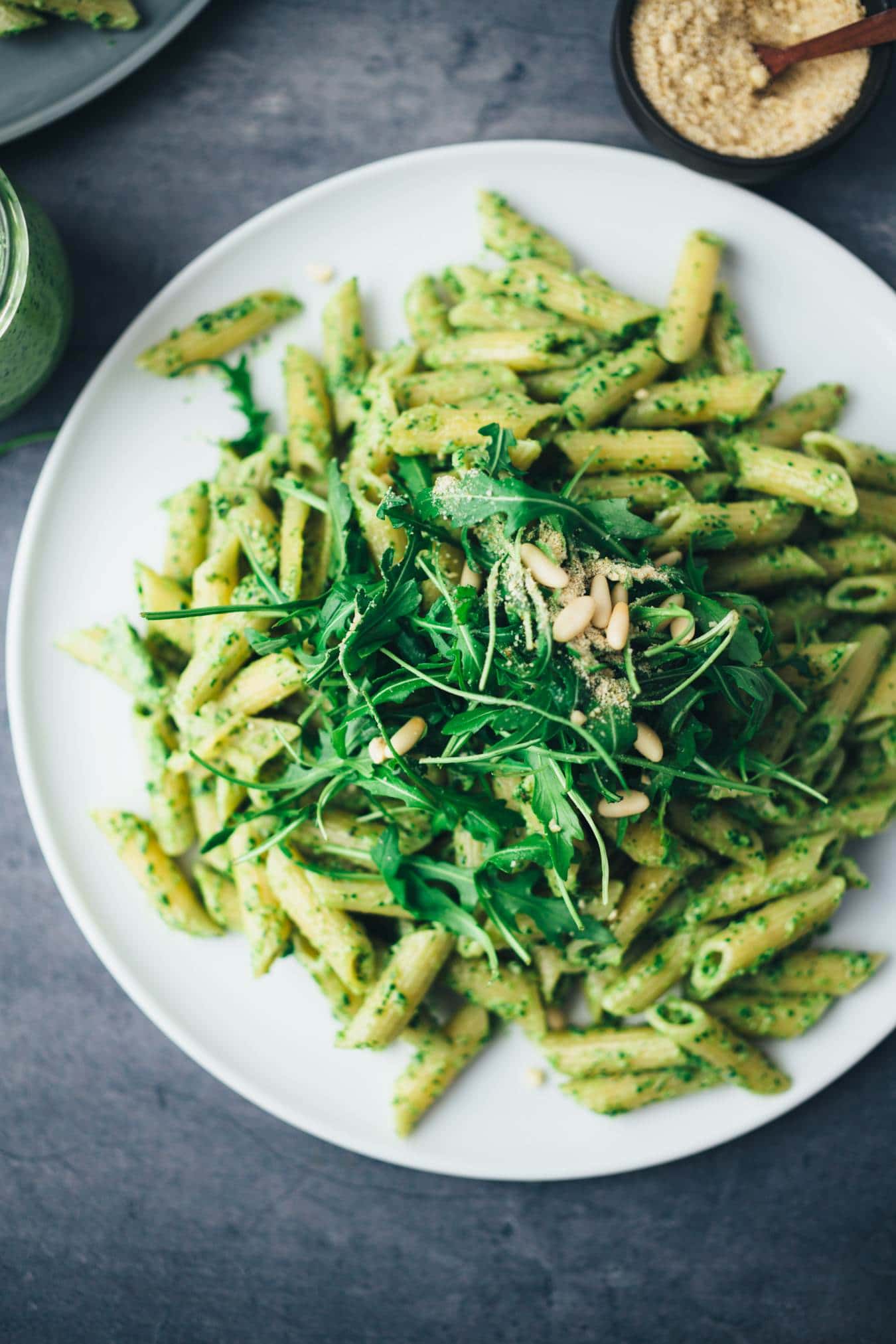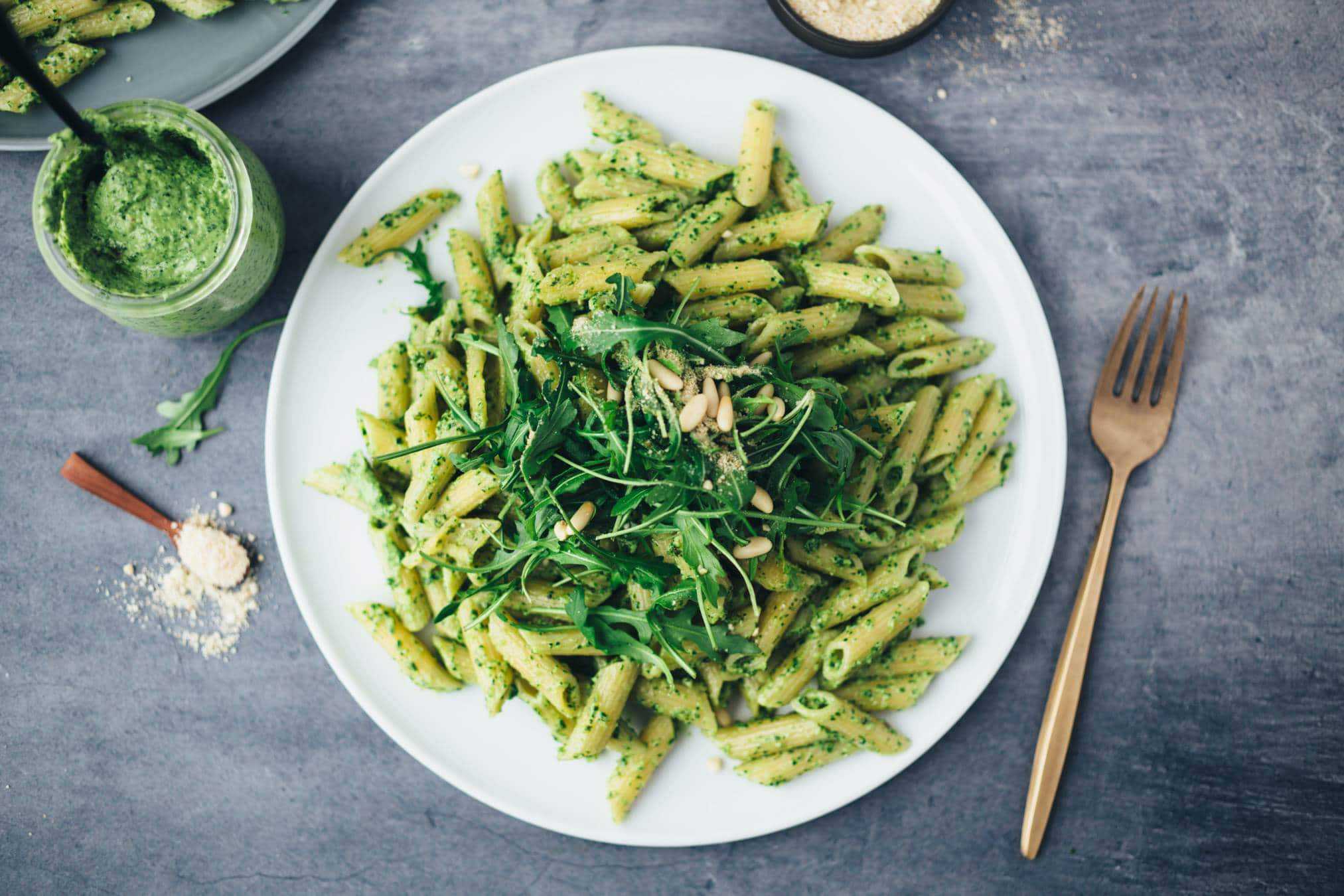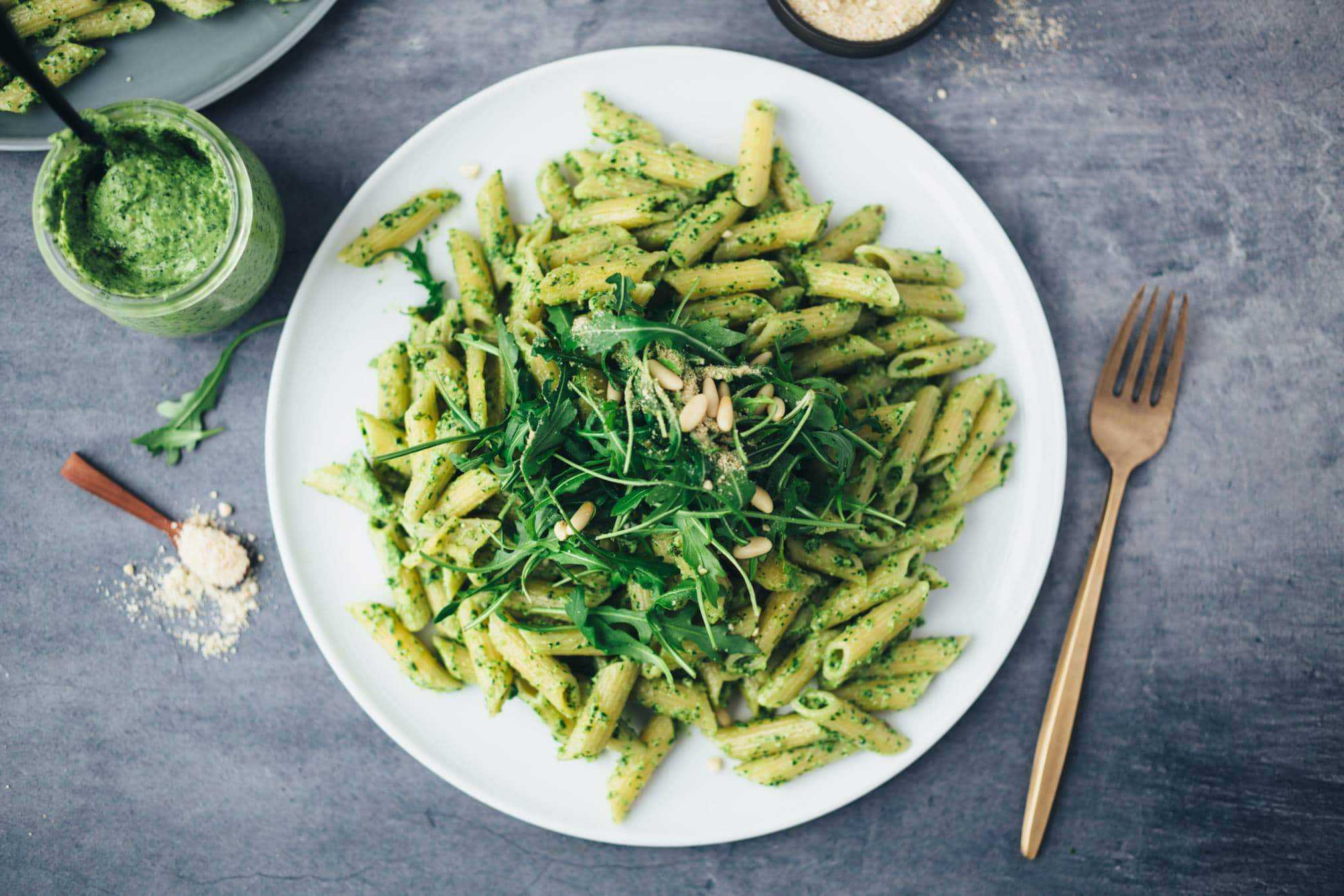 PASTA WITH PESTO – AS SIMPLE AS INGENIOUS
Pesto – comes in endless varieties. I opted for an arugula pesto today. Inspired by Tarayoga Cafe and the delicious 4-course in colors menu we treated ourselves to in early February. For all those living around Regensburg, definitely check out the Taracafe, it's worth it (nosponsoring)!
The only question is whether arugula is already in season? In Germany, it only starts in April and lasts until October. However, we still have our dear Italian neighbors who produce arugula in foil tunnels. This has smaller leaves and is less intense green . Thanks to the regional Ökokiste, I also get the arugula without any plastic packaging.
LITTLE RUCOLA 1×1
What actually makes arugula so special?
Pungent taste due to the contained mustard oils, these have an antioxidant effect (against free radicals)
Especially rich in iron and potassium
Has a digestive and draining effect
Also contains folic acid, vitamin C and beta-carotene
Low calorie with 24 kcal per 100g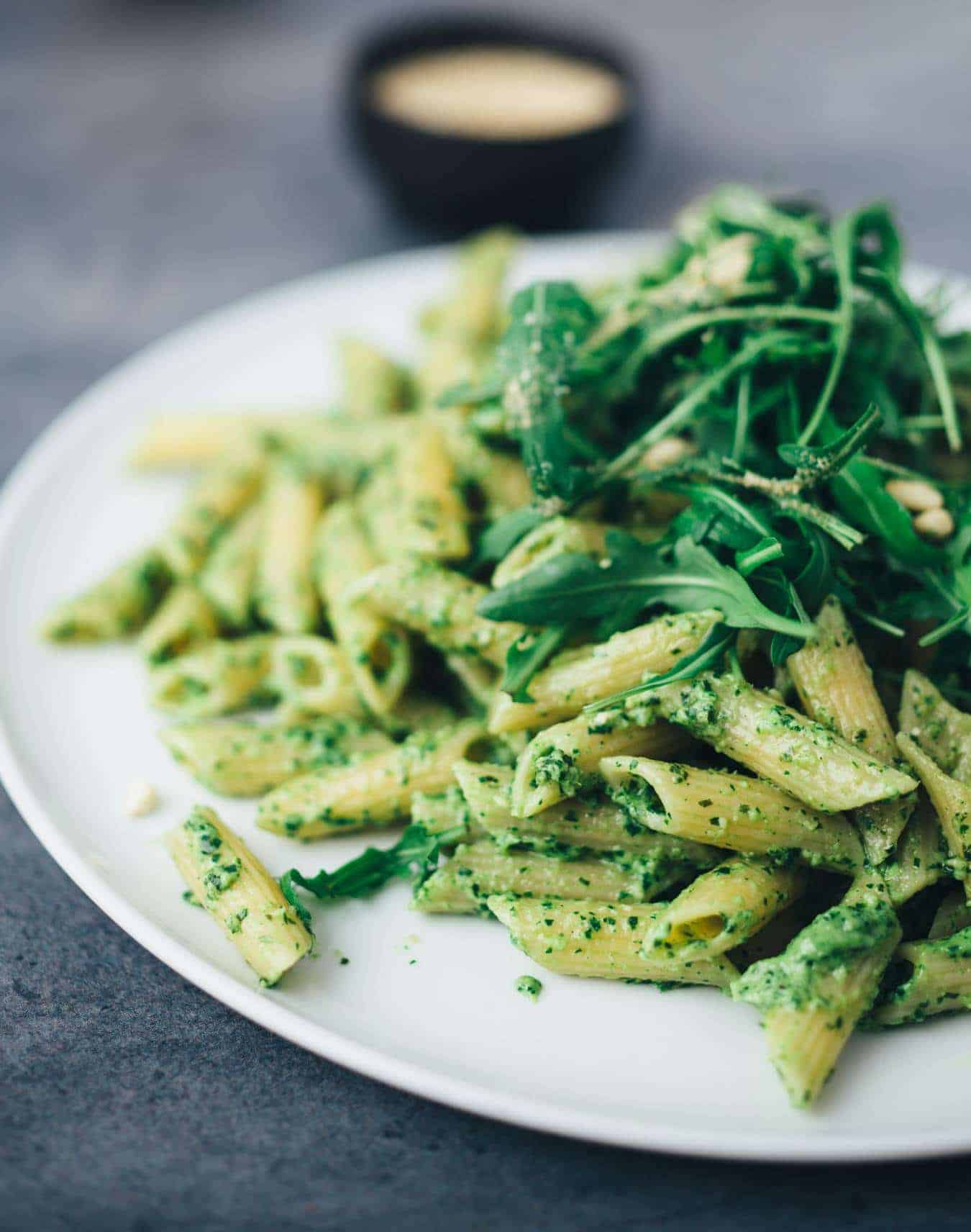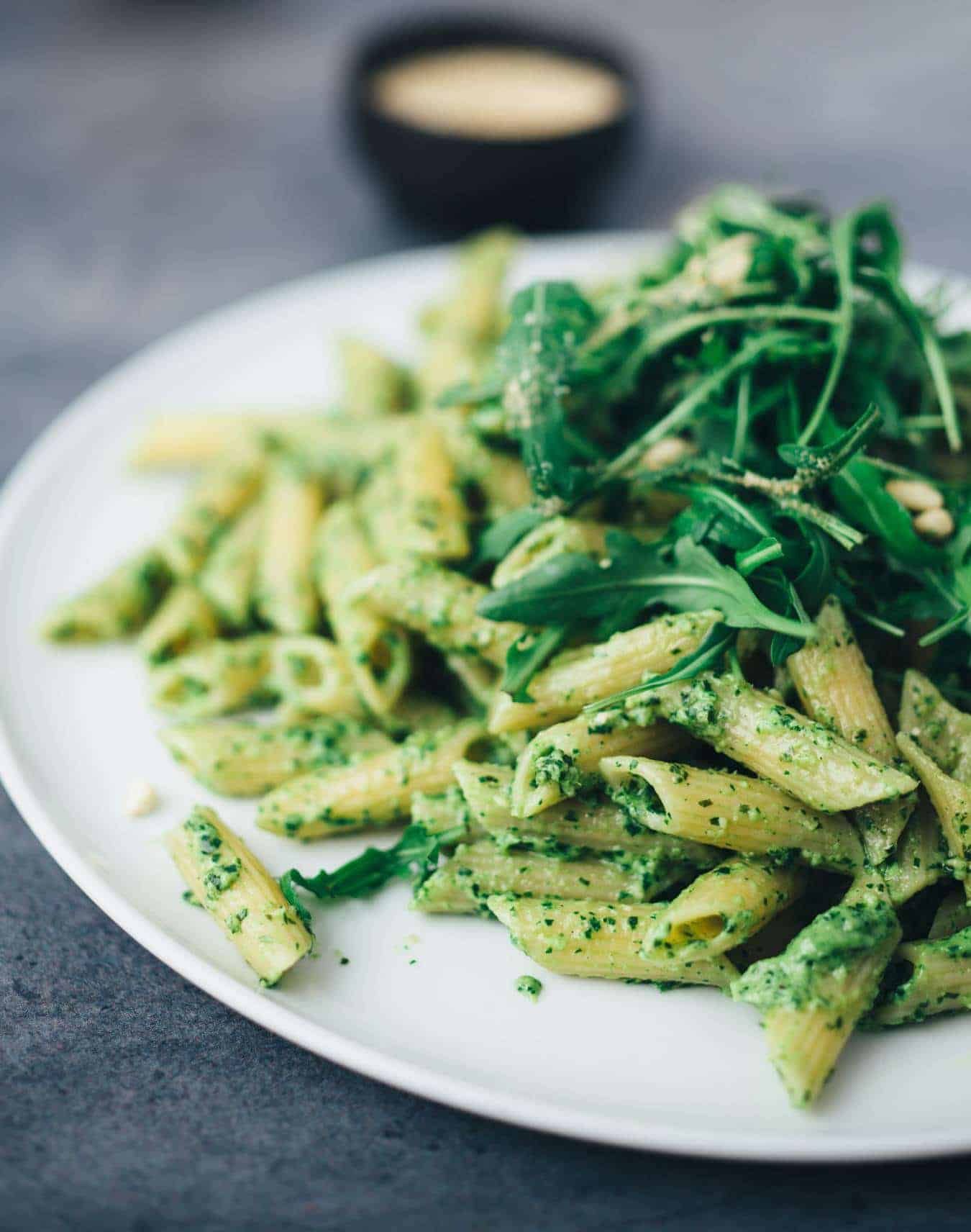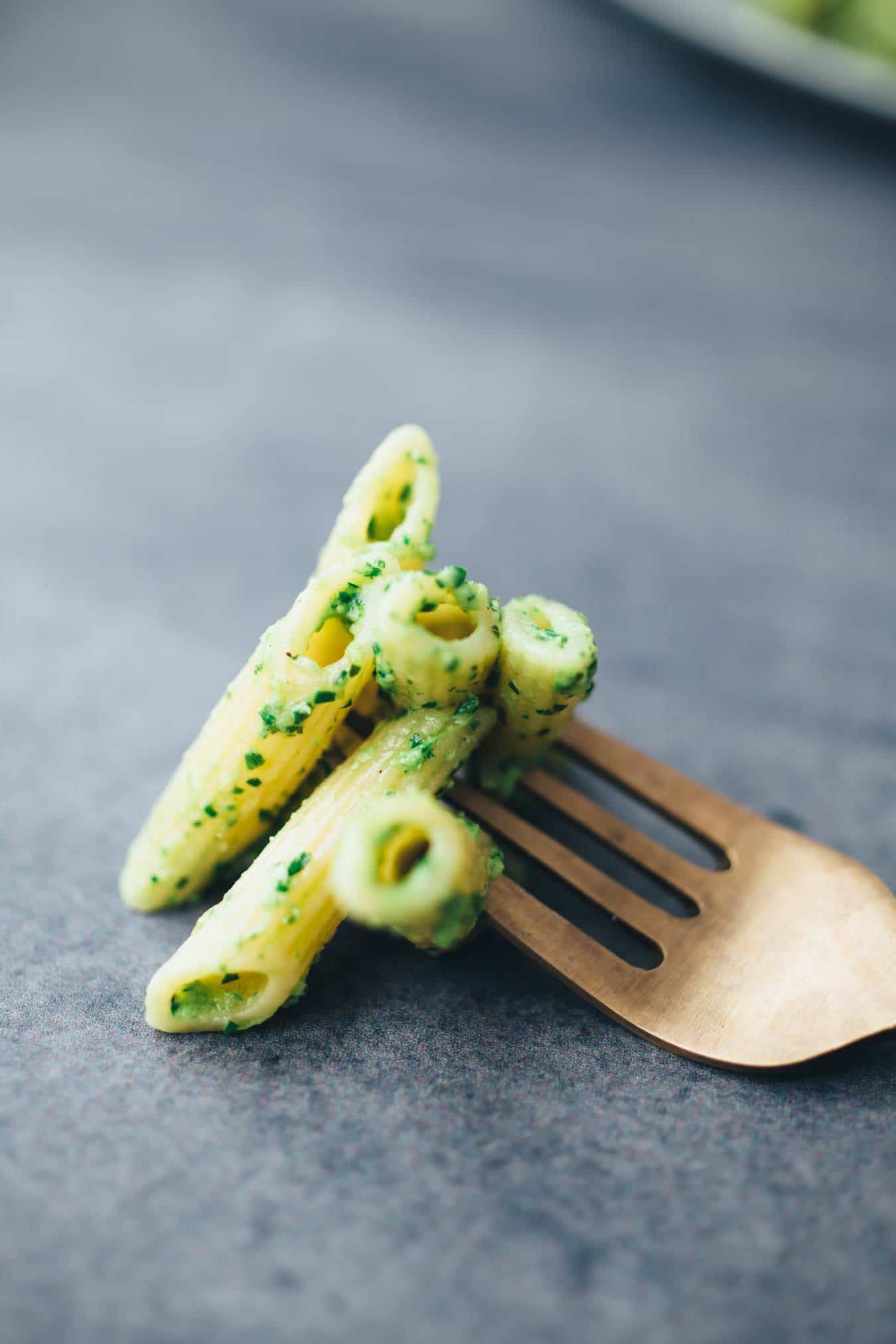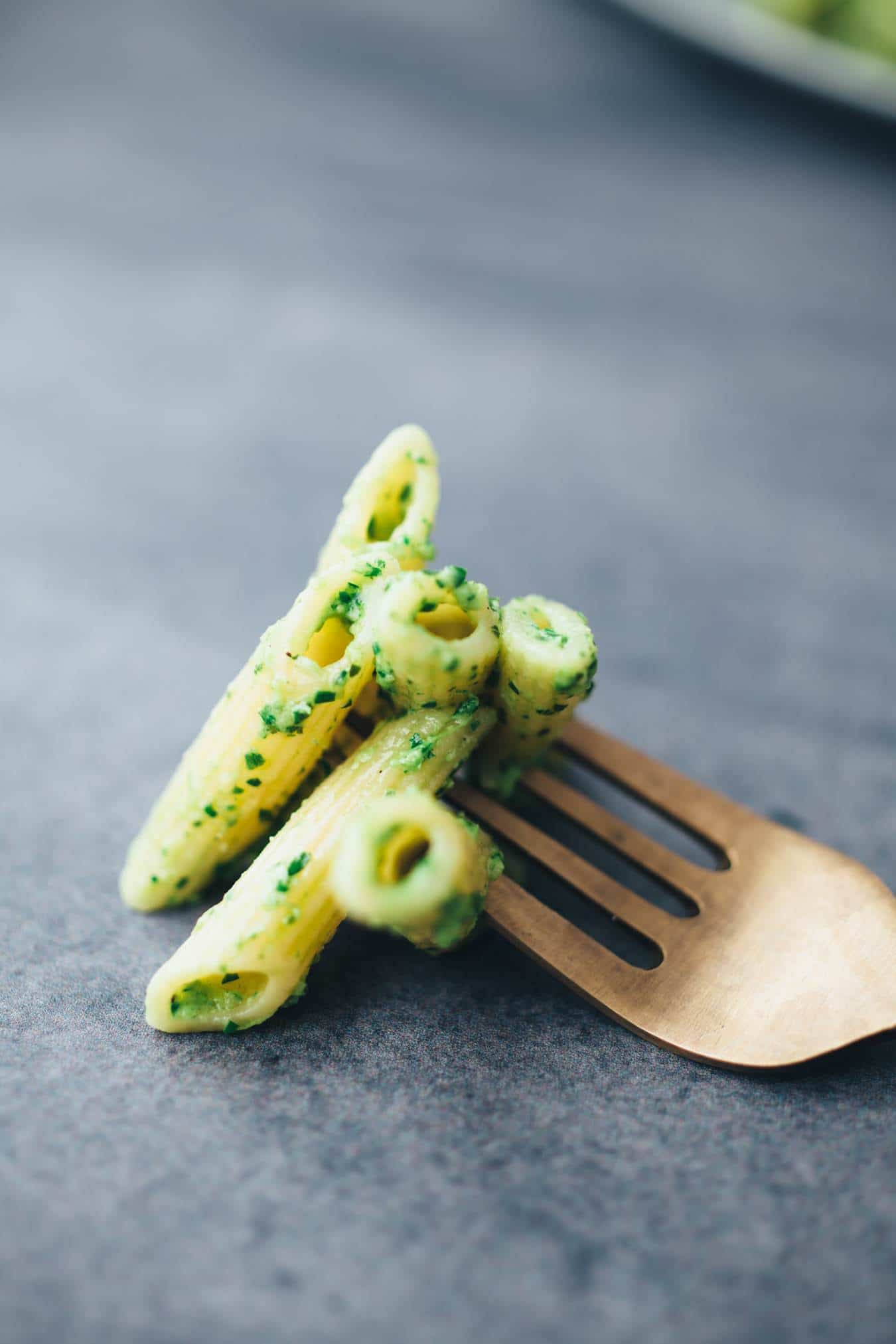 Back to the heart, the pesto. Depending on the quality of the arugula, it tastes more or less spicy or bitter. Here you can simply test and add a little sweetness to compensate (see recipe below). Nuts go very well with it , especially pine nuts and walnuts are a poem. The nutritional yeast provides a slightly "cheesy" note and somewhat replaces the Parmesan cheese, which is very often the basic ingredient of pestos. I also add a little lemon zest, it makes it almost perfect. If you don't like arugula par tut, you can always replace it with basil. You want to convert the dish into raw food? Then simply replace the pasta with zucchini noodles.
30 minutes, quick and easy for every day and yet so special! As a topping for pasta? Vegan parmesan , no question. If you want to make a menu out of it, try the vegan caramel pudding , or the Chocolate orange raw truffle . Yummy!
The pasta with arugula pesto is:
Pleasantly sharp
Raw
aromatic
Full of iron and potassium
Easy to make
Are you ready for your pesto party? I wish you a lot of fun in recooking and of course a review at the bottom of this page. If you post a picture, use the hashtag #veganevibes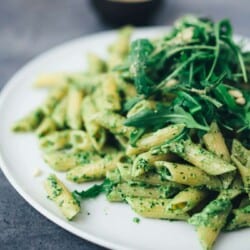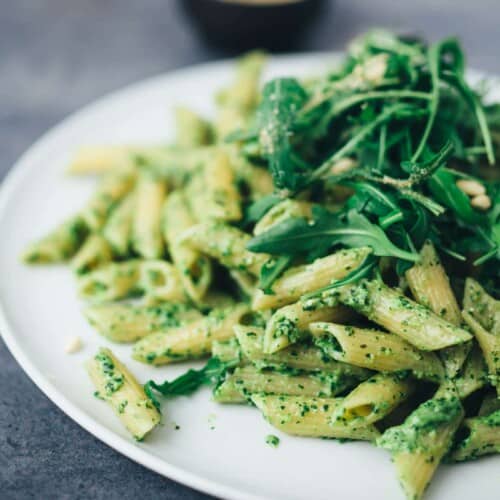 Arugula Pesto Pasta vegan (30 minutes)
Hearty vegan pasta with arugula pesto. A 30-minute meal that's healthy and filling.
AUTOR: VEGANEVIBES
Anleitung 
Bring a large pot of salted water to a boil and cook pasta according to package directions until al dente. Set aside.


For the pesto put all the ingredients in a food processor and blend until creamy and uniform. Taste, add optional water (for a more liquid consistency) and maple syrup (to balance bitterness) as desired.

150 g fresh arugula,

2 Piece Garlic cloves,

33 g Walnuts or pine nuts,

30 ml freshly squeezed lemon juice,

9 g Nutritional yeast,

1 tbspn Lemon zest of one organic lemon,

½ tbspn Sea salt,

45 ml extra virgin olive oil *here is worth good quality,

Optional: 1-2 tablespoons maple syrup,

Optional: 14-45ml water

Pasta mix with the pesto and arrange on 2 plates, garnish with fresh arugula and vegan parmesan and enjoy!

Store pesto up to 1 week in the refrigerator or portioned (for example, in the form of ice cubes) 1 month in the freezer and best heated in steamer.
Notizen
NOTES /HELPFUL ACCESSORIES:
Nährwertangaben
Serving:
1
Portion
Calories:
602
kcal
Carbohydrates:
80
g
Protein:
17
g
Fat:
24
g
Saturated Fat:
3
g
Sodium:
84
mg
Potassium:
516
mg
Fiber:
5
g
Sugar:
4
g
Vitamin A:
1185
IU
Vitamin C:
11.4
mg
Calcium:
112
mg
Iron:
2.6
mg