Yesterday was my best friend's birthday and I wanted to make him a "favorite" cake. What is a favorite cake, please? For me personally, it's a cake that's easy to make, tastes good to (almost) everyone, and goes well with many occasions. That's exactly how lemon cake is. Simply heavenly delicious, juicy and with a great combination of sweetness and the acid from organic lemons. The sponge is ready in no time and the longest time the good piece is baking in the oven.
Lemon cake – juicy, vegan and extremely delicious? Please bring it here!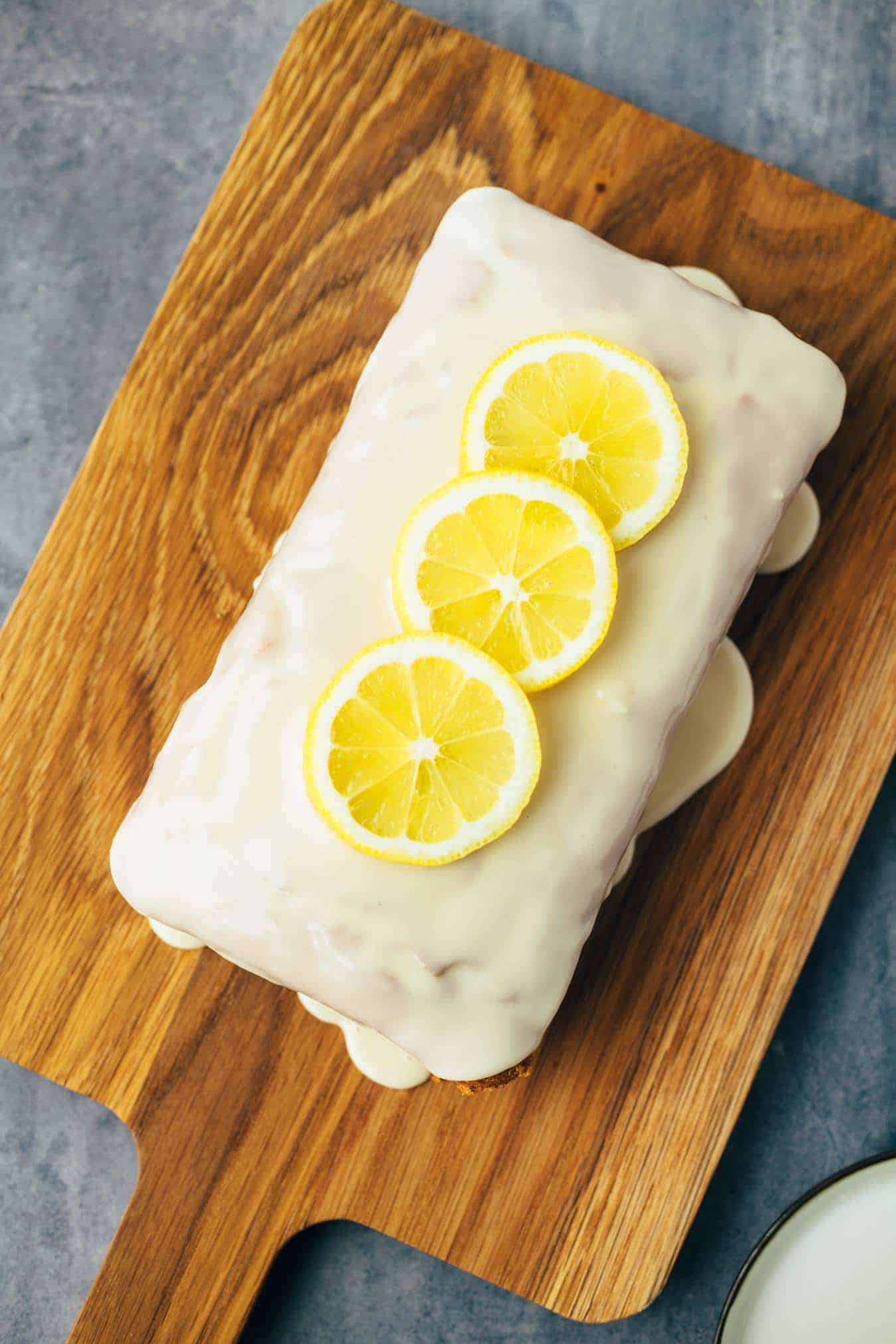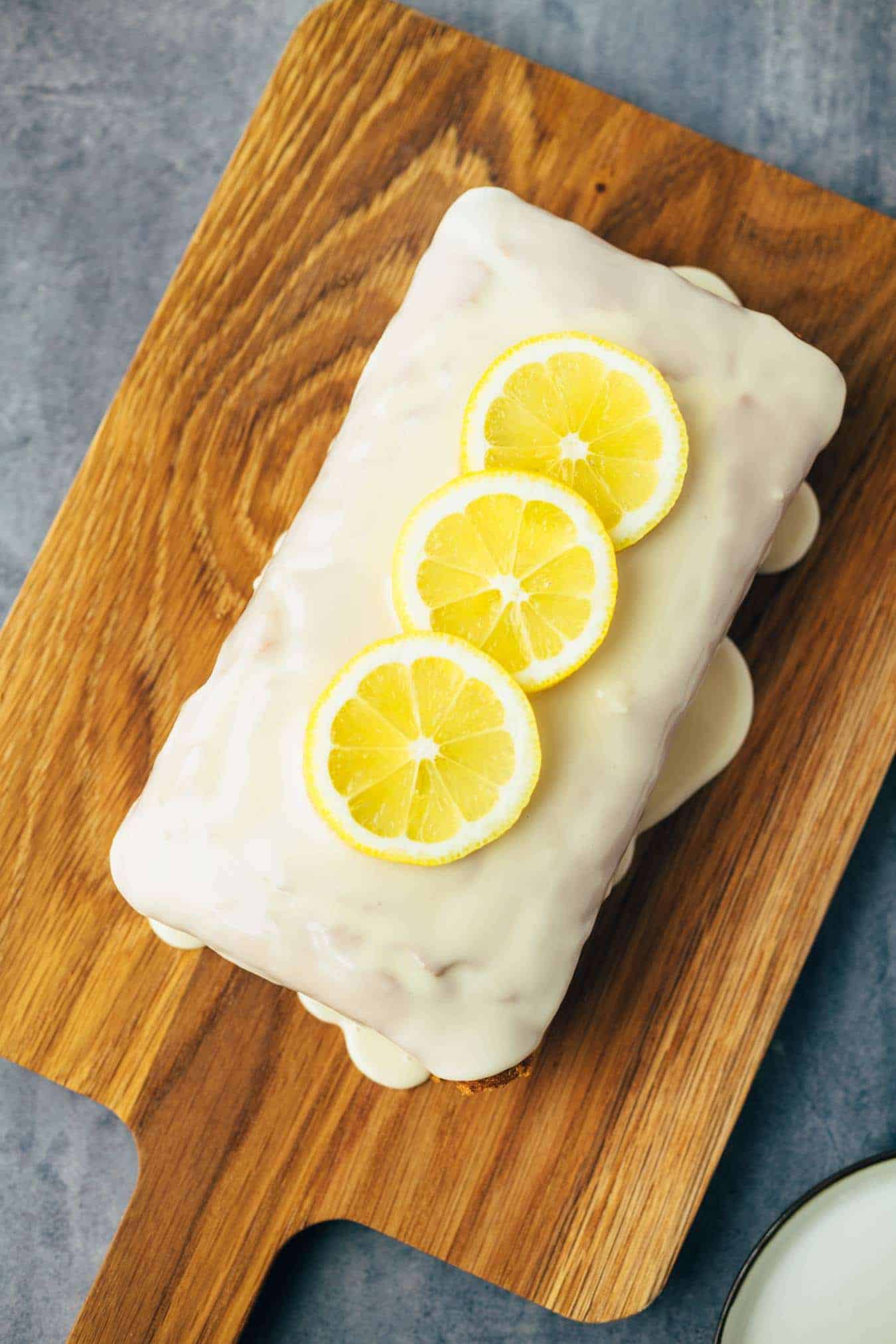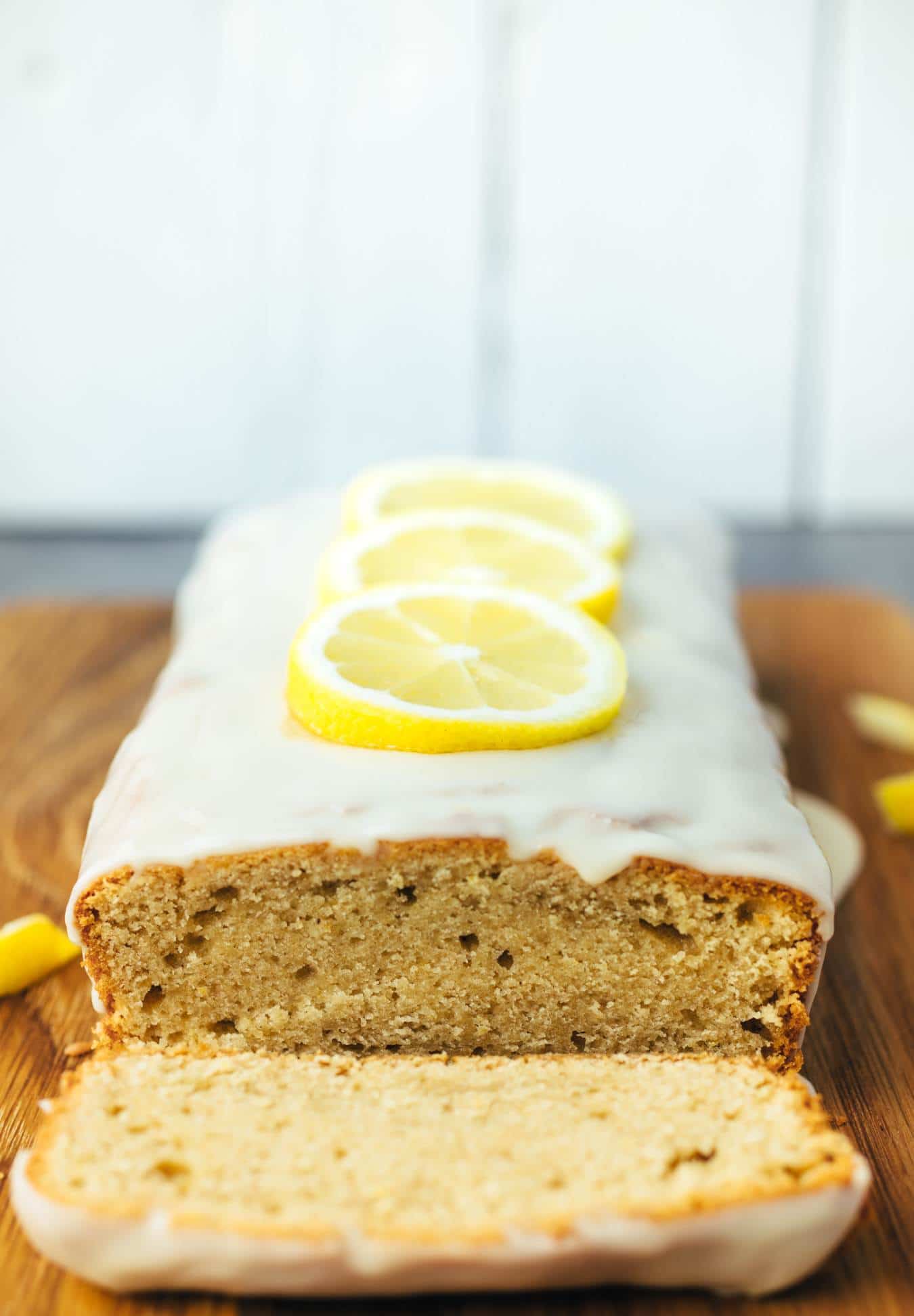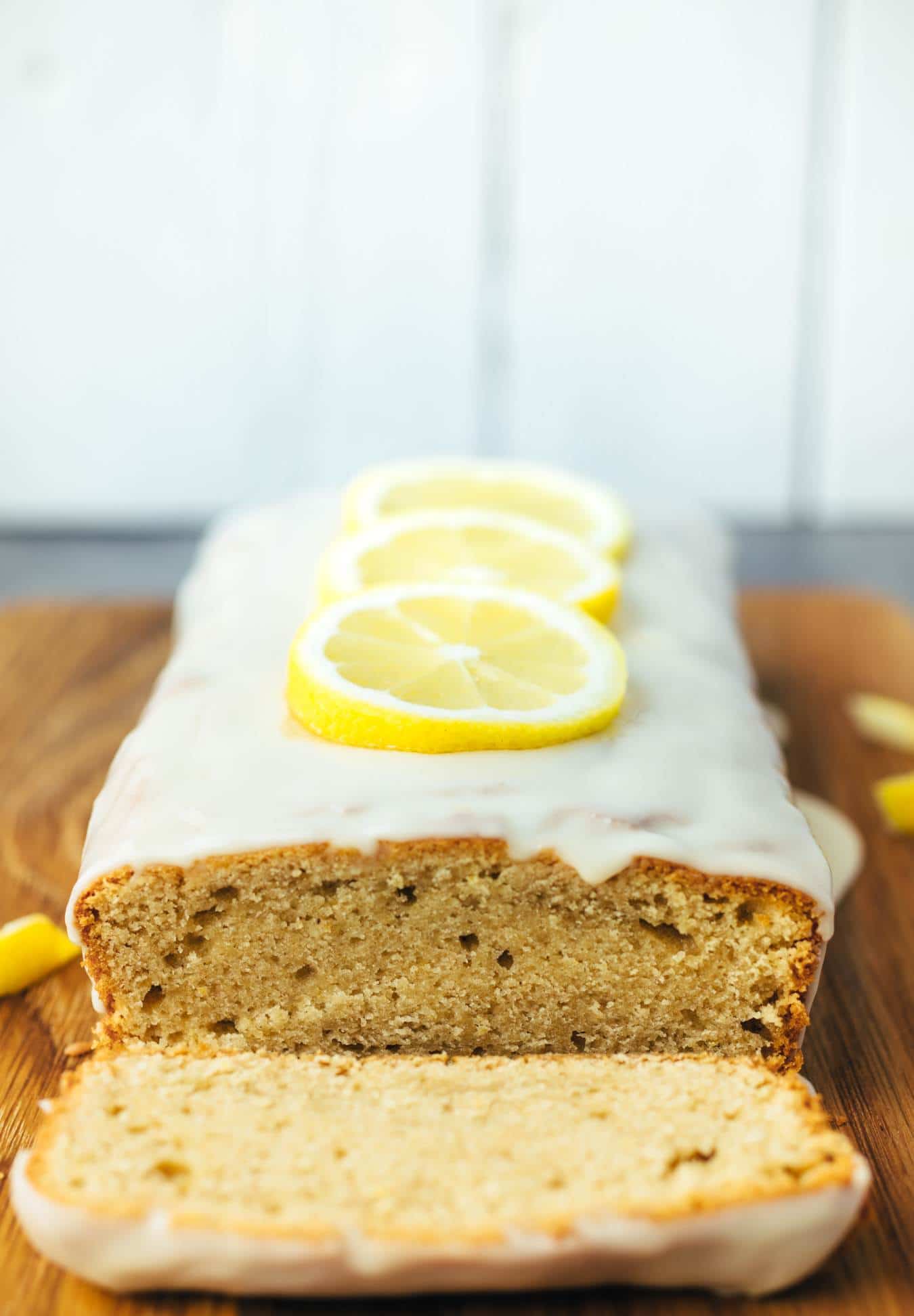 I bake yes very often gluten-free, yet I have every now and then desire "normal" flour such as spelt flour. There are those who say that gluten-free baking is the only way to go. Personally, I have no intolerance to gluten and think that both variants to bake have their justification. In general, however, I use only organic flours and prefer to mix in a small amount of whole grains. If you have an intolerance, then I recommend using my gluten-free flour blend. You can also use this for this recipe 1:1 instead of spelt flour.
Besides the flour, of course, one thing must not be missing, the lemon! This raises the question of how healthy lemons actually are?
I did some research:
Vitamin C (the main active ingredient of lemon) strengthens the immune system, has an anti-inflammatory and antioxidant effect.
Lemon juice has a detoxifying effect and strengthens connective tissue
Lemon essential oil has mood elevating properties
This cake is just perfect for spring, light, fluffy and above all very refreshing thanks to the lemon. I would say the next (vegan) garden party can come? At least it is already certain that you are the star of the party.
Sour makes merry, the vegan lemon cake definitely provides a good mood
Essentially you don't need much for this recipe, a bowl or food processor and a handful of ingredients. Started with flour, cornstarch, almond milk, coconut oil or alsan, baking soda and apple cider vinegar (for leavening), lupine flour for better binding, raw cane sugar, baking powder, bourbon vanilla and a pinch of salt. That`s it! Then it's just a matter of stirring, but preferably as little as possible. why? Too much stirring "stirs" the leavening power of the natron out of the dough.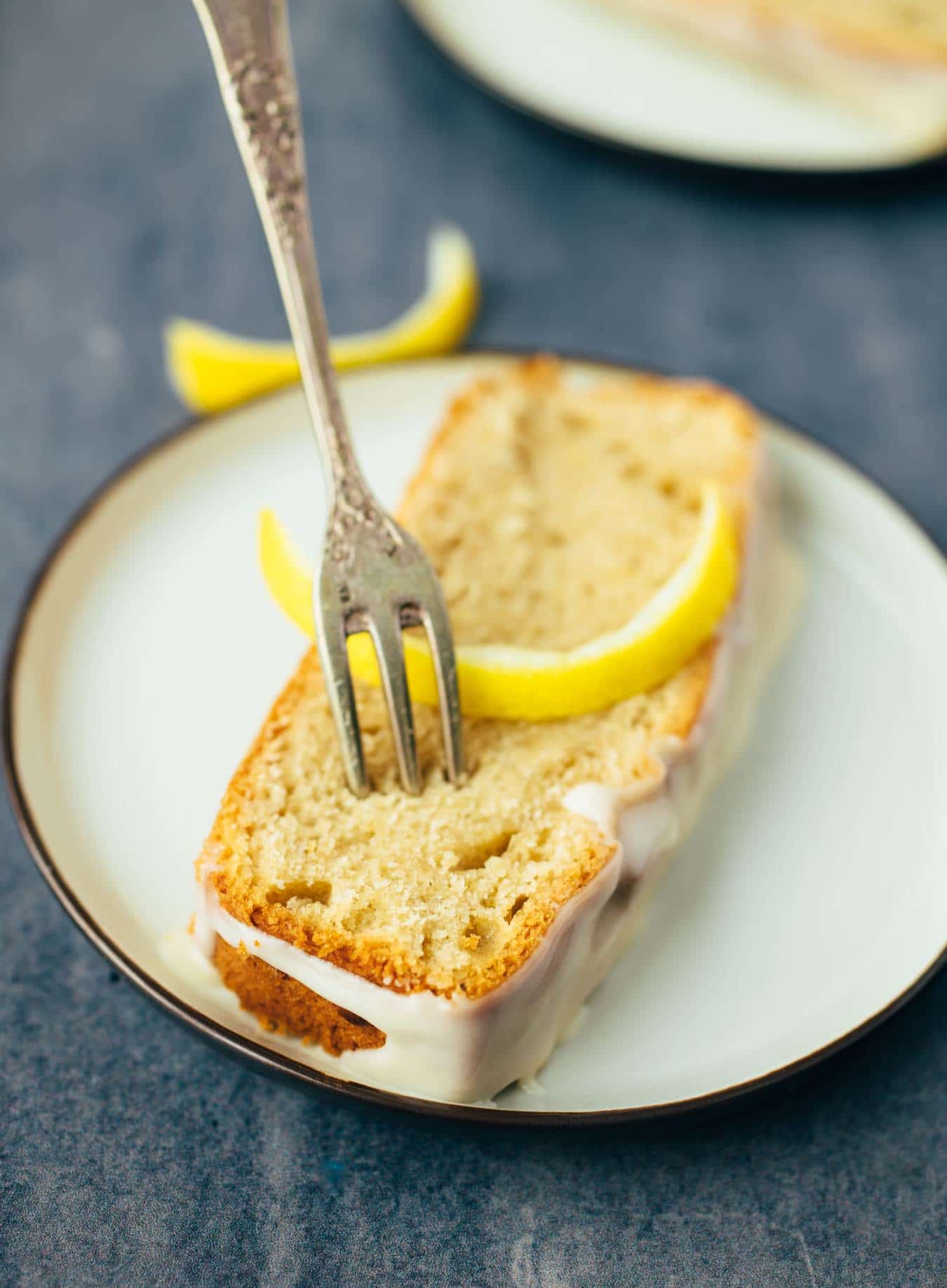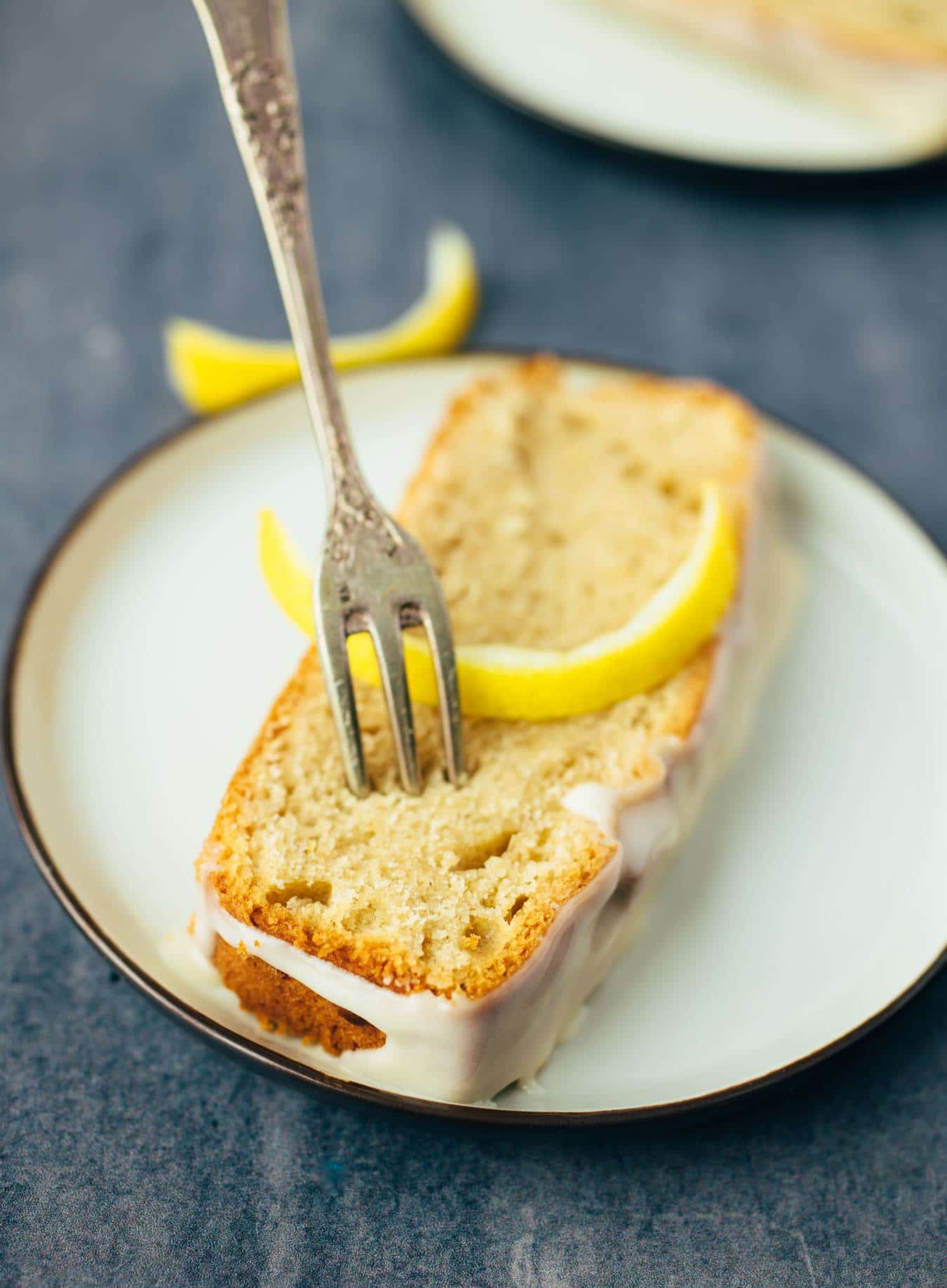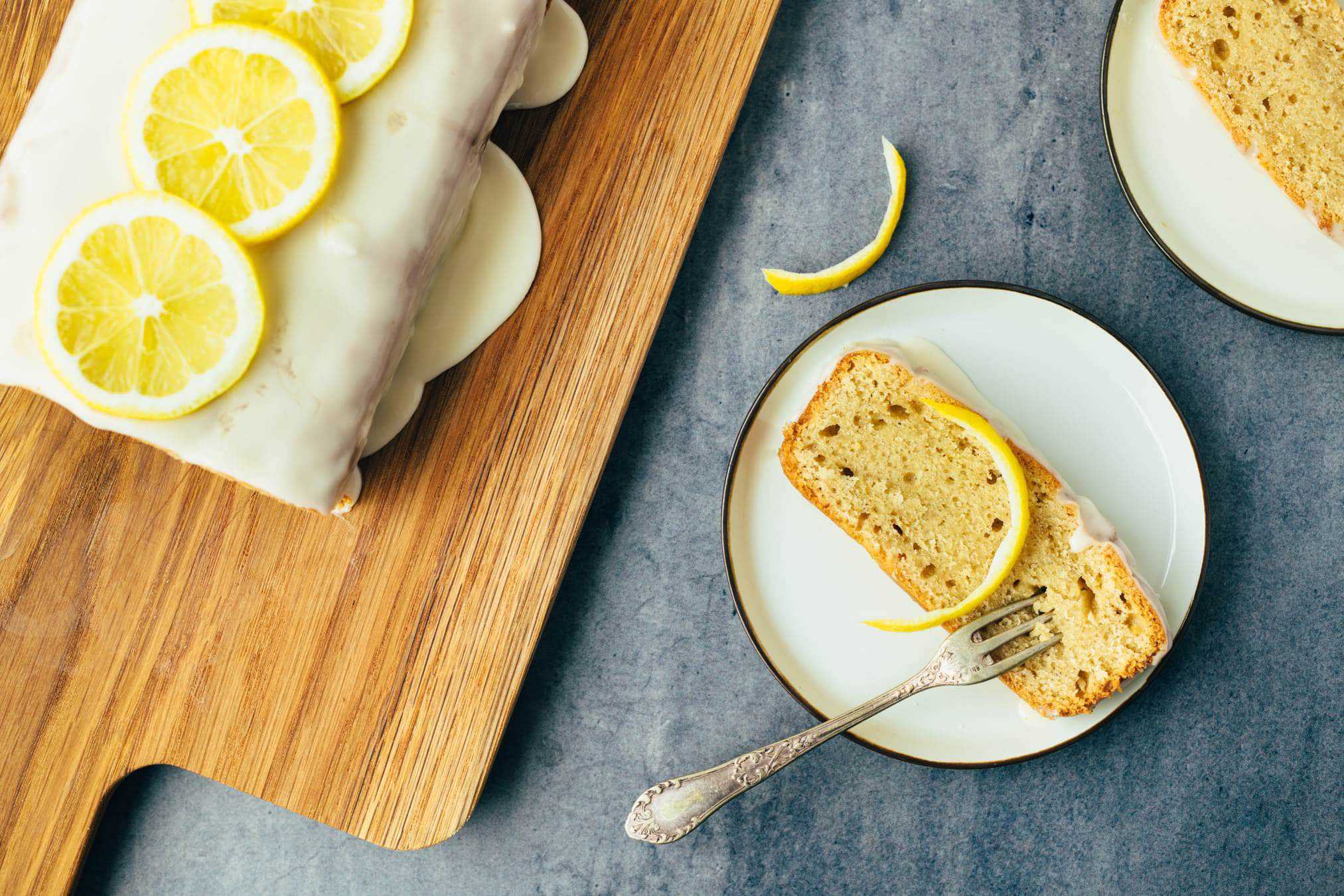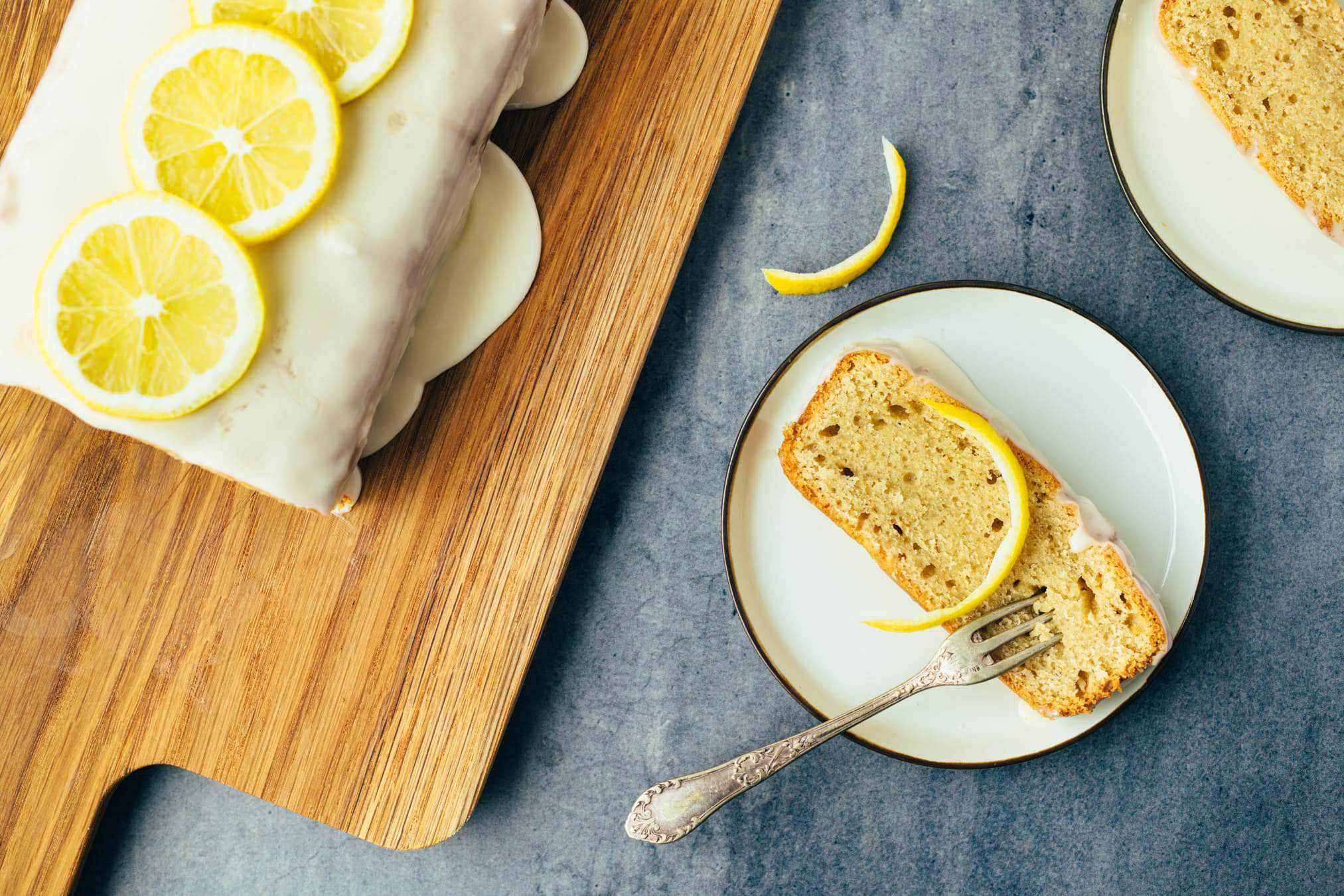 Now nothing can really go wrong, except? The baking time! Especially with vegan cakes, it is important that the baking time is correct. To make sure the cake is ready on the dot, I do the chopstick test. When that comes out clean, I turn off the oven and let the cake cool while still in the oven. Voilà!
Then there is only the question of the frosting. Cream! Not really. A really sweet frosting is needed, preferably with a touch of tartness. Powdered sugar and lemon juice is the solution. More about this below in the recipe.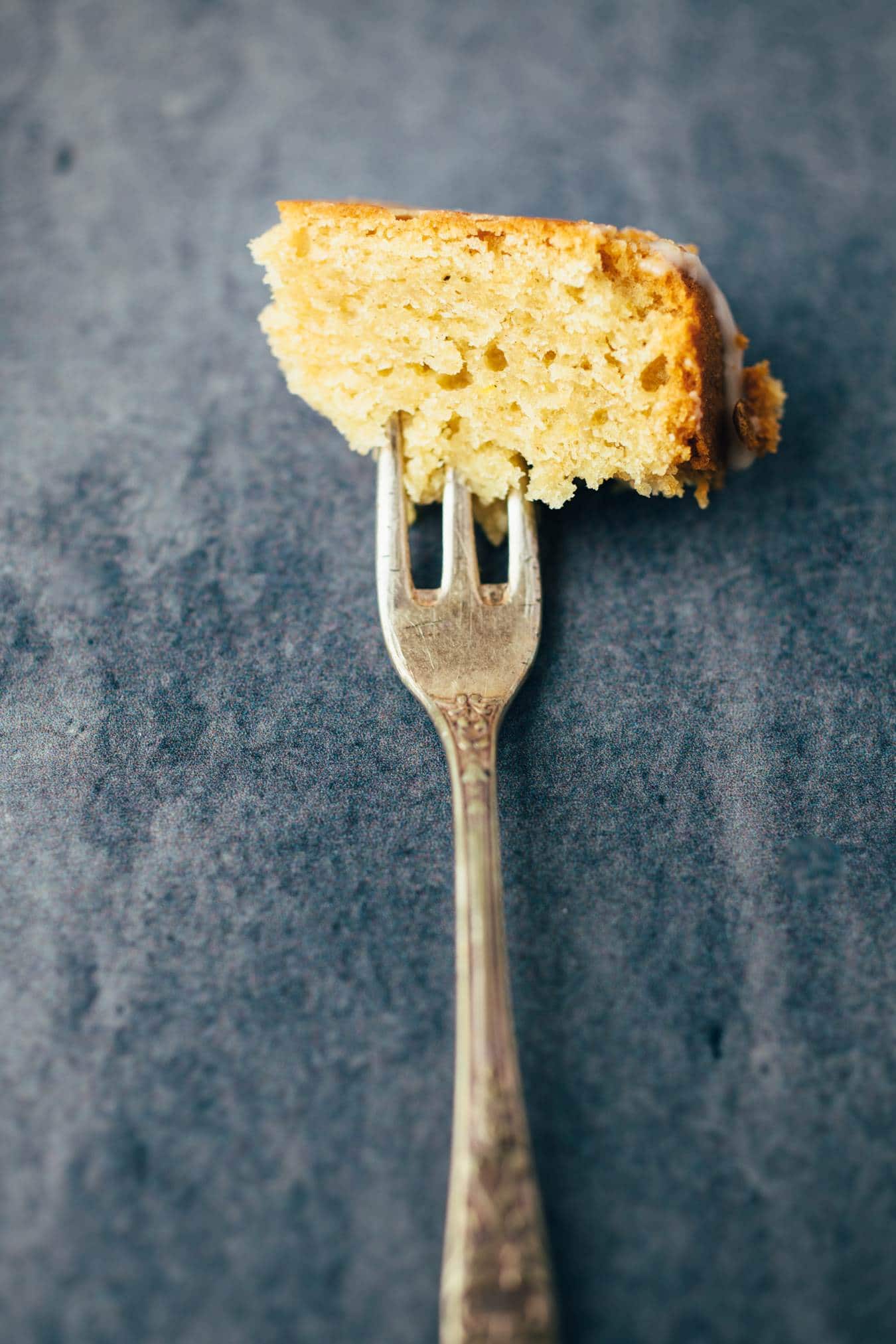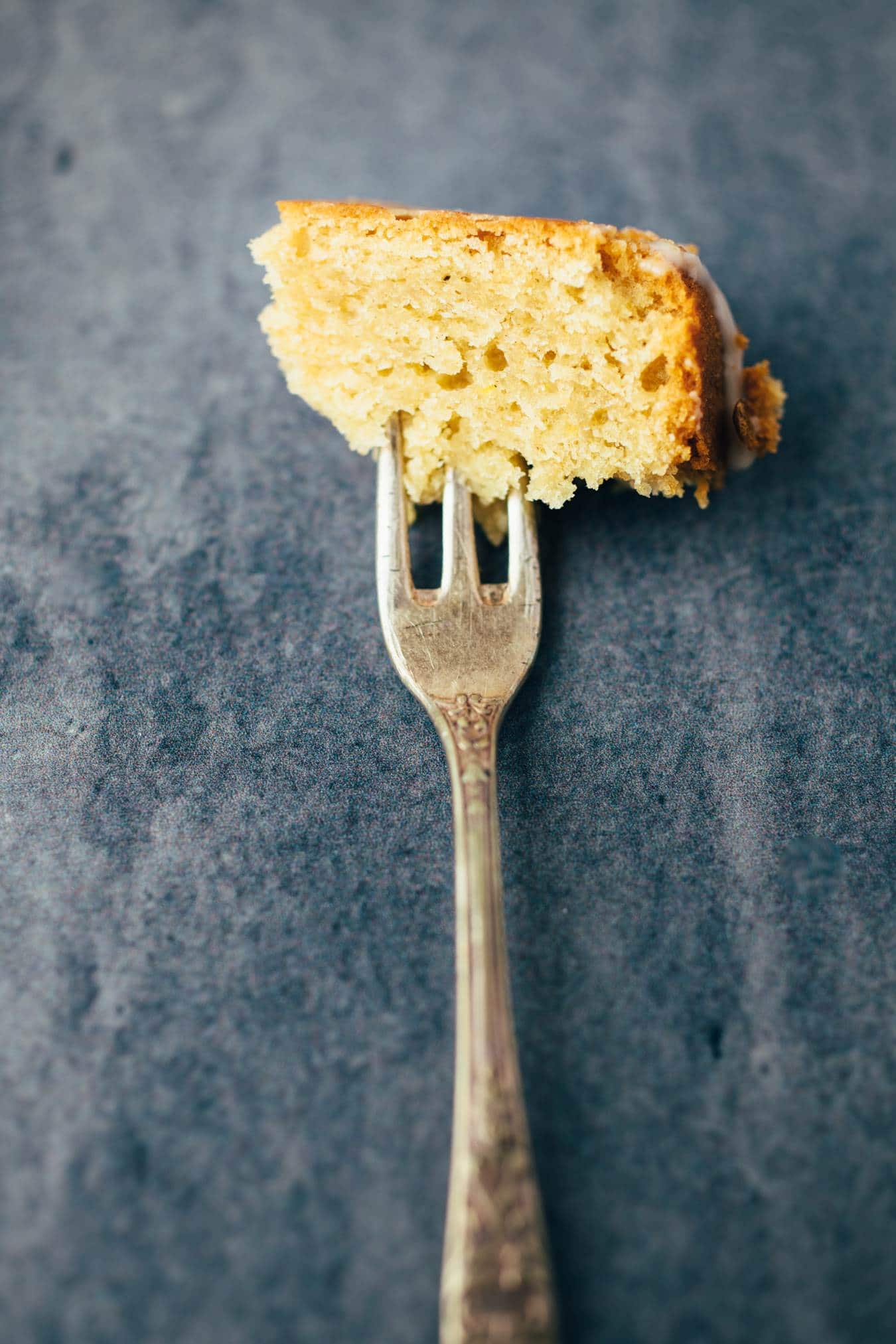 Let's get started with this juicy lemon cake. I hope you enjoy baking and of course about a review at the bottom of this page. If you post a picture, use the hashtag #veganevibes.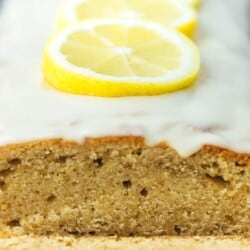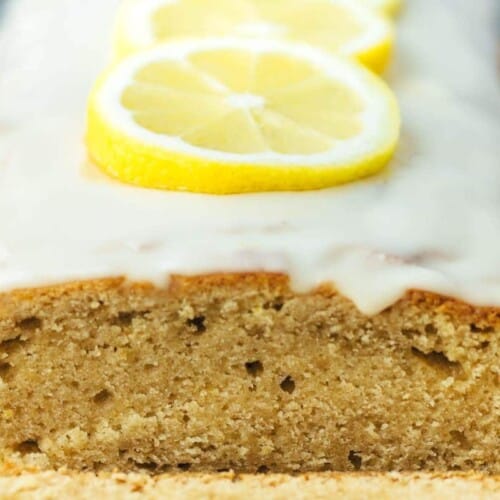 1-BOWL Juicy lemon cake
Simple, moist, vegan lemon cake? Made with just one bowl, fluffy and moist inside, topped with a lemony frosting. The next coffee party can come.
AUTOR: VEGANEVIBES
Anleitung 
FOR THE CAKE Preheat the oven to 175 degrees and grease a square baking pan (24×24 cm) with a little coconut oil and dust with flour (optional).

For the lemon cake, combine almond milk, lemon juice, alsan and baking soda in a large baking bowl. The liquid should now begin to foam slightly.

200 ml Almond milk or another vegetable milk,

60 ml Lemon juice,

150 g Alsan,

½ tbspn Baking soda

Place a sieve over the bowl, sift in the flour, then add in the cornstarch, lupine flour, cane sugar, baking powder and sea salt and mix everything once until a homogeneous dough is formed.


270 g fine light spelt flour,

30 g Cornstarch,

30 g Lupine flour or soy flour,

150 g Raw cane sugar,

½ tbspn Baking powder,

½ tbspn Sea salt

ALTERNATIVE: Put all ingredients in order into a high-powered blender (e.g. Blendtec) and blend with the dough program until a homogeneous dough is obtained.

Process.

CAUTION: Do not stir too long, otherwise the driving force of the natron will be destroyed.

The dough should be neither too solid nor too liquid and should be easy to pour into the baking pan. If too firm, add a little more almond milk, if too runny, add a little more flour.


Place in the oven, bake for 40-50 minutes and test with a wooden stick to see if the cake is done. When the wooden stick comes out clean, then the cake is ready. Turn off oven and leave cake in it for another 30 minutes. Only then remove from the oven and let cool completely (preferably one hour).


FROSTING Stir. Be careful with the lemon juice here, as it can quickly become too liquid. Start stirring with a tsp and add more liquid a little at a time until desired consistency is reached. Optionally decorate with fresh lemon slices or lemon zest, slice and enjoy!

60 g Powdered sugar,

1-3 tbspn Lemon juice

Store in an airtight container in the refrigerator for up to 5 days, keep frozen for a few weeks.

Notizen
* if flaxseed eggs are used, mix them first and let stand for 5 minutes.
NOTES /HELPFUL ACCESSORIES:
Nährwertangaben
Serving:
1
Piece
Calories:
184
kcal
Carbohydrates:
28
g
Protein:
2
g
Fat:
6
g
Saturated Fat:
1
g
Sodium:
98
mg
Potassium:
19
mg
Fiber:
2
g
Sugar:
13
g
Vitamin A:
360
IU
Vitamin C:
1.5
mg
Calcium:
16
mg
Iron:
0.9
mg