It is my pleasure to present my first reader request. Ka-Min had wished via facebook for a vegan Black Forest cake. She would like to make a good friend happy with it. He loves Black Forest cake, but hasn't eaten any since he switched to a vegan nutrition no longer eaten. What? Of course, we need to change that as soon as possible. I was very happy about the request, especially because I am a huge fan of the classic myself.
Black Forest Cake – vegan new interpretation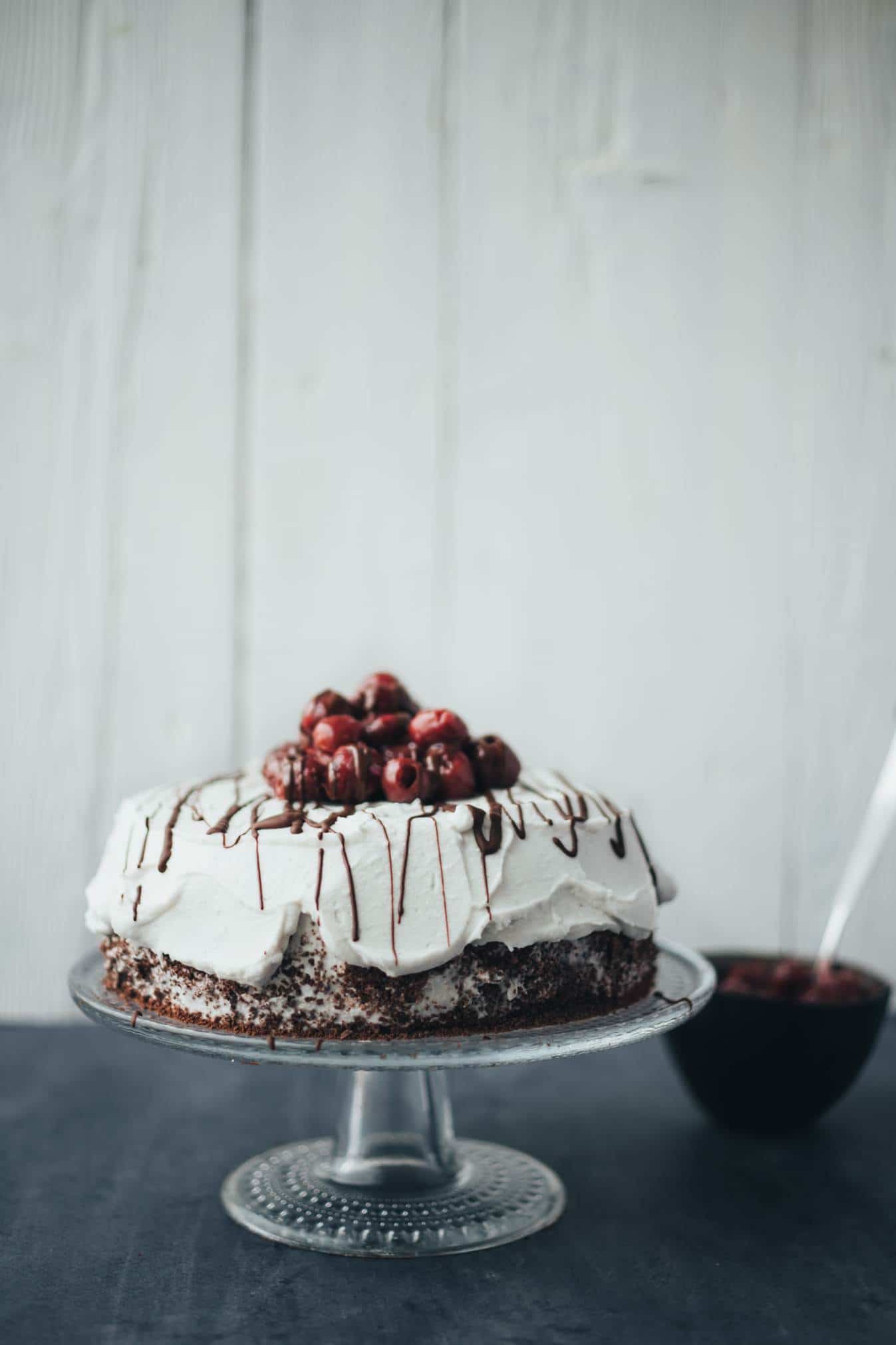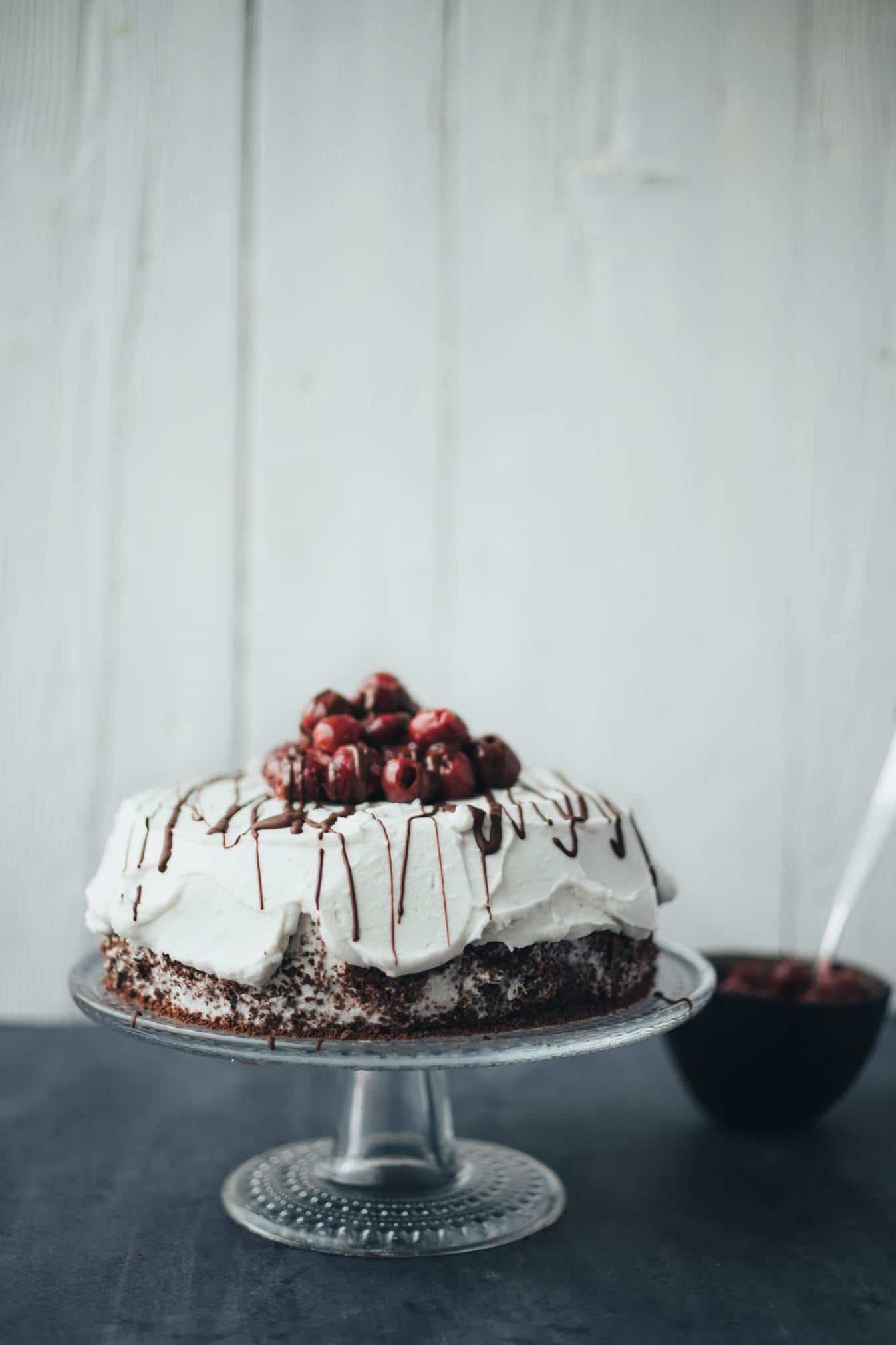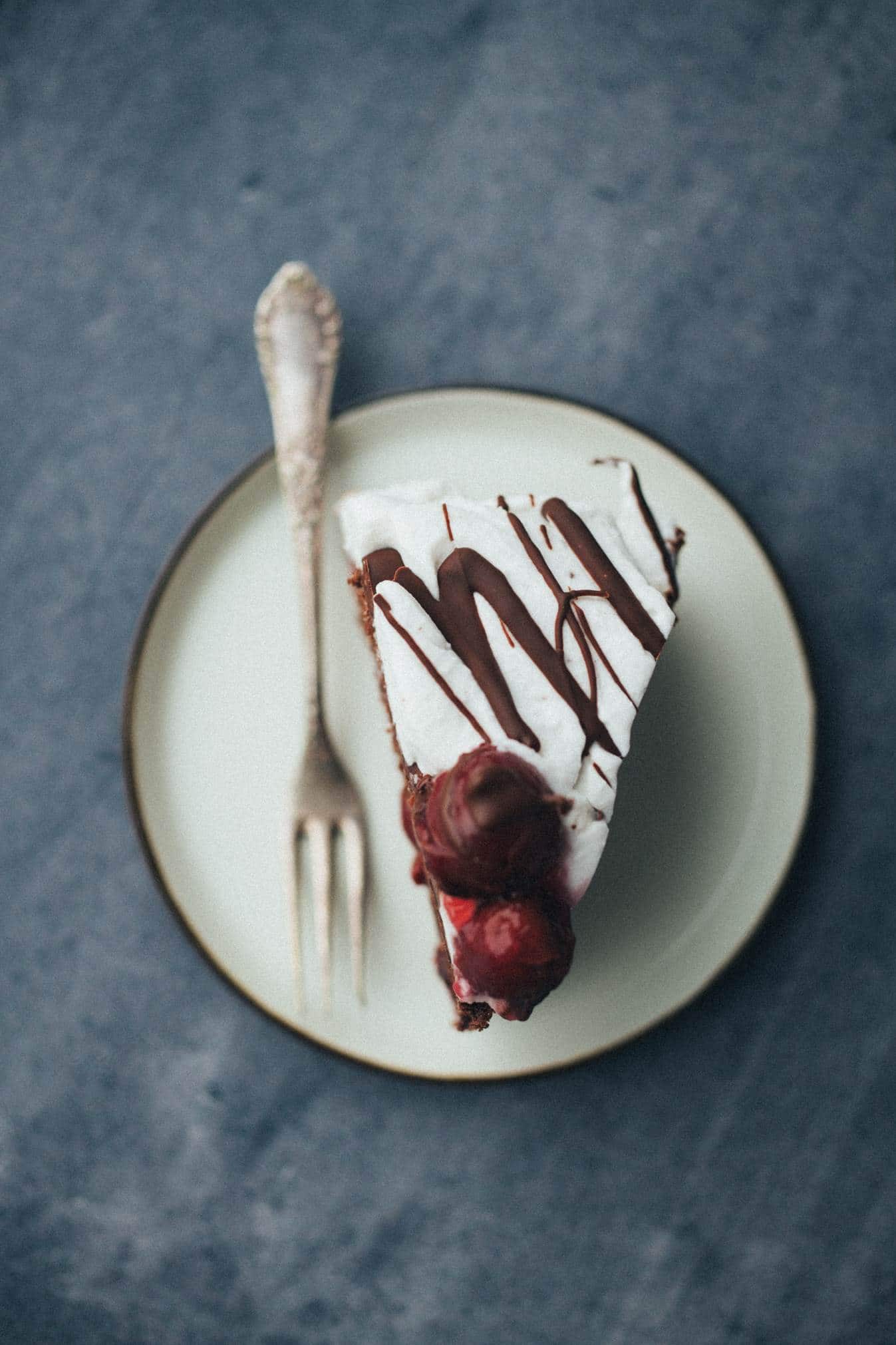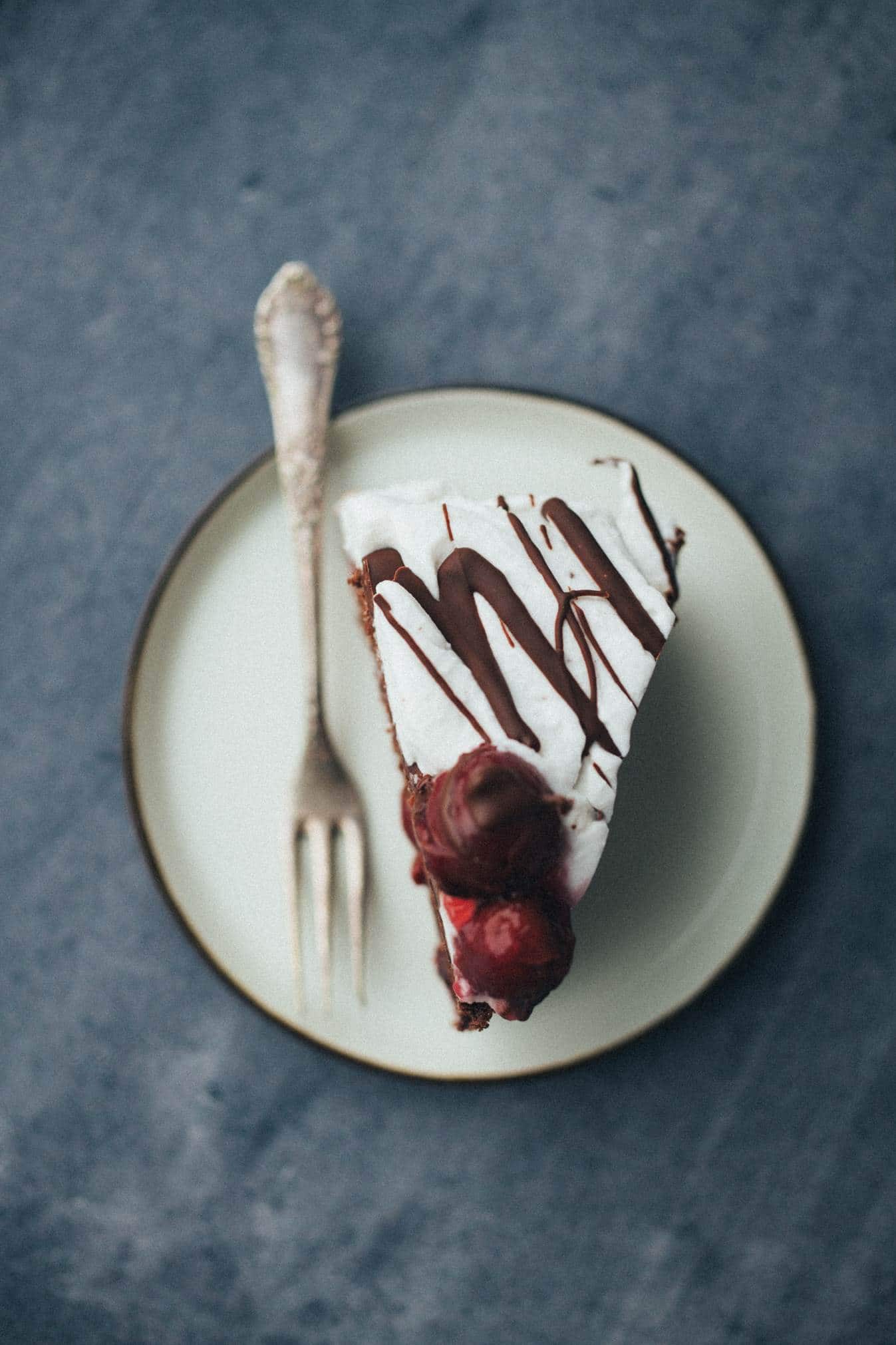 The basis for a classic Black Forest cake (as you know it from various confectioneries) is a sponge cake base made of lots of eggs, sugar, cocoa, etc. The cake is filled with Cream layers and a cherry pudding. Sounds very yummy, but also takes a lot of time to make the individual layers. Therefore, I have simplified the cake a little, so that you can easily and comfortably make it at home. PS: And you do not even need to be trained as a pastry chef.
For baking, I use two 20cm springform pans, as I'm not a big fan of the classic large 26cm-28cm diameter pies. Rather something smaller, looks somehow schnuckliger and fits quantity-wise also very well for our small family (except my dad is visiting – diagnosis cake addiction!).
Blackforest cake – vegan & gluten free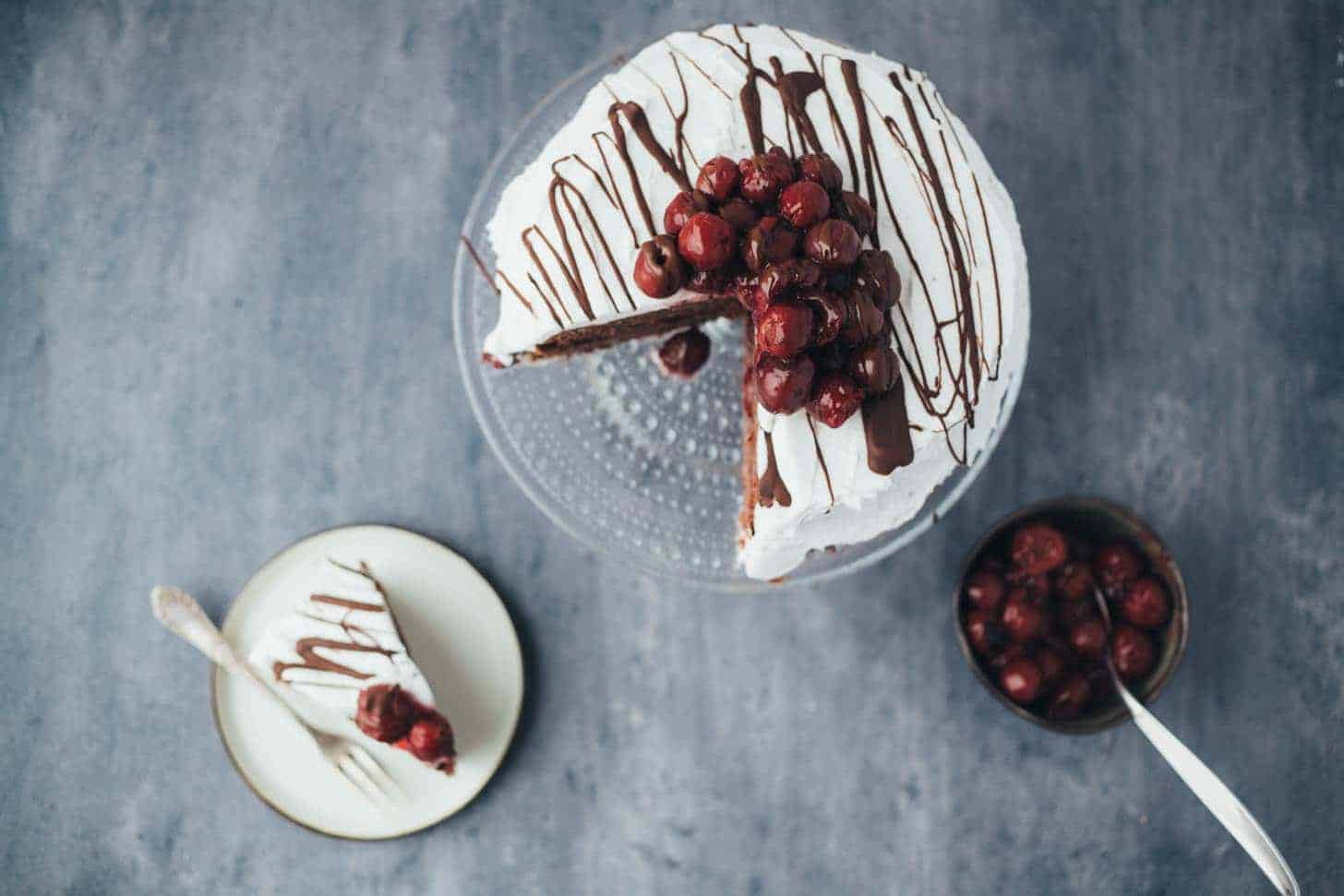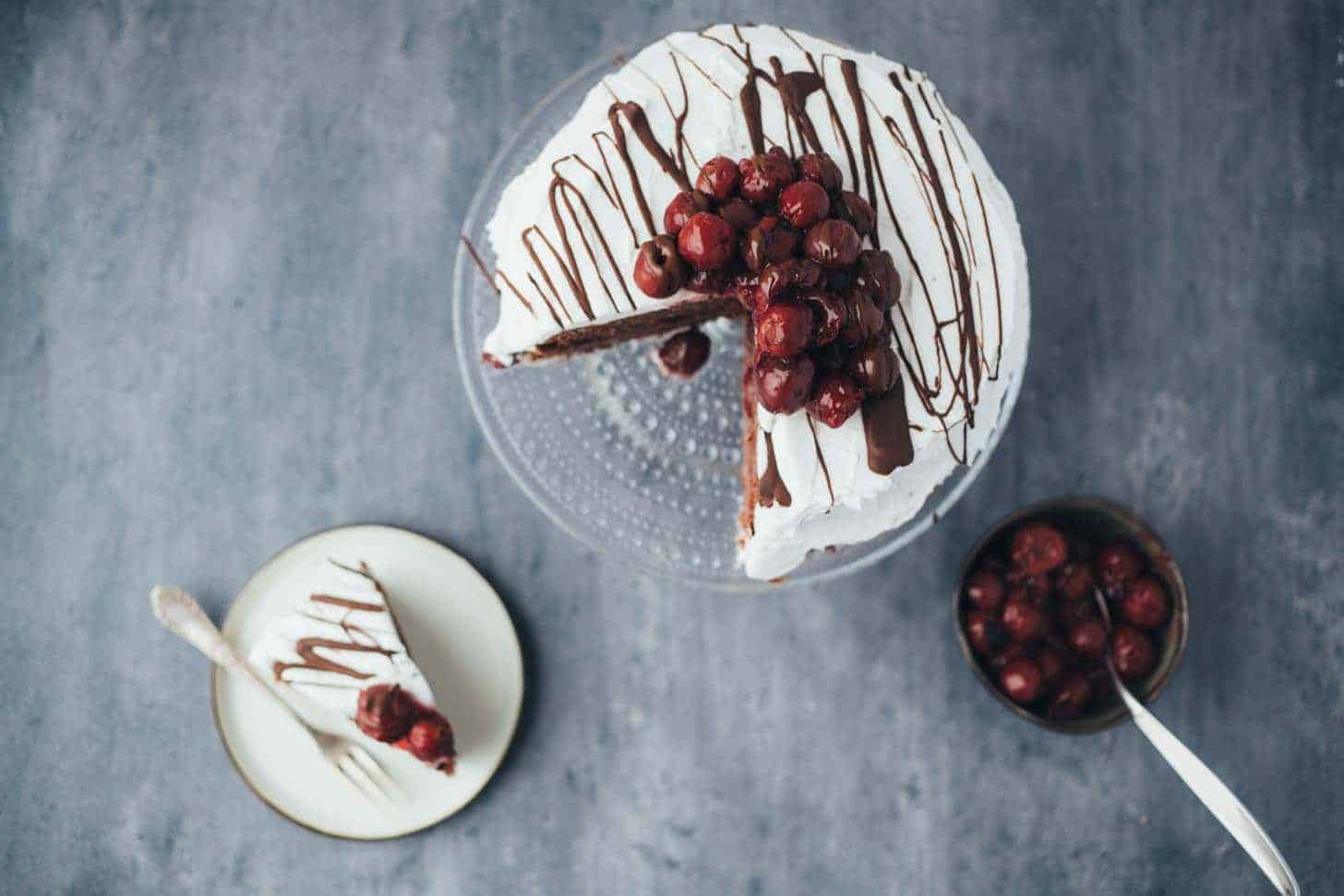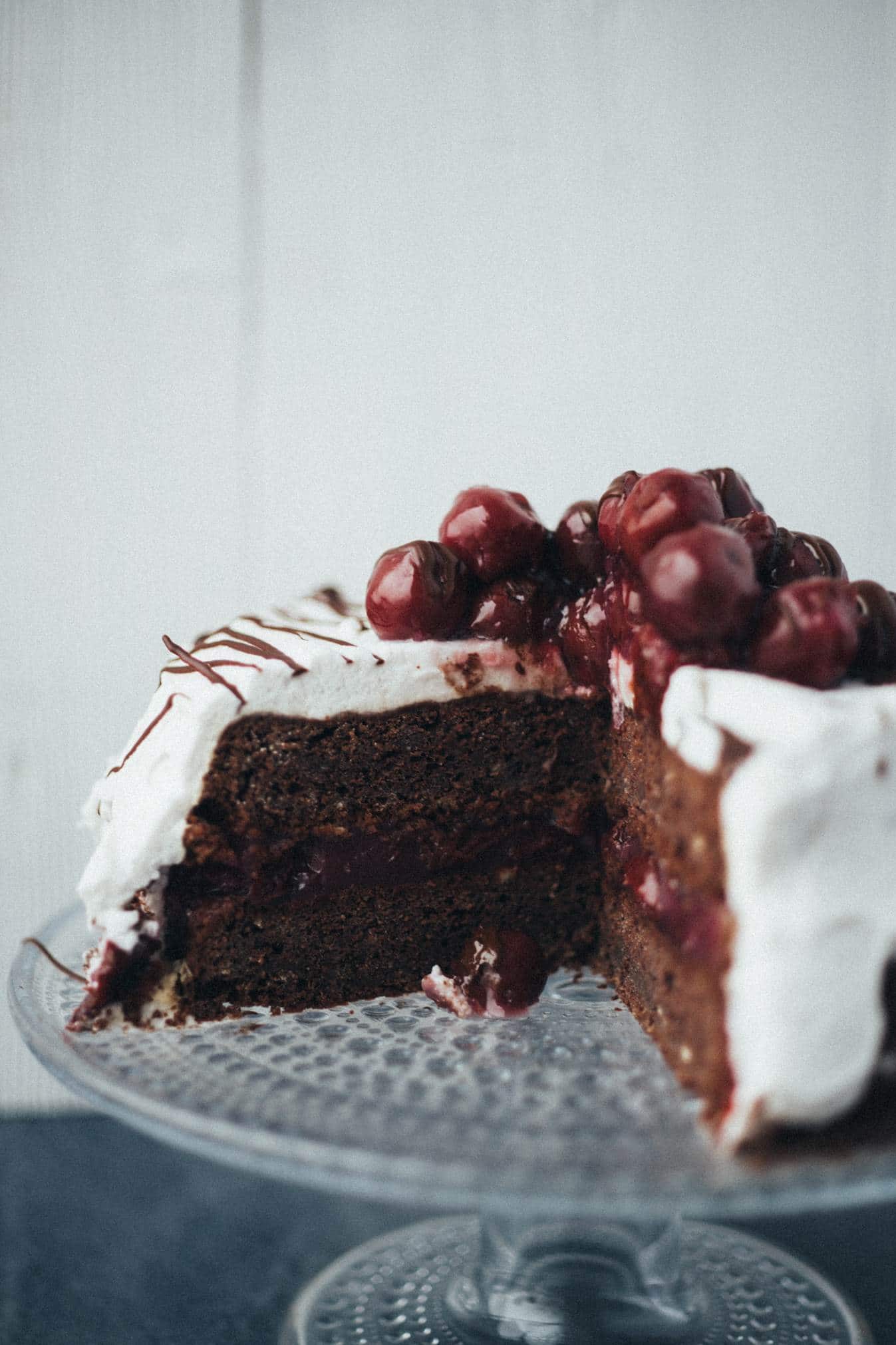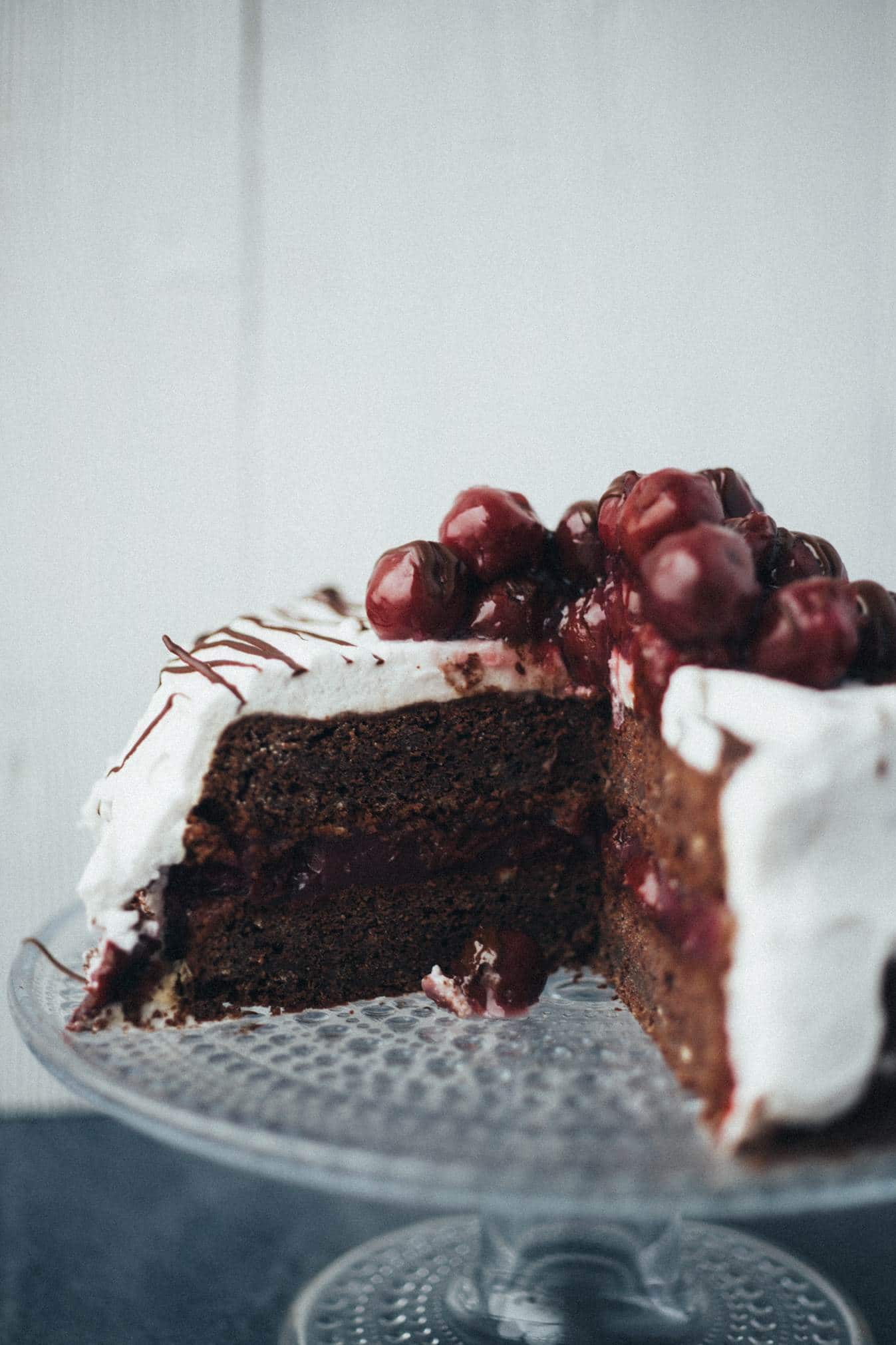 The filling consists of delicious sour cherries, a little starch and a little raw cane sugar. Here coconut blossom sugar (my absolute favorite sugar) also works great and gives the filling a slightly caramel note.
Now for the cream topping: I opted for a thick layer Coconut cream and it works just wonderful. Here you can find a tutorial on making delicious, vegan coconut cream .
Ahhhh, I can't wait to make this yummy cake again. The layers of coconut cream, delicious chocolate dough, and cherry filling is just right up my alley. Delicious with a cup of coffee, simple hot chocolate or vegan golden milk .
Anyway, I'm sure you'll love this easy vegan Black Forest Cake, it's:
chocolatey
fruity
Light
creamy
filling
Simply made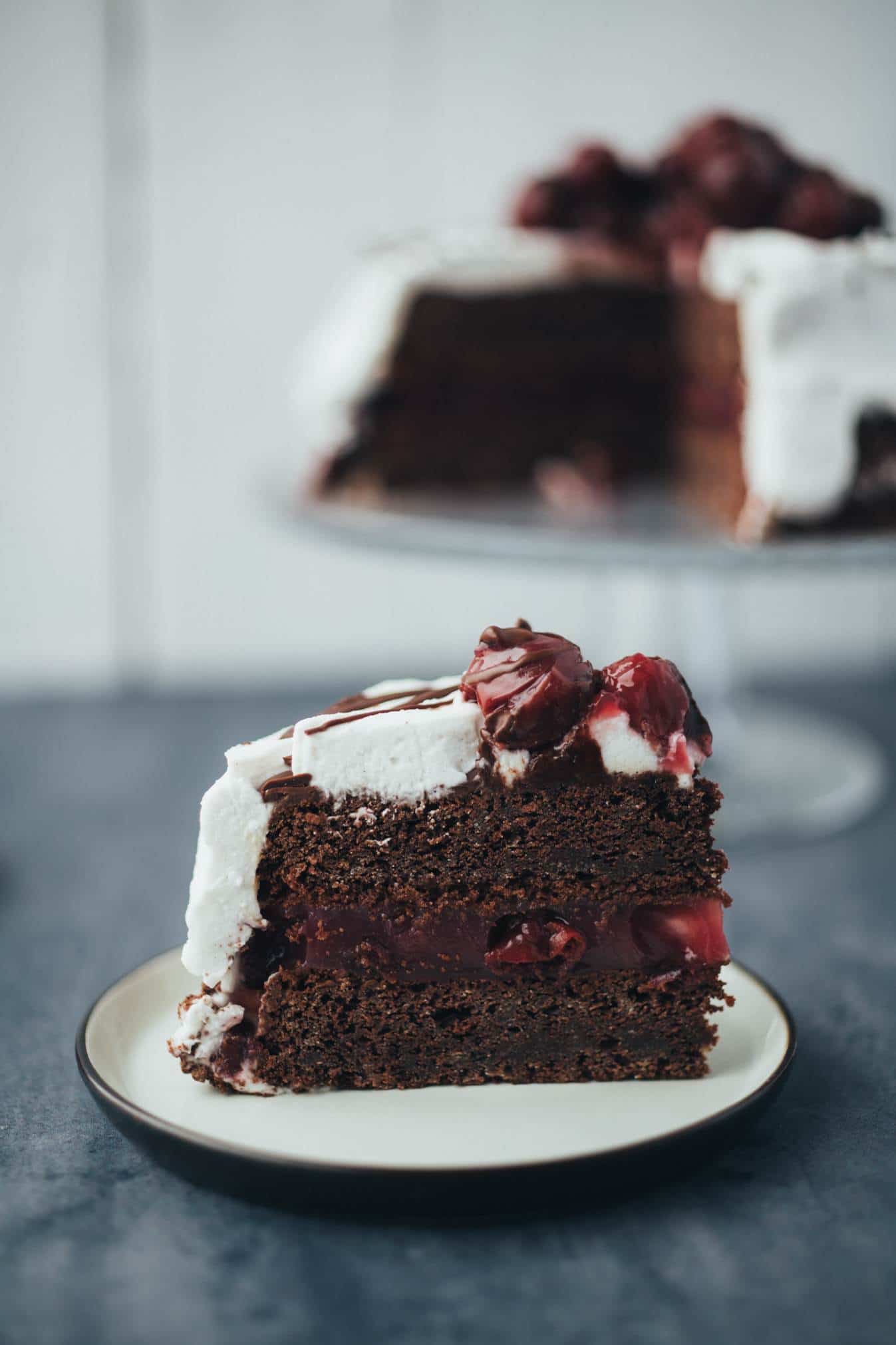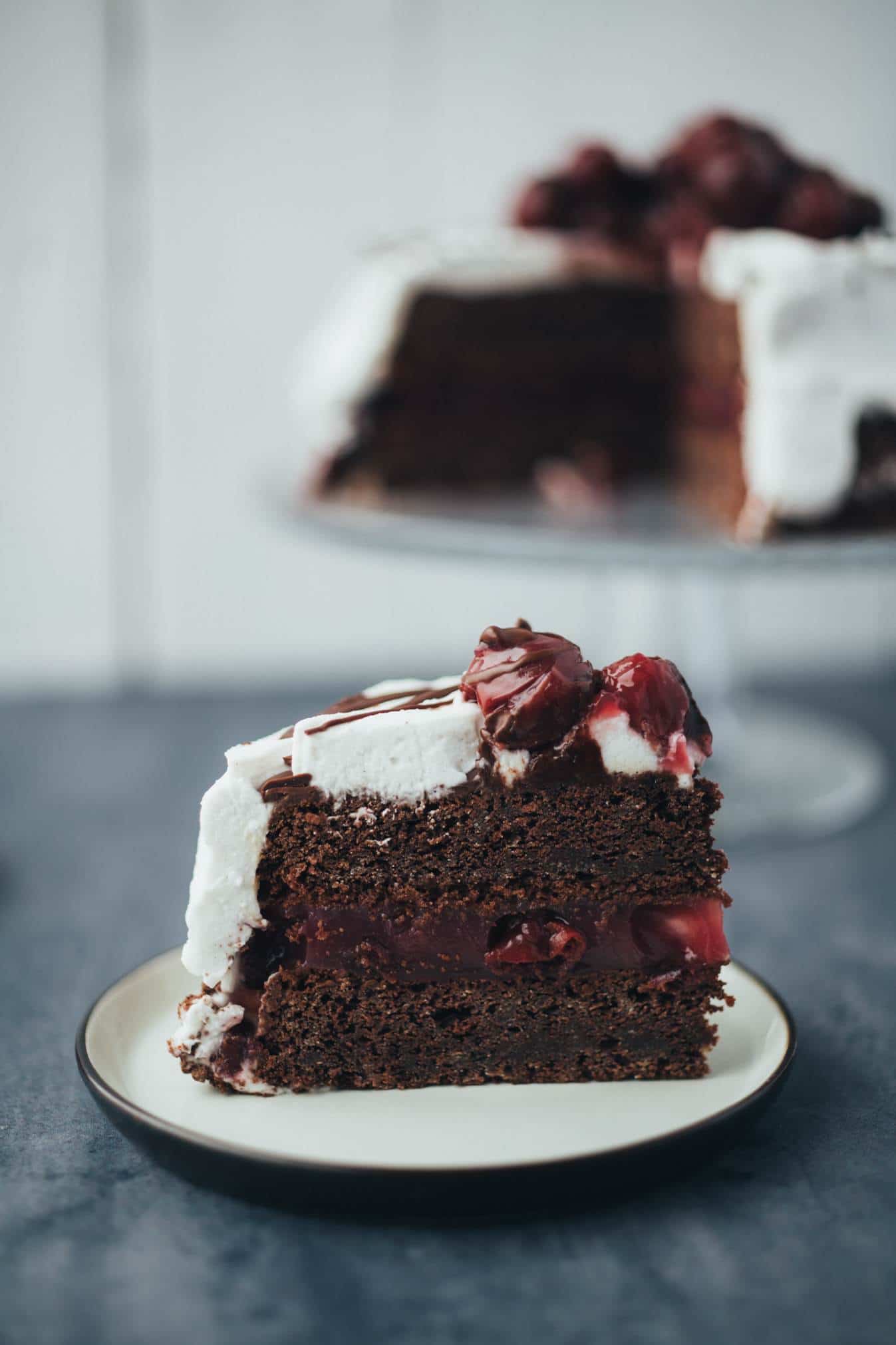 Well, do you fancy this terrific vegan black forest cake Cherry pie ? I wish you a lot of fun with the Nachbacken and of course about a rating at the bottom of this page. If you post a picture, use the hashtag #veganevibes.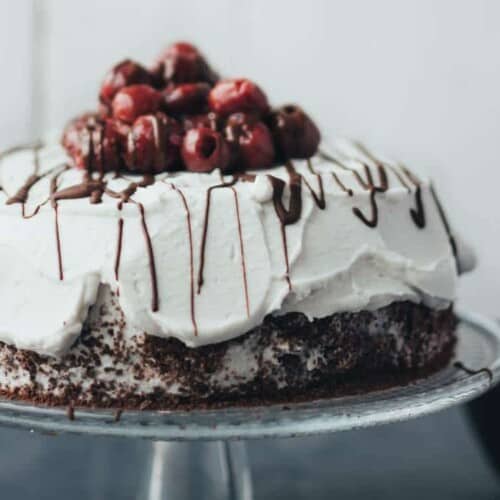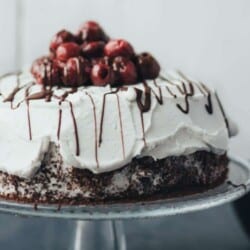 simple vegan black forest cake (gluten free)
Simple, fruity and super chocolaty? Yes you can with this recipe for a magical vegan, gluten-free Black Forest cake. Fluffy and moist inside, topped with a thick layer of creamy coconut cream.
AUTOR: VEGANEVIBES
FOR THE KISCH PUDDING FILLING:
AS TOPPING:
1-2

Servings

Servings vegan coconut cream

I use 2 portions, but one is also enough to roughly disguise the cake

Optional: 40g melted chocolate

Optional: chocolate shavings
Anleitung 
Make 1-2 servings of coconut cream according to directions and store in refrigerator.


Preheat the oven to 180degrees and grease two 20cm diameter baking pans or springform pans with a little coconut oil and dust with cocoa powder (optional). Alternatively, when using a springform pan, cover the bottom with baking paper and grease only the sides lightly.


FOR THE CAKE LAYERS Add almond milk, coconut oil and apple cider vinegar to a large baking bowl. Add the baking soda and stir. The liquid should now begin to foam slightly.

230 ml Almond milk or another vegetable milk,

150 g Coconut oil,

½ tbspn Baking soda,

1 tbspn Apple cider vinegar

Place a sieve over the bowl, sift in flour, almond flour, then add cane sugar, cocoa, baking powder, vanilla and salt and stir gently until everything is combined into a uniform dough.

NOTICE:

Do not stir too long, otherwise you will literally stir the leavening power of the natron out of the dough again. Small lumps dissolve during the baking process.

200 g gluten free flour mix,

100 g Almond flour,

150 g Raw cane sugar,

33 g Cocoa,

½ tbspn Baking powder,

1 tbspn Bourbon vanilla,

½ tbspn Salt

Divide the batter evenly between the two baking pans and bake for

25-30 minutes

.


FOR THE KISCH PUDDING FILLING in the meantime, put cherries with juice in a small saucepan. Remove 4 tablespoons of the cherry juice and stir in a small bowl with the cornstarch until smooth. This is important because when added directly to the pot, the starch easily clumps together. Add starch-cherry mixture to remaining cherries and add sugar. Bring to a boil and wait, stirring, until the liquid thickens. Remove from heat, set aside and allow to cool completely.

25 g Cornstarch,

15 g Raw cane sugar,

360 g Sour cherries unsweetened

At the end of the baking time, make stick test with the wooden stick to check if the cake bottoms are ready. If this comes out clean, the cake is ready. If in doubt, turn off oven and let cake layers bake for another

10-15 minutes

at residual heat. Remove from the oven and allow to cool completely.

For the final assembly of the cake, release one bottom from the mold. Leave the other cake layer in the mold and pour the cherry pudding filling, which has cooled to room temperature, into the mold and spread it evenly Place the second cake layer on top and press down lightly. Take away 2-3 tablespoons of the mixture optionally for decorating. Allow to set in the refrigerator for at least

30 minutes

and ideally overnight.

1-2 Servings Servings vegan coconut cream,

Optional: 40g melted chocolate

After the cooling time has elapsed, carefully remove from the springform pan and, if necessary, use a cake knife to help a little around the edges so that nothing sticks. Transfer to a serving platter and spread the coconut cream evenly over the cake. Here's a really great tutorial on how to perfectly frost a cake: https://www.youtube.com/watch?v=jP0JAMufmQg


Optional: chocolate shavings

Decorate the lower part of the cake with chocolate shavings and garnish with the remaining custard cherries. Optionally add a little chocolate coating on top, cut into pieces and enjoy immediately!


Store leftovers in the refrigerator for up to 5 days or in the freezer for up to one month.

Notizen
NOTES /HELPFUL ACCESSORIES:
Nährwertangaben
Serving:
1
Piece
Calories:
369
kcal
Carbohydrates:
43
g
Protein:
6
g
Fat:
22
g
Saturated Fat:
13
g
Sodium:
70
mg
Potassium:
168
mg
Fiber:
3
g
Sugar:
17
g
Vitamin A:
260
IU
Vitamin C:
0.7
mg
Calcium:
70
mg
Iron:
2.1
mg