Make stuffed Bell peppers said to me my husband so between door and Angel. In fact, he was also still right, because in our refrigerator slumbered wonderfully colorful peppers. Oh yes, a completely different topic, my dears! The rainforest in the Amazon is burning and it is really terrible to follow this in the media. I don't even want to imagine in detail how many plants and animals are irretrievably destroyed. According to current sources, many fires are deliberately set to obtain land for growing animal feed or grazing land for cattle. If you want to become active, then consciously give up meat and donate to the right Organizations . I have linked you to a reputable source at the bottom of this page. Every Euro counts!
Peppers, stuffed? Yummy, yummy, yummy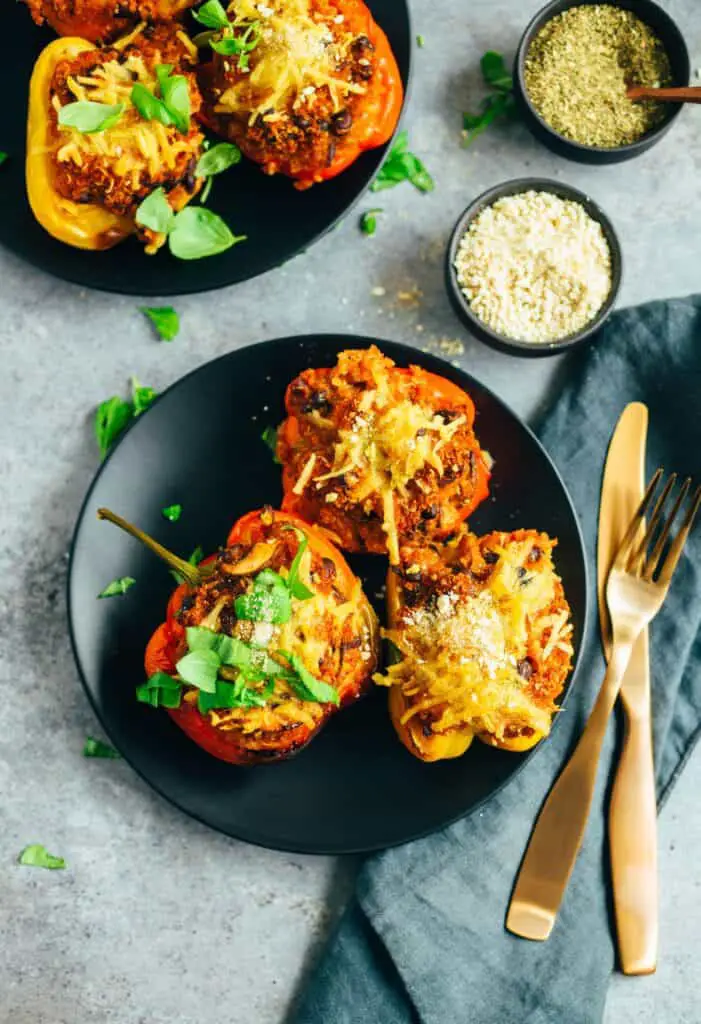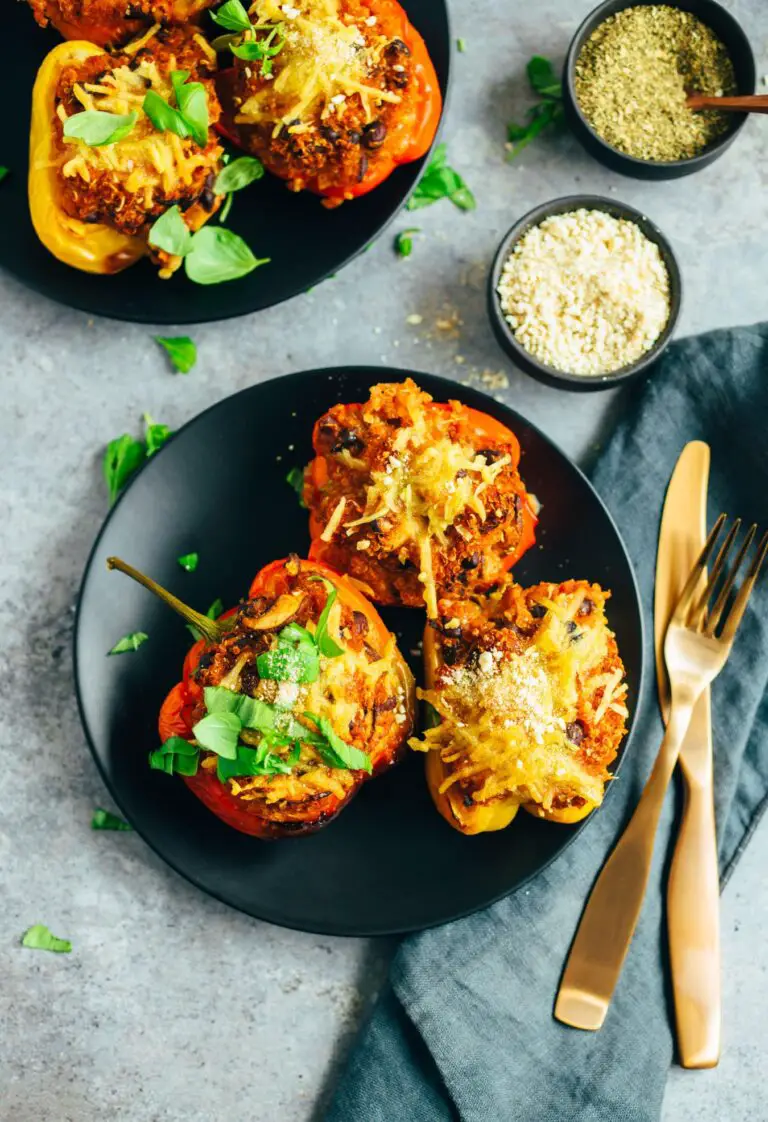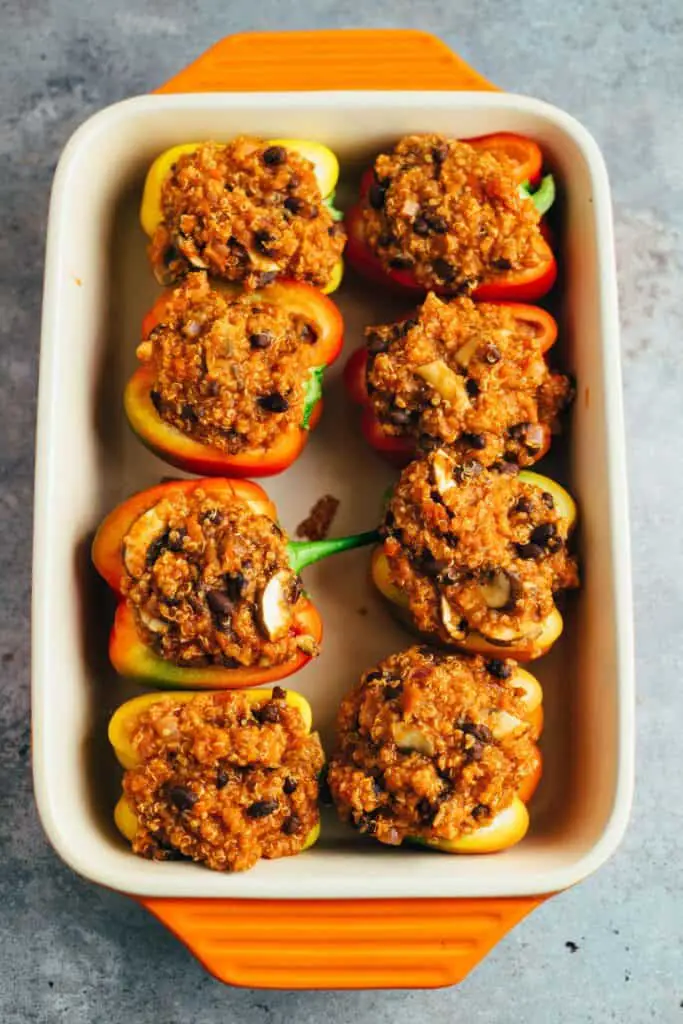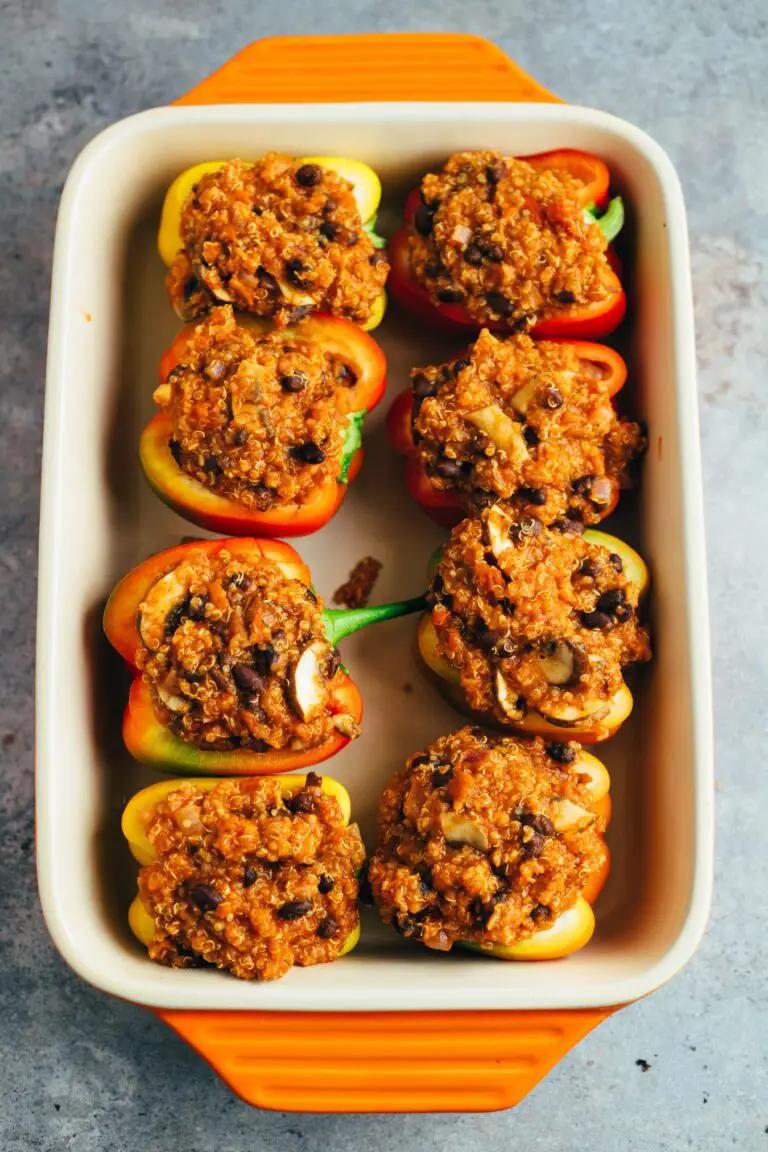 One thing in advance: stuffing and baking peppers takes a while. For this reason it is certainly not a Recipe that you can quickly finish in 15 minutes ready. Therefore, there are two ways to choose it and be really happy with it:
PREPARE: You can prepare the filling for example the night before, fill the peppers with it and put them in the fridge.
SIMPLY CHILL: For example, on a Saturday, Sunday or any day you have time, just unwind and cook in peace.
For today's dish we need only a few ingredients, Quinoa , vegetable broth, Paprika , onion, black beans, mushrooms, tomato paste, garlic, cumin, Italian herbs, salt and pepper. Optionally, top with a bit of vegan cheese (the brand I used is linked in the ingredients). Alternatively tastes also my vegan parmesan very good!
Are vegan cheeses actually healthy?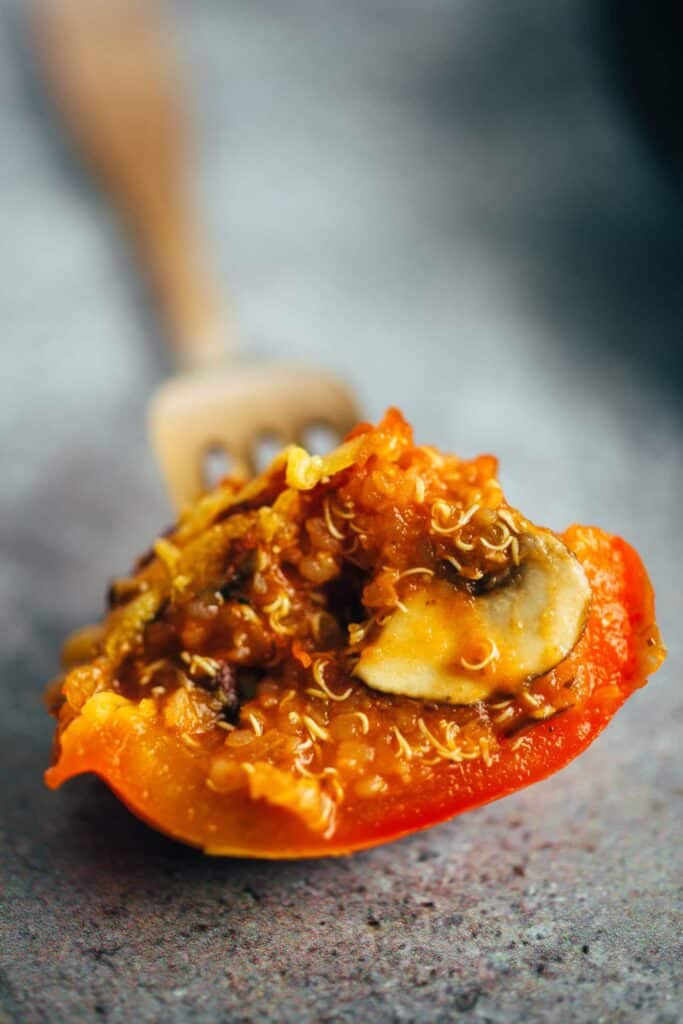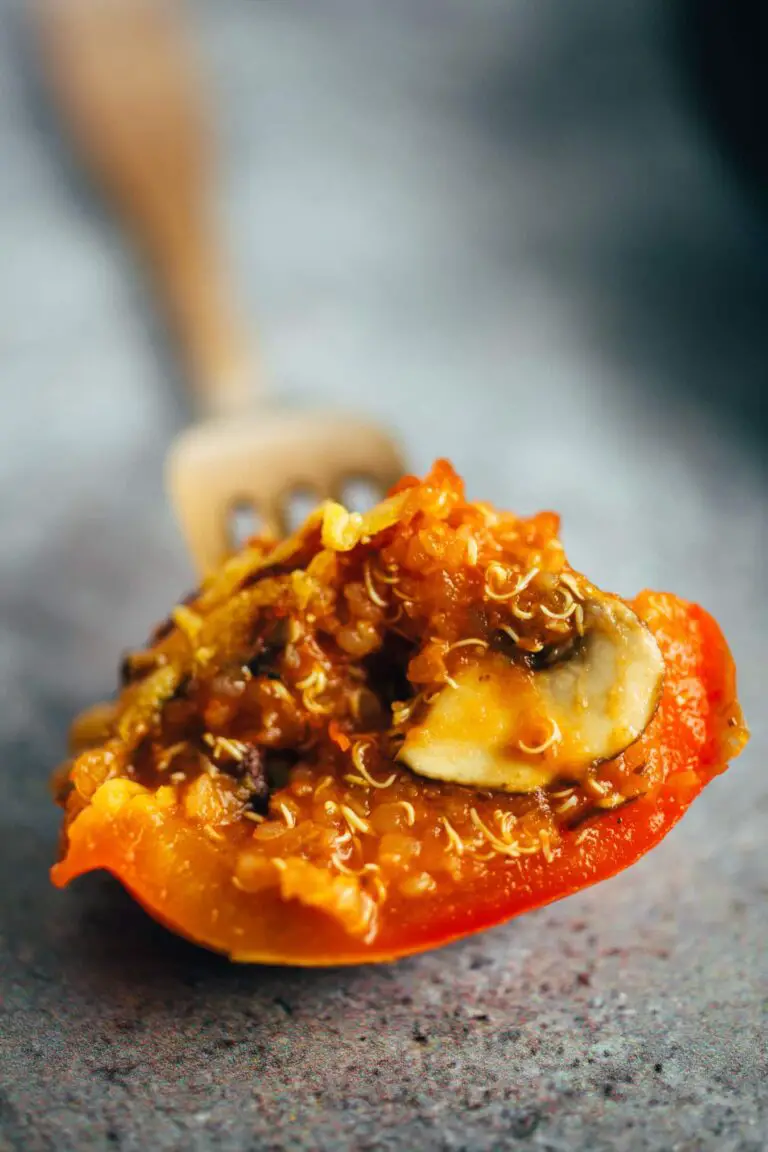 This question cannot be answered so simply. At the moment there is a huge discussion about whether you should consume substitute products at all. In addition, there are documentaries that downright demonize all meat and cheese substitutes. In my opinion, it's the measure that counts! Sometimes it's just delicious to top your pizza, or in our case peppers, with some "processed cheese" even though it may not be organic and contain flavorings. At Burger there is a similar discussion, since the artificial patties are not supposed to be so healthy either. Personally, I think you should try to cook fresh as much as possible with ingredients that are as unprocessed as possible. But if it may be a burger in between times, then gladly one Beyond Meat or something similar. The production of these patties is much more environmentally friendly and 100% without animal suffering. So, substitutes yes, but in moderation.
I love vegan oven dishes
You'll be amazed at how filling these stuffed peppers make. Quinoa and beans are not only delicious, but also ensure that the last spark of hunger feeling is eliminated. Matched with a fresh, mixed salad with a great balsamic dressing . If dessert is desired, then perhaps such a delicious Chocolate dessert ?
The stuffed peppers with quinoa are:
aromatic
Hearty
Spicy
filling
simple to be produced
Let's get started with this delicious stuffed peppers. I wish you a lot of fun in the recooking and look forward to a review at the bottom of this page. If you post a picture, use the hashtag #veganevibes.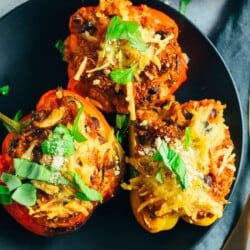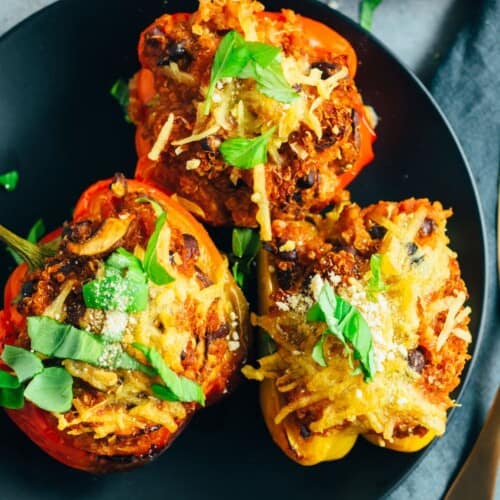 Stuffed peppers with quinoa
Peppers au gratin with a delicious filling of quinoa, mushrooms and black beans, topped off with Italian herbs. Perfect as a vegan, filling main dish or as a side dish with grilled meats. Is great for preparing the night before.
AUTOR: VEGANEVIBES
168

g

Quinoa or rice

hot washed

500

ml

Vegetable broth

alternatively water however it loses taste

4

large

yellow, orange or red peppers, cut lengthwise, core removed

15

ml

Frying and baking oil

1

red onion

finely chopped

38

g

Tomato paste

150

g

Mushrooms

halved and sliced

400

g

Tinned tomato pieces or passata

265

g

black beans

drained and washed well

½

tbspn

Garlic granules

1

tbspn

Cumin

2

tbspn

Italian herbs*

1

Bird Eye Chili or another chili powder to taste.

Black pepper to taste
Anleitung 
Place quinoa and vegetable broth in a saucepan and bring to a boil. Once it boils, turn down heat slightly and simmer for 20 minutes. Now there should be no more liquid and the quinoa should be nice and fluffy.

168 g Quinoa or rice,

500 ml Vegetable broth

Preheat oven to 190 degrees and provide a large baking dish.

Place the halved peppers in the baking dish with the open side facing up.

For the filling, heat a large frying pan with the frying oil. Fry the onion in it until translucent. Add tomato paste and mushrooms.

15 ml Frying and baking oil,

1 red onion,

38 g Tomato paste,

150 g Mushrooms

Add tomato pieces and beans. Season with garlic, cumin, Italian herbs, chili, salt and pepper and stir well once until everything is combined.

400 g Tinned tomato pieces or passata,

265 g black beans,

½ tbspn Garlic granules,

1 tbspn Cumin,

2 tbspn Italian herbs*,

1 Bird Eye Chili or another chili powder to taste.,

Salt to taste,

Black pepper to taste

Stir in quinoa. Taste and season as needed.

Using a spoon, stuff the filling into the bell pepper halves. Fill well and press down every now and then.

(optional) add vegan processed cheese on top.

Important! Pour a little water (about 50m on the bottom of the casserole dish, so nothing can burn.

Put in the oven and bake for

45 minutes

.

Vegan processed cheese,

Vegan parmesan

Remove from the oven, let cool briefly and serve.

Keeps 2-3 days covered in the refrigerator. Reheat in steamer or 20 minutes in oven at 175 degrees circ.
Notizen
*Italian herbs – DIY 2 tablespoons basil, 2 tablespoons oregano, 1 tablespoon rosemary, 1 tablespoon thyme, 1 teaspoon sage.
Nährwertangaben
Serving:
1
Portion
Calories:
372
kcal
Carbohydrates:
65
g
Protein:
16
g
Fat:
7
g
Saturated Fat:
1
g
Sodium:
613
mg
Potassium:
1375
mg
Fiber:
14
g
Sugar:
12
g
Vitamin A:
1361
IU
Vitamin C:
111
mg
Calcium:
77
mg
Iron:
6
mg