Pasta e basta! At least that's what the Italians say, and they're pretty sure they invented the pasta. Italy is at least my land of milk and honey when it comes to all imaginable Pasta variations. Since I myself am the absolute noodle freak, I wanted to try something different. Why not Mexican? No sooner said than done, it became a great, creamy variation that reminds me a bit of a fajita. Damn, why is there actually no good vegan Mexican around the corner. That's the price of living in the country. But I have to say, it's easy to put up with (oh my god, that rhymes too).
Pasta e basta or who invented vegan pasta?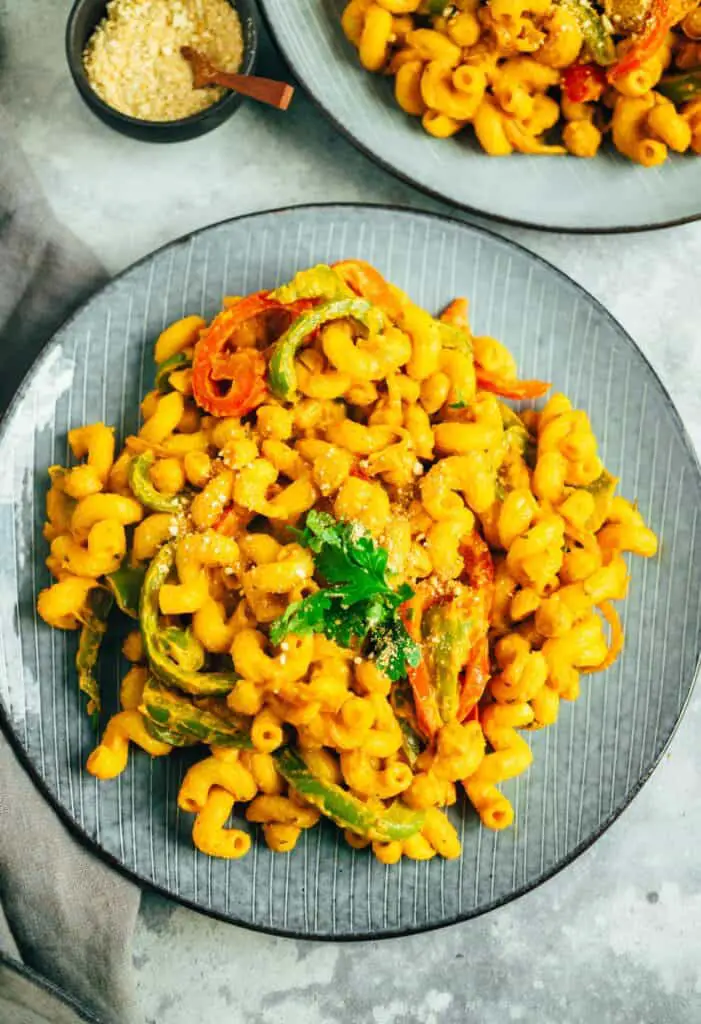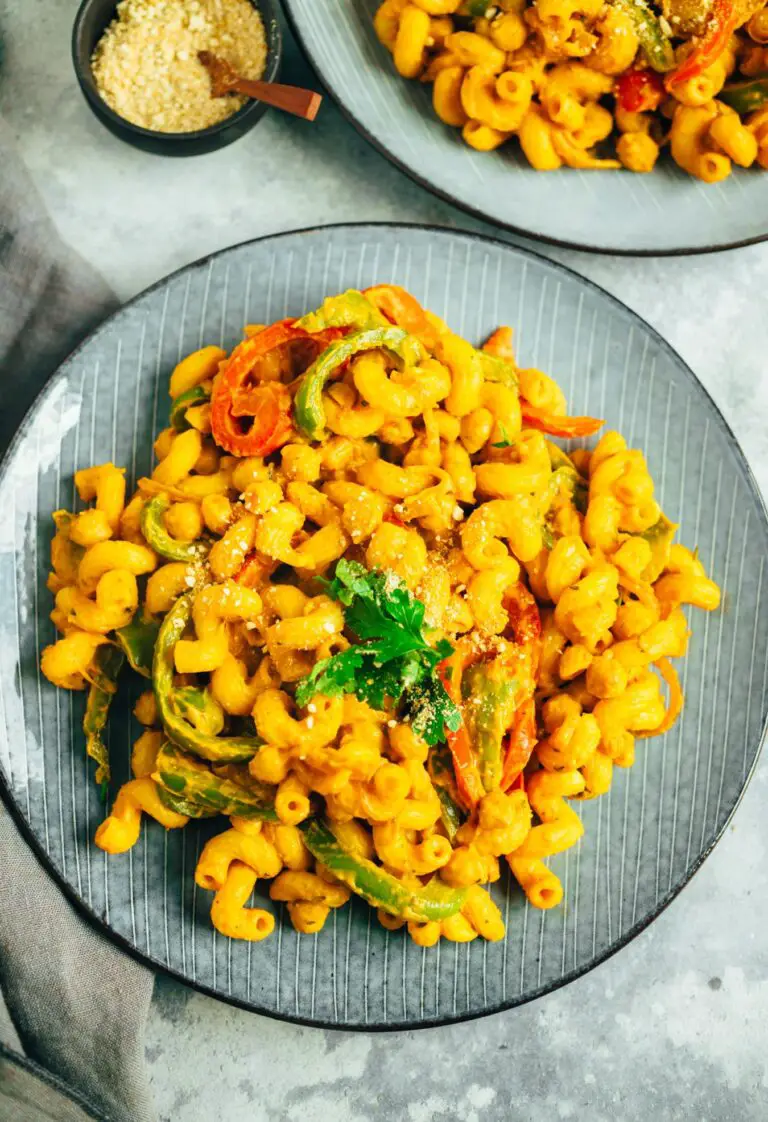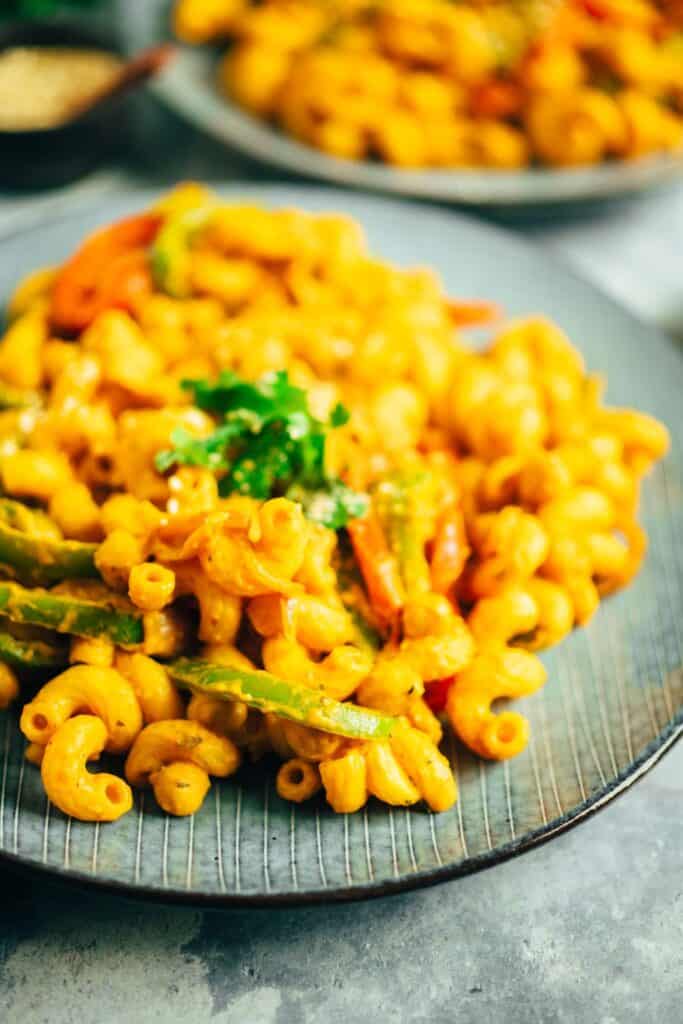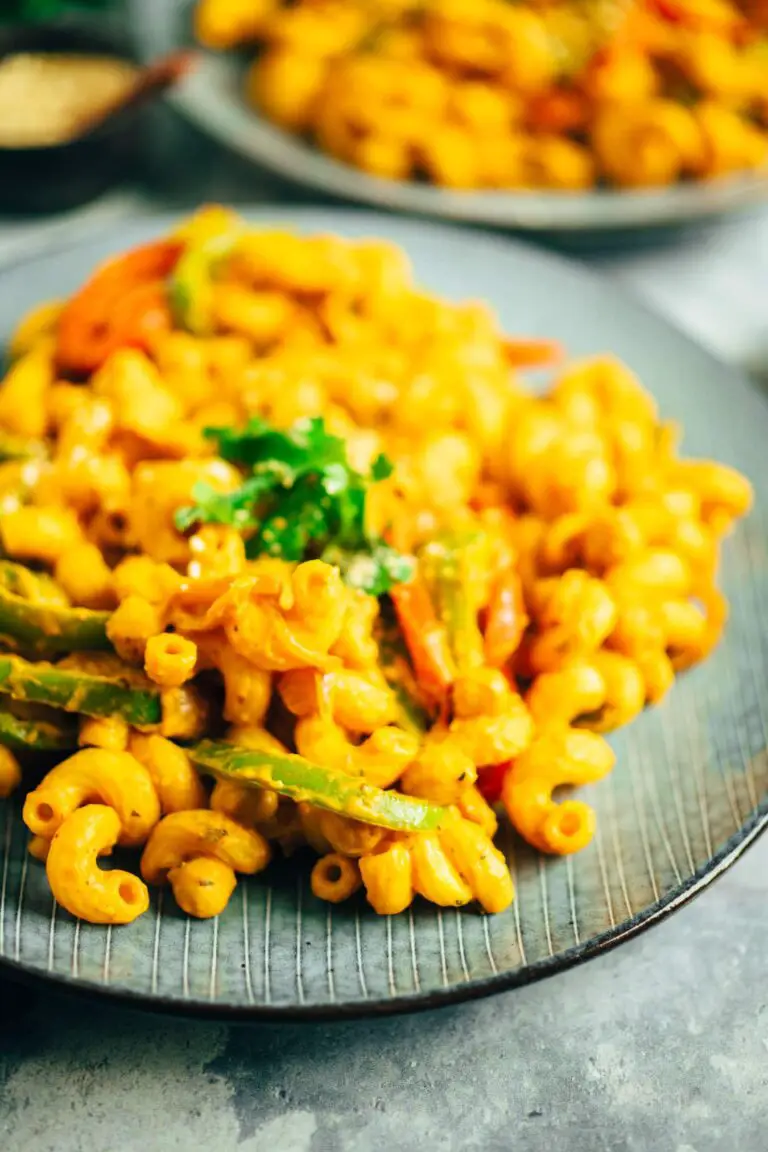 With this Pasta variation also finally comes once the green bell pepper to use. How many times have I had them in the fridge and then reached for the red bean again. Here, however, it fits in really well and it also doesn't hurt to include as many vegetables as possible in menu. At least that's what the latest studies say. So if you want to do something for the health of your intestines, then reach for fruits and vegetables that would otherwise not necessarily end up in your shopping cart.
For the preparation of our mexican style pasta pasta requires a few simple steps:
PASTA : Here you can use any variation of pasta, whole grain, gluten-free, everything is allowed.
CHICKER BEANS: Strain (if you are using them from a can or jar), rinse and soak again in cold water for at least 10 minutes. This will make them even easier to digest, especially if you're not used to legumes yet. Alternatively, you can buy dried chickpeas and cook them according to package instructions.
THE CASHEWSAUCE: Here again a good mixer is needed. It is best to soak the cashews in either hot water for an hour or cold water for at least 6 hours beforehand. This makes them easier to digest because you get rid of a lot of phytic acid (anti-nutrient). This prevents nutrient absorption in the body and makes the nuts harder to digest. Another positive side effect is the easier processing of the nuts in the blender. Soaking is therefore worthwhile!
ROASTING VEGETABLES: Currently, I'm trying to reduce the amount of oil I use in the kitchen. why? Because oils are processed just like juices, and many valuable fibers and dietary fibers have been removed from them. That is why they are so high in calories (1 tablespoon of oil is about 120kcal). Surely you are now asking yourself how you can cook oil-free at all. It's really easier than you thought. Heat pan, add vegetables and gradually deglaze with vegetable broth until cooked.
VIVA LA VEGAN MEXICO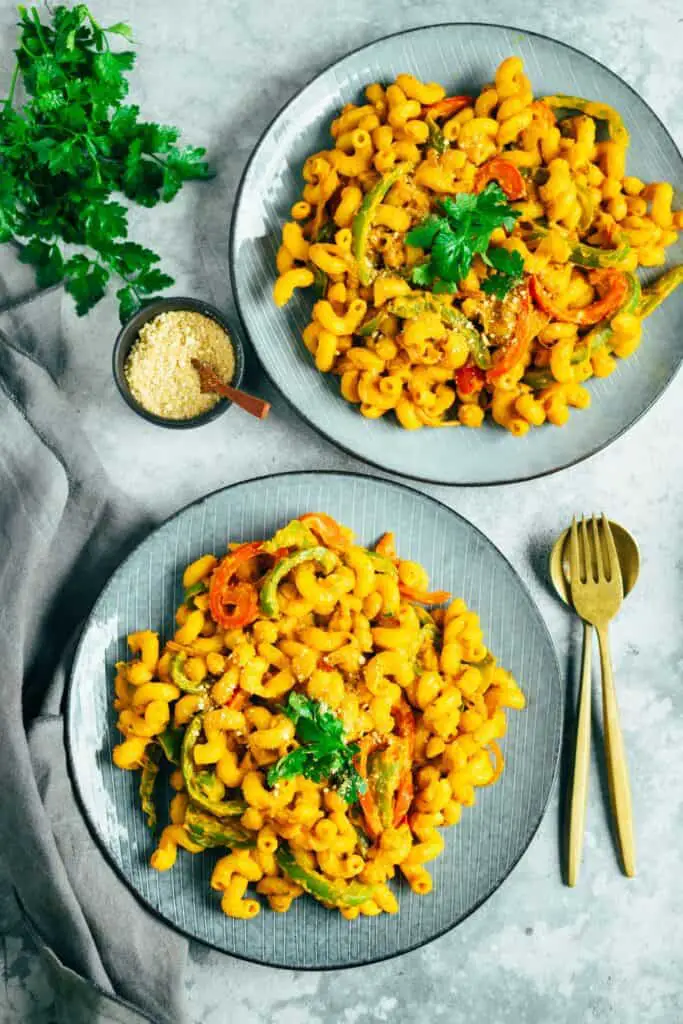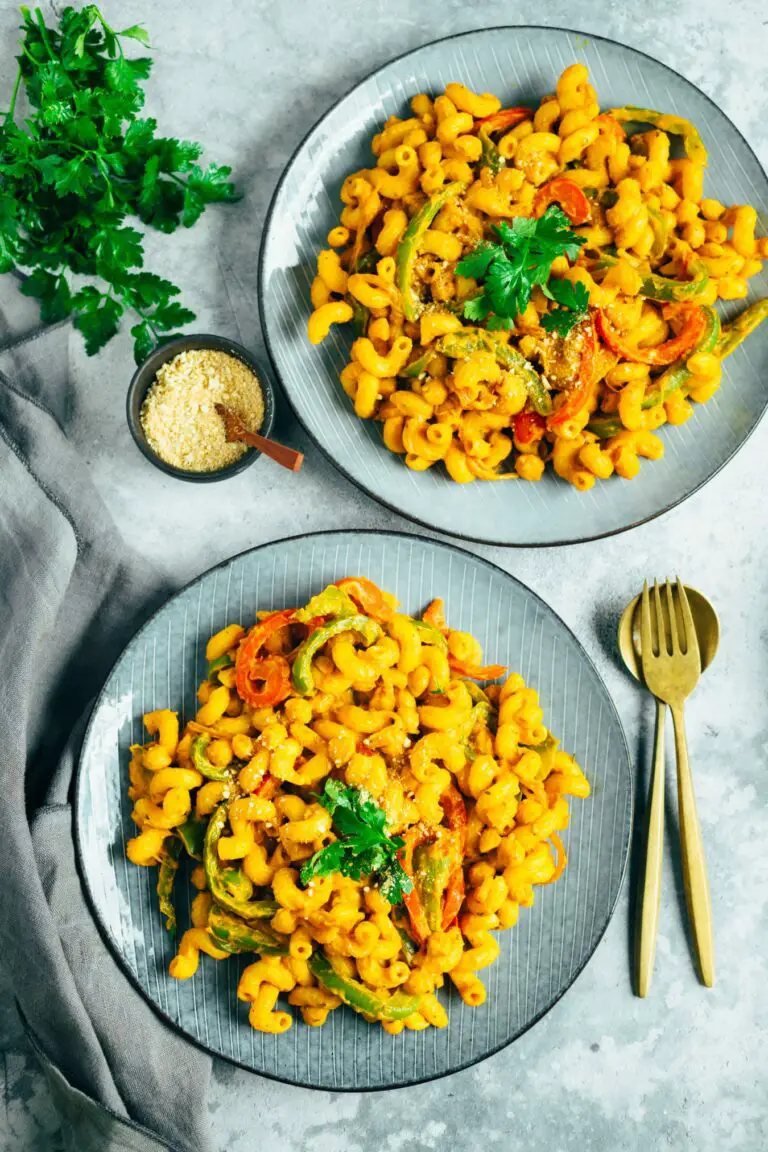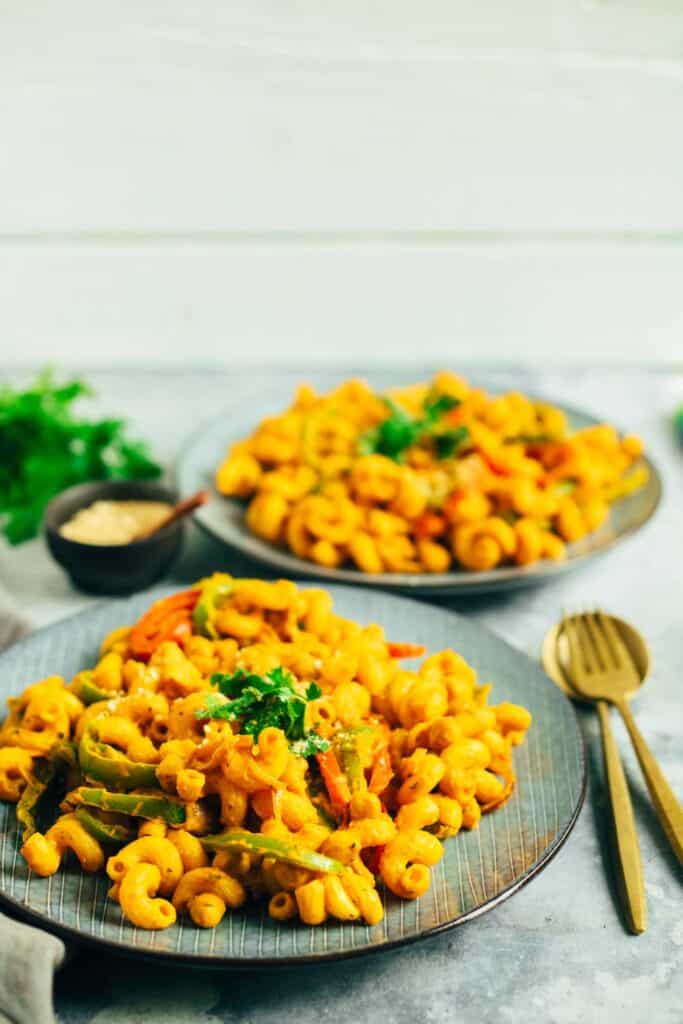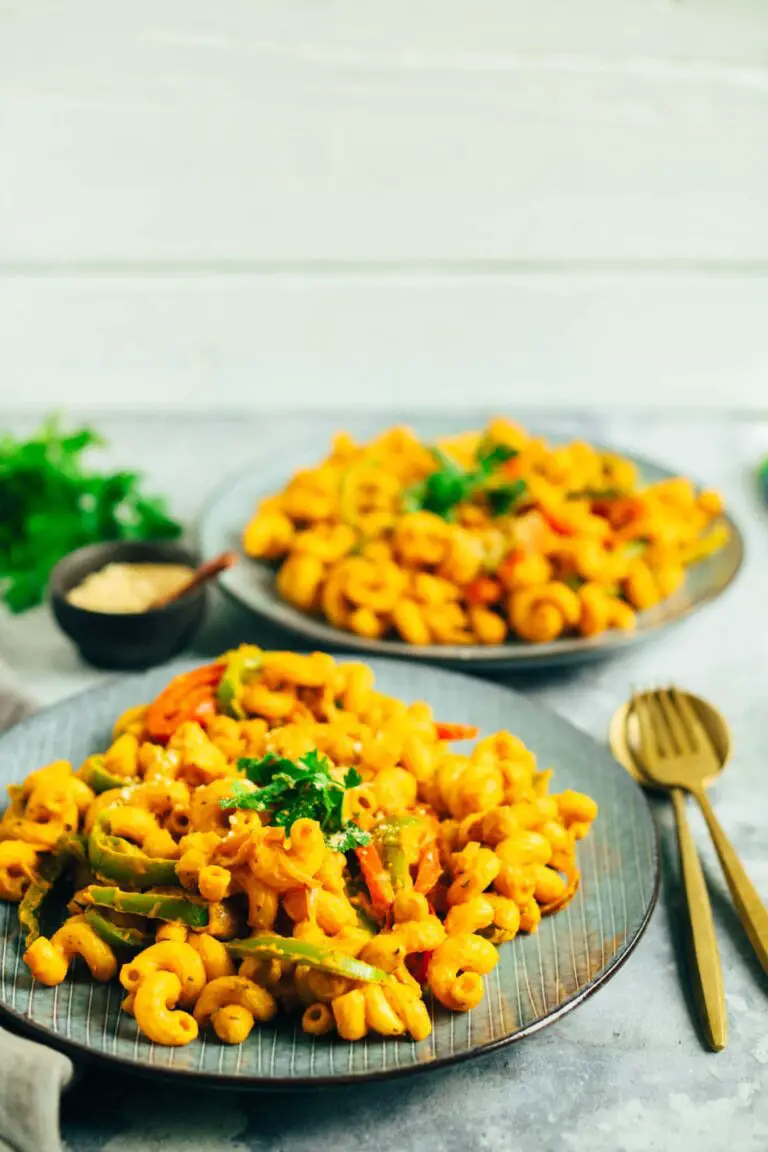 Let's get back to our Court . After the sauce is mixed, the Pasta cooked and the vegetables are sautéed, simply mix everything together. On top I like to sprinkle a little vegan parmesan and parsley, Pasta ! Well, do you give the Mexican pasta a chance?
This goes well with a delicious salad and as a dessert I like to treat myself to a Chocolate Chia Pudding for which you do not need 5 minutes need in the production.
The Mexican Fajita Pasta is:
creamy
Pleasantly spicy
maxican seasoned
filling
Quickly made
This pasta variation is almost like a short trip to Mexico, only a little cheaper. I wish you a lot of fun in recooking and of course a review at the bottom of this page. If you post a picture, use the hashtag #veganevibes.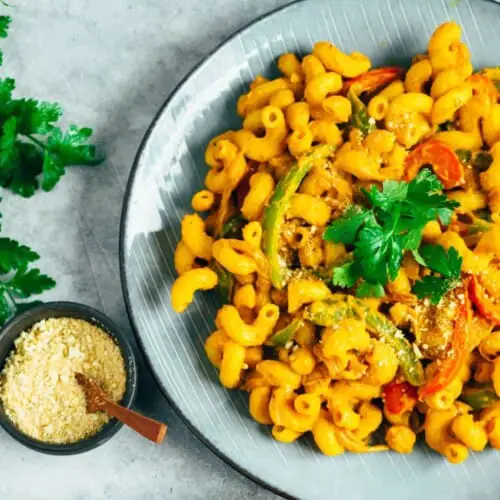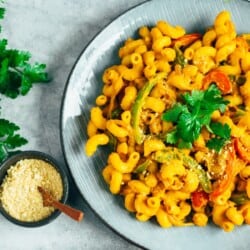 Mexican Fajita Pasta
Creamy Mexican vegan pasta with delicious sauce and crunchy vegetables. Refined with aromatic spices and protein-rich chickpeas. Makes a perfect healthy vegan lunch or dinner. Viva la Mexico!
AUTOR: VEGANEVIBES
FOR THE CHICKPEA VEGETABLES:
FOR PASTA:
250

g

Durum wheat pasta

alternatively gluten-free or wholemeal

32

g

Tomato paste

alternatively 1-2 fresh tomatoes, stalk removed cut into coarse pieces

350

ml

Cashew cream

Mix 50g (1/3 cup) soaked cashews with 375ml (1 1/2 cups) water until a fine cream is formed.

½

tbspn

Garlic granules

alternatively 1-2 cloves of garlic pressed

¼

tbspn

Mustard seed

alternatively ½ tsp medium hot mustard, can also be omitted if not at hand

½

tbspn

Salt

30

g

Nutritional yeast flakes

sörgt for a cheesy taste

15

g

Spelt flour

alternatively gluten-free flour mixture or starch
TOPPING:
Basil fresh or dried to taste
Anleitung 
Soak chickpeas and cashews (more info on this earlier in the text).

Cook pasta according to package and set aside.

Heat the pan, add the oil and fry the vegetables for about

5 minutes

. Add smoked paprika, cumin, garlic granules, oregano, basil, turmeric, Bird Eye chili and salt. If oil is cooked freely, deglaze with vegetable broth, a little at a time, until vegetables are cooked.

7,5 ml Frying oil,

½ red bell bell pepper,

1 green peppers,

1 medium red onion,

1 tbspn smoked paprika powder,

½ tbspn Cumin,

½ tbspn Garlic granules,

½ tbspn Oregano,

½. tbspn Basil,

½ tbspn Turmeric,

1-2 Bird Eye chilies or other chili variations as desired.,

½ tbspn Salt

Add chickpeas and continue to cook over medium heat.

240 g Chickpeas – drained* and washed, from a can or jar.

Meanwhile, strain cashews and chickpeas and rinse again with cold water.

Place cashews in a high-powered blender along with the water for the cashew cream, tomato paste, garlic granules, mustard seeds, salt, nutritional yeast, and spelt flour and blend on high speed until a creamy sauce is formed.

32 g Tomato paste,

350 ml Cashew cream,

½ tbspn Garlic granules,

¼ tbspn Mustard seed,

½ tbspn Salt,

30 g Nutritional yeast flakes,

15 g Spelt flour

Add cashew sauce to the vegetables and chickpeas, stir once, season to taste and heat again briefly.

Divide among plates, garnish with Parmesan and basil and enjoy.

Vegan Parmesan cheese to taste,

Basil fresh or dried to taste

Keeps up to 2 days covered in the refrigerator, but best fresh!
Nährwertangaben
Serving:
1
Portion
Calories:
465
kcal
Carbohydrates:
87
g
Protein:
19
g
Fat:
5
g
Saturated Fat:
1
g
Sodium:
167
mg
Potassium:
664
mg
Fiber:
11
g
Sugar:
8
g
Vitamin A:
705
IU
Vitamin C:
204.8
mg
Calcium:
63
mg
Iron:
4
mg