Pasta I could eat every day and most of the time it becomes my favorite dish again, the good Lentil Bolognese . However, I don't like them every day either, because otherwise it will get boring at some point. A new Recipe has to be made and preferably one with peppers, because I ordered three pointed peppers in the last eco-box. Aromatic, with lots of roasted flavors and best of all really nice and creamy. If you are Pasta fan, then you will love this dish.
Delicious vegan pasta roasted red bell pepper nut sauce? I won't say no to that!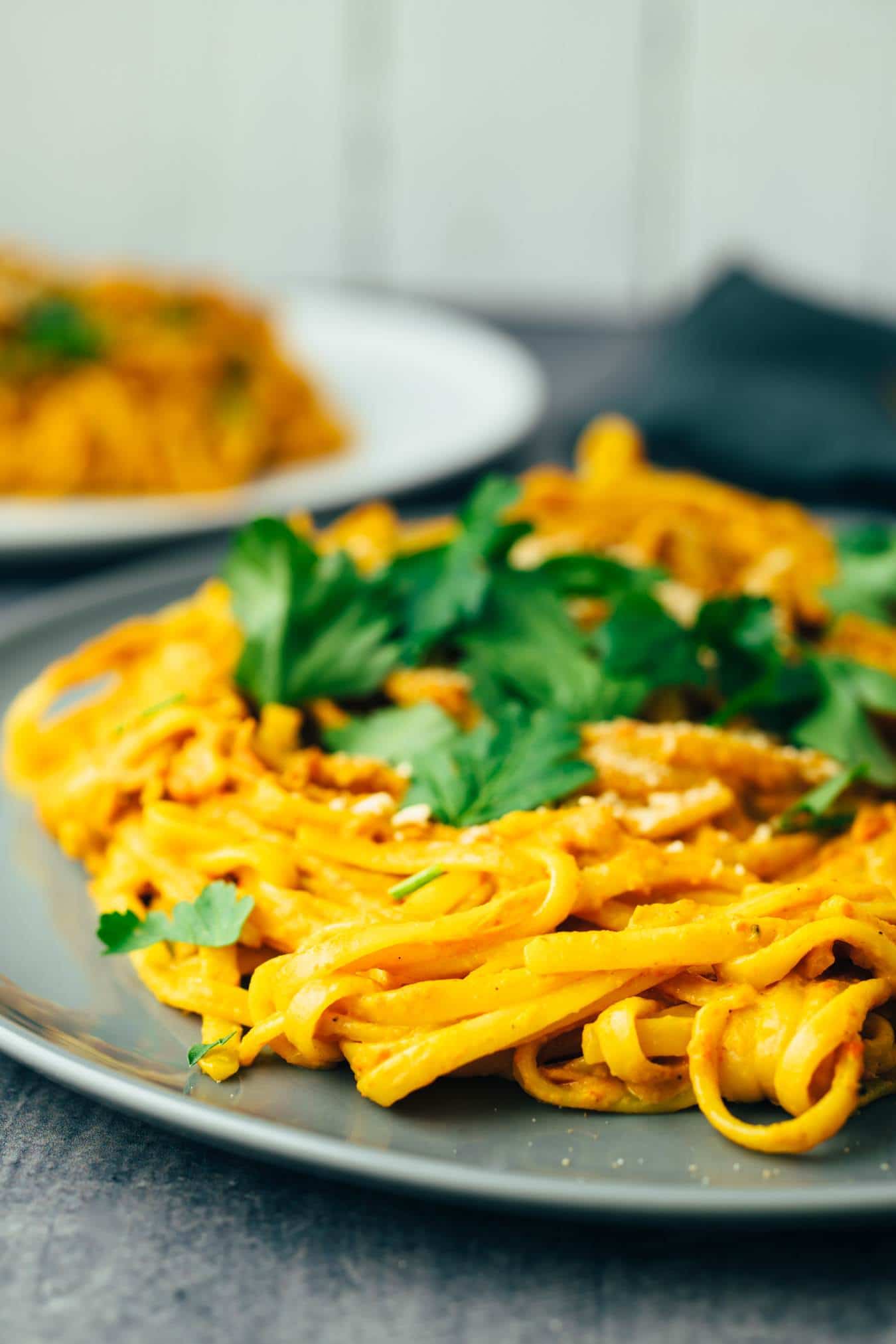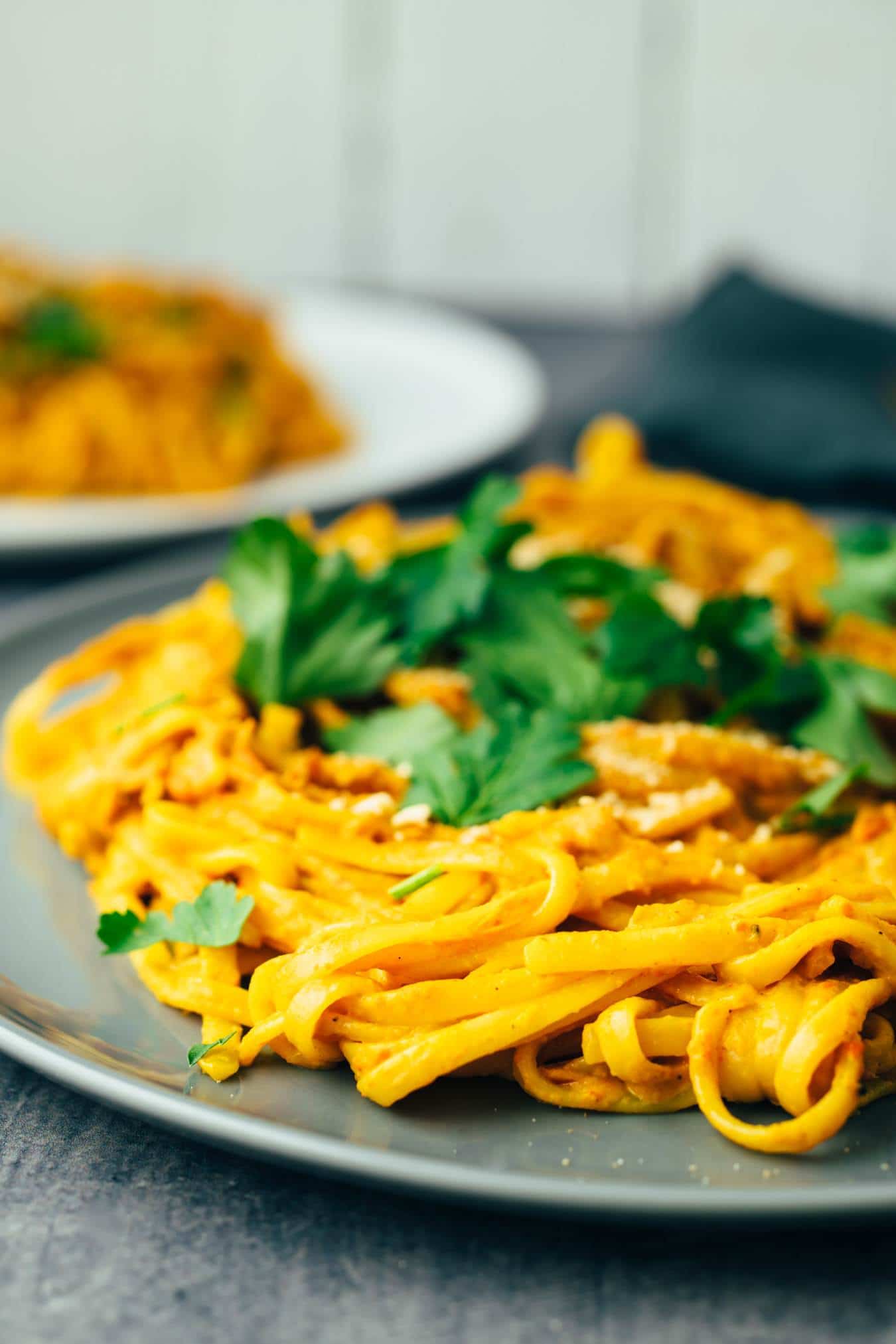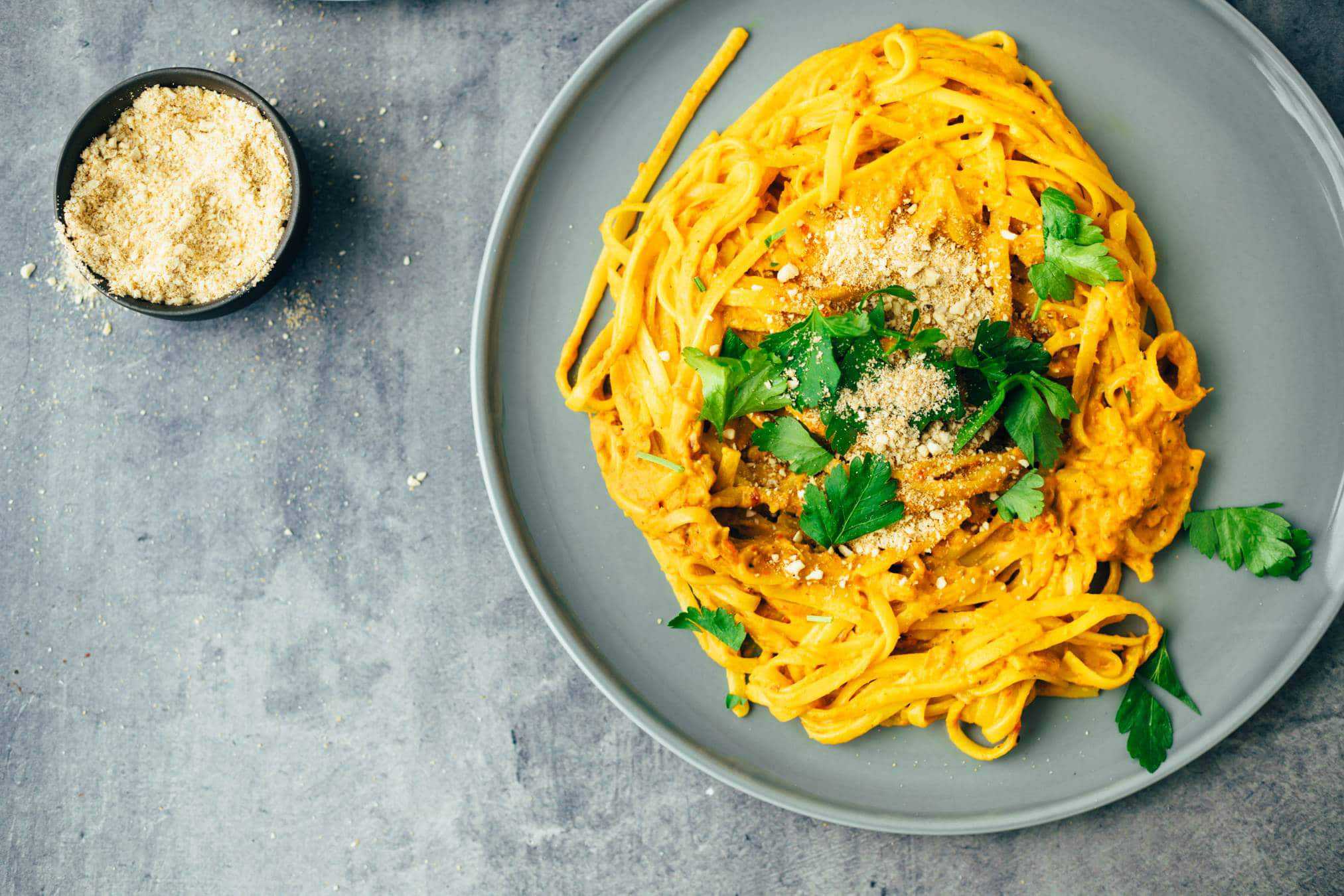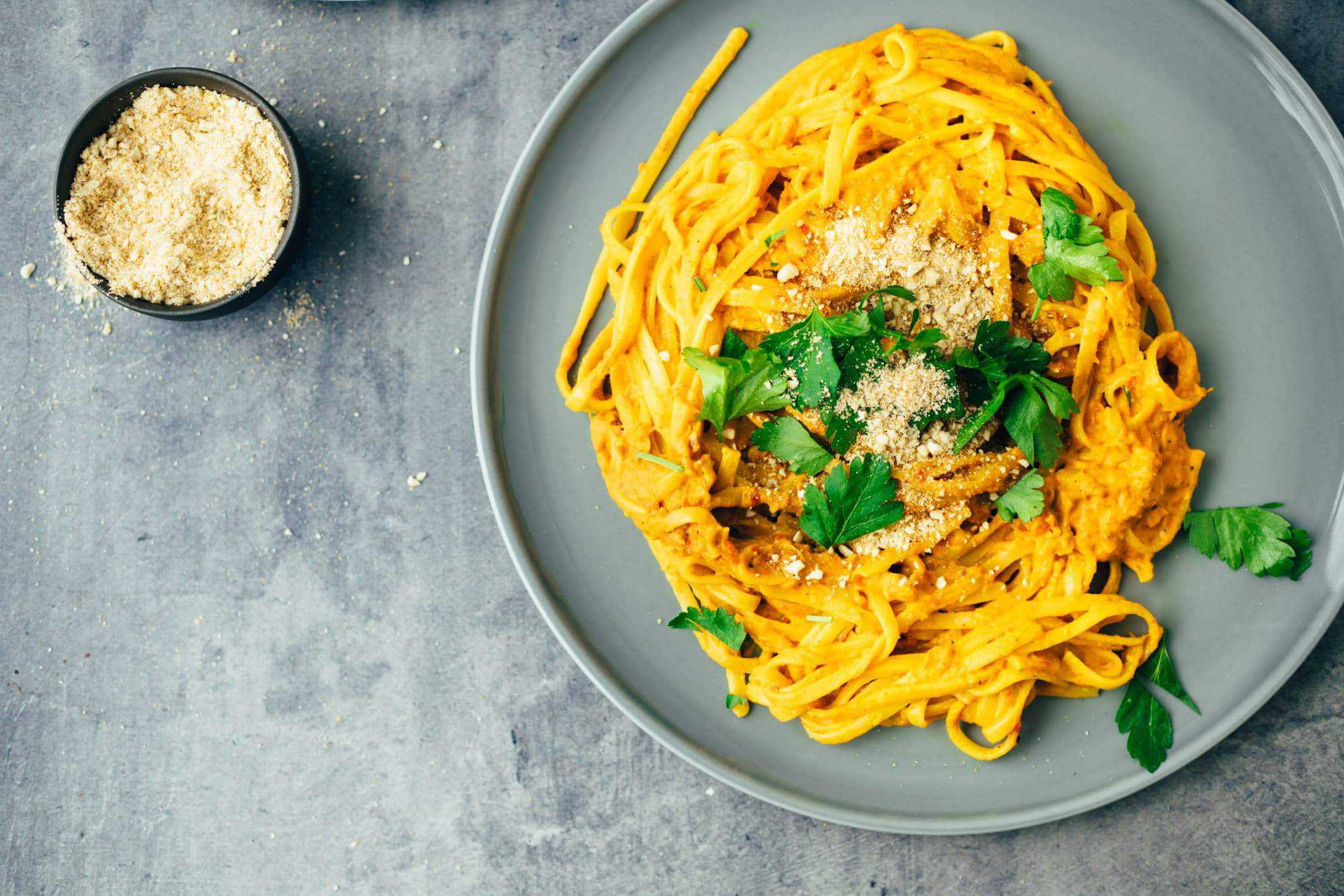 This dish is really easy to make, but you should know that it is not one of the 30-Minute I'm in a Hurry Dishes belongs. The onion and peppers are roasted, which takes about 45 minutes in the oven. In the meantime, you can perfectly already prepare the rest, cook the pasta and set the table. So organization is the key to success. The nice thing is that you get really hungry when you sniff the spicy roasted aromas from the oven. Hmmmmmm….
Nut puree in pasta sauce? Typical vegan
Nut muses or nut butters are a fine thing and I just love them everywhere. On the Bread , in my vegan Nutella, desserts, pastries and raw desserts. Admittedly, I don't use it that often in pasta dishes, while it is a fine thing. The valuable ingredients are also very well preserved, because the puree for the sauce is not cooked, but finely pureed with the roasted vegetables in a blender.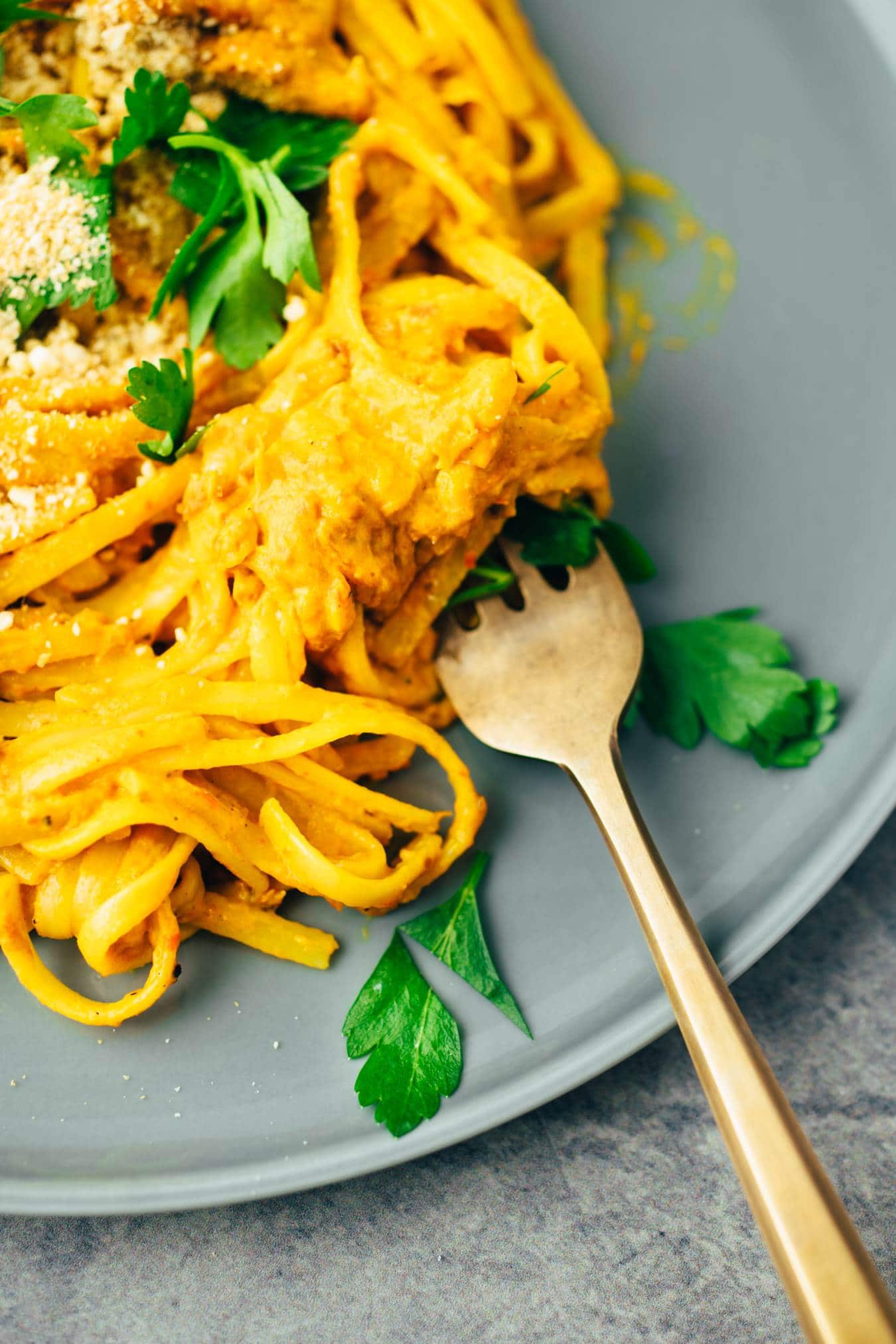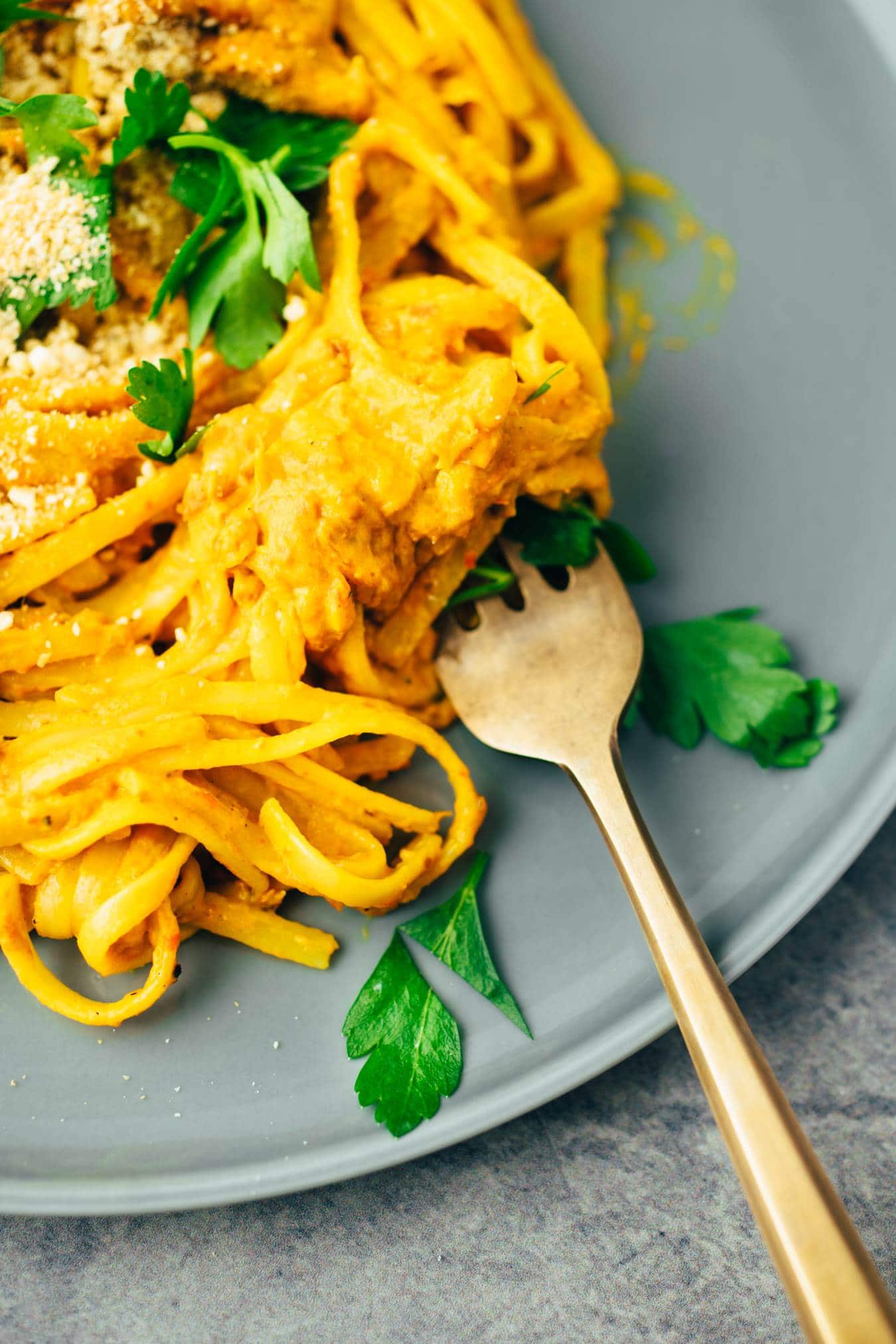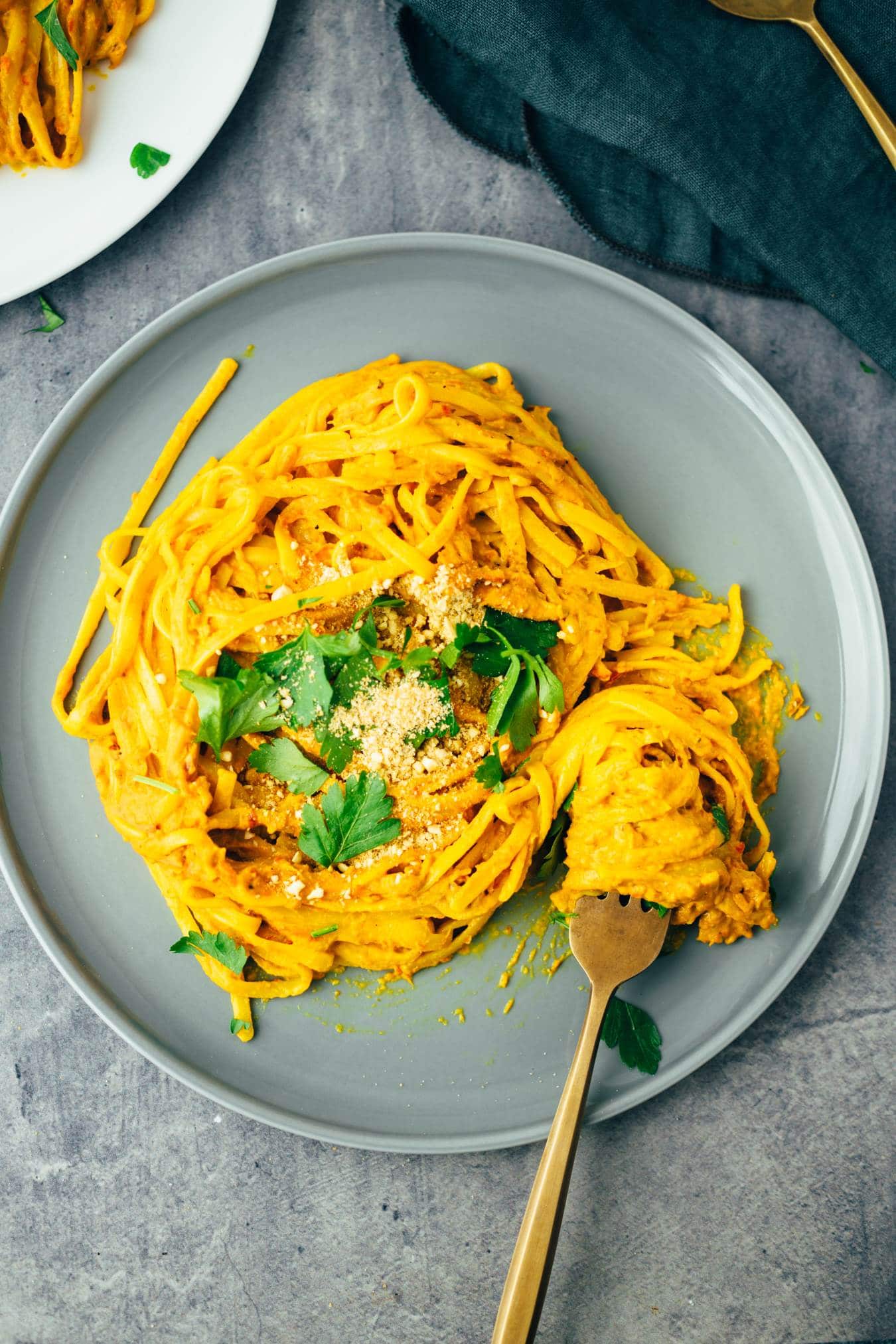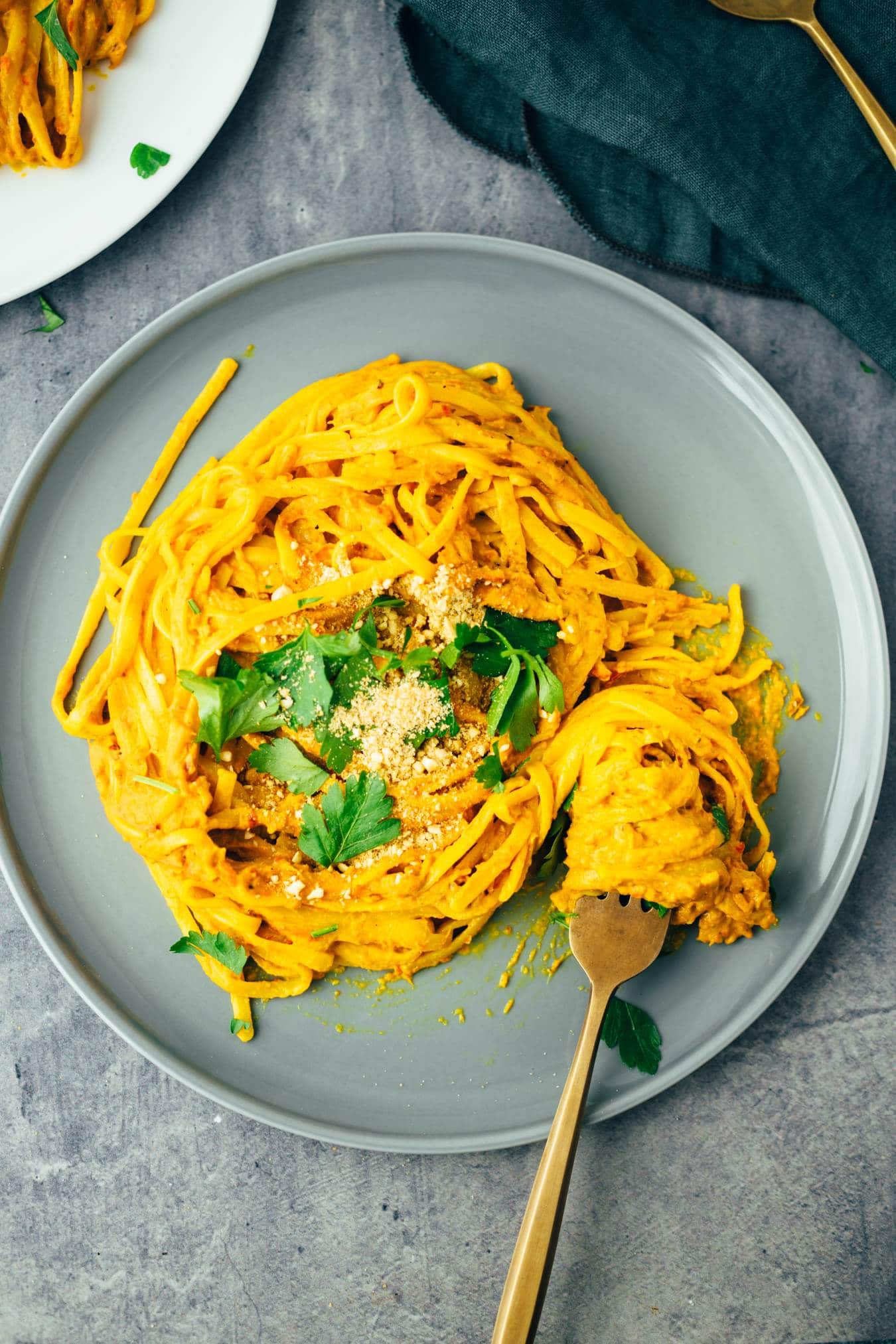 Also interesting are the valuable nutrients in almond paste:
Provides primarily monounsaturated and polyunsaturated fatty acids
Rich in healthy fiber
Low carbohydrate content
Rich in calcium, iron, magnesium, potassium, zinc, B1, B2, B6 and vitamin E
Very well to this delicious vegan pasta variation fits vegan parmesan and a simple side salad .
The vegan pasta with paprika nut sauce is:
aromatic
High protein
Full of roasted aromas
filling
Easy to make
Well, fancy a completely different, delicious vegan pasta variant? I wish you a lot of fun in recooking and of course a review at the bottom of this page. If you post a picture, use the hashtag #veganevibes.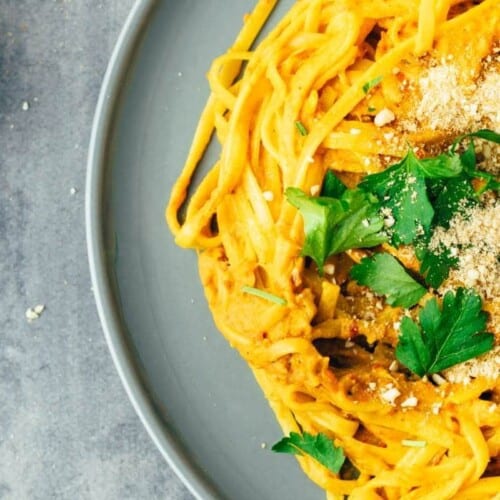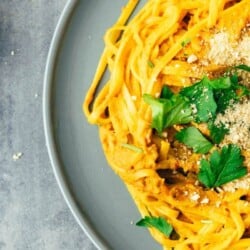 Vegan pasta with paprika nut sauce
Hearty, aromatic pasta with great roasted flavors and a wonderful spiciness. A dish that is healthy, fills you up and impresses with the extra valuable nutrients from almond paste.
AUTOR: VEGANEVIBES
FOR PASTA:
300

g

Linguine

gladly also gluten-free

250

g

red pointed peppers

cut into coarse pieces

1

Piece

red onion

peeled and chopped

4

Piece

Garlic cloves

peeled and chopped or pressed

2

tbspn

Almond paste white or brown

2

tbspn

Yeast flakes

1

tbspn

Turmeric
Anleitung 
Preheat oven to 175 degrees and line baking sheet with parchment paper.


Spread the pointed peppers, onion and garlic on the tray and season with a little salt, pepper and olive oil.

250 g red pointed peppers,

1 Piece red onion,

4 Piece Garlic cloves,

Sea salt and pepper to taste

Bake in the oven for 35 to

45 minutes

maximum. The longer the baking time, the more roasted aromas will develop.

In the meantime, cook pasta al dente and set aside.


Place oven roasted vegetables, tomatoes in oil, almond paste, harissa paste, yeast flakes, turmeric, salt, pepper and a dash of hot water in a blender (I use my Blend Tec here) and blend until you have a creamy sauce.

50 g Dried tomatoes in oil,

2 tbspn Almond paste white or brown,

2 tbspn Harissa paste or 1 Birds Eye chili,

2 tbspn Yeast flakes,

1 tbspn Turmeric,

Sea salt and pepper to taste

Season to taste and mix with the pasta in the pot.


Divide between two plates, garnish with parsley and

Parmesan

garnish and enjoy!

vegan parmesan,

Fresh parsley,

Optional: side salad

Lasts up to 5 days in the refrigerator or 1 month in the freezer. Ideally, heat in a steamer or in a pot after adding a little water.

Notizen
NOTES /HELPFUL ACCESSORIES:
Nährwertangaben
Serving:
1
large portion
Calories:
1012
kcal
Carbohydrates:
200
g
Protein:
42
g
Fat:
19
g
Saturated Fat:
3
g
Sodium:
174
mg
Potassium:
4161
mg
Fiber:
53
g
Sugar:
28
g
Vitamin A:
62080
IU
Vitamin C:
15.6
mg
Calcium:
358
mg
Iron:
31.1
mg